White & Elegant Kitchen Remodel
Do you know how long I have been waiting for this day to jump up and down with joy and shout from the top of my lungs THE KITCHEN IS DONE!!!  It has been a LONG 22 months since the day we found the mold.  So to say I am just a tad excited to bring you today's post is a huge understatement! So here it is, our white and elegant kitchen remodel.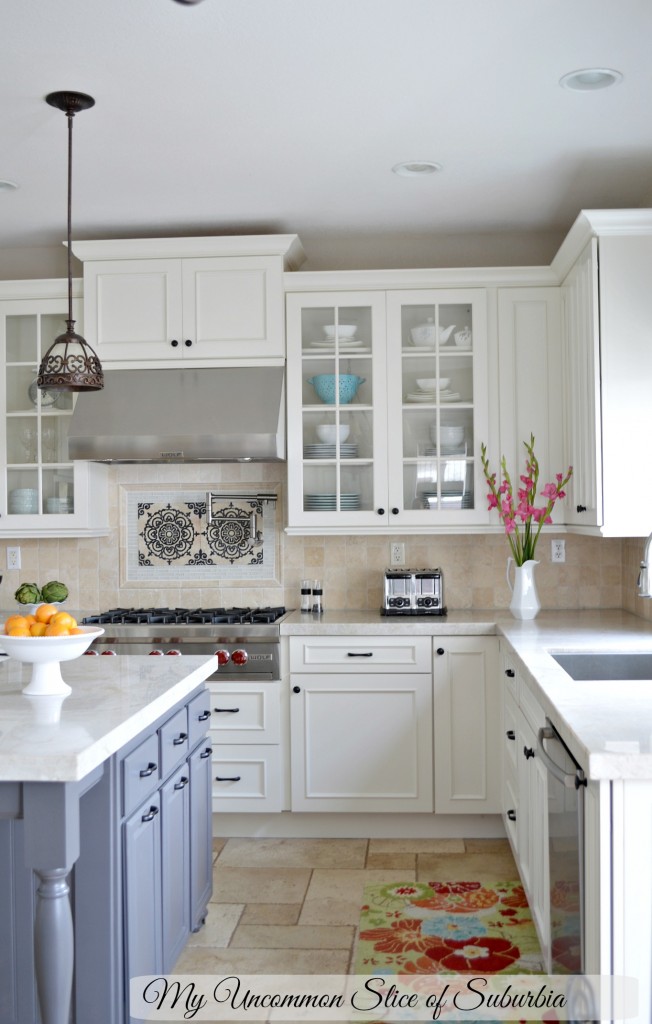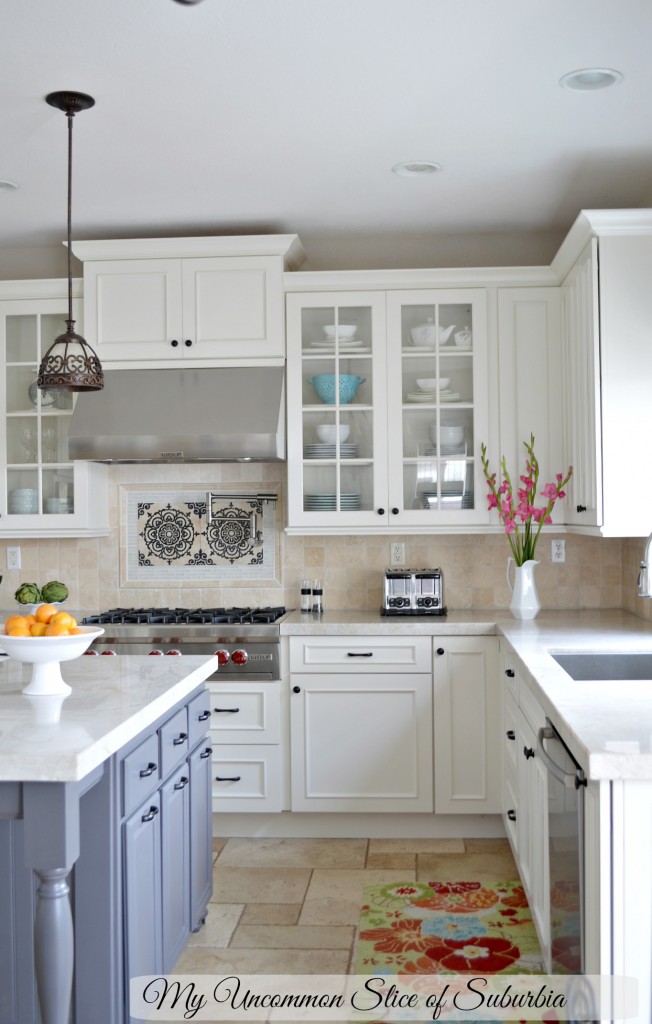 Let's take a step back in-case this is your first time here, if so, welcome!
15 years ago we bought our house and this is what our kitchen looked like (minus the floor).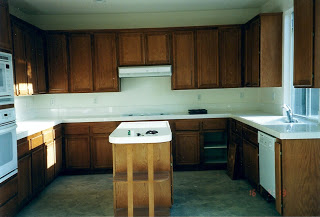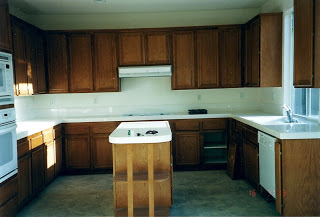 6 years ago we took the builder grade kitchen and upgraded it by painting cabinets, adding molding, changing out light fixtures and hardware, rebuilding the island, you name it we did it.  We were so proud of all of our work and I absolutely loved how our kitchen turned out.  If it weren't for our kitchen, I wouldn't have this blog.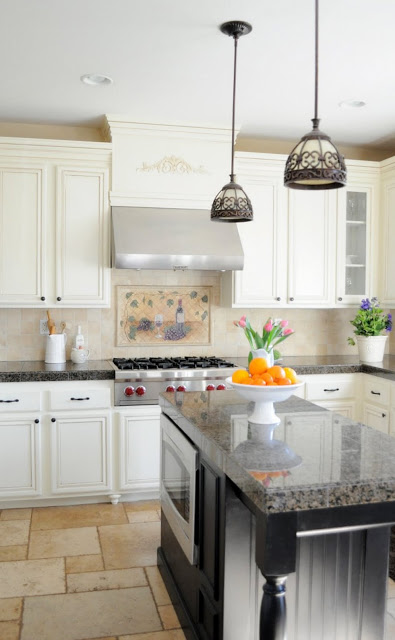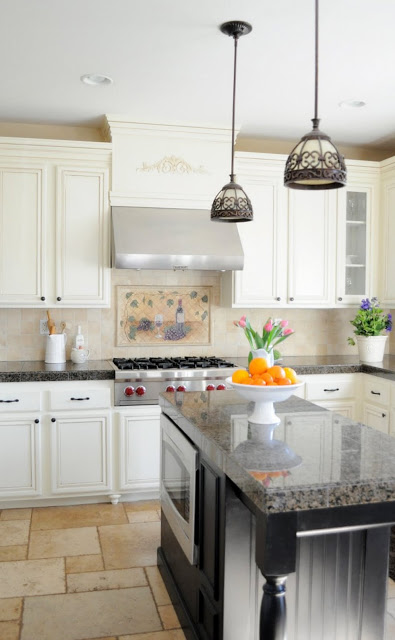 Back in January 2013 we found something that completely devastated us, MOLD, and it was everywhere.  Almost our whole kitchen was a complete loss and insurance would not give us a penny.  Lets be honest my husband is as handy as they get and I can paint cabinets but we sure can't build a complete kitchen. Over the next year we sealed off the cabinets, refinanced the house and began rebuilding in January 2014, 1 year later.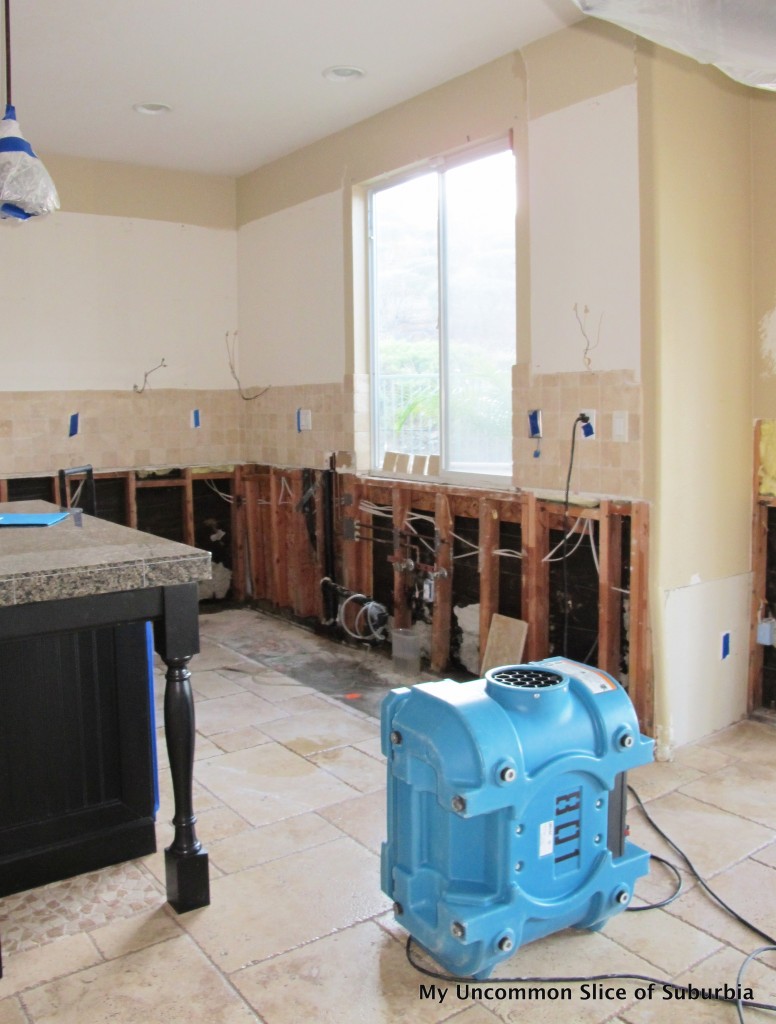 The most difficult aspect of designing our kitchen was keeping it cohesive with the rest of our home and to make the old work with the new.  Anything that was salvageable we kept to save us money.  It would have been a heck of a lot easier to start from scratch but there was no way our budget was going to allow for that.
I remember in the beginning, a design lady had told me there is no way I was going to pull off what I wanted with all the warm tones we already had going on.  You guys kept me motivated and told me not to listen to her and I did.  I'll admit, I had breakdowns, I doubted myself, their might of been a few tiffs between Ray and I but you know what it worked and we couldn't be happier!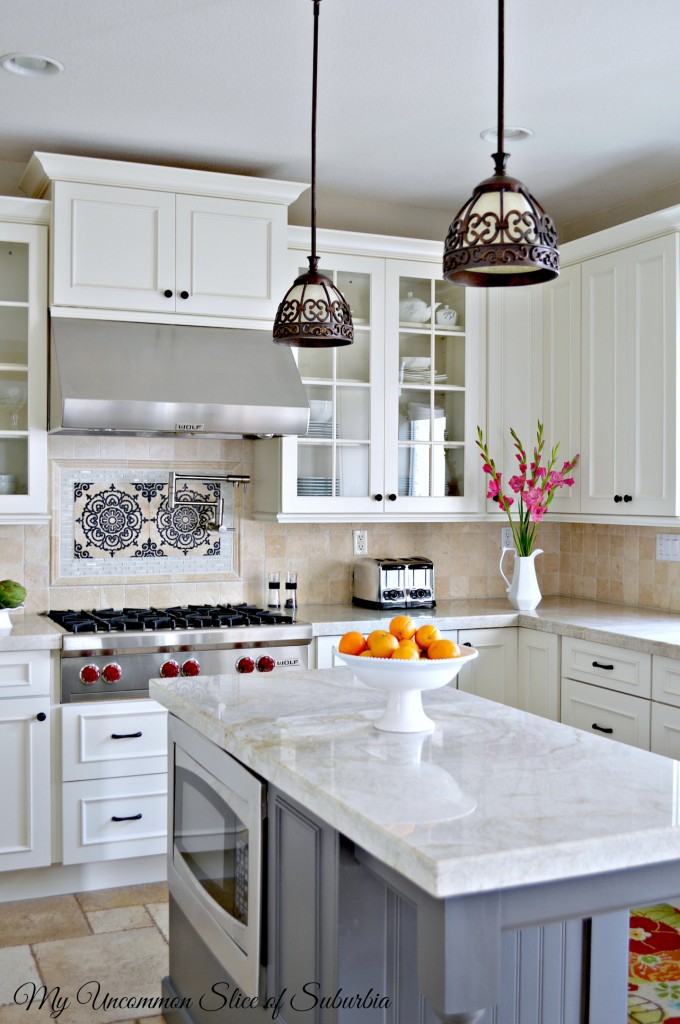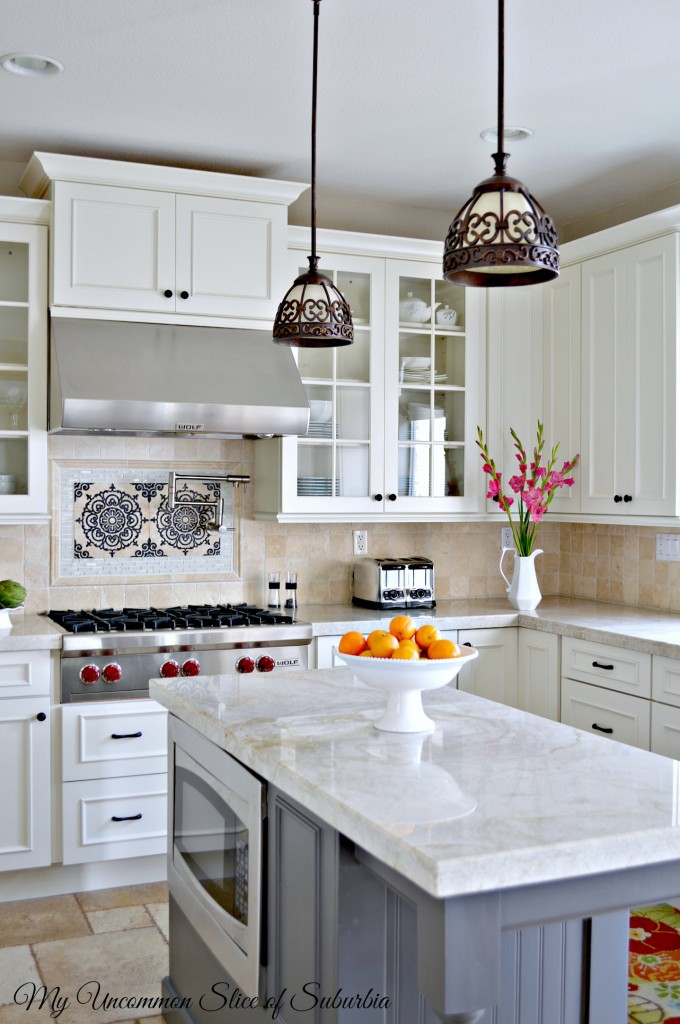 Our cabinets are Kraft and we purchased them from Lowe's. The cabinet panels are square and recessed in the color Dove, we then added hardware from  D Lawless.
Next we painted over our existing black island with a warm coat of grey.   (You can find that story here)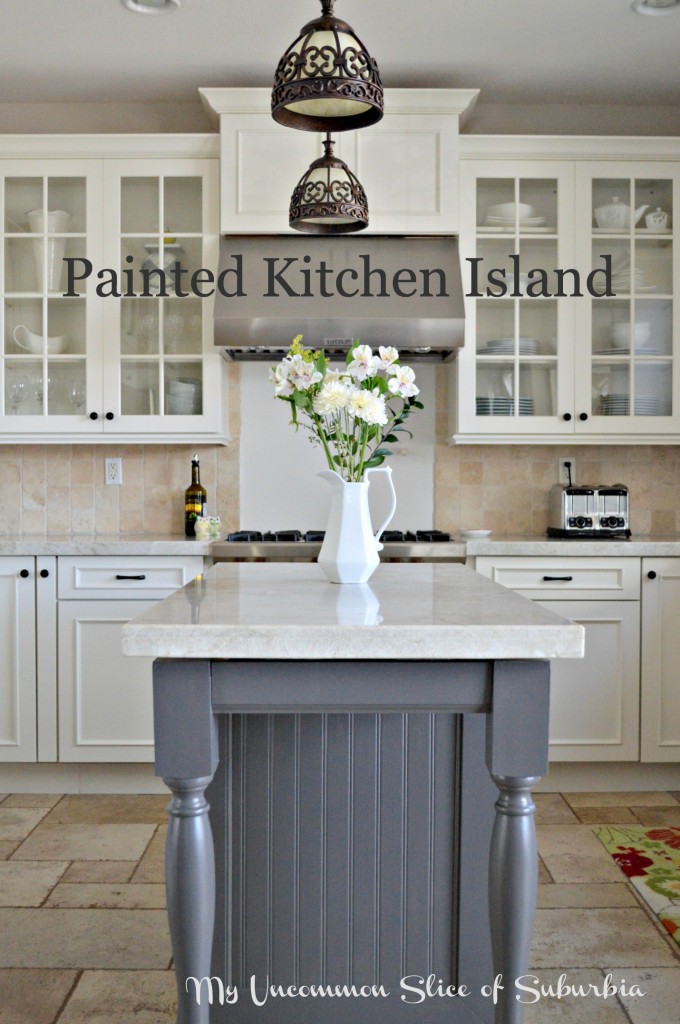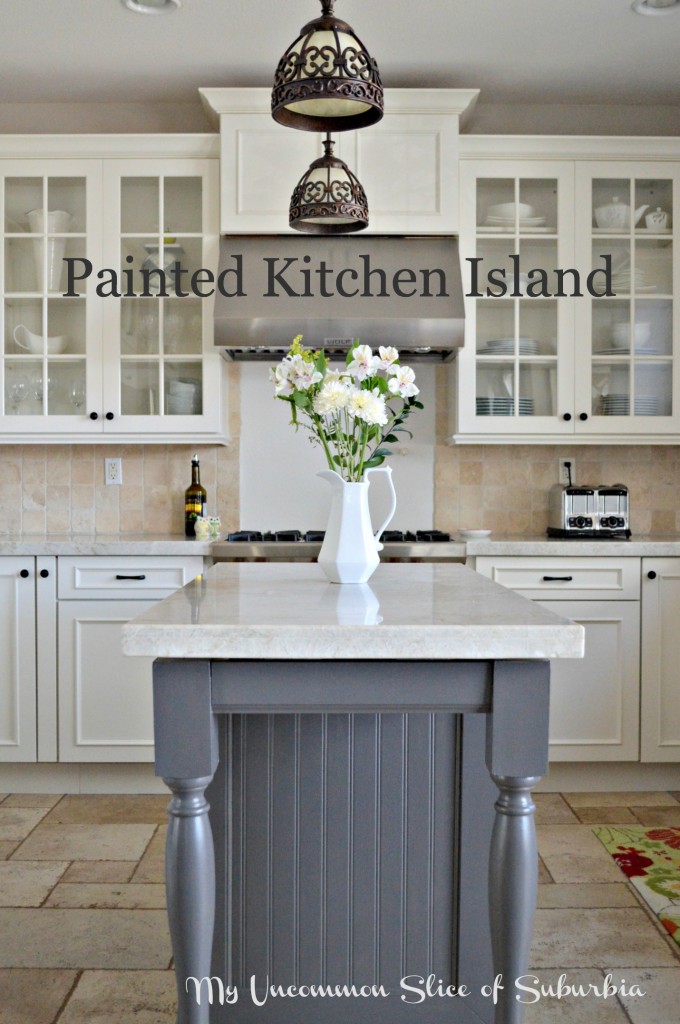 While the drywall was out, we had a plumber install the pipes for our future pot filler.   We were able to keep our existing backsplash except over the stove as mold had crept up. Ray installed a glass border to bring out the countertops and then added 2 pieces of pre-painted tiles to pull the whole kitchen together. (tutorial coming soon)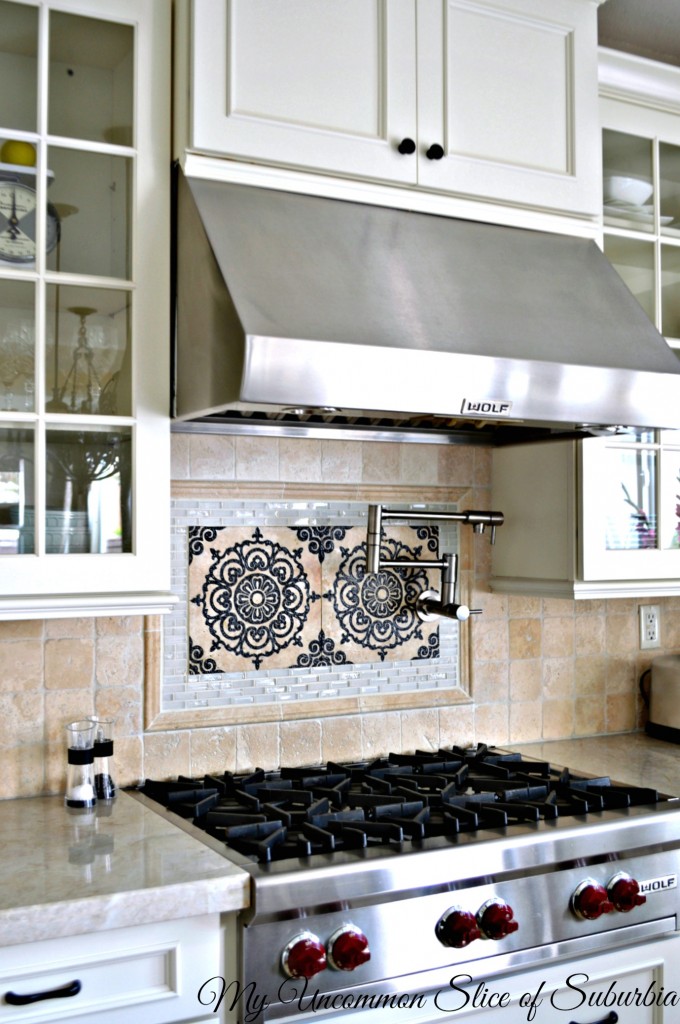 We had our counter tops and farmhouse sink installed and Ray installed our faucet. The countertops are quartzite (not quartz) in the color Taj Mahal.  I absolutely love them, they are durable and elegant all at the same time.  It has a vertical veining, a polished finish and I was able to find 2 slabs with warmer colors vs the cooler colors, perfect!
We saved ourselves hundreds of dollars by having the glass cut at a local company and installing them into the cabinets ourselves. You can read that tutorial here.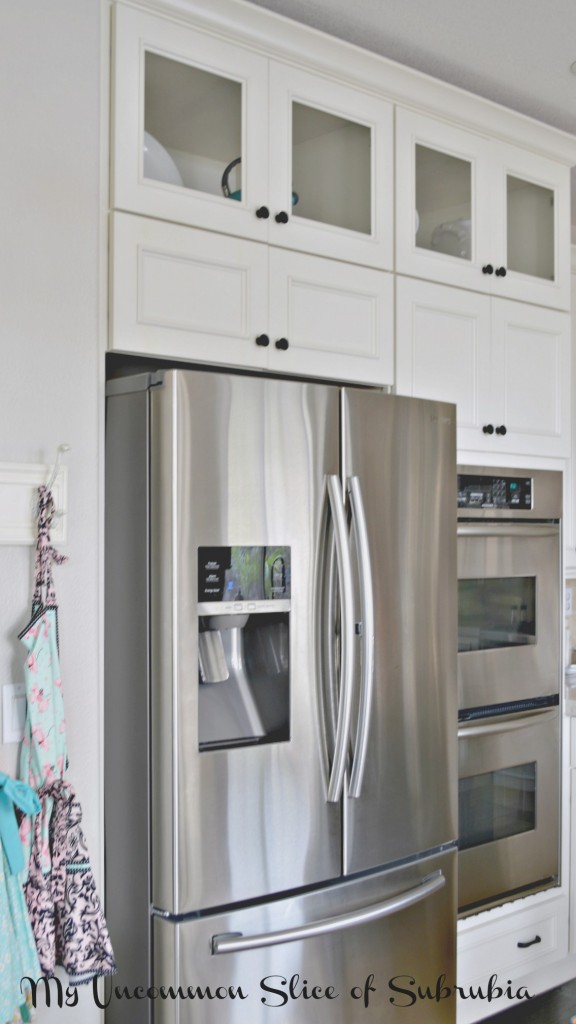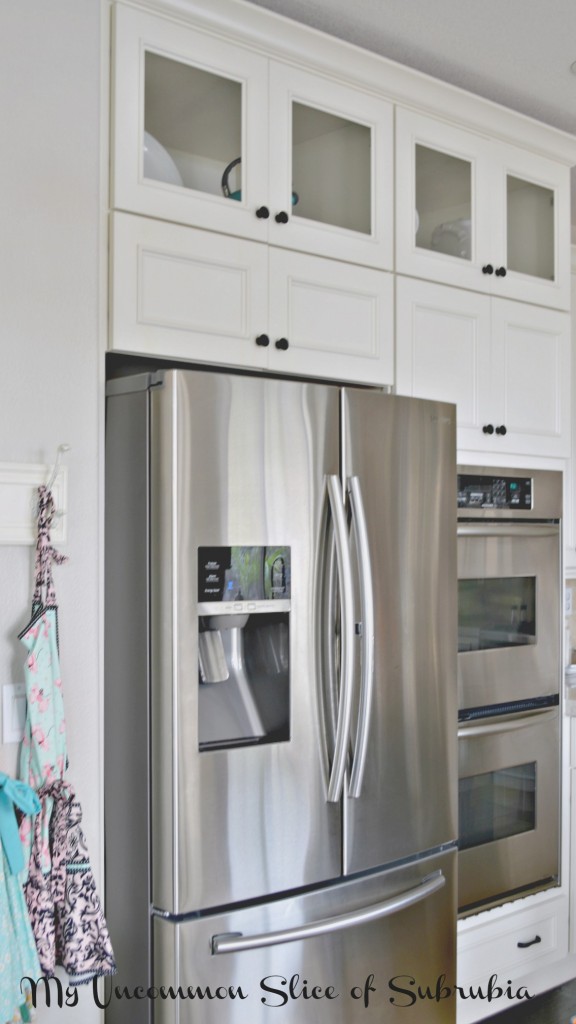 Lastly, my husband framed out the window and we added a roller shade to block the sun  in the late afternoons.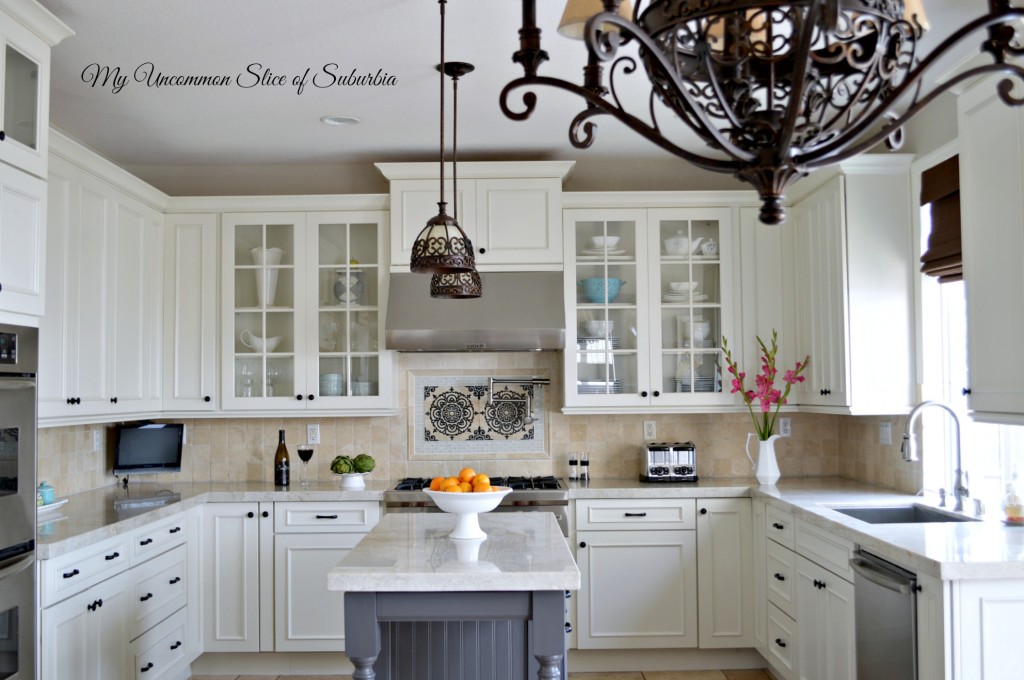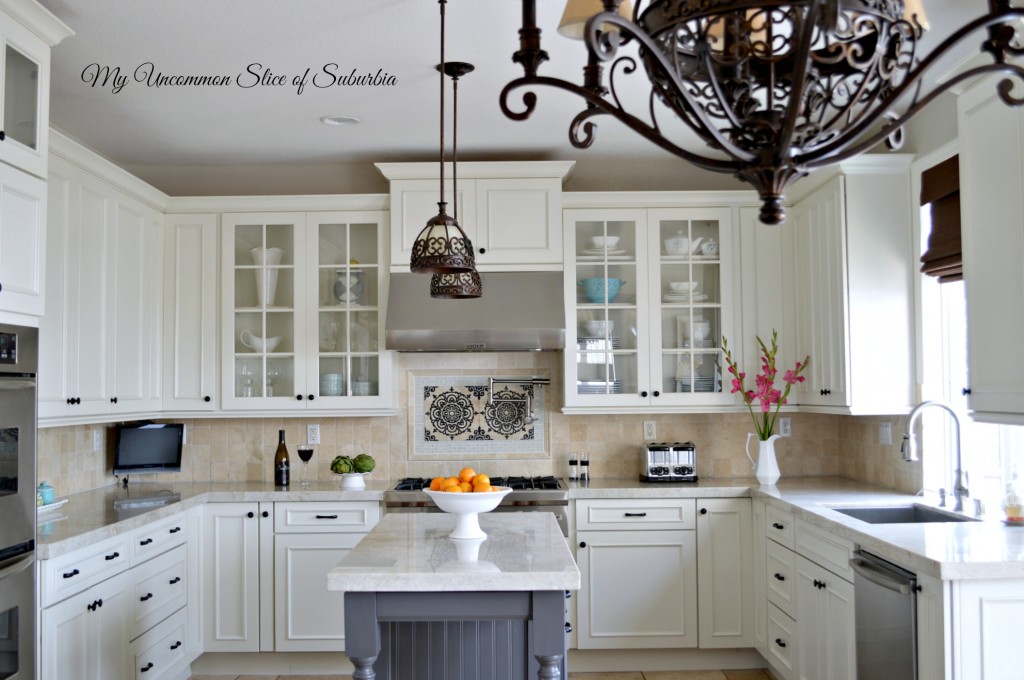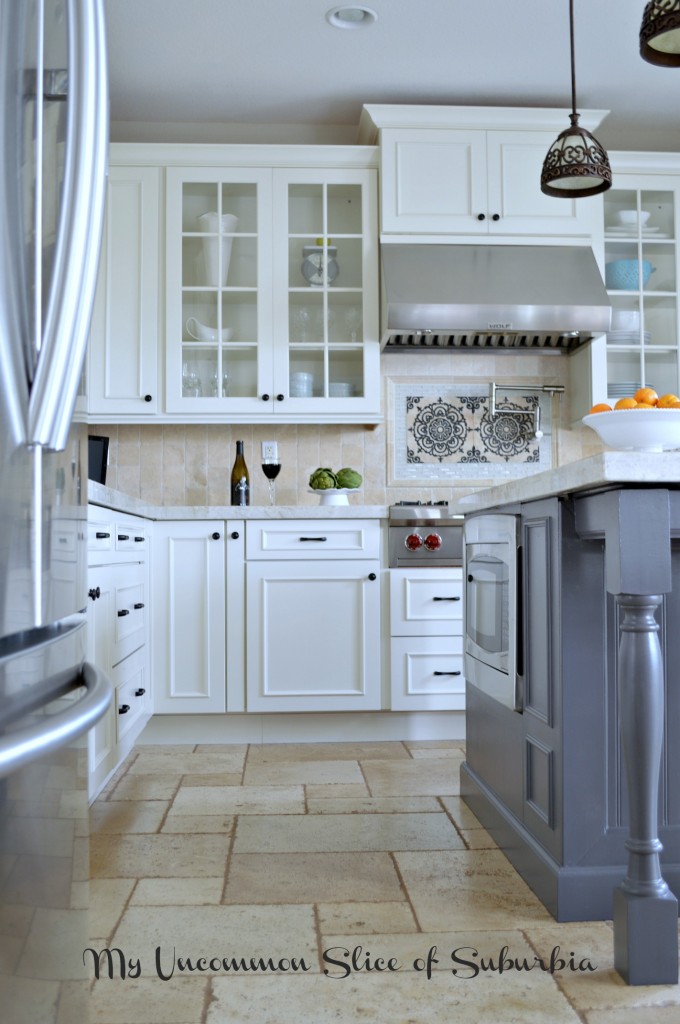 Hopefully I will have the time soon to snap some pictures of the inside of the cabinets.  They are deep drawers, pull out trays, spice drawers, knife drawers, and everything keeps me organized!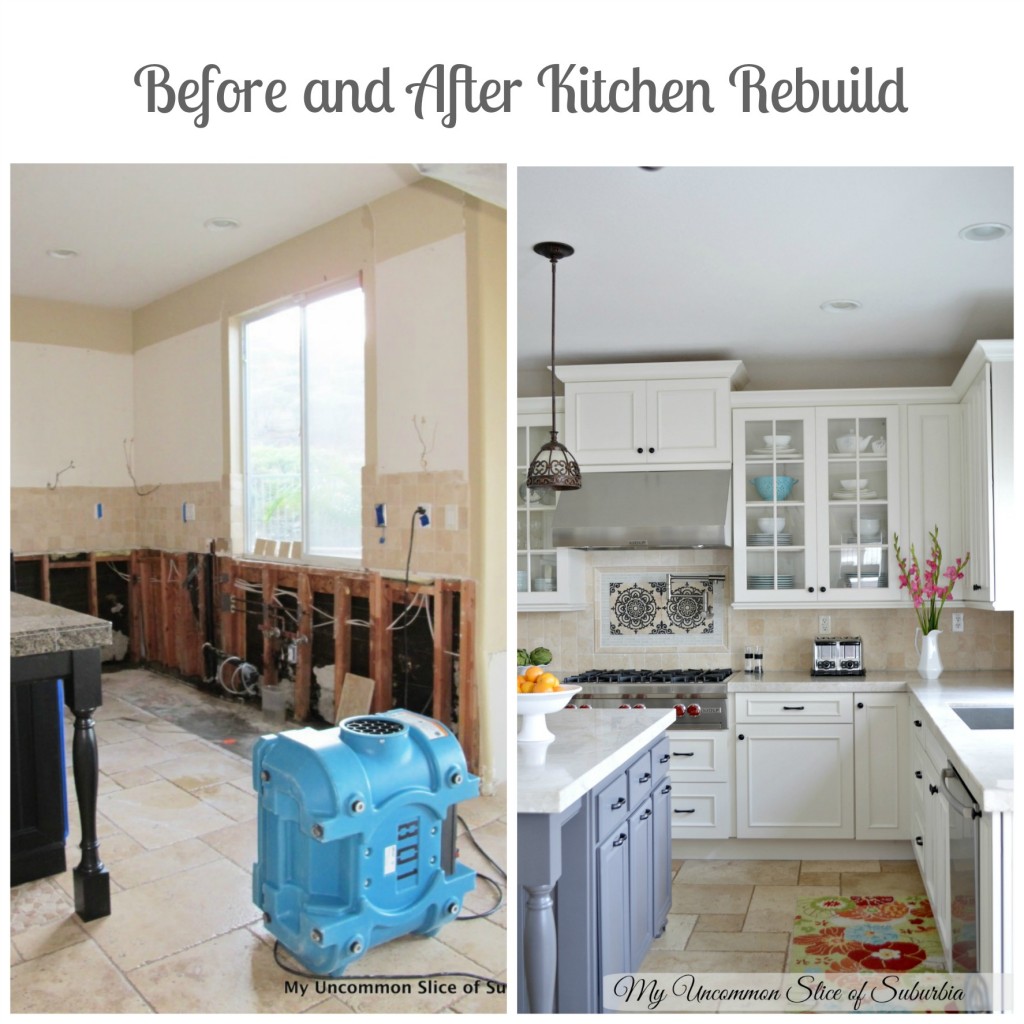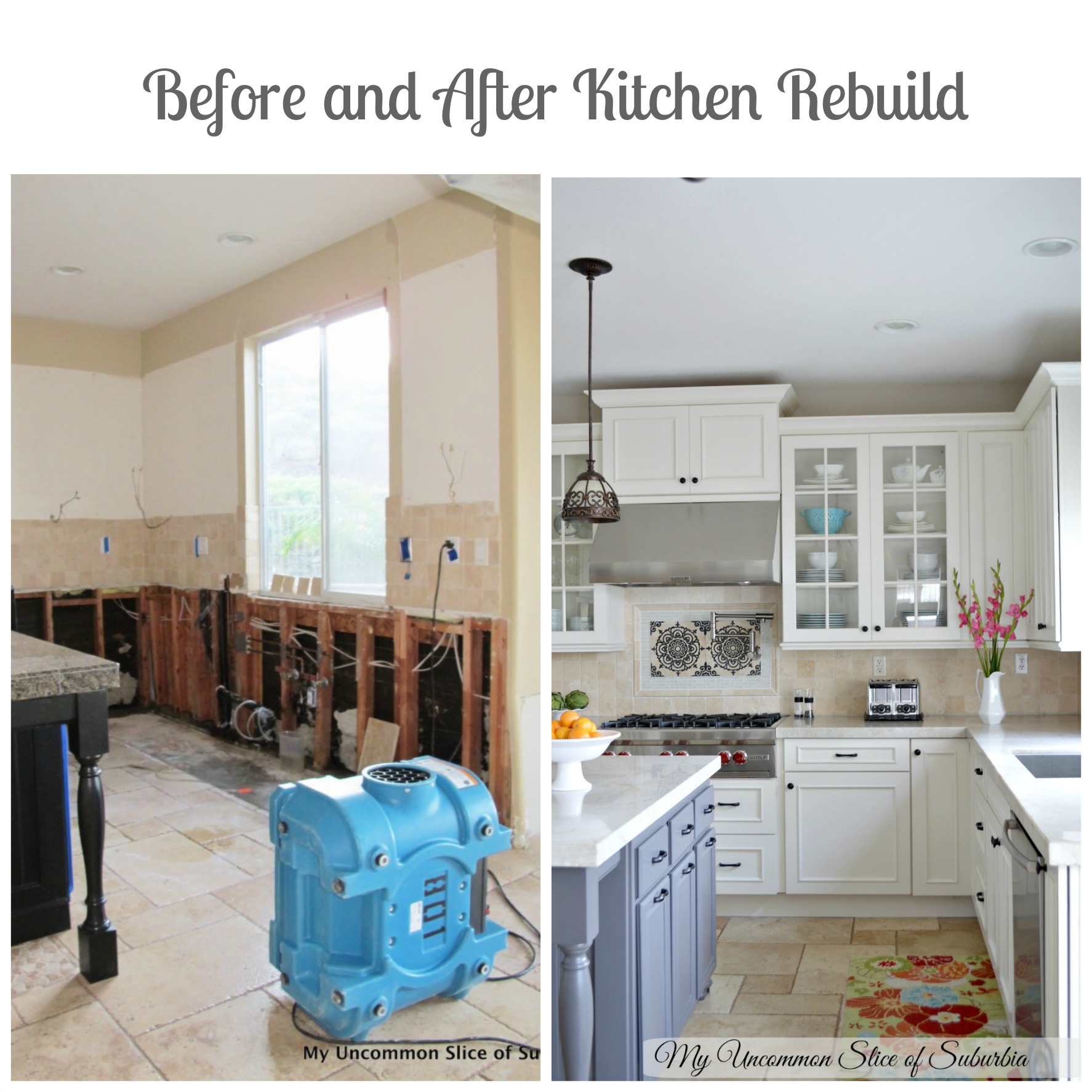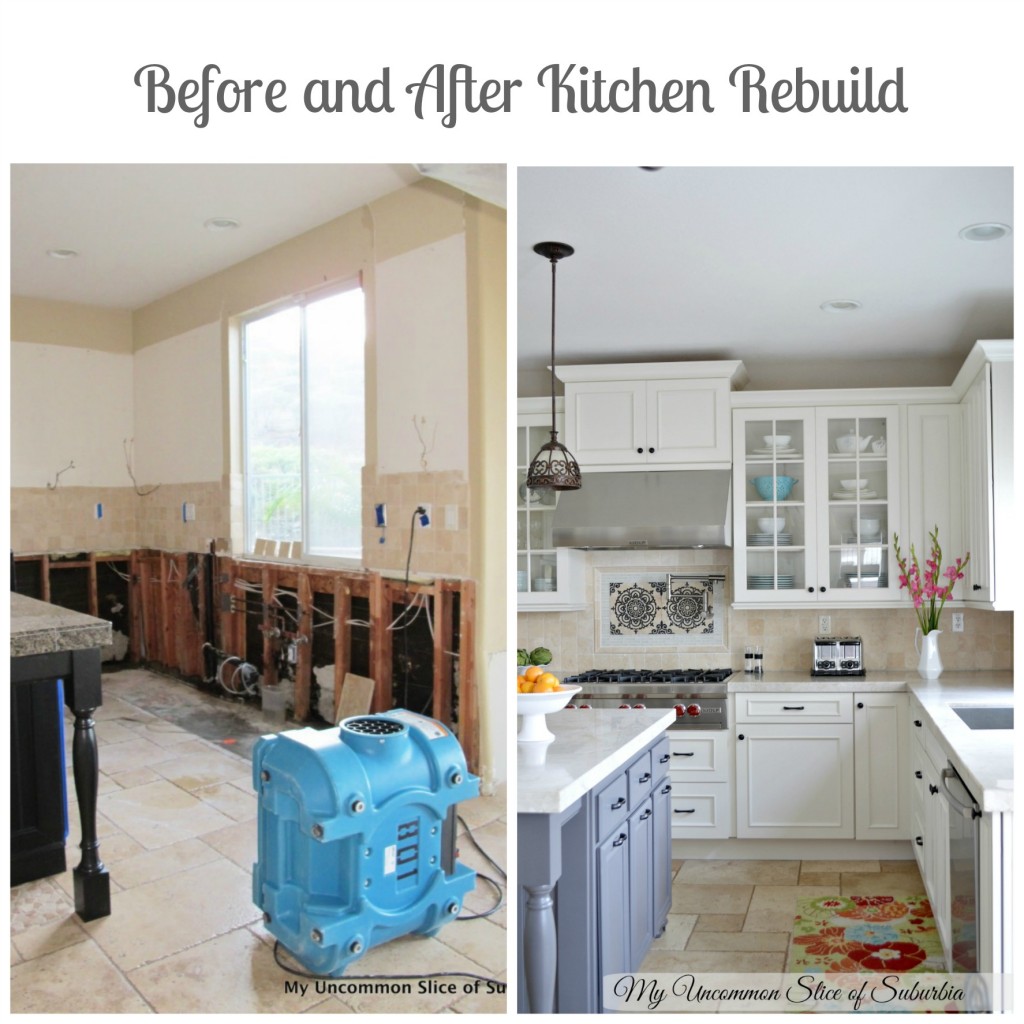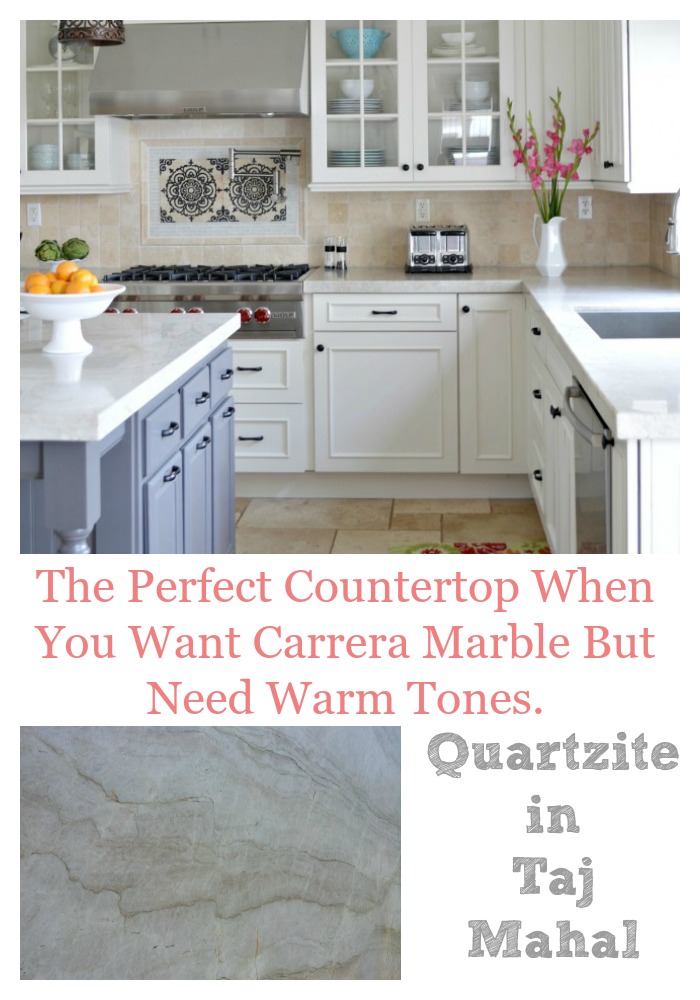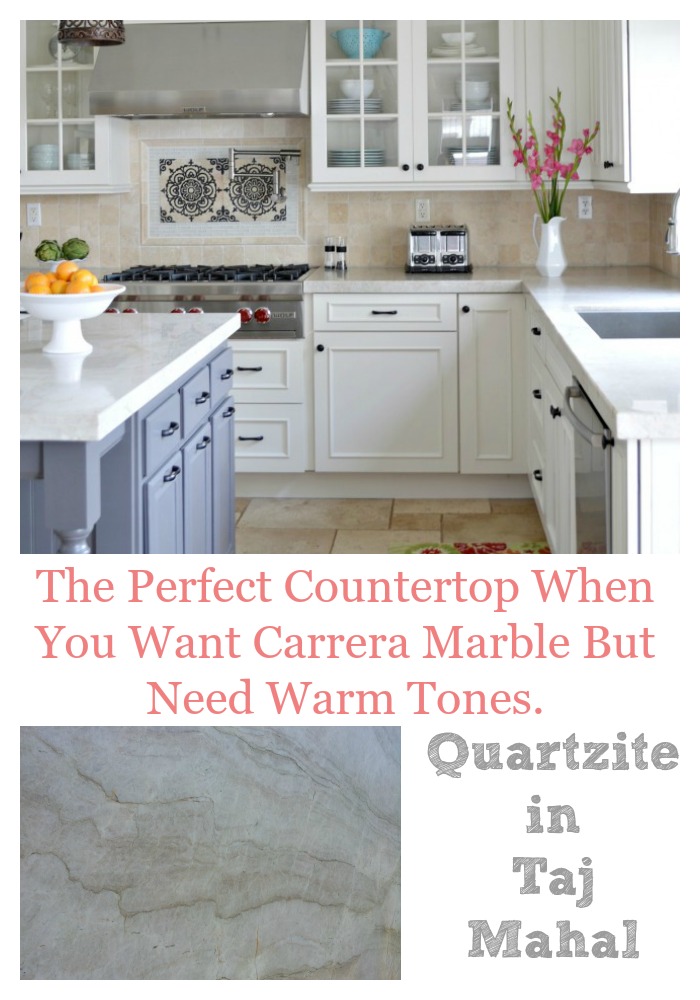 We are so thrilled to have this behind us, thank you so much for all your support and advice over these past 2 years!
I have everything listed below but if I am missing anything feel free to leave it in the comments.
Pot Filler:  Lita from Pfister
Faucet: Hanover from Pfister read more about it here.
Countertop: Quartzite in Taj Mahal
Island: Painted in Benjamin Moore Iron Mountain
Cabinets: Kraft from Lowes/paint color Dove
Hardware: Provided by D Lawless Flat Black Contemporary Pull & Flat black turned knob
Floor: walnut travertine versi pattern
Backsplash: Durango Crem tumbled travertine
How we made our island look custom found here and here
You can find all of our kitchen tutorials for the new kitchen and our old kitchen in my project gallery.