Holiday House Walk 2021 My Uncommon Slice of Suburbia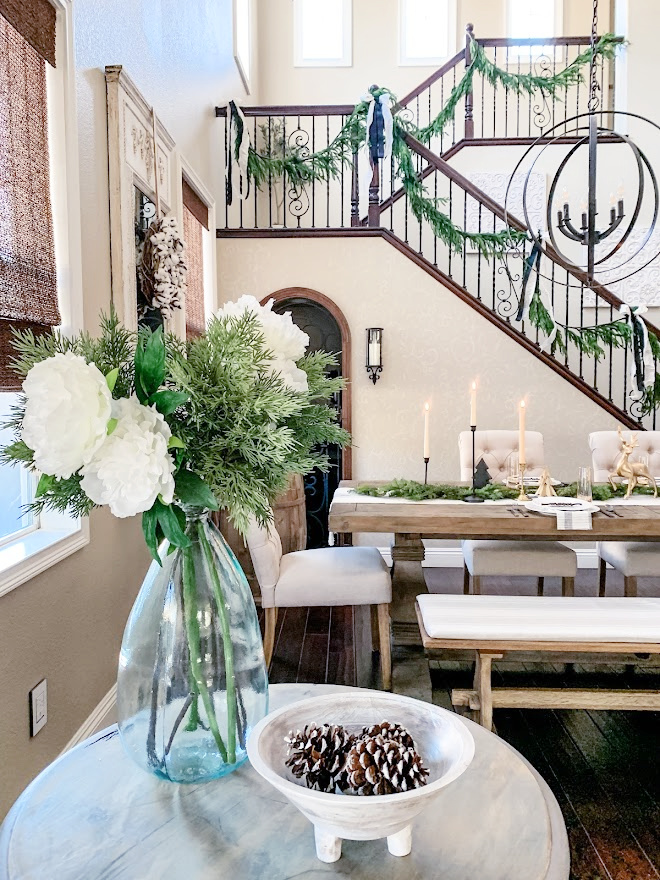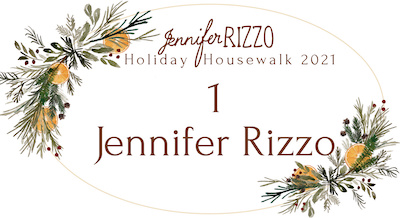 Welcome to our 2021 Christmas Home Tour, I am so glad you are here! I am beyond honored to be a part of Jennifer Rizzo's Holiday house walk tradition for so many years now! Each day this week, bloggers have opened their doors and invited you inside to tour their beautiful homes, each home is magical and unique in its own way!! To start the tour from the beginning, click on Jen's page for Day 1!
If you are here from Finding Silver Pennies, welcome, I am so happy you are here.  Danielle's home is dreamy and beautiful, I look forward to her home tour every Christmas!
Before I go directly into this tour I have to say this was not easy for me AT ALL.  This is my first holiday without my mom and I won't lie, it's been really hard on so many levels.  I am forever grateful that she is in heaven free of pain, that is what gets me through, but the thought of decorating was just plain hard.
Honestly, I just wanted to pull out of the tour but didn't want to let other's down, so much work goes into this tour behind the scenes.  I realized to make things easier on myself I would go simple and minimal and ask for my hubby's help when needed.  And somehow, it all came together and I felt this calm come over me, I know my mom had her hands on that.
As I sit down and write this post, I am so glad I pushed through the sadness, had a good cry and can now just enjoy what this season is all about.
Family, health, giving, traditions, sharing, and God.
So from the bottom of my heart, thank you for being here and for your support on so many levels, it means the world to me!
I always love decorating the kitchen, it's bright and cheerful and brings me joy, maybe because it involves delicious food.  I added some black ribbon to the little cypress wreaths and brought in a few small decorations for a clean yet simple feel.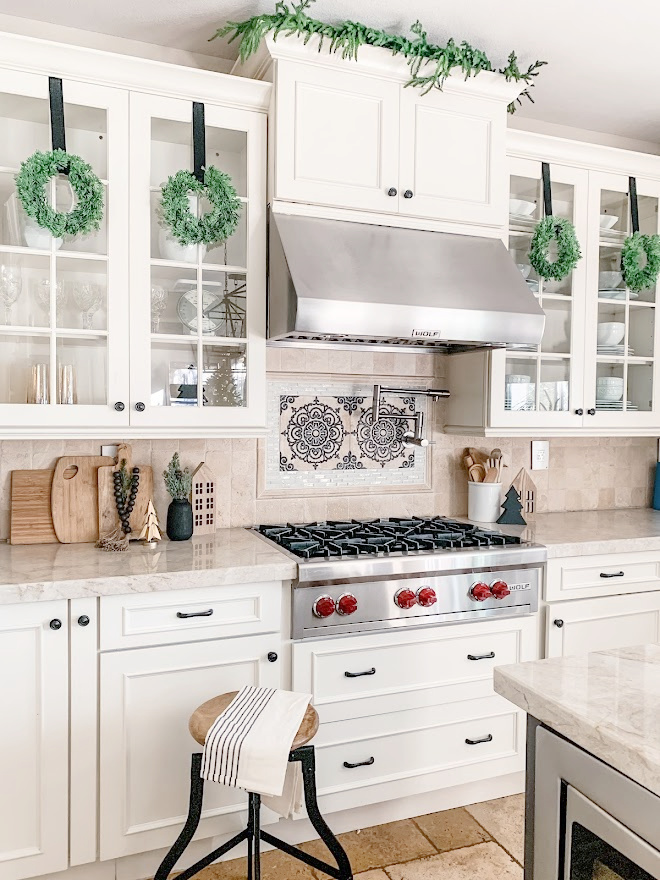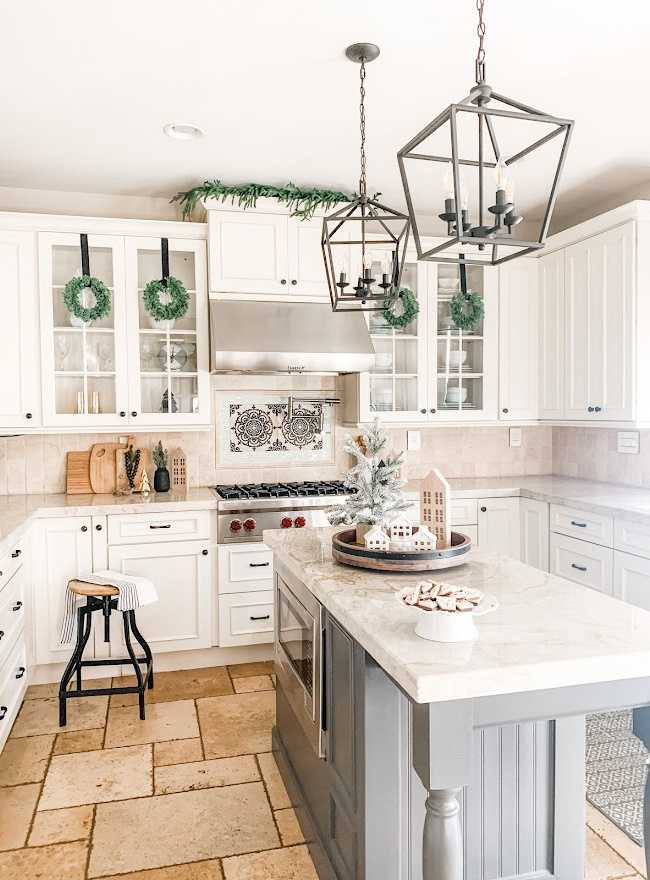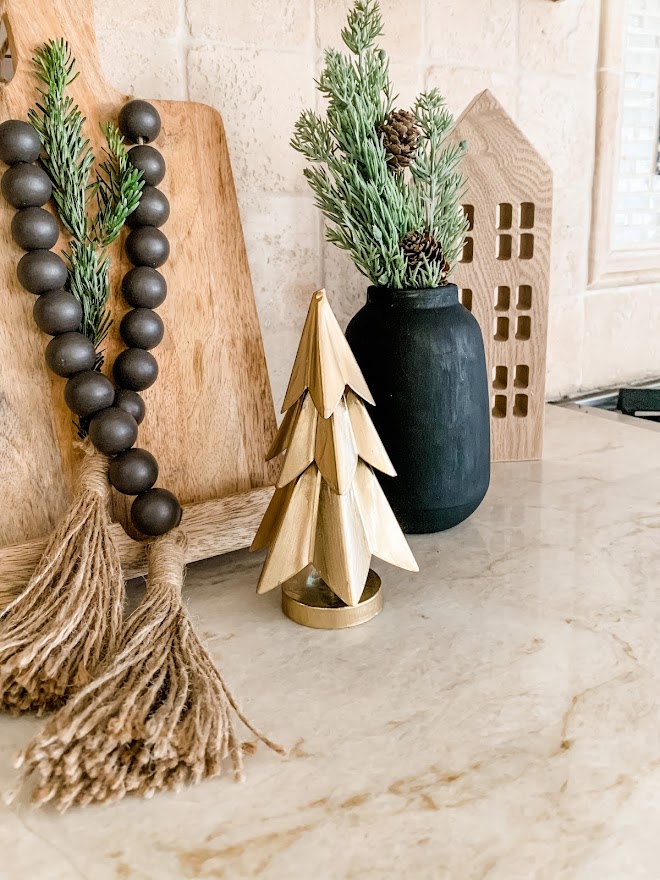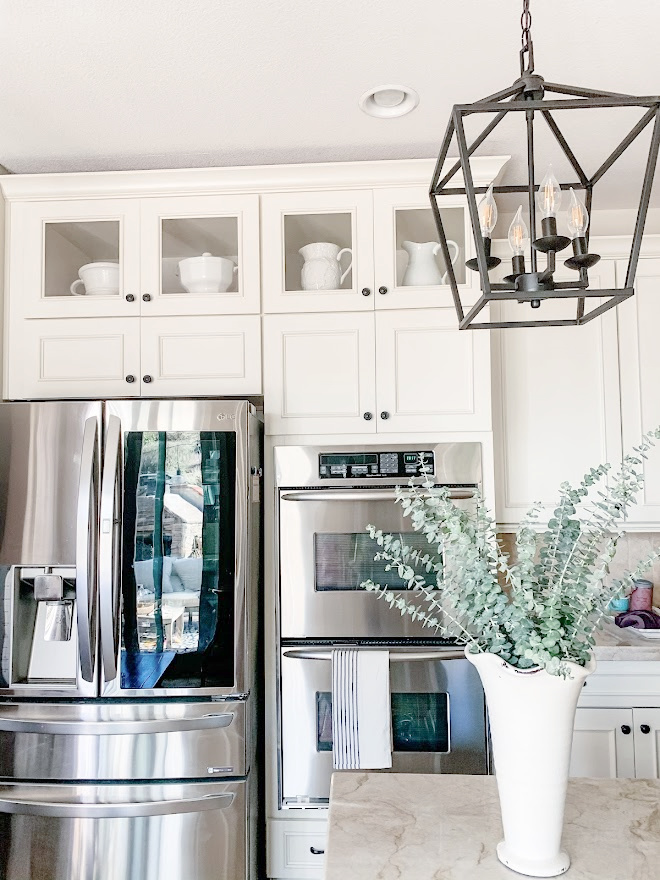 I introduced some new gold pieces this year.  I found most of them in the dollar section at Target and painted over them, I will have a tutorial on that soon. Last year I purged so many items and this year when I brought down the boxes from the attic I opened them up and walked all the bins over to a friend for her to use. I foresee another huge purge coming soon.
(if you have been following for a while, we have been purging and organizing this past month, it feels so good)
I strung faux garland on the stair rail, simple ribbon, twinkle lights, and bells on the end.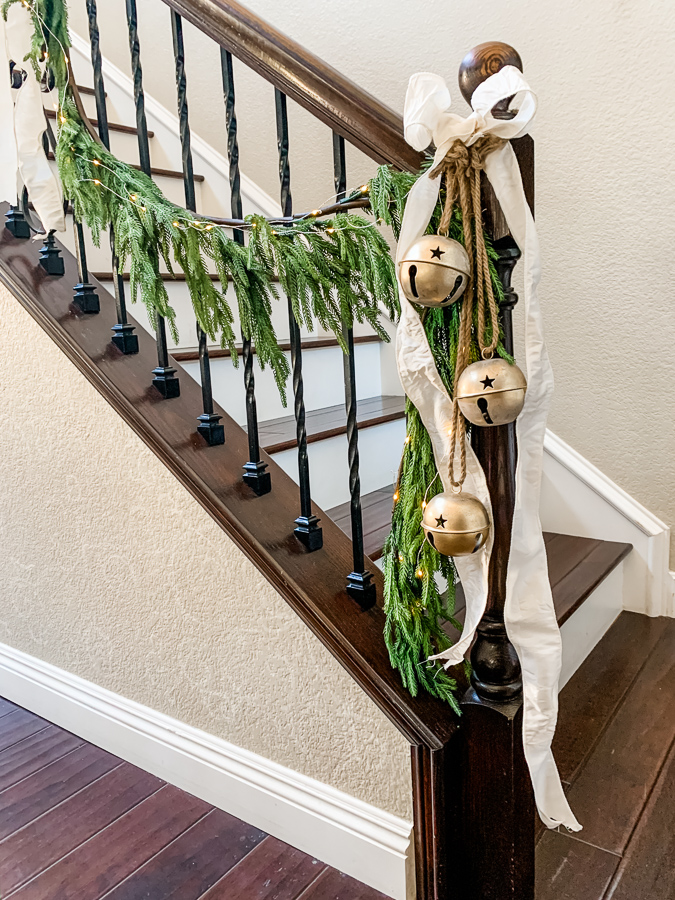 Our dogs never leave my side, ever!  Doesn't matter who is home, they follow me everywhere.  Sophie is now diabetic and blind and stuck to me like glue but these 2 watch over her like a hawk, best brother, and sister ever!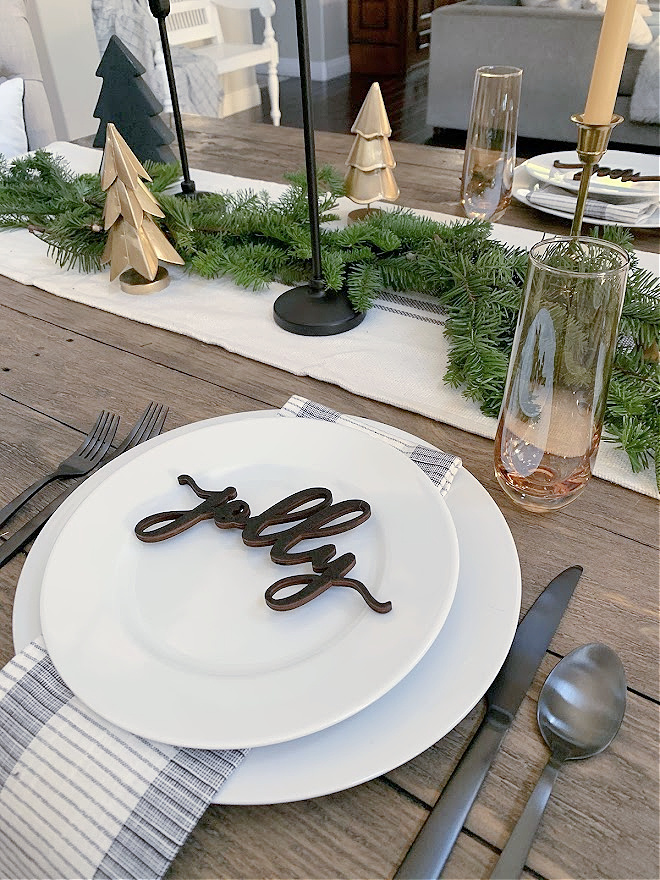 Ray stopped by our local nursery for me and they gave him tree clippings for free.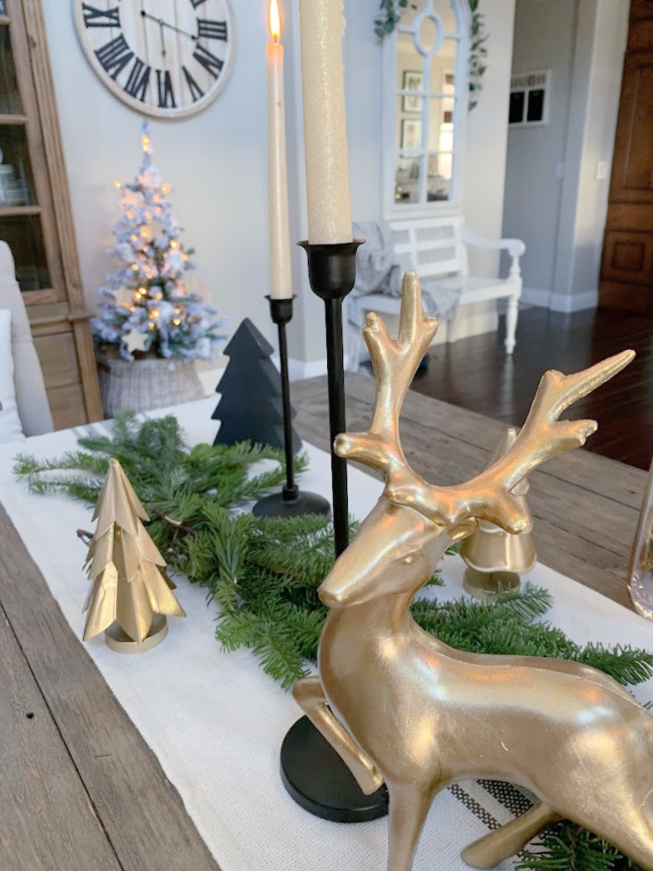 This cute little reindeer and the trees were also at Target. They were each a very bright gold so I went over it with gold metallic paint for a more natural look.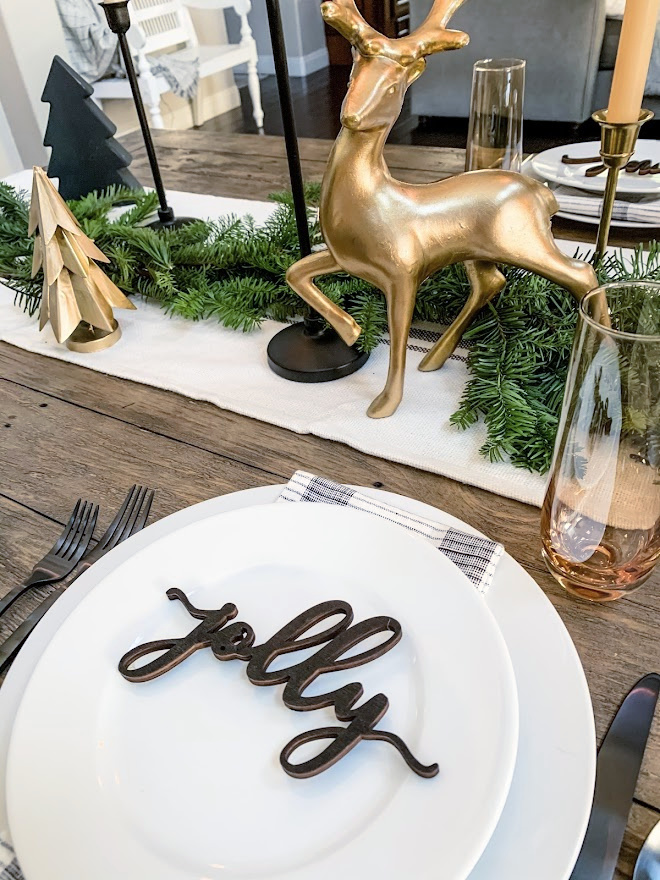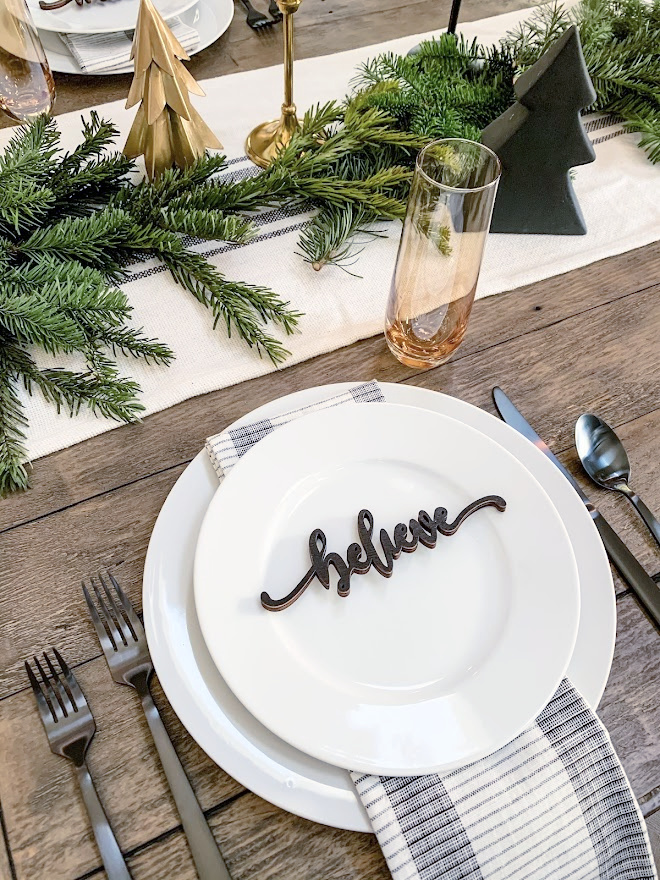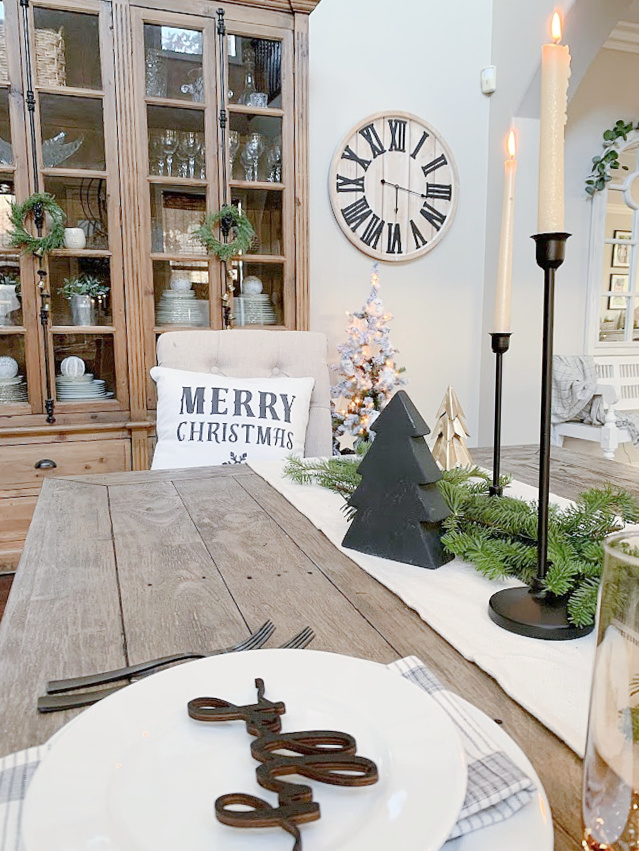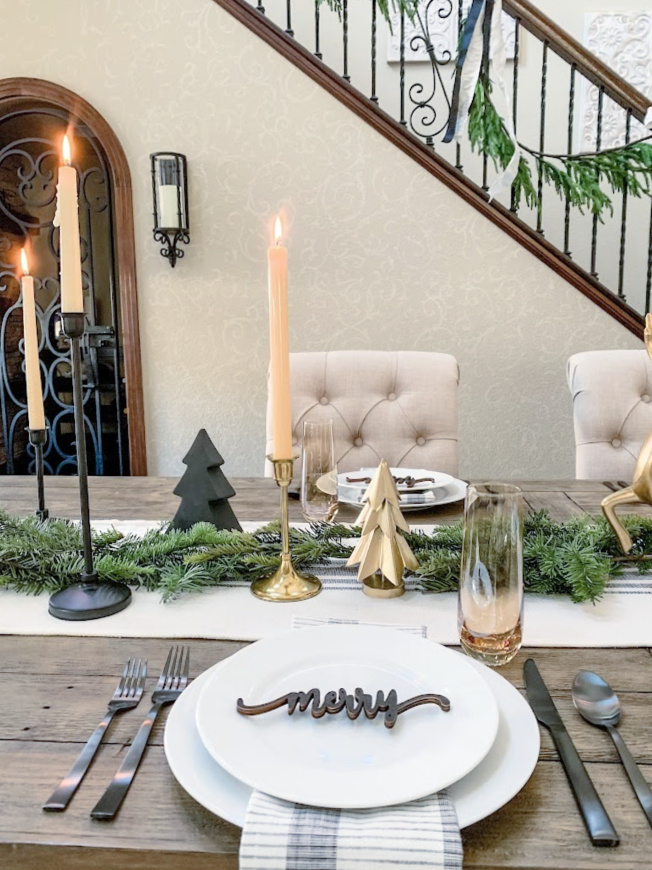 A quick peek into the bathroom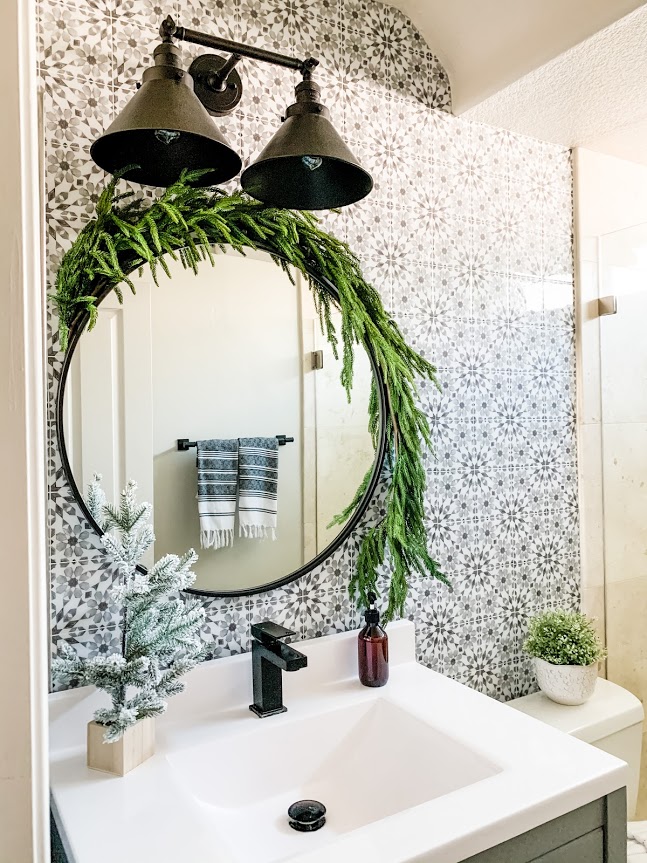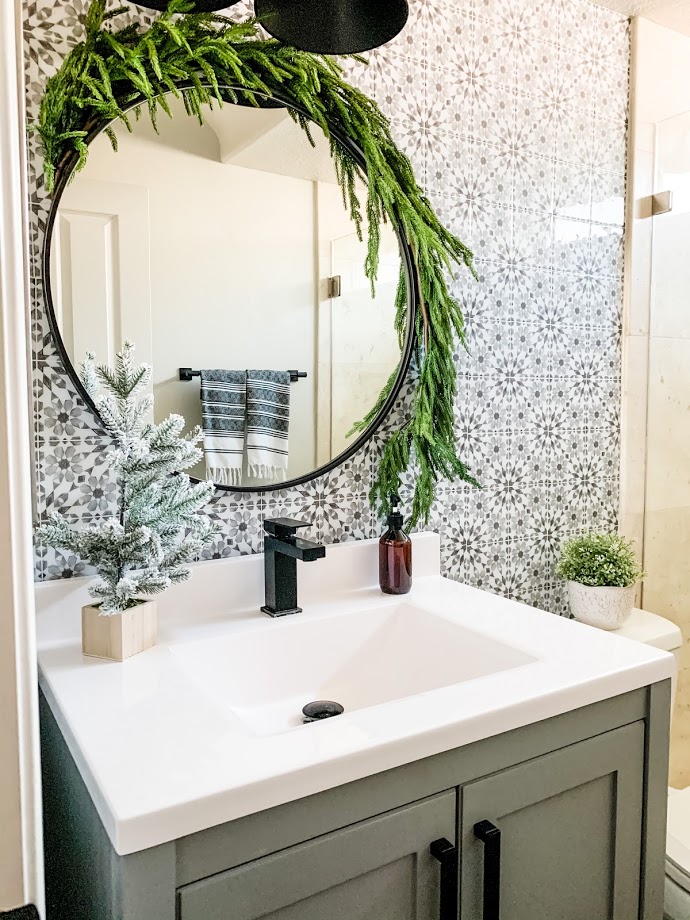 I added little vignettes throughout our home.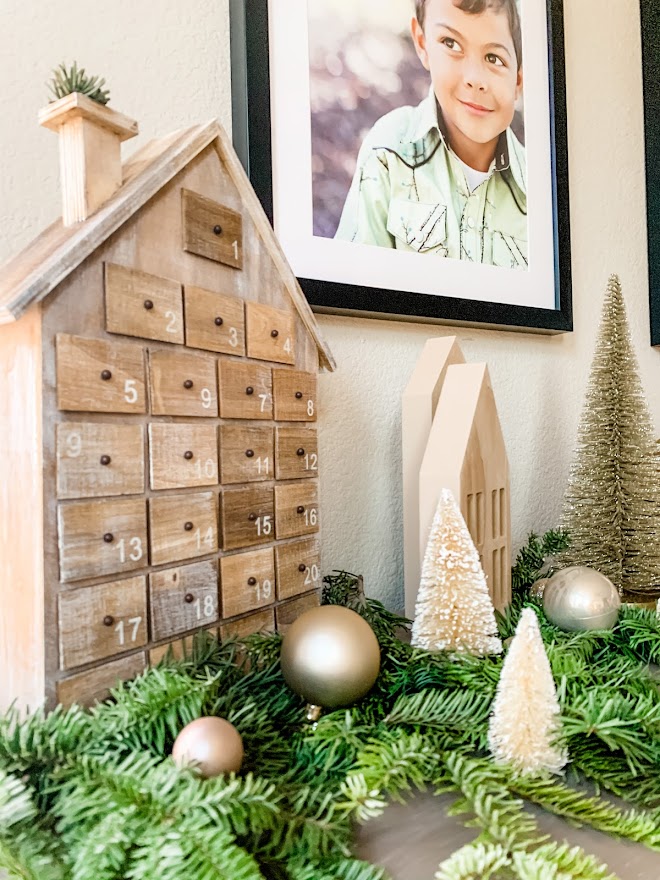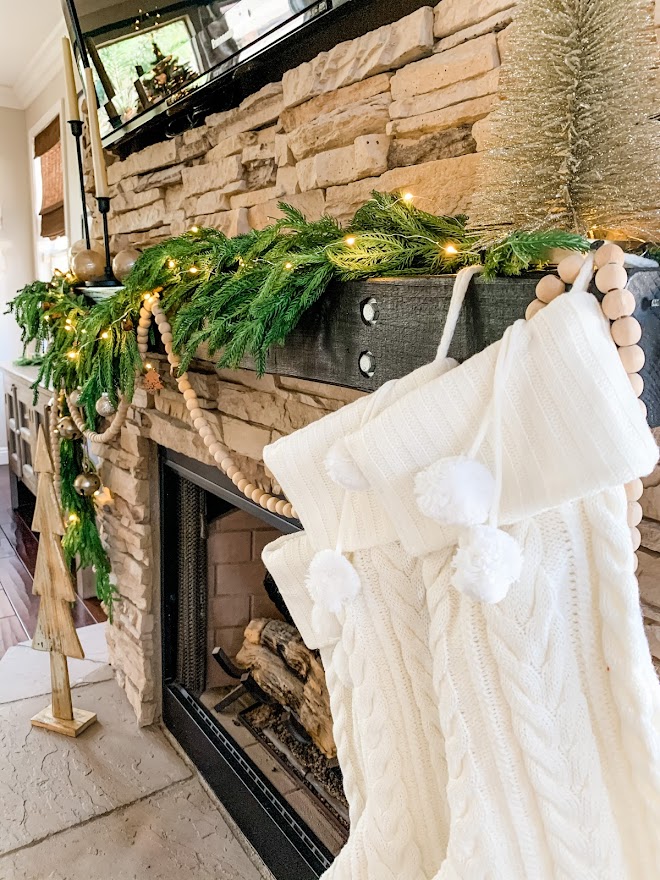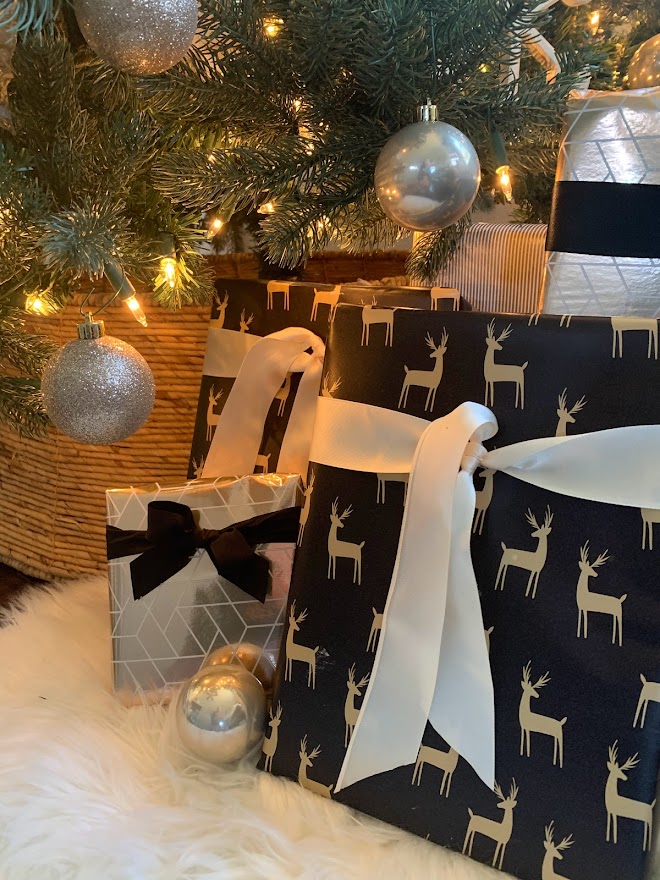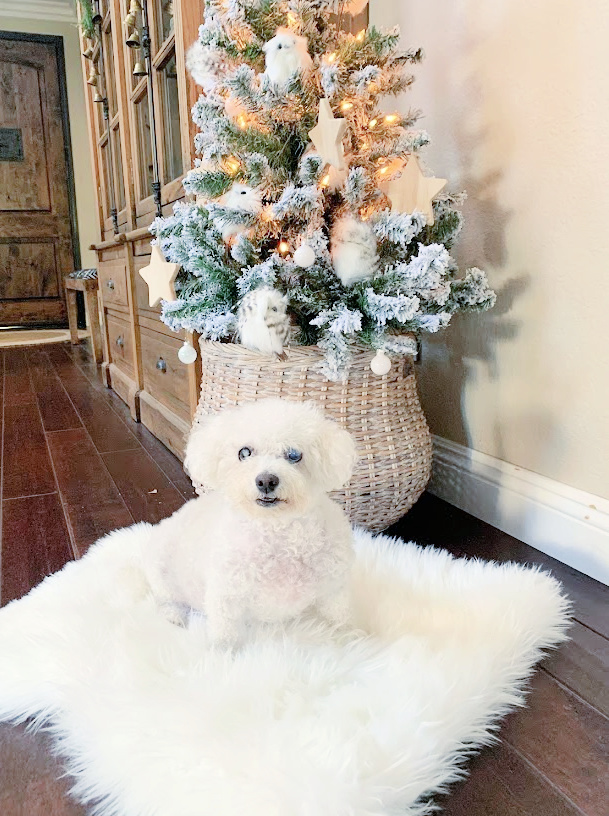 I always get lots of questions on our floorplan. As you can see it's very open so it gets tricky to photograph this space but hopefully this will give you a better idea.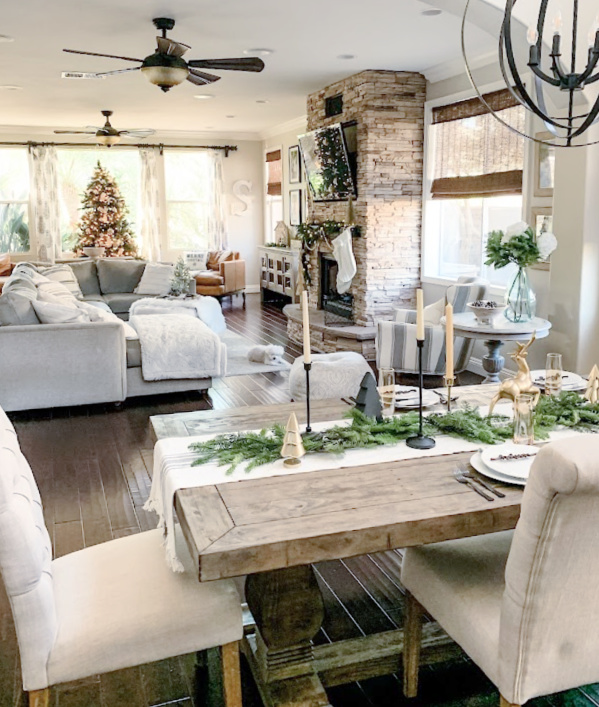 That loft area is in the process of a big overhaul.  Other than the sofa and the TV it's completely empty, I can't wait to share what we are going to do with this space.
The next stop is my friend, Lauren, from Bless'er House. You are going to adore her beautiful and cozy house that they have worked so hard on with so many amazing DIY projects!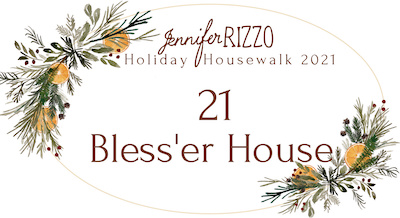 Thank you so much for stopping in for our home tour, wishing everyone a beautiful holiday ahead!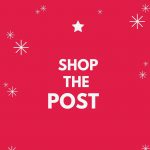 This post contains affiliate links. That means when you click on some of the links in this post and you make a purchase I earn a small commission at no cost to you. 

Native Fab Pure Cotton Table Runner
4 Pieces Christmas Wooden Word Art
Black Silverware Set