~Hi Friends~
In March of 2013 our youngest was diagnosed with Kawasaki Disease, It was one of the most frightening experiences we have had to go through as parents. My hope is to raise awareness on the disease.  If not treated, Kawasaki can lead to aneurysms, heart attack and death.  Please take a few minutes to educate yourself so you are aware of the signs.  At the end of this post I have all of Grayson's updates.  Thank you for being here, thank you for being a part of our lives!
 Kawasaki Disease (KD) is the leading cause of acquired heart disease in children. Once they get sick, you have a ten day window to get the treatment to save their heart, but children often get misdiagnosed as did Grayson.
Video that explains Kawasaki disease
Symptoms and facts about Kawasaki disease
XXXXXXXXXXXXXXXXXXXXXXXXXXXXXXX
How to begin a post like this, I'm not really sure.  The last week I have seen my darkest moments, despair, hopelessness, my faith and strength tested, spirits crushed…..
Our sweet and spunky Grayson was diagnosed with Kawasaki Disease. We have been at Rady's Children's Hospital in the ICU with the best team of doctors and nurses. Every hour changes, sometimes for the best, sometimes for the worst, his heart is fighting, he is in pain, lots of it and I can't take it away, it's not fair.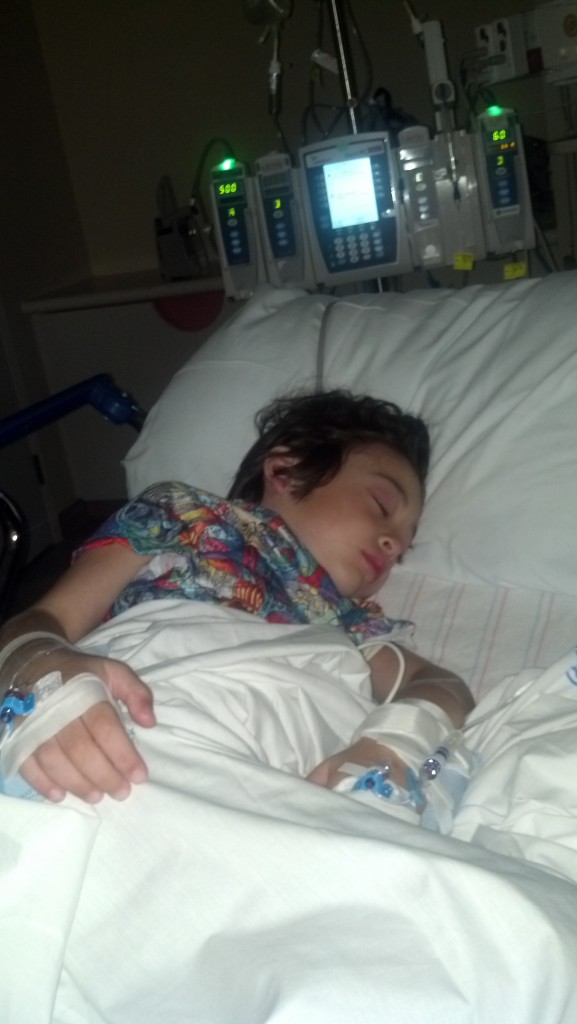 This song is for our Grayson because we will wait, we will not leave, we will be strong. God will fix your flesh, your heart, your joints and eyes. As the wind blew this horrible disease into our lives it will just as easily blow it away, we will not give up, we love you!
Mommy; "I just want to be happy again, I want to go home"
~Soon baby soon~
Here is a copy of all our updates while in the hospital with Grayson…. How can one explain how humbled, grateful and blessed we are by your words,e-mails, notes, encouragement and kind gestures…..THANK YOU!
Feb 27, 2013
Poor grayson, temp of 104 AFTER being dossed. Breaks my heart.
March 2, 2013
We need prayers…Grayson its extremely sick….
March 2, 2013
Grayson just started  his IVIG treatment. It will take ten hours and they can then test his heart tomorrow. He has been diagnosed with kowasaki disease. Thank you to everyone for all the prayers and comforting words. Hugs
March 3, 2013
Grayson was only able to go through one hour of treatment. He is too sick to handle it. We have been in icu all night, please continue with prayers, he needs the treatment asap. Hugs
March 3, 2013
Grayson is tolerating the ivig. I believe 5 more hours of treatment and then we can run tests on the heart. A difficult night but the icu team was amazing. T hank you to everyone for all the support.
Receiving first echeogram….he is sleeping through it, still in icu.
Grayson finished his treatment for blood clots and inflammation of arteries With remicade infusion . He its sill showing lots of signs but Bloodwork Is improving. Yay. we are going to try and sleep for a little bit. Goodnight i think I'm going on 50 something hours of no sleep.
March 4, 2013
In a little bit Grayson will have another heart x-ray. Right now his z score is at 2.2 this measures the dimensions of his coronary arteries. If he goes over 2.5 he will need to be put on a experimental drug to bring the inflamation down, we have already tried everything else. Please pray that his score is low low low!!!
 His Platelet count went up so we did not have to go ahead with the blood transfusion  He is still very miserable and uncomfortable but he continues to get better! Today he will have another echo for the heart and we just had blood drawn, this will let us know what our next steps will be….I don't even know how to put into words my gratitude to everyone. The amount of support, the prayers worldwide, It really is amazing! THANK YOU!!!!
March 5, 2013
Just started another 10 hour round of ivig…..Hoping he can tolerate
Super tough and emotional night. Grayson has about 2 hours left of treatment, tolerated it well but stomach is in a lot of pain
Grayson was taken out of critical care late this afternoon and I brought Jordan and Nate to see him for the first time, they were all so excited.
March 6, 2013
Good morning, yes it is a FABULOUS MORNING! Grayson has no fever, no rash, no swelling, no IV's, no stomach pain and his heart sounds WONDERFUL! We are waiting on blood results that were taken early this morning. HE MIGHT COME HOME!!!! Thank you thank you thank you!!!!
March 7, 2013
Our hearts are overjoyed, GRAYSON IS HOME! The only meds he on is Naproxen. He is happy to be with his brothers, he is like a new boy! His coronary arteries are still inflamed BUT the IVIG will continue to work in his body over the next year to help bring them back to normal. His platelet levels are low so we pray they continue to go back up. We have a heart echo and blood test on Wednesday with our amazing miricle doctor, doctor burns. Our baby is home, thank you!!!!!!! Love to everyone!!!!!!! Ray and Kristin
March 13, 2013
Echo time…..positive thoughts
March 18, 2013
today is graysons first full day back to school and look what the boys get to come home to. I am so blessed to have such amazing friends near and far…thank you…..xxxxoooooo
Ray and Kristin
~Hi Friends~
(video below)
We have been home for a little over a week from the hospital with Grayson's bout with Kawasaki Disease.  I believe the boys actually have a new found appreciation for each other and I as a parent have more patience then I thought was in me.  I feel like we have been given a second chance and it feels darn good!
Grayson had his heart echo and blood work last week.  His echo was 100% NORMAL.  His heart went from being two points away from having irreversible damage to normal in 1 week.  Yes, wonderful doctors, treatments and medicine helped but I have to say I am 100% sure that prayer had just a big of role!  His blood work did not give us the results we were looking for but with time we firmly believe it will be back to where it should be.  He has started back up at school and we have only had one off day where I had to bring him home.
So all of this leaves me saying how do I even begin to say thank you? We received gifts of meals, food, laundry, cleaning, games, toys, letters, pictures, time, knowledge and so much more.  Prayers came from all over the world while gifts and cards came from YOU, yes YOU, our readers, my BLOG FRIENDS!  I feel completely incapable of truly explaining what all of this means to us.
So Thank You Thank You Thank You!  I will honor your gifts by pouring my heart and my soul into spreading awareness so we can save lives.  My first step in doing so is a video I put together.
You can watch it via Smile Box(first video) or YouTube (below)