~Hi Friends~
So happy to share the organized pantry with you!  I finished about a month ago but finally finished labeling everything this week.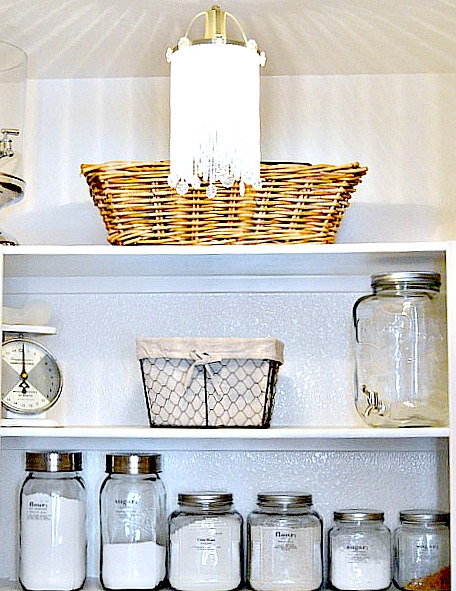 I wish I snapped a photo before I took everything out so you will just have to just trust me on this.  It turned into a disaster about a year ago when we no longer could use our lower cabinets, everything just seemed to be shoved in there. The worst part, all the shelf liner paper had stuck to the shelves so my fabulous hubby sanded everything down.  After he was done sanding he gave it a fresh coat of white paint.
After throwing out expired food and giving away anything I had not touched in 1 year I began putting things back. To be more organized I decided to create zones.  First zone was the top shelf for all large items that are not used often.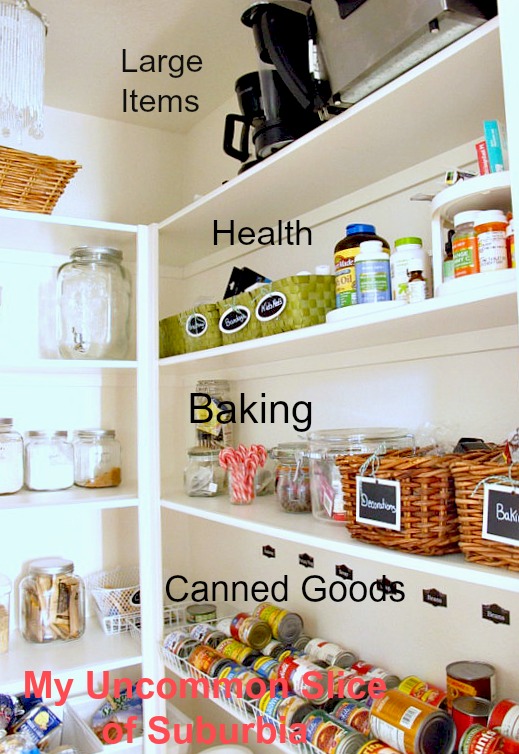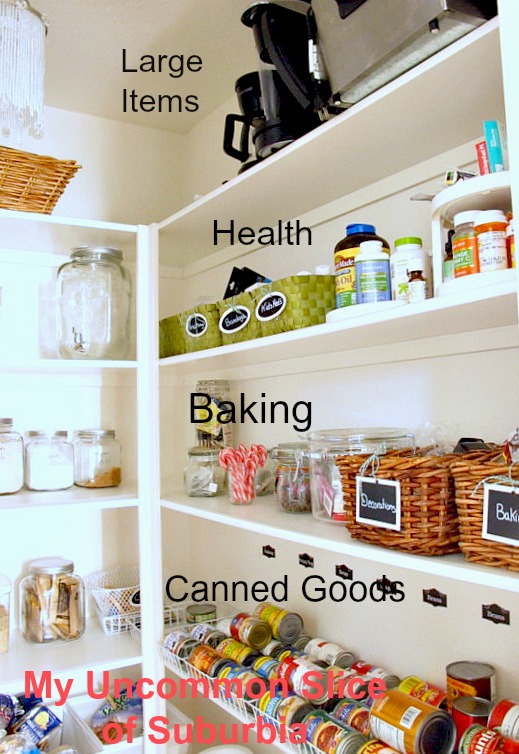 Next zone was for health items, medications, vitamins, bandages, etc. I used a mix of dollar store bins and turntables, both I already had.  Labeling baskets that you can't see through is must.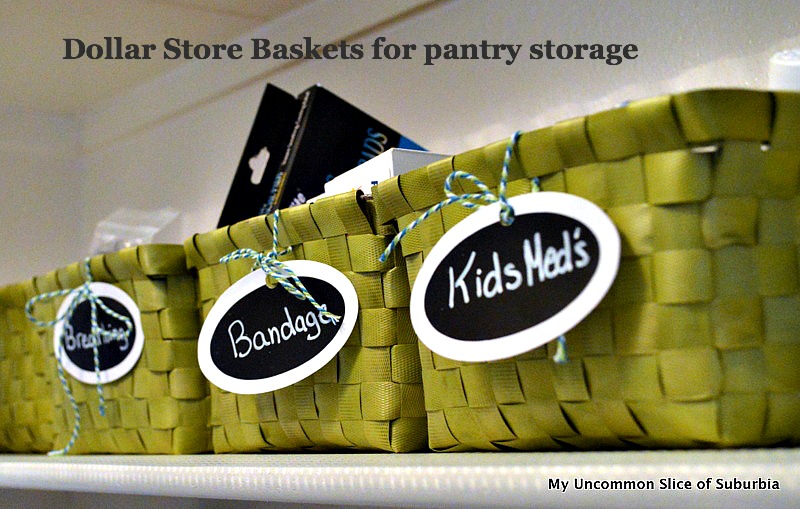 Next up was all my baking items, my favorite tea's and a few sweets.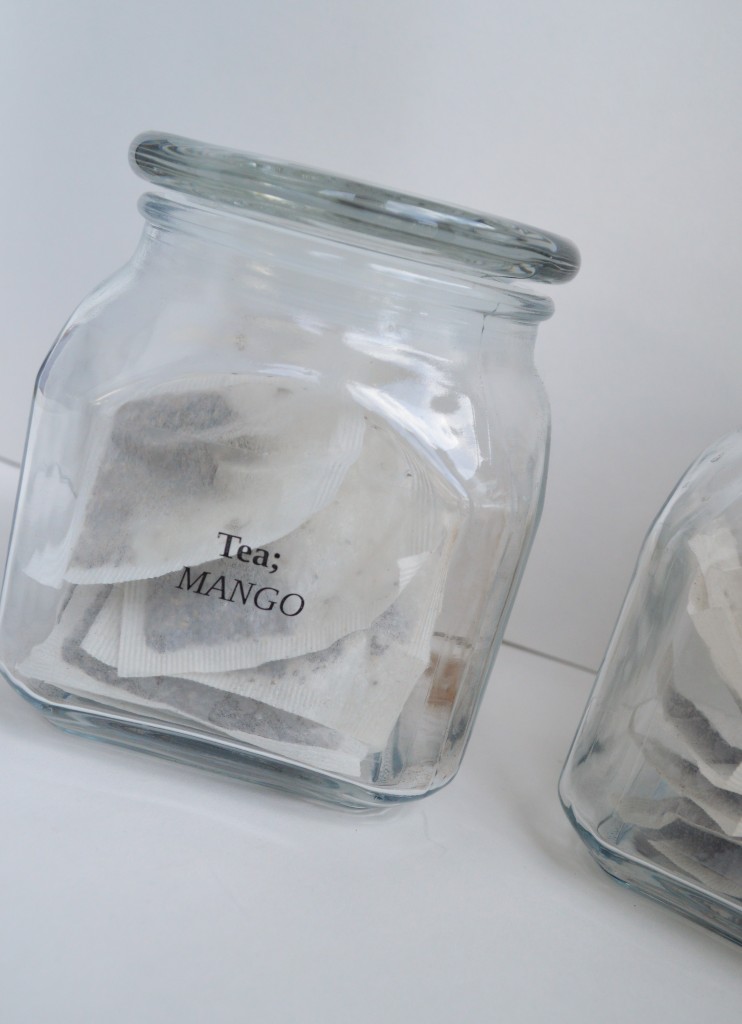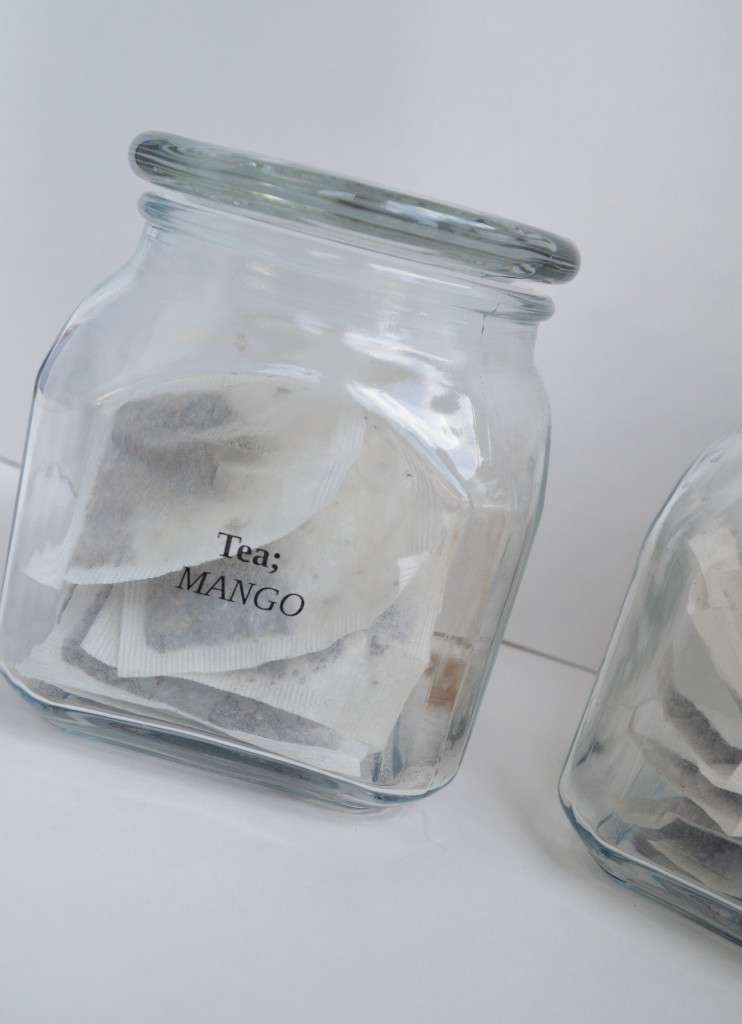 We have lots of canned goods so  a whole shelf was dedicated to them.  I wrote about this system a little while back which you can read about here.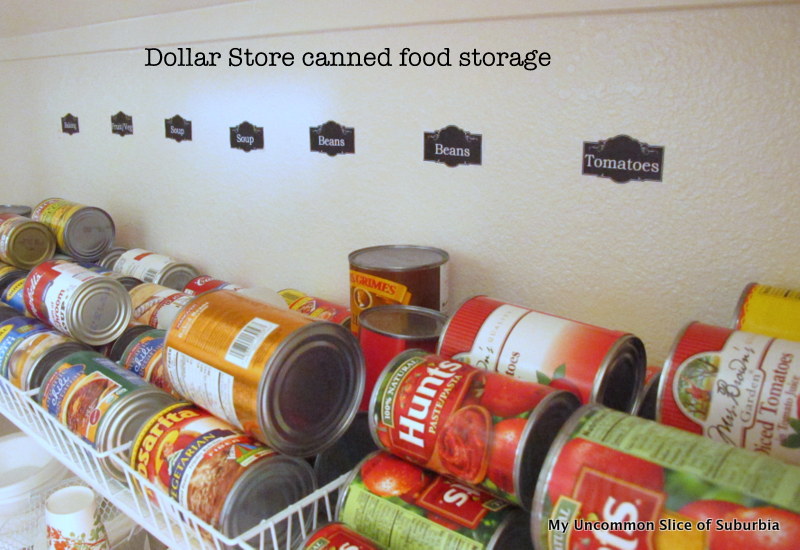 The bottom shelf, I dedicated to the kids for easy reach; snacks, napkins, straws, cups, plates, etc. The floor I have stackable bins for onions, garlic, potatoes. (we still don't have  a full functioning kitchen so paper plates have been a life saver for now)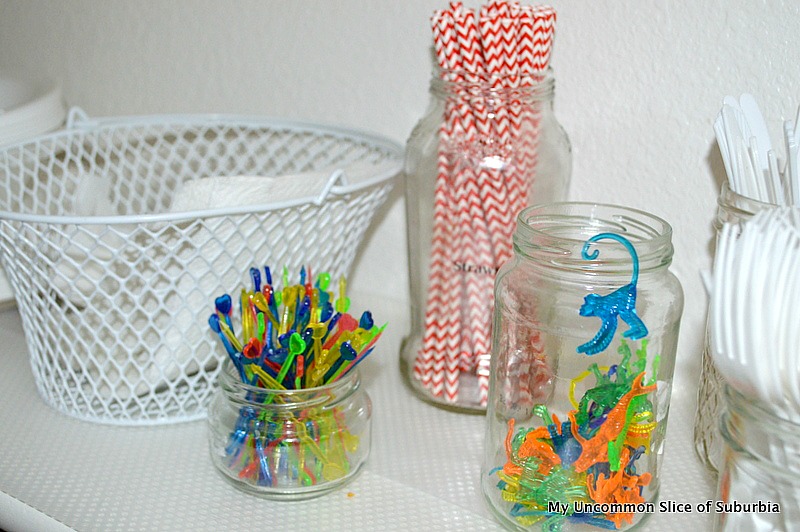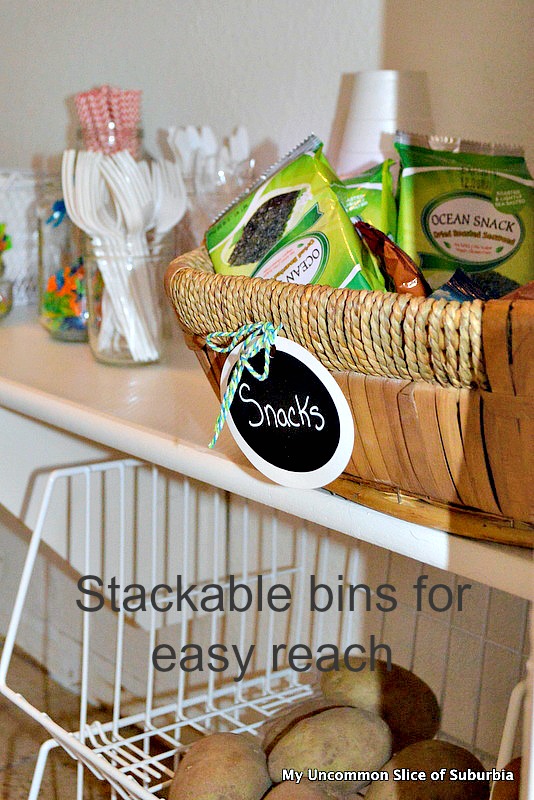 The left side of the pantry is used manly for dry items; cereal's, sauces, spices, coffee and tea.  The floor holds the dog food, plastic bags and large boxes while the top shelf again has all the bulky items.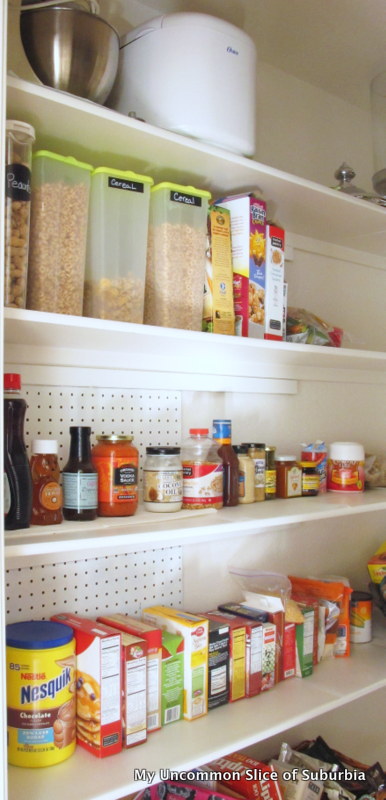 The plastic containers with the green lids are from the dollar store and the baskets are from Ikea which I already had.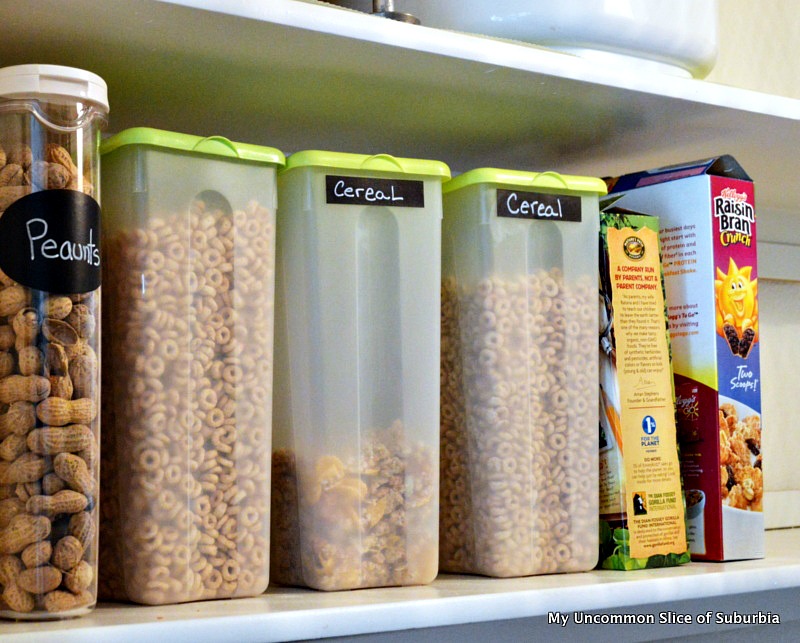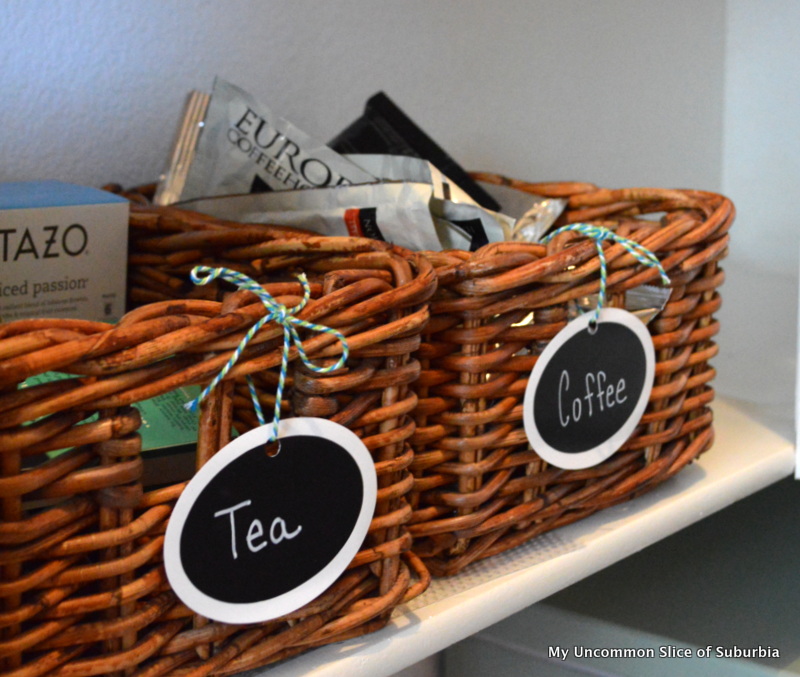 The  back wall  holds the staples such as rice, pasta, flour, sugar and corn. Everything is in  air-tight containers for freshness. The glass containers can be found at Target and Wallmart, the tall thin containers can be found at Ikea.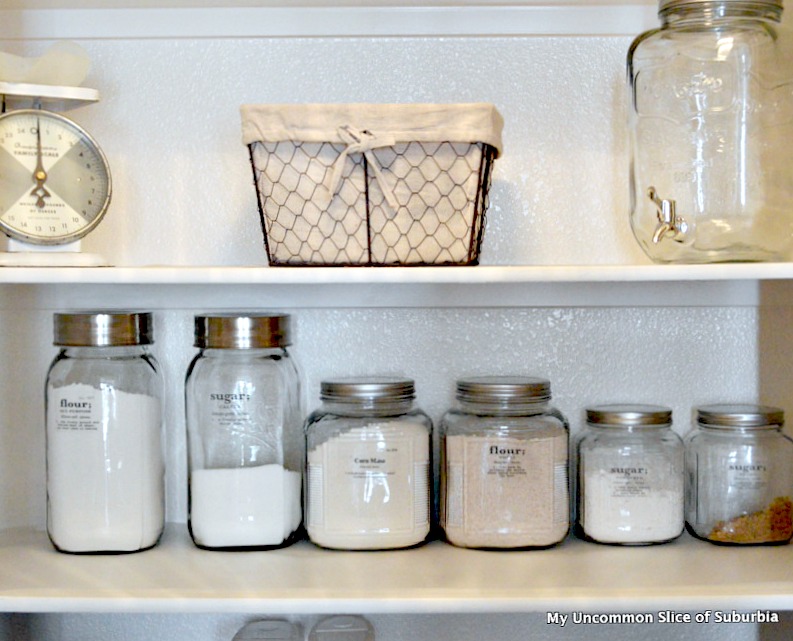 Here is a full view, this space is sure hard to photograph but I did my best.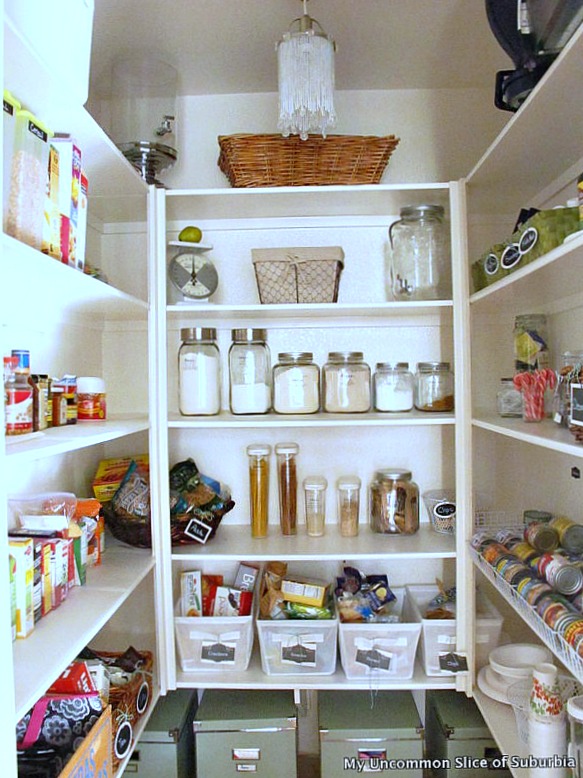 Of course, not pantry is complete without a chandi, I found this one at Ikea for $30.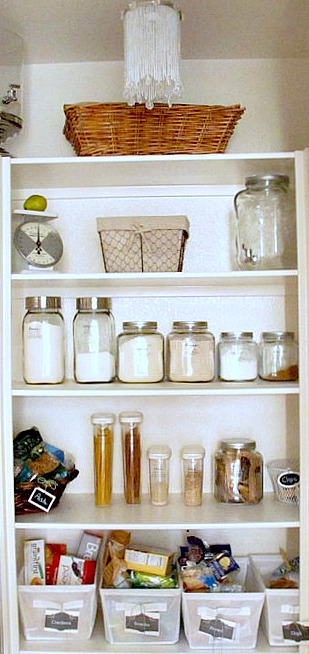 Zoning has definitely helped with knowing what food I have, what needs restocking, and where everything belongs. No more shoving things in!
Oh it feels so good to be organized! Thanks for taking the tour, hope you have a fabulous day and thanks for stopping in.
Linking up