Turning a kitchen island into a piece of furniture
Most days of the week I seem to have an extra person eating dinner with us, it makes me happy. I love feeding people; I know that sounds strange but I really do. I enjoy cooking adult meals however; I don't love cooking kids meals. My island's so called bookshelves at the end were frankly really annoying. Anything I put their meant I had to dust, I don't enjoy dusting! So hubby took out the shelves and added our freestanding furniture legs we had previously purchased 50% off a few months prior.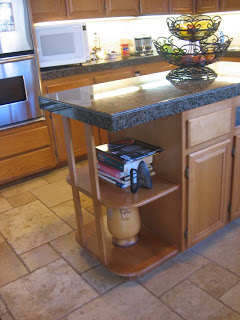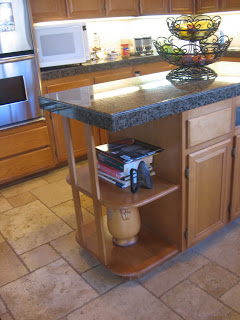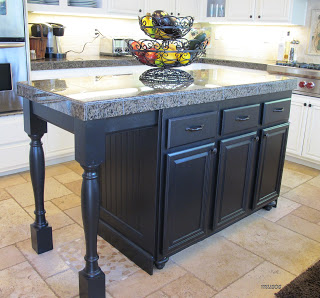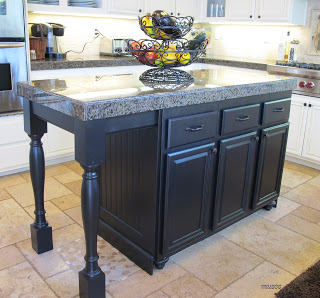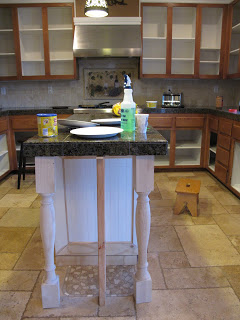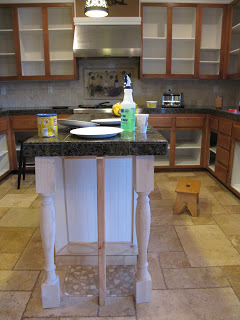 Taking out the shelves exposed the bare cement on the floor, "oops!"
Thank goodness we had lots of leftover stone from when we replaced our tile a few years back.
We took a hammer, broke it up and added it as a mosaic, I think it gives it a very unique feel. My oldest son had lots of fun helping.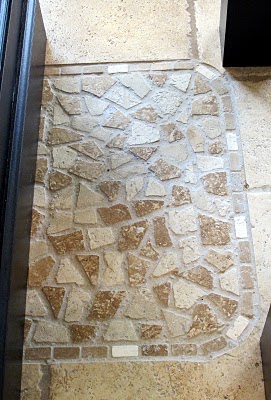 When we added the double oven I lost my microwave space. I've seen the microwaves inserted into the islands and figured that would be the most sensible. My hubby cut out a hole and luckily we already had an existing electrical plate so we were able to tap into the electrical and hook the microwave up.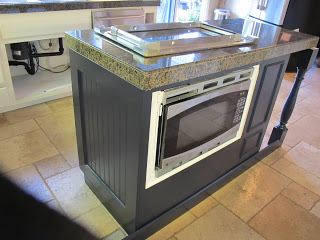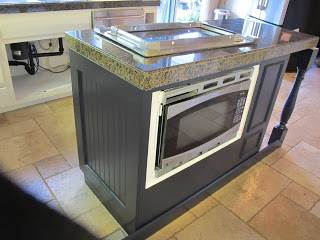 We placed wainscoting over the existing cabinet on both ends (front/back) and framed the wainscoting with large shadow boxes, again using the smooth pinewood. We added a very simple small trim inside the boxes.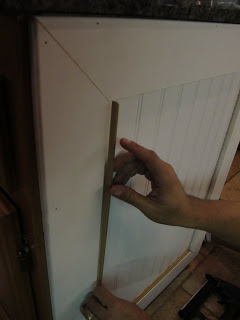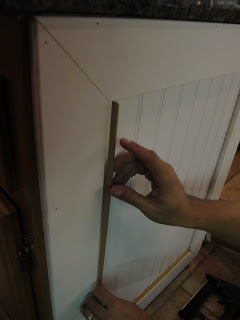 On the microwave side we added 2 small shadowboxes with small wood trim to give it more of a custom feel. We wrapped ¾ of the island with a tall baseboard and gave the cabinet side some feet to spruce up the look of the island.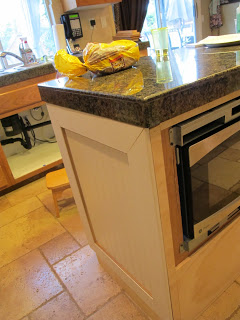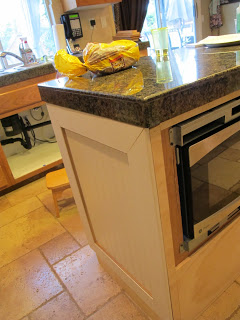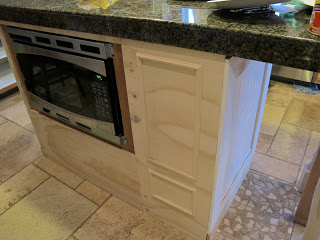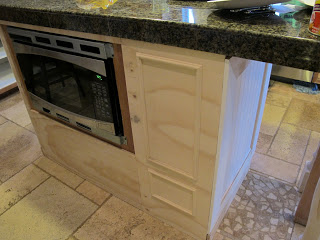 The last step, paint!  We used the color onxz black.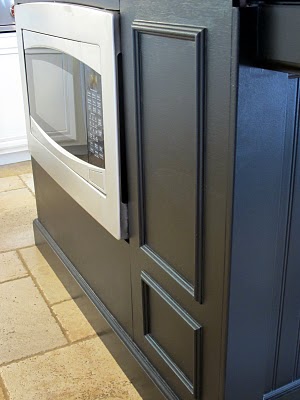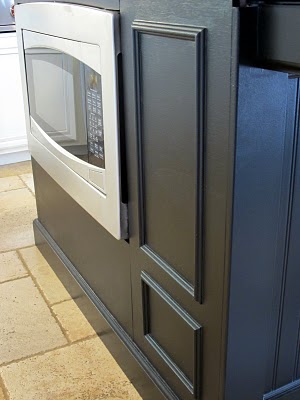 Voila! I'm extremely happy with the end result. It looks like a piece of furniture and we now have room for 2 extra guests at anytime.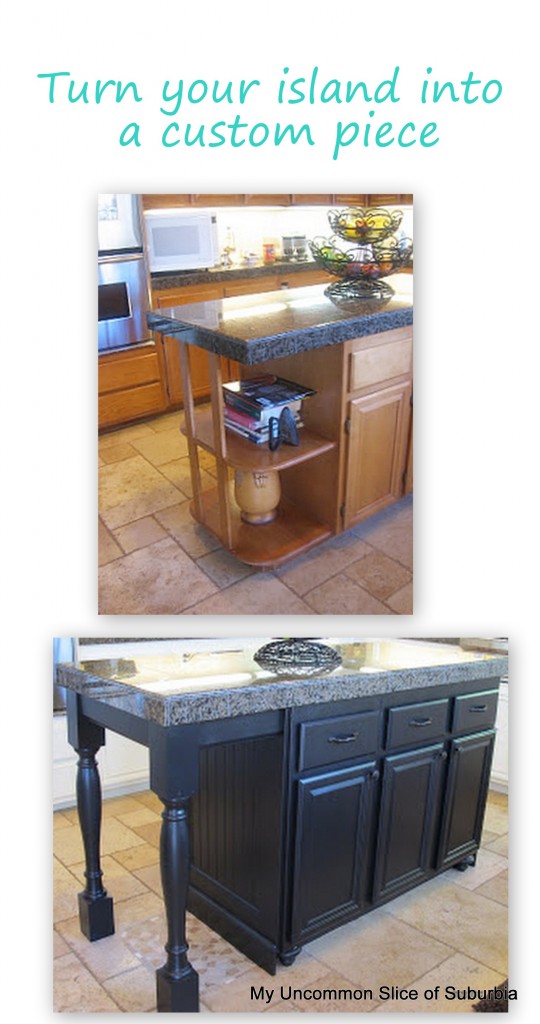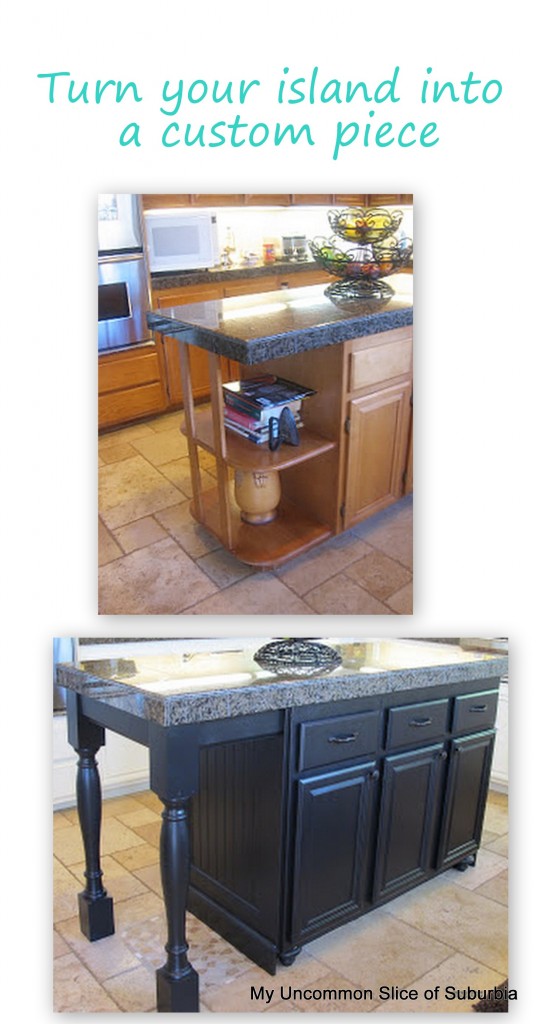 I have a tutorial here on how we added legs to the island.
If you missed other parts of kitchen transformation you can find them here: