How to paint oak cabinets
So excited to bring you our new DIY kitchen and teach you how to paint oak cabinets!
My apologies for reposting, a few posts did not make it over from the word press transfer, I am working hard and transferring over all the wonderful comments you left for us!
This post may contain affiliate links 
There was nothing wrong with our kitchen when we first purchased our home 8 years ago. The layout was very functional, the cabinets were sturdy, and the tile and appliances did their job but it was so not me. Builder-grade oak cabinets, white 4×4  tiles with white grout you couldn't get clean.
 I spend the most amount of time in our kitchen, I wanted it to be a place that made me happy.
 Fortunately for me, I have a super handy husband that gets just as excited over a can of paint as I do. I was a little worried though, kitchens can become so dated, whatever we did I needed it to be as close to timeless as possible and on a budget.
So here is my before picture right before we moved in. Over the years I kept a binder with pictures of my dream kitchens and drooled over model homes with eat-in islands and gourmet stovetops.
I love white kitchens, and consider them to be a classic.  I also love the look of cottage kitchens; I needed to come to a happy medium. Overall, in the end, we achieved a pretty traditional kitchen with a twinge of French and cottage.
We began replacing our white appliances with stainless steel appliances.   They were all found on Craigslist by my fabulous hubby saving us thousands of dollars!
We replaced the floor with natural stone the following year. When Home Expo went out of business I scored the Chandi and pendant lights for 75% off. I had been hovering over them for 2 years but wouldn't spend the money on them.
The most exciting part of our kitchen renovation took place about two years later, the painting of the kitchen cabinets!!!
 Here is the step by step tutorial for you and a supply list:
Supplies:
Oil-based primer
Sherwin Williams Summer White Kitchen Paint
Glaze: Ralph Lauren faux technique glaze in smoke
Heavy-duty cleaner
Assorted Sandpaper
3M Sanding Sponge
Wood Filler
Painters Masking Tape
Painter's Acrylic Latex Caulk
All-Purpose Tack Cloth
Plastic Drop Cloth
Foam Mini Roller
Angle Trim Brush
Putty Knife
 Directions
Remove all of your doors
Prep the room covering everything you don't want to be painted
Remove all the hardware and hinges.
If your cabinets have gaps or dings fill them with wood filler.
Empty all your cabinets
Degrease all the doors, draws, and frames. Tsp is a great degreaser as is vinegar and hot water.
Sand everything I used an electric sander with a medium grit (80 or 100).
Prime with an oil-based primer. Foam rollers will give you the look as though your cabinets have been sprayed.
Lightly sand

 Caulk away, it will hide all imperfections.
Here is the exciting part, Paint your desired color using a foam roller or spray them.

NOTE: Latex paint will adhere perfectly to oil-based primer. Latex primer over oil paint will not work at all.
Let it dry, buff out any drips and give it another coat.

 Reinstall cabinet doors and drawers, replace the hinges, and hardware.
Glaze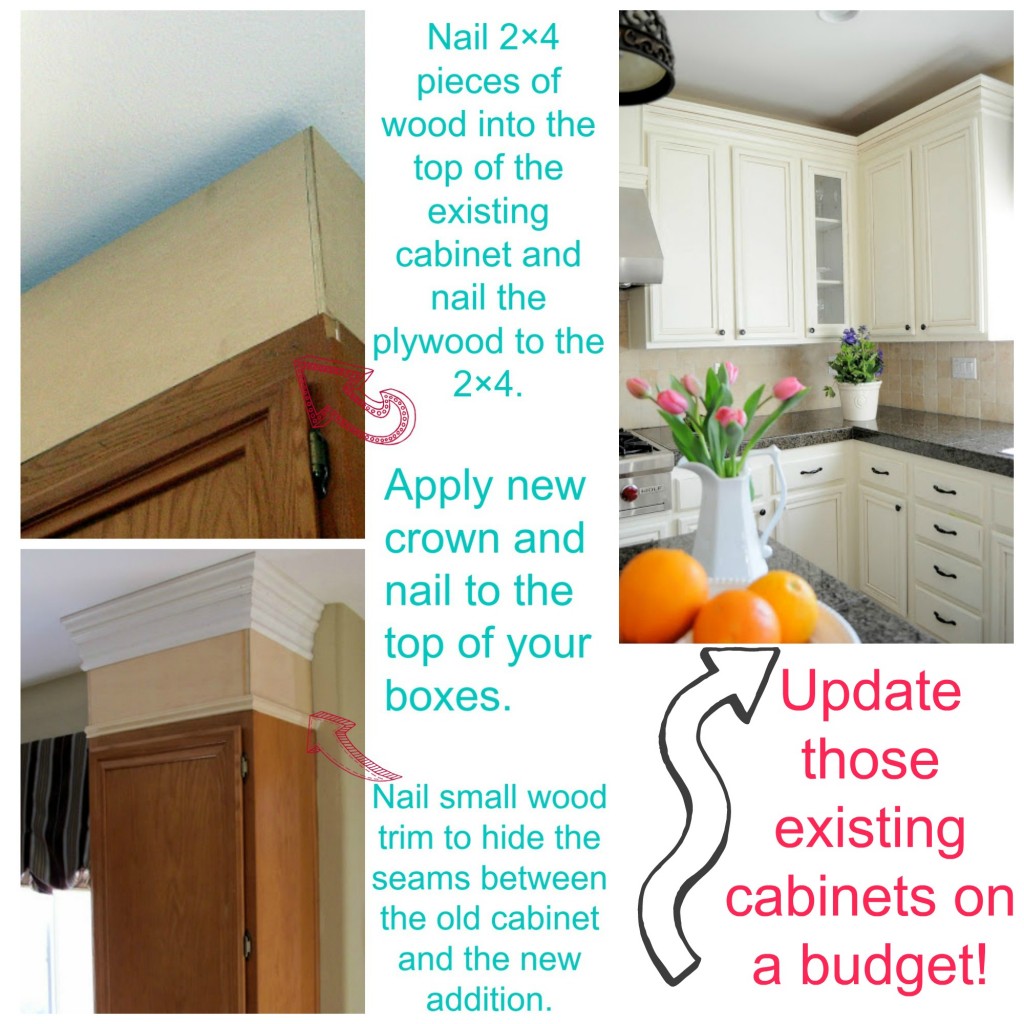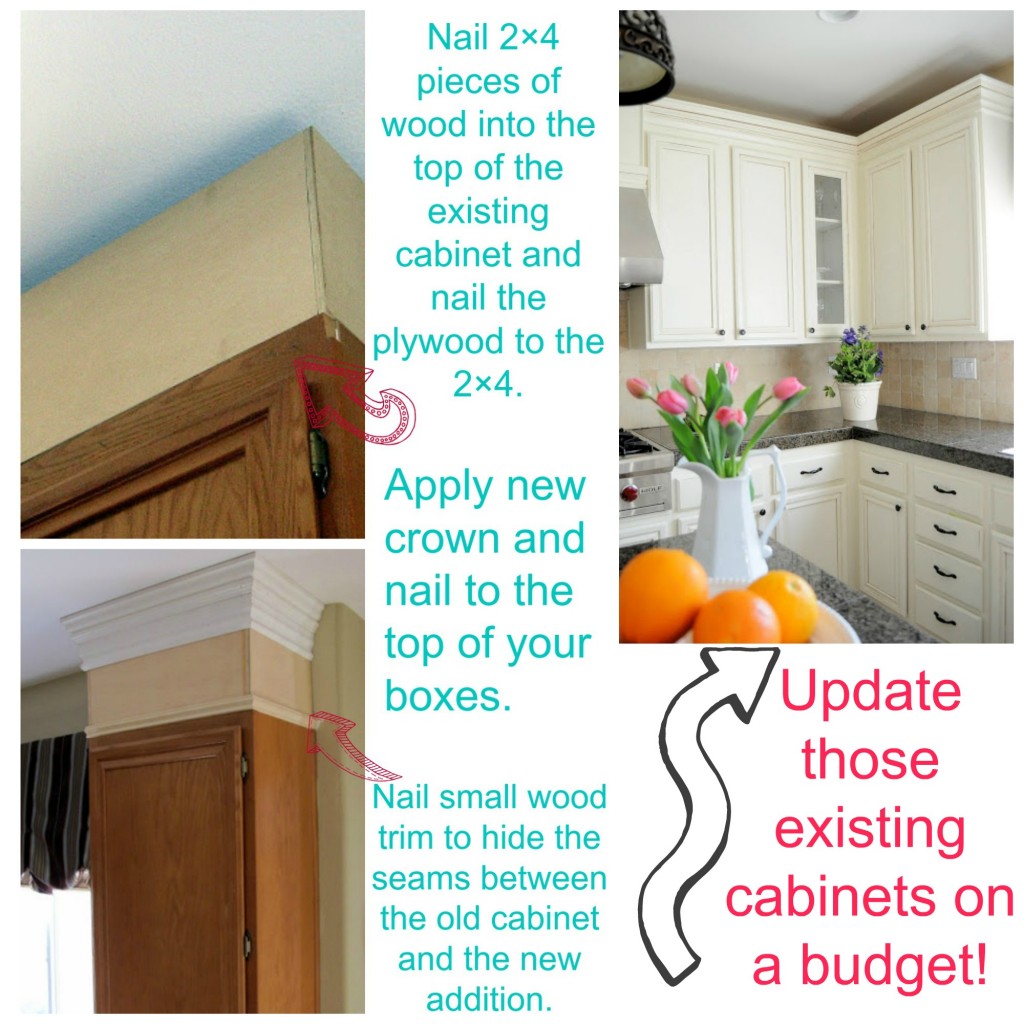 Colors used:
Kitchen cabinets: Sherwin Williams Summer White
Glaze: Ralph Lauren faux technique glaze in smoke
Kitchen island: Glidden, onyx black
If you missed other parts of kitchen transformation you can find them here:
If you would like to see how our cabinets have been holding up, you can read all about it here!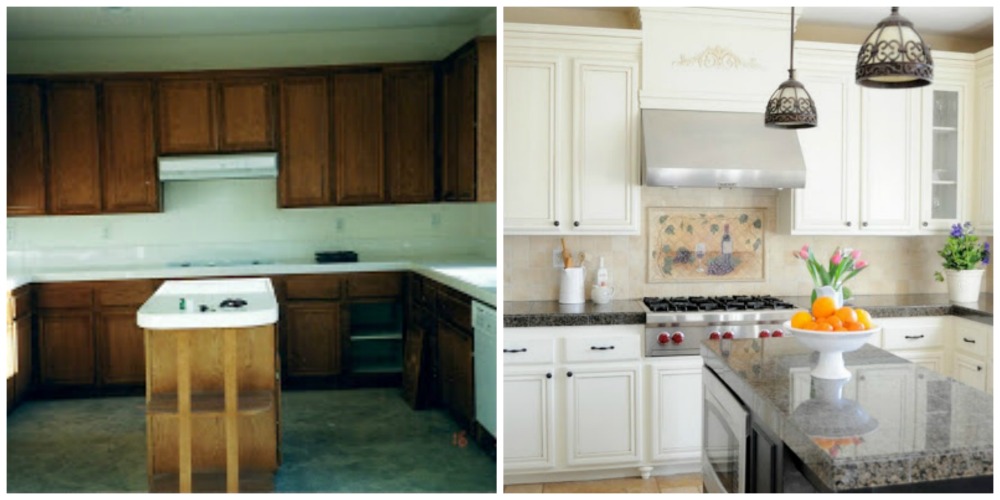 Thanks for stopping in and have a great day!