How To Create A Natural Raw Wood Look
Over the past few years, we have brought in a few pieces of furniture that highlight the natural beauty of the wood's grain. After living with these pieces for a little while and really loving them, I have started to take some of my painted and stained pieces of furniture and bring them down to their natural raw wood. So today's makeover is for all you natural wood lovers out there, I'll be showing you how to create a natural raw wood look.
It's Thrift Store makeover day, once a month we come together to share our transformations, make sure to check out all the projects at the end of this post!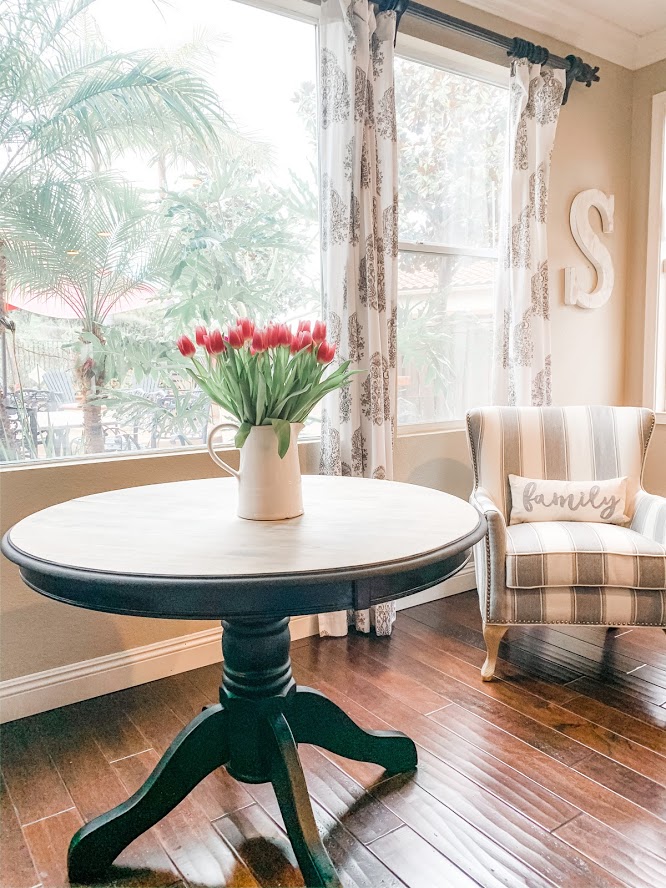 The picture below is what the table looked like when I told my husband to put his truck in reverse and throw the free roadside table in the back. He gave me the roll of the eye and being the good man that he is he put it in the truck. When I brought it home I painted the piece white with blue legs I got so excited to start working on this table again I totally forgot to take a before picture, blogger fail moment!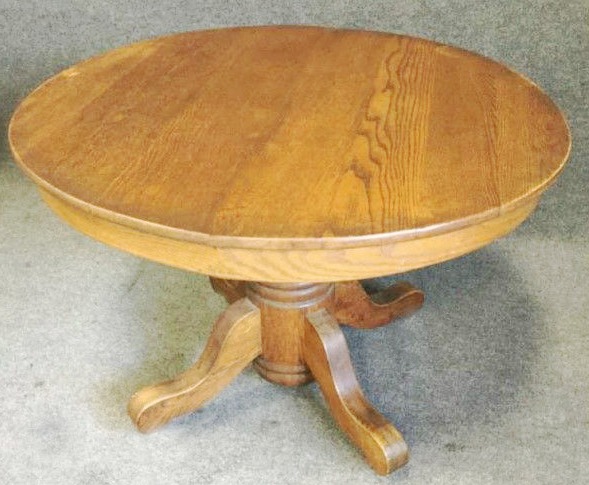 I do however have this one, don't judge! This was around Christmas time and I was getting the house ready for Christmas and I posted this picture to our Holiday Housewalk FB group saying my house was ready for the tour. Basically around that time, I just move crap from one room to the next to take pictures until I can get it all put away. So here is the painted table, it was white on top, blue on the bottom and lots of distressing. I really liked it but I was ready for a change.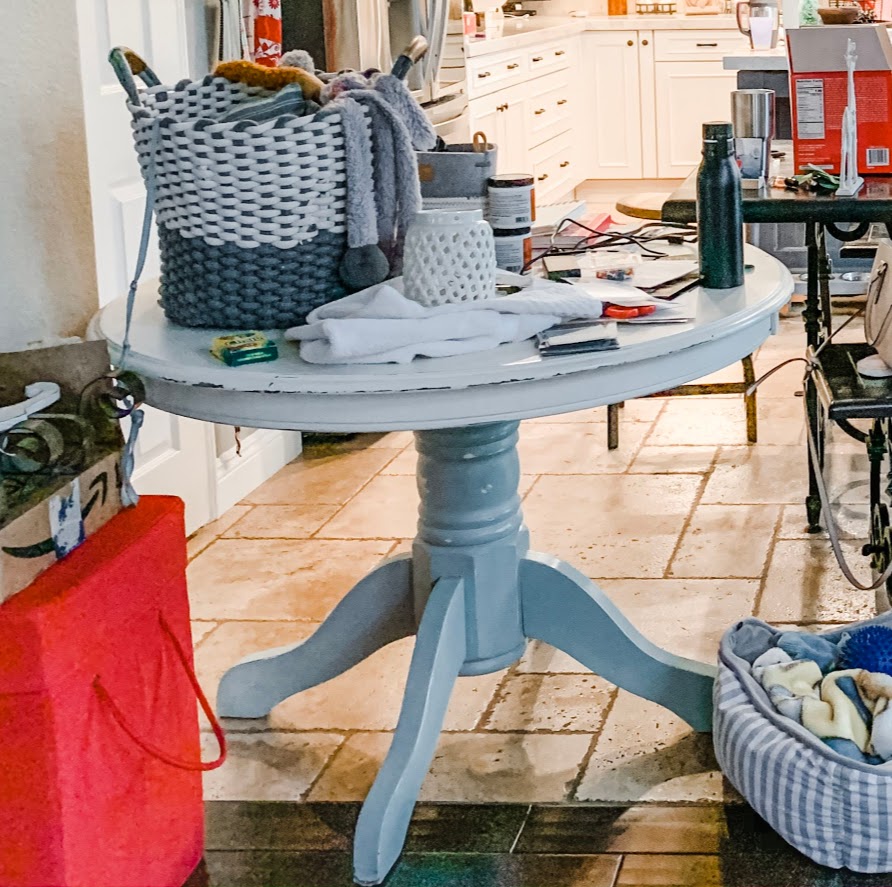 Note: I decided to only sand down the top part of the table and paint the base black. I'm seeing this a lot in design lately and it will also match the barstools we have in the kitchen. Plus I'm not going to lie, it made this project a lot easier not having to sand down all those curves.
Affiliate links listed below
Supplies
If you are spray painting the base of the table
More Tack clothes
Spray Paint color of your choice
Zinser bullseye 123 primer
Sand Paper and Sanding Sponge
Directions:
Strip your piece of furniture using a putty knife, follow the directions according to the label.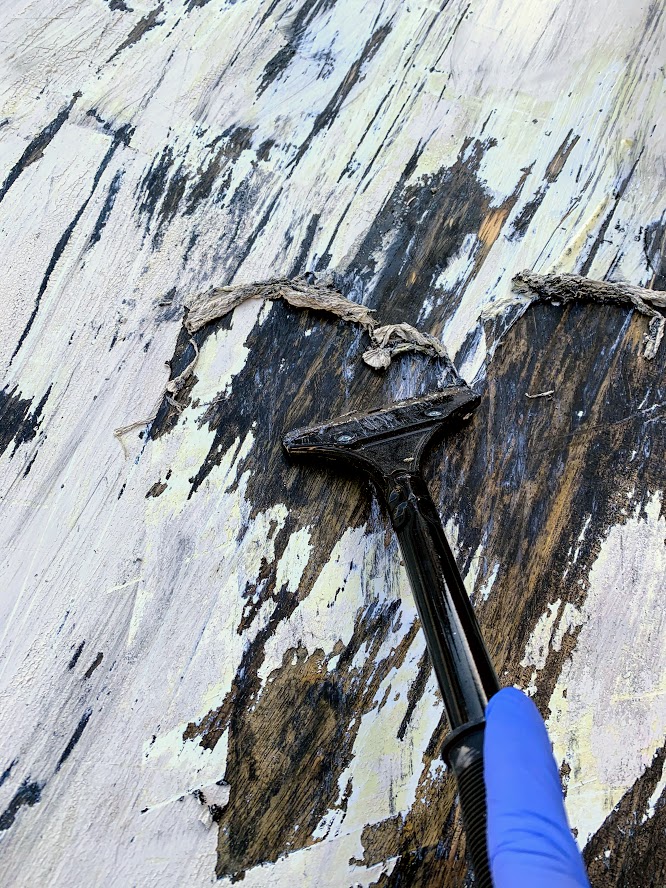 I stripped the piece 3 times and finally decided it was time to bring out the sander. The stripper did remove the paint and much of the finish but it still needed sanding. My sweet hubby stepped in and sanded the top down for me using a orbitol sander. I loved the look but decided to give the piece one more good sand down and I was able to get it just a little bit lighter.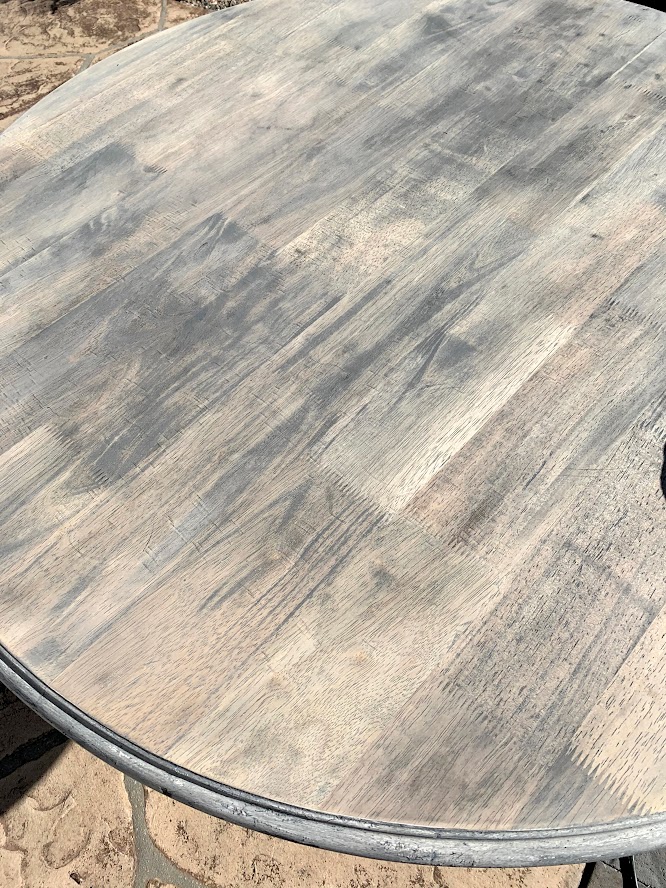 You can see just a slight difference between the two sandings.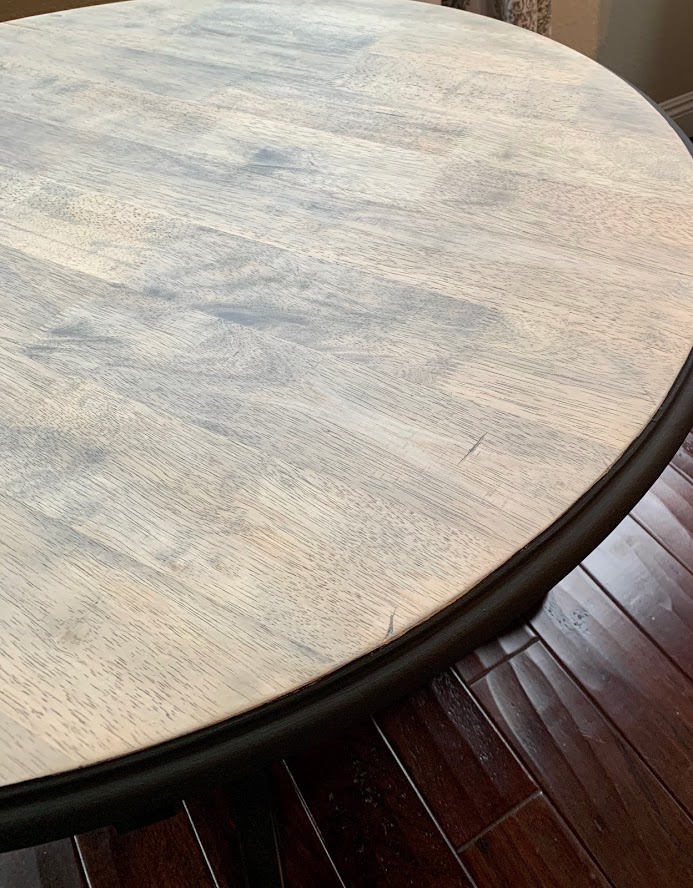 Wipe the whole piece down with a tack cloth
Next you are going to want to seal your piece for protection. I did a lot of research on this since many products will darken the color or turn the wood yellow. I decided to use Weather Wood Stains Flat Varnish since I have had good luck with it in the past. It kept my piece the same color and gave it zero shine, exactly what I was looking for.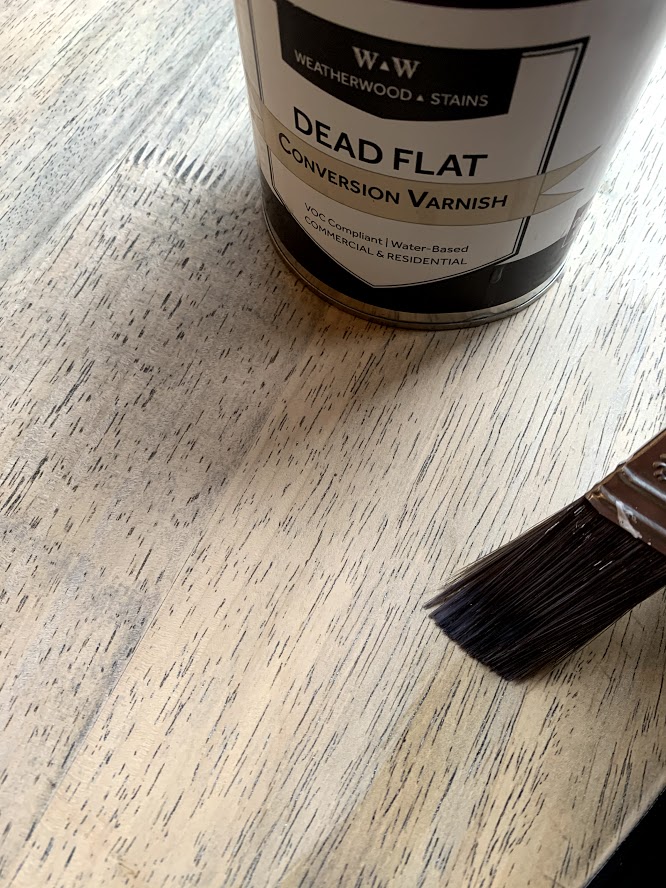 If painting the base of the table
Clean with a mixture of water and vinegar.
Give the piece a light sanding
Wipe it down with a tack cloth
Prime with Zinnser BullsEye 1-2-3 Primer.
Go over the whole piece with a fine-grit sanding sponge and wipe clean with a tack cloth
Spray your furniture with your choice of spray paint. This may take 2 or 3 coats, just allow it to dry for about 30 minutes in-between coats. If you are using a paint and primer in 1 you can skip the primer, which I did. If I was spray painting a piece of furniture that was going to get lots of use I would have used the bullseye first. But no one is really going to be touching the base of this table.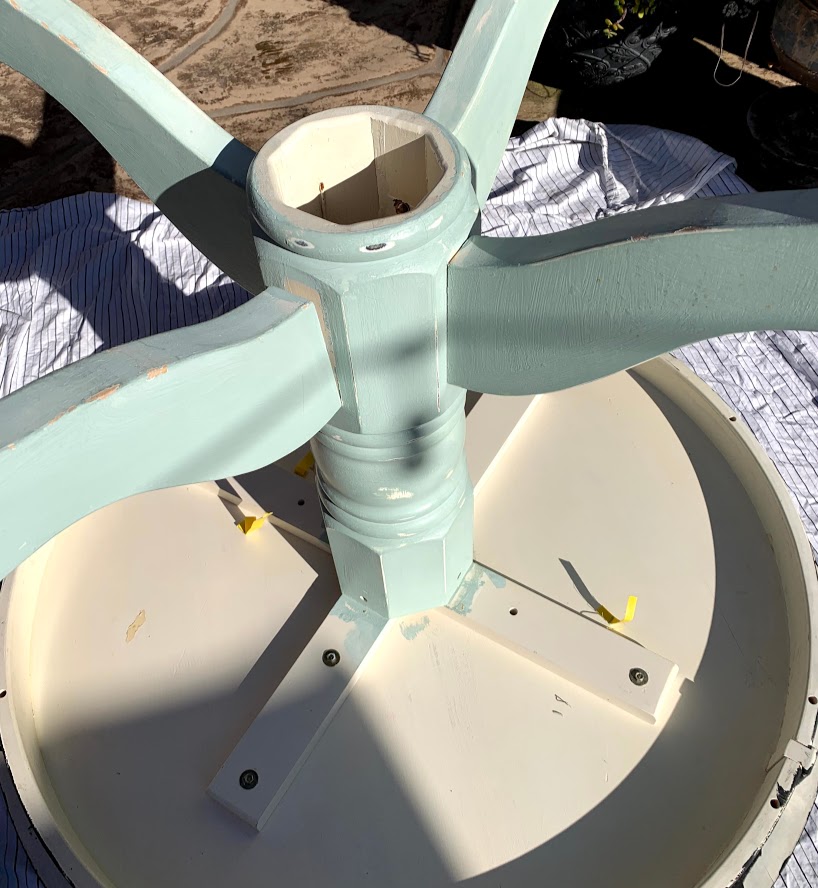 Voila, you have a completely new transformed table that brings out the beauty of the natural wood!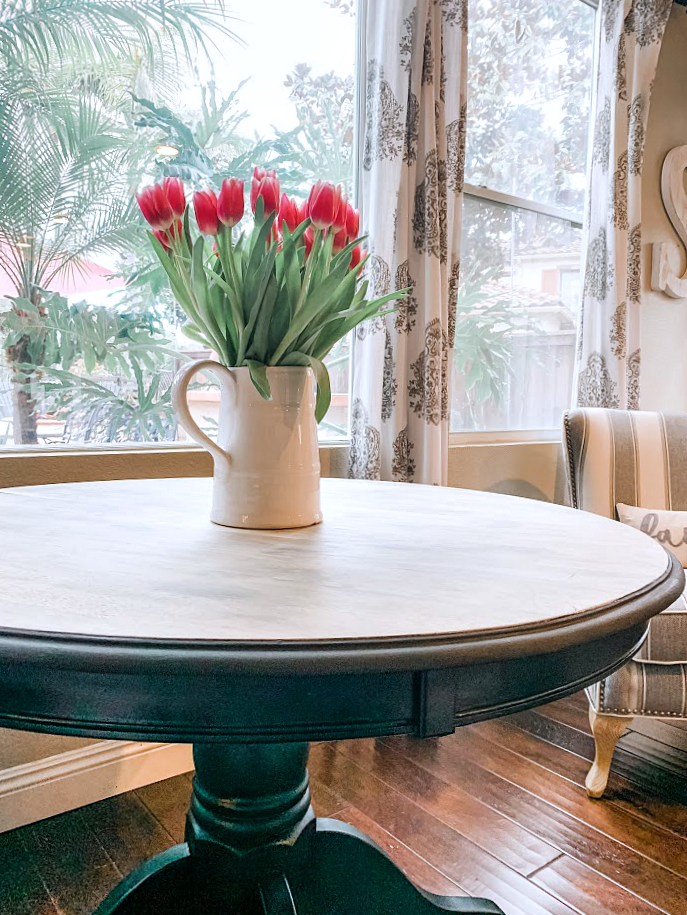 I have a smaller version of this table from my grandparents that I'm ready to sand down!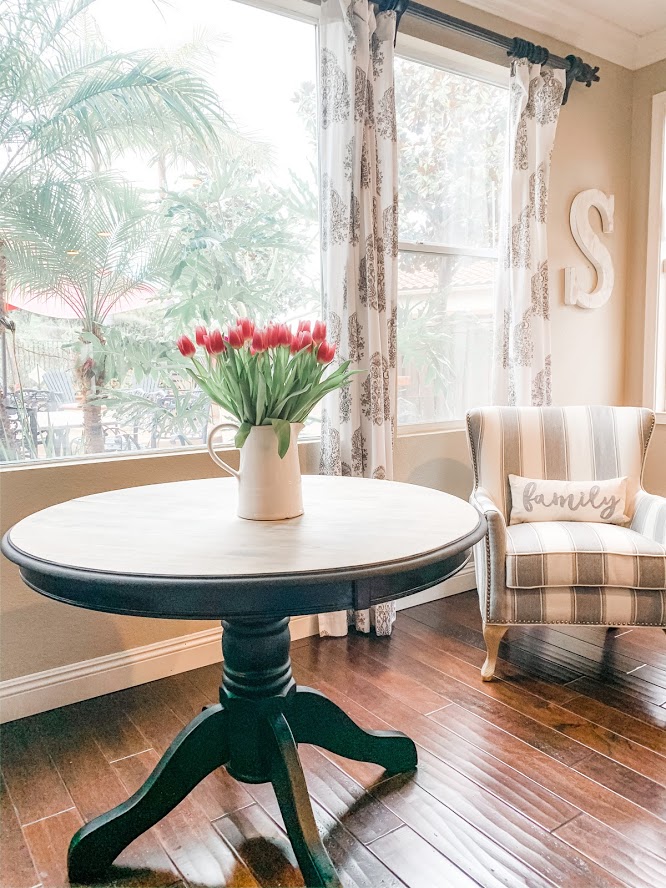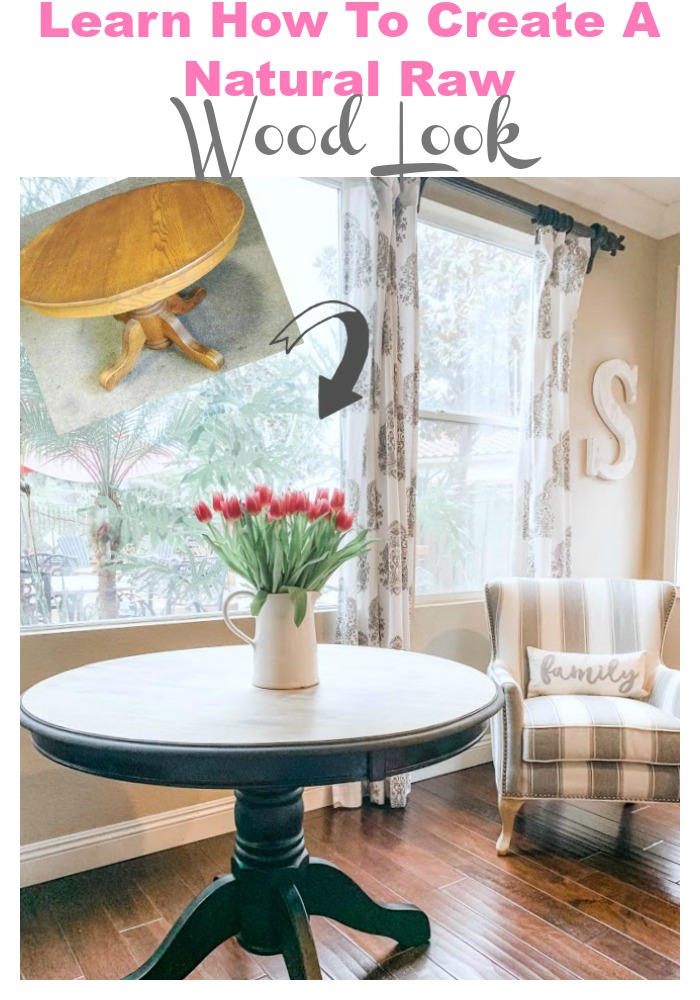 As always, Sophie had to sneak into the pictures!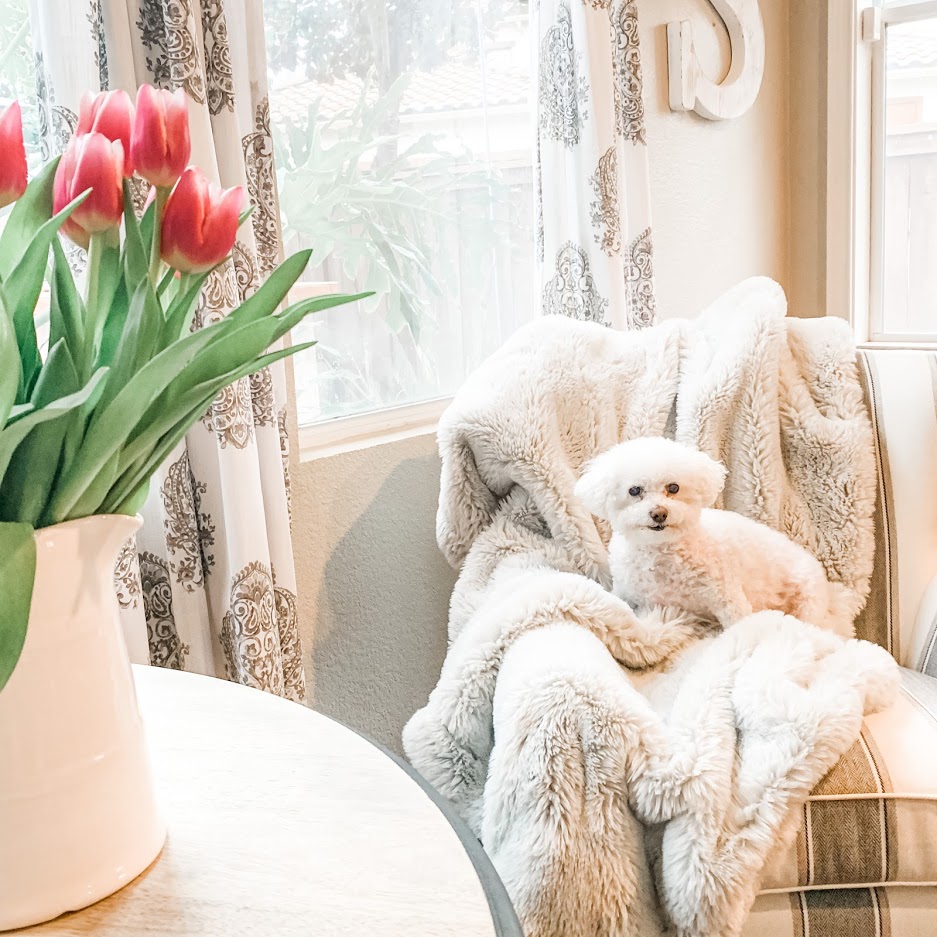 Here are some other products that came highly recommended when it comes to sealing natural wood. Note: I have not had any experience with them but I thought you might find it helpful.
Beeswax finish from Fusion Mineral Paint
Briwwax liming wax
White Paste Wax FIDDES & SONS
Flat out flat by General Finishes
Sweet Pickins top coat
Gator Hide by Dixie Belle
****General finishes Flat (this one kept coming up again and again, people loved it)
Benjamin Moore Stays Clear Flat
I have received many e-mails asking how the table has held up, here it is a year later, it looks exactly the same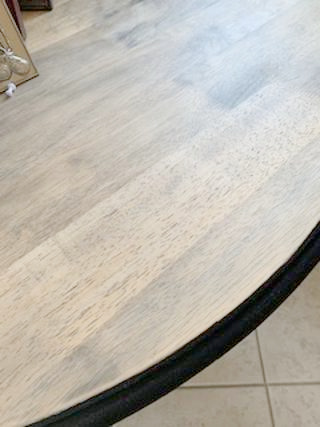 Time to check out all of the amazing thrift store makeovers for this month!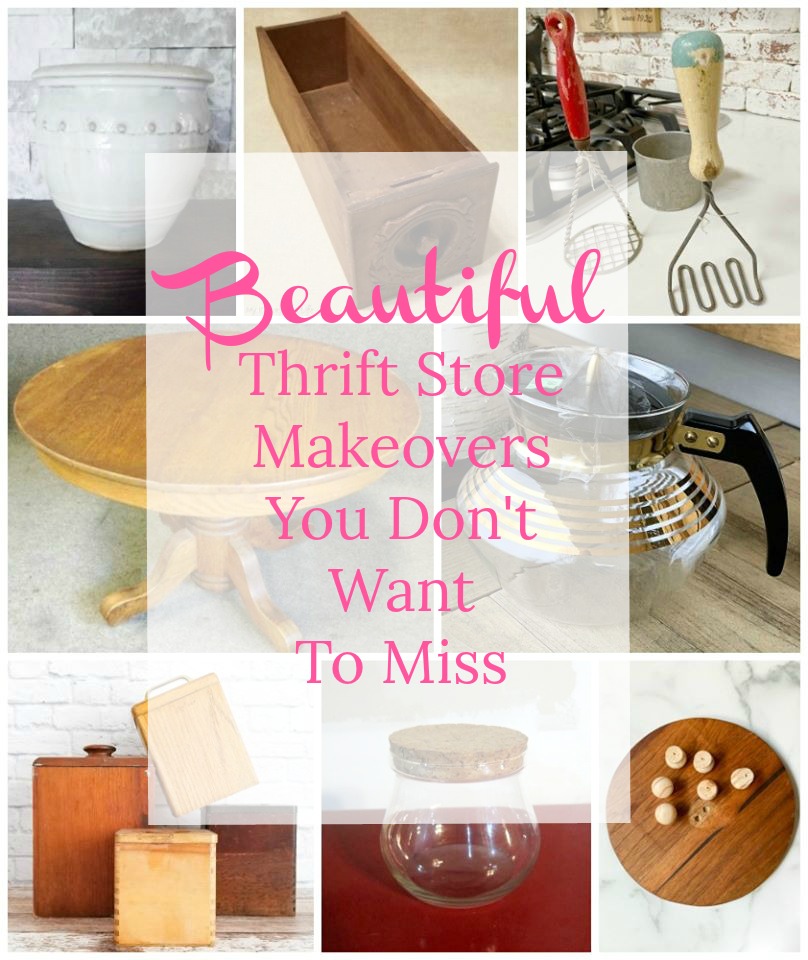 How to Make a Cement Pot
Decoupage Sewing Drawer
Antique Kitchen Tools for Spring
Create A Natural Raw Wood Look
DIY Coffee Pot Terrarium
Retro Canisters for Vintage Kitchen Decor
Decorative Candy Jar
DIY Footed Tray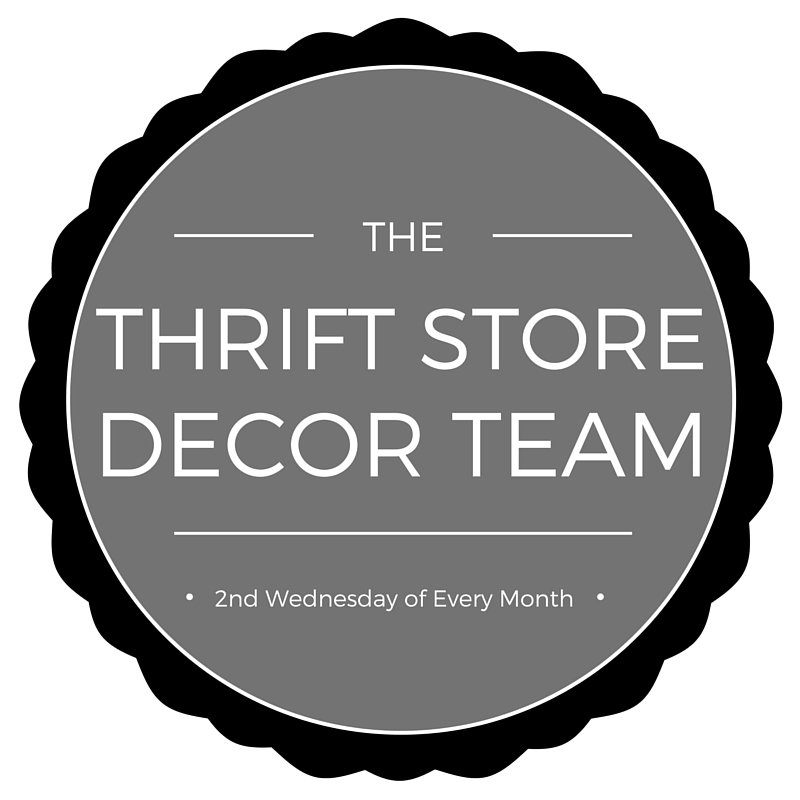 Thank you so much for stopping in today!