Making your cabinets look custom
I really love the look of Staggered cabinets and double stack cabinets, just not the price tag.  We drew out lots of rough drafts and looked through countless kitchen magazines and decided to achieve the look on our own. Using plywood, crown molding, and trim, we were able to add height to the cabinets making them look custom.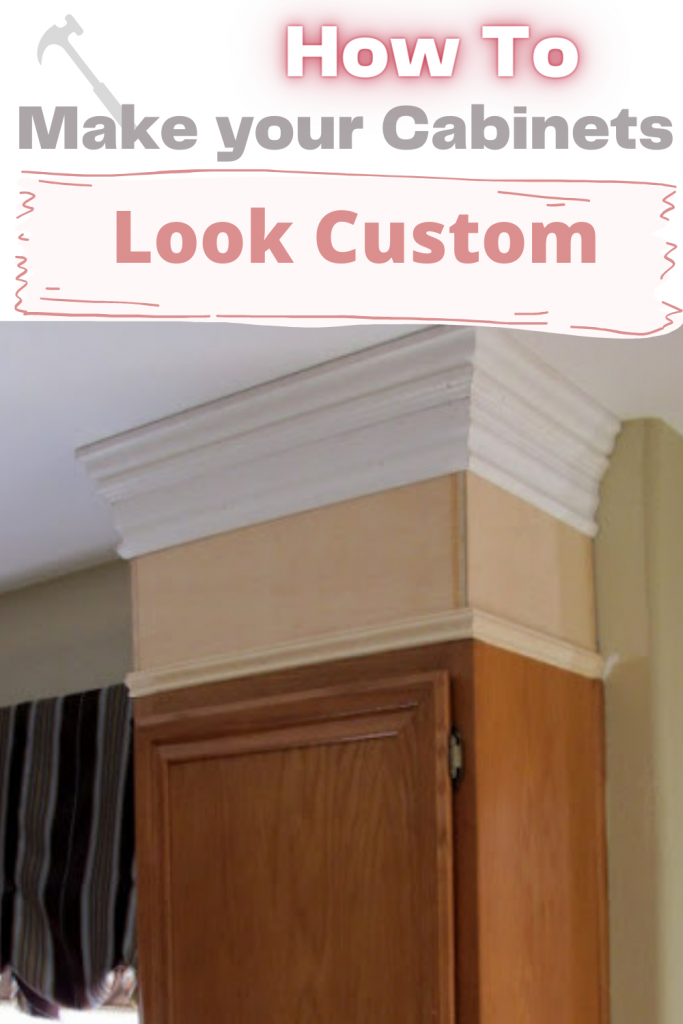 Kitchen After
Remove existing trim and molding on top of the cabinets. Build a box using pine plywood in a smooth finish.
Anchor the box to the top of you're existing cabinets.  You can do this by nailing in 2×4 pieces of wood into the top of the cabinet and then nailing the plywood to the  2×4.
Apply new crown molding and nail to the top of your boxes.  For our crown molding, we went with a double-stacked baseboard on the bottom and crown on the top of the baseboard.
Click Here for a video tutorial on how we installed double-stacked crown molding
Nail small wood trim to hide the seams between the old cabinet and the new addition.
 Caulk away, hiding all imperfections.
Paint!
This project came with lots of trial and error. You definitely need to be on the tolerant side if you are taking this on yourself. When something did not look right we took it down and started over. This is your time to get creative.
The Budget
Cooktop  $2,000  Wolf
Dishwasher  $200  LG Electronics
Microwave  $100  GE Profile
Oven  $1,000  Kitchen Aid
Refrigerator  $800  LG Electronics
Hood  $300 Wolf
Hardware $115 Home Depot
Faucet  $75   Home Depot
Sink $125   Home Depot
Backsplash $800  Durango Cream tumbled travertine
Countertop $ 2,000  Baltic Brown Granite
Flooring $960  walnut travertine versi pattern
Crown Molding and Trim  $400  Purchased at Timberline Molding
Light Fixtures  $215  Home Expo (out of business)
Paint and Labor $1,500
Total Cost $10, 590.00