Adding glass to your kitchen cabinets
Adding glass is an inexpensive way to transform builder-grade cabinet doors into beautiful, custom-looking glass insert doors.
I had painted all the oak doors creamy white prior to this.
They get pretty scuffed up in the process so I would have saved the painting for after the cuts were made.
Remove the center panel, a router would come in handy here….on our list of things to purchase this year.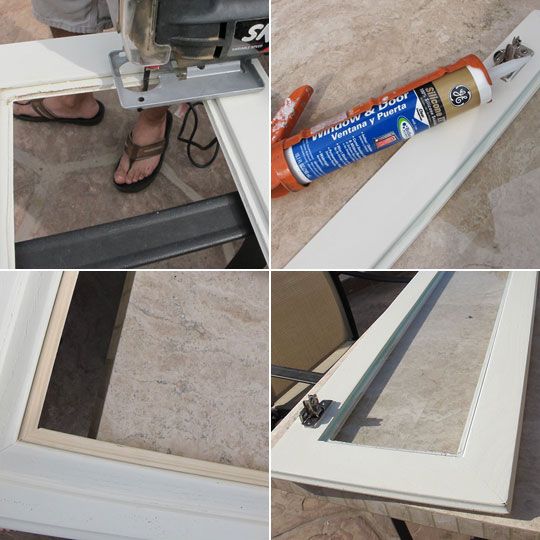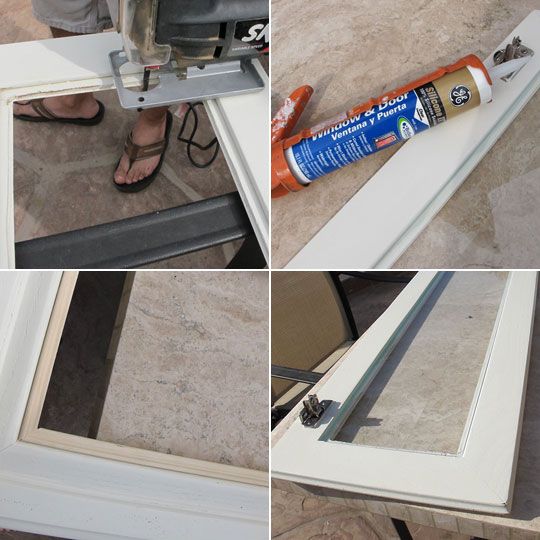 With the panel removed,  you have something like a picture frame.
Add a very small piece of molding to hide all the rough cuts and paint.
We took our doors into the glass shop and they measured for us. $8 a piece, what a deal!
Run a single bead of clear silicone caulk in the groove.
Press the pane of glass into the groove, let it dry overnight.  Add a simple plastic frame clip.
I think the most important thing is you have to realize that there is no going back, you can't un-do what you're about to do.
Start with two, if you love them add more.
Remember sometimes less is more!
If you missed other parts of kitchen transformation you can find them here:
Ray and Kristin