Updating The Kitchen With New Light Fixtures
About a month ago, we decided to update our kitchen lighting with some new pendants over the island a new chandelier that hangs over the table.  It's been about 12 years since we gave our kitchen a DIY makeover and installed our old lights. When we had the leak and had to rip everything out, new lights were not in the budget since insurance denied our claim.  I loved the lighting at the time and still do but we were ready for a change.  The new lighting makes the kitchen look much more open and gave it an instant update.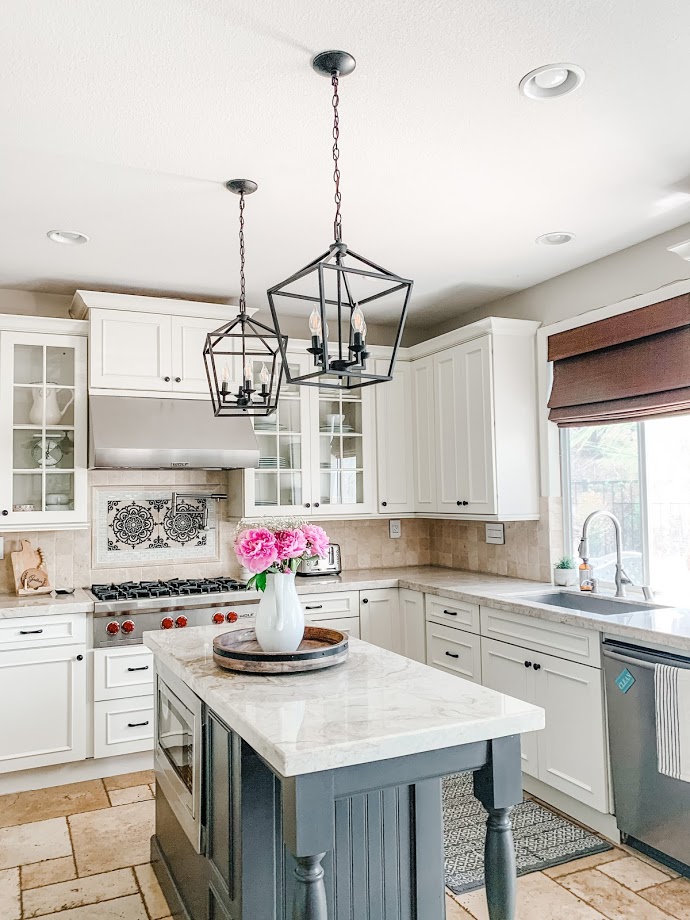 Please note that this post contains affiliate links. As an Amazon Associate and Rewards Style influencer
I earn from qualifying purchases and any sales made through such links will reward us a small commission.
Kitchen remodeling can be really expensive, but changing the lighting can make a big difference without a big price tag!  We found the lights at Home Depot (listed at the end of the post) and found them to be very reasonably priced compared to similar light fixtures.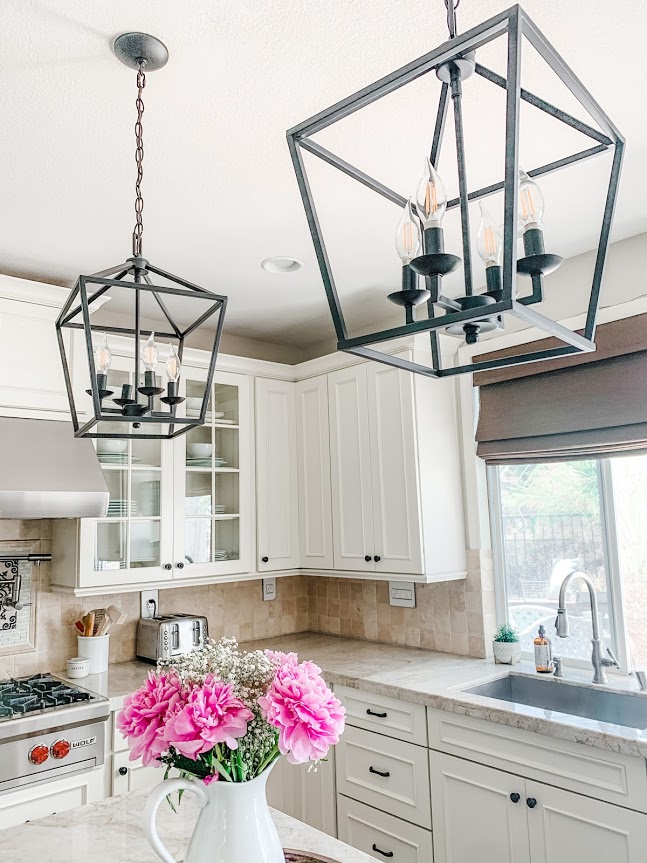 We put dimmers in the kitchen a few years back which is perfect while preparing food with brighter lights, but gives us ambient and natural light for other times.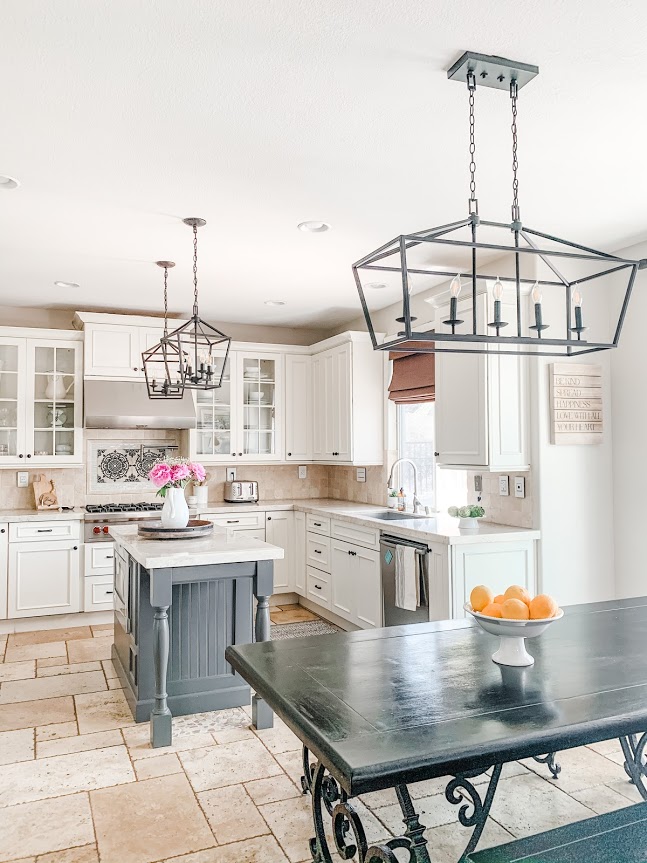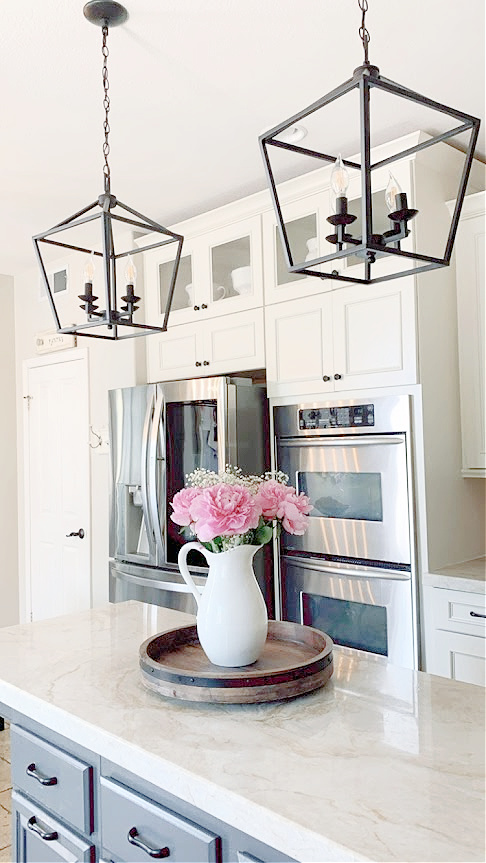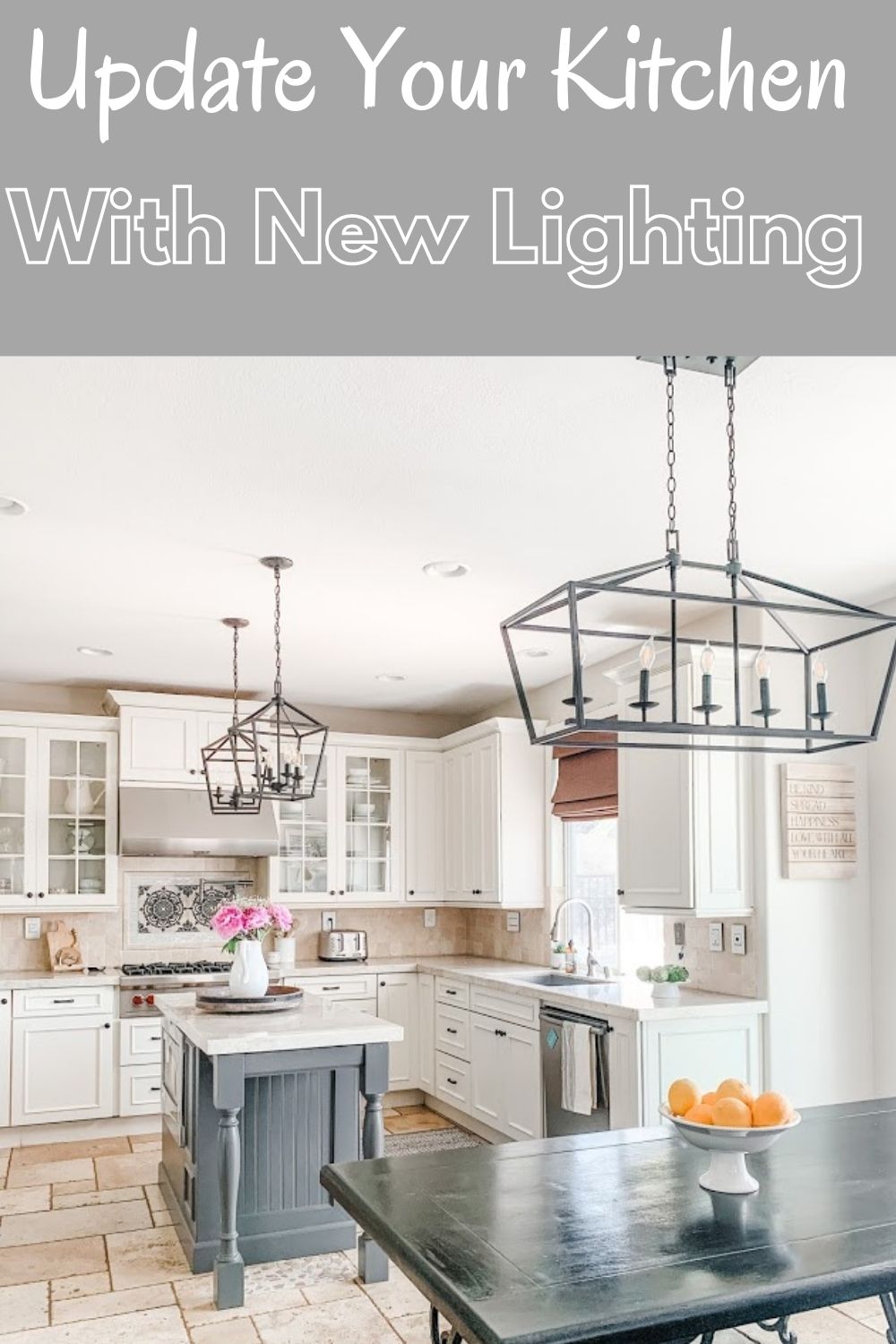 We had to get a little creative so I wouldn't have to be holding the chandelier for 15 minutes, lol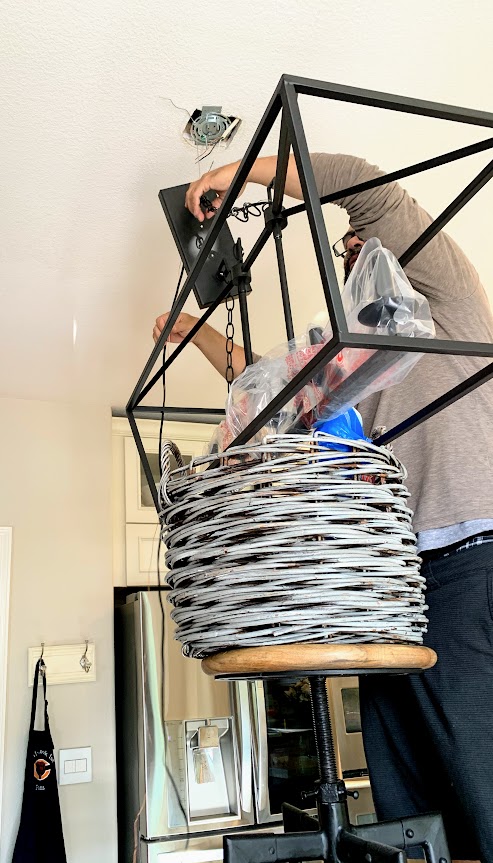 Here is what the existing lights looked like.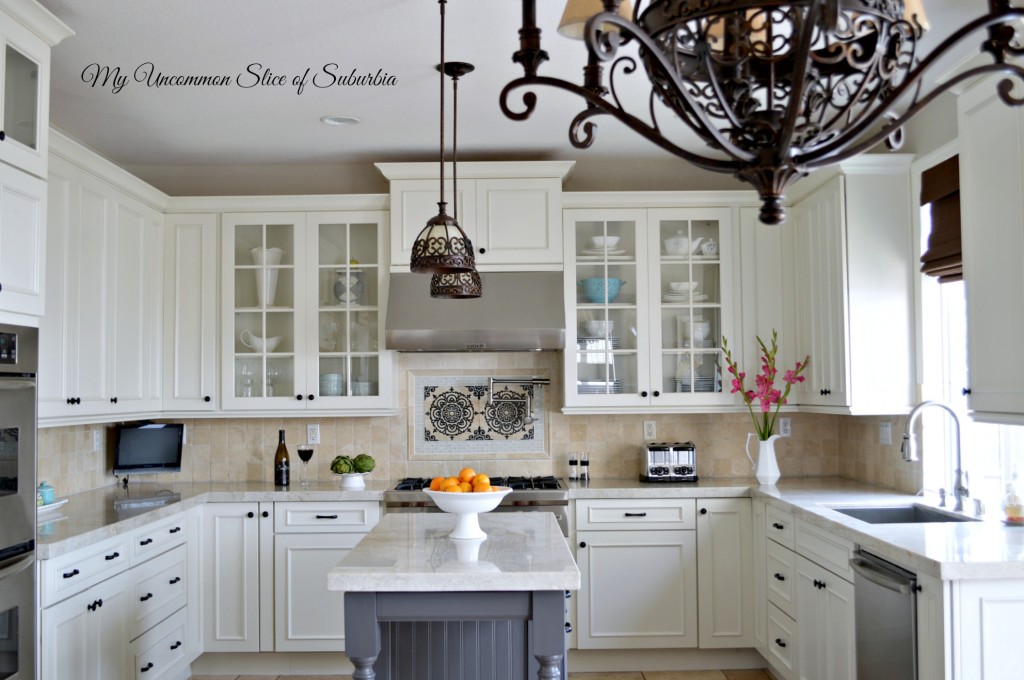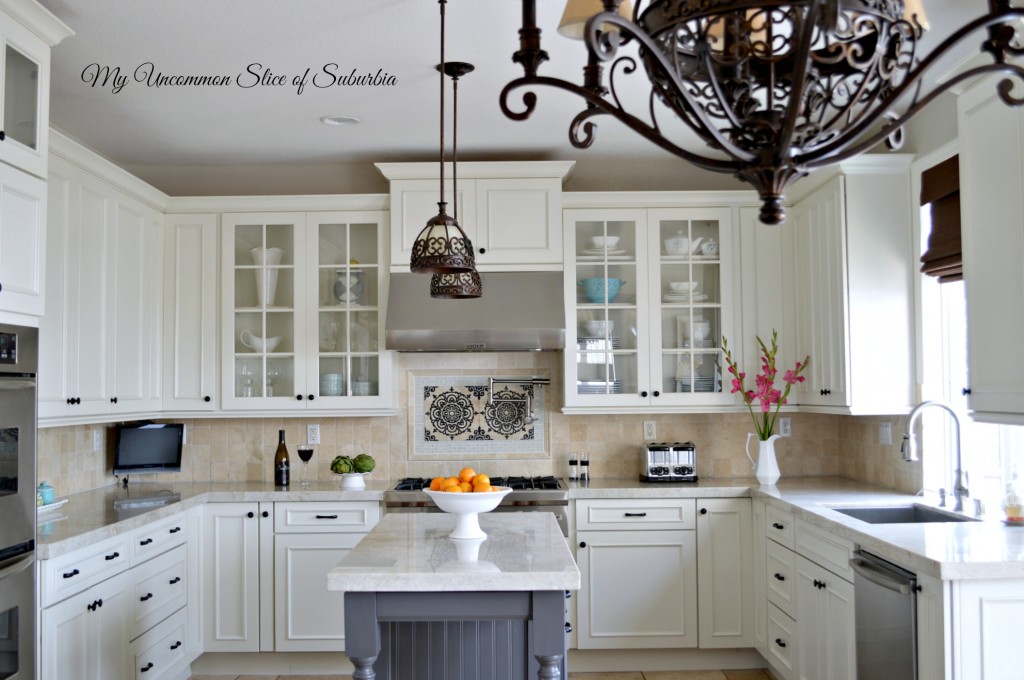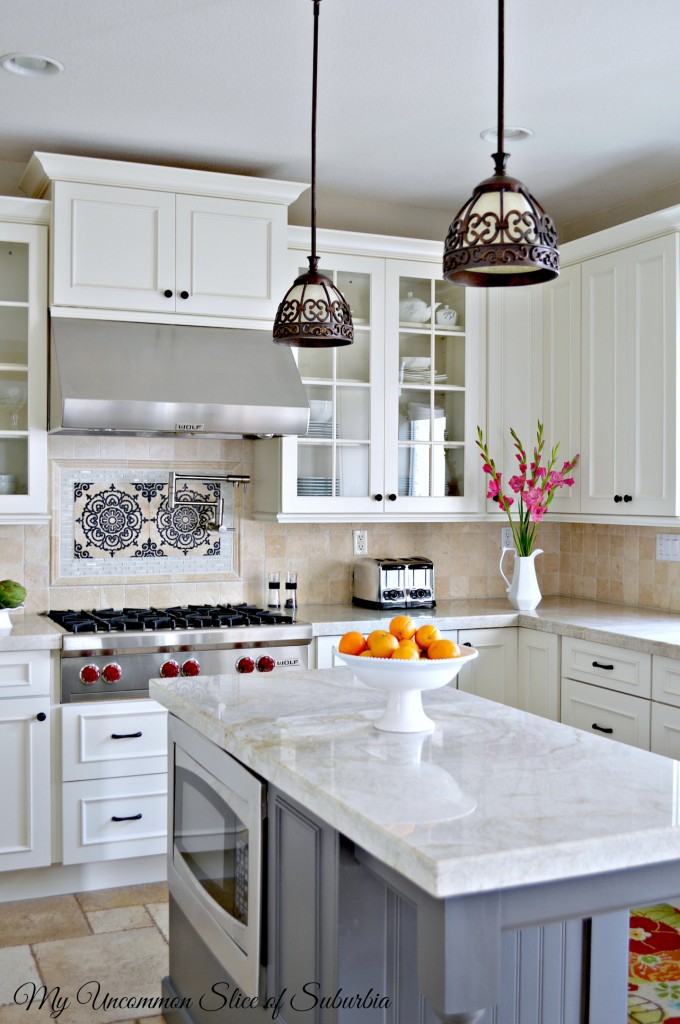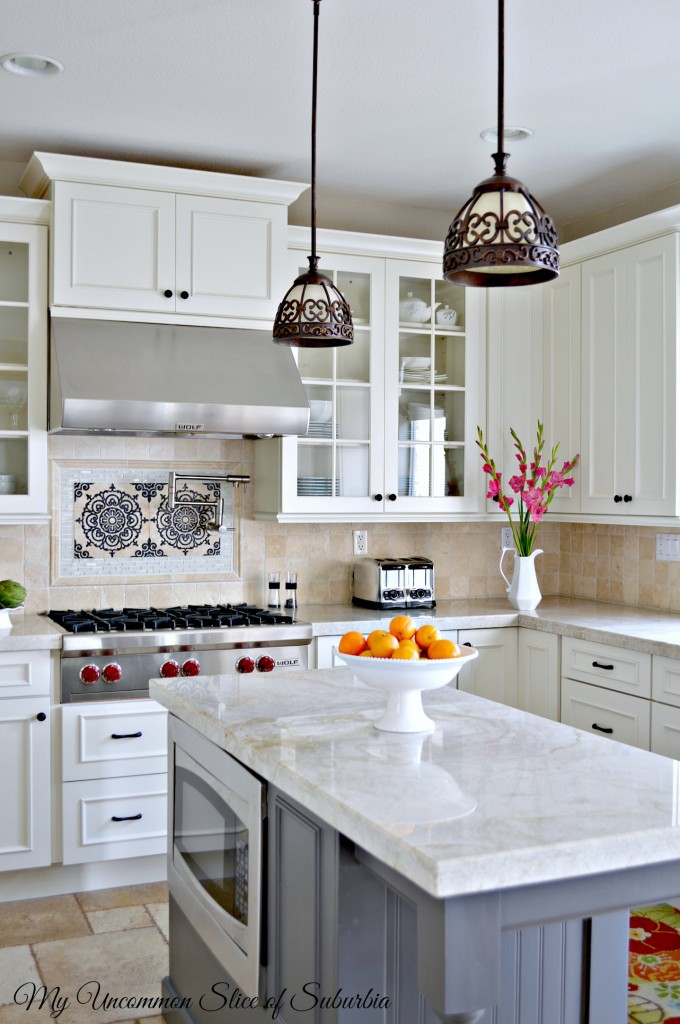 It's always fun to take a look down memory lane, this is what the kitchen looked like before we moved in, and a few posts on how we updated the space.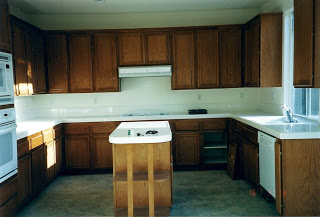 And here is the post of the kitchen reveal after the leak.
When everything shut down over a year ago and it seemed like my days were spent in the kitchen, I purchased this little Dishwasher Magnet so the kids had zero excuses when it came to emptying the dishwasher.  Lifesaver, I promise!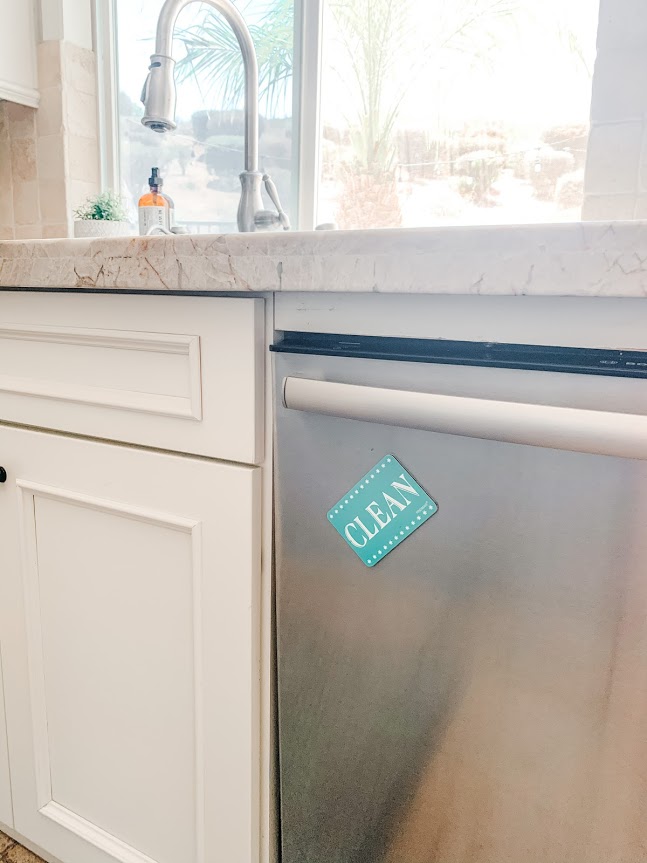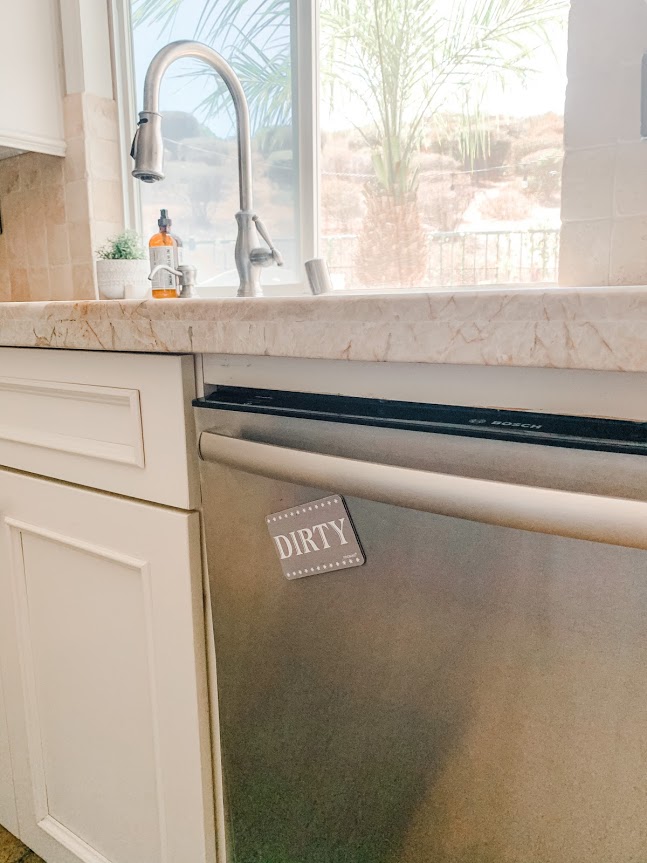 When I look back, one thing I would have changed is the thickness of the countertop.  You can FAKE the thickness of any countertop and it will appear thicker than it really is.  It's called a  "mitered book-matched edge". This is when two pieces of stone are cut at a 45-degree angle and joined together on all visible sides of the counter.  You also want the vein to continue seamlessly from the edge of the surface down the side, as you can see they did not do that with our counter.  I have no regrets as it would have added on more cost at the time but I'm glad I know if there ever is a next time.
So what's next with this space?  Eventually, we would like to replace the backsplash and maybe take out a cabinet for open shelving, maybe next year!

Faucet: Hanover from Pfister read more about it here.
Countertop: Quartzite in Taj Mahal
Island: Painted in Benjamin Moore Iron Mountain
Cabinets: Kraft from Lowes/paint color Dove
Hardware: Provided by D Lawless Flat Black Contemporary Pull & Flat black turned knob
Floor: walnut travertine versi pattern
Backsplash: Durango Crem tumbled travertine
Adding or changing out light fixtures is an easy and fun way to update any kitchen.  Thanks so much for stopping in today, have a great weekend!