Tips For Organizing Your Refrigerator
Our kitchen is the hub of our home, it's where we spend a lot of our time.  The one thing that drives me crazy is a messy kitchen, over the holidays my pantry and refrigerator became a place to shove things in and forget about it.  So today I'm sharing my tips for organizing your refrigerator, next week will be the freezer and then I'll slowly put the pantry back together.  A huge thanks to Brenna at Domestic Charm for organizing this series, sometimes a deadline is all I need to get my butt into gear!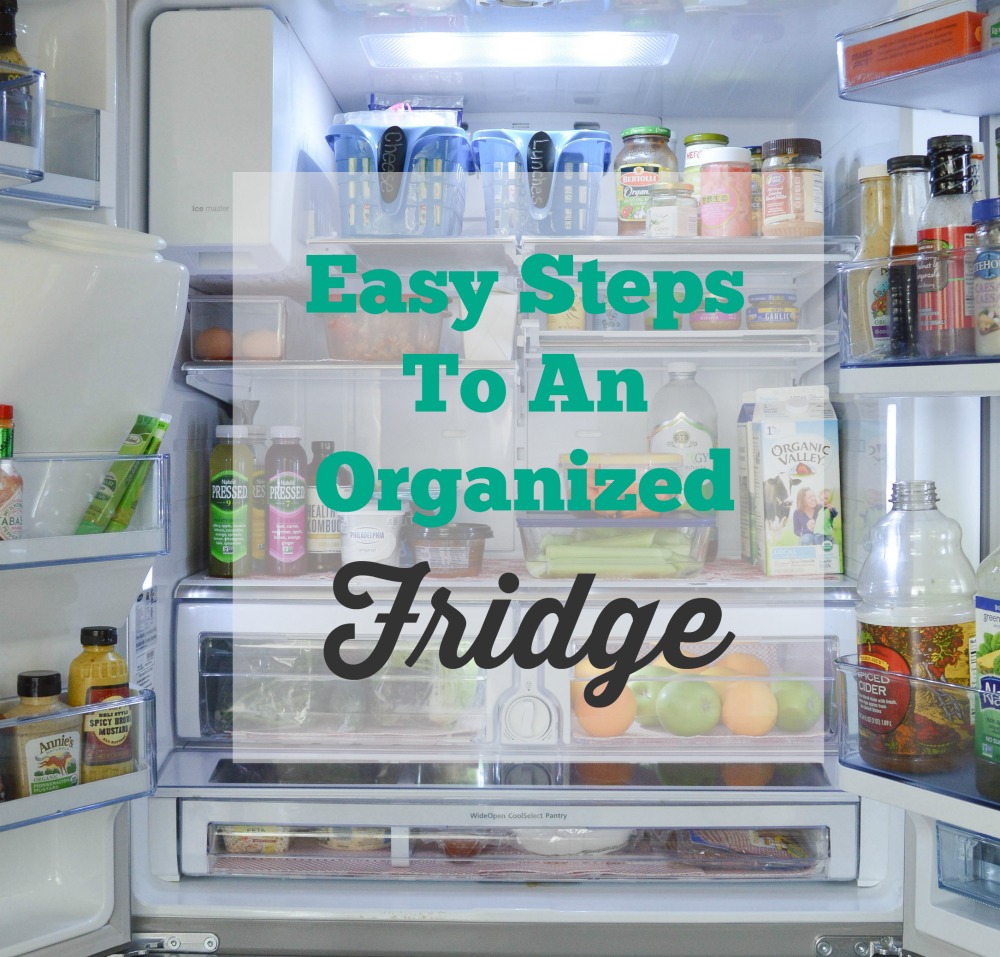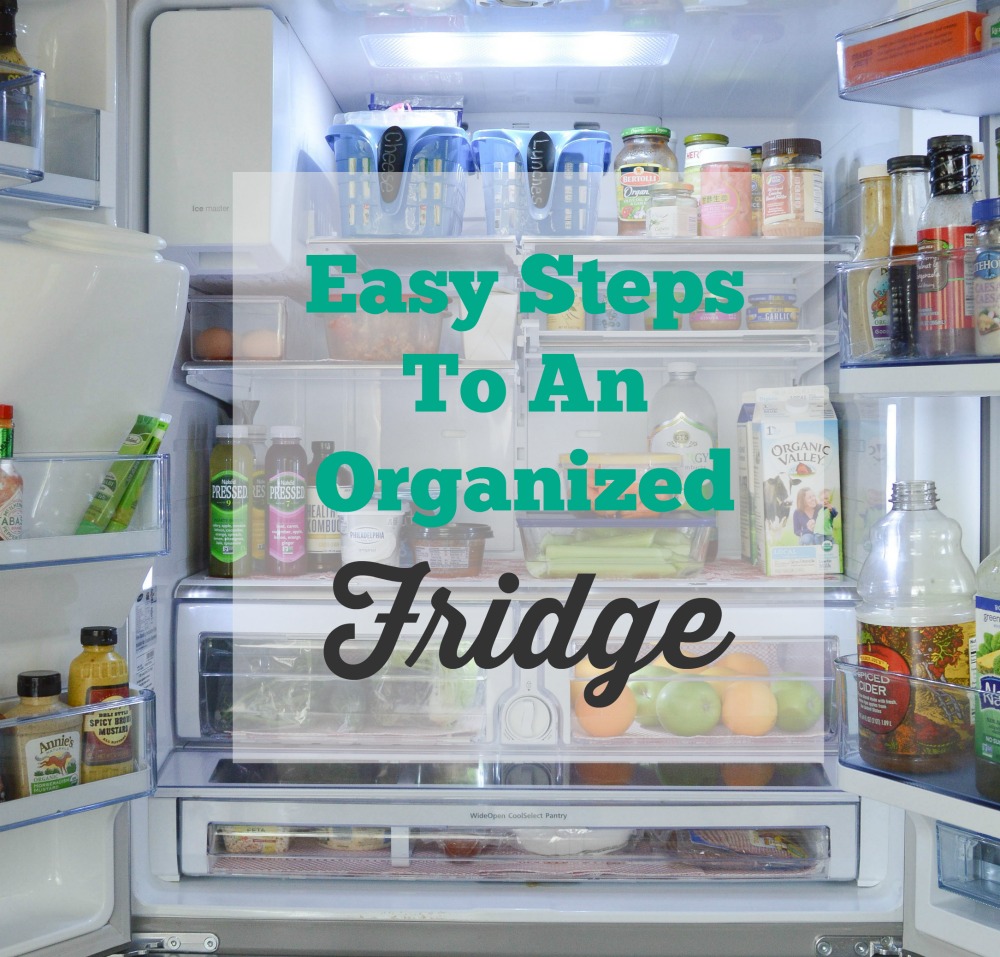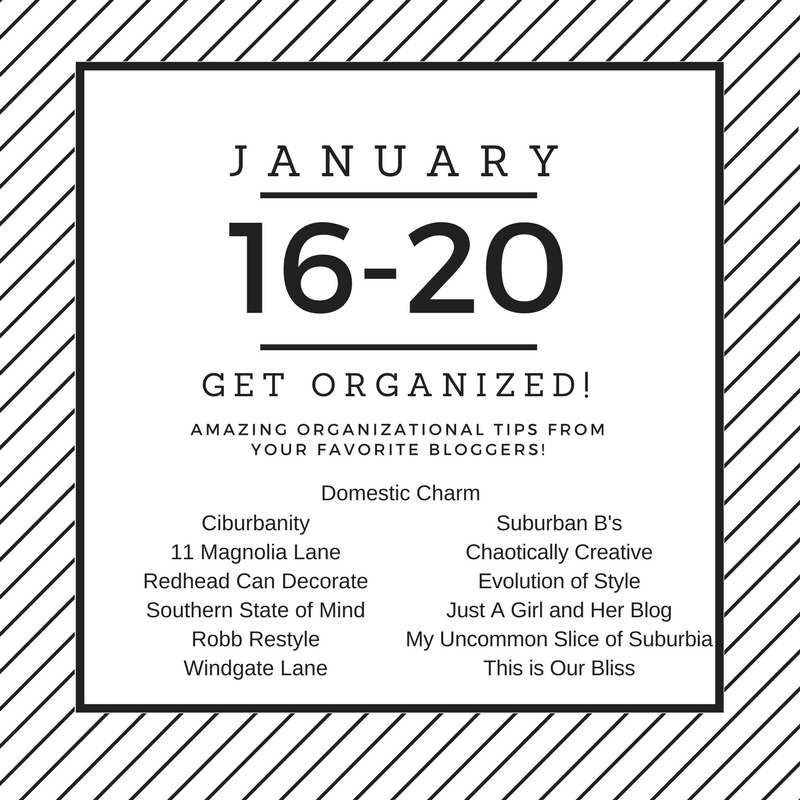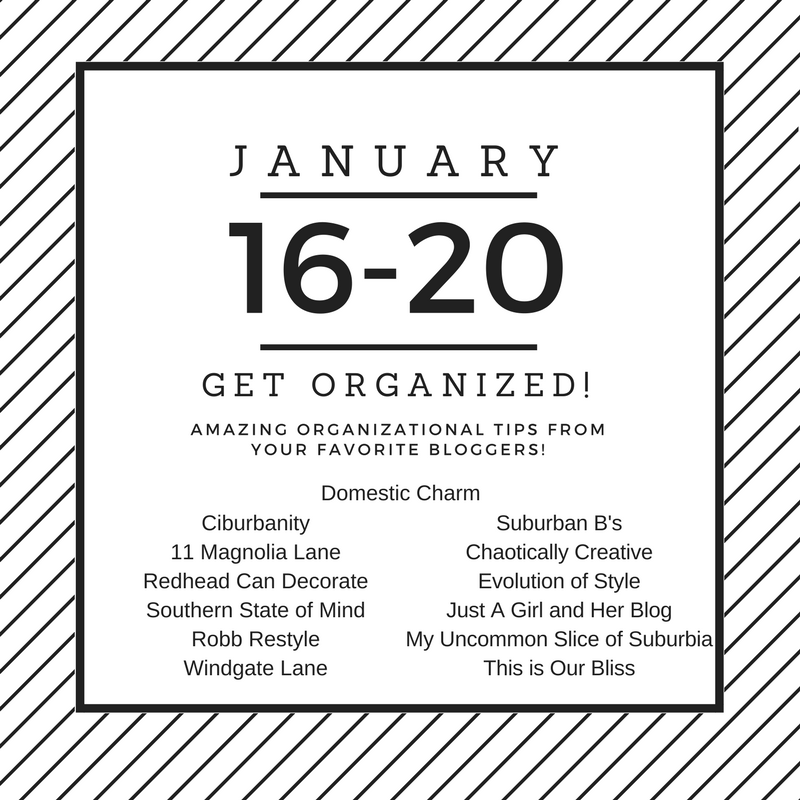 OK I know this isn't a ton of fun but you will feel so much better when you are done, promise!
*Affiliate links for your convenience 
SUPPLIES
Easy Pull Basket

Washable, Non Adhesive Refrigerator Shelf Liners

Small Plastic Storage Baskets

Removable Chalkboard Labels

Egg Holder
STEPS
First things first, empty everything out of your refrigerator you can do this in steps or section by section.   Throw away anything that has expired or worse, is growing mold. (Yup open up those jars and look inside and on the lids)
Clean!  I pulled shelves and drawers out and scrubbed them down with hot soapy water. Give the rest of the refrigerator a good wipe down.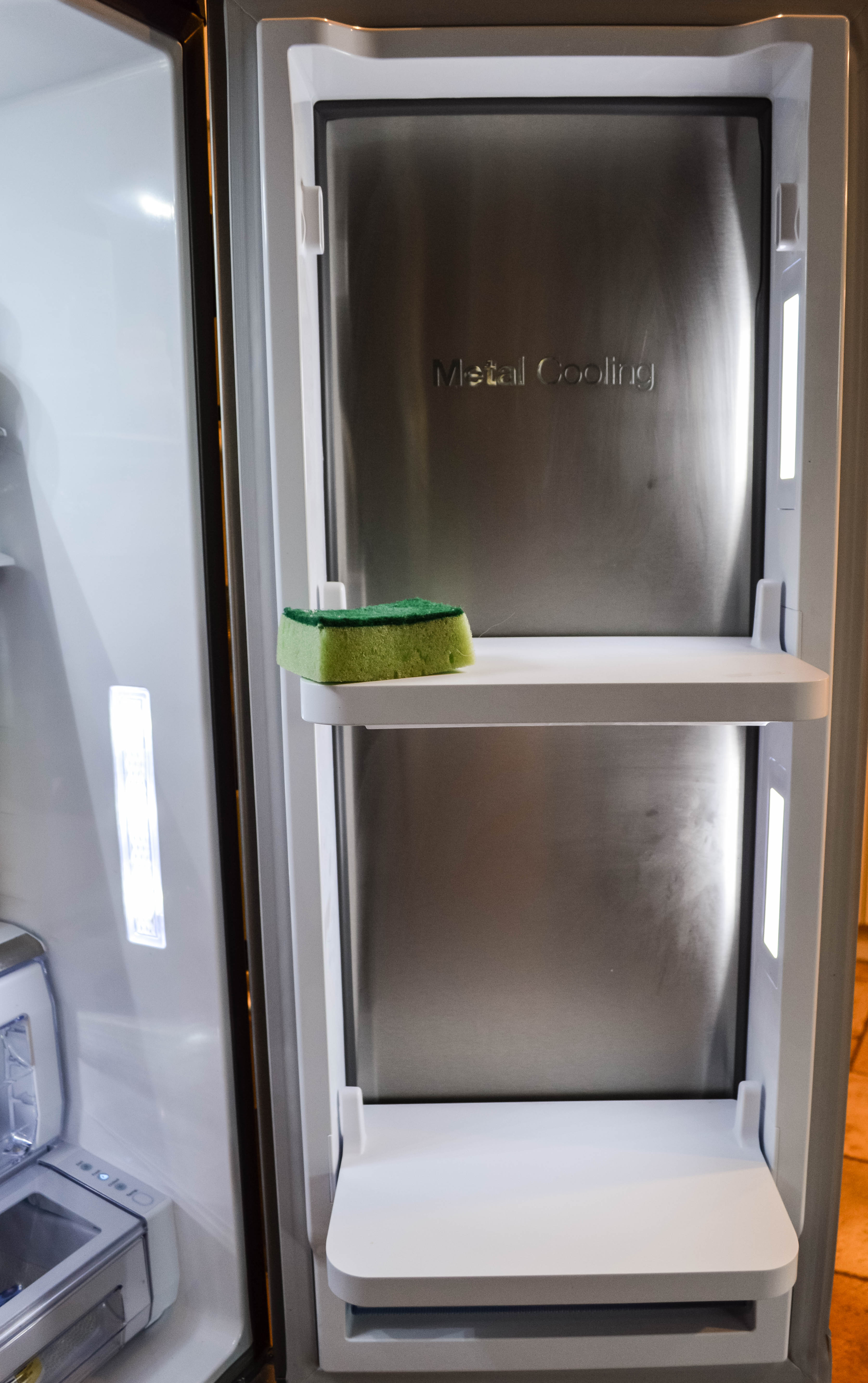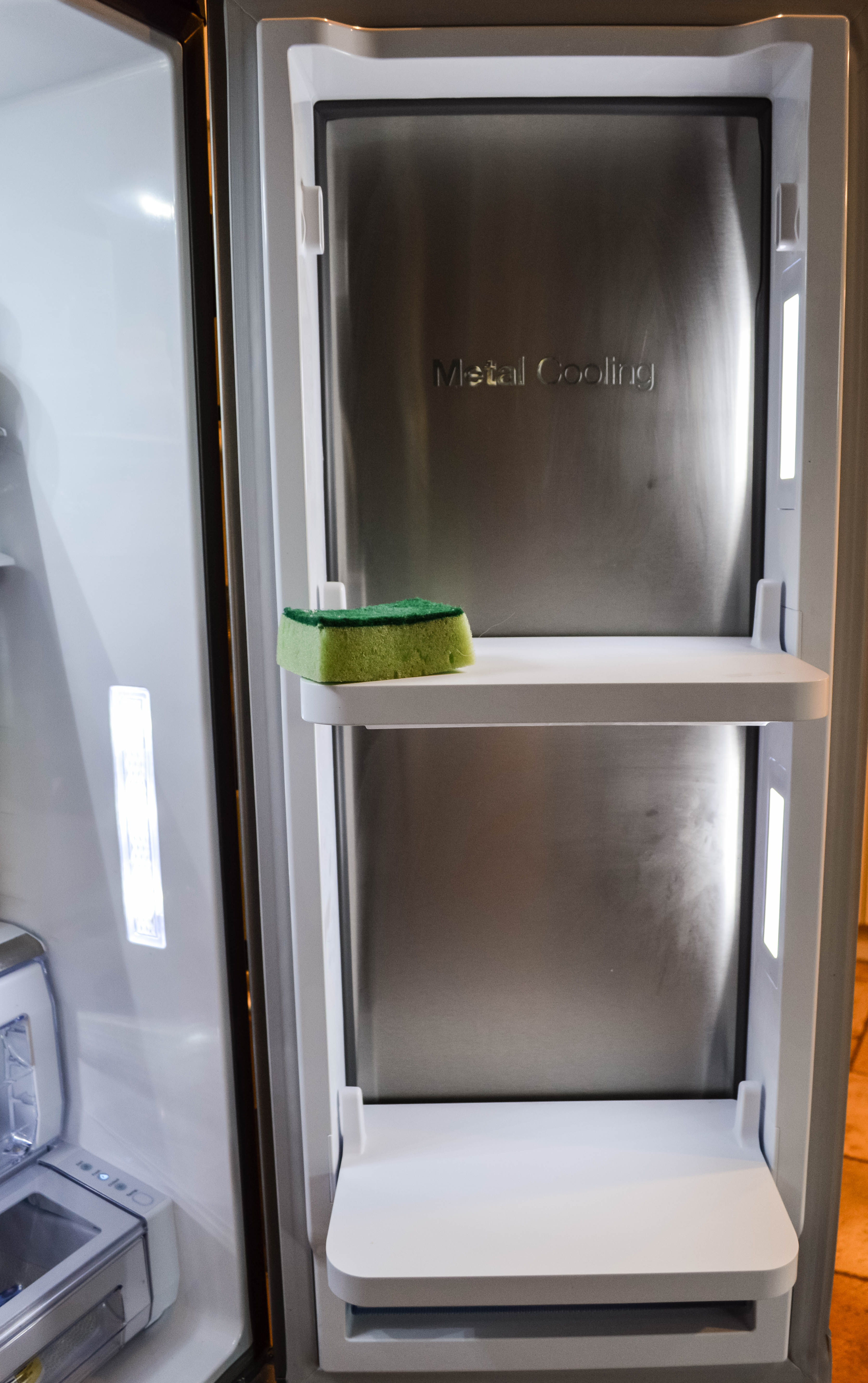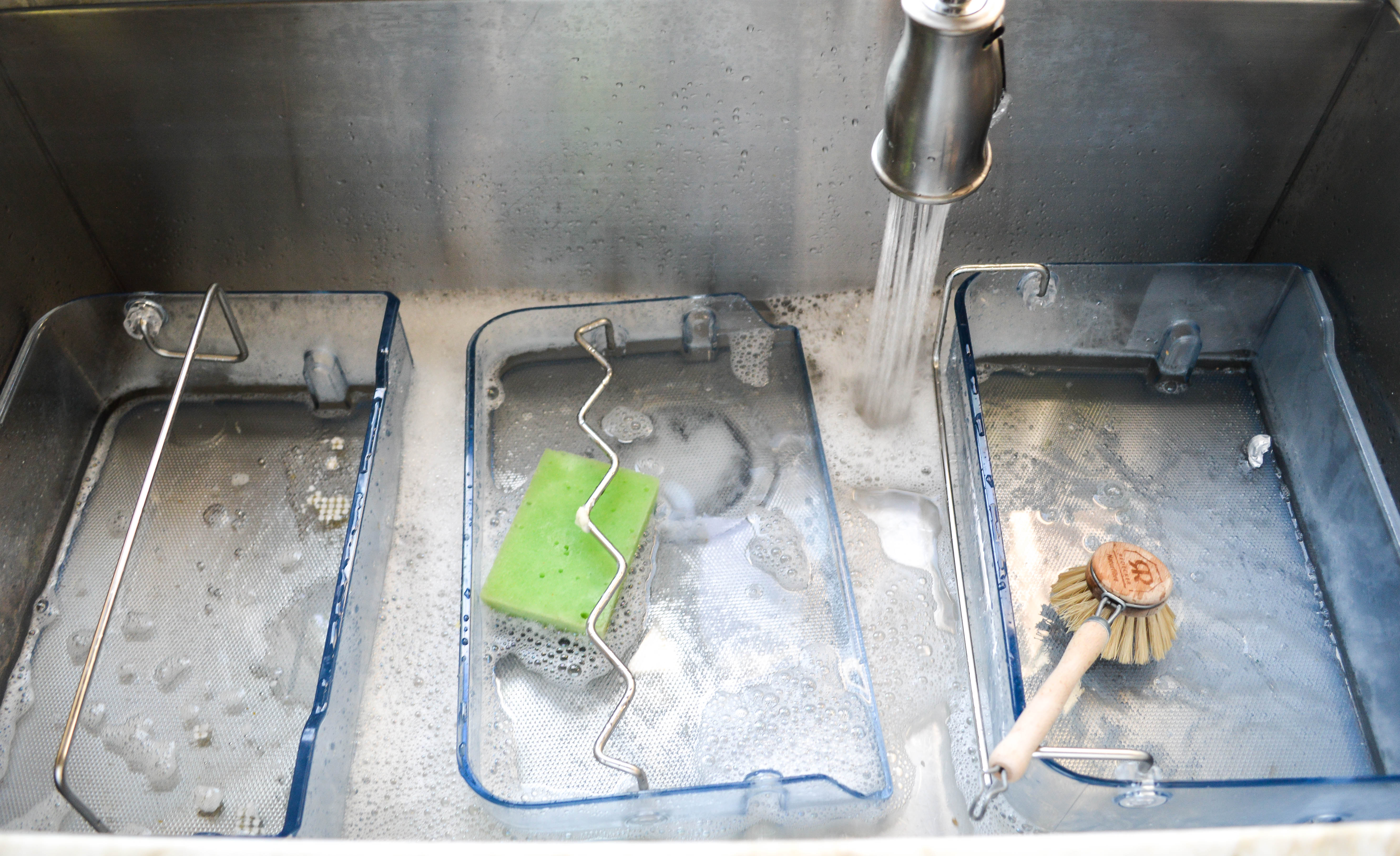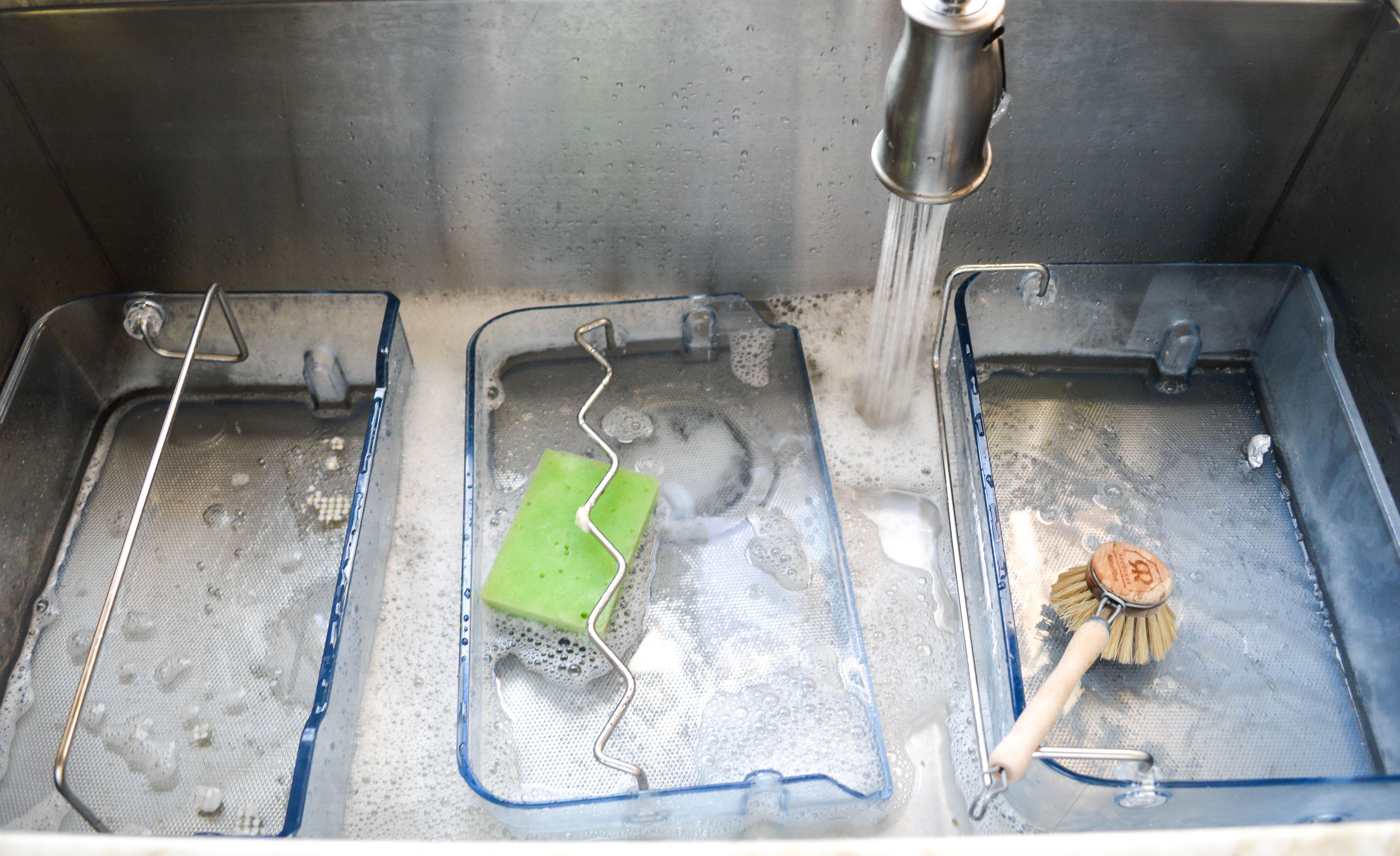 When putting the shelves back in, take advantage of adjustable shelves.
Install shelf liners for an easy cleanup.  I've always used plastic mats but this time around I'm trying out the washable cotton liners, so far I love them.
Now it's time to start putting everything back.
Let me preface this by saying there is not one "perfect" method, you have to do what works for you and your family.   I also need to add, our kids are older (10, 12, 14 so they don't have a problem reaching)  Also, keep in mind every fridge is different which means storage will be different with each model.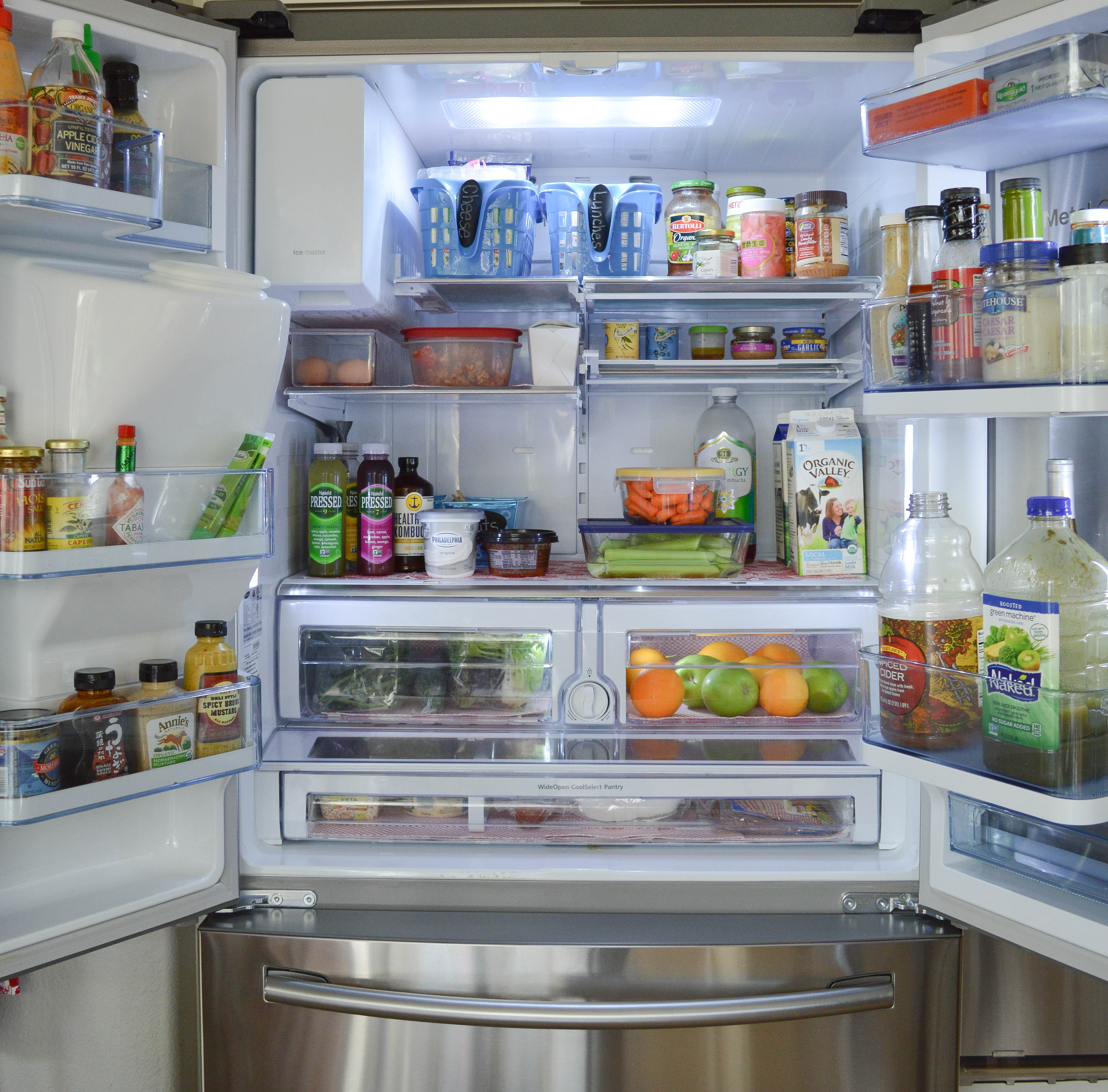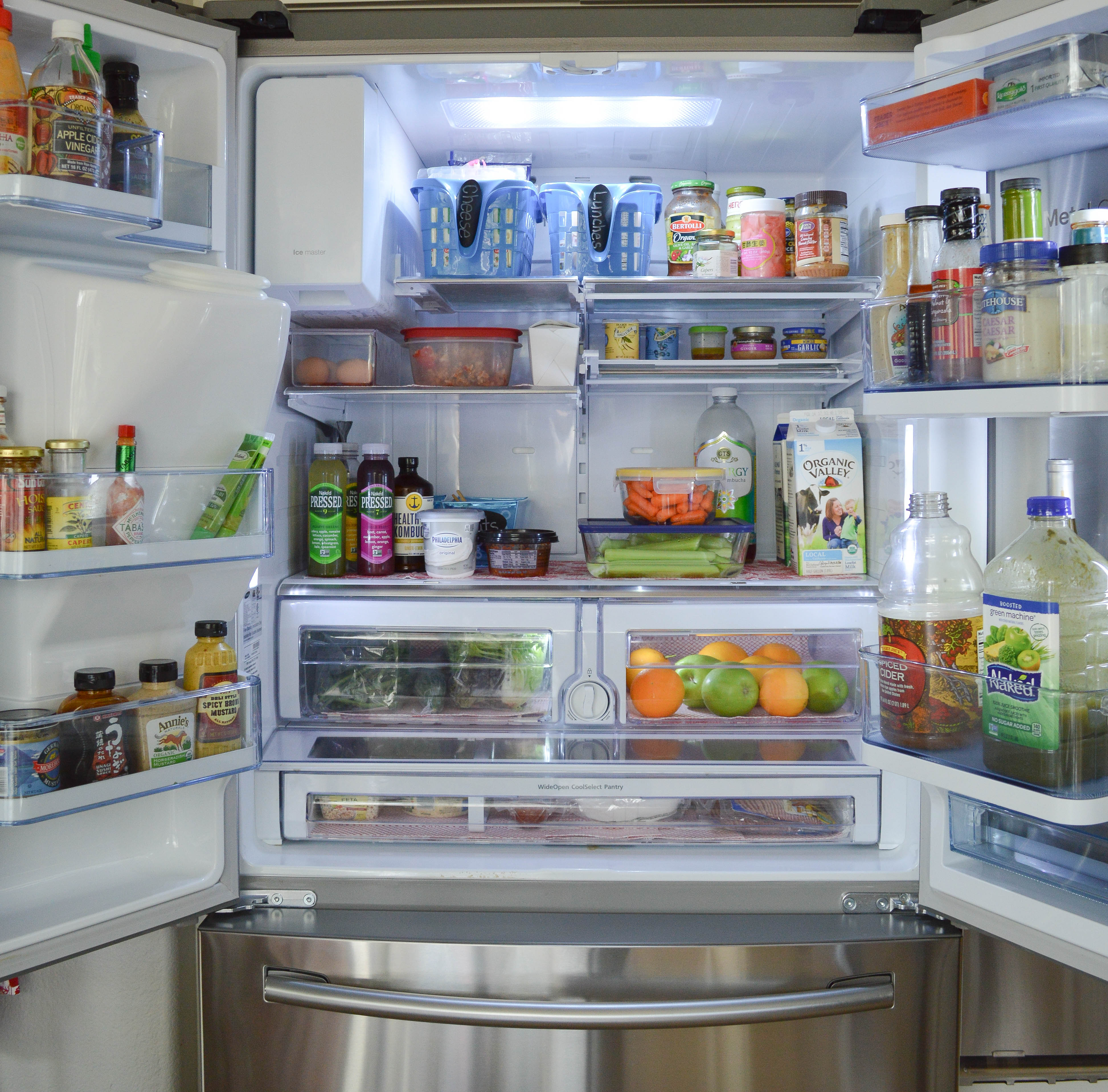 I placed larger condiments and baskets on the top shelf.
I like to use bins to maximize shelf space and to keep like items together. Bins are perfect for storing snacks for the kids and help make packing lunches a breeze, you can see I don't use too many but just enough to keep things uncluttered.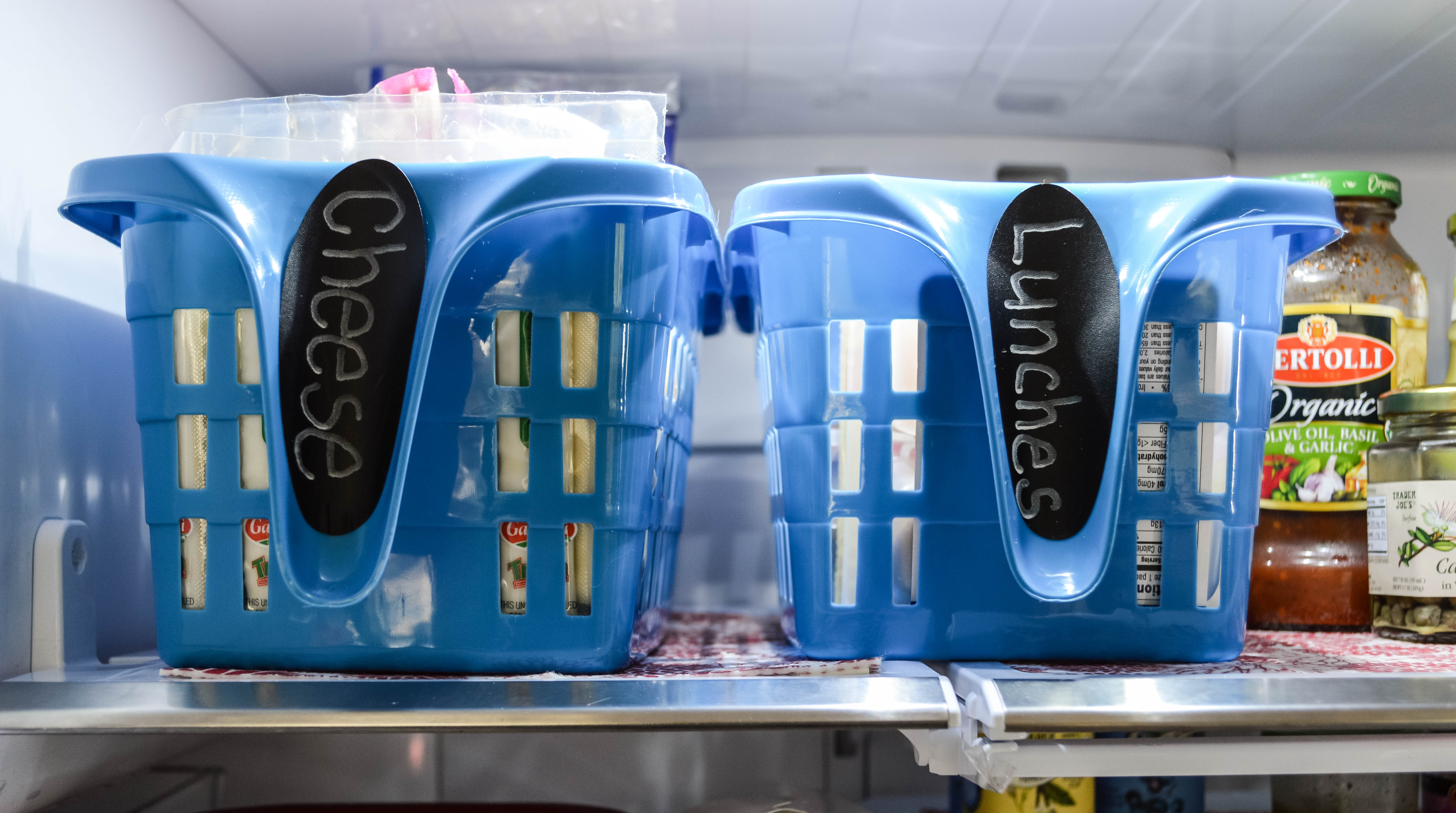 On the middle shelf, which is also the shortest I placed eggs, leftovers, smaller condiments and easy snacks for the kids to grab.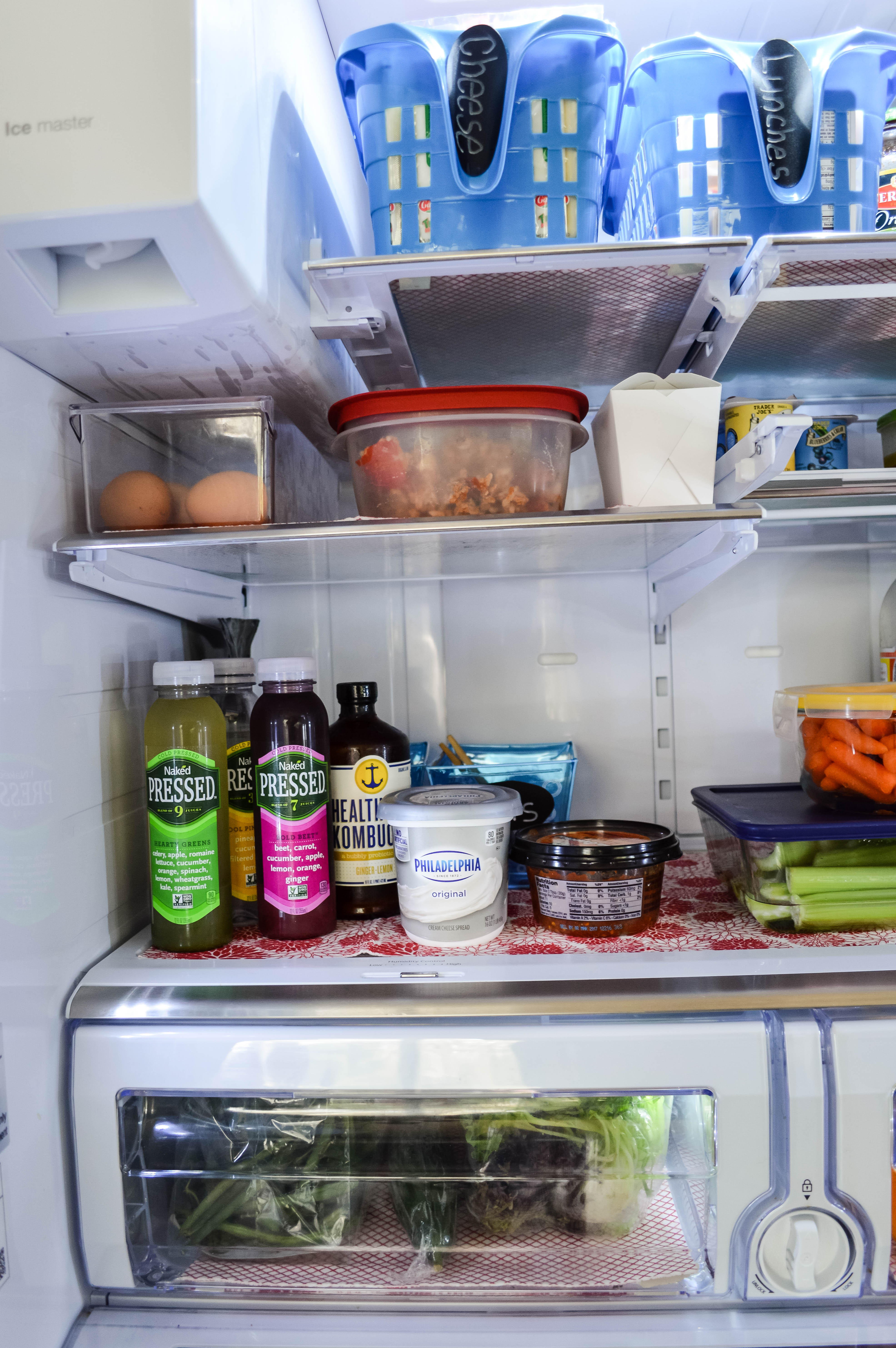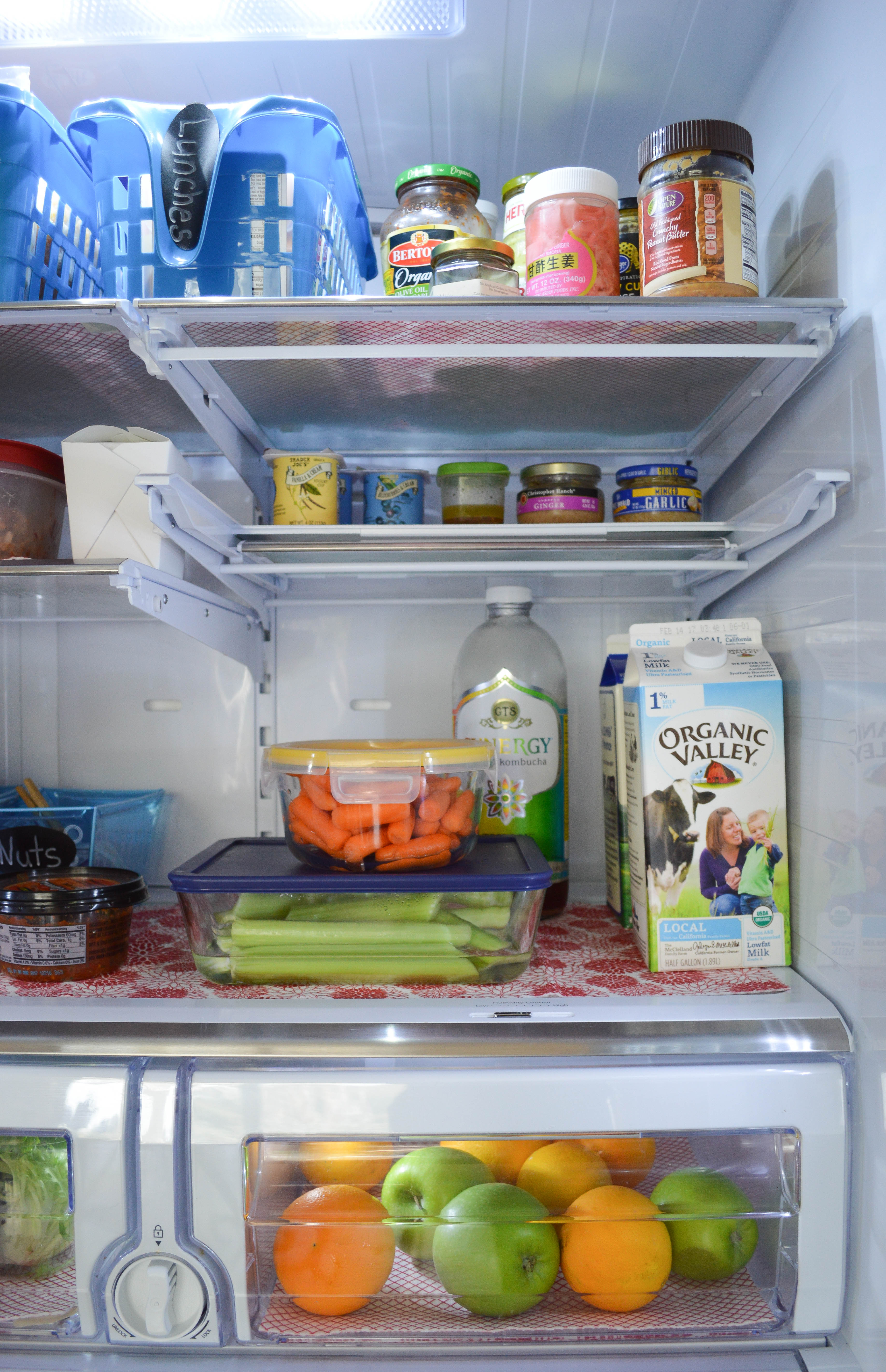 I use the bottom shelf for all the taller items. Milk, drinks, etc.
I use the smaller bins for items that easily get lost, perfect for storing our probiotics and the dog's medication and smaller bags of nuts.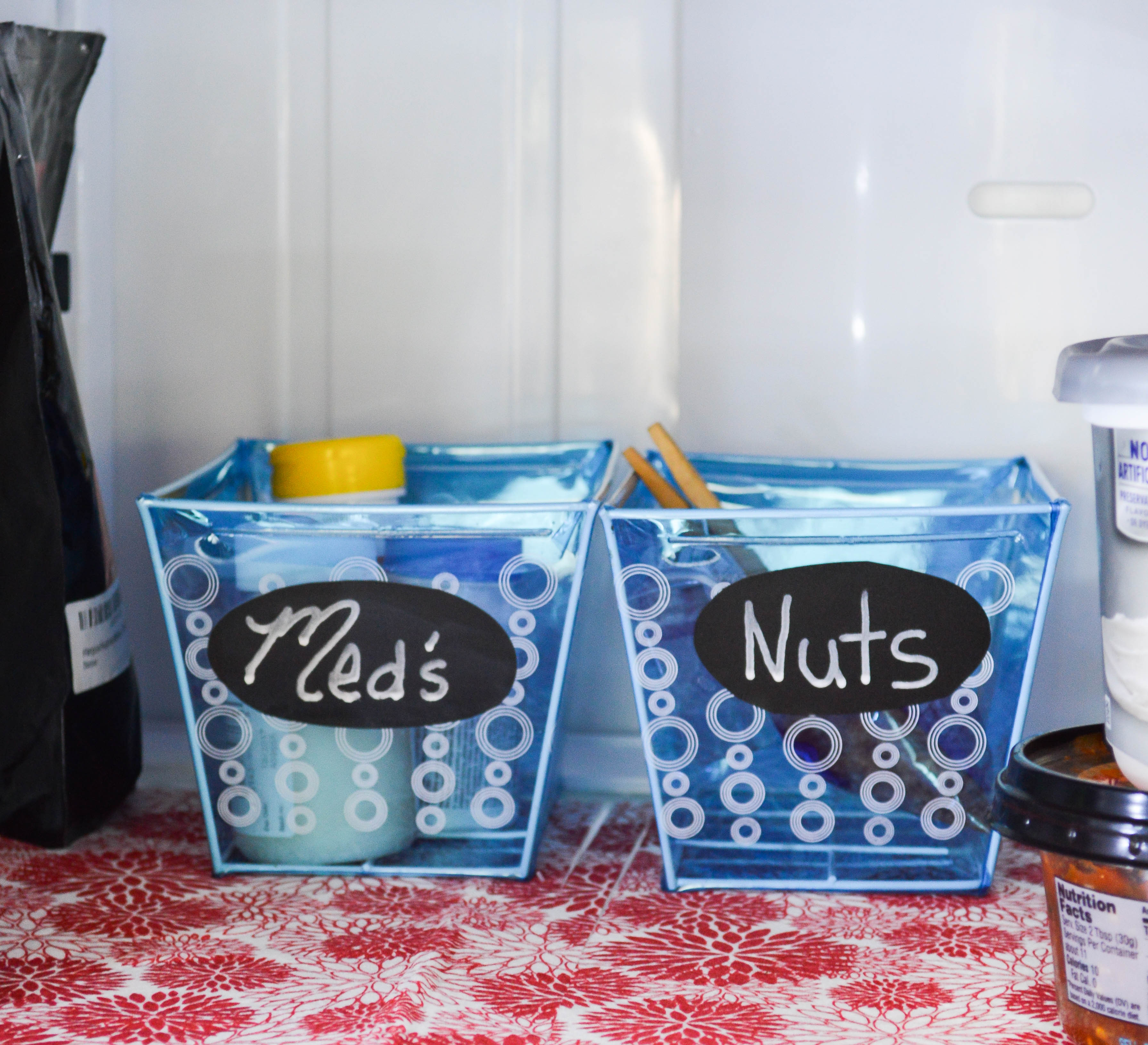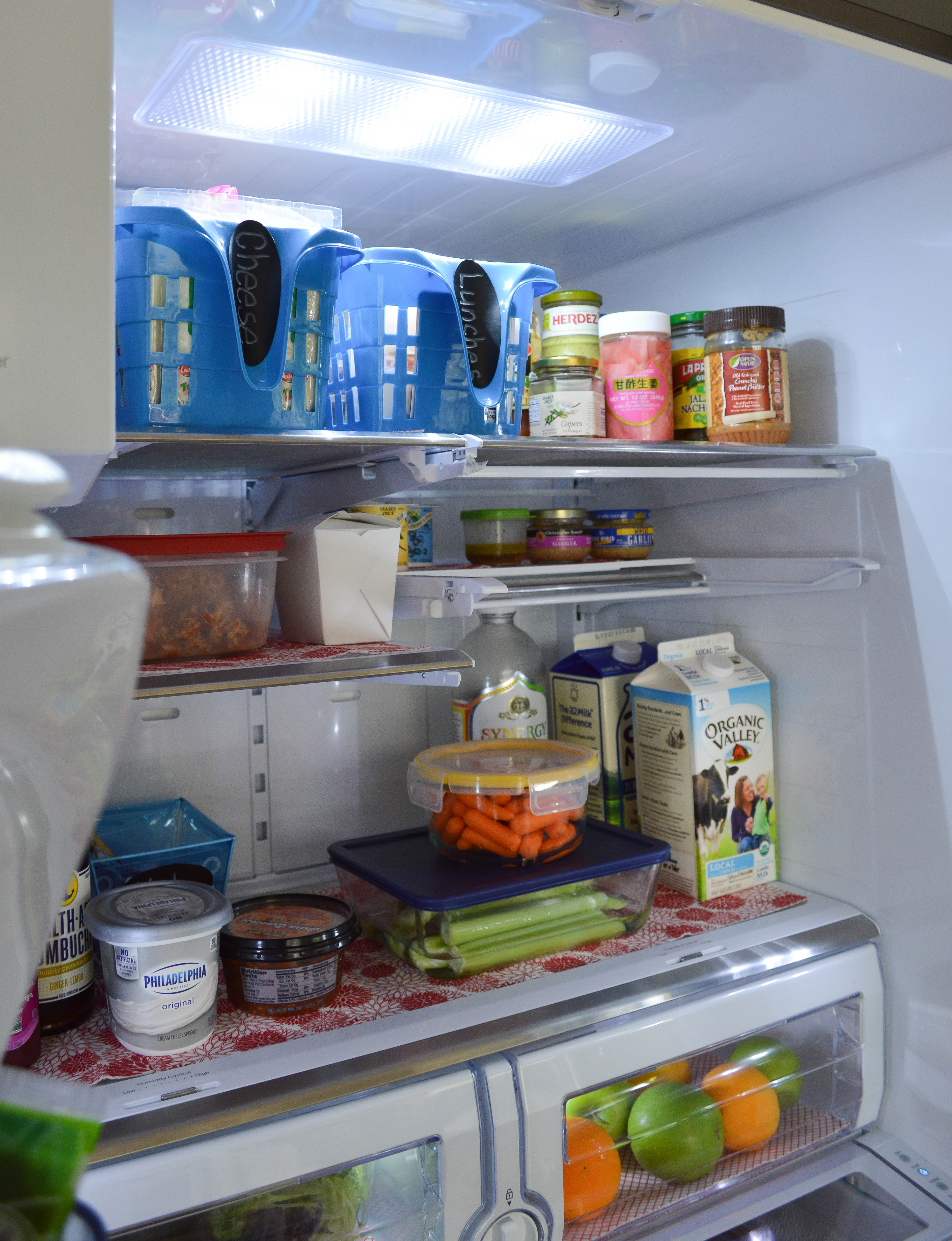 We have a fruit drawer and a vegetable drawer and below is for cheese and meats.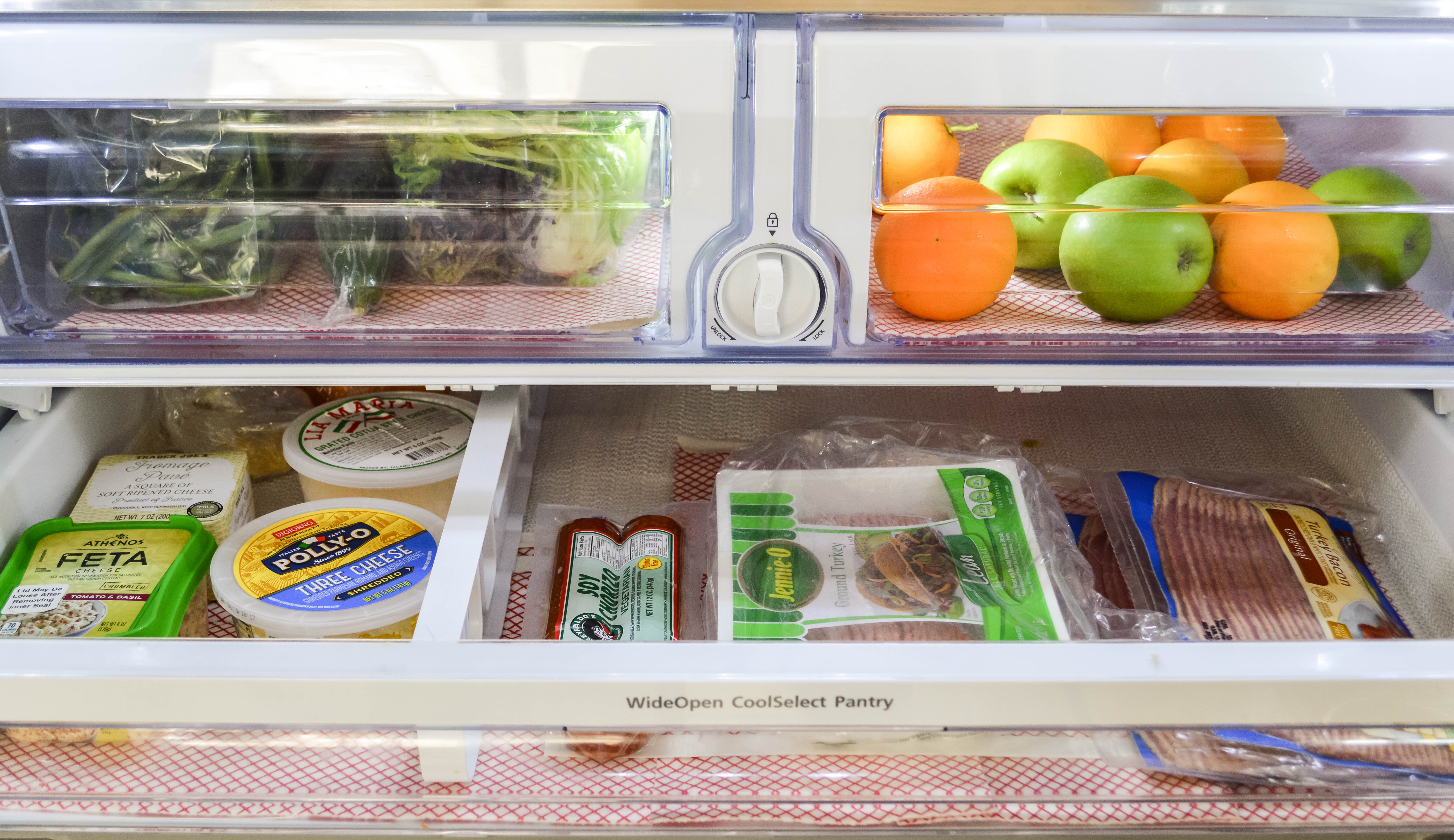 Here's a little trick the kids love, use a dry erase marker and write categories on each drawer!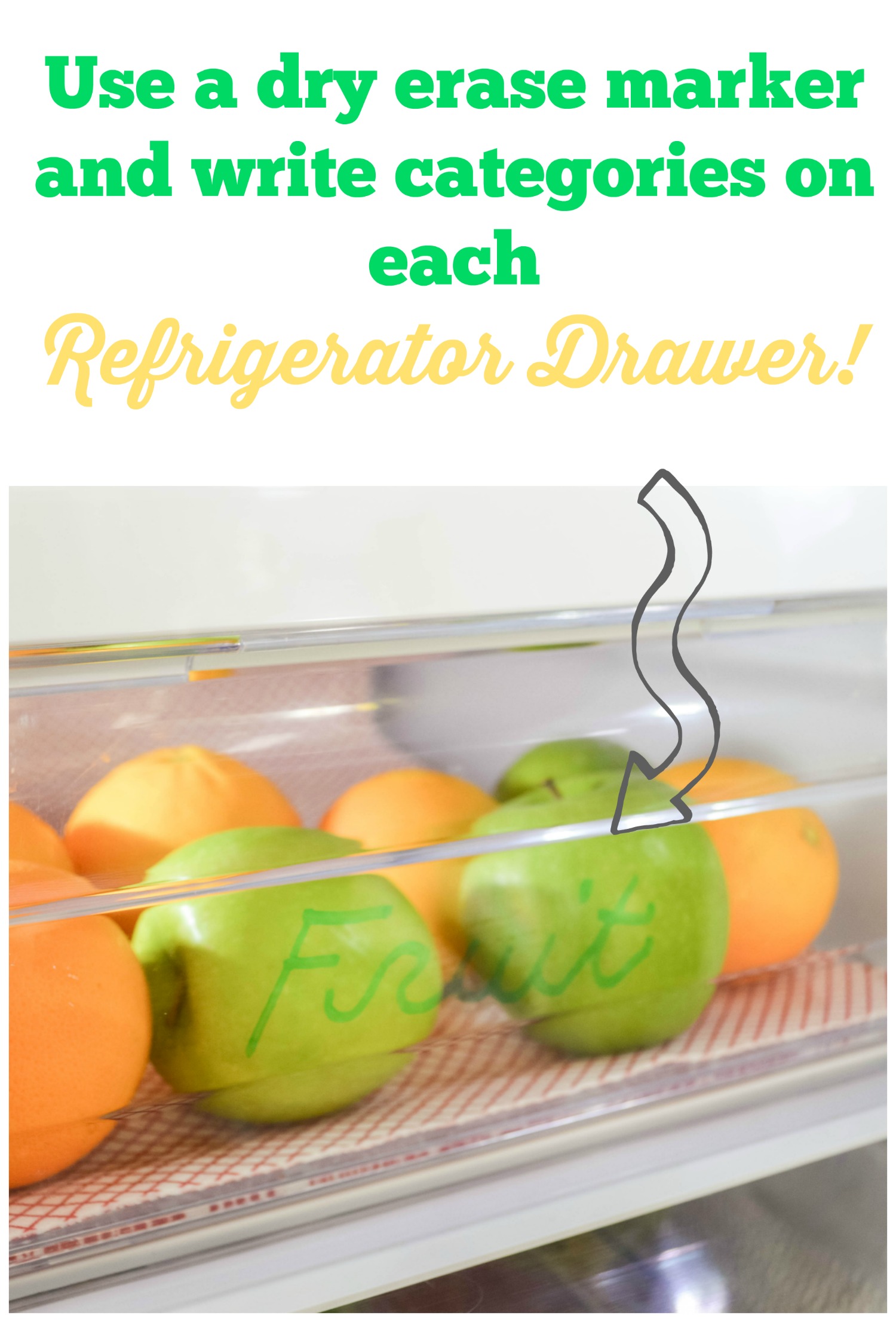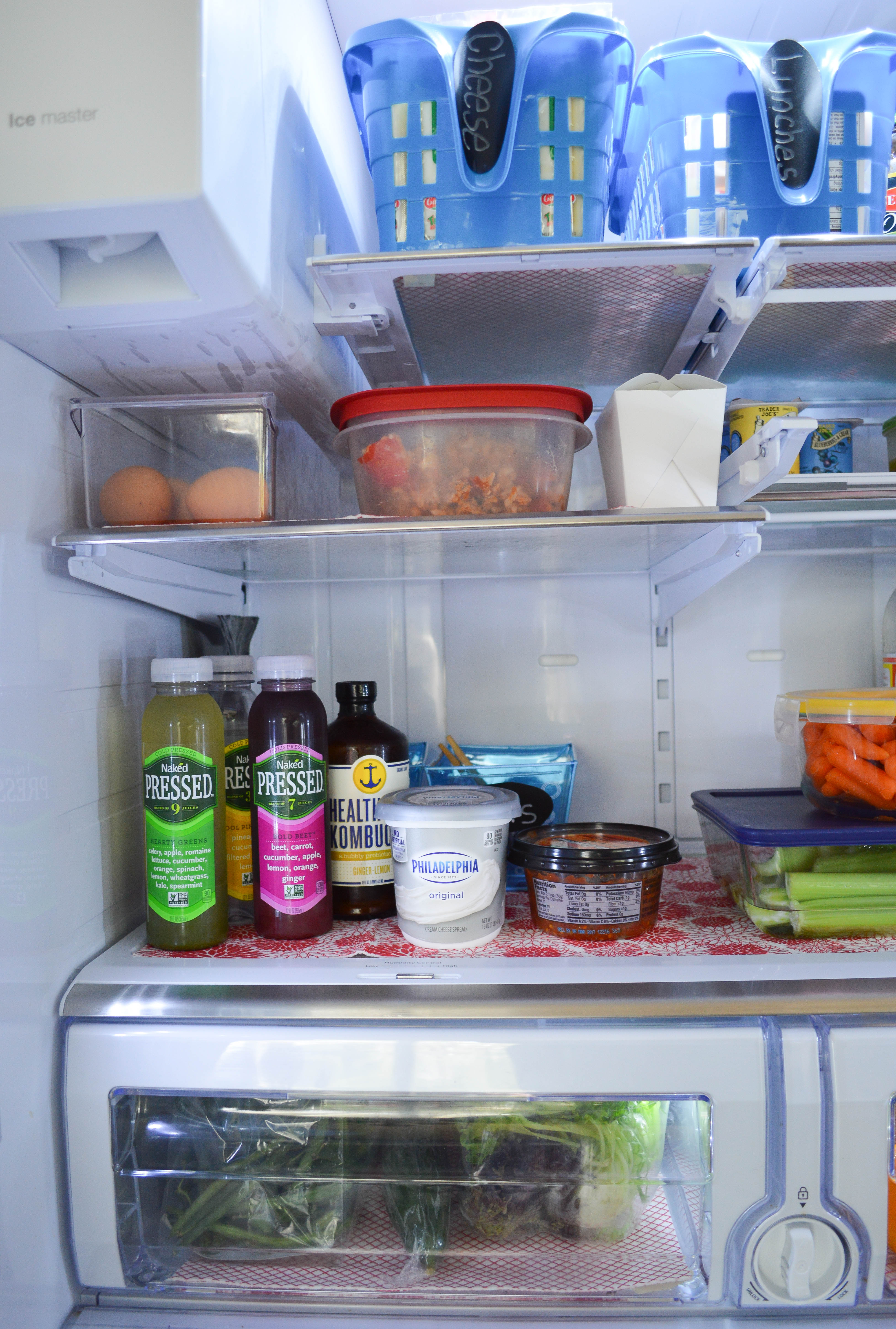 Other then the two ice makers , you know what else sold me, my secret hidden door!l It allows you to grab items in a secondary compartment on the door, without letting cool air escape from the main chamber, priorities as you can see!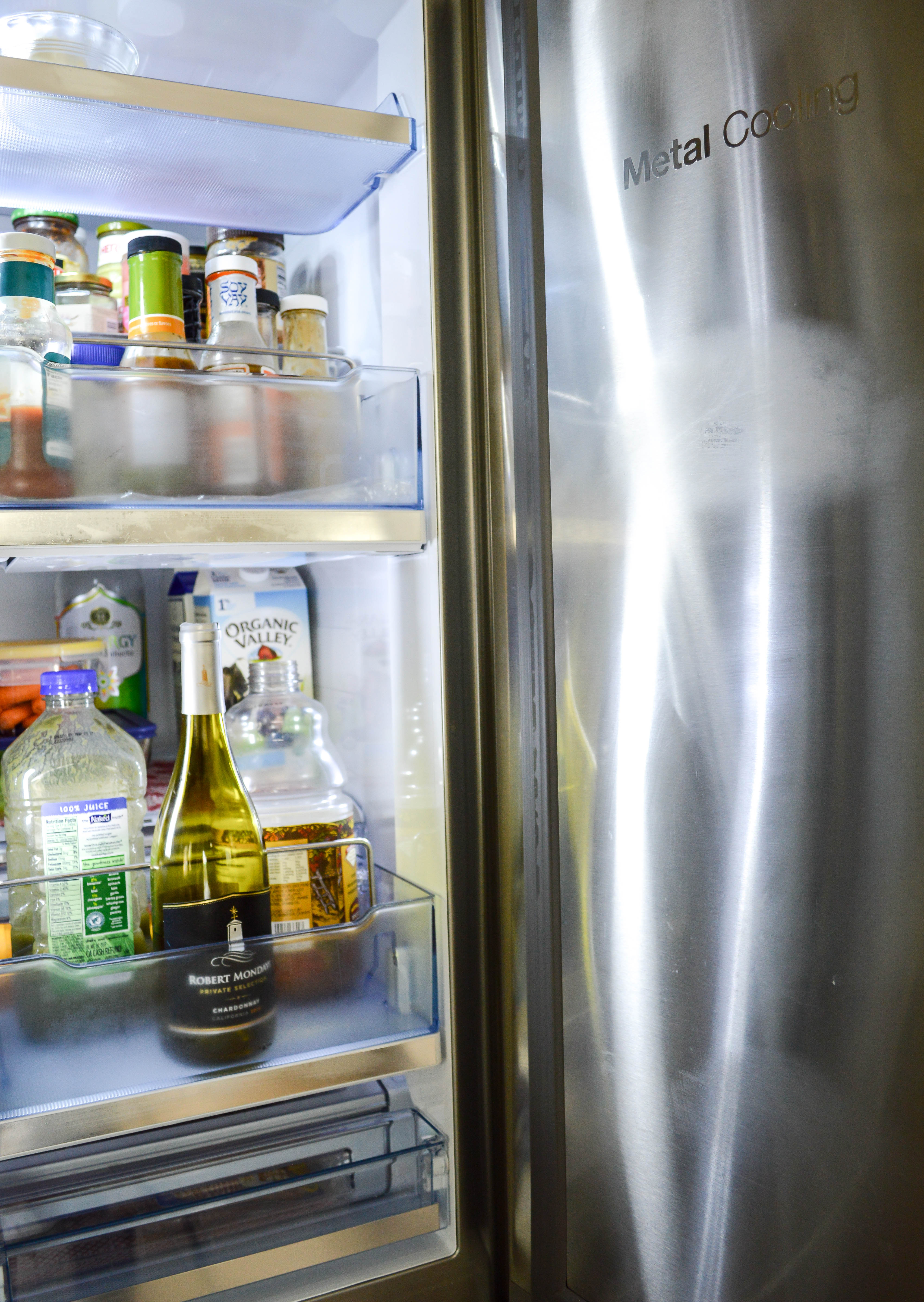 Keeping your fridge less cluttered will save you money and have you eating what you have and not buying duplicates!  OHHH and last but not least, don't forget moms trick! Keep an open box of baking soda in the back corner to mask any odor seeping through.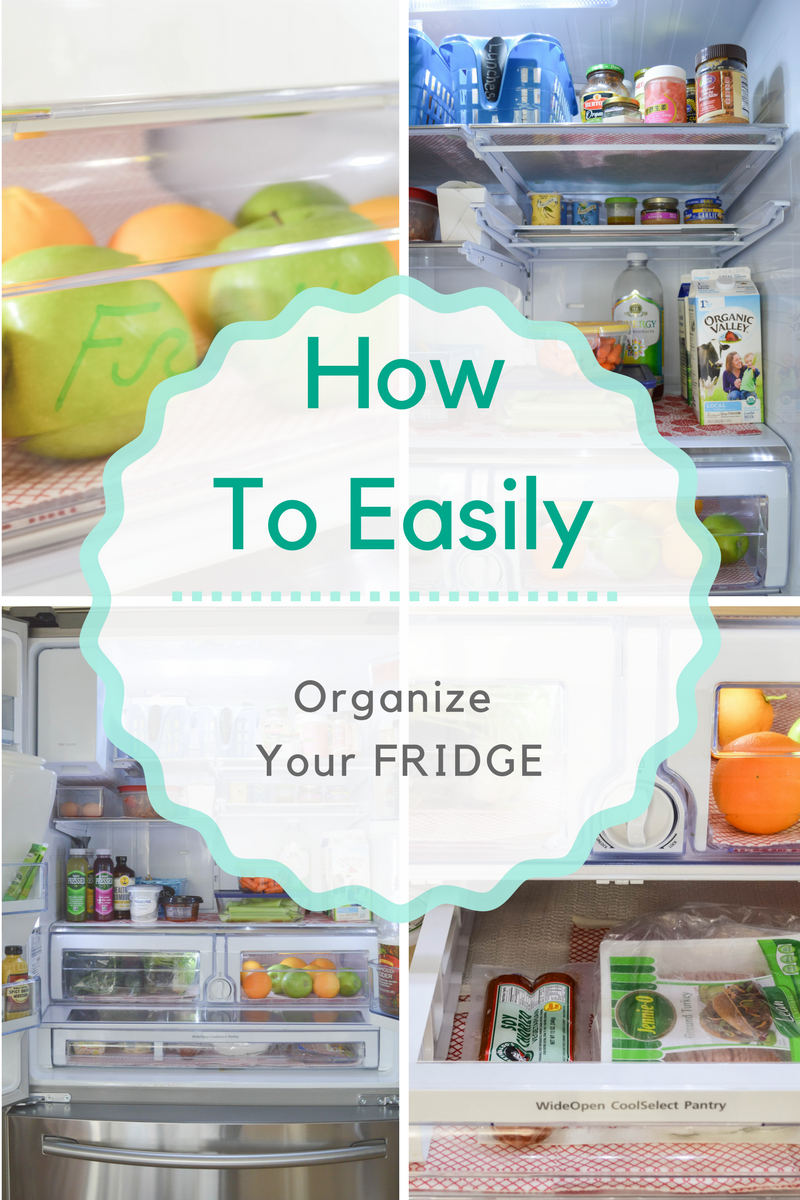 Time to see how some awesome blog friends of mine are organizing in 2017, they seriously have some fabulous ideas!
| Domestic Charm | 11 Magnolia Lane | Evolution of Style | Just a Girl and Her Blog |
| Southern State of Mind | Redhead Can Decorate | Chaotically Creative |
| Robb Restyle | Ciburbanity | Windgate Lane | Suburban B's |
| My Uncommon Slice of Suburbia | This is our Bliss |
For more tips on kitchen organization, you might find these post helpful.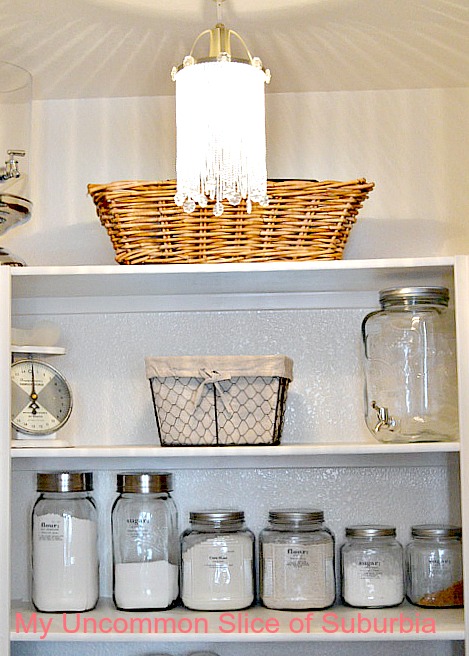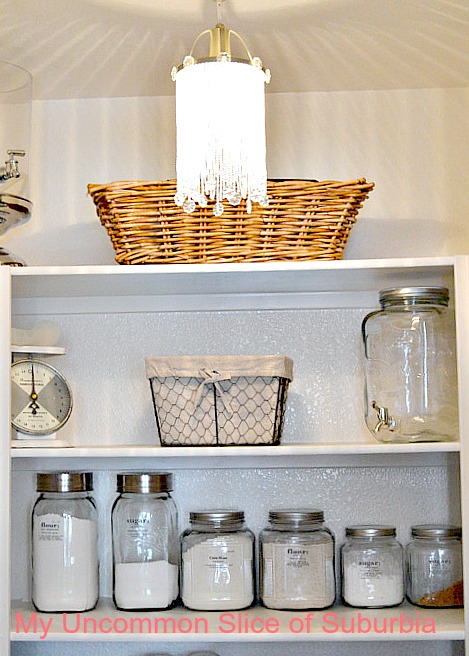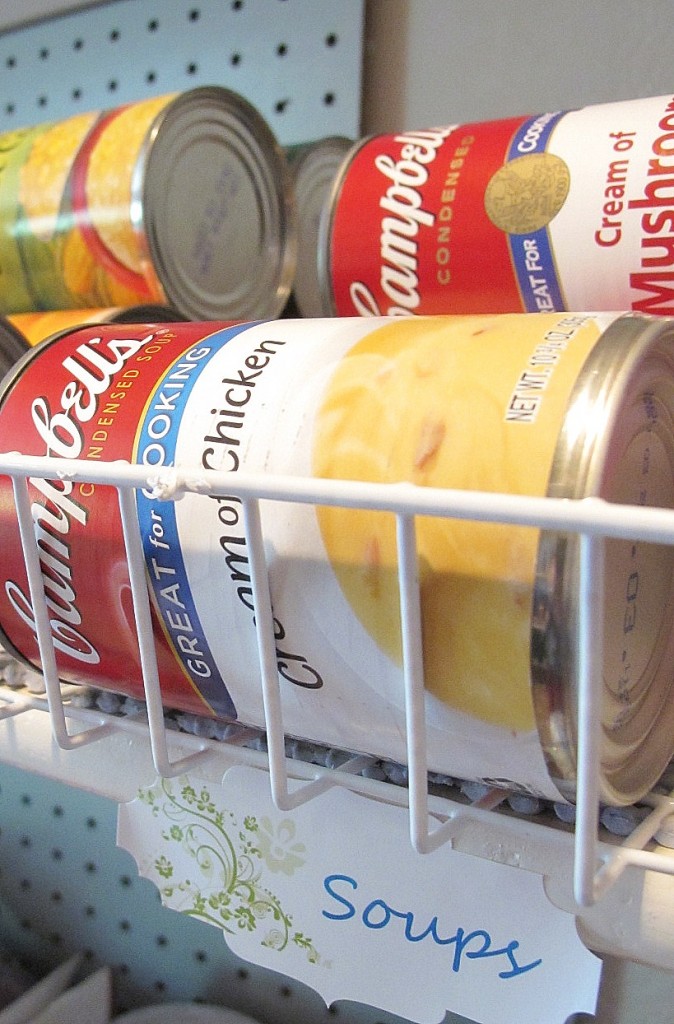 And if you are wondering how I clean our stainless steel you can read about it here.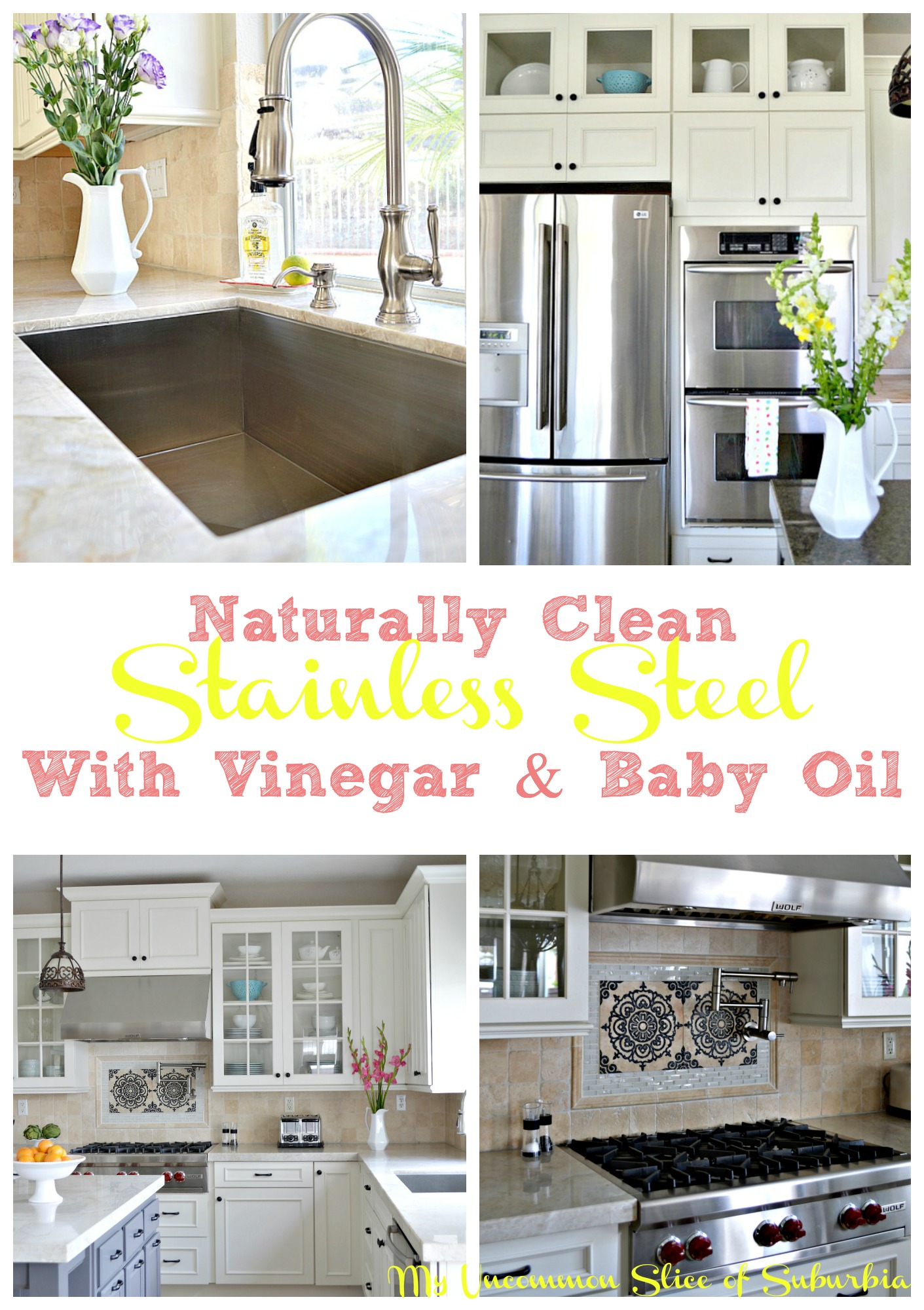 Thanks for stopping in today!