How to Paint Melamine Cabinets
Melamine was a common finish that you would find on cabinets, about 30 years ago. Refacing or buying brand new cabinets was not in the budget for this kitchen but paint definitely was. I'm going to show you how to paint melamine cabinets with a good quality paint job. Painting will buy you some time and provide an updated look.
I am so excited to say we are pretty much done with my mom's house.  I couldn't have done this without my husband, he spent countless hours at the house working tirelessly while working his full-time job.  He would leave our home at 6 am, drive to my mom's so he could be ready for his first 7 am call and work on the house on breaks and come home after dinner.  He truly is an amazing man who cares deeply, thank you Ray!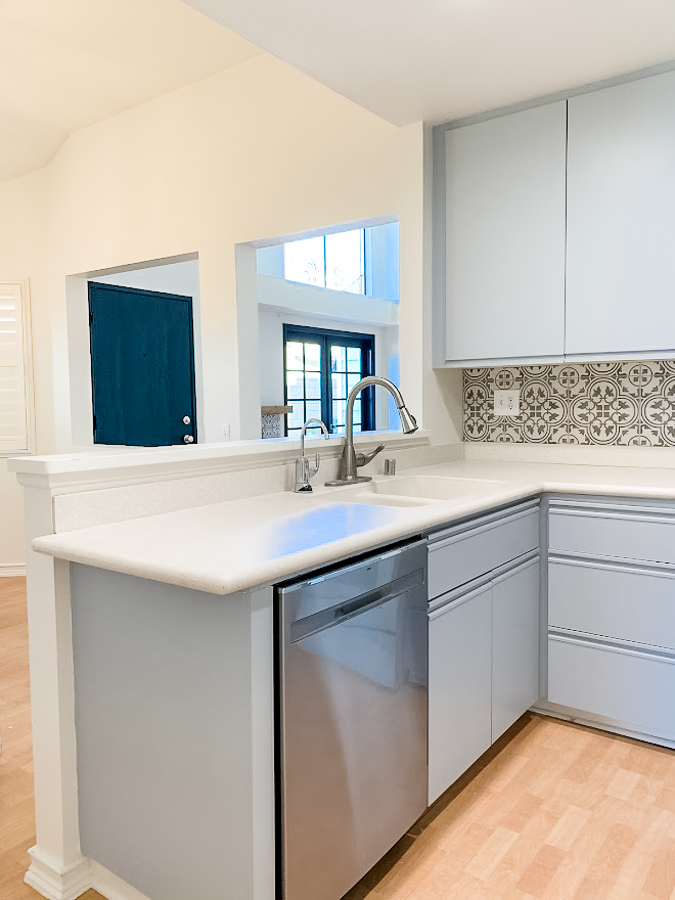 Here is the before and after
 A huge Thanks to DecoArt for being a sponsor of my mom's kitchen update by using the DecoArt Satin Enamelsline to completely transform the look of her laminate cabinets. Thankfully her cabinets were in good condition with no damaged areas, it was just in need of a quick update.
Satin enamel-like paint is formulated to adhere to even the slickest of surfaces without a lot of priming and prepping. This particular formula was specially designed for revitalizing old cabinets. It gives them a durable finish making it ideal for high-use areas like the kitchen and bathroom.  I love that it dries to a hard finish and it's not too glossy or too flat of a sheen, it's perfect. It also dries quickly so you need to work fast!
Affiliate links are listed below
Supplies
All-Purpose Heavy Duty Cleaner TSP
Purdy Angular Trim Paint Brush 1 or 2 inch
Drop Cloth
Clean, dry lint-free rags
Paint Tray
DecoArt Stainblocker
DecoArt Satin Enamels  Color smoke grey
DecoArt Satin Enamels Color Pure White
DecoArt Stain Blocker
Note: I would normally remove all of the doors but these cabinets did not have hinges that were showing or hardware so this made it super easy. I also would usually paint the backs of the doors and inside of the cabinets but something tells me the new owners will eventually rip this whole kitchen out so I saved time but just painting the outside cabinet doors, drawers and frame.
Directions
Prep Work
As with any DIY project, preparation is key. Unlike wood, melamine cannot be sanded down because it does not have natural wood grain. With that being said, it is so important that you properly prepare the surface so that the paint will stick over the long term.
For your first step, you will need to degloss and roughen the surface of the melamine.
Clean thoroughly with a degreaser, I used TSP and it worked great, trust me these cabinets were disgusting! I Used a microfiber cloth and went over each cabinet twice.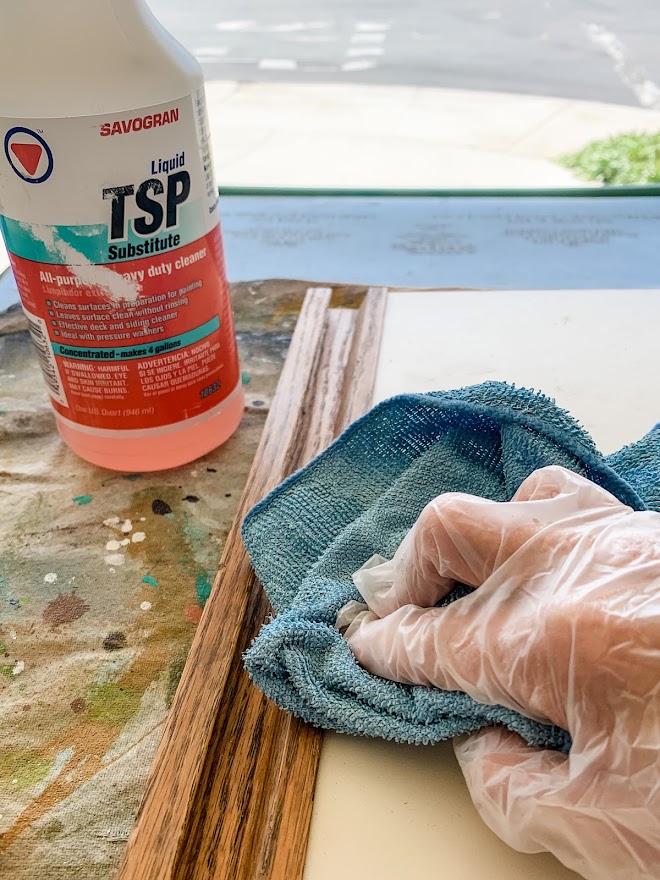 For your next step, you will need to use liquid sandpaper to roughen the surface of the cabinets a bit, to ensure the new paint will stick. Liquid sandpaper helps dull surfaces and helps a new finish bond onto the surface, preventing it from chipping or peeling.
Make sure to wear gloves and apply the liquid sandpaper to a lint-free cloth. I rubbed it on the entire cabinet and drawer. Let the liquid sandpaper sit on the surface for the time specified on the directions.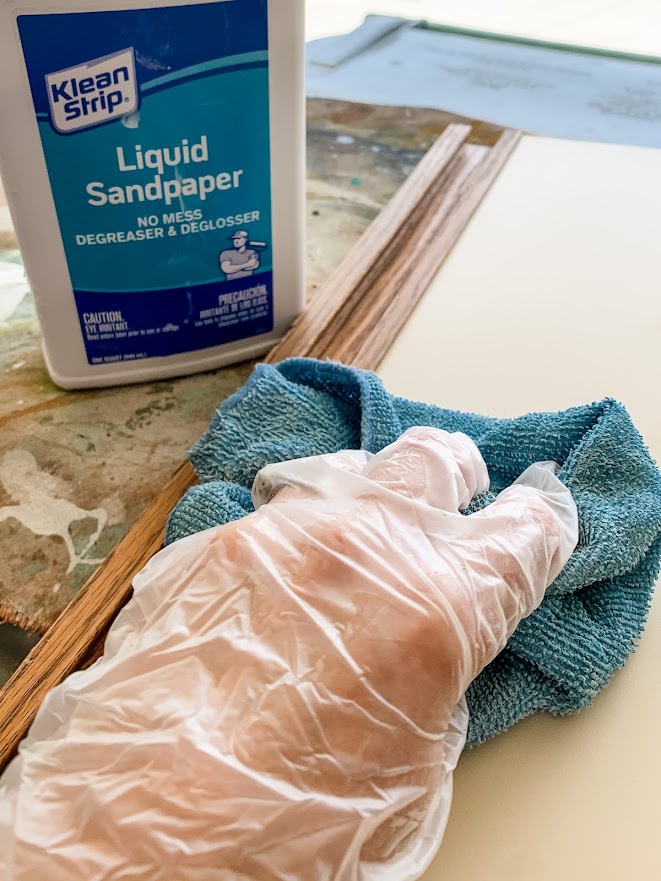 Prime
For your topcoat, I primed the entire surface with DecoArt's Stainblocker, which is a primer/sealer. I used a roller brush for flat surfaces and a small angle brush for the inlaid parts.
The stain blocker goes on looking like glue but dries clear, you need to wait a couple of days for the primer to dry. I did not take a picture of this since the cabinets still look the exact same.
Paint
Time to paint! For my first coat of paint, I started by painting the wood grain areas, edges, and tight spots with a small angle brush. Next, I rolled on the paint over the larger areas, using a foam roller. I have found the foam roller is a great way to prevent brush stroke and gives it a smooth finish.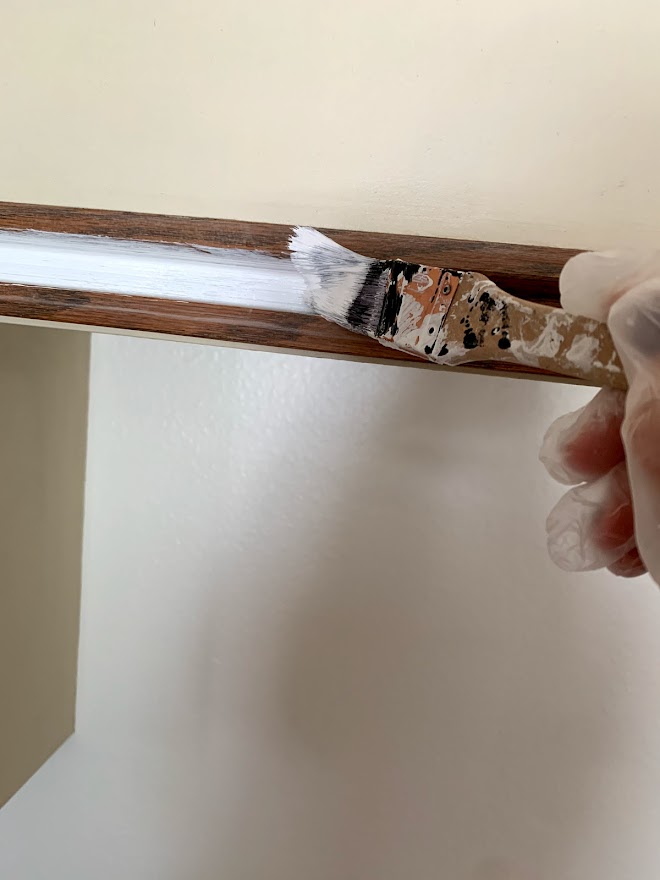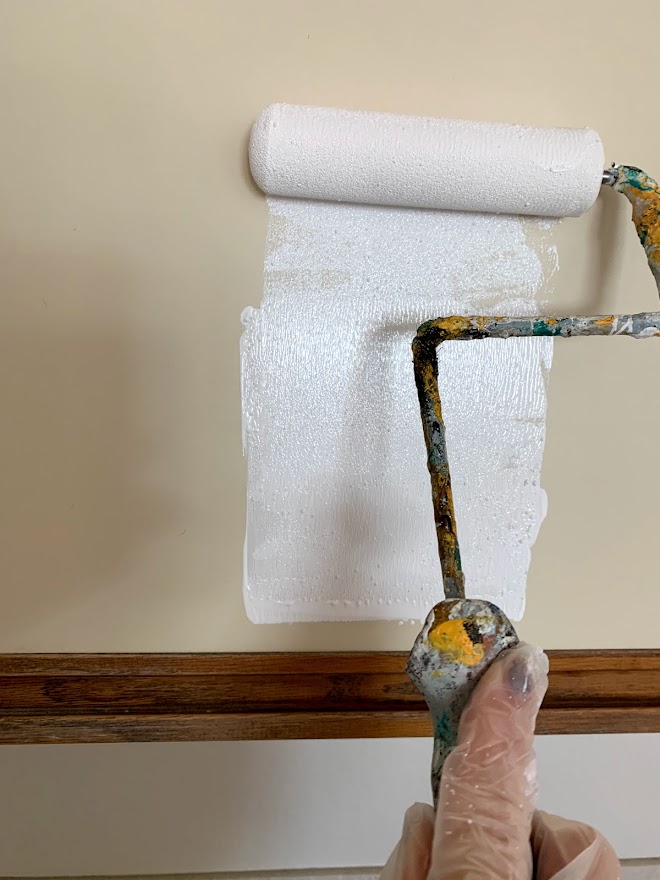 When the first coat dried I quickly realized this kitchen needed contrast with a darker color. The pure white is absolutely gorgeous but with the white walls and the cabinets having zero detail (molding or hardware) and the cabinets doors being extra large it was looking a little sterile to me.
No problem I mixed 2 jars of Deco Art Smoke Grey Satin Enamel with 6 jars of Pure White. These 8 jars all mixed together gave me more than enough paint but I couldn't risk not having enough or I wouldn't have a perfect match.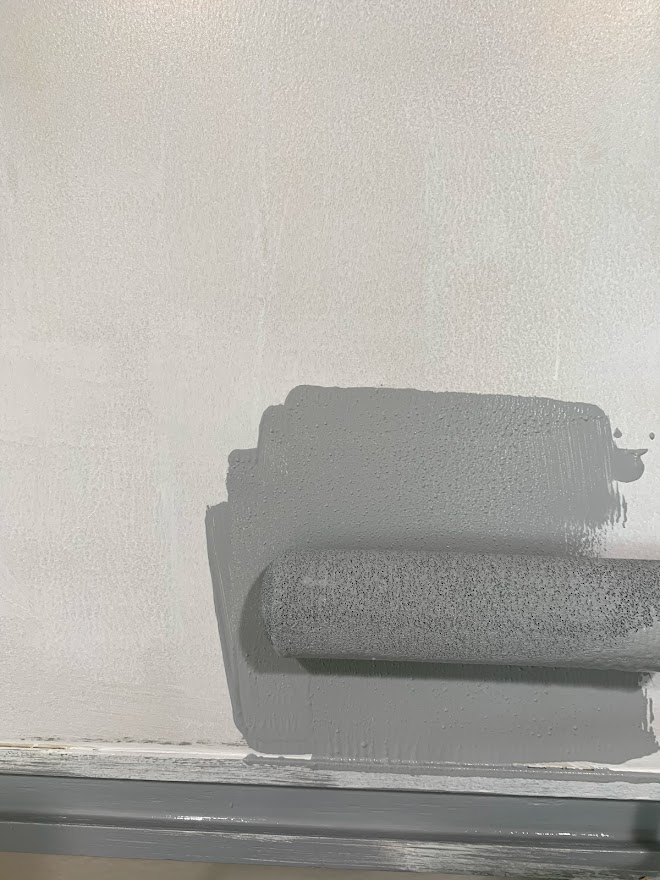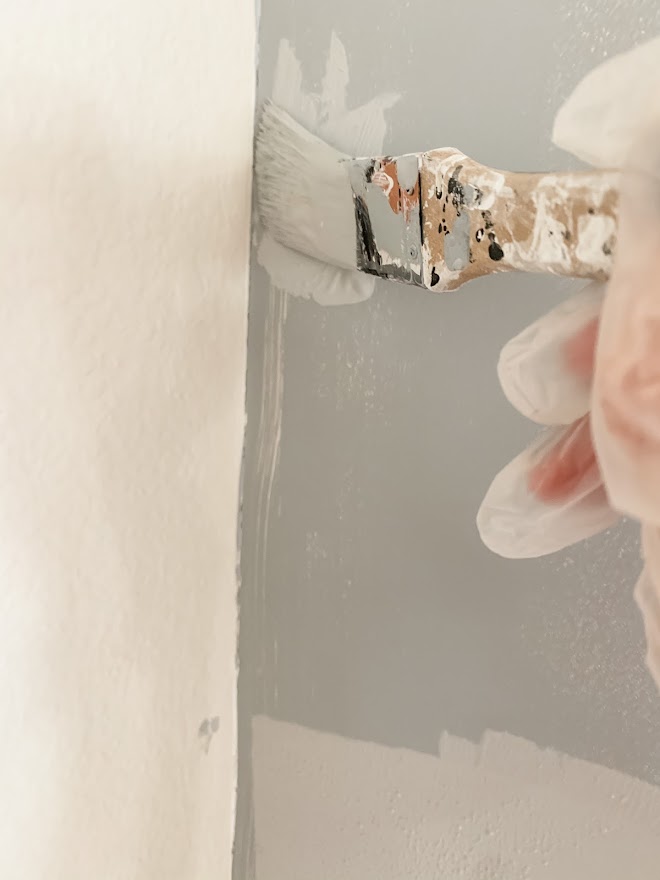 Getting so close, just needed to cut into the trim and the frames of the cabinets.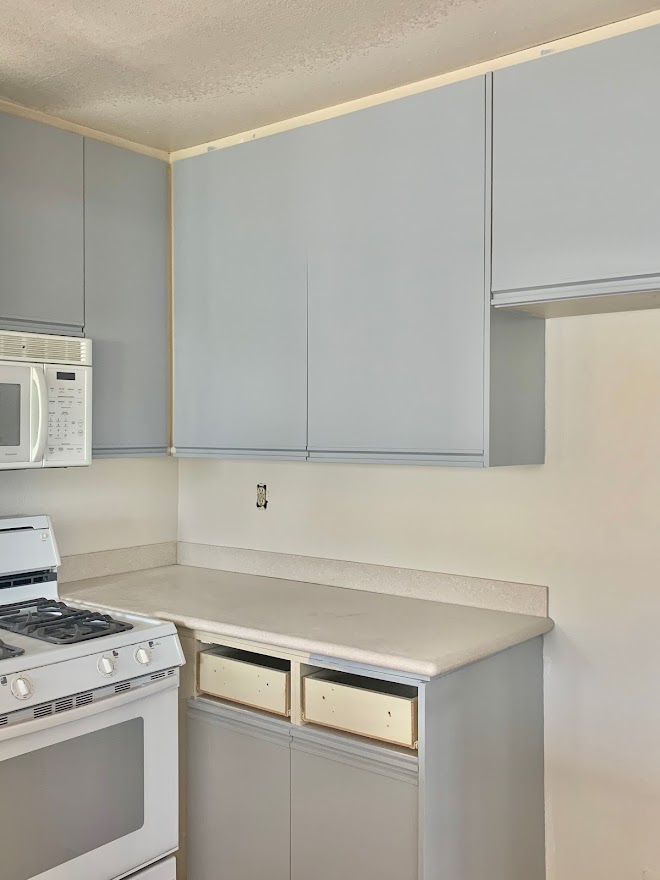 A little sign from my mom letting me know everything is going to be ok visited me again.  (you can read about that
HERE)
We were also in the middle of removing the bulkhead lighting as you can see.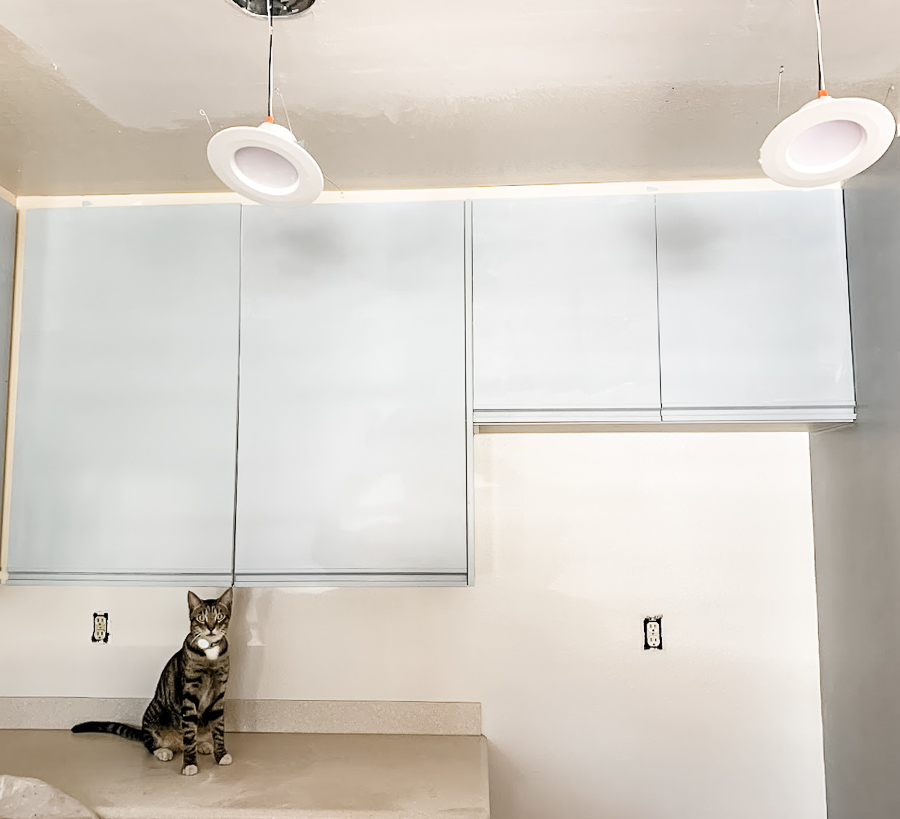 It made such a difference to take the bulkheads out in the kitchen and both bathrooms, an instant update.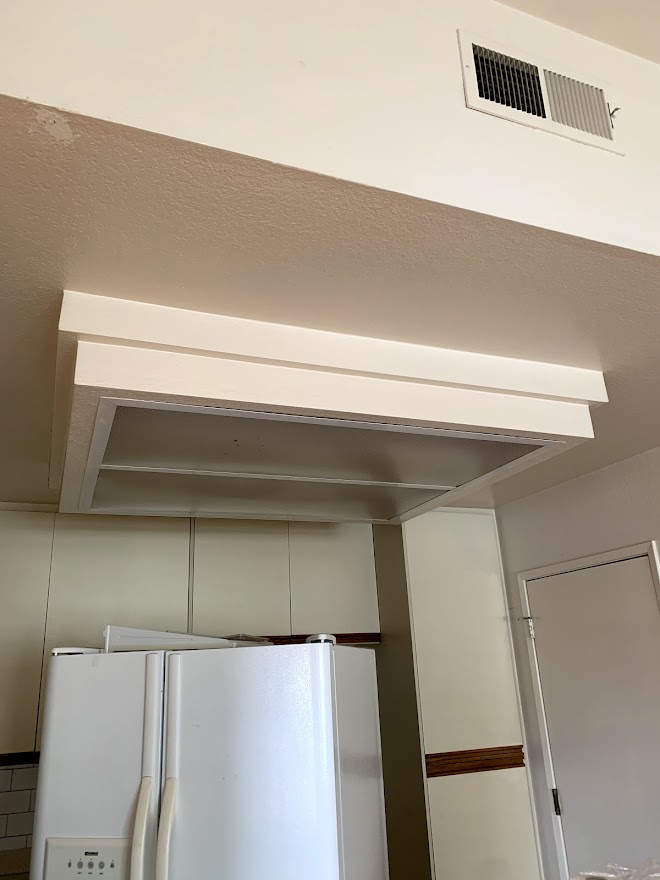 Repeat step. I gave it a second coat with the mixed paint and allowed it to dry overnight. When I went back to the house the next day I had to give it one last very light coat.
Let it Cure
Let the final coat cure fully for two weeks before any heavy use.  Basically, clean with a damp cloth and be gentle on them, no slammin the doors.  This wasn't an issue for me since the house is vacant.
Tips:
Make sure the paint is dry before you give it a second coat.
No topcoat is needed since it dries to a very hard finish.
How much paint do you need?
You'll need about a jar of Satin Enamels for each 20 sq. ft. of cabinetry you're painting.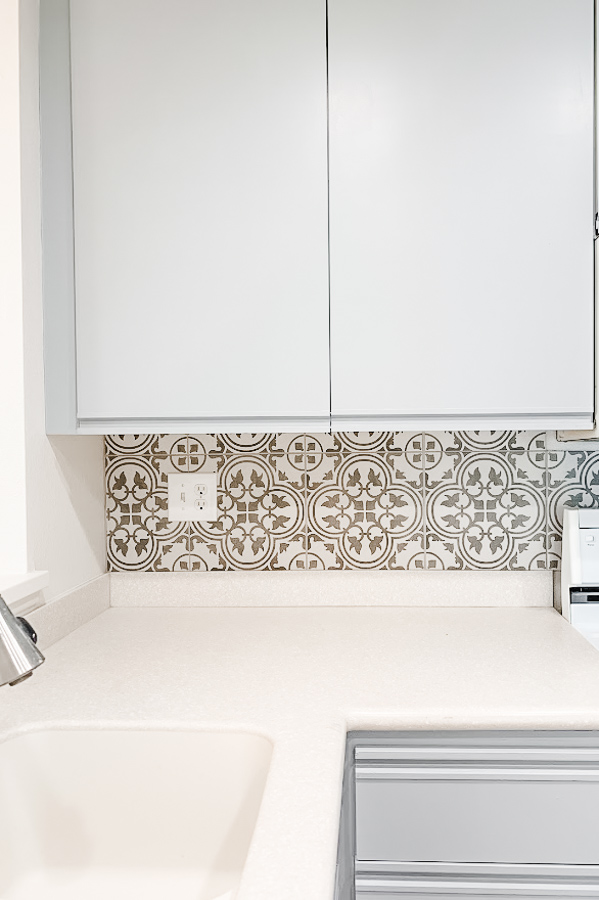 Ray used the leftover tile from the fireplace and added a backsplash, I'm going to try and get a tutorial on that up soon.
I love how they turned out, such a difference!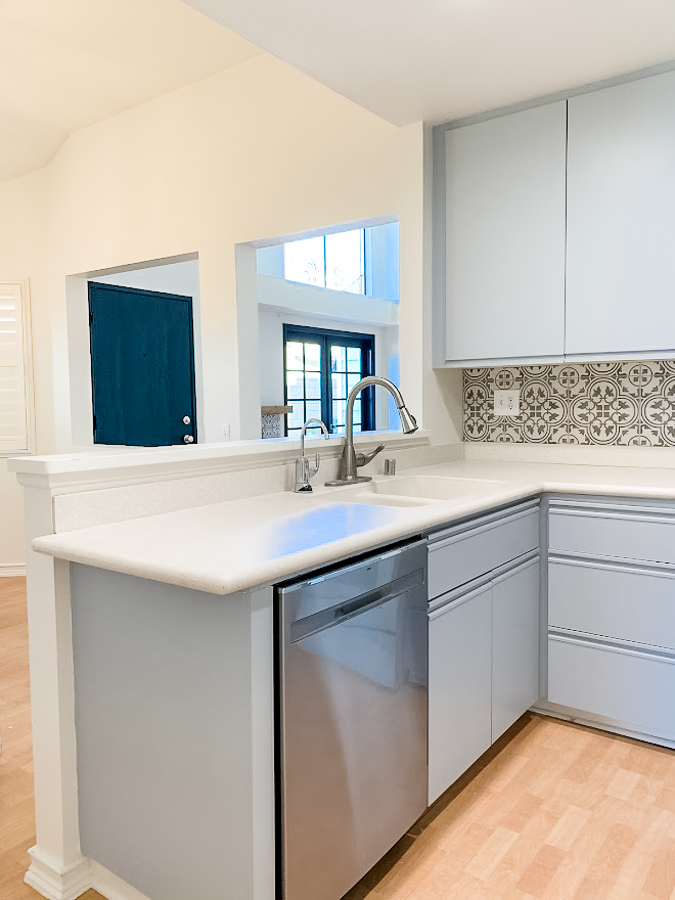 We have an almost brand new microwave in stainless steel that was given to us, we still need to replace it.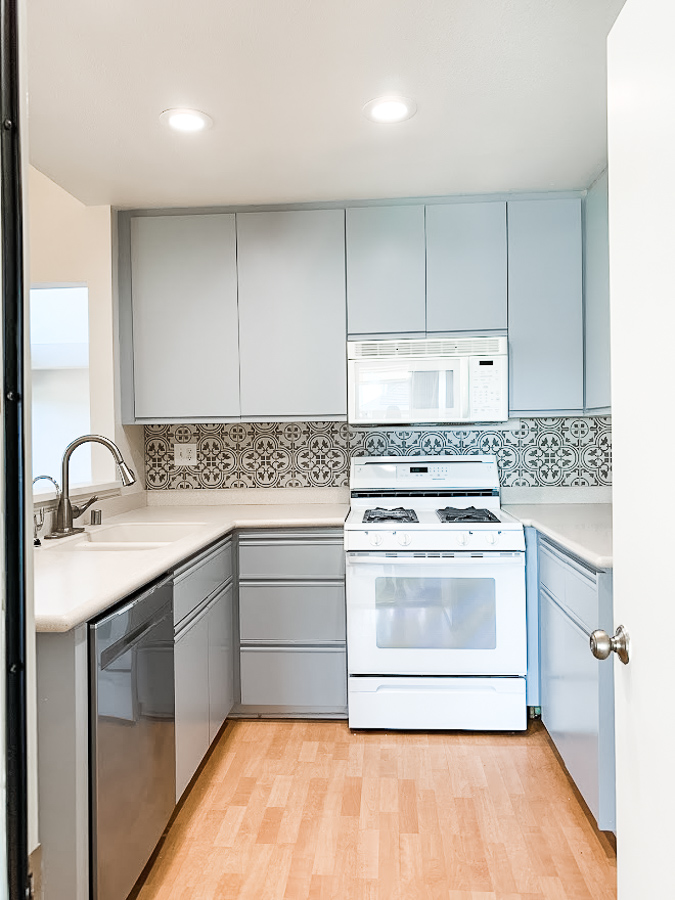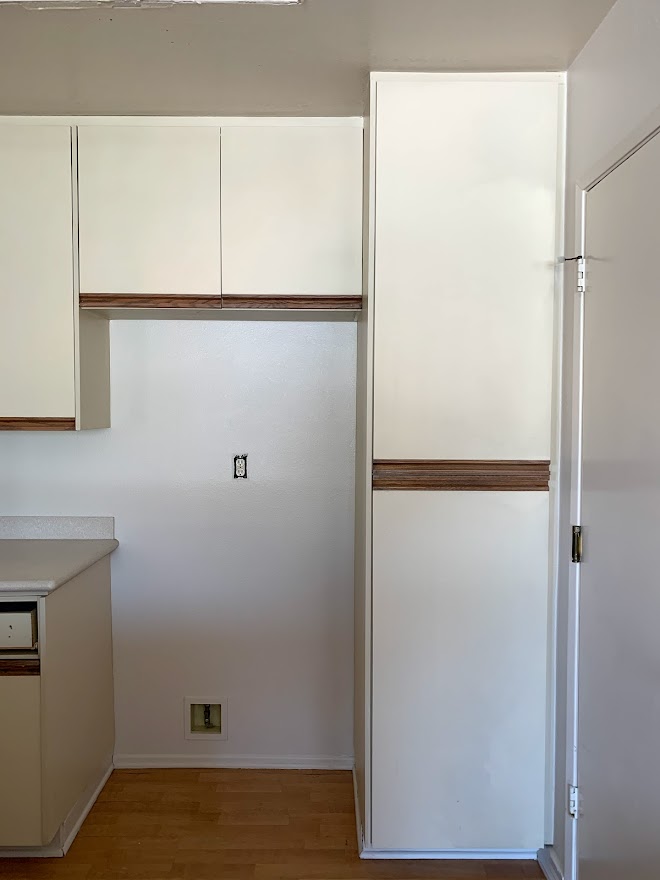 We still need to bring the refrigerator back in.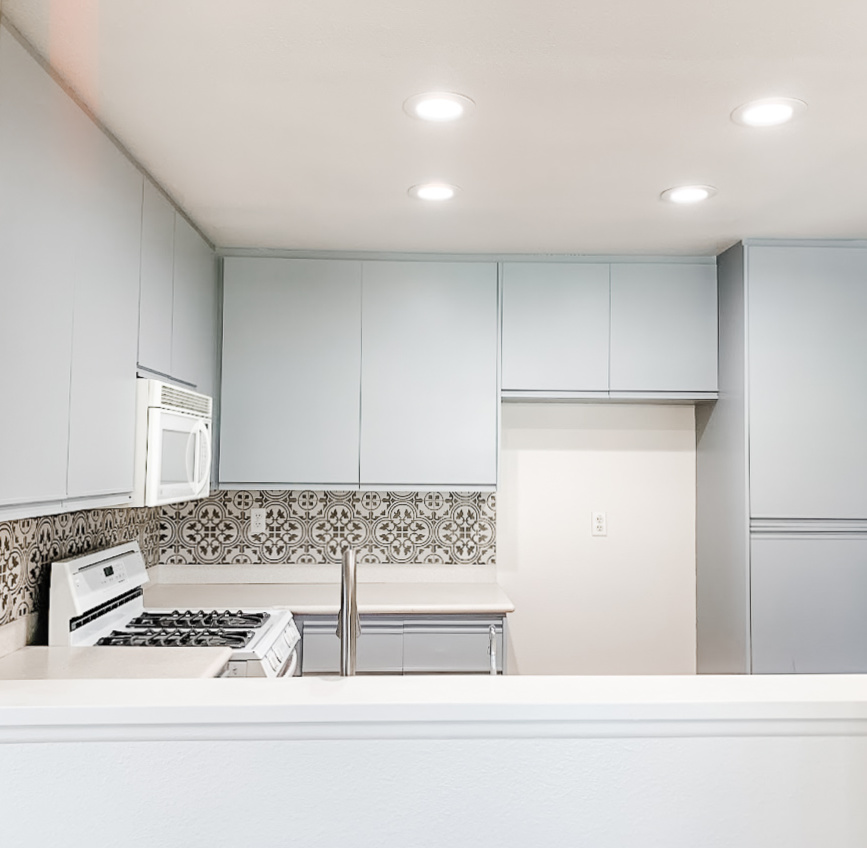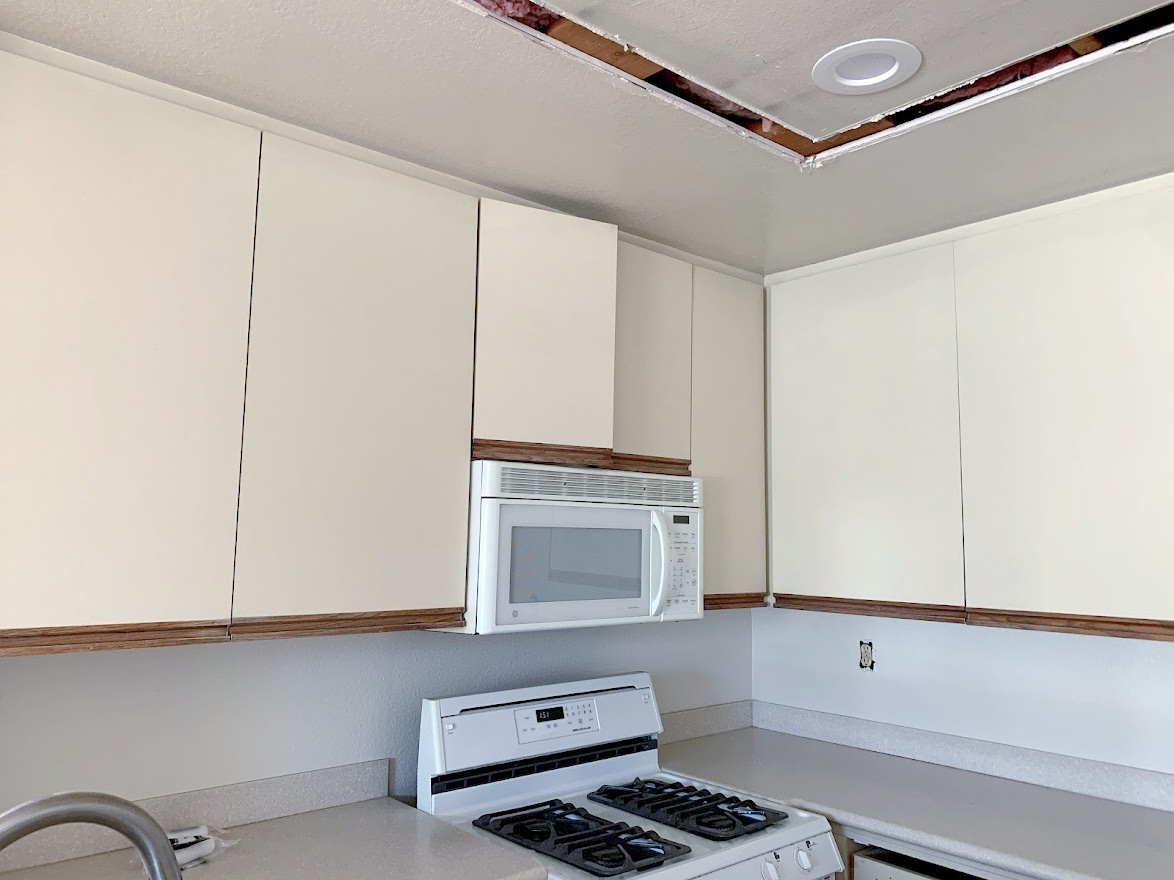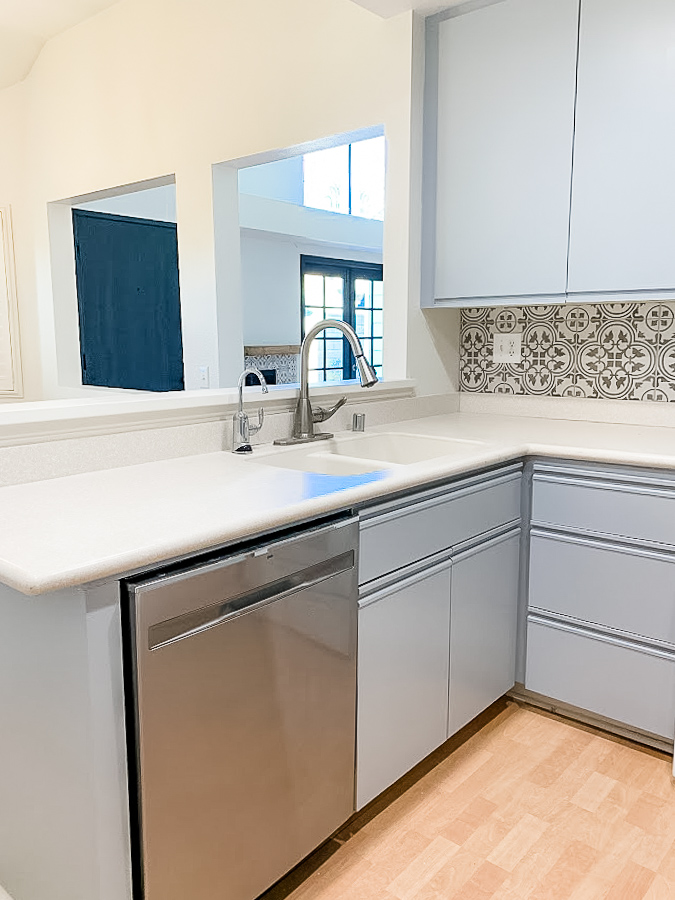 If I wanted to take this the next step I would have stopped at the local hardware store and purchased new handles but I needed to stay on budget.  All in all, I feel like the effect of the new color scheme really updated this kitchen and tied it in with the rest of the home.  I absolutely love working with the satin enamel paint line!
We have just a few more small things left to do and that will be a wrap on the house.  If you missed any of the other makeovers, I've listed them below.  Thank you so much for following us on this journey, it's definitely been difficult at times.
How to paint stair railings and spindles