How to install a concealed hinge
When we painted our oak cabinets a few years back, we decided to replace the wrap around hinges with concealed hinges.
 Also known as European hinges, they are hidden from view when the cabinet door is closed. They don't come cheap, about $7 each and you will need 2 for each door.
Here is what it looks like inside our kitchen cabinet:
How the cabinet looks from the outside, no hinges, makes me happy!
The project isn't necessarily difficult,  just very time consuming especially when you have 30 plus cabinets. I don't think the hubby was in a very good mood that week.
First you will need a 35mm Forstner drill bit to core a hole into the cabinet, cost is about $20.00 for the bit. If you have a drill press, you can insert the bit into the press which  will make this job much easier.
This bit is designed so the hole will not go through and through.
Next, you need to take your measurements and mark your spots on the insdie of the cabinet door and the cabinet box. I would suggest buying a template or making your own so your measurements are the same on every cabinet.
Core a 35 mm hole on the marked spots on the inside of the cabinet door.
Now it is time to attach the hinge to the door.
Lay the door face down,make sure that the hinge arm is at a 90 degree angle to the edge of the door and line up the dowels with the holes in the door, drop the hinge into the holes.
Push the screws in and tighten with a drill.
Attach the mounting plates on the inside of the cabinet with wood screws.
Reattach the door to the cabinet box by lining up and connecting the cabinet hinges with the mounting plates installed on the cabinet.
You may need to make small Adjustments  so the door hangs flush with the cabinet, just use a Philips screwdriver.
If this all seems like way too much work, I wanted to show you what we have done with all the upstairs cabinets and how they have held up.
The boys bathroom I painted right over the hinge, this is how it looks about 18 months later, not great but I don't mind.
In our linen cabinets we had the cabinets sanded, stained and sealed. We kept the same hinges and well, they look the same.
In our bathroom I used a gel stain on the cabinets and over the hinges, same result as painting over. Boy do I need to dust!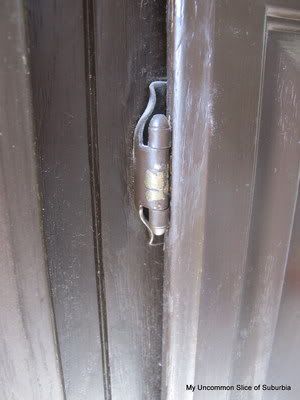 Hopefully this answers any questions you may have about hinges, if not, ask away and I'll give the questions to the hubby.
~Enjoy the weekend~