How To Make A DIY Wine Bottle Tiki Torch
Making a DIY wine bottle tiki torch is a fun and easy project that will add ambiance to your outdoor entertaining area. I love sharing easy DIY projects and this is definitely one of them!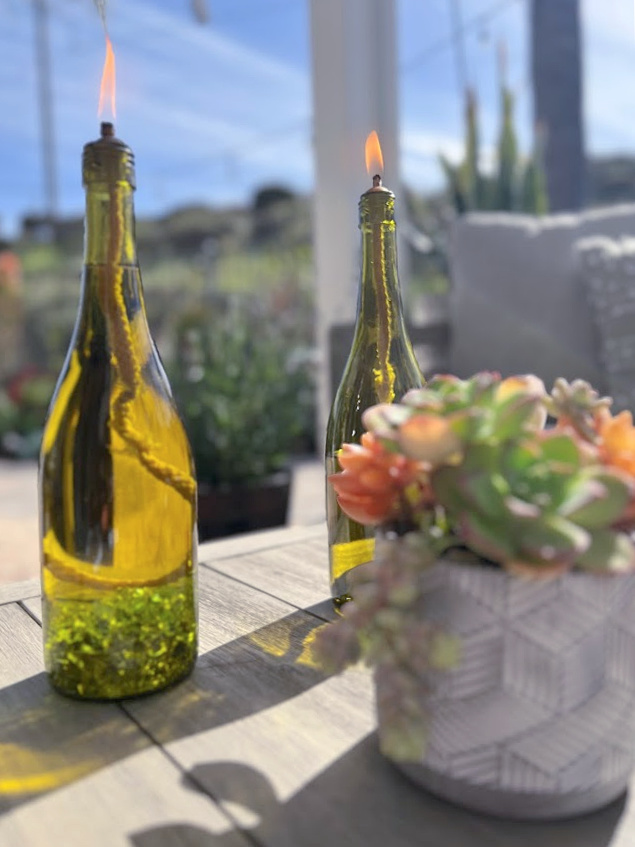 Today the thrift store team is getting together to share our best recycling projects for earth day!  I have all of their projects listed at the bottom of the post so make sure you check them out and get inspired to create your own project.
I have been saving all the wine bottles so I could get ready for today's post!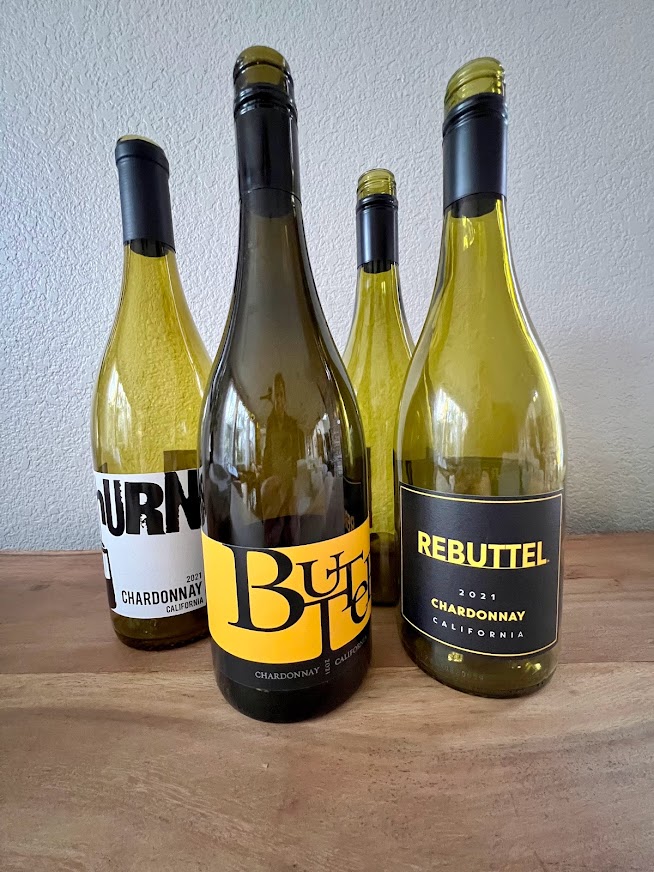 For this project, I purchased a Wick Candle Lamp kit from Amazon for $9.  Please read the reviews, some aren't so great while others are much better. I'm not going to link the one I purchased as it was frustrating to work with. For a few more dollars I listed a good one below.  I've also shared in the tutorial how you can make your own with just a few minimal supplies.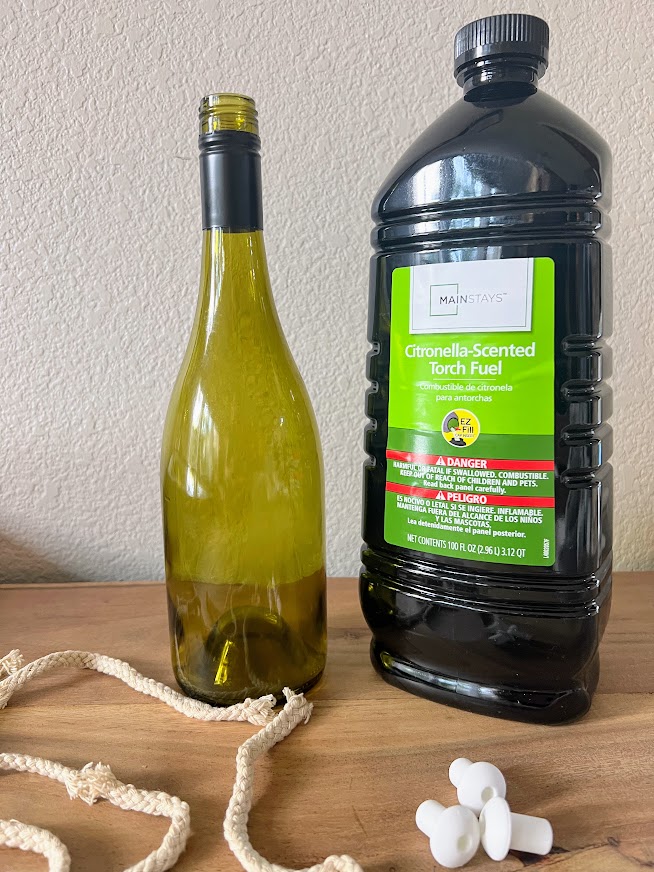 Affiliate links are listed below
Materials needed:
Empty wine bottles or any glass bottle (whiskey bottles are always fun)
Pliers and hot glue (optional)
Lighter or matches
How to make your wine bottle tiki torch
Step 1: Remove the labels from the leftover wine bottles.  Normally I would use goo gone but we were out so I simply soaked the bottles overnight in a bucket of soapy water and they came right off.  No scrubbing is needed, maybe I got lucky, who knows.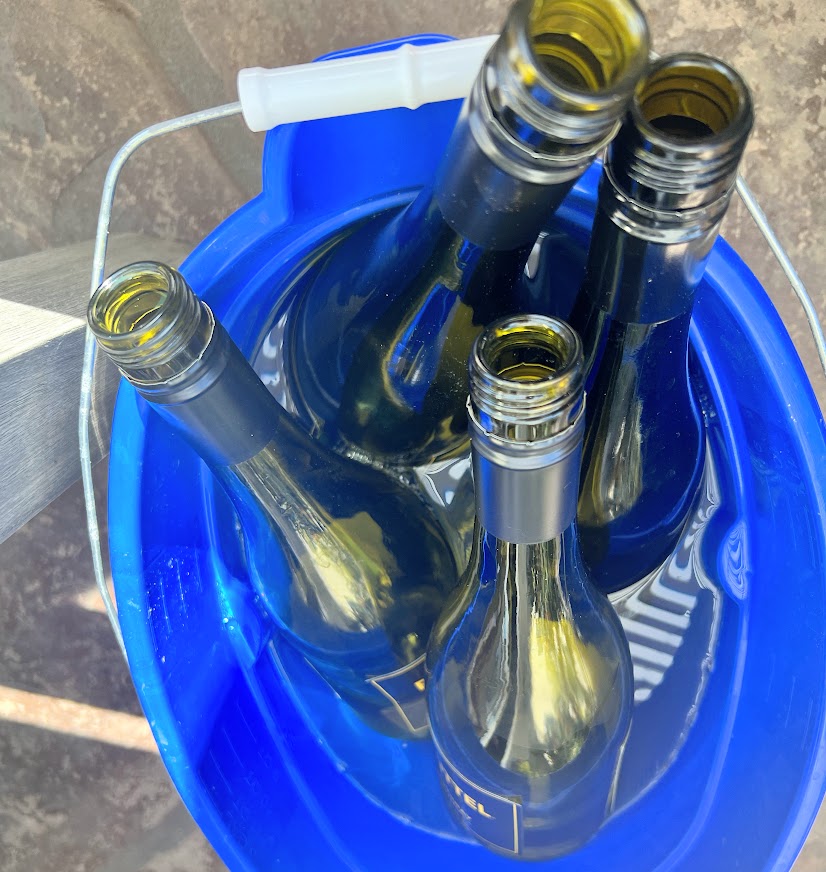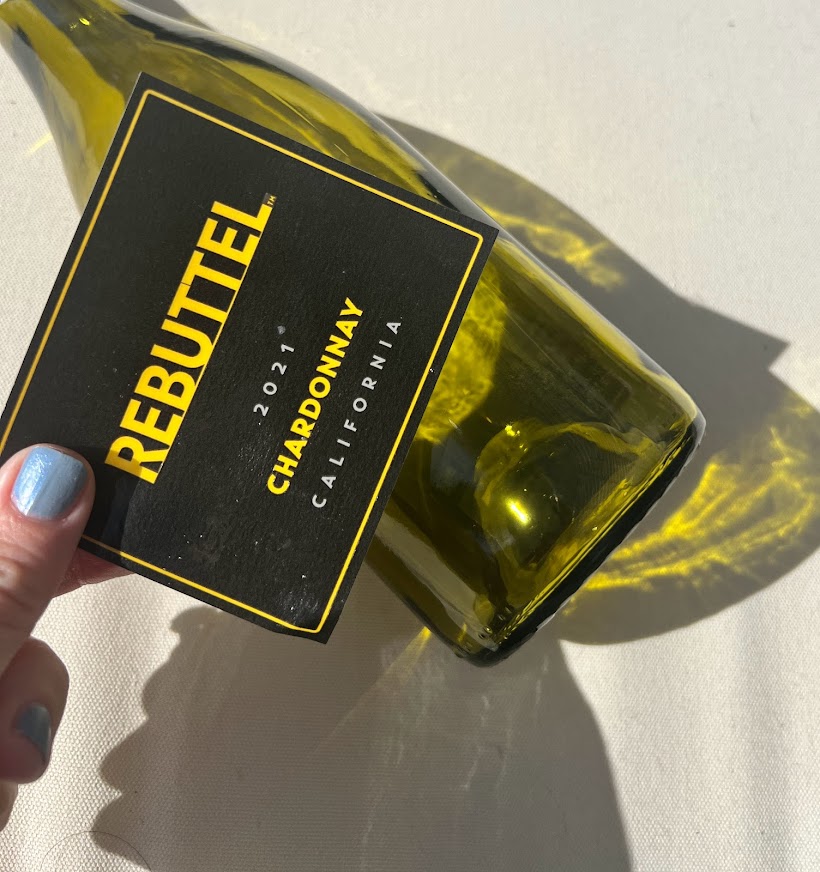 Step 2: Insert the wick into the ceramic holder. This was a little tricky for me so I added a dab of hot glue at the end of the wick and threaded it through the small hole and used plyers to pull it through.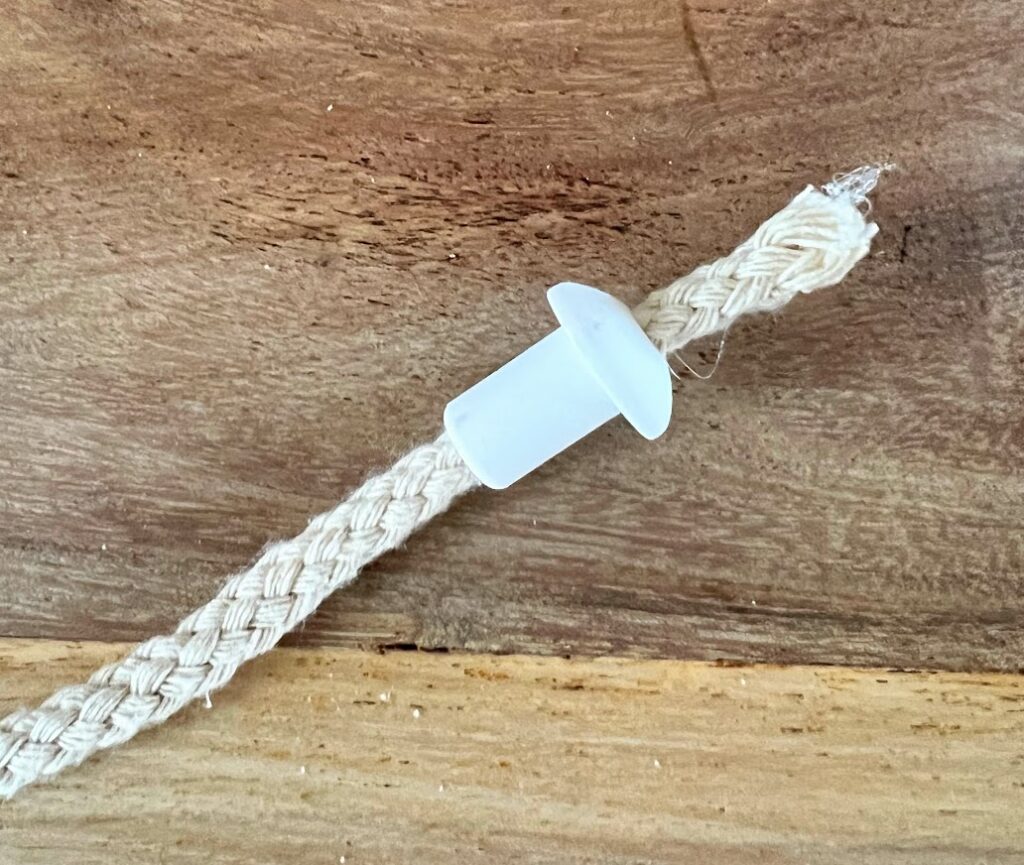 Step 3: Fill the wine bottle with tiki torch fuel using a funnel. Fill the bottle about 3/4 full. If you would like you can add decorative rocks ahead of time.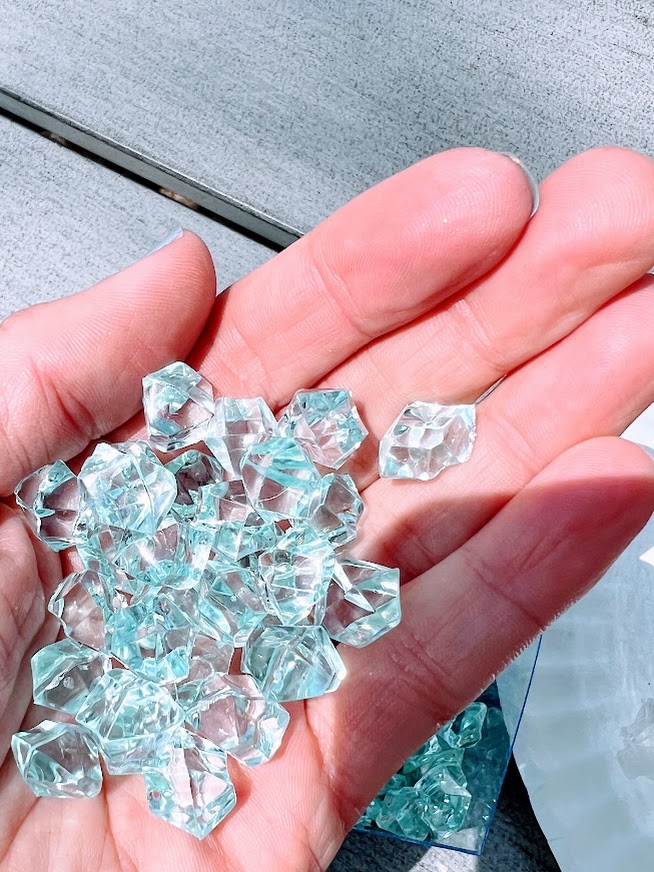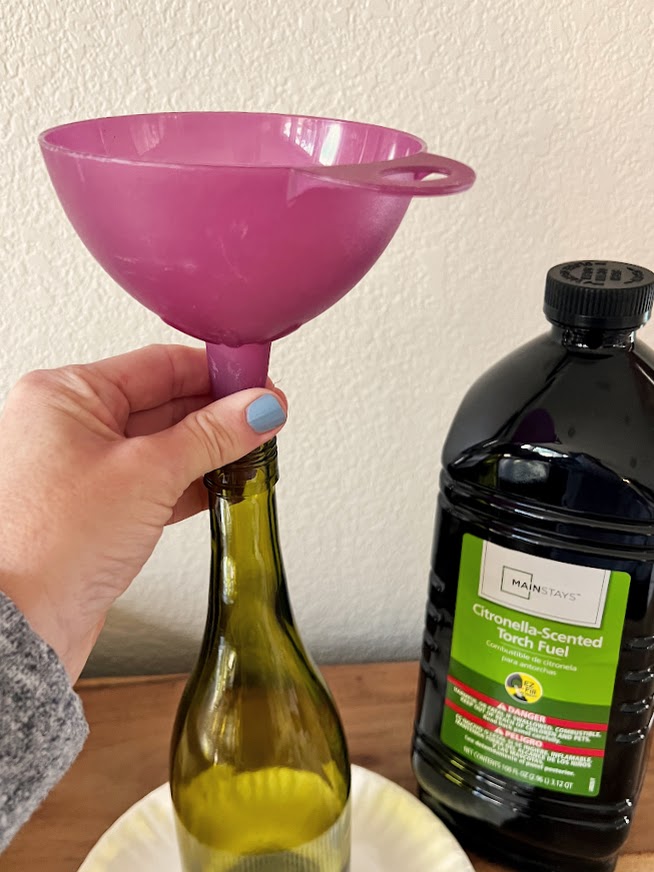 Step 4: Optional, add you're essential oils to deter bugs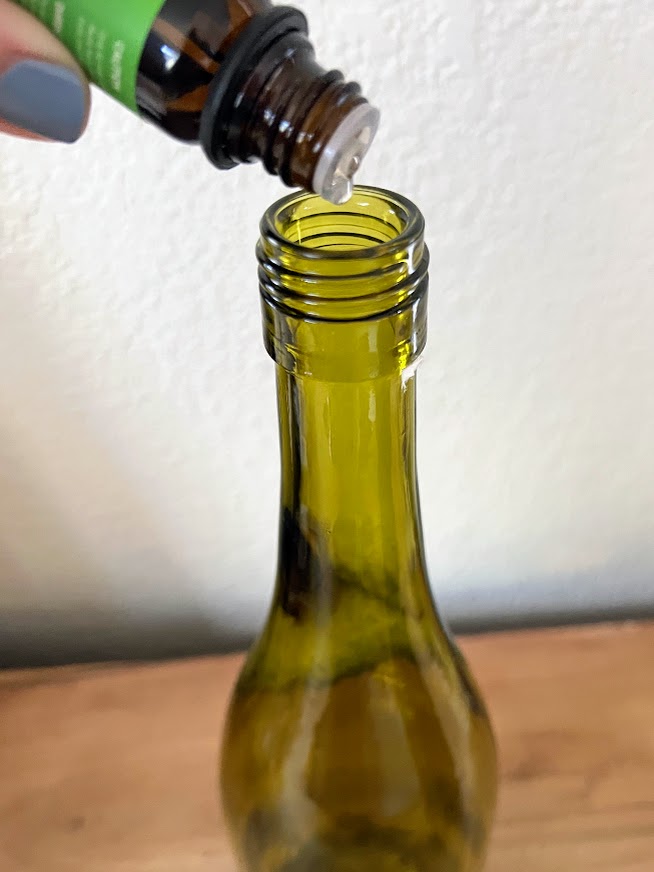 Step 5: Insert the ceramic holder with the wick into the mouth of the bottle making sure it has a tight fit. The wick on top should stick out about 1/4-1/2 inch from the holder.
Step 6: Light the wick with a lighter or matches.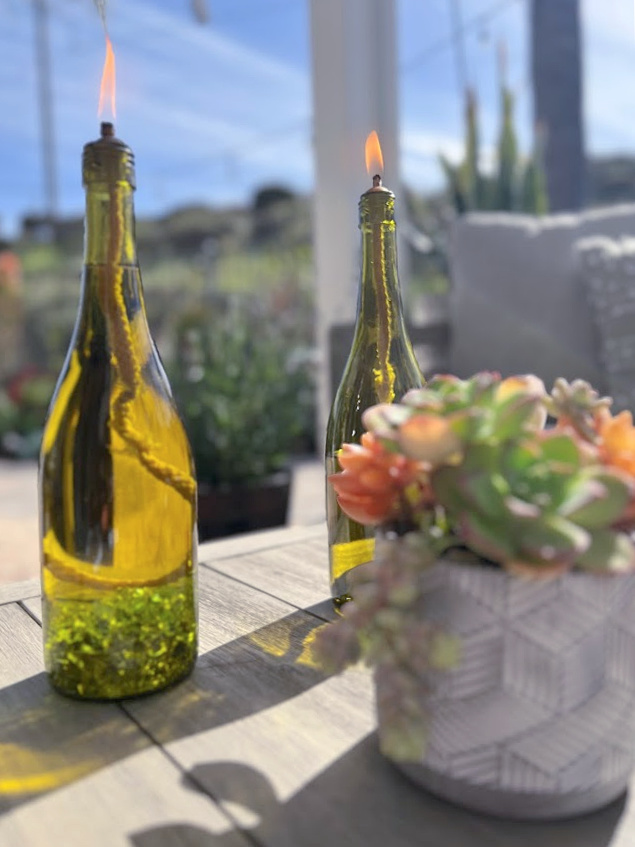 Enjoy your new wine bottle tiki torch! It's a pretty tabletop decor piece that you can fill with citronella oil to help keep the bugs at bay.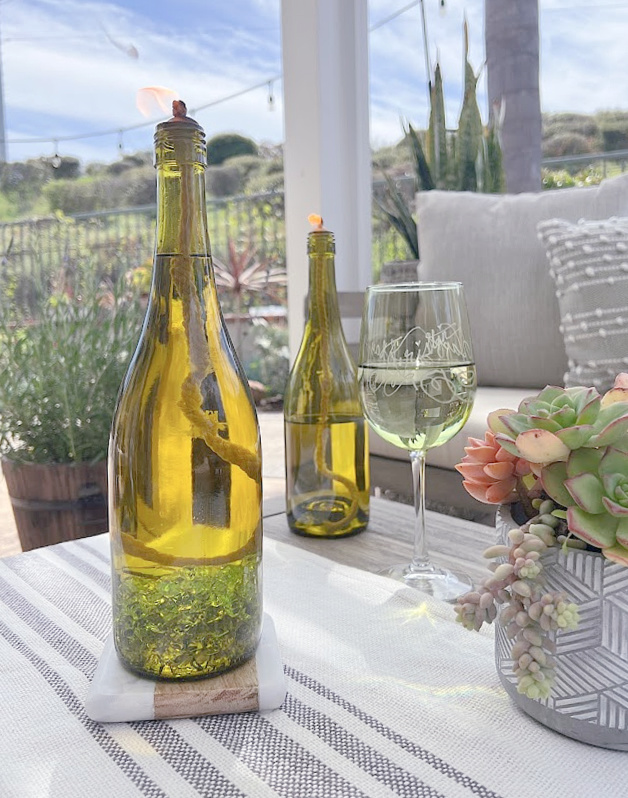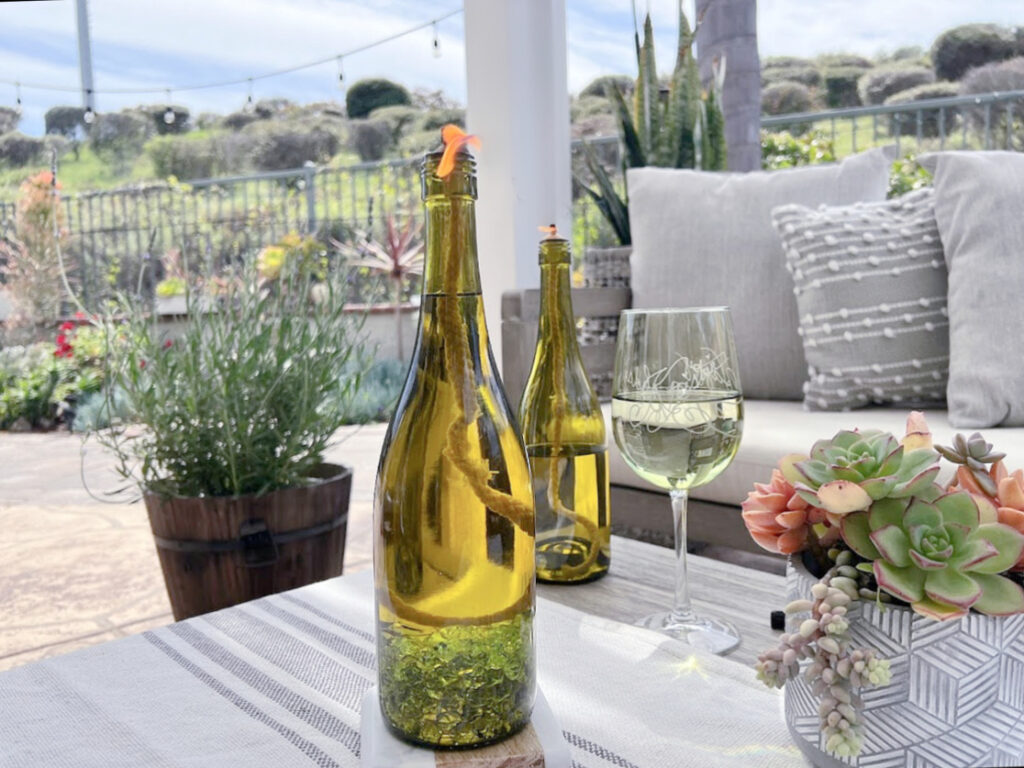 DIY Tiki Torch Tips
The wick will need to absorb the oil for a little while before lighting.
Optional: To add some decoration, you can place small rocks at the bottom of the bottle. This will give it a unique and personalized touch.
Note: Always be cautious when using open flames and tiki torch fuel. Keep the tiki torch at a safe distance from any flammable materials.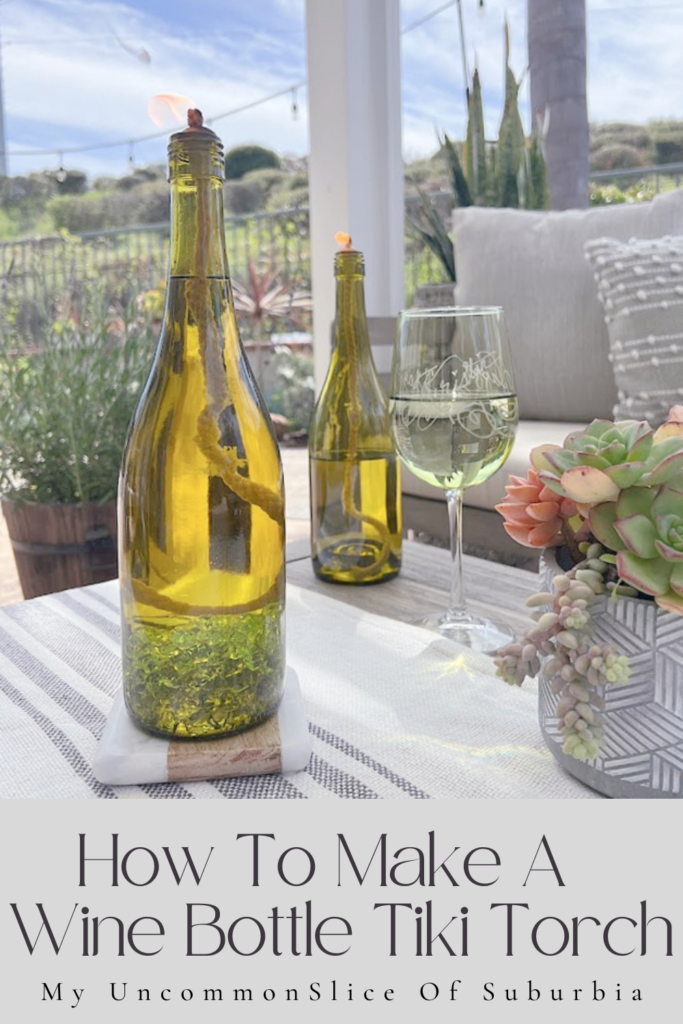 Deter Those Pesky Bugs
The oil I purchased had citronella oil already in it which helps to deter bugs, especially mosquitos during the hot summer months.  However, you can add your own essential oil to your wine bottle to repel insects as well.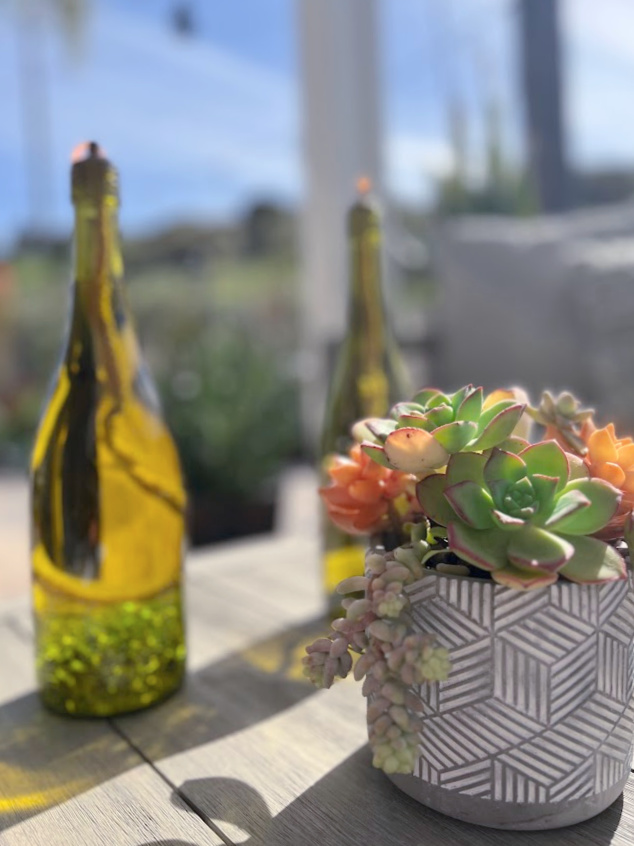 Some of my favorites are:
 Eucalyptus essential oil
Peppermint essential oil
 Tea tree essential oil
Sage essential oil
Thyme essential oil
Cedar Wood essential oil


If you would prefer not to use a kit from Amazon, the steps are pretty straightforward.  You will simply need a copper coupling and plumbers nylon seal which you can find at home depot. You will still have to buy a tiki replacement wick and fuel no matter which route you take.
This was such a fun way to recycle glass bottles!
  You are going to love having outdoor gatherings on the warm summer nights with these beautiful homemade tiki torches, Added bonus, you get to enjoy a glass of wine getting those bottles ready.
I love my fairy lights for wine bottles, they are battery-operated, however you can buy some with solar lights!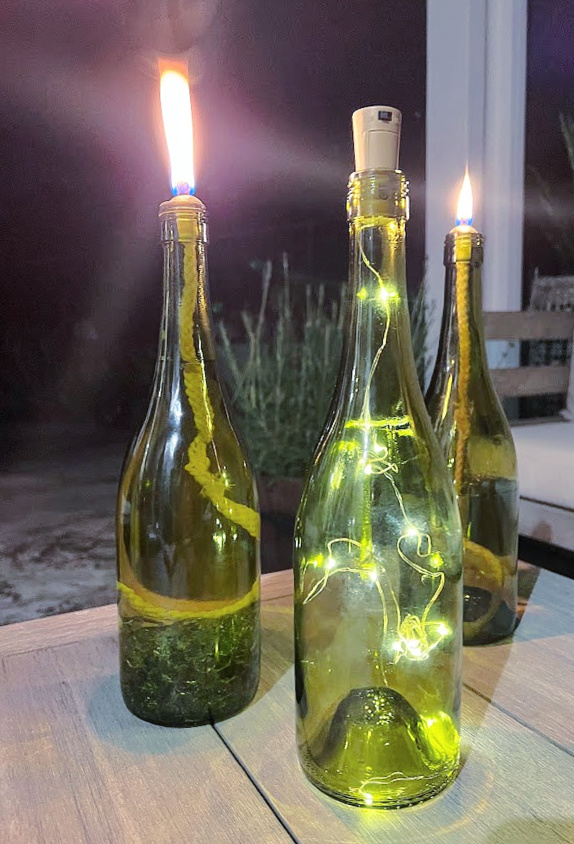 If you're looking for essential oils to keep bugs away, I have the perfect blog post for you here!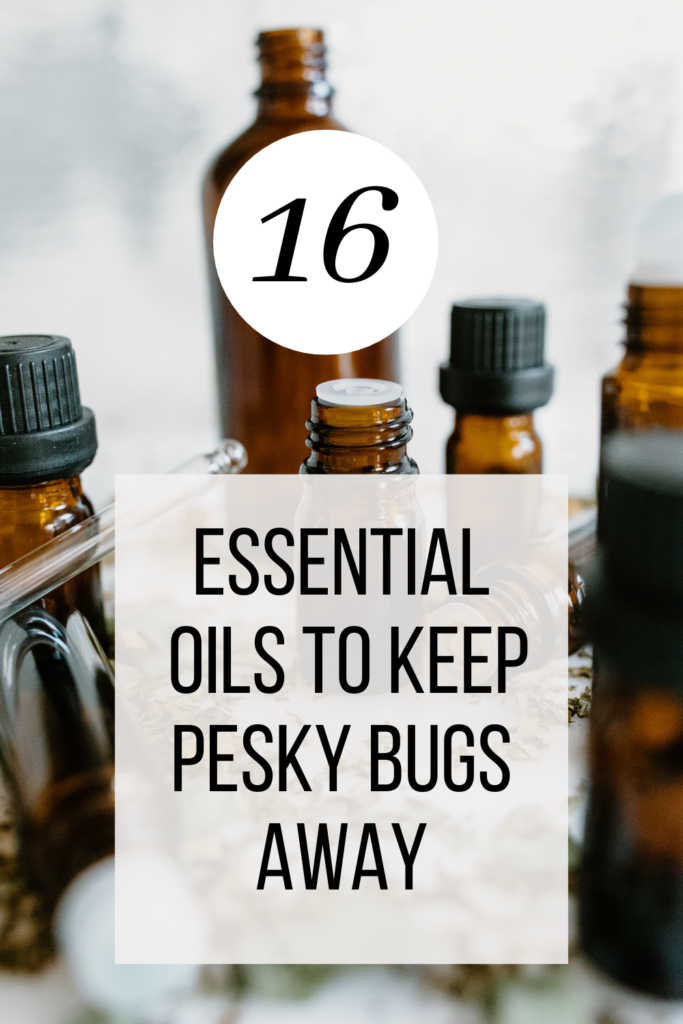 Another effective tool that I use and love is the DynaTrap.The UV light and TiO2 coating lure flying insects to the trap, then the powerful, whisper-quiet fan sucks them into the basket, no zapping involved!
See what everyone else made out of their recyclables this month for earth day!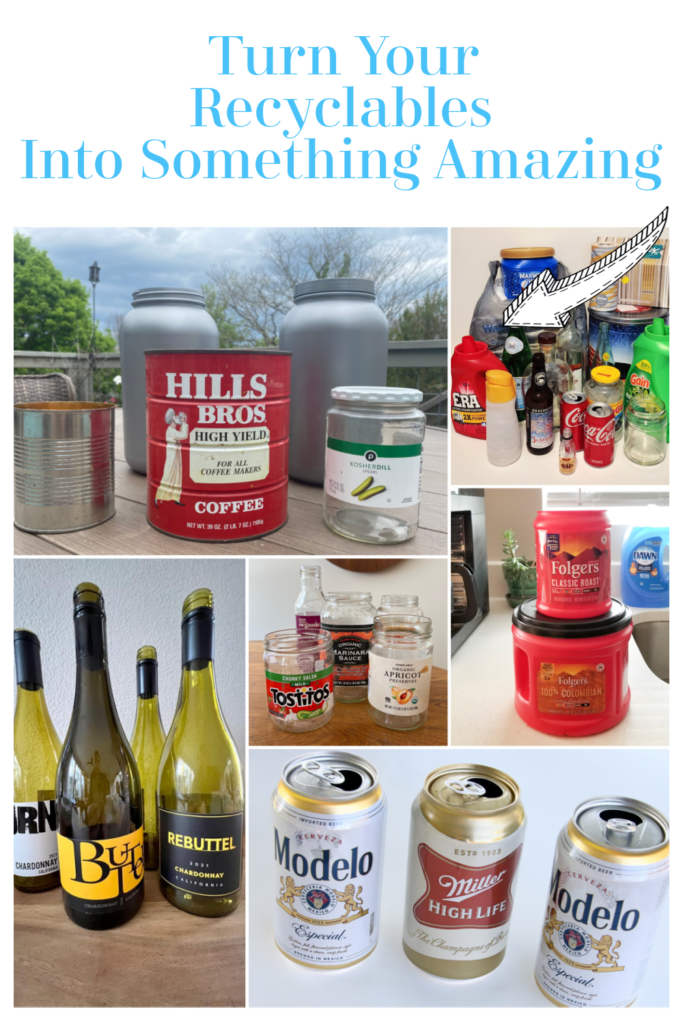 My Repurposed Life DIY Upcycle Ideas from Your Recycle Bin
My Uncommon Slice of Suburbia DIY Wine Bottle Tiki Torch
Sadie Seasongoods Upcycling a Coffee Canister with Cork Fabric
Organized Clutter Recycling Bin Propagation Station
Shop At Blu Recycle Bin Craft for Earth Day
Petticoat Junktion How To Upcycle Aluminum Cans Into Vases
Here are more fun ideas from the past