Easy DIY Succulent Planter Made From a Wood Pallet
Transform a simple wood pallet into a stunning DIY succulent planter with this easy tutorial. Creating a succulent planter from a wood pallet is a great DIY project that allows you to showcase your creativity while adding a touch of greenery to your space.  The best part, you don't need a green thumb!
It is time for another succulent planter DIY, and I have been wanting to do one with a pallet ever since I finished my herb garden made from a pallet. 
Make sure you check out all of the projects at the end of the post from our thrift store team, we are all sharing succulent projects to inspire you!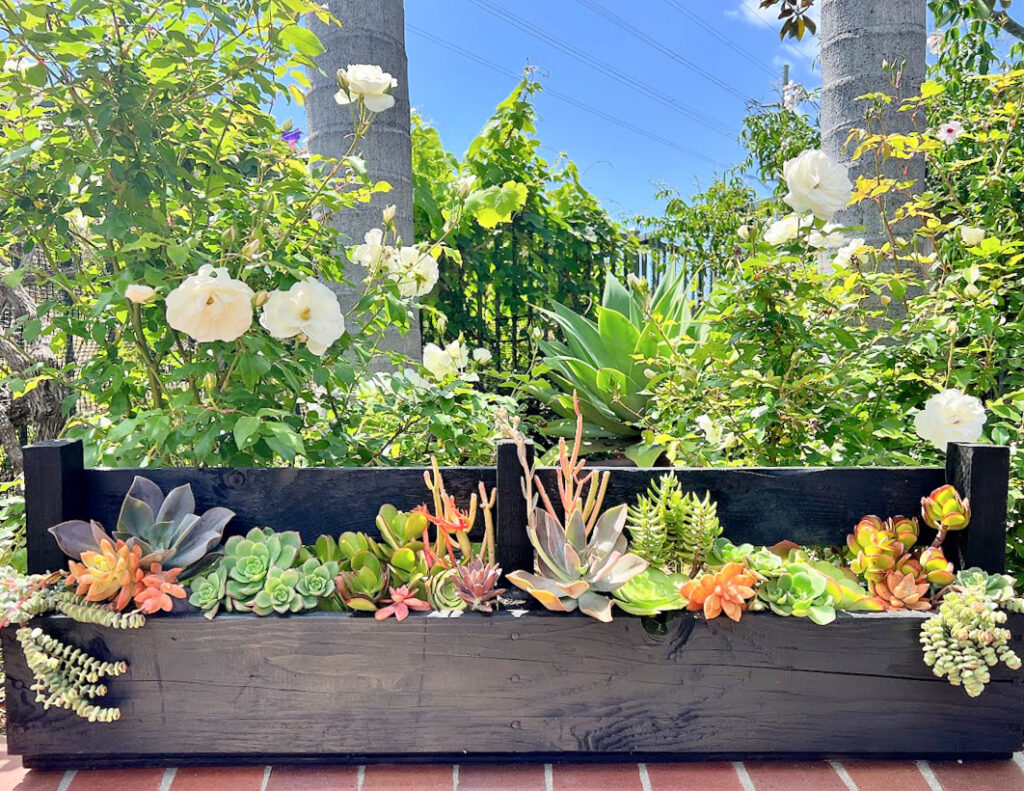 Affiliate links are listed below
Materials you'll need:
Wood pallet
Plywood or backboard (optional)
Landscape fabric or weed barrier fabric
Staple gun and staples or nails and hammer
Saw
Potting soil
collection of succulents you can use faux succulents as well
Drill (optional)
Wood stain or paint (optional)  I used Rust-Oleum Black Satin
Step-by-step instructions
The first step is, Find your wood pallets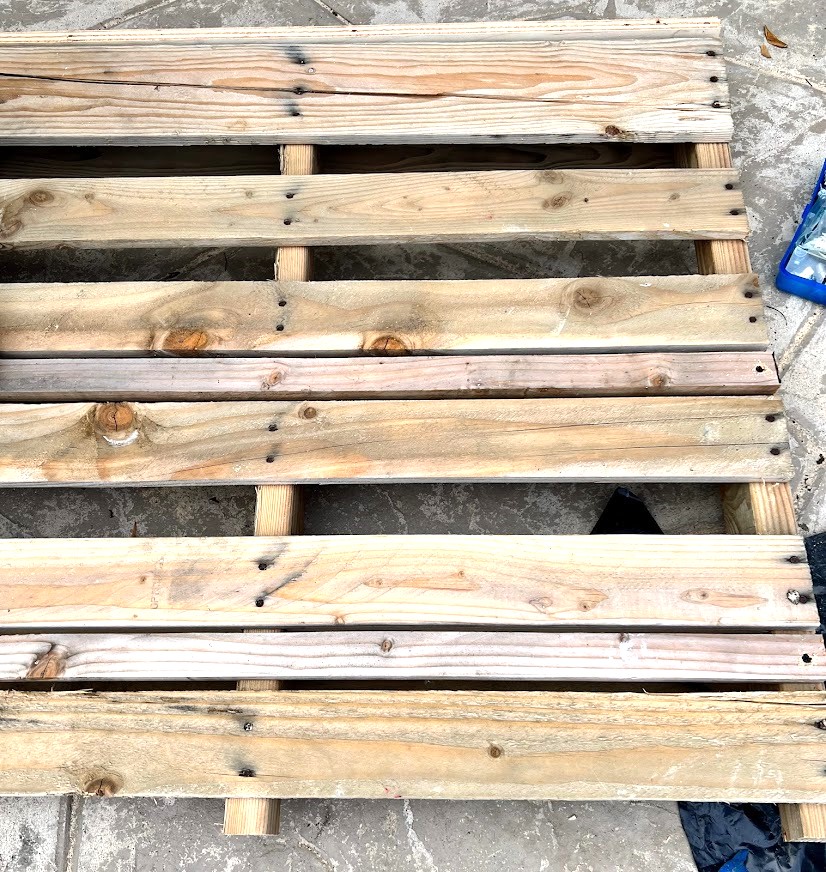 You can find used or old wooden pallets at home depot, a hardware store and garden centers many times for free, just ask. Make sure the pallet is in good condition and has no cracks or broken boards. Avoid any that have obvious oil spills or evidence of rot or mold growth. If you are not having any luck, you can purchase one online, many Etsy sellers offer them.
 Prepare the old pallet 
 Inspect the wood pallet and ensure it's in good condition without any loose boards or nails. Pry out any protruding nails and reinforce any loose joints with screws If there are rough edges or splinters feel free to sand the pallet. If the pallet has been treated with chemicals, allow it to weather for a few weeks to ensure it is safe for planting, you could also clean it with a water-and-borax mixture or a water/bleach mixture.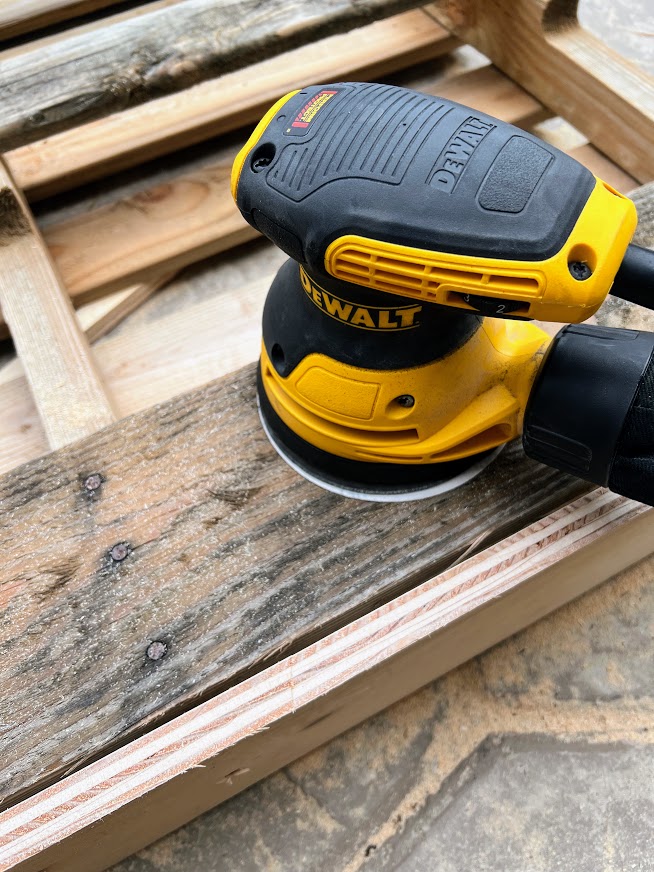 Decide how big you want your pallet planter box to be
  I am only using 1 tier for this planter but if you would like to use multiple levels you can find that tutorial here.
We simply used a saw and removed the top tier of this pallet, it was the perfect rectangular shape.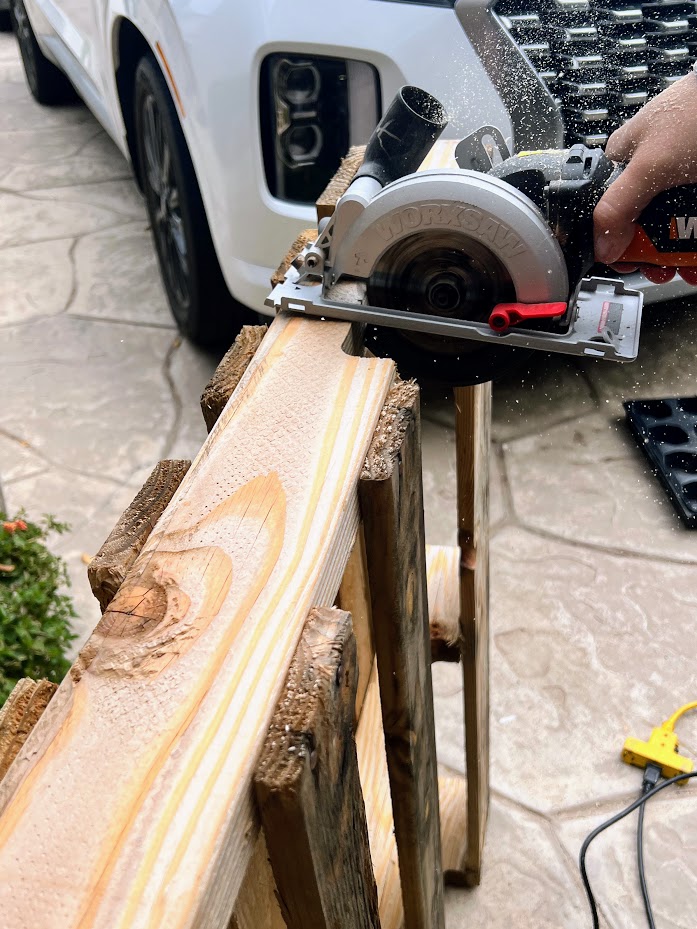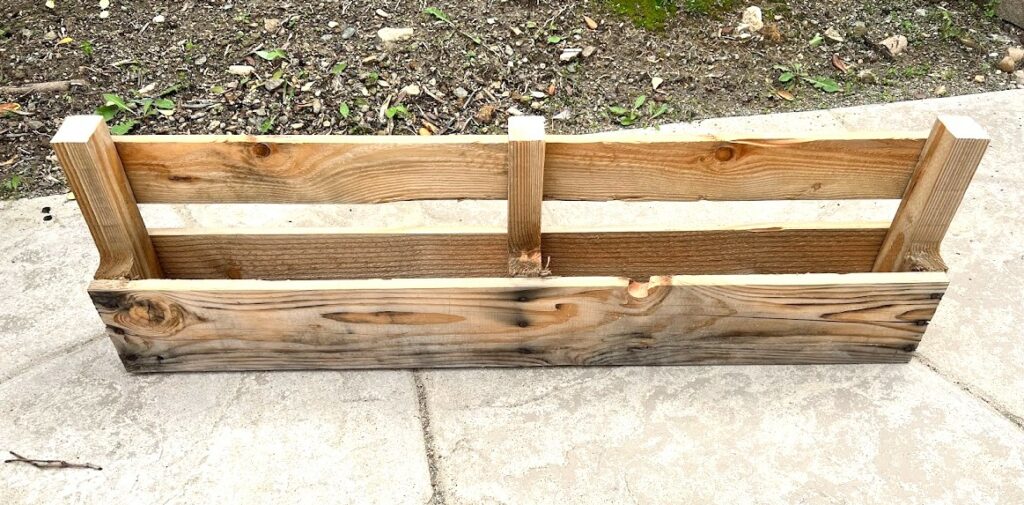 Reinforce the pallet (optional) 
If the wood pallet has large gaps between the boards, you can attach extra boards to the backside or sides of the pallet using nails. This will create a solid backing for the planter.  Because I was only using 1 tier, the gaps were very small so I skipped this step and went straight to painting and lining the palet.
 Stain or paint (optional)  to enhance its appearance.
I went with black spray paint to compliment the exterior paint of our home but you can go with a different color.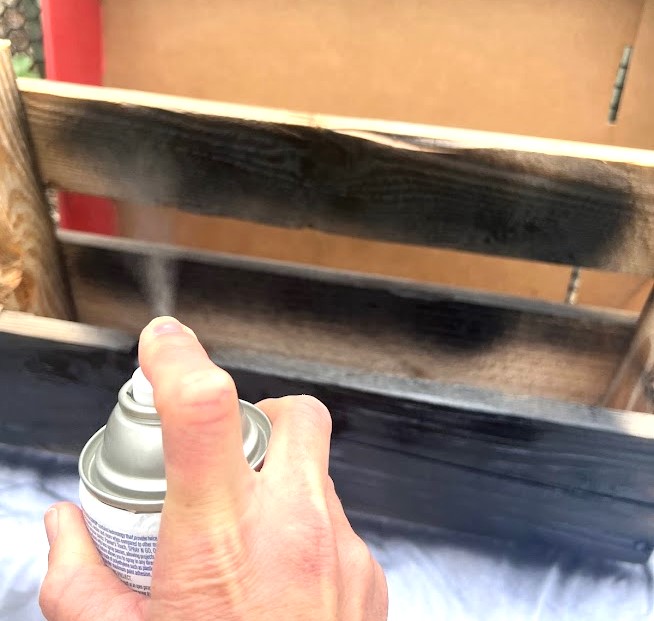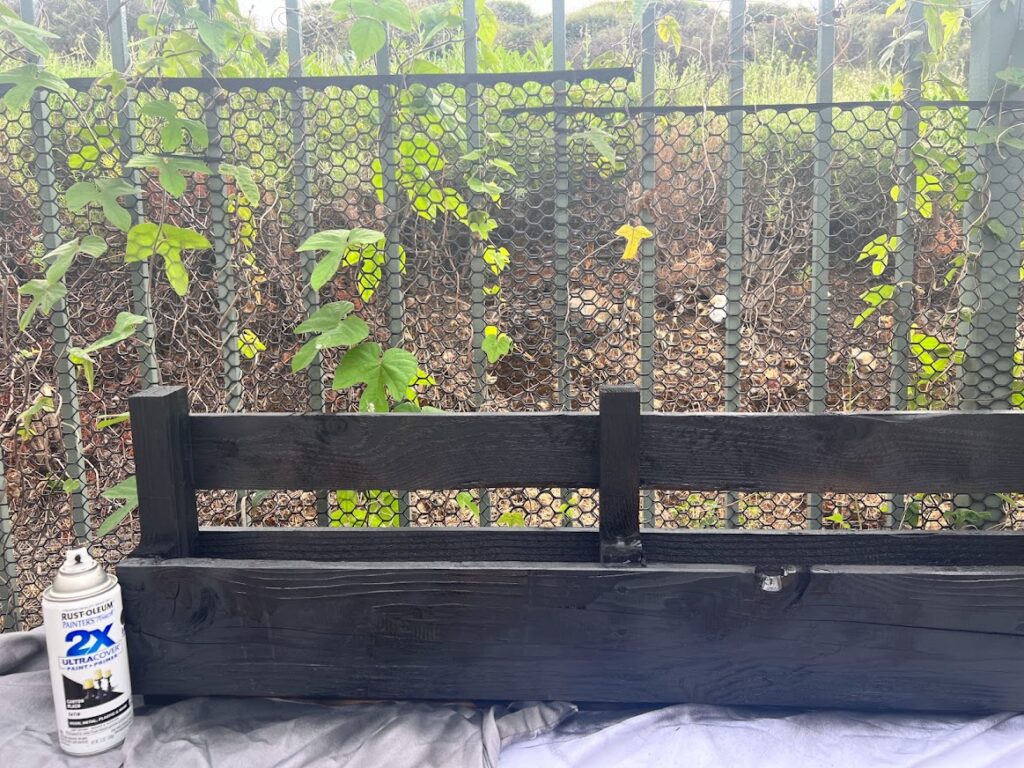 Remember that a weathered pallet is very dry so if you are not going to paint or stain the pallet, it is important to seal the wood.  A clear sealant and a cheap foam brush will do the trick. Simply apply a thorough coat of the water seal inside and out for your planter. Set the planter aside to fully dry for about two hours. Then apply a second coat.
 Prepare the interior 
Line the inside of the planter with landscape fabric, plastic, or weed barrier fabric. (you could even use heavy-weight plastic bags) This will prevent soil from falling through the gaps while allowing water to drain. Cut the fabric to fit the dimensions of the planter, leaving a few inches of excess on each side.  Use a staple gun or nails to attach the fabric securely to the interior walls, the bottom of the pallet, and the back of the pallet.  If you are using plastic, poke holes in the plastic for drainage.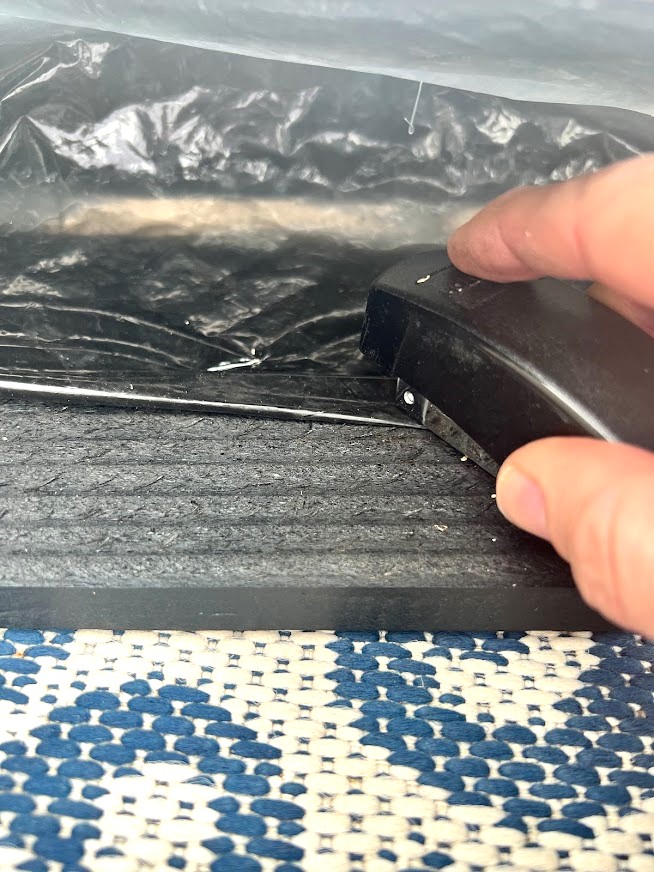 Fill with soil
 Place the pallet planter in the desired location as it can get heavy and fill the planter with soil. For the soil, I recommend using soil that is well-draining, loose, rocky soil that is nutrient-rich.  It will be labeled specifically for succulents and cacti.
Plant the succulents
I like to add the bigger plants in the back and the hanging succulents on the front of the pallet and on the sides.   Press the soil gently around the plants to secure them in place. Succulents are very tolerant of having their roots crowded.   I then went back in and filled in the spaces with smaller plants. You can Place pebble rocks or moss on top for decoration if you would like, but not necessary.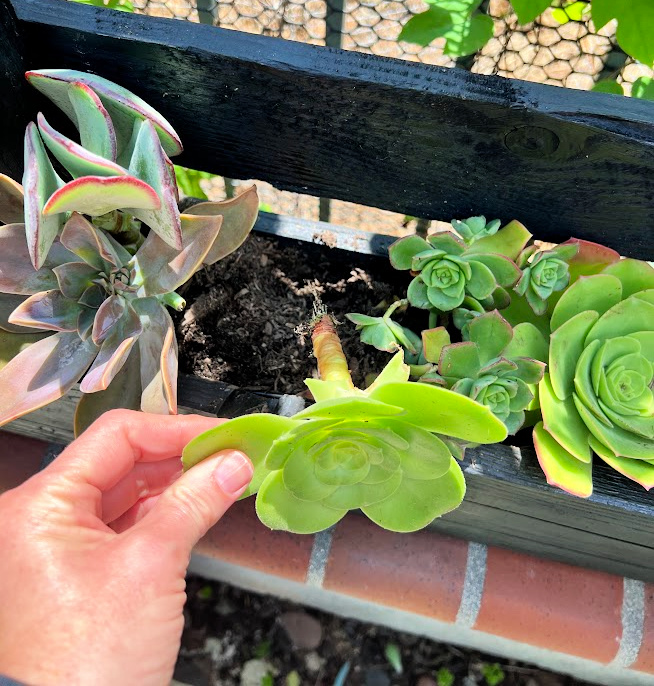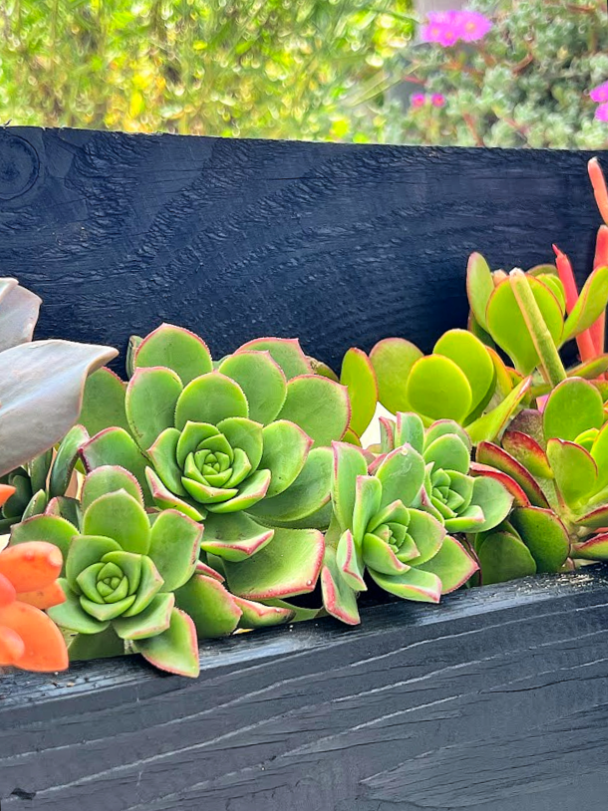 Water
 Succulents thrive in bright, indirect light. Place your planter in a location that receives adequate sunlight throughout the day.  Water the succulents sparingly, allowing the soil to dry out between waterings. Overwatering can lead to root rot. Monitor the growth of your succulents and trim or propagate them as needed to maintain the desired shape and size.
The end result is just beautiful.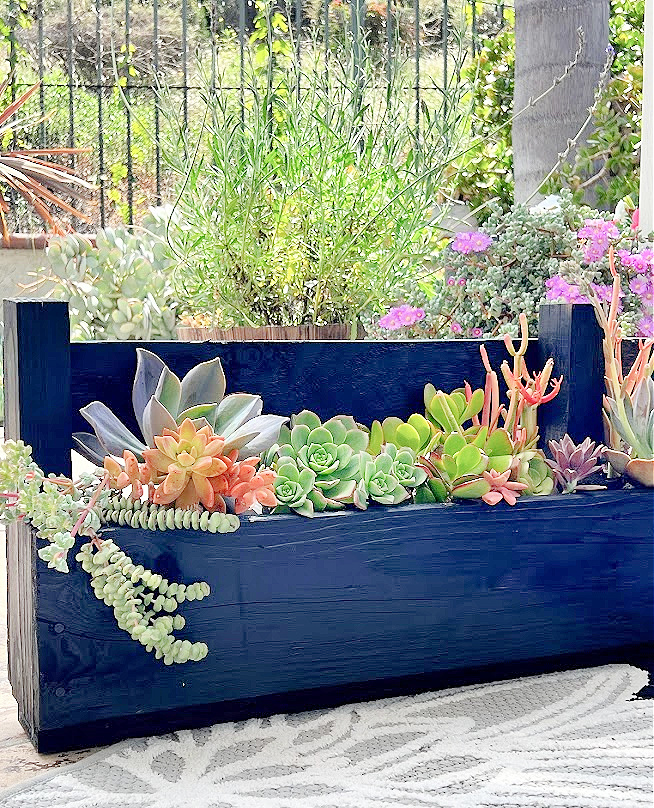 By following these steps, you can create a beautiful succulent planter from a wood pallet. Enjoy your DIY project and the natural beauty it brings to your space!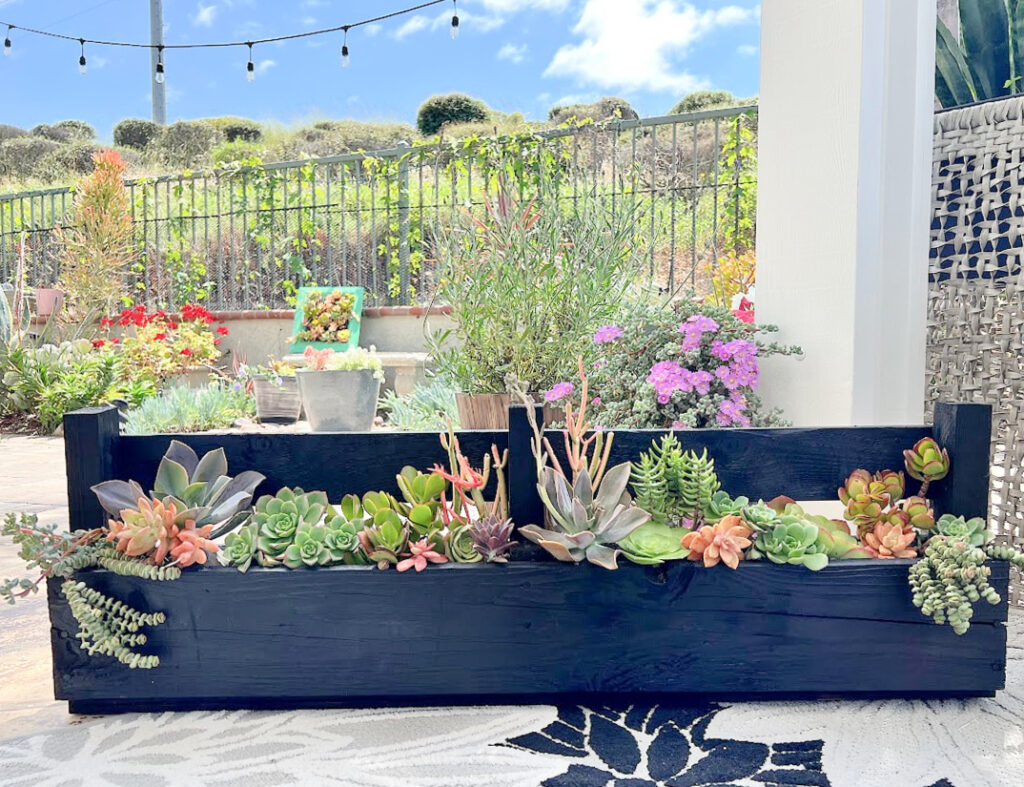 You want to use a variety of different plants and here are the Best succulents to grow in containers and some of my favorites!
Aeonium-Agave-Aloe-Donkey Tail-Dudleya-​Echeveria
Ghost plant-Hens and Chicks-Jade
Kalanchoe luciae-Stone Crop-​Senecio
For gardeners living in colder regions, most of these plants will do just fine in an outdoor area I would suggest bringing them indoors over winter. Just be sure to place them where they will receive plenty of bright light.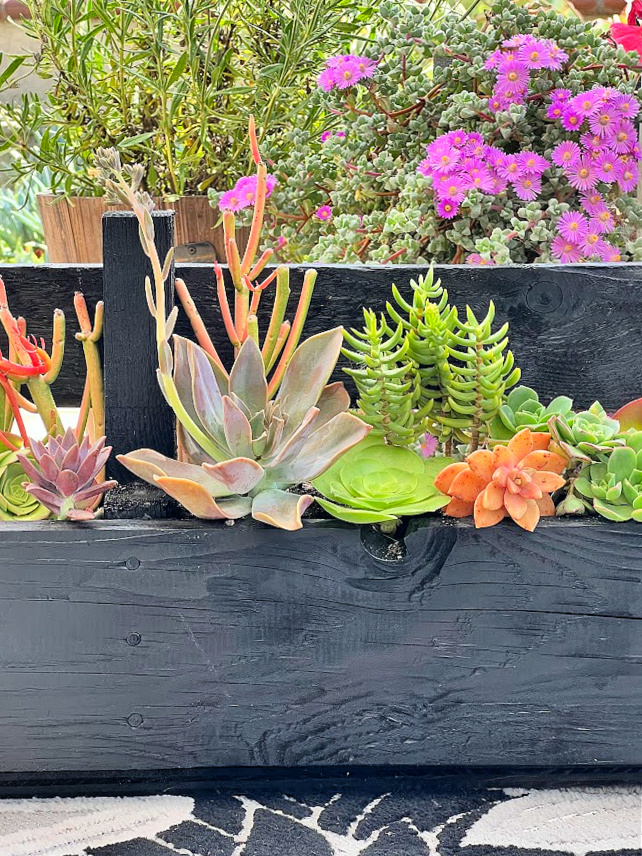 More pallet planter ideas
Vertical garden
Plant some strawberry plants for a DIY strawberry planter
Vegetable garden
Free standing pallet herb garden
Vertical succulent garden (using more tiers of the pallet)
This pallet succulent planter would make a great addition to your front porch, in a small garden, attached to an exterior wall, pretty much anywhere! The good news, although succulents are really hard to kill if you are still not ready to use real plants, use fake succulents, no one will ever know!   All of our roses are in full bloom, Ray planted a bunch for me this past year, it reminds me of my parent's rose gardens!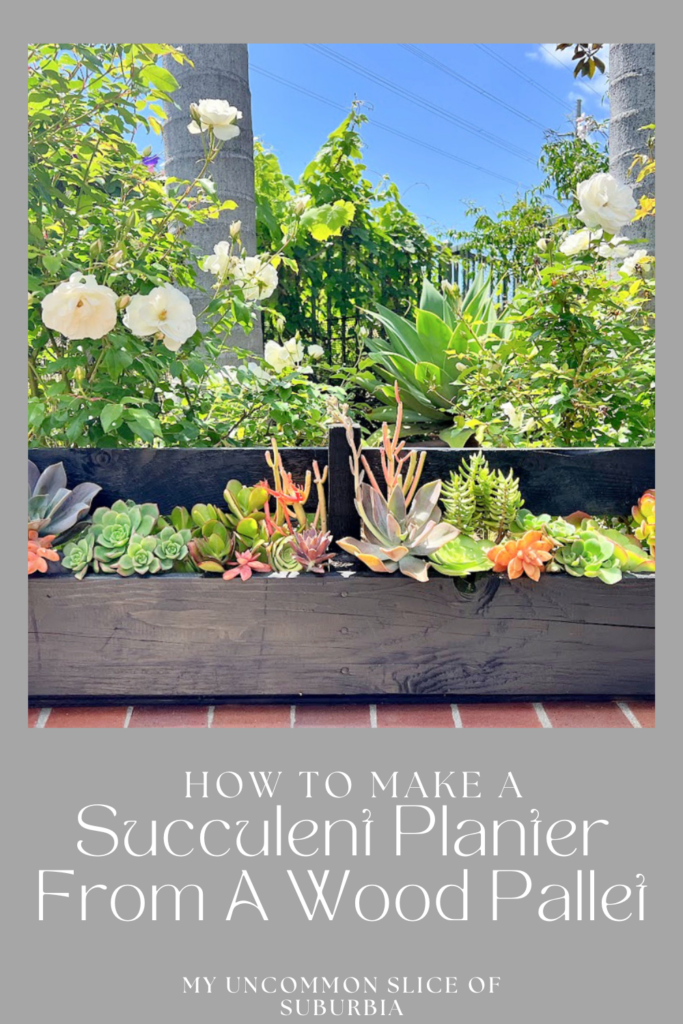 Time to see all of the other beautiful succulent creations made by the thrift store team!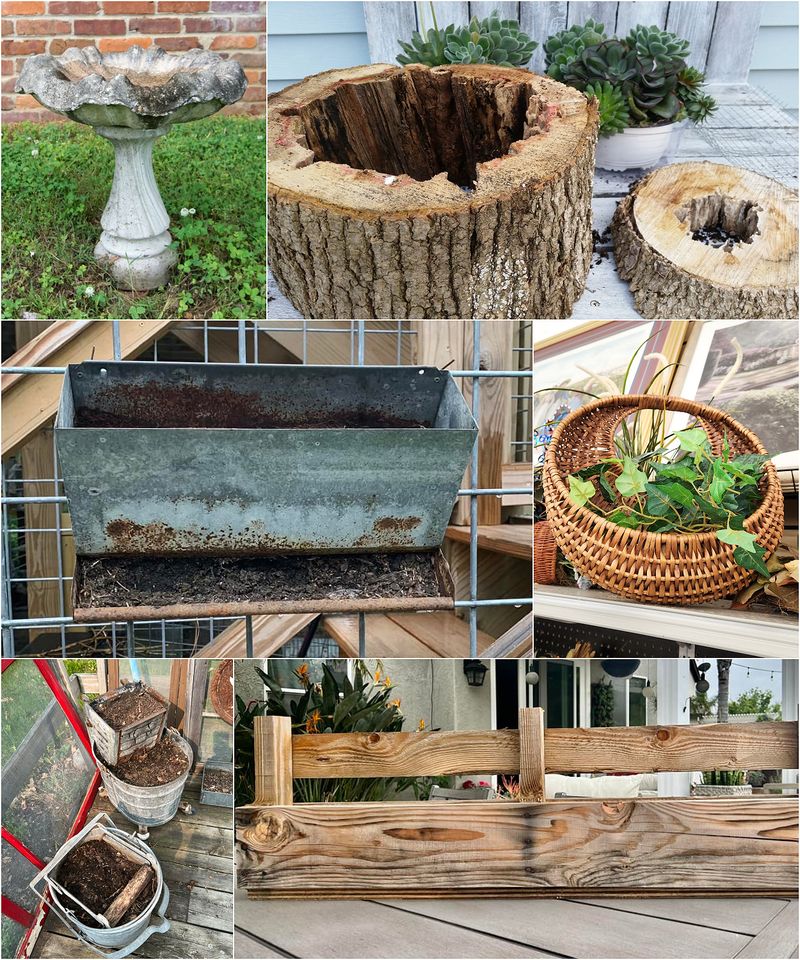 Bird Bath With Artificial Succulents Petticoat Junktion
Unique Succulent Planter Ideas My Repurposed Life
Succulent Garden Decor and Tips Shop At Blu
Succulent Hanger in a Wicker Wall Pocket Sadie Seasongoods
Mop Bucket Succulent Planters Organized Clutter
Succulent Planter Made From A Wood Pallet My Uncommon Slice of Suburbia
You can find more of my succulent ideas below! Thank you so much for taking the time out of your day to stop by!