Yummy potato casserole recipe
Looking for a last minute dish to bring to a Easter gathering?  This casserole is a huge crowd pleaser and very simple to make.  I will be making two of these, one for an early Easter celebration today and another for Easter day.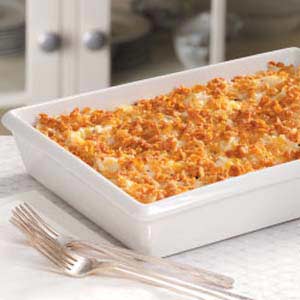 No time to snap a picture for you, sorry. Photo by Taste of Home.
Ingredients
1 (30 ounce) package frozen hash brown potatoes
2 cups shredded Cheddar cheese
1 (16 ounce) container sour cream
1 (10.75 ounce) can condensed cream of mushroom soup
1 onion, chopped
1/4 to 1/2 cup of butter
3 cups crushed corn flakes
Salt and pepper to taste
Directions
Preheat oven to 400 degrees F
In a large skillet over medium heat, combine the onion with a dash of oil and saute for 5 minutes.
In a large bowl, combine the hash browns, cheese, sour cream, cooked onions and soup.
 Pour the mixture into a lightly greased 9×13 inch baking dish.  Cook for 30 minutes.
Next, arrange the crushed corn flakes over the whole dish. Melt the butter and pour this evenly over the corn flakes. Cook for another 30 minutes till cornflakes are crispy.
~ENJOY~
If you are a meat lover you could add ham or bacon to the mix.