Better Homes & Gardens is Coming to Our House!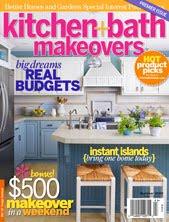 So I'm finally ready to spill the beans, some very exciting news to share with all of you! Better Homes and Gardens special-interest publications magazine is coming to photograph our kitchen for an upcoming issue in early April!
When I started this little blog of mine it was a way to document our projects around the house, a way to thank all those that were so forthcoming with their tips when we were going through our kitchen renovation. Never in a million years would I think  Better Homes and Gardens would be looking at my sight. Do you know how many years I've subscribed to their magazine and drooled over their inspirational photos? The Special Interest Publication is one of my all-time favorite go-to resources.
I'm one of those people who never thought I would be good enough for many things in life, it's held me back from many of my dreams. When I received the e-mail from the associate editor followed up by the call I realized maybe I am OK, A HUGE thank you to my hubby who took my vision and made it all come true.
So now you know why all the sprucing has been happening around here we have even started adding the glass to the kitchen cabinets that have been sitting in the garage. We normally don't work at such an accelerated pace but I figured Better Homes and Gardens deserves our best.
So as exciting as this is for us I'll be honest, I'm a little nervous, OK I'm terrified. Still can't believe it's happening, we have a list of things to finish in the kitchen before they get here. So if you're in the process of thinking of a kitchen or bath makeover pick up their Spring issue, it's fabulous! Big dreams on real budgets, it's packed full of wonderful ideas!
Lastly and most importantly, thank you for making this new journey in my life so rewarding! The friendships I've made have been life-changing, thank you for just being you and for reading my journey in transforming our home! Most importantly, thank you to my amazing husband!
My readers truly are the best!
Love-