How To Turn A Dark Piece Of Furniture And Give It A Weathered Wood Look
I have been wanting to makeover this piece of furniture for such a long time but have been a little nervous.  However, I put my fears aside and dug in, and I am so glad I did!  Today I'm showing you how to turn a dated dark piece of furniture and give it a weathered wood look, I have done this on a few pieces and loving the outcome.
Over the past few years, we have brought in a few pieces of furniture that highlight the natural beauty of the wood's grain.  After living with these pieces for a little while and really loving them, I have started to take some of my painted and stained pieces of furniture and bring them down to their natural raw wood or turn them into a weathered wood look.  Now that this piece is done I might just try this method on our built-in, we shall see.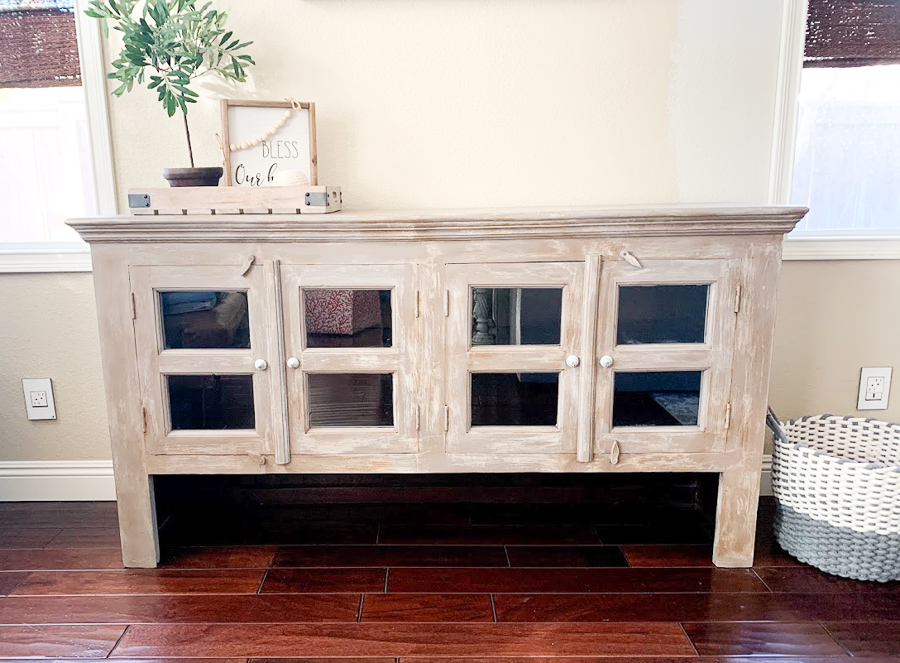 Affiliate Links Listed Below
Here is the before, it's such a beautiful piece but was just in need of an update.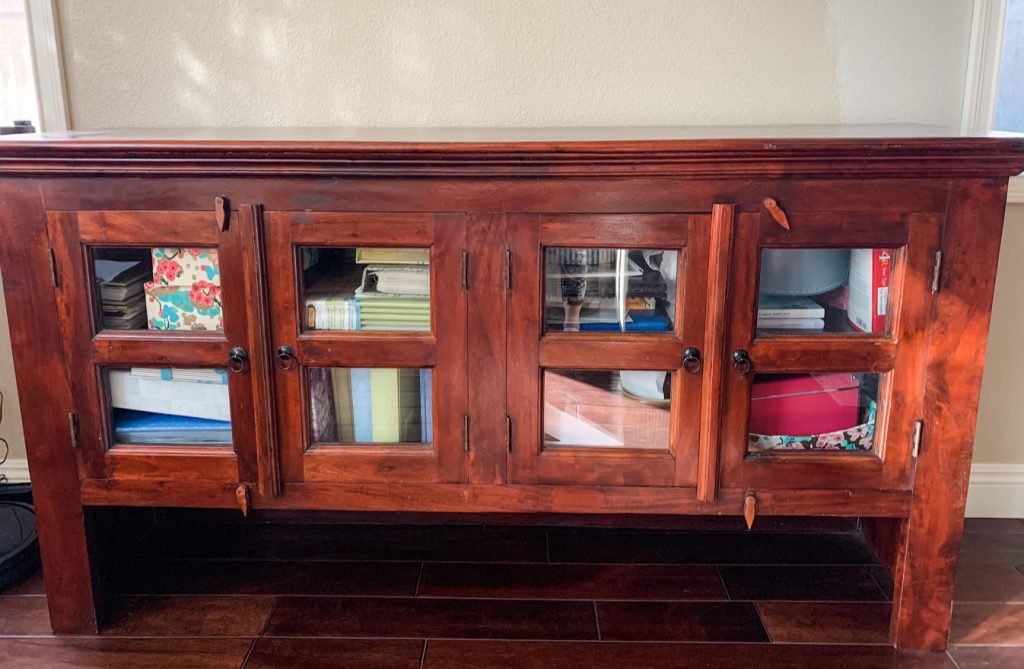 Supplies
Deco Art Americana Chalky Finish Paint Primitive
DecoArt Ameri Americana Decor Chalky Finish Restore
Americana Decor Creme Wax, Deep Brown
Fusion Mineral Paint Raw Silk
Paint Brush
Small Craft Brush
Sanding block
Rags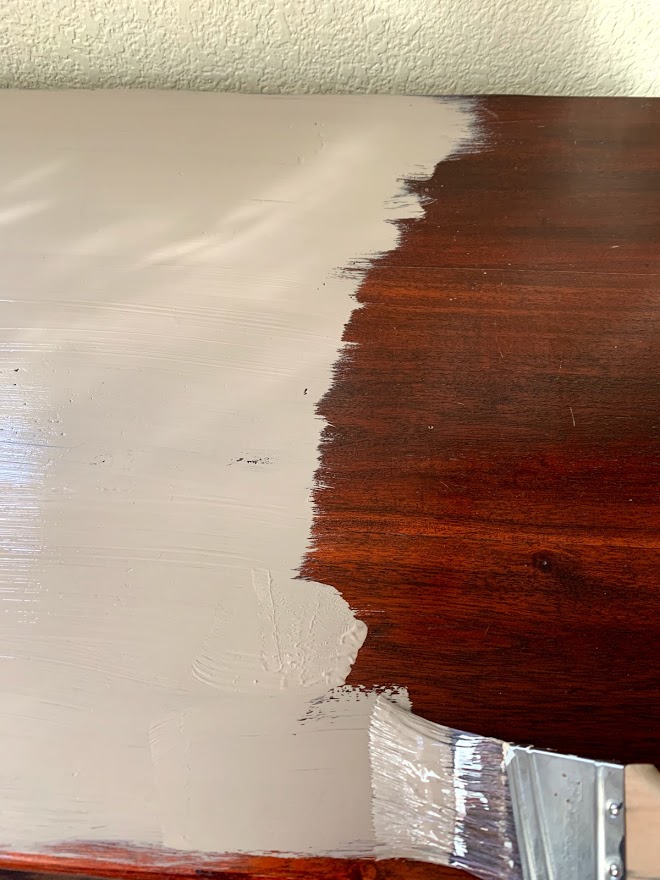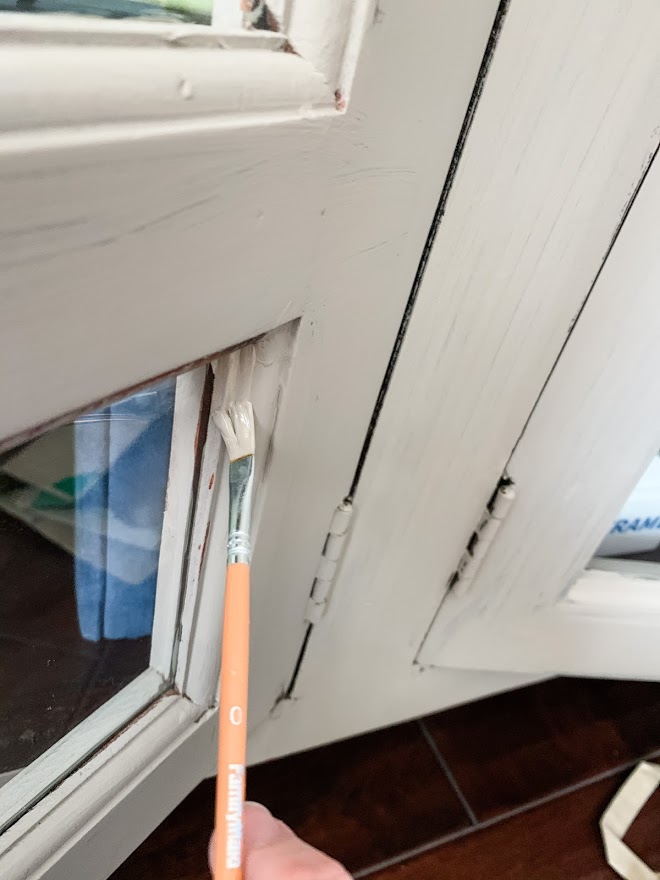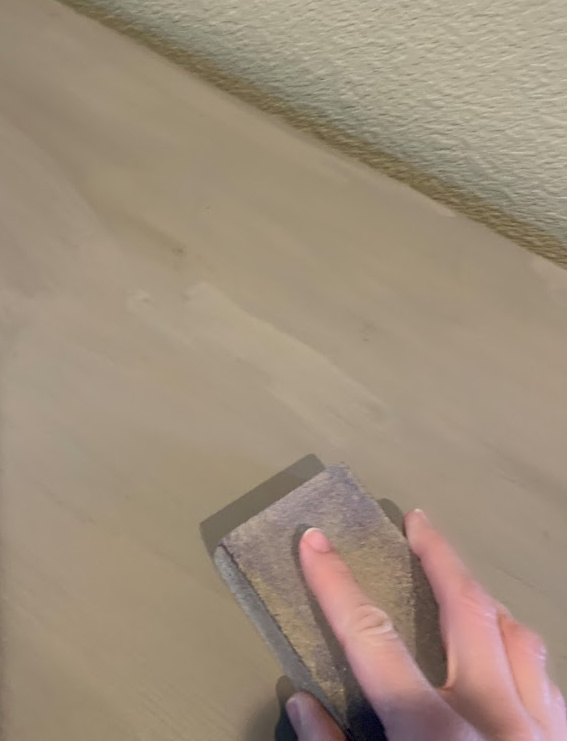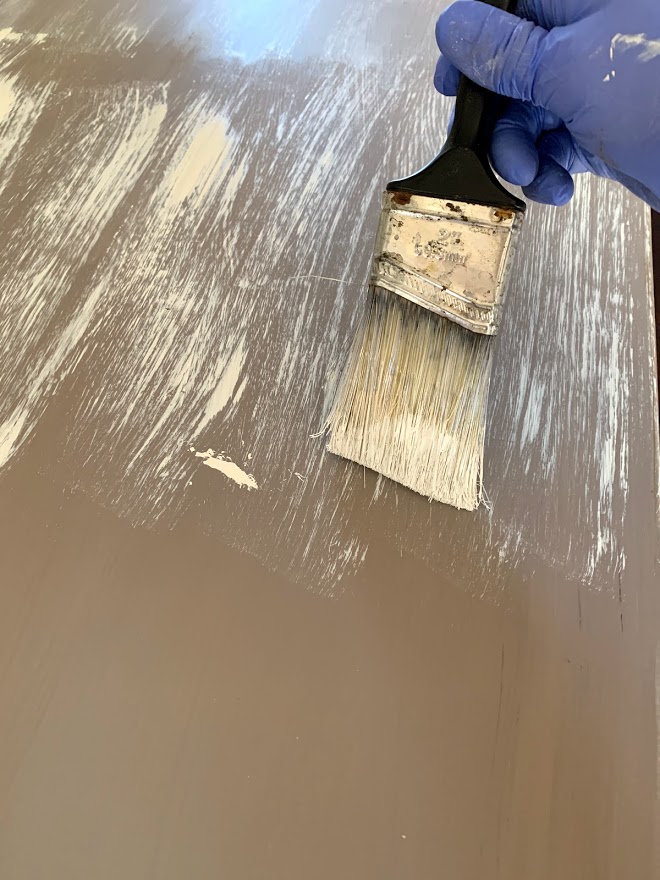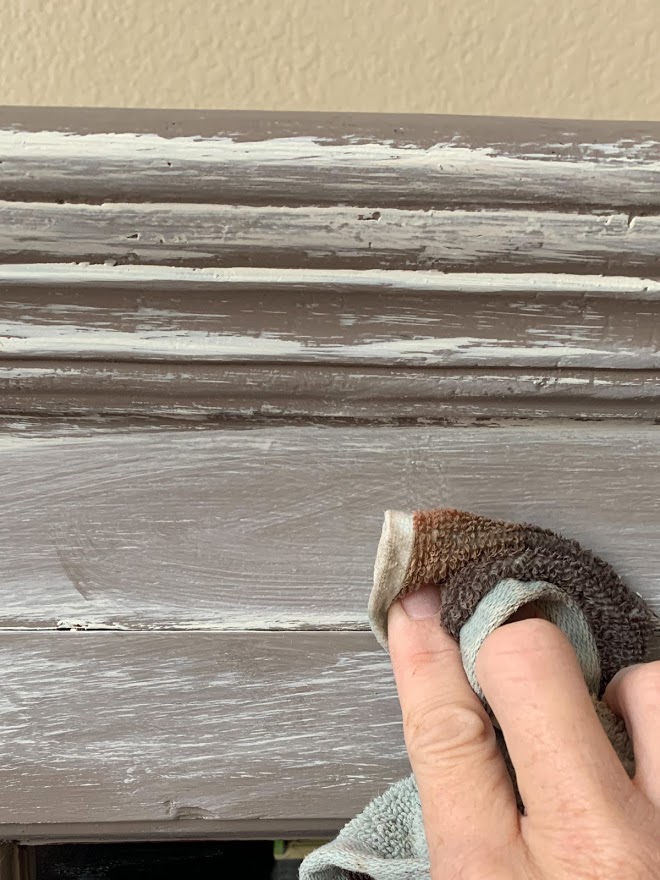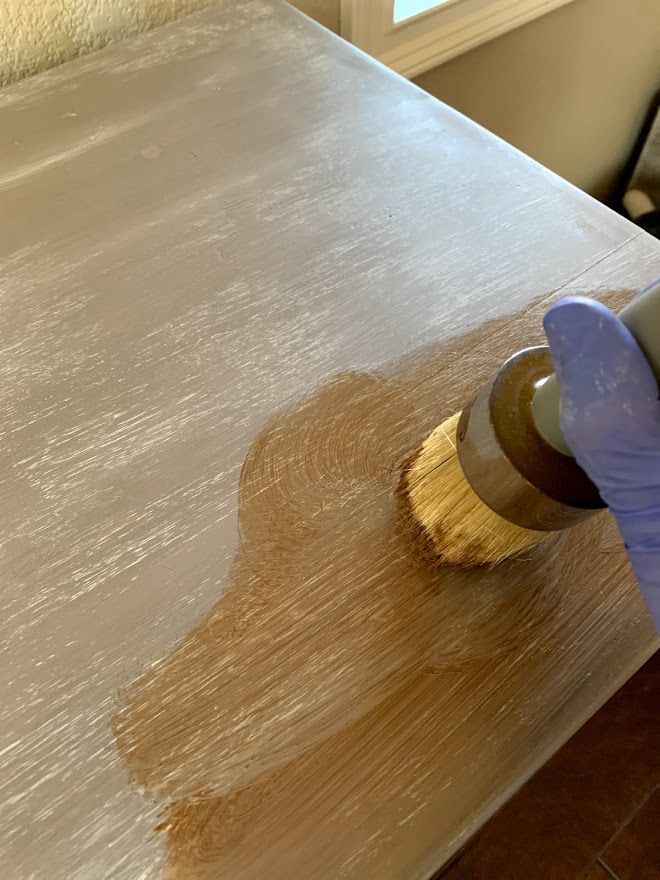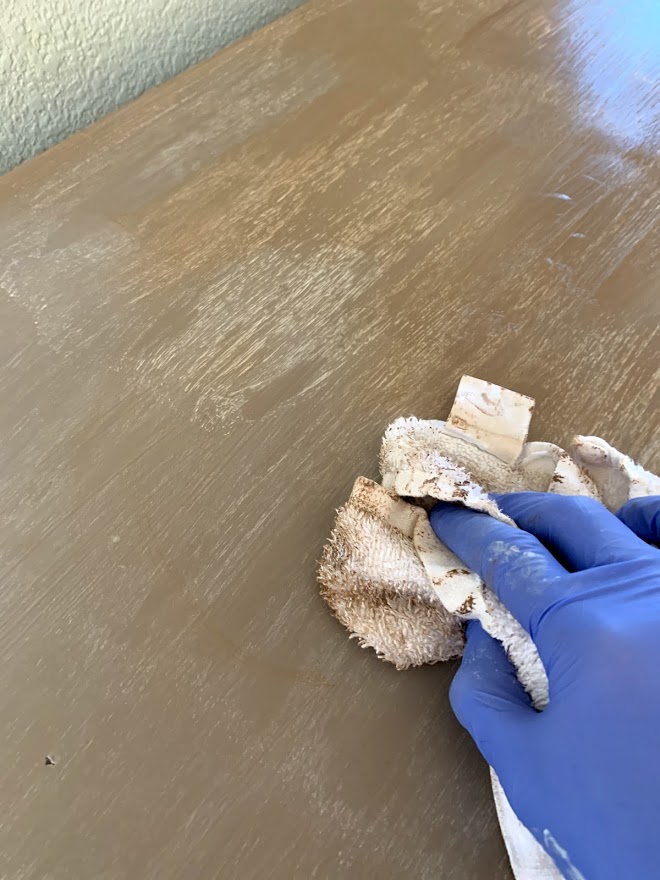 Directions:
Before painting, make sure to clean your piece of furniture really well.
I mixed equal parts of the Americana Chalky Paint in Primitive and Restore.  These 2 colors combined reminded me of Annie Sloan's Chalk Paint in French Linen.  I then applied one coat over the whole piece of furniture and allowed it to dry.
After everything was dry, I smoothed everything out using a sanding sponge.
Using a paintbrush I applied Fusion Mineral Raw Silk using the dry brush technique.   In areas where the white was a little too heavy, I took a damp rag and took away some of the paint.
Drybrush is a technique in which the paintbrush is relatively dry, but still holds paint. You are not looking for complete coverage with this technique.
Lastly, I applied the Americana Decor Creme Wax in dark brown using the waxing brush and then buffed the piece using a clean rag.  This definitely darkened the piece and I loved the outcome.
I also chose to change out the hardware
You can see the difference between the two sides, one side has the dark wax applied the other side does not, big difference!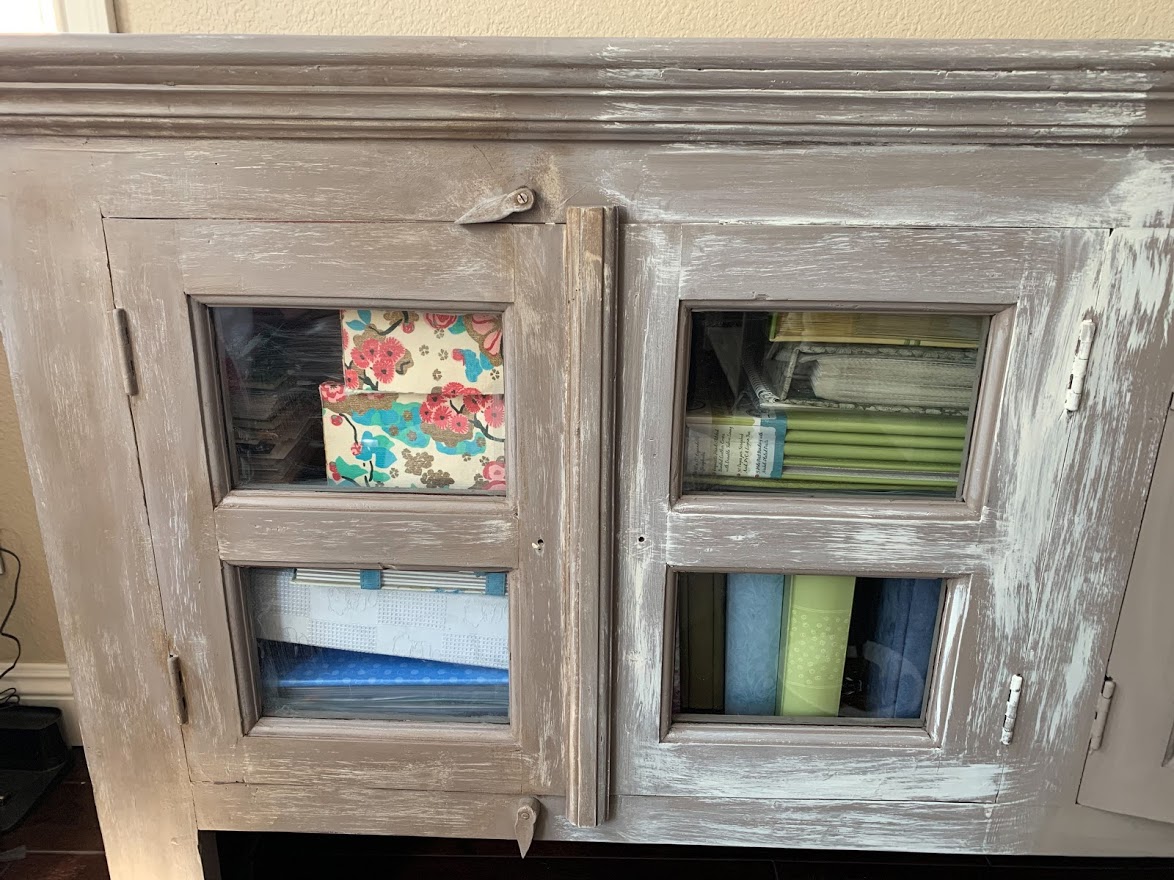 I'm so thrilled I made over this piece, now I just need to style it!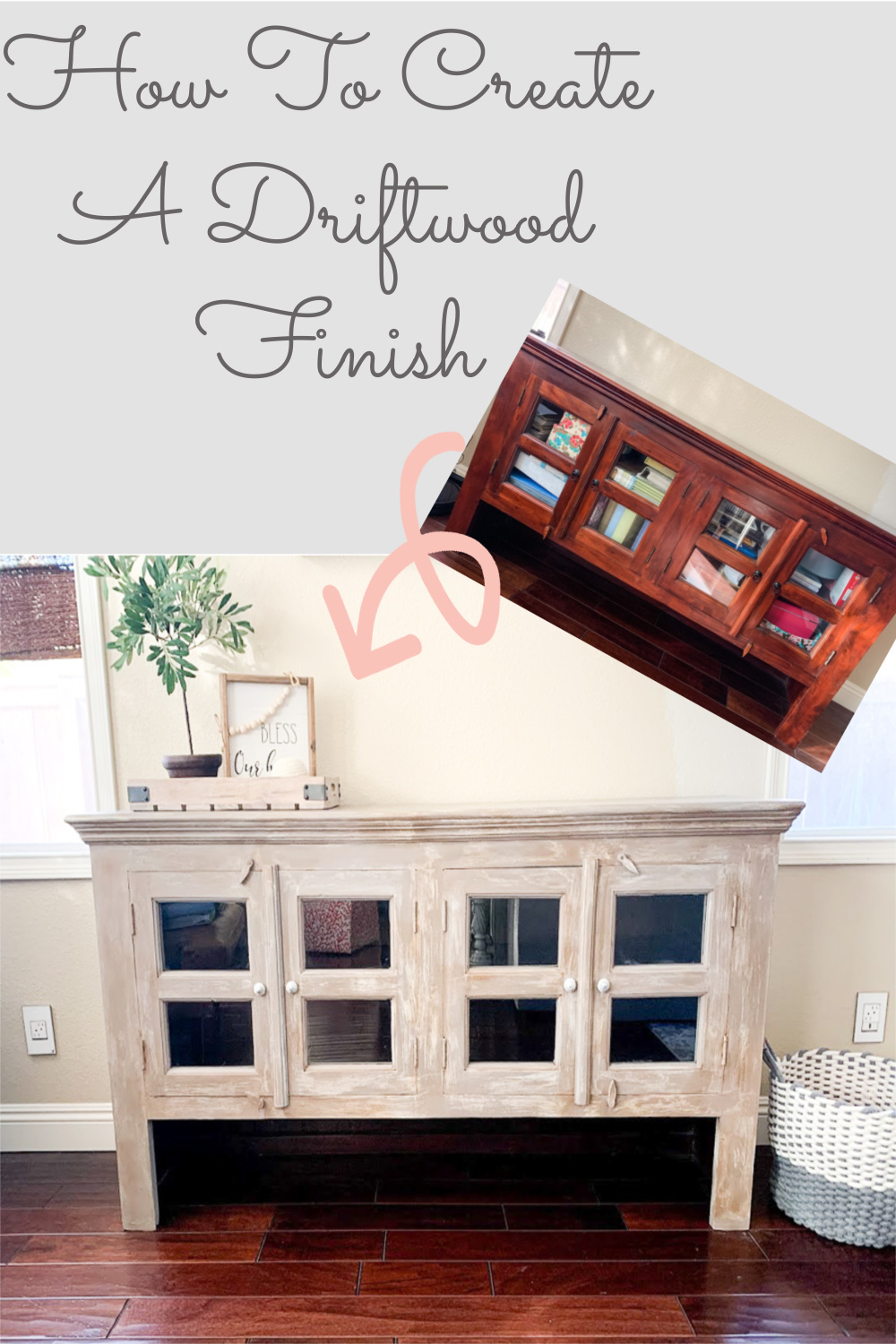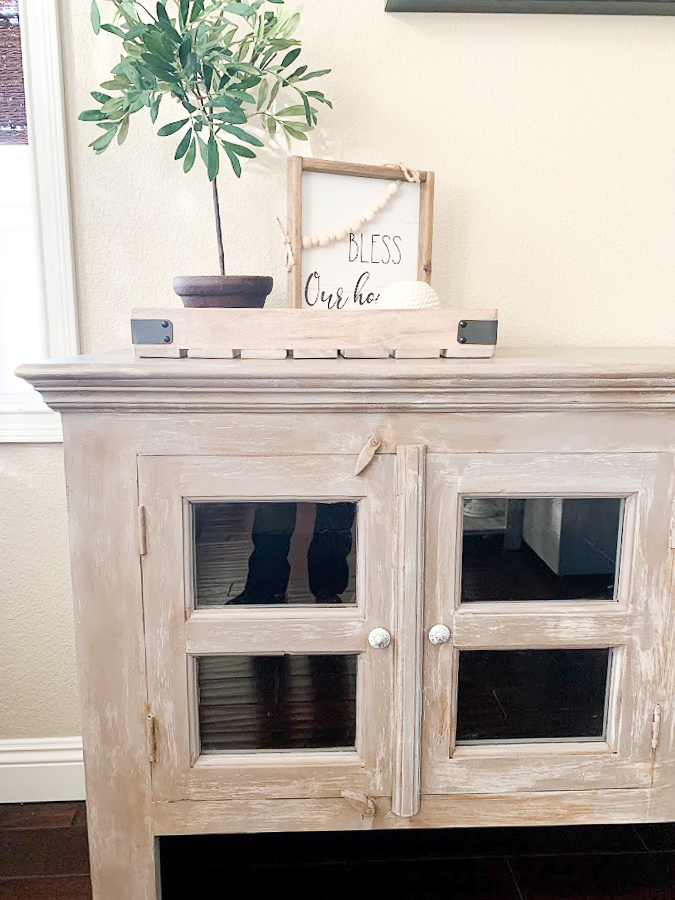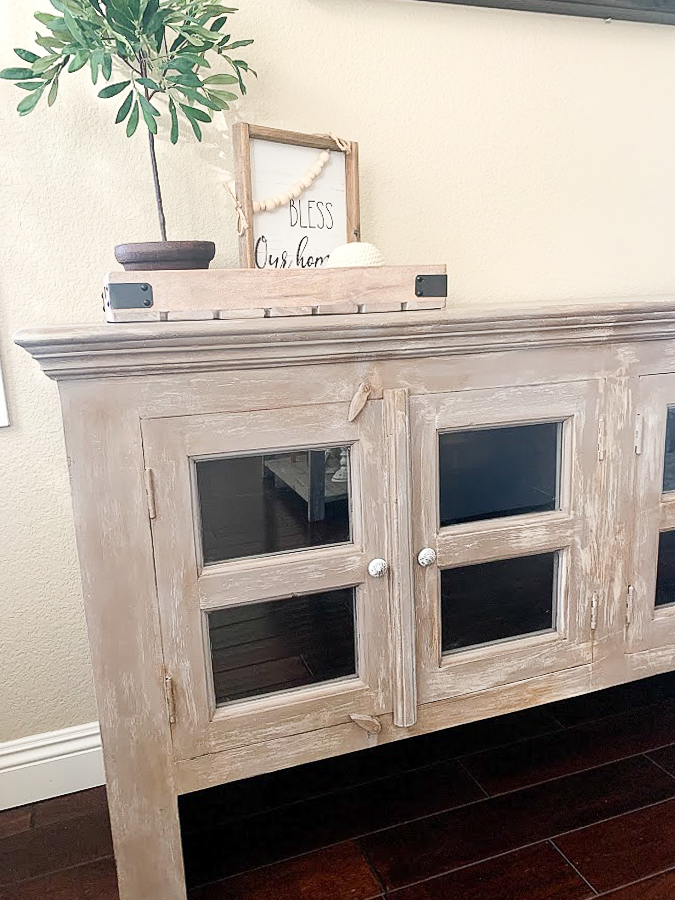 I'm in the process of repainting the great room, you can see the new color on the right.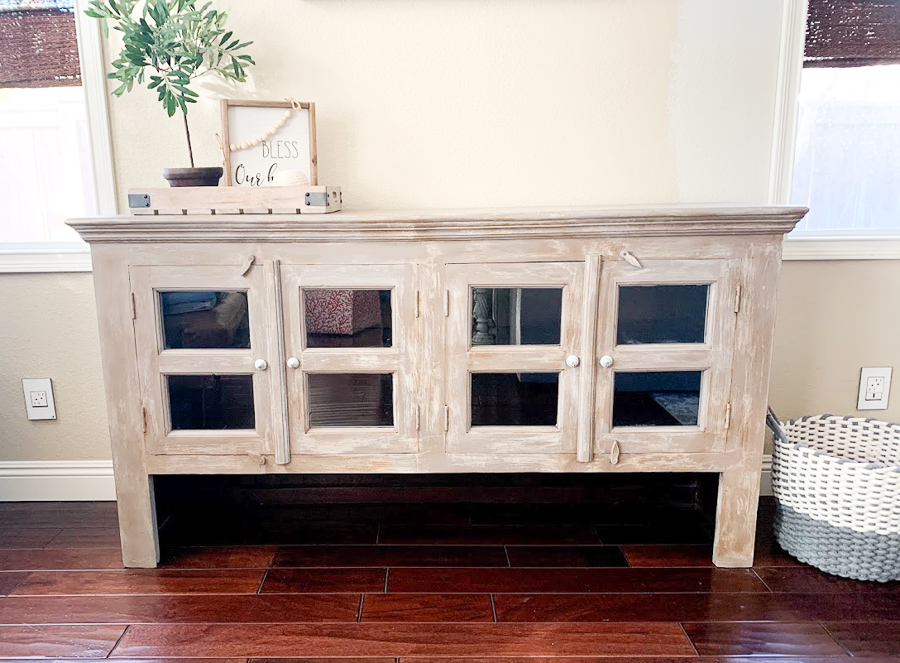 Hopefully, I've inspired you to get out your paintbrush and update those pieces of dark furniture!  You can see some of my other makeovers below using different methods.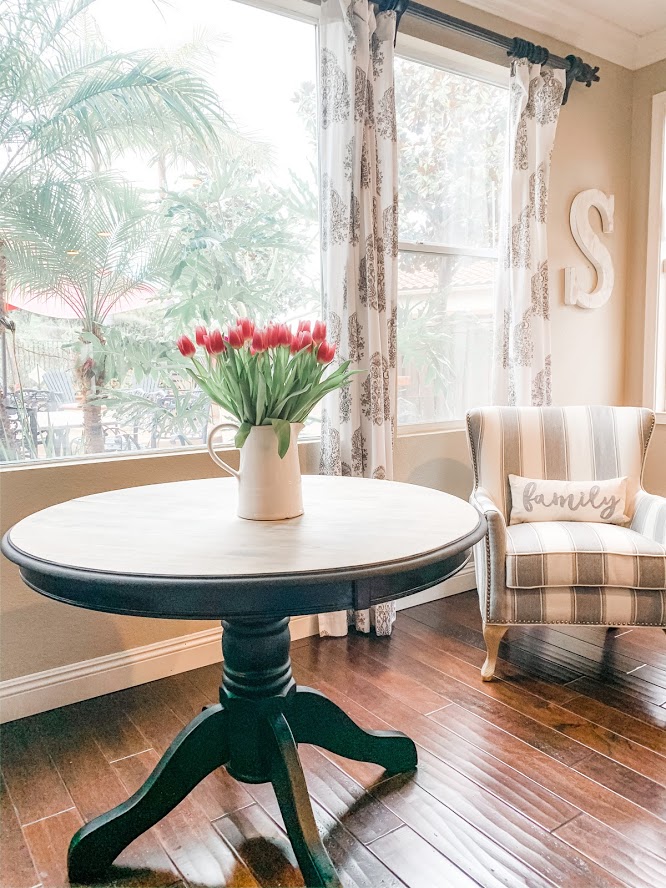 How to Create a Natural Raw Look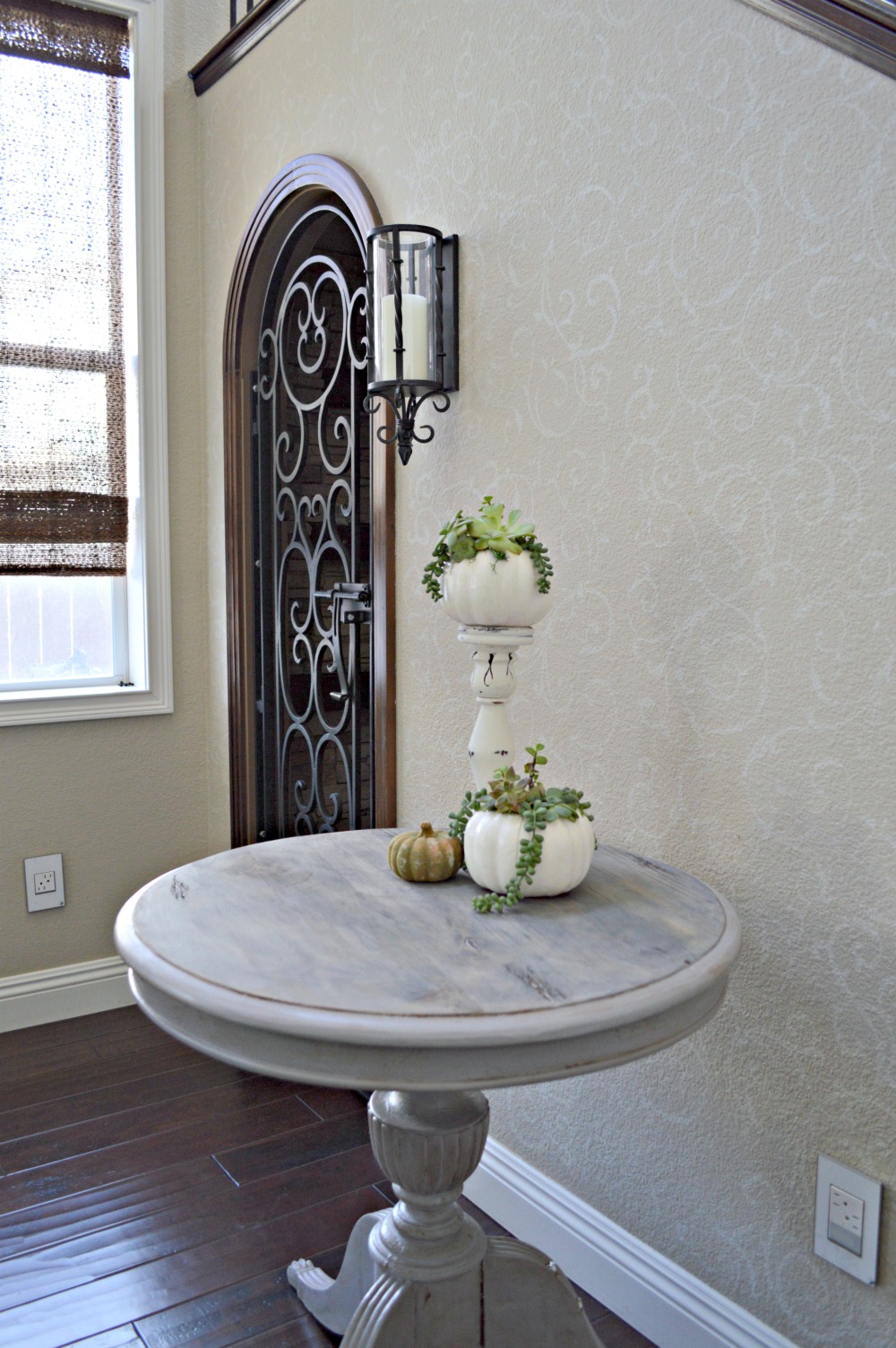 Table Makeover using Weather Wood Stains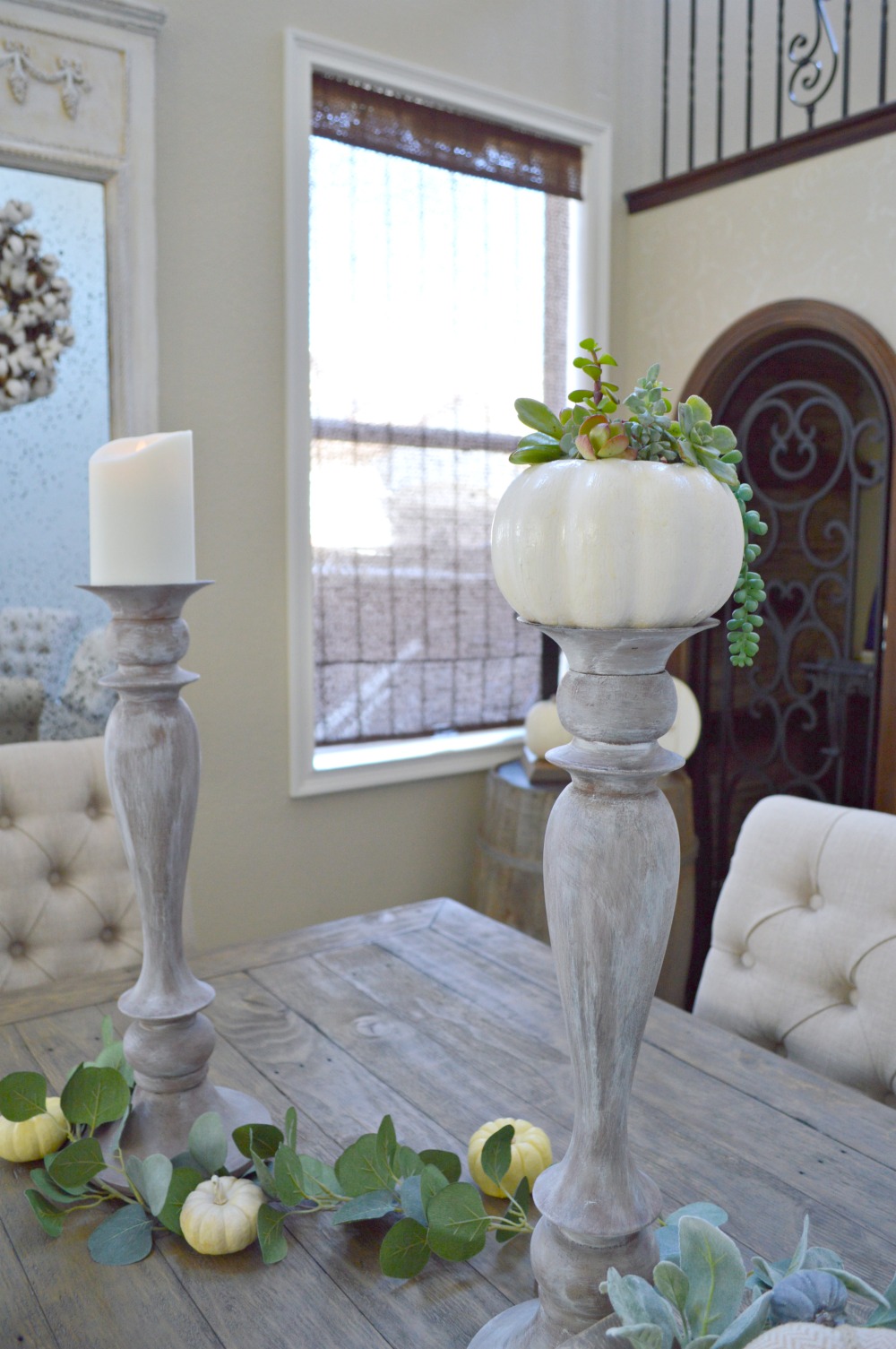 How to Create  A Driftwood Finish
Thank you so much for stopping in today!