How to Bleach Wood Furniture The Easy Way
My husband and I updated this rustic thrifted piece of furniture by exposing the raw wood with a paint stripper, and bleach. We then painted the bottom half, adding linen wallpaper to the windows and new wood trim for a fresh new look. While bleaching wood is a relatively simple process, it requires lots of preparation. Hence why I mention bleaching is easy but the prep work, not so much.  But, it is so worth it in the end!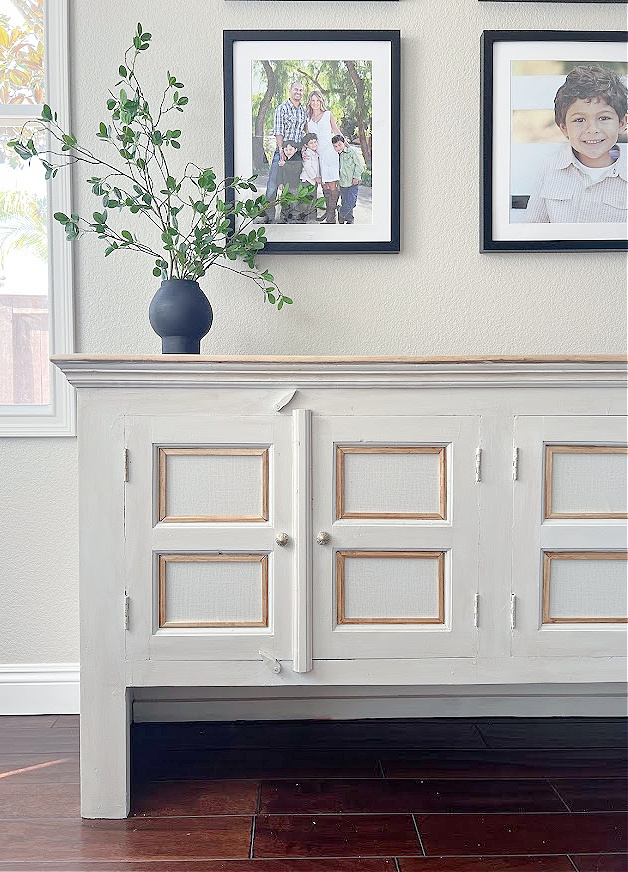 This piece has gone through a prior makeover about 3 years ago and I was ready to make it over again.  To be honest, I still feel like it is missing something but I'll live with it for a while and figure it out.  I'm thinking of new door pulls and hinges but I ran out of time for this month's THRIFT STORE PARTY!  Make sure you check out everyone's beautiful makeovers at the end of the post!
Here is the before: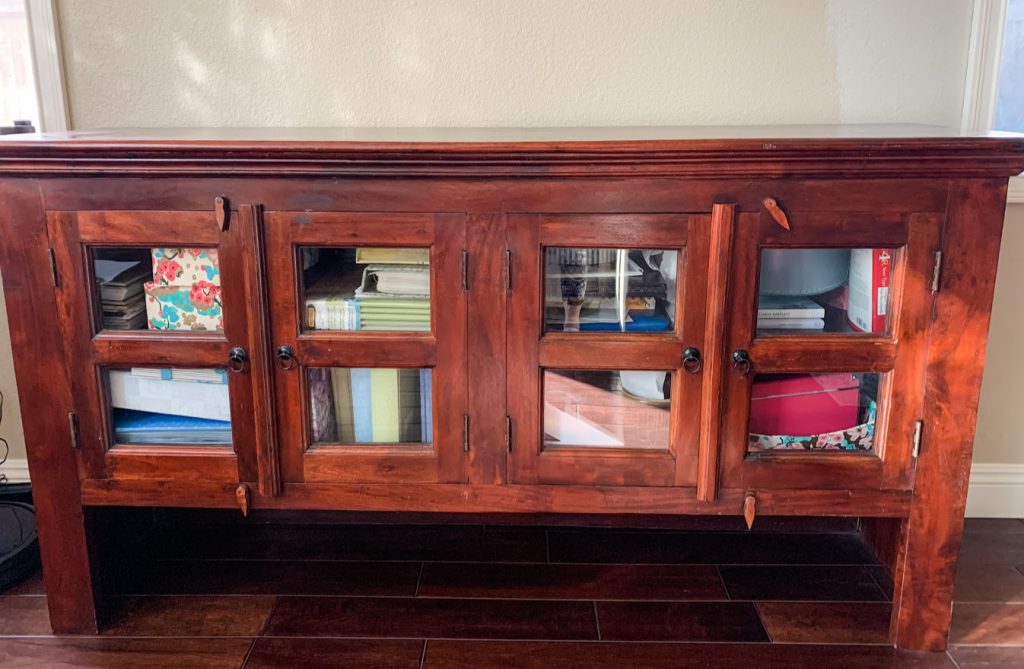 Here is the tutorial on how I gave it a weathered look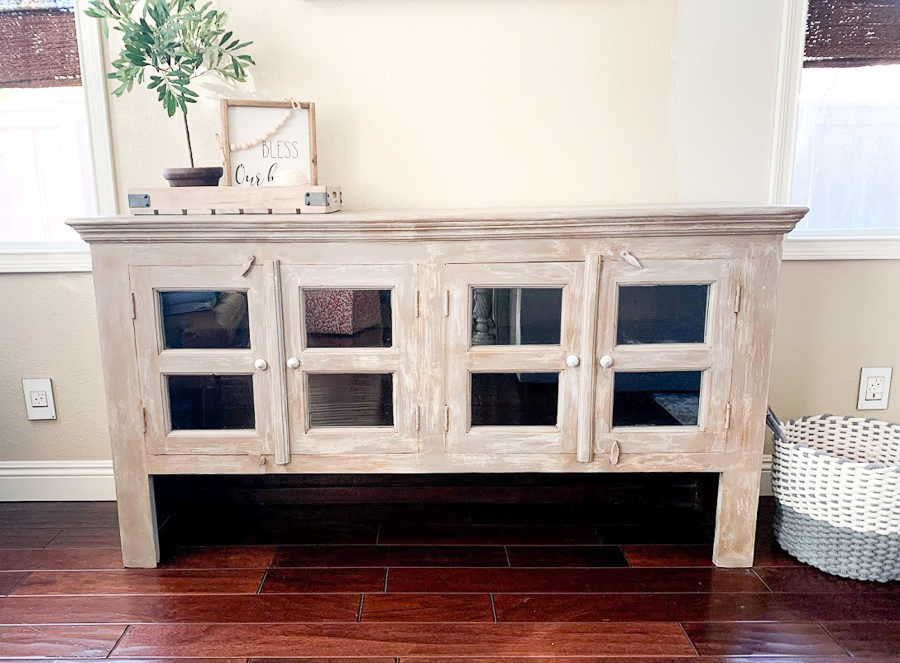 Affiliate links are listed below
Supplies
Wood Stripper
Electric Sander
Mask 
Eyewear
Heavy duty gloves
Scrapper or Putty Knife
Vinegar
Bleach
Mineral spirits
Weatherwood Stain Dead Flat
Linen Wallpaper
Wood Trim
Liquid Nails
Angel Paint Brush
Americana Decor Cream Wax Deep Brown
Americana Decor Yesteryear paint mixed with Everlasting White


How to strip wood furniture
Stripping wood furniture is a process used to remove the old finish or paint from the furniture so that it can be refinished or painted again. This part is not easy, it's a lot of work, stripping the top took me about 2 hours and getting the rest of the stain down to the grain by sanding was another 2 hours.  Hence why I did not even attempt to strip/sand this whole entire piece. 
Choose the right stripping product: There are several types of stripping products available, choose a product that is suitable for your furniture type and the finish you want to remove, talk to the paint person for advice if you are unsure.
Prepare your workspace: Strip wood furniture in a well-ventilated area, preferably outdoors. Cover the ground with a drop cloth, and wear protective gloves and eyewear to avoid any skin or eye irritation.
I added the stripper into a recycled can (soup can, bean can, etc)  
Apply the stripping product generously with a brush or a rag, covering the entire surface of the furniture. Let it sit for the recommended time as per the instructions on the product.
Remove the finish: After the recommended time, use a scraper or a putty knife to remove the old finish. For detailed or intricate areas, use a toothbrush or steel wool to remove the finish.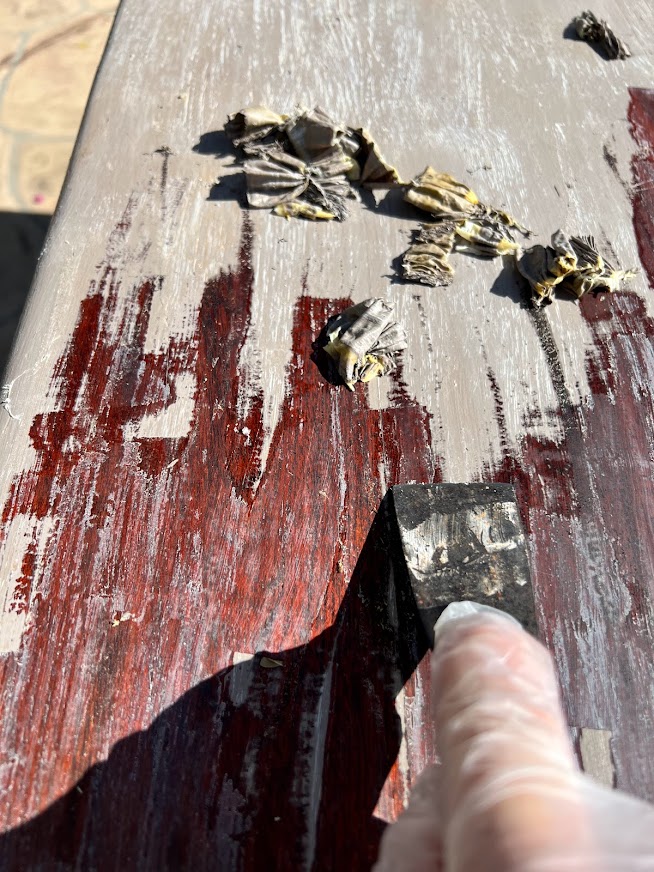 Sand The Furniture
Clean the furniture: Once the finish is removed, use mineral spirits or a cleaning solution to clean the furniture.
Sand the furniture: After the furniture is dry, use sandpaper to remove any remaining finish or stain. Sand with the grain of the wood to avoid damaging the surface.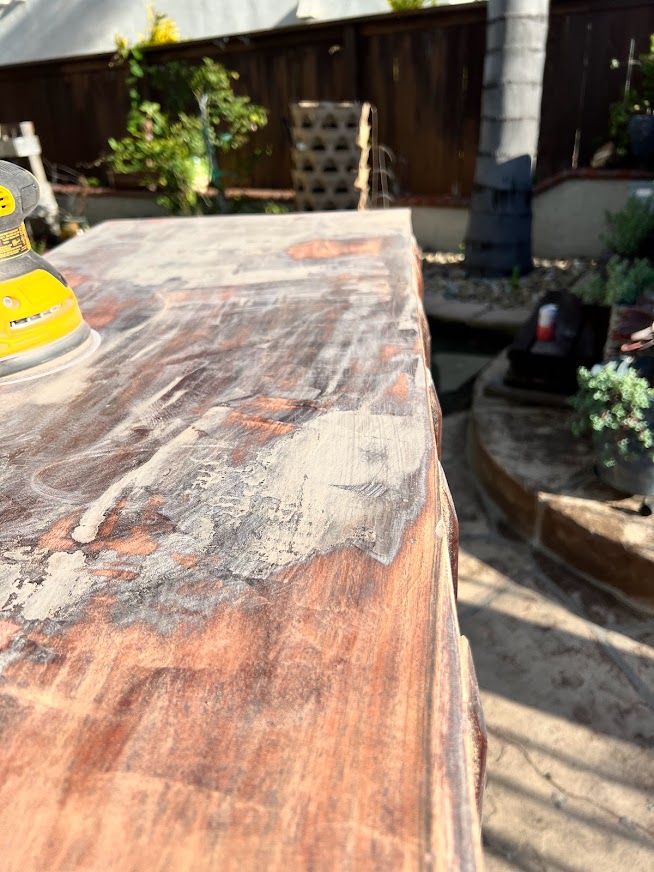 Repeat if necessary: If there is still some finish remaining, repeat the process of applying the stripping product and removing the finish.
How To Bleach Wood
Bleaching wood is a process that involves lightening the natural color of the wood by removing its pigmentation. 
Choose the bleach, I used plain ole Chlorine bleach, I did a lot of research on this and although there are a lot of opinions, I went with the cheap bleach, and at the end of the day it did the job.
Since my piece was already prepared I did not have to prep.  However, if it's not prepared, you would want to make sure to wipe the surface clean with a damp cloth and allow it to dry completely before applying the bleach.
Apply the bleach: Wearing protective gloves and a mask, apply the bleach with a brush, sponge or cloth. I sued a paintbrush, again adding the bleach into a recycled can.
At this point you may be happy with the outcome, if not, continue the process until you have your desired look.
If applying bleach multiple times, use a vinegar/water mix in between bleaching.  This will neutralize the wood between bleaching. 
 For this piece, I did the bleaching process three times to get the color I was going for! I waited a few hours in between each application of bleach until the wood was dry to the touch. Repeat as many times as you want. Each time the wood will look lighter,  darker woods may take more coats of bleach whereas light woods will take less. 
First Coat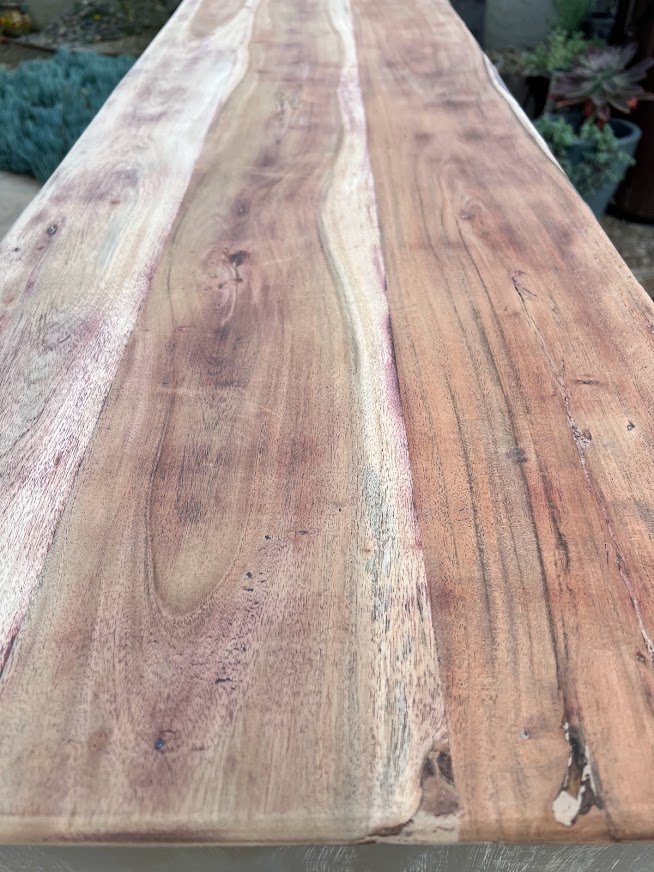 Second Coat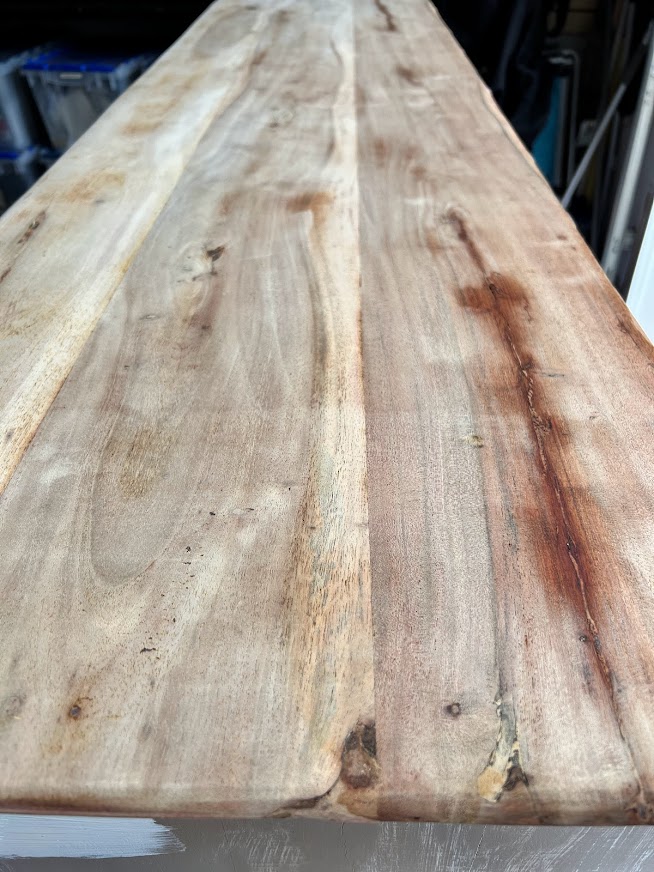 ThirdCoat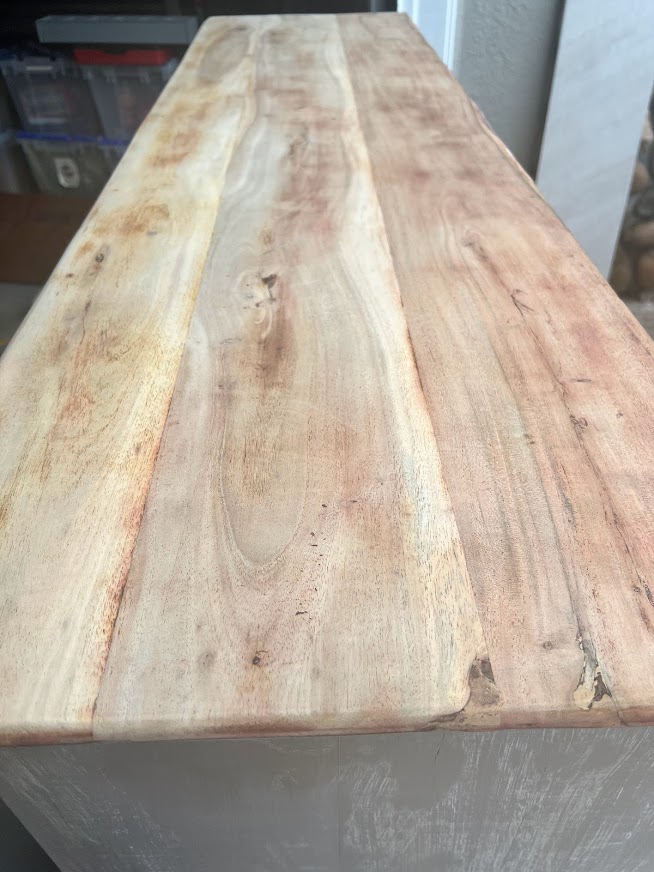 After it dried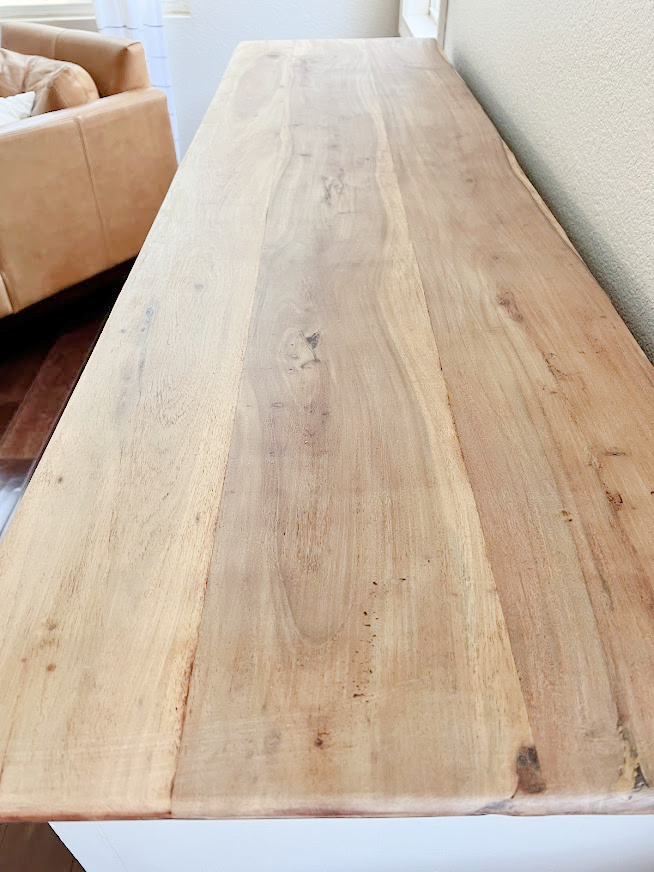 After the wood is completely dry, you may apply any stains, finishes, or sealers.  I did not want to alter the look of the wood so I used Dead Flat to seal the wood.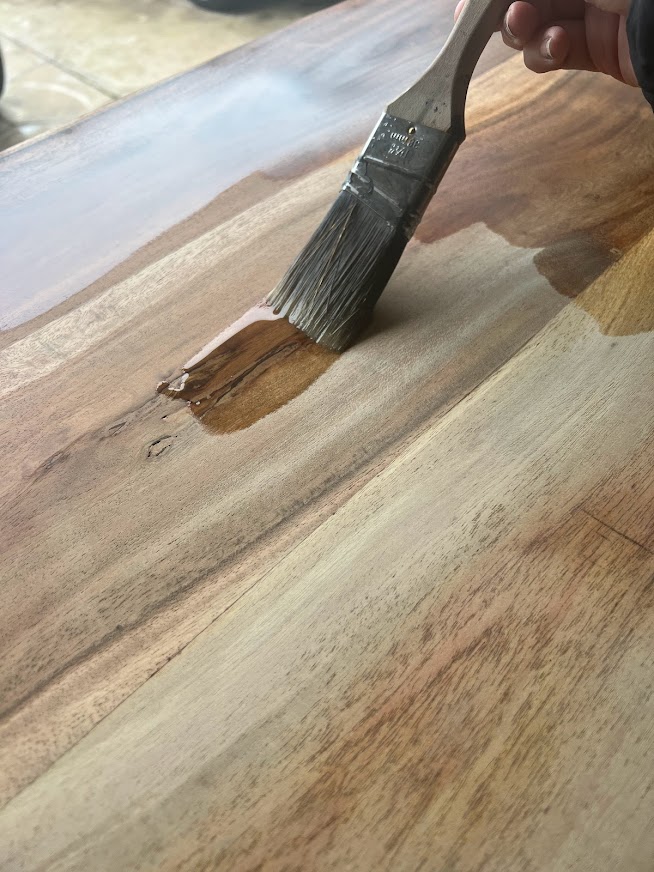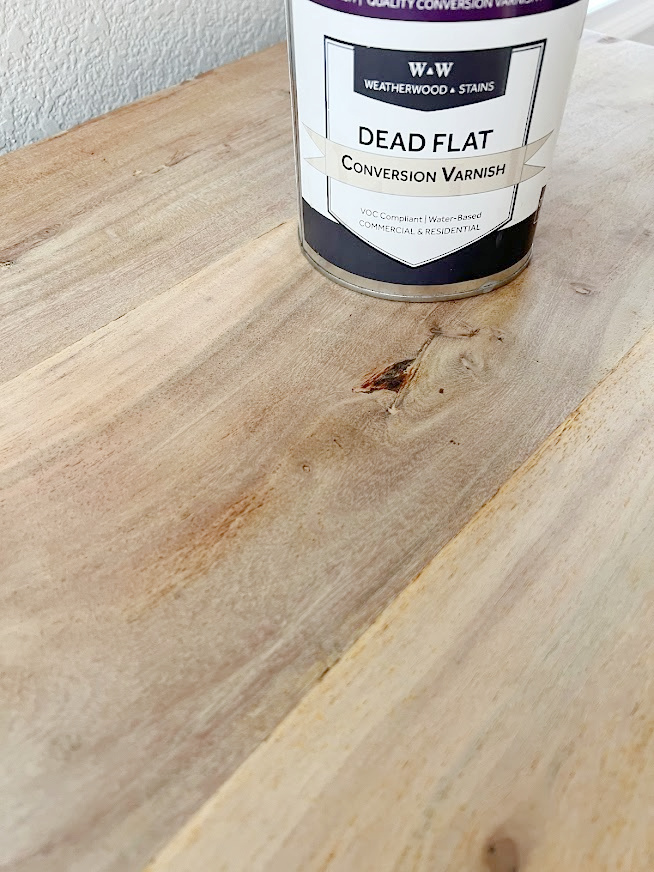 Paint the Rest of the Piece
I mixed equal parts of Americana Decor Yesteryear paint mixed with Everlasting White for a very light grey almost white look.  I used an angled paintbrush. I then sealed it with Americana decor wax in dark brown. Here is a great tutorial on how to paint furniture using chalky paint.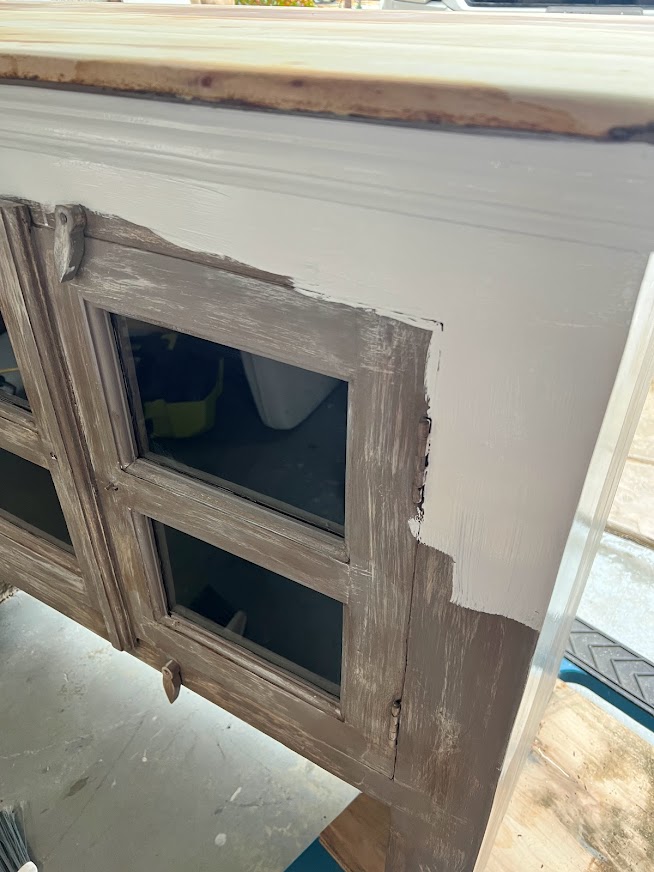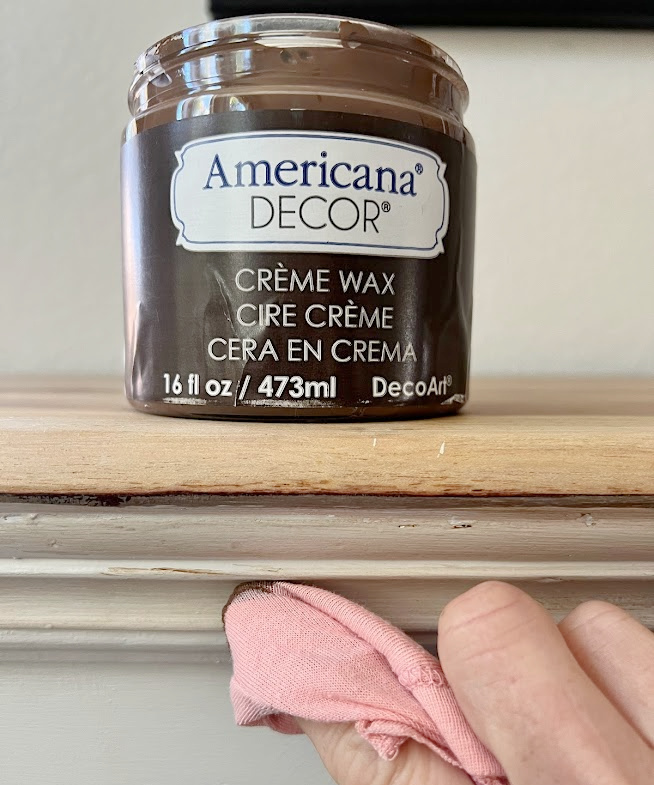 Add removable Linen wallpaper
For the glass fronts on the doors, I applied the removable linen wallpaper,  pressing out any air bubbles with my fingers along the way.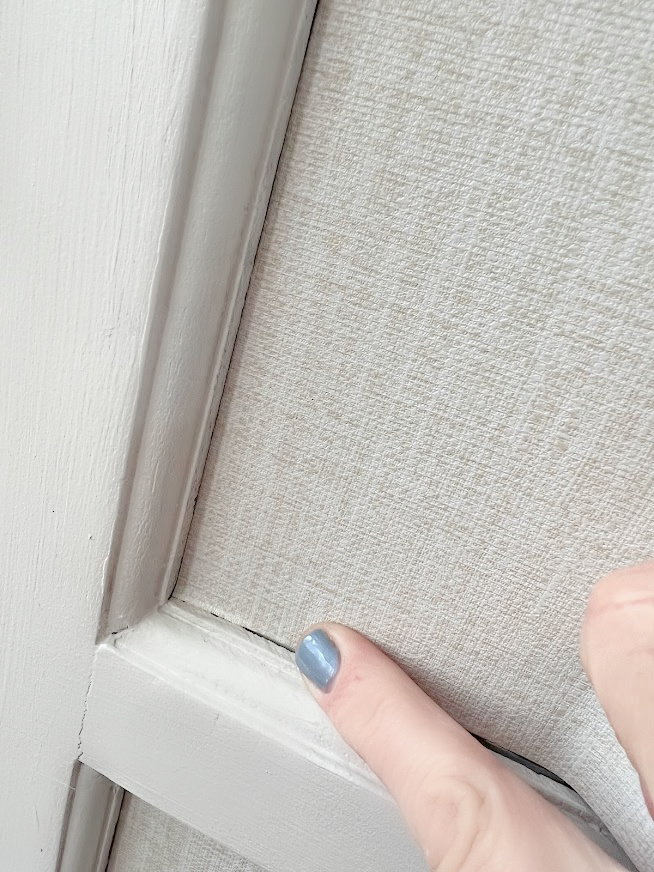 Trim out each glass window
 I trimmed out each window with a small wood trim, attaching it with liquid nails. I gave the raw wood a coat of American decor dark brown wax.  We cut each piece of wood using a hand saw and 45-degree cuts.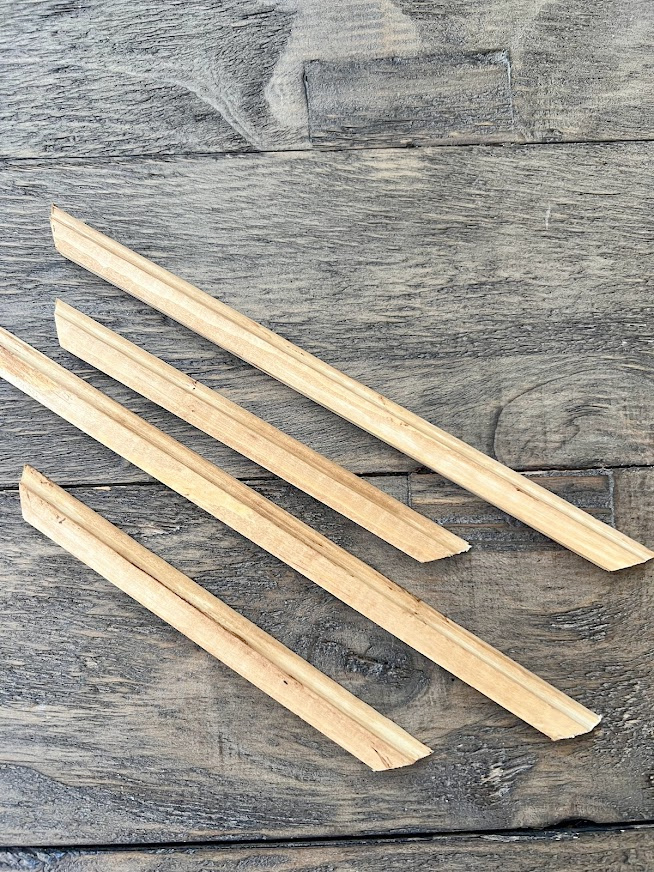 And now that I see it in pictures, I'm definitely adding new hardware!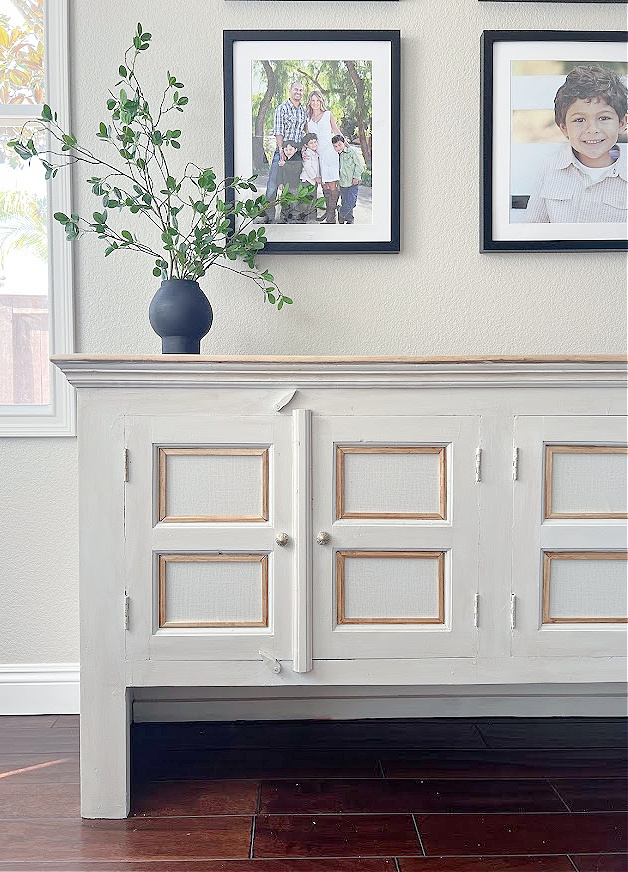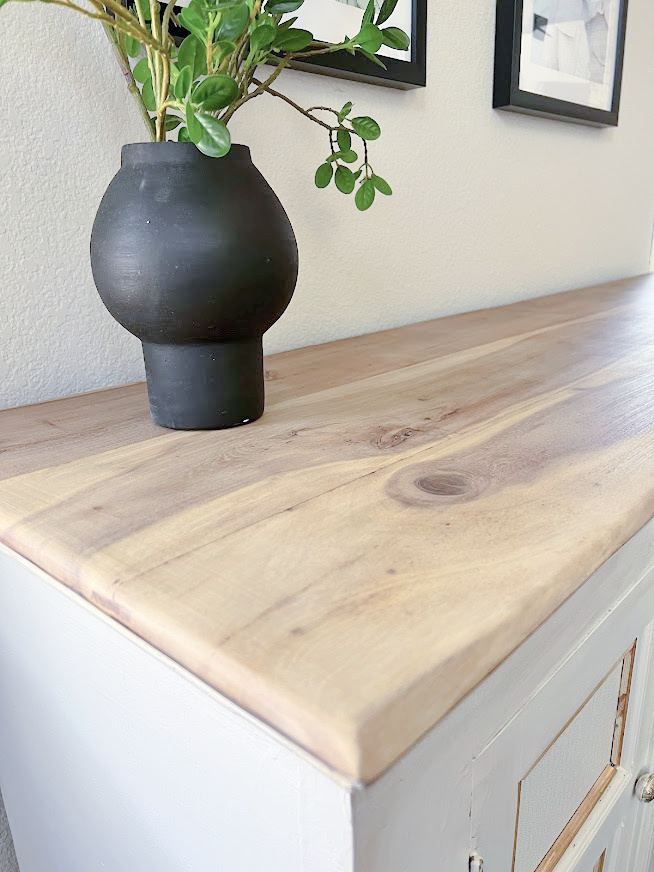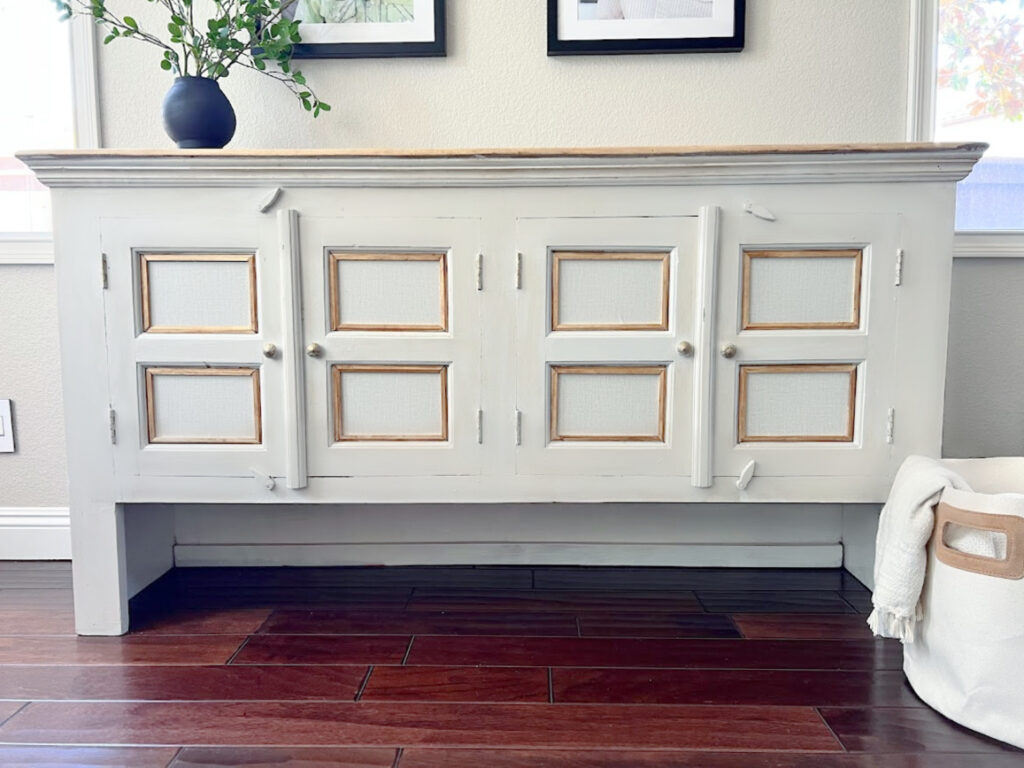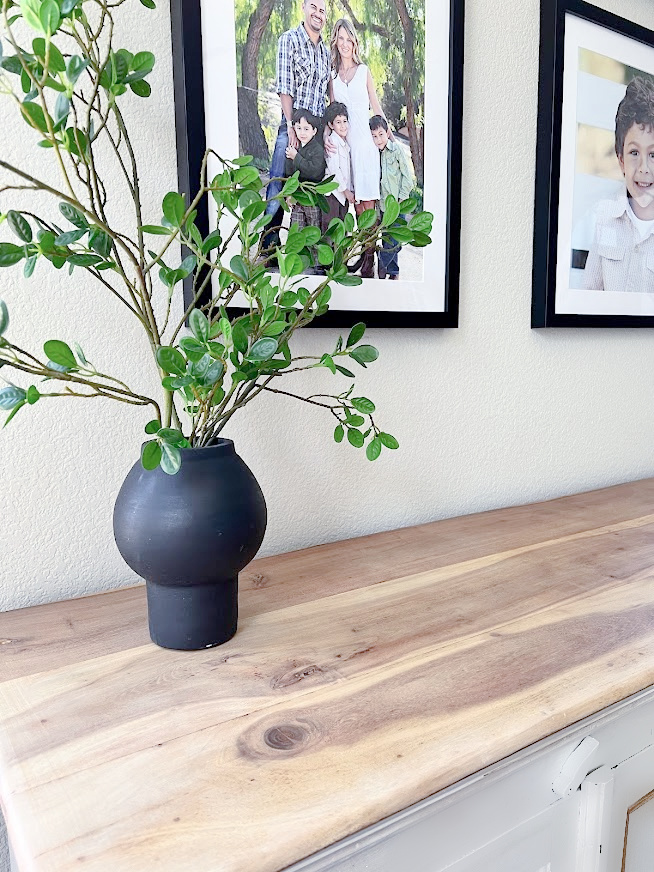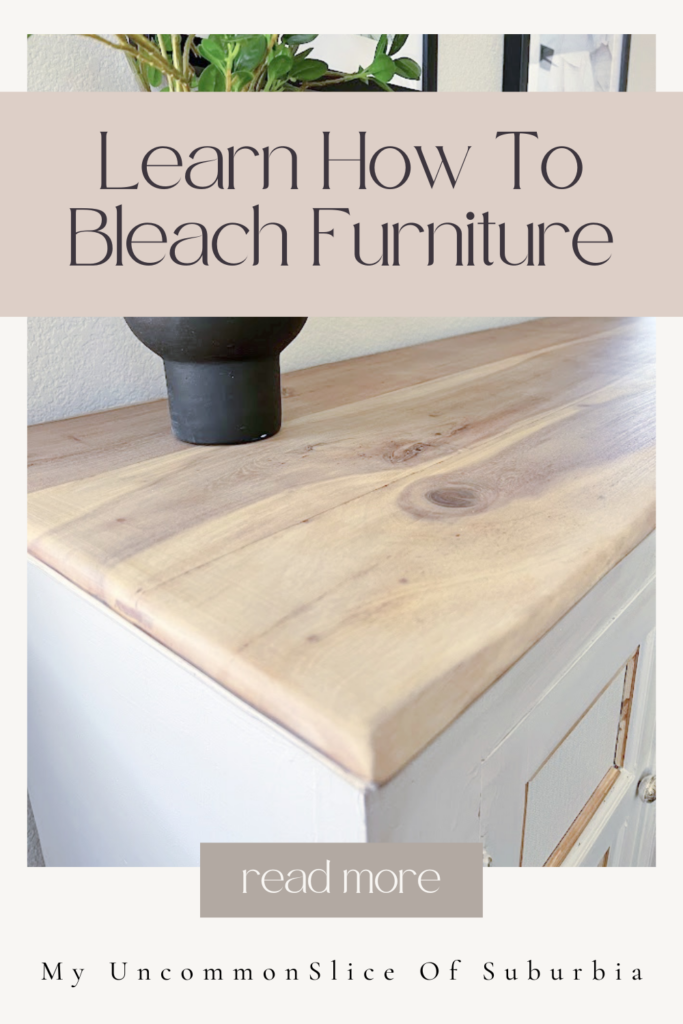 It's thrift store decor day, check out all of the amazing makeovers!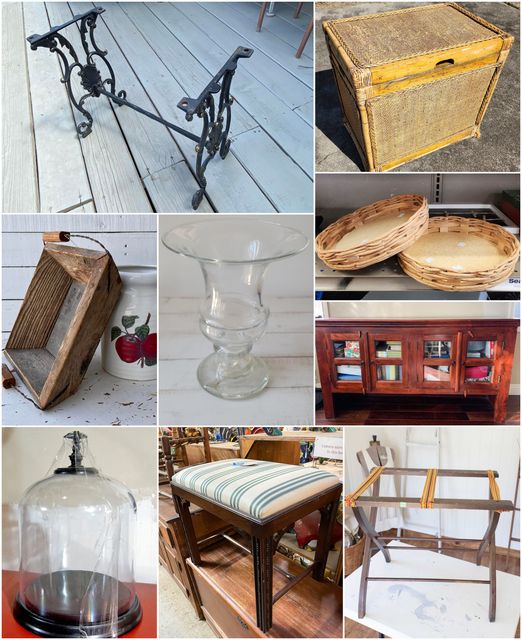 Outdoor Footstool Makeover from Shop At Blu
Vintage Rattan Trunk Makeover | Extra Storage Option from My Repurposed Life
Junky Botanical Planter From Thrift Store Finds from Organized Clutter
DIY Indigo Handcrafted Vase from Domestically Speaking
Cactus Garden with Vintage Salt and Pepper Shakers from Sadie Seasongoods
How to Bleach Wood Furniture from My Uncommon Slice of Suburbia
Coastal Cloche Idea from Petticoat Junktion
Outdoor Footstool Makeover from Shop At Blu
Easy DIY Luggage Rack Makeover for a Guest Bedroom from Reinvented Delaware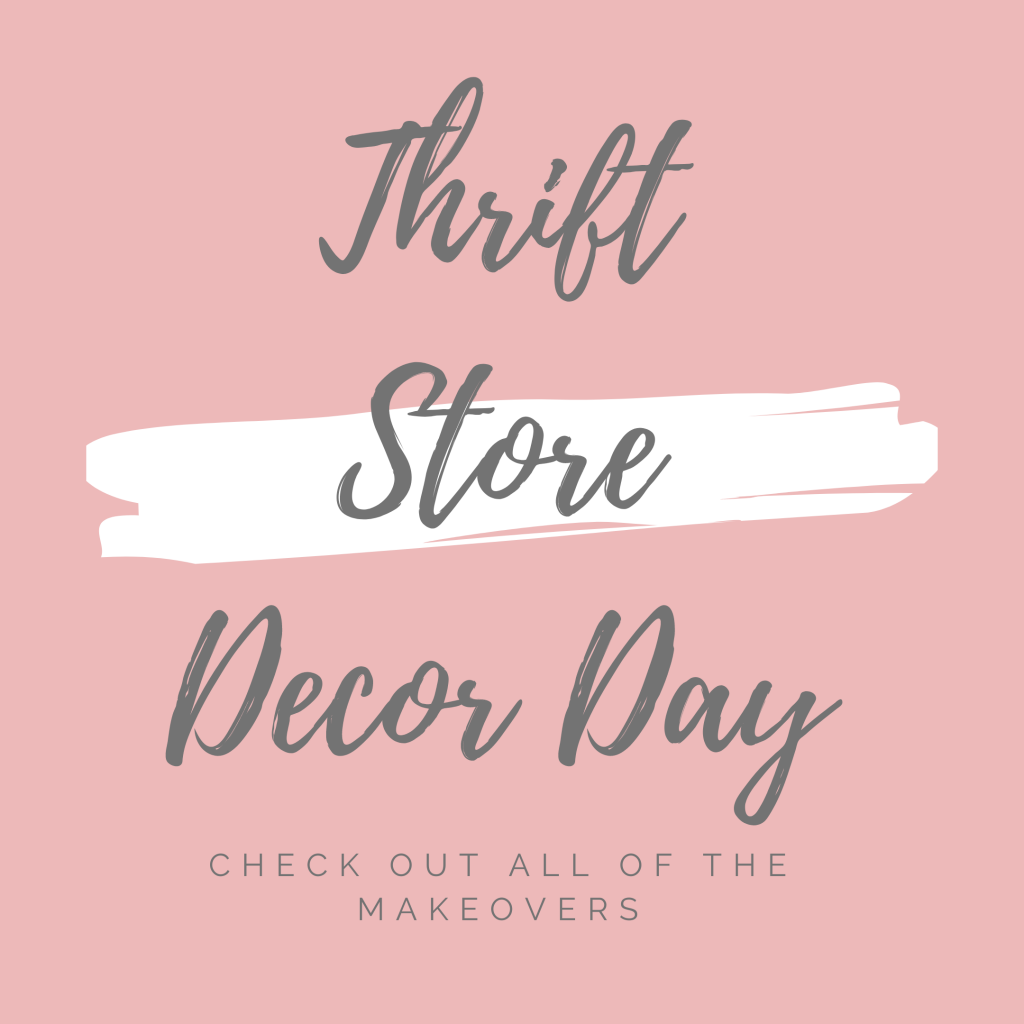 Thank you so much for stopping by today, I truly appreciate each and every one of you!