How to Paint French Doors Black – The Easy Way
Learn how to paint black interior French doors, the easy way. No sanding or priming. These French Doors will add so much character and charm to your home.
While we are trying to finish up my mom's house as fast as we can, there is only so much time in the day. Ray works full time and has begun to travel again, help is hard to find and trying to finalize everything has become a full-time job for me. Although my grief seems to get a little easier every day my stress level is through the roof. It's So Hard to explain, grief is a difficult thing. Meanwhile, I try to go over to the house and work on projects a few times each week.
After I finished painting the stair railings black, I decided to paint the interior of the french doors black as well to tie everything together. It has completely changed the feel of this space. I have painted all of the interior doors white but I'm tempted to paint the front door black as well.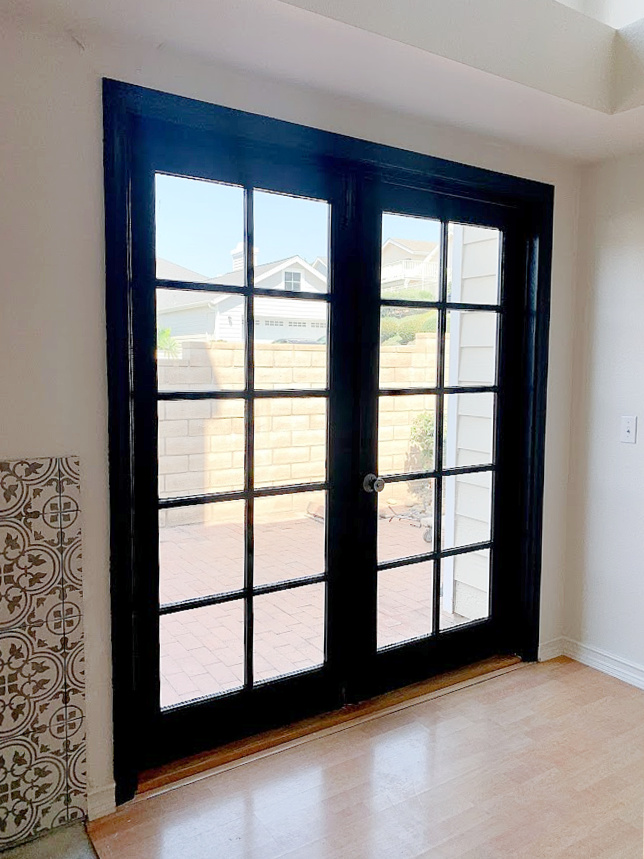 This is the before, prior to painting, I had to do some patchwork on certain parts of the door and molding.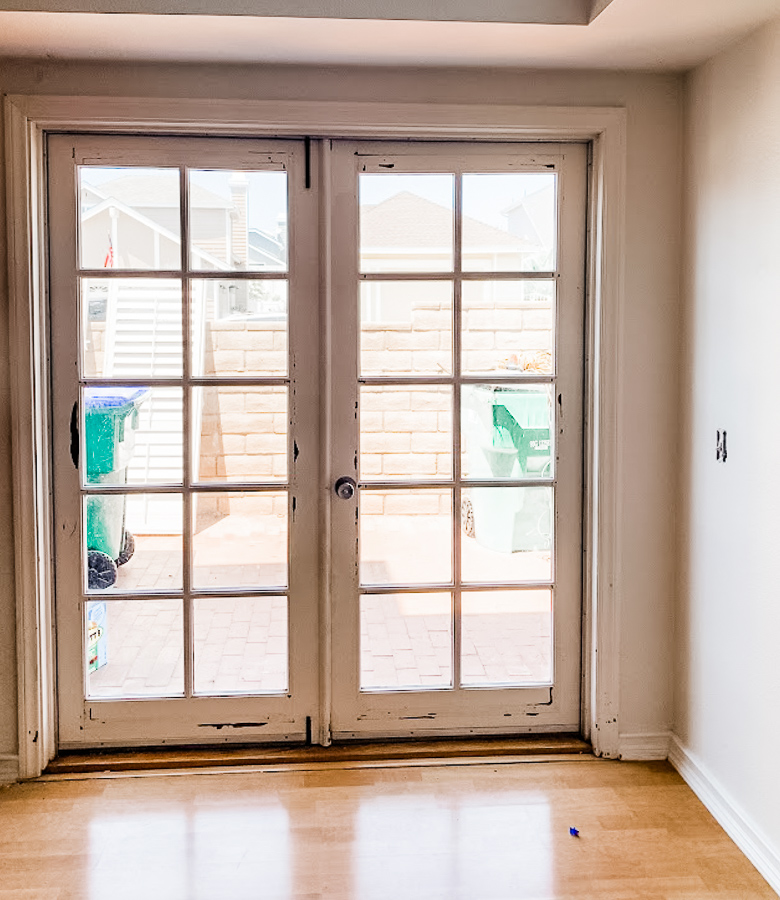 Affiliate links listed below
I knew going into this it was going to be a little tedious with all of the glass panels but I found the best way that worked for me. I had a few options but the reality was I didn't want to go and buy any more product when I had everything leftover from the stairs. However,  If I had to do it again, I would have gone the easy way and purchased the masking liquid. You paint the liquid on the glass and it creates a peel-able barrier between the glass and the paint. Thus, you end up with perfectly clean lines. That's OK I just brought my patience, cranked up the tunes, and went to work.
These doors are in her living room, I guess you could consider them her patio door as it opens up to the side of her house that is fenced in.  To be honest, they should really be replaced with new french doors. We did have beautiful shutters on the doors but had to throw them in the trash as they too were chewed up. The doors are a little difficult to open,  and the bottom is chewed up from a dog but it just isn't in the budget at this time.
SUPPLIES
All-Purpose Heavy Duty Cleaner TSP
Painter's tape
Drop Cloth
Clean, dry lint-free rags or tack cloth
Angle paint brush
1 quart Behr ultra scuff defense paint and primer interior semi-gloss enamel Tricorn Black (This is a beautiful black paint color)
Razor Blade
Utility Knife or sharp blade
Rust-Oleum Painter's Touch 2X Ultra Cover, Satin Canyon Black
Tip:
Because the doors were previously painted with latex paint, I was able to skip the sanding, and simply repainted a fresh coat. The paint I used is acrylic so it is able to be painted over latex since they are both water-based. However I If your door is painted with oil-based paint and you're painting over it with latex or enamel, you'll have to go over it with a deglosser and prime the door.
Directions:
Clean the doors really well with TSP using a clean lint-free rag. I even ran a vacuum with a small nozzle in each of the panes of glass to get any little bit of dust that was left behind.
I started to tape and realized I really only needed to tape the areas where I would need to stand on my head to see what I was doing and luckily I have a pretty steady hand. You could also tape off the door knob if you would like. (I carefully just used an artist brush and painted around it)
Using a foam paint roller and my angled brush I painted all of the molding surrounding the doors and the trim on the window that was raised. I love using a foam roller since it gives a smooth finish with no brush strokes. It's up to you if you want to paint the sides of the door.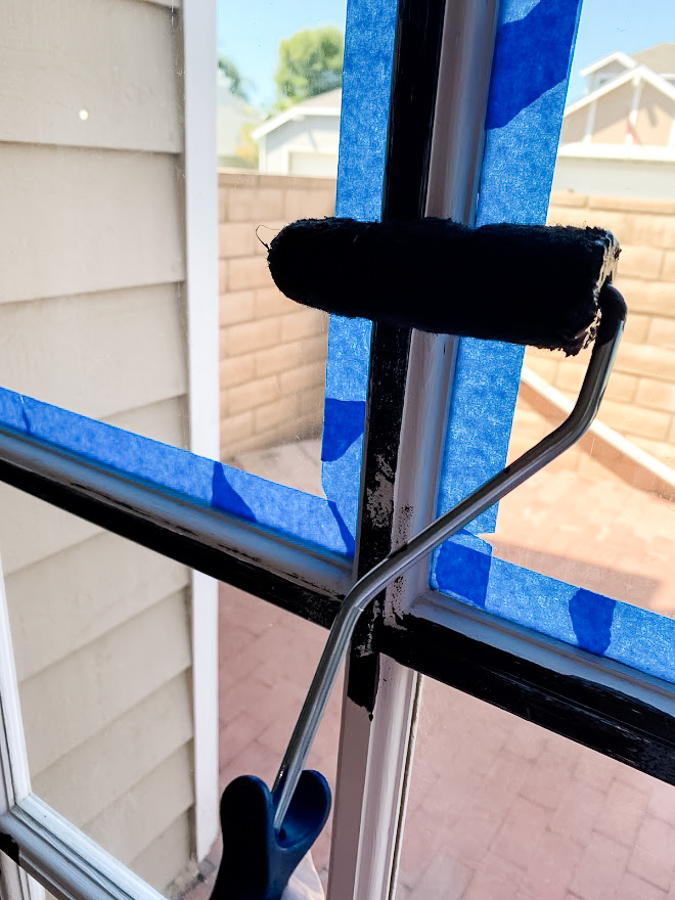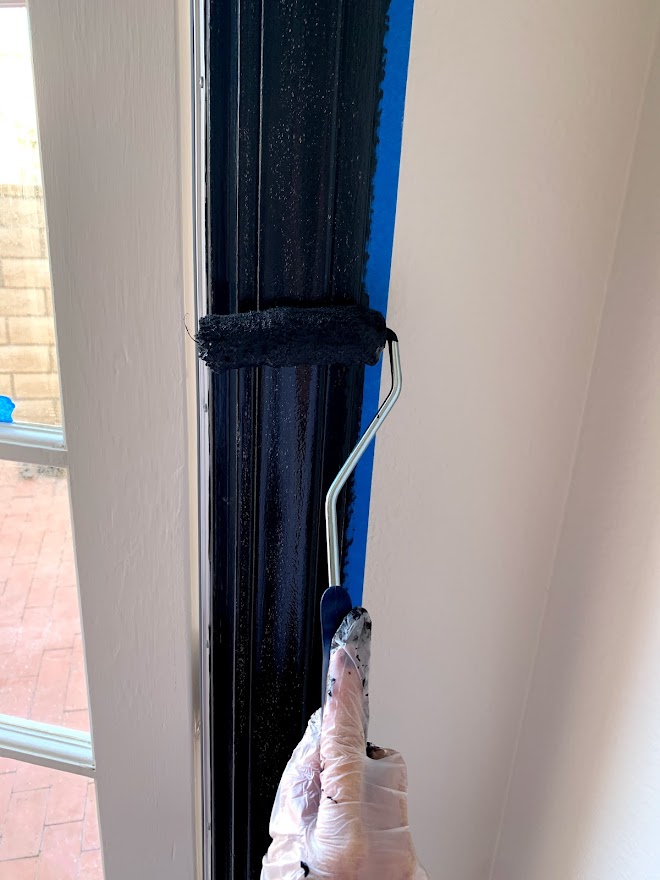 Using an artist brush, I carefully cut in around the glass and door knob.
Repeat this process twice, allowing it to dry in-between the coats of paint. In some areas, I had to go over the wood door with another coat of paint for the third time.
Once everything is dry (24 hours) remove the tape
When I stepped back I quickly realized I needed to get rid of the metal at the bottom of the door.  I used Rust-Oleum Painters Touch spraypaint that can be used on metal. I simply taped off the door and gave it 2 coats of spray paint.
Most likely you will have some areas where the paint got onto the glass.  Simply score the area between the glass and the trim with a box cutter or utility knife and used a razor blade to scrape the paint off the glass.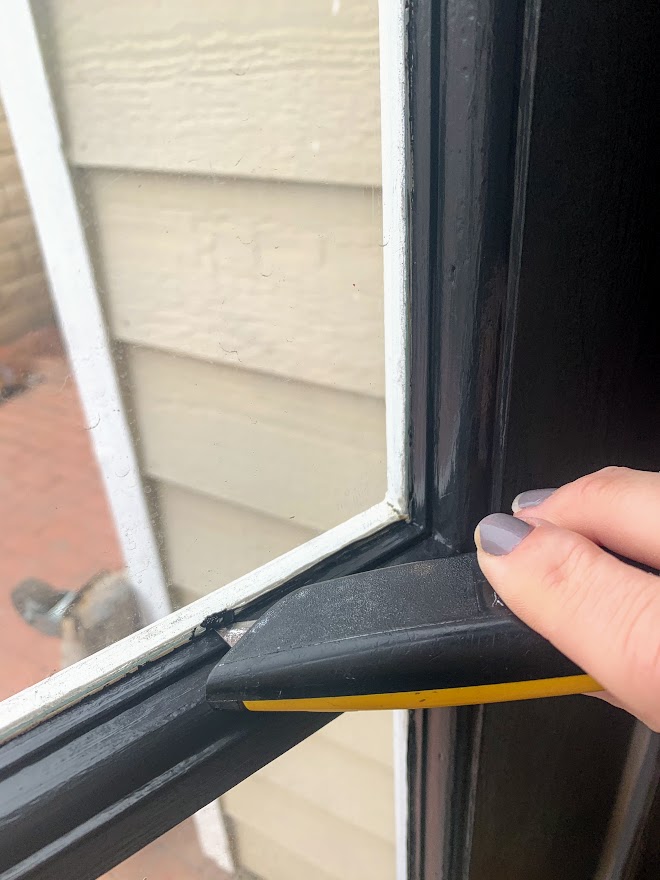 I found this tool in my husband's tool bag and it worked just as well as a razor and it was a little wider so it saved me on time.
Once you scrape, vacuum up all those little bits of paint left in the window pane.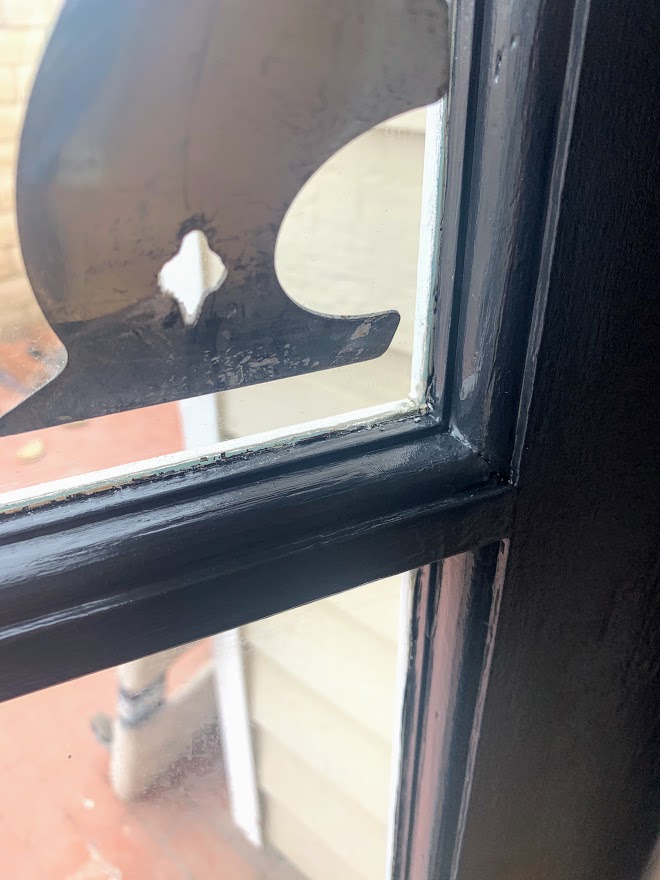 The finished product makes such a big difference!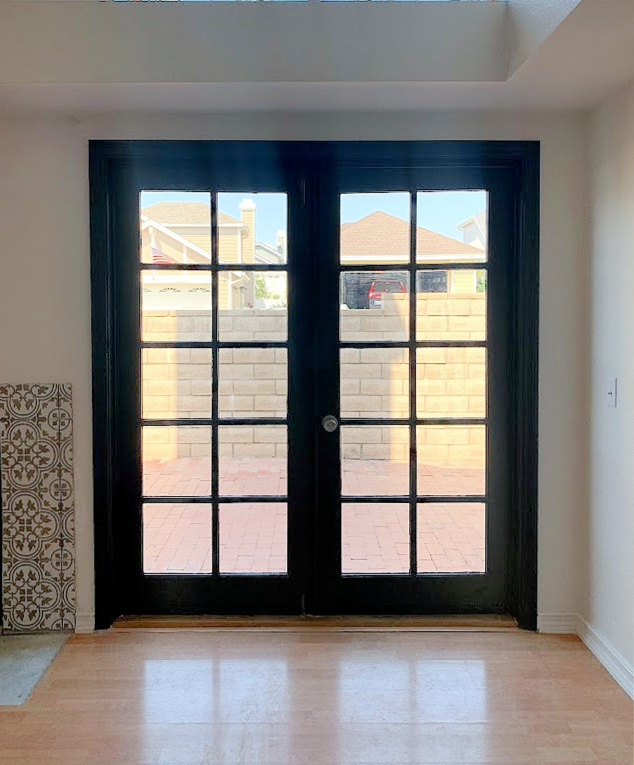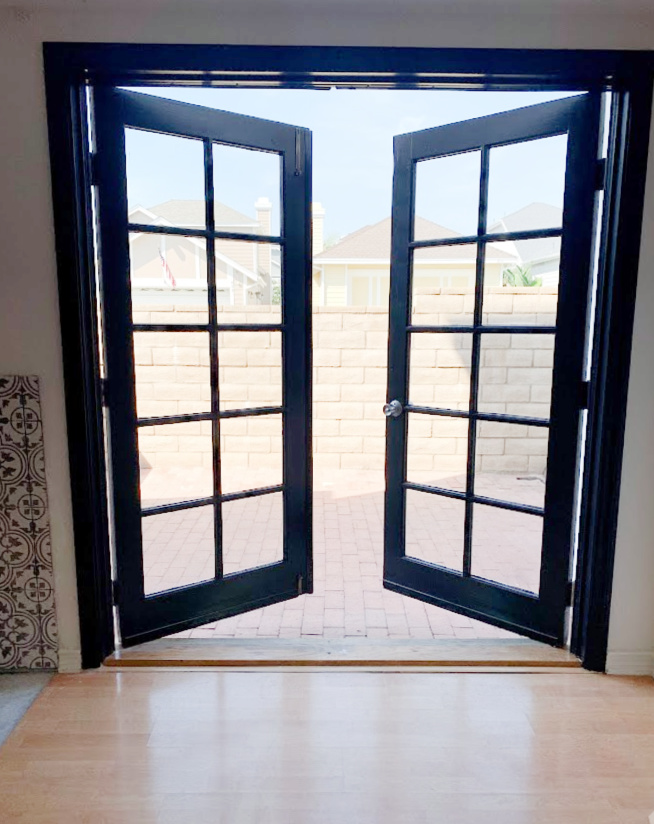 Don't be afraid to add a new coat of paint to those interior french doors. If black scares you, go with a more neutral color (Think blues and greens) and replace your door hardware for a beautiful update. Although this took a little bit of time, the best part is it really required very little effort, very little money, and up against the white walls, they really pop. They went from dingy and dull to looking to a professional-looking finish.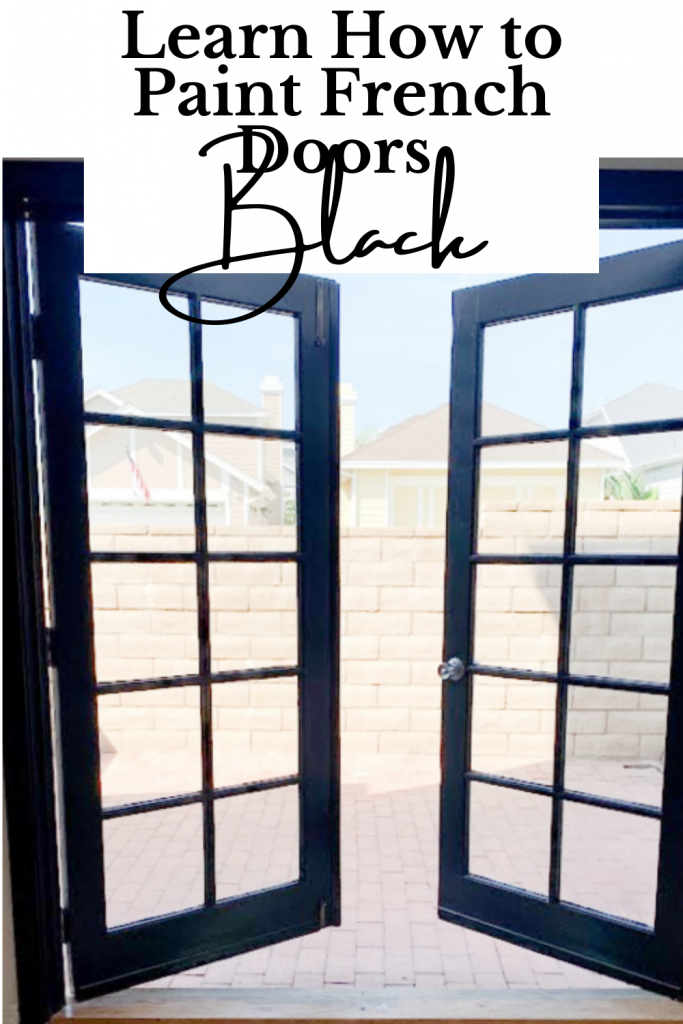 Next up I will be sharing the fireplace makeover and the painted kitchen cabinets. Here is a little sneak peek.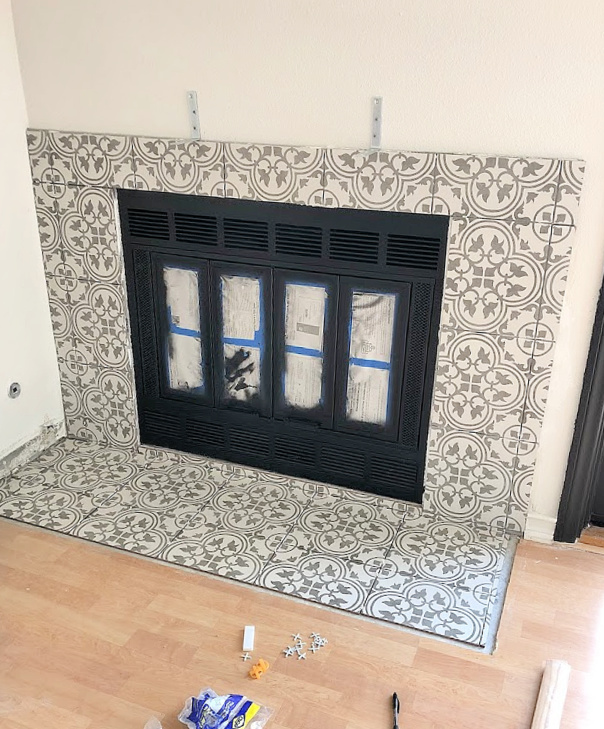 Thank you so much for stopping in today, have a great weekend!