Hello friends, today I'm excited to share a simple Summer tablescape that I had so much fun putting together.
As many of you know I am currently bedside with my mom during her final days of life.  I'm grateful I had put this post together 2 weeks ago and I have been able to be with her every single day,  I truly appreciate all of the prayers and love, from the bottom of my heart, thank you!
With summer quickly approaching and Mothers Day this weekend, this would be a fun tablescape to pull together for an intimate gathering.  I had fun mixing and matching items I already had, a few thrift items, lots of flowers, and few new pieces sprinkled throughout.
A huge thank you to Kristi from French Creek Farmhouse for inviting me to be a part of this Summer tour, I feel so blessed to be included in this talented group of bloggers! Make sure to head over and see all of the  Summer Ideas listed at the bottom of this post.  From outdoor living to entryways and crafts, there is something for everyone!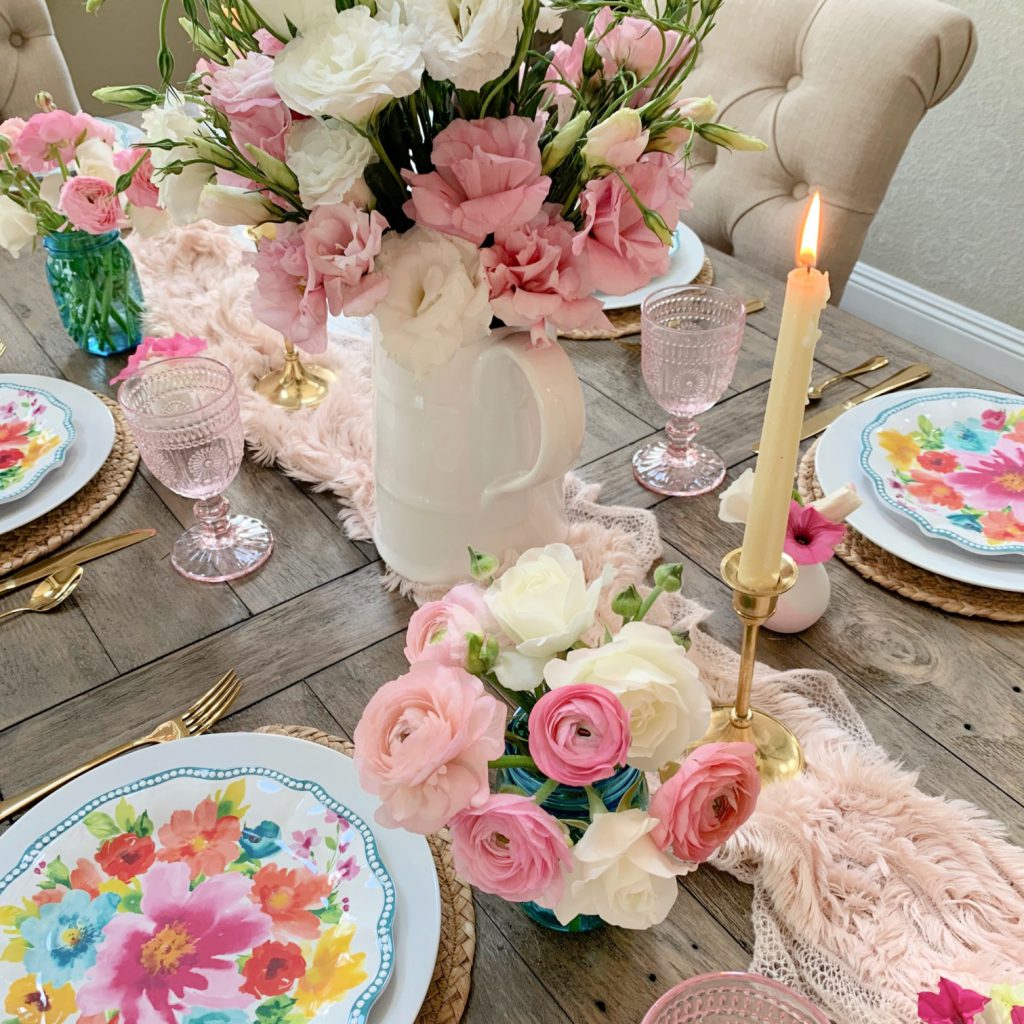 I decided to use various shades of my favorite color PINK and bring in some vibrant colors of blue with the plates and the mason jars.
I like to layer things so I started by adding some texture with some woven plate chargers.  I then added a plain white plate on top of the charger for its foundation.  I placed a vibrant salad plate with a  gorgeous bloom to make the place setting really pop.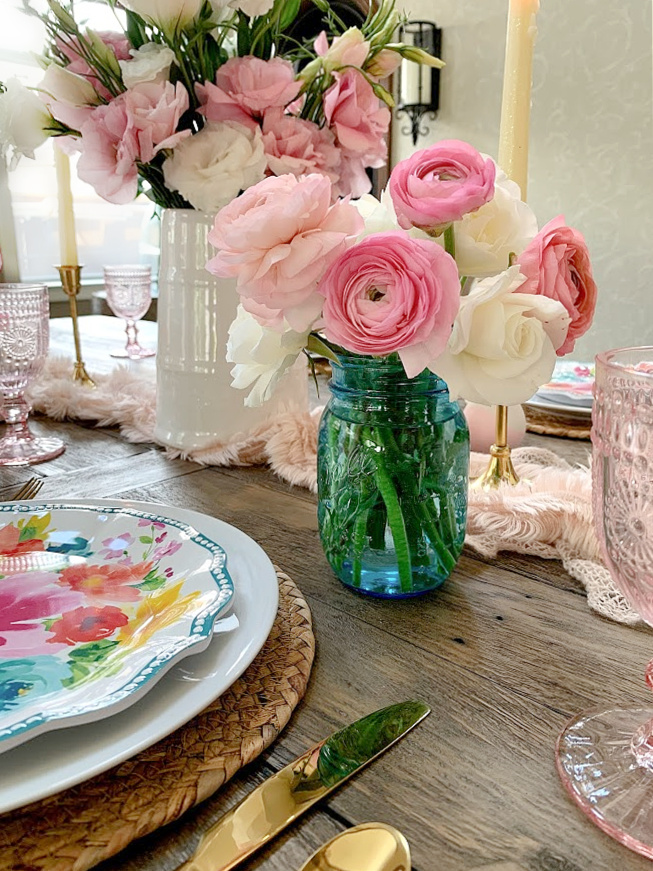 The salad plates are new but will be used as our everyday plates, they are actually melamine indoor/outdoor plates!   I'm almost embarrassed to say that I still have the same old plastic plates from Ikea from when the kids were little (they are all teens now)  They literally get used every single day so I had no problem updating them.  I think they would look really pretty mixed with the china we have.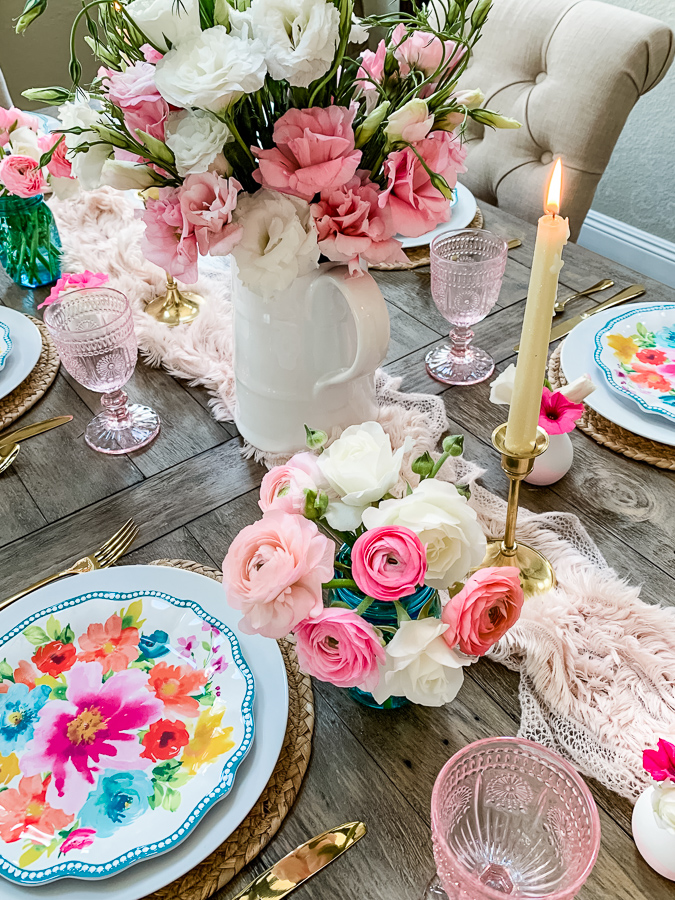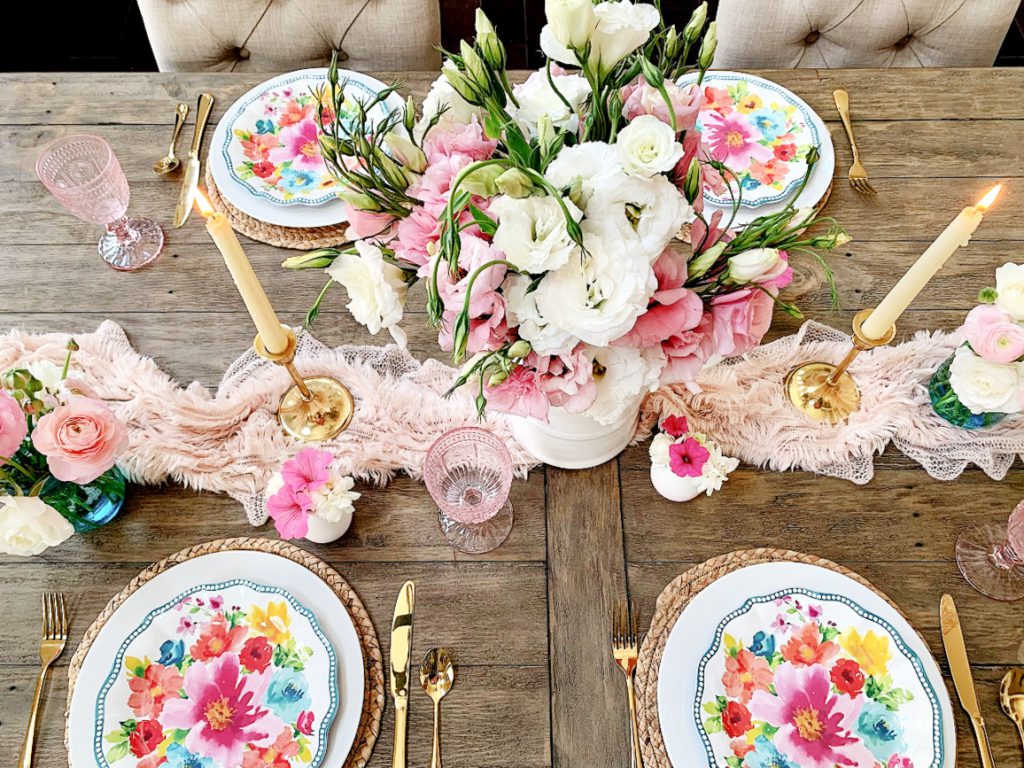 The pink goblets and gold flatware reminded me so much of my grandmother's, when I found them about a year ago, and to be honest, we were still using the flatware from our wedding 21 years ago.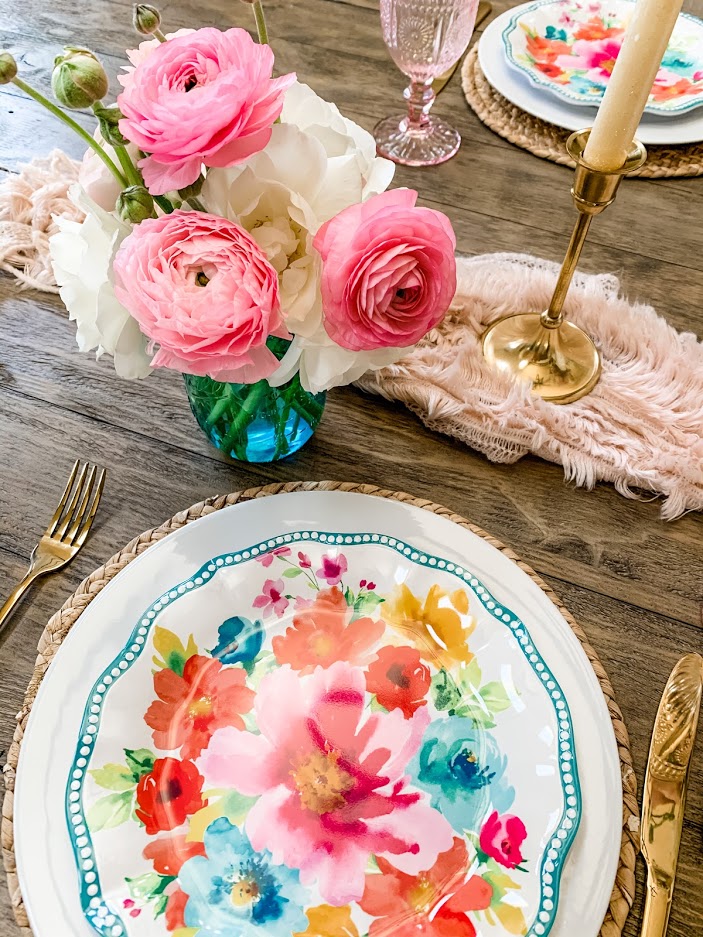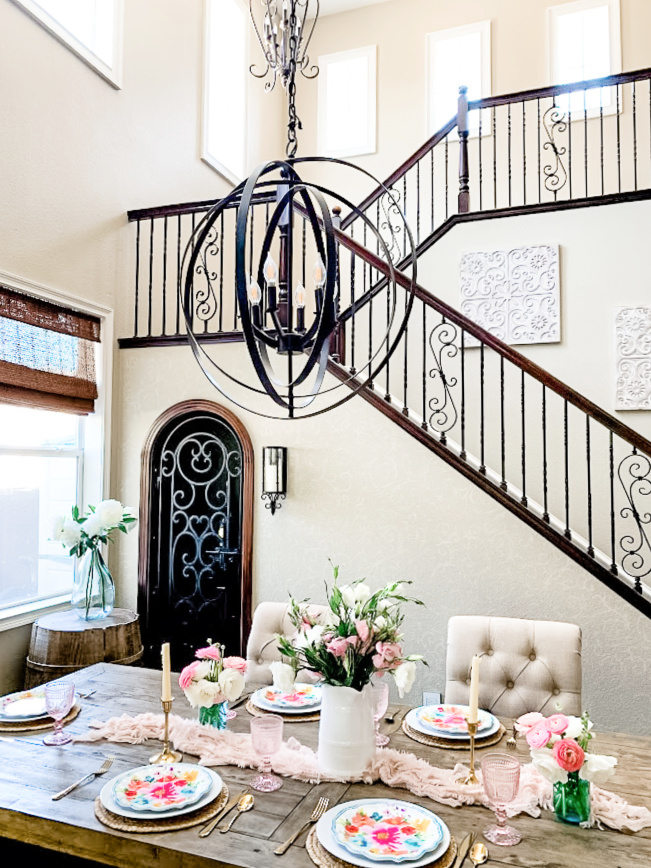 For the center of the table, I mixed Candlesticks found at the thrift store years ago,  my fuzzy warm scarf, mason jars, and of course a mix of beautiful flowers!  We are so fortunate to have 2 wholesale flower shops that are close to us. I also added some roses from our garden. I love to incorporate flowers and seasonal elements, to set the tone for my table.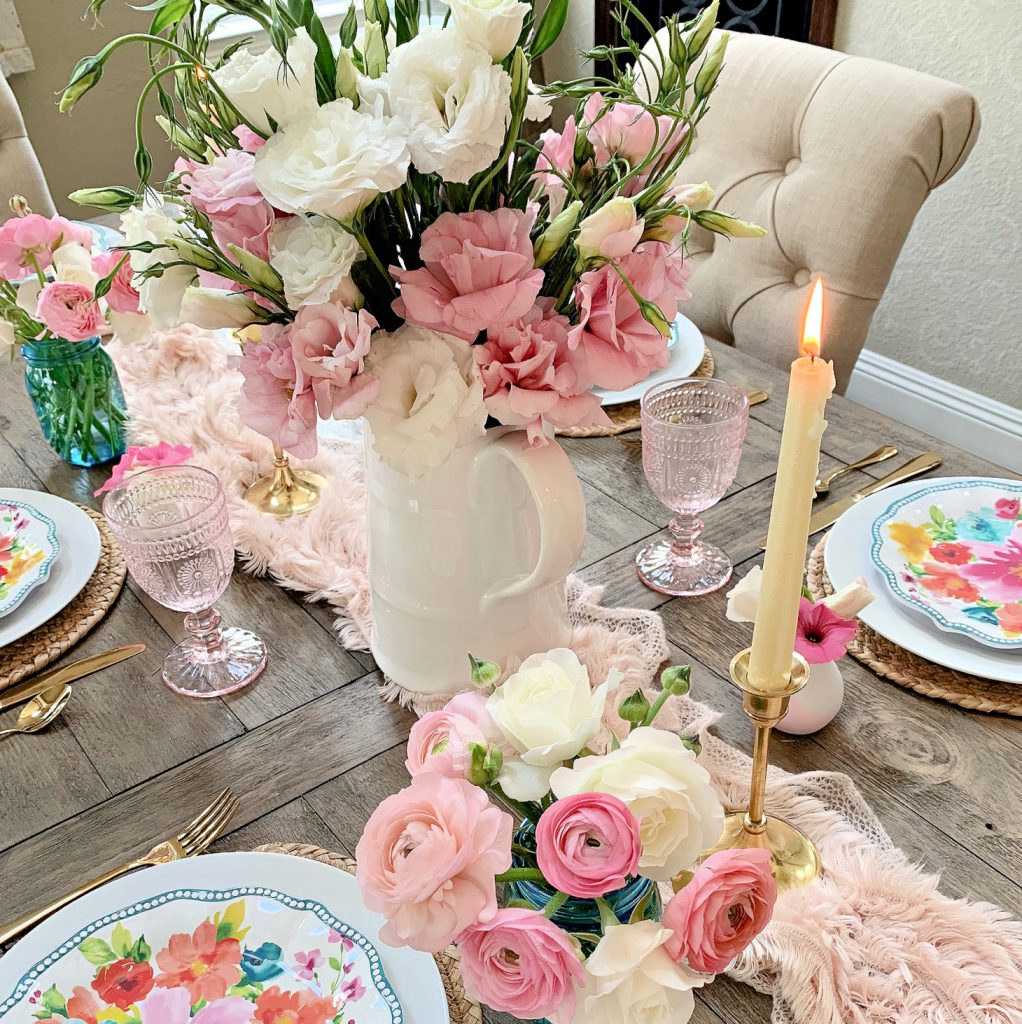 The little white vases I found at the dollar section at Target, I just gave them a quick coat of pink paint on the bottom.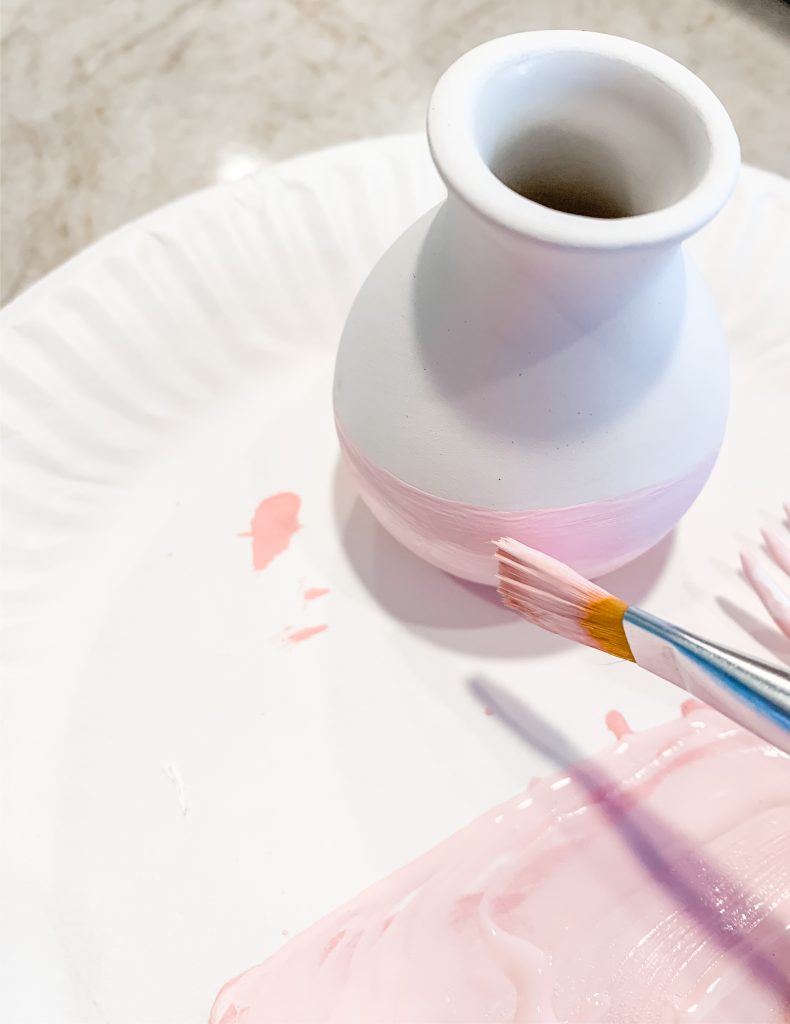 Table settings are so fun to pull together, don't feel like you have to go buy new everything, simply use what you have and maybe mix in one new piece here and there.  All of the different colors, patterns, outdoor elements, and dishware all came together nicely.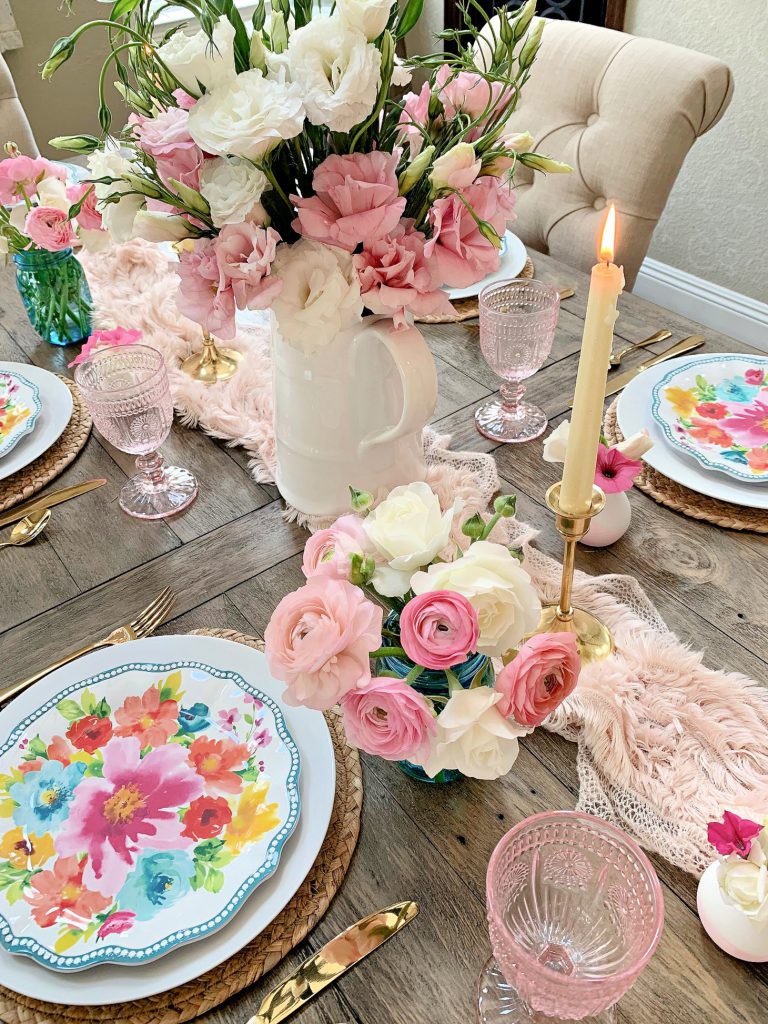 Affiliate Links Listed Below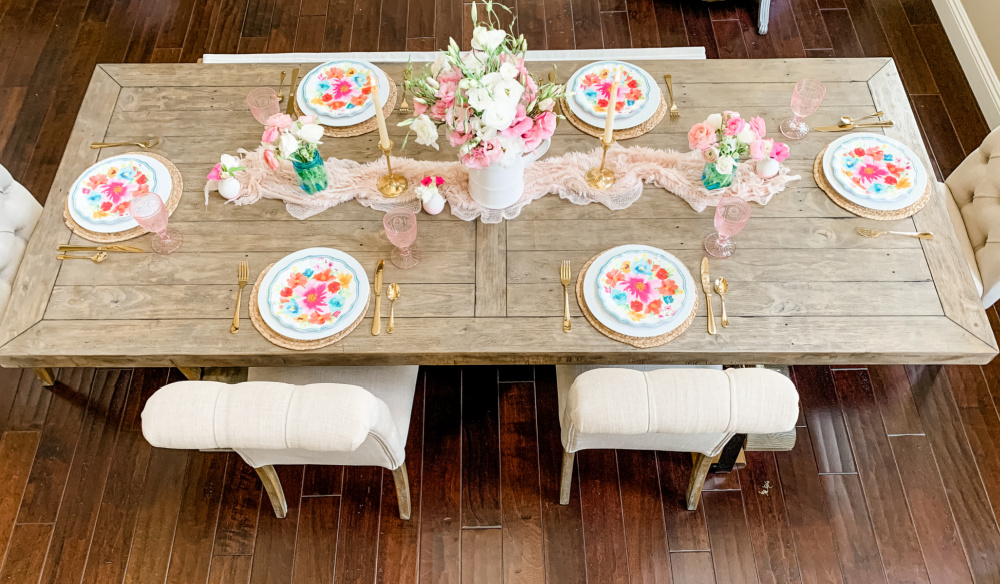 This summer, when setting your perfect summer table, go for it, have fun, mix and match, add color, and be creative.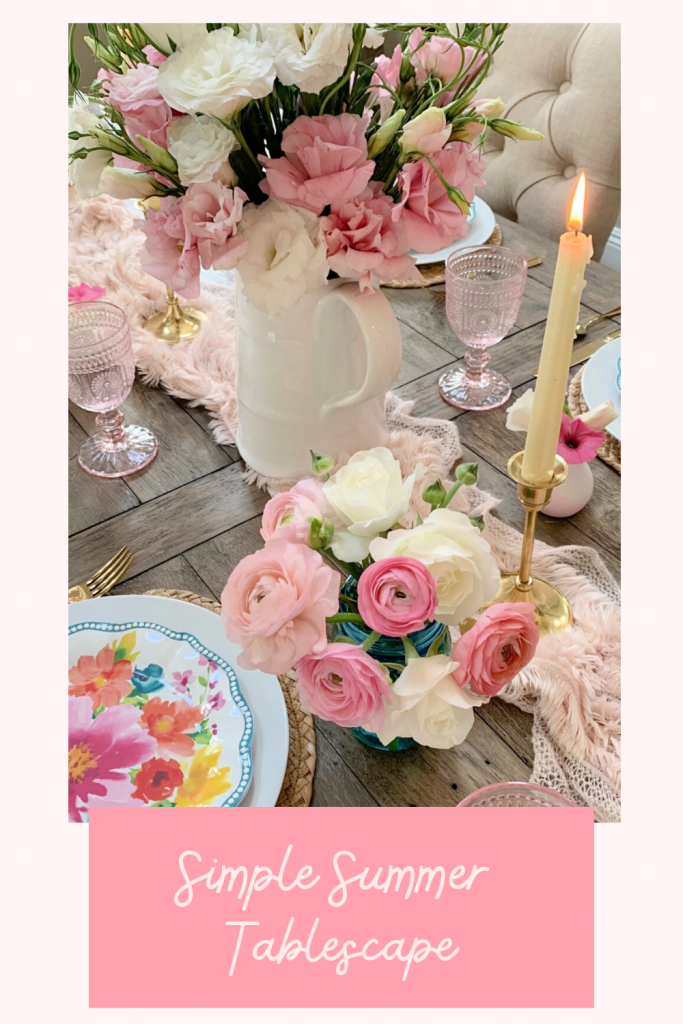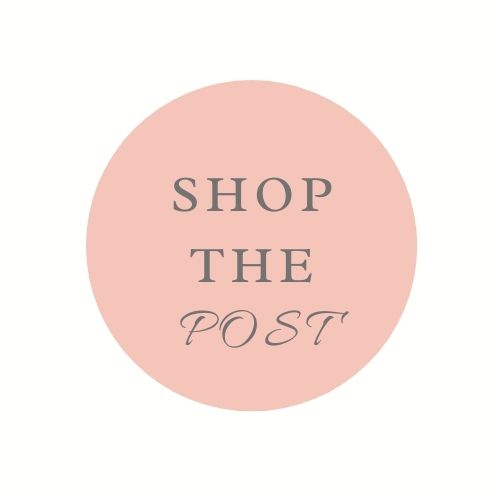 Gold Silverware Set
Colored Glass Goblets
Round Woven Placemats
The Pioneer Woman Melamine Indoor / Outdoor Dinnerware
(the smaller plates are sold out but here is a link to the dinner plates)
Ball Aqua Canning Jars
Thank you so much for being here today!
I'm thrilled to be joining in today as 29 talented bloggers bring you the best of all things home! Please continue along this inspiring Spring Into Summer tour, and visit the other participants in each of the following categories.