I love Springtime; changes are in the air, flowers magically bloom, all things brown turn green,  birds chirping and the promise of good things to come.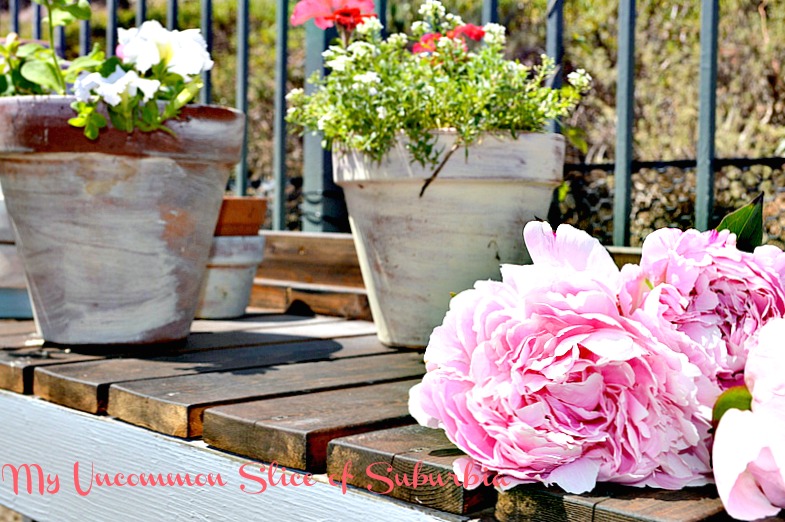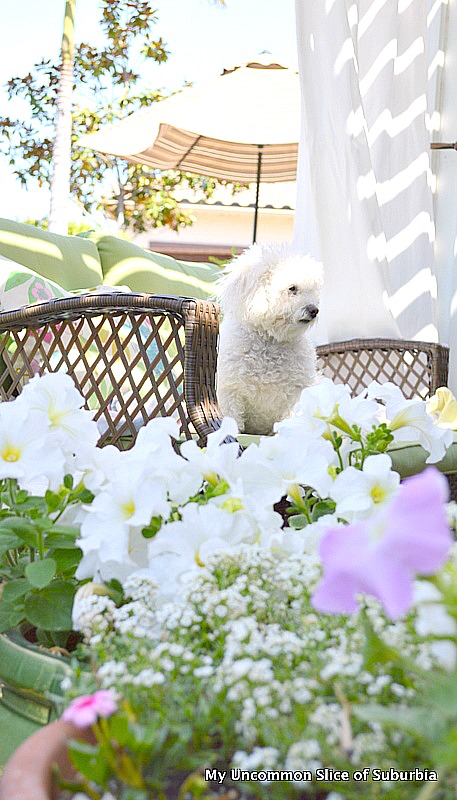 I always know Spring is here when our Bougainvillea and Roses start climbing our arbors adding vibrant pops of color in the yard.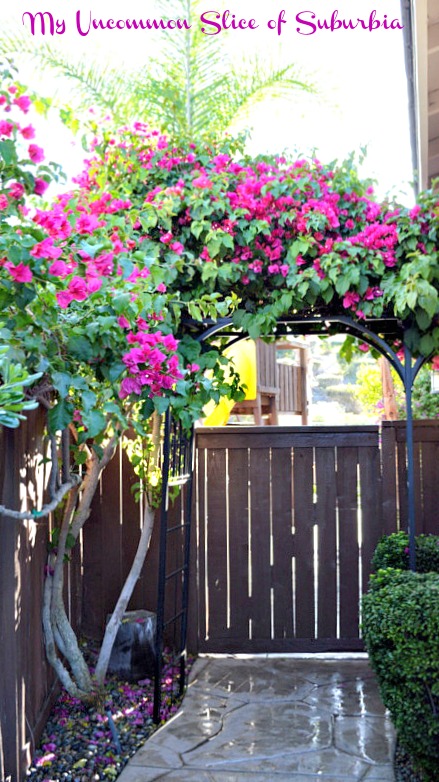 I have always had a love for arbors, they add so much beauty to the garden! The one with the roses my  hubby made for me a few years back, it always puts a smile on my face when I see the roses climbing up the sides in full bloom.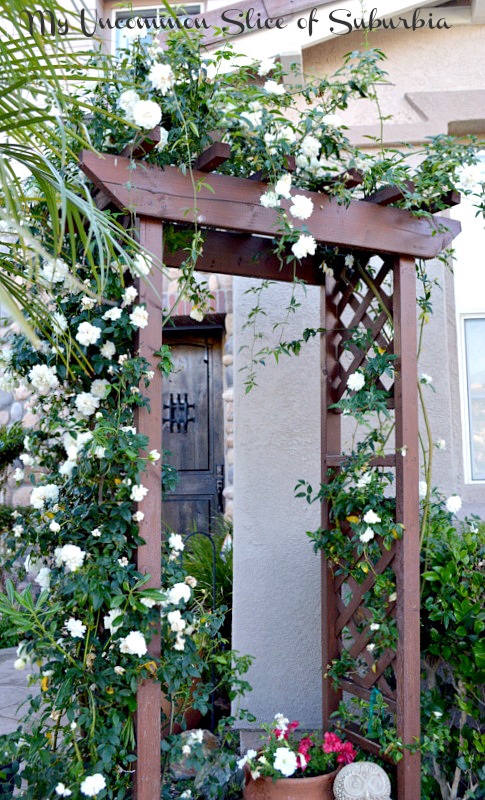 In the back yard, I plant most of my flowers in pots so I can brighten up the patio.  I love pots in all different sizes and colors and I especially love aged pots.  Aging a terra cotta pot is one of the most simple things to do and it adds so much charm.
Affiliate links listed below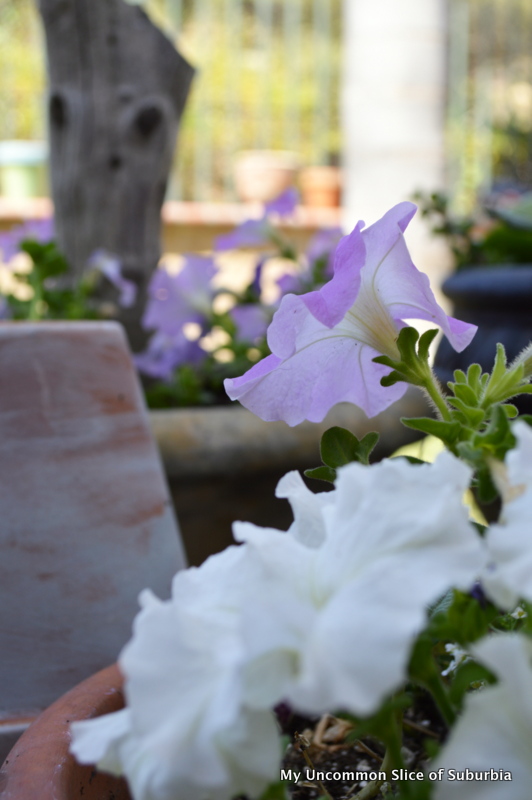 Supplies
Clay pots (I find mine at the dollar store)
Paint (I used a variety of white/blue/green)
Dark Paste Wax
Paint Brush
Sponge
Lint-free rag
How to age a terra cotta pots
Grab whatever paint you have on hand, think creamy antique colors and white.
Use a paintbrush and lightly paint a coat of white around the pot
Take a sponge and apply the antique colored paint onto the terra-cotta pot leaving certain areas of the pot lightly exposed.
If you feel there is too much paint in some areas, take a wet lint-free rag and wipe the pot with the rag until it removes some of the paint.
Use a dark wax with a lint-free rag to lightly rub over the pot. If you feel the wax is too dark, add just a bit of water to the rag before dipping it in the wax and it will not come out as dark. The wax will protect against moisture and make the pots more durable
You are left with a gorgeous pot that looks like it has been sitting around for years.
You can always seal the inside of the pots for more protection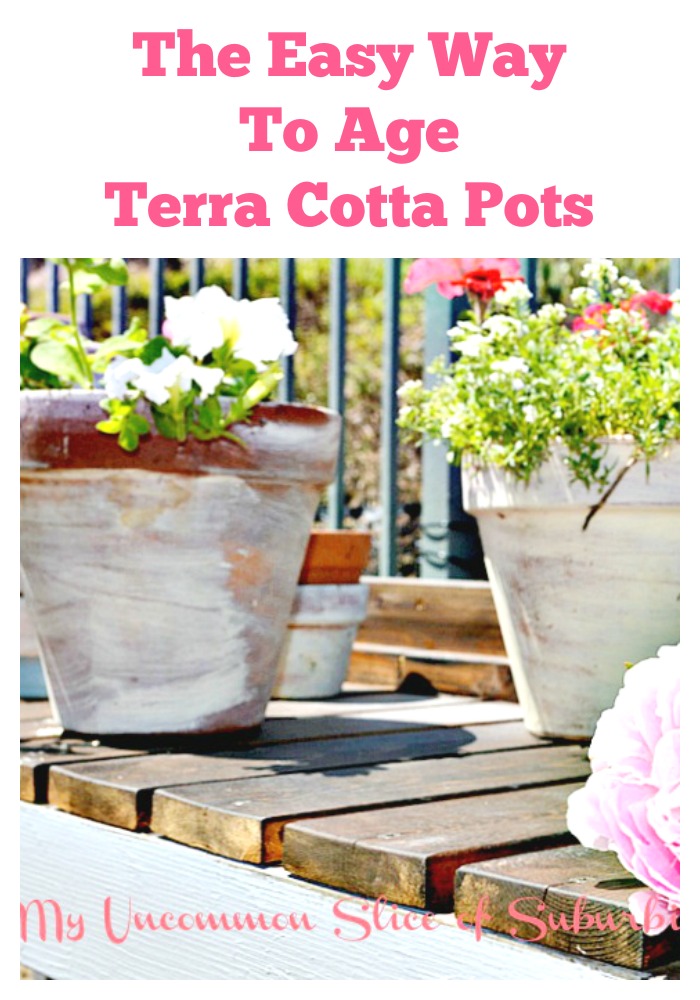 I'm joining 5 amazing and creative bloggers for the Outdoor Extravaganza party
Chevron Striped Flower Pots by Angie of Echoes of Laughter
Garden Themed Hostess Gift by Shauna of Satori Design for Living
How to Plant Succulents in a Birdcage by Lucy of Craftberry Bush
Bright Pink Spring Front Porch by Tiffany of Living Savvy
Large Scale Summer Planters by Dawn of Inspired Living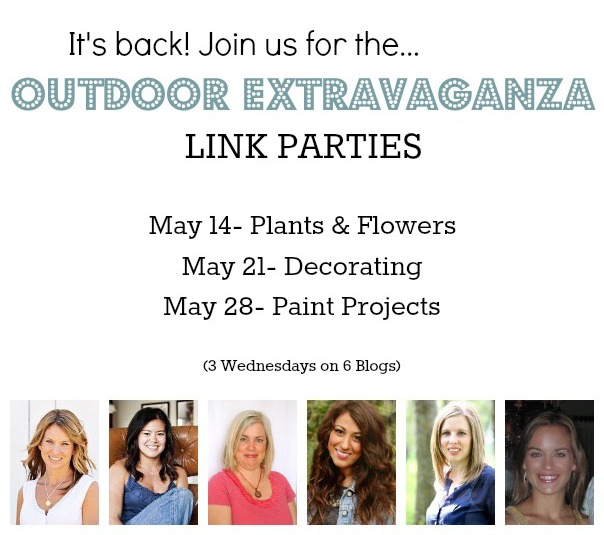 Come back tomorrow for the Outdoor Extravaganza Plants & Flowers link party. I can't wait to see all your inspiring projects!
~Thanks for stopping in today~