This Nutella Frappuccino is a delicious and creamy treat that is so easy to make! You are going to love the rich chocolate hazelnut flavor of Nutella, it's the perfect Summer treat on a warm day!
I rarely go to Starbucks but if I do you will find me with a frappuccino! I stopped drinking coffee a few months ago so it's go big or-go-home kind of thing for me. This is on the Starbucks secret menu item, yes, they have a secret menu, I learned that from my kids, you just have to ask. With my youngest being a huge fan of Nutella, he was so happy to come home to this after school last week when the temperatures were hot.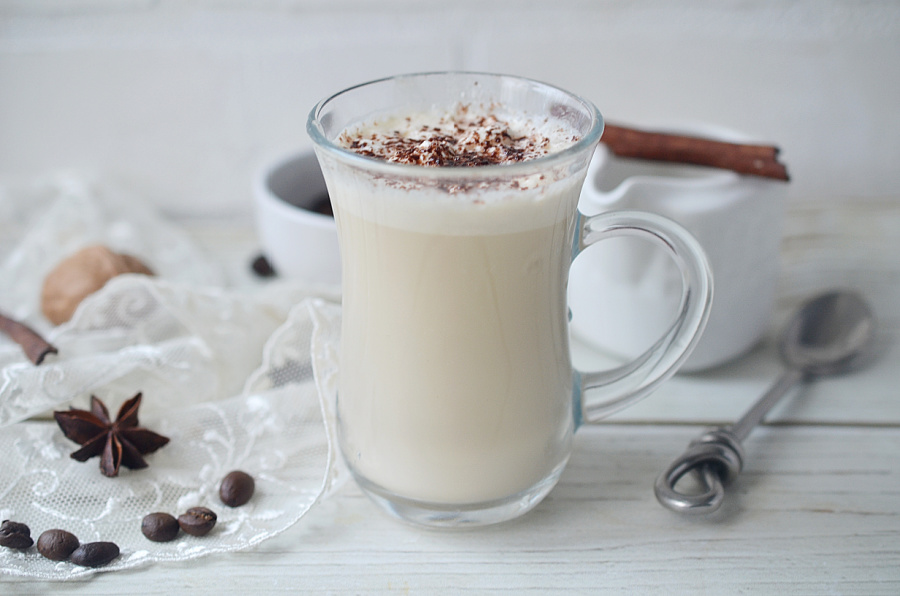 affiliate links listed below
This recipe comes together very quickly, in about 5 minutes
Here is what you will need to make your homemade Nutella frappuccino
Brewed coffee-Use your favorite kind of coffee and make sure it's cold,
Milk- If you don't drink dairy you can substitute almond milk or a plant-based milk, just make sure it's creamy
Ice cubes- I use crushed ice cubes you could also freeze your coffee and use coffee ice cubes
Vanilla- I use vanilla to add just a little bit of sweetness, you could also use sugar or leave it out completely.
Nutella Chocolate Hazelnut Spread– No explanation is needed here.
I love my Ninja Personal BlenderIt's perfect for drinks like this.
Toppings
You can get as creative as you want here. Drizzle some caramel, chocolate, melted Nutella, a little whipped cream, a pump of hazelnut syrup, pumps of mocha syrup, dolce syrup, add what you love! You could even add some chocolate chips if you are feeling really naughty.
Adjustments:
The ingredients and amounts used are to my liking. This recipe is really easy to customize though. If you like a lighter flavor, add less of the Nutella, not a coffee fan, make your coffee a little weaker. Looking to lighten the calorie load, use unsweetened almond milk or soy milk and skip all of the extra toppings. Looking for a thicker drink, add a teaspoon of peanut butter. This drink truly is customizable!
If you want to get super fancy, you can make your whipped cream out of heavy cream
1 cup heavy cream
2 Tablespoons confectioners' sugar
1/2 teaspoon pure vanilla extract
Instructions
Using a hand mixer, whip the heavy cream, sugar, and vanilla extract on medium-high speed until medium peaks form, about 3-4 minutes.
This is the equivalent of a 16oz grande, I usually split it up amongst the kids.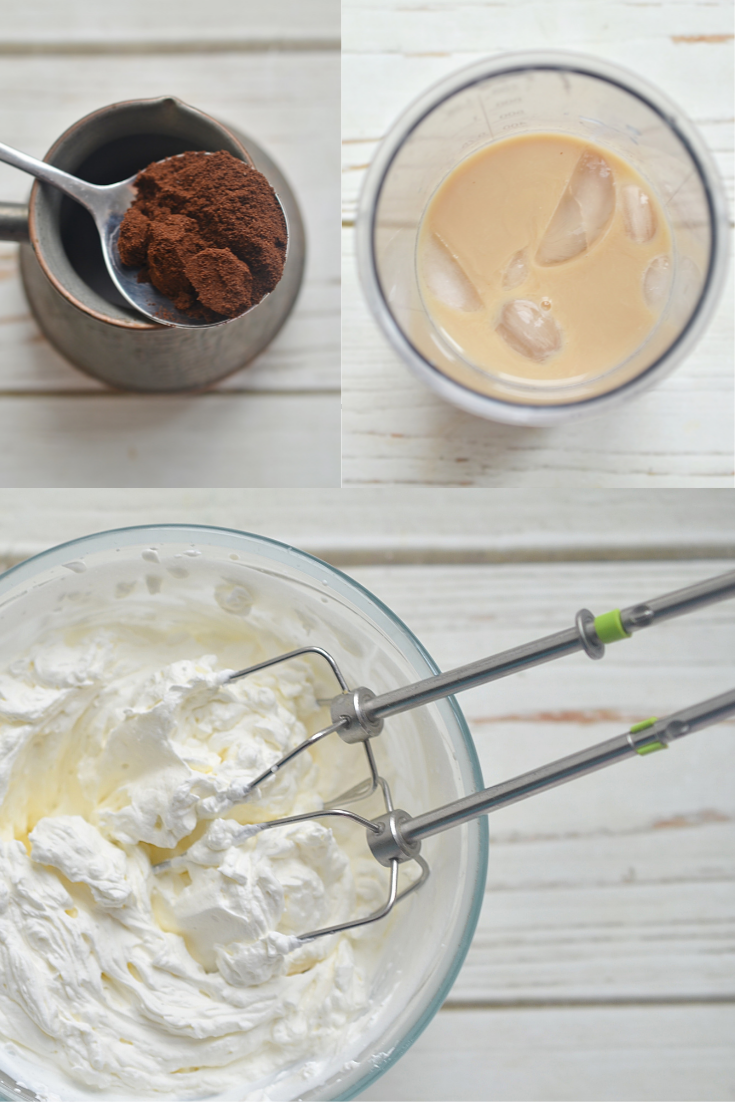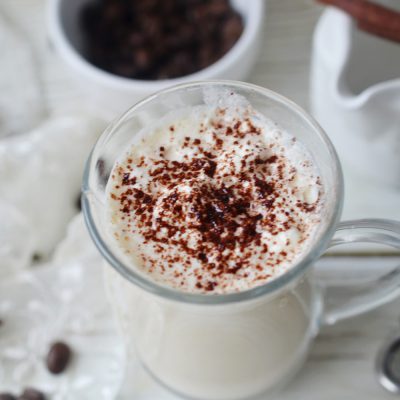 Nutella Frappuccino
Ingredients
2

Tbsp

Coffee beans to make 1.5 cups of Coffee

1.5

Cup

Milk

1

Tsp

Vanilla

3

Tbs

Nutella (Warmed in the microwave for 15-30 seconds)

2

Cups

Ice

Garnish of your choice
Instructions
Grind the coffee beans and make 1 1/2 cups of coffee. If you don't have coffee beans just brew 1 1/2 cups of coffee. Let your coffee cool down.

Add the coffee and milk into a blender followed by the nutella , vanilla and ice.

Mix all ingreadients in a blender on high speed until smooth and ice is completely crushed.

Pour coffee into glasses.

Add whipped cream and caramel drizzle or garnish of your choice. You could even add some additional melted Nutella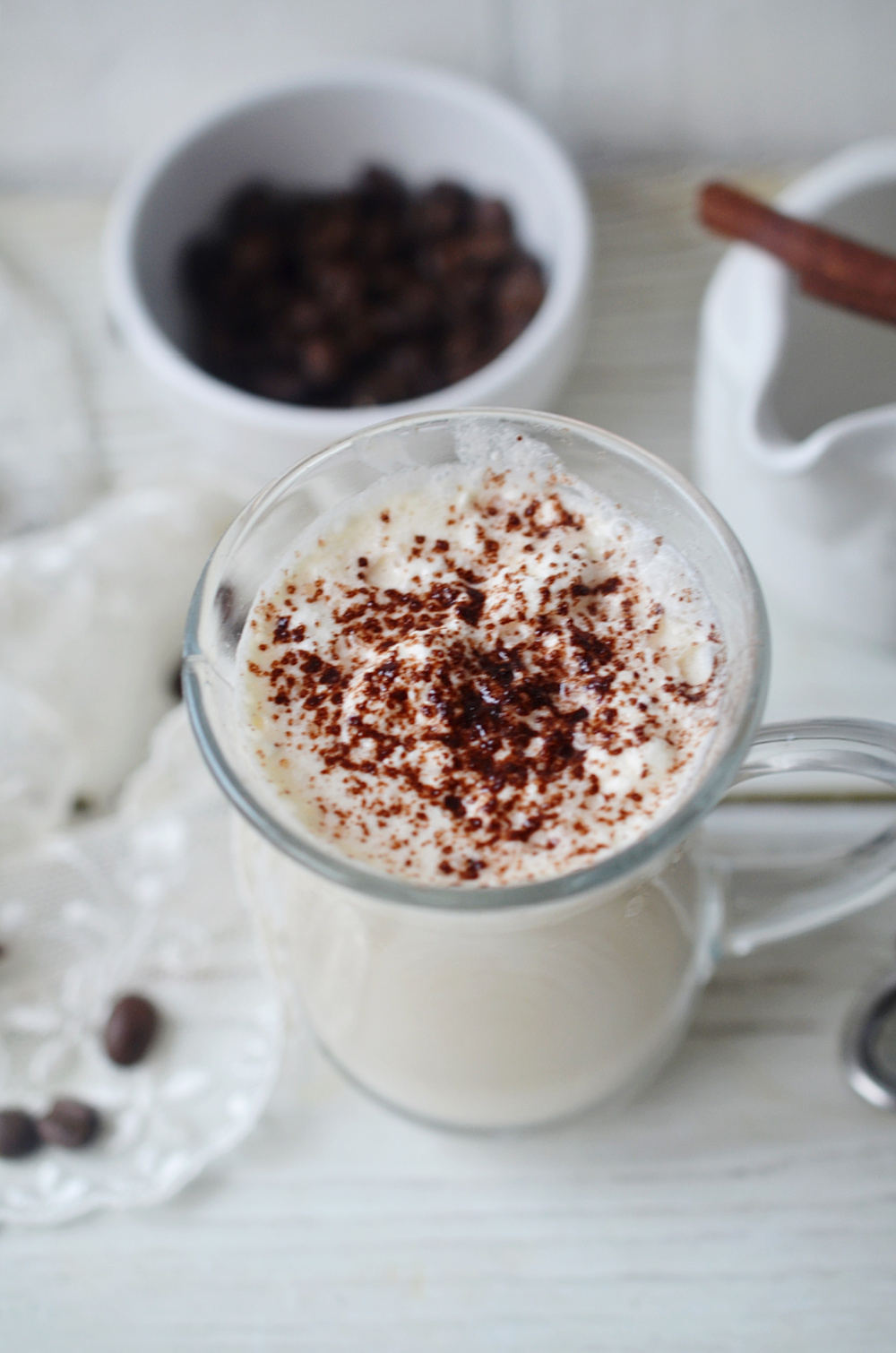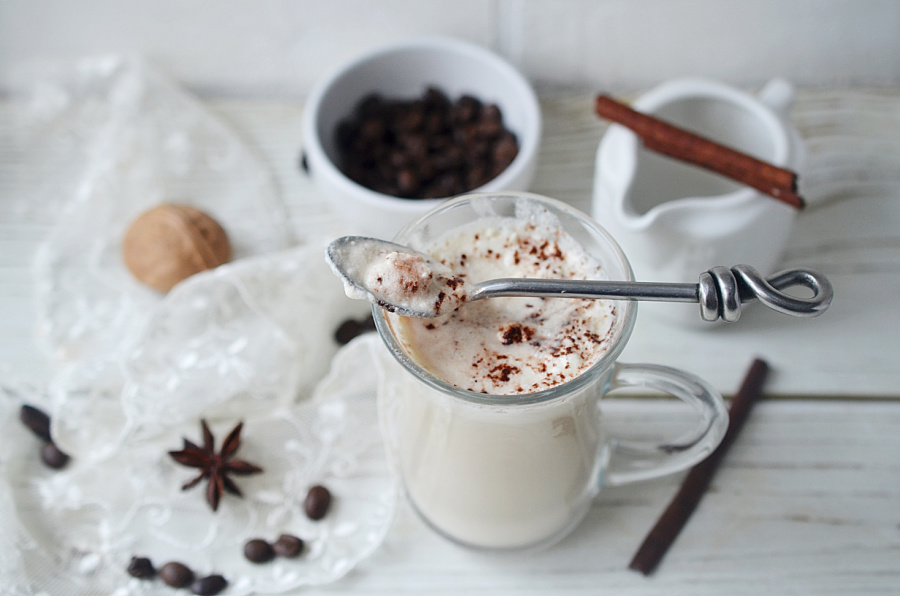 Now that you have the basics down, here are some more frappuccino recipes you could make
chocolate chip frappuccino
green tea frappuccino
icy frappuccino
tall vanilla bean frappuccino
grande mocha frappuccino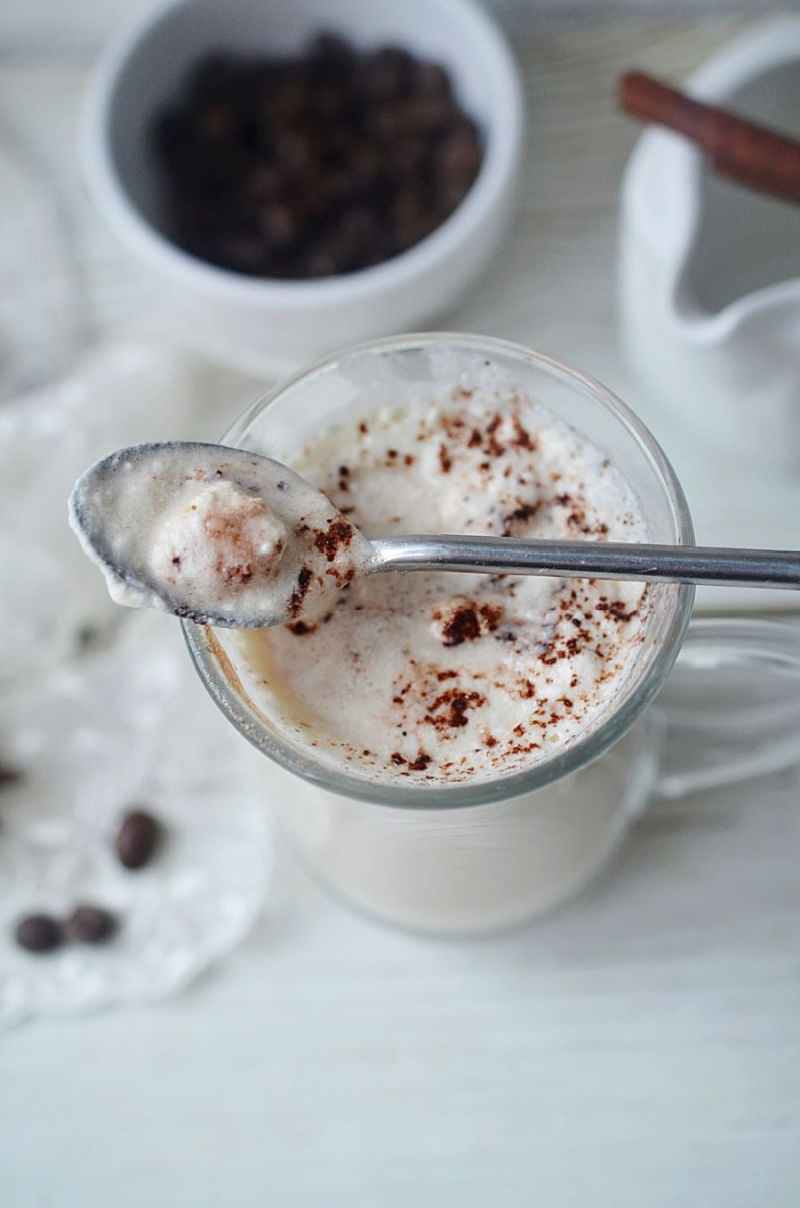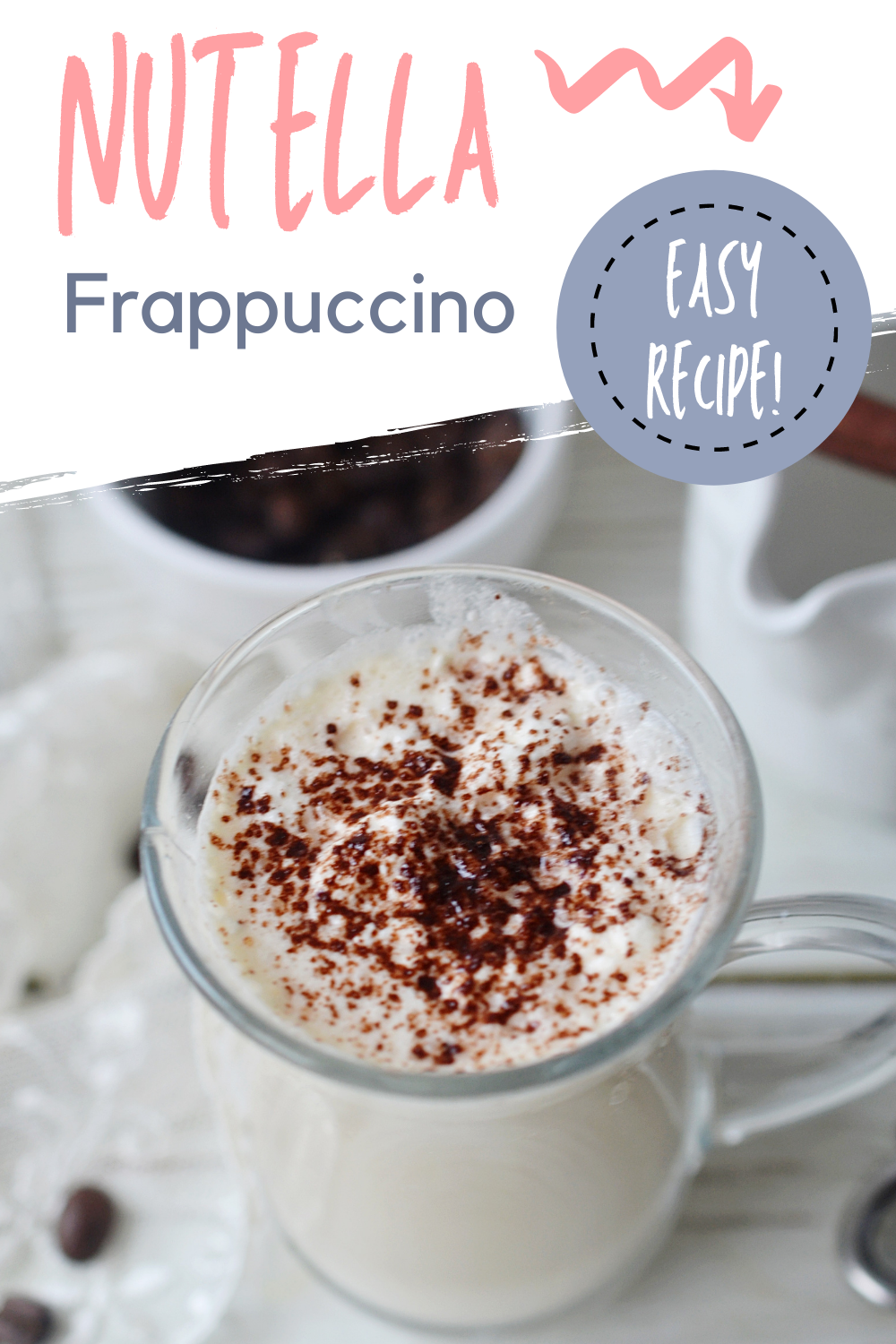 Let me know if you try this recipe, would love to see your pictures!