Candy Cane Peppermint Dip (5 ingredient dessert)
The holiday season is all about spreading joy, love, and of course, delicious treats. What better way to do just that than by whipping up a delightful, 5-ingredient dessert that will have your friends and family asking for more! My easy Peppermint Candy Cane Dip is a festive sweet delight that's perfect for holiday parties, potlucks, or simply indulging in the comfort of your own home.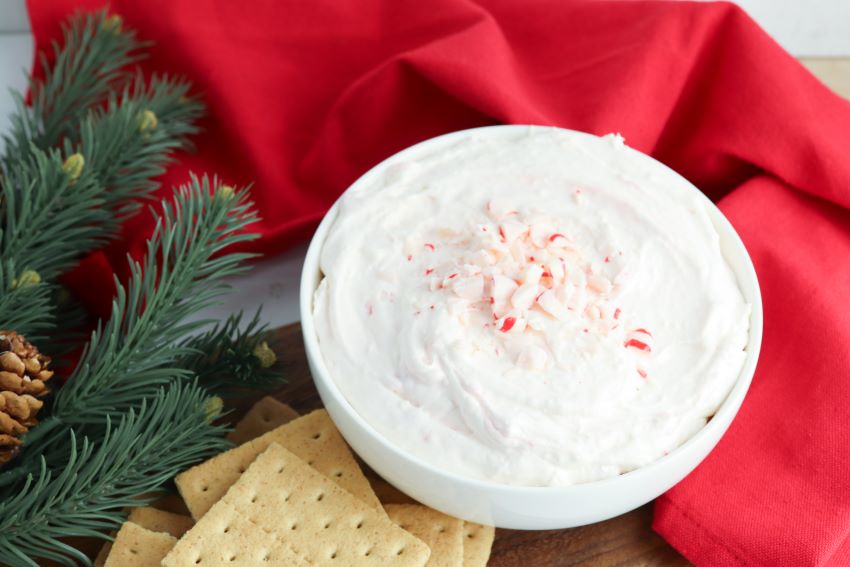 disclosure policy I am an Amazon associate, affiliate links are listed below
This Peppermint Candy Cane Dip is so easy to make with simple ingredients that you can find at your local grocery store,  you'll be amazed at the incredible flavor it delivers.
Here's how to create this delightful dessert in no time:
Step 1: Soften the Cream Cheese and Ensure it is at room temperature. This will make it easier to blend and result in a smoother consistency. 
Step 2: Mix the Cream Cheese, Sugar, and peppermint extract In a mixing bowl. Use an electric mixer, hand mixer, or stand mixer to blend them together until you have a creamy and smooth mixture with stiff peaks. Adjust the amount of peppermint extract t to your preference, depending on how strong you'd like the peppermint flavor to be.
Step 3: Fold in the crushed candy canes until well mixed. This will add a delightful crunch and a burst of peppermint flavor to the dip.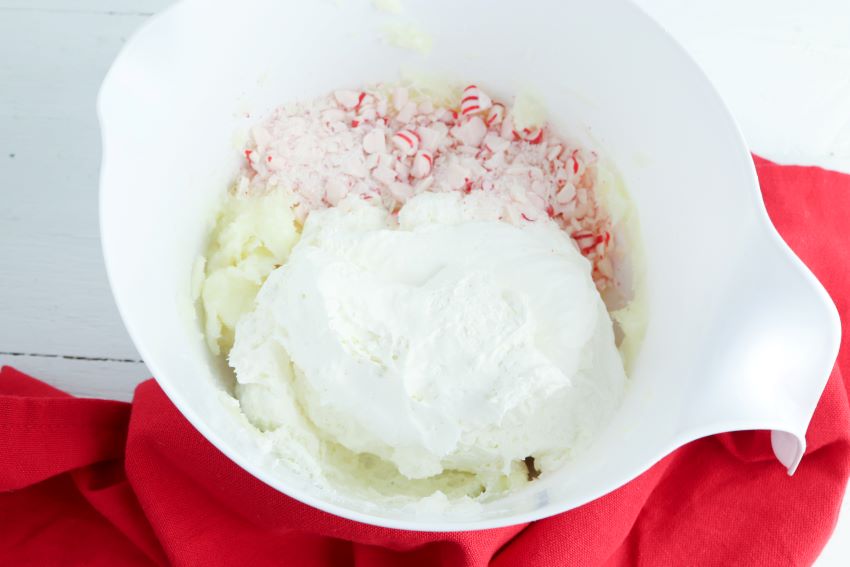 Step 5: Lastly, gently fold in the whipped cream. This will add a light and fluffy texture to the dip, making it perfect for dipping your favorite holiday cookies, pretzels, or fruit slices.
Transfer your festive dessert dip to a serving bowl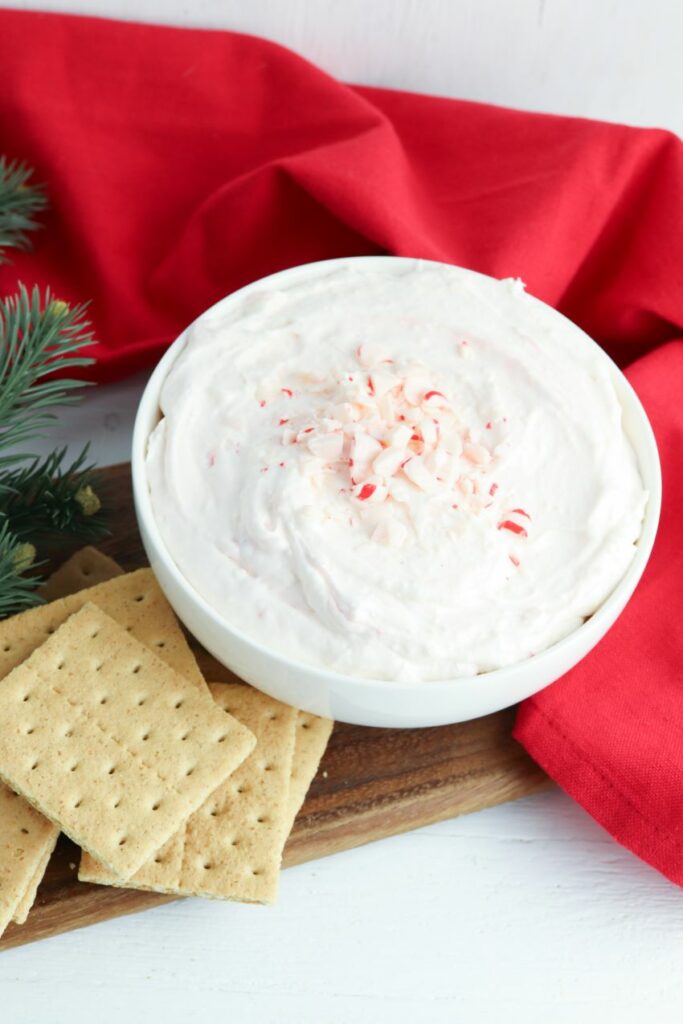 I highly doubt you will have leftovers but if you do you can store your peppermint fluff in an airtight container.
Serving Suggestions:
Peppermint Dip is so versatile and can be served with so many sides!
Cookie Dip: Serve it with your favorite cookies or crackers; such as shortbread, gingerbread, chocolate chip cookies, graham crackers, vanilla wafers, chocolate graham crackers, oreo cookies, chocolate cookies, chocolate wafers, or sugar cookies.
Fruit Dip: Pair it with fresh strawberries, apple slices, or even banana chips for a refreshing twist.
Pretzel Dip: Dip pretzel rods or pretzel crisps for a sweet and salty combination.
Frosting: Use it as a frosting for cakes or cupcakes to add a festive touch to your baked goods.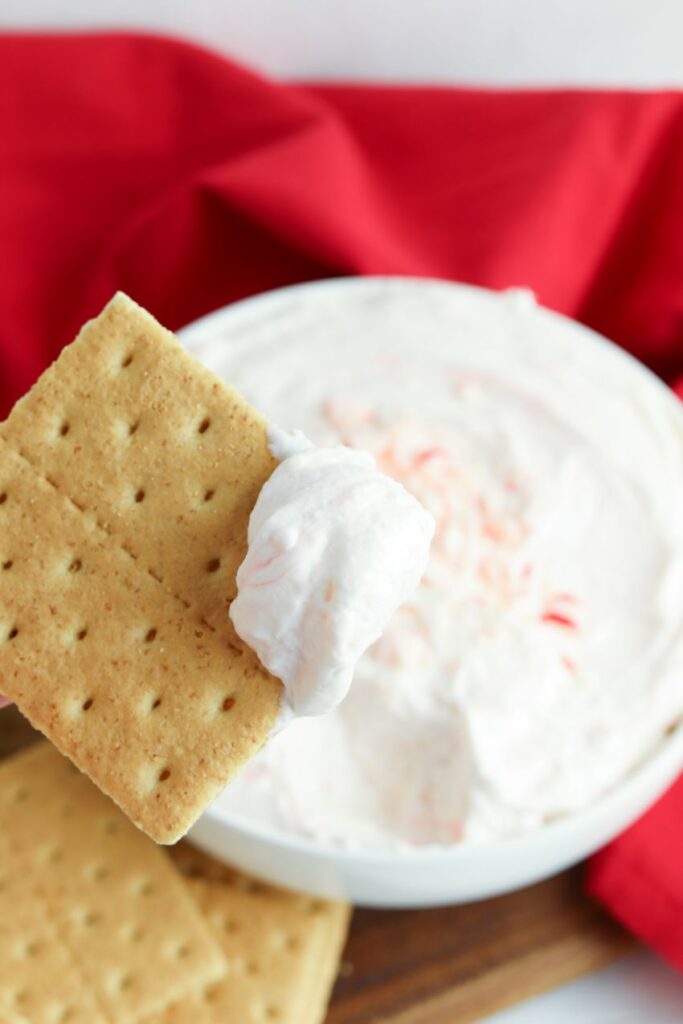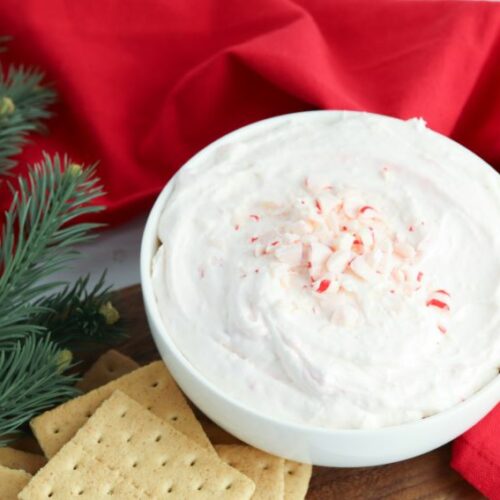 Candy Cane Peppermint Dip (5 ingredient dessert)
Ingredients
8

Ounces

Softened cream cheese

1

Cup

Sugar

1/2

Tsp

Peppermint extract

1

Container

Frozen whipped topping, that has been thawed (you can use cool whip)

10

Starlight peppermint candy or mini candy canes, crushed
Instructions
Beat together the cream cheese, sugar, and peppermint extract until well combined with a creamy and smooth texture.

Fold in the whipped topping and crushed peppermint candy until well mixed.

Chill the dip for at least one hour, then top with additional crushed peppermint candy before serving.
In just a few simple steps, you can create an easy dessert recipe that will become a holiday favorite among your loved ones. It's the perfect holiday flavor with a creamy texture, minty freshness, and the delightful crunch of candy canes making it a perfect dessert to celebrate the season.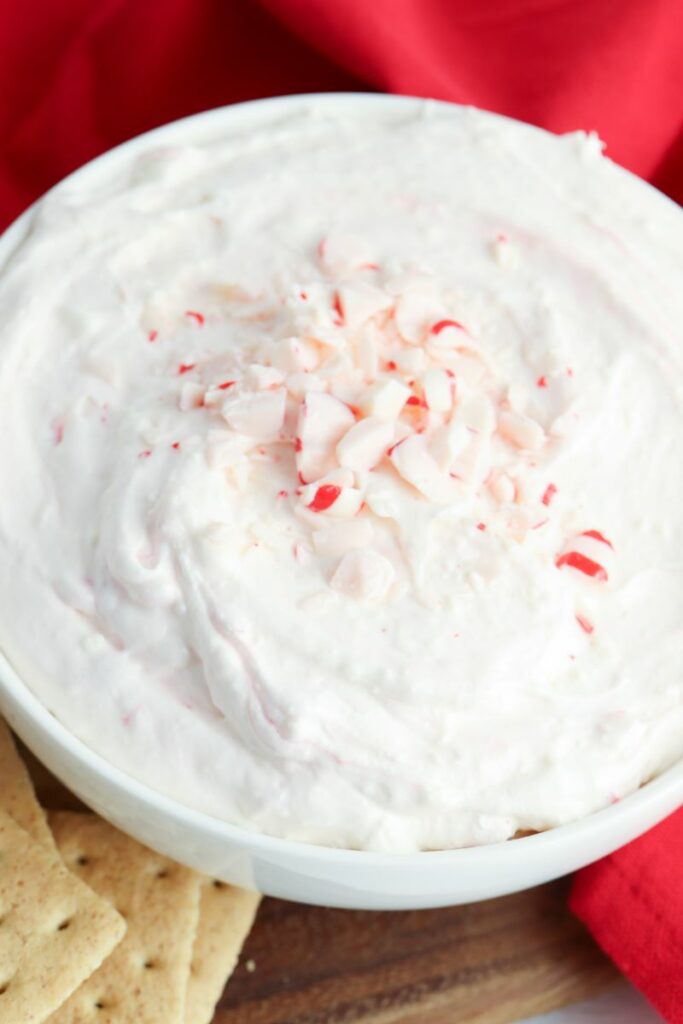 So, this holiday season spread the joy and sweetness with our 5-minute candy cane dip. It's an easy-to-make, crowd-pleasing dessert that will undoubtedly add a touch of festive magic to your holiday party. Enjoy and share the love!
If you love peppermint check out my Oreo truffles!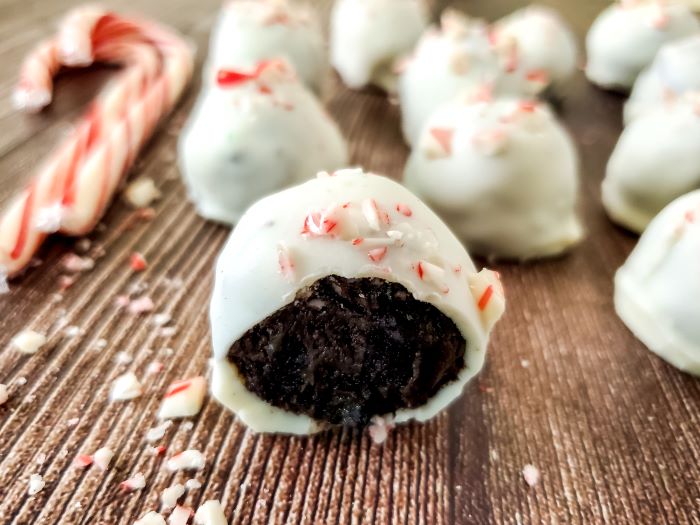 Thank you for stopping in today!