MODERN FARMHOUSE BATHROOM REVEAL
So happy to finally reveal the modern farmhouse bathroom with all of you today.  What started off with adding an accent wall with peel and stick tile turned into an unexpected mini remodel.  A few years back I had dropped a glass soap dispenser in the sink basin which left a pretty big crack.  My husband was able to seal it and it kept it from leaking. (or so we thought)  However, when I pulled the sink out of the bathroom to install the tile, all of the pipes had corroded and it was going to start leaking anytime so we decided to get a new vanity.  What a mess that became!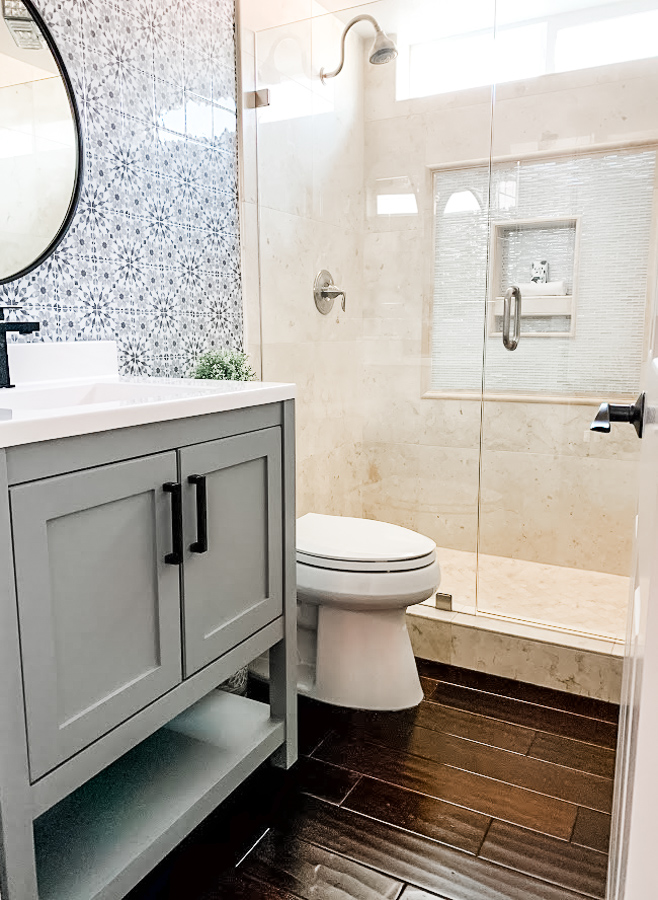 Our bathroom went through a complete renovation about 10 years ago after a fire so I wasn't ready to start ripping out the shower that had been replaced but was definitely ready to add few new touches. This bathroom is pretty small so trying to find a vanity that wasn't too big nor too small became quite the challenge.  Plus, I tend to overthink design decisions a whole lot.
When the first vanity arrived it came completely damaged, no problem, I understand that these things happen and they were happy to ship out a new one.  However, the new one took over 2 months to arrive, I never would have reordered the second one had I known it would take so long since this is our only downstairs bathroom and the one our oldest son uses.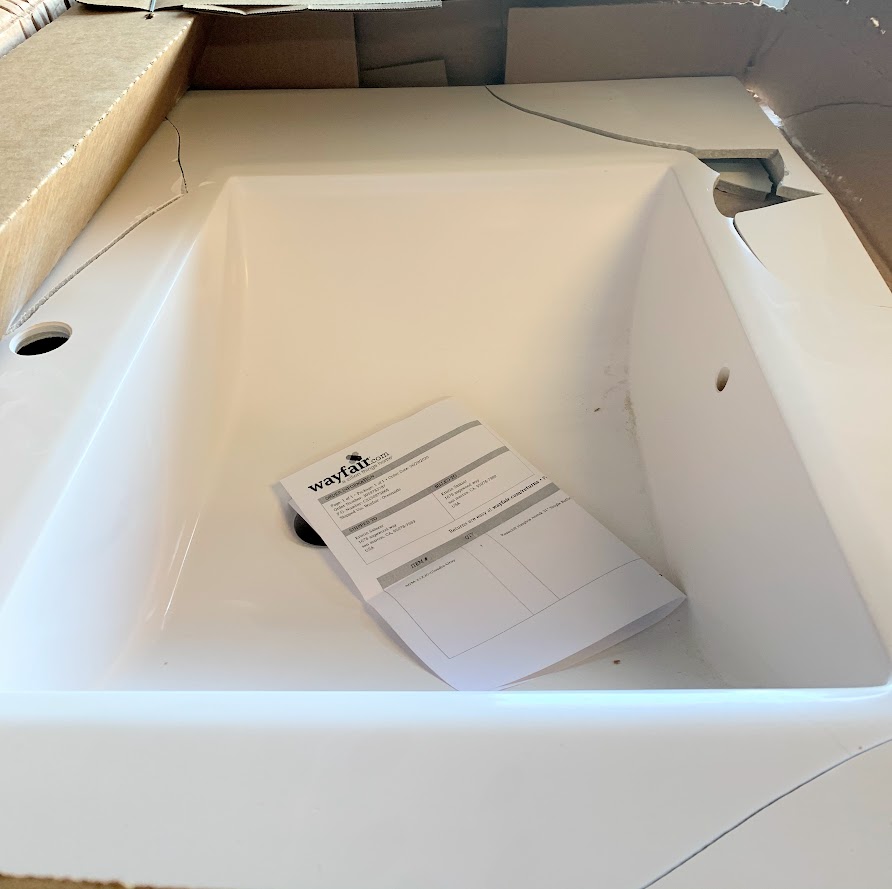 I guess it was just giving me more time to prep the bathroom right?  So when I took the stencil off the wall (opposite of the peel and stick tile wall) all of the paint came off with the stencil.  I guess there are some ways to get around this but the damage was already done.  So I had to completely sand down the whole wall which meant I had to repaint.  The bathroom didn't quite need a whole gallon but a pint wouldn't have completed the job so I literally mixed a bunch of leftover paint together and came up with my own color.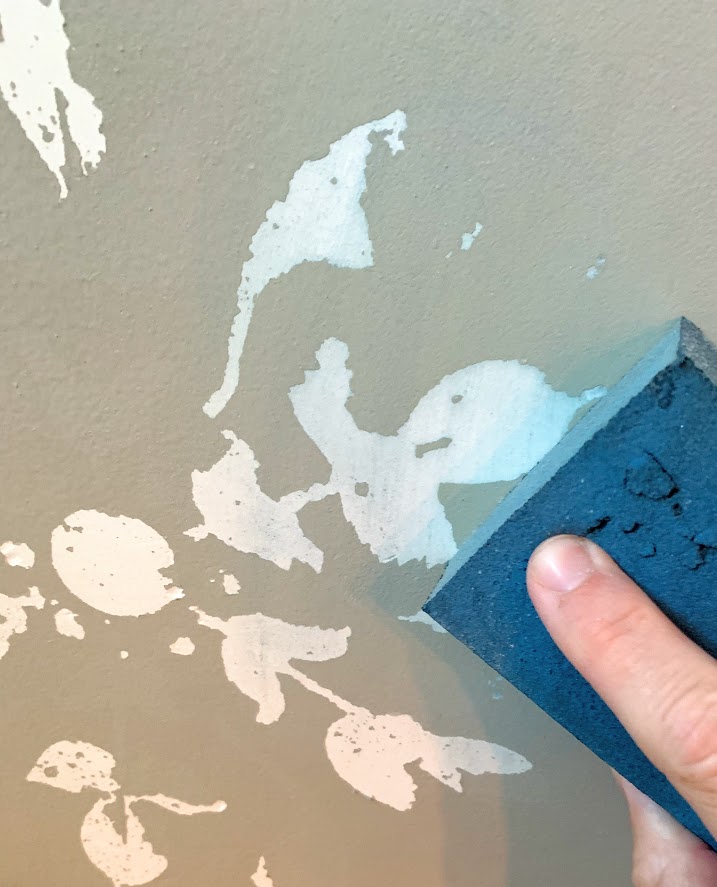 I ended up being much lighter in color which I loved, it brightened up the whole bathroom.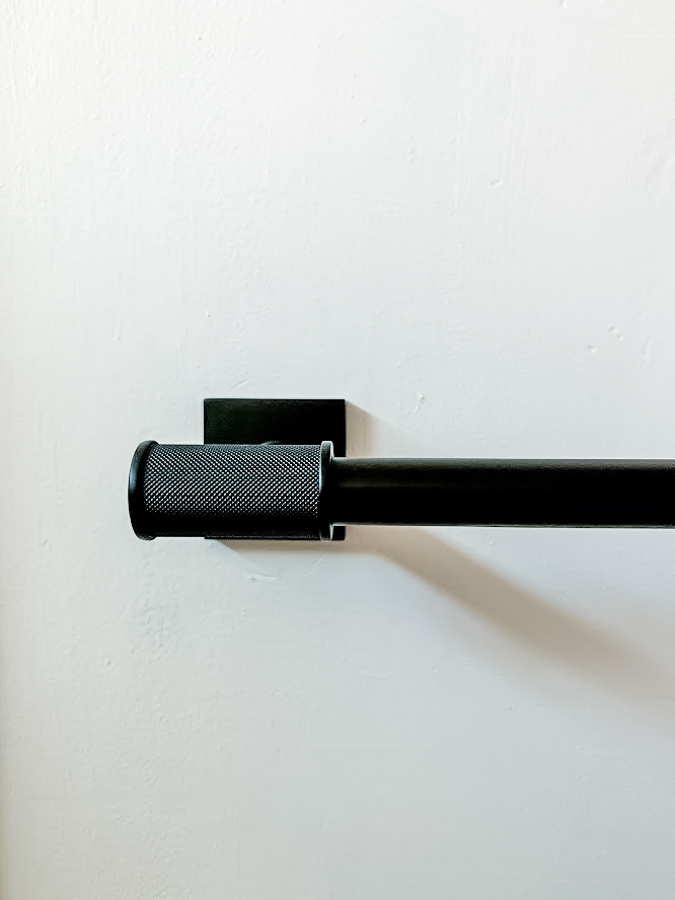 We added some new hardware to match the black mirror and light fixture and swapped out the silver handles on the vanity for some black ones.  I would have loved to upgrade the shower fixtures as well but we were on a budget, maybe down the road sometime.
The vanity might look a little on the larger side but it's the same size as our last one.  You always want to avoid using small furniture in a tiny space or it could leave the room looking smaller than it really is. The soft gray color and the white counter blends perfectly with our accent wall.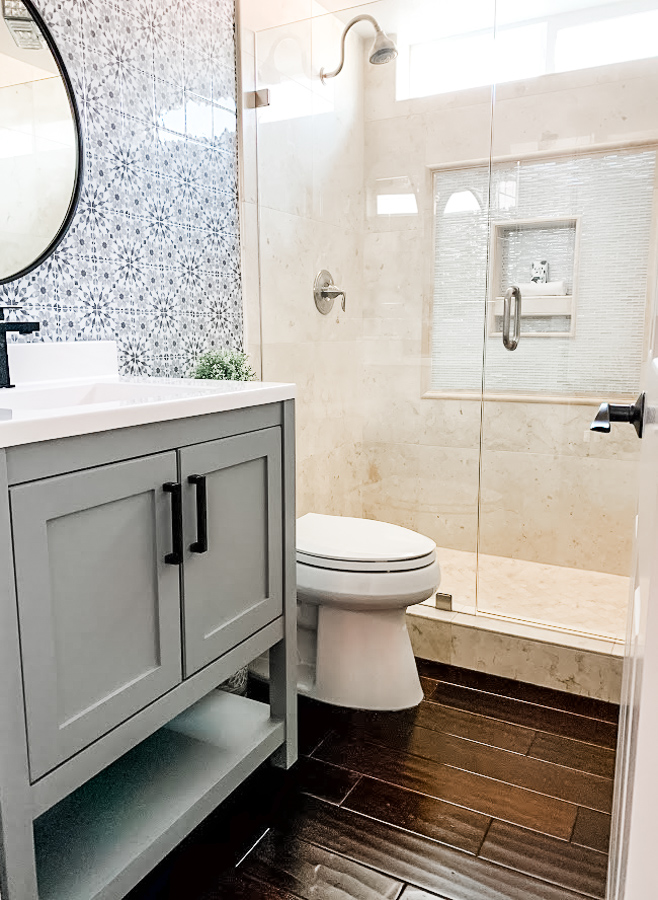 I wanted more space on the counters so it was important to find a single hole vanity for the faucet.  And since this remodel all started with a crack in the sink from a glass soap dispenser that dispenser below is plastic!  (I listed it below)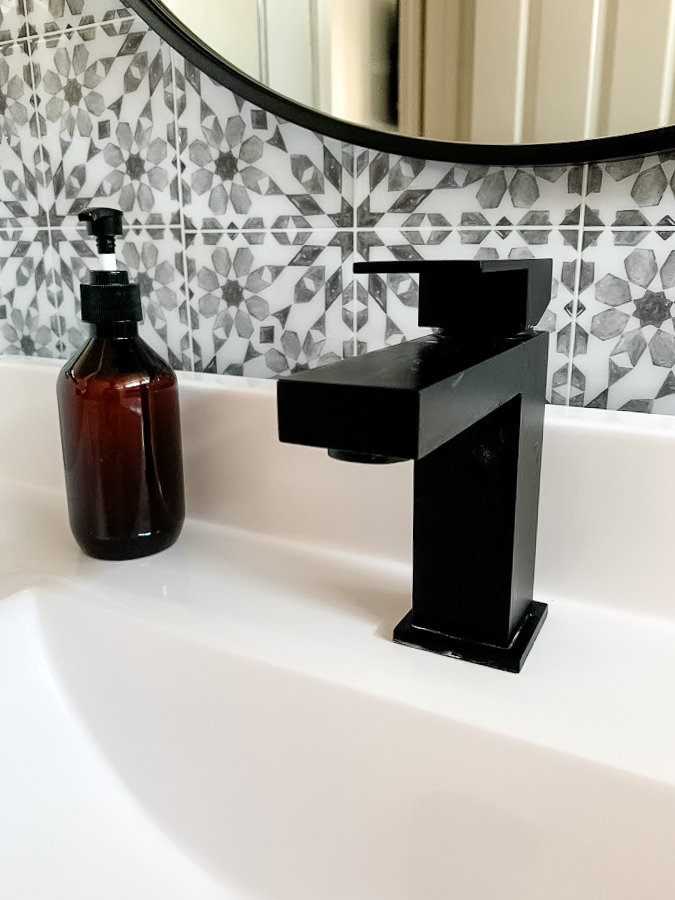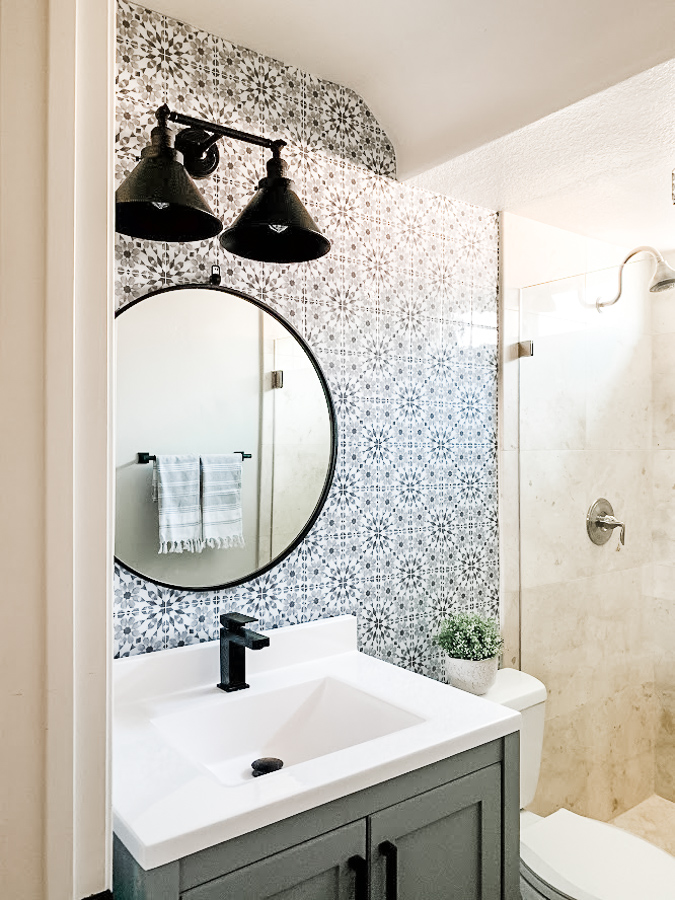 I found some beautiful Turkish towels that give off a little boho vibe.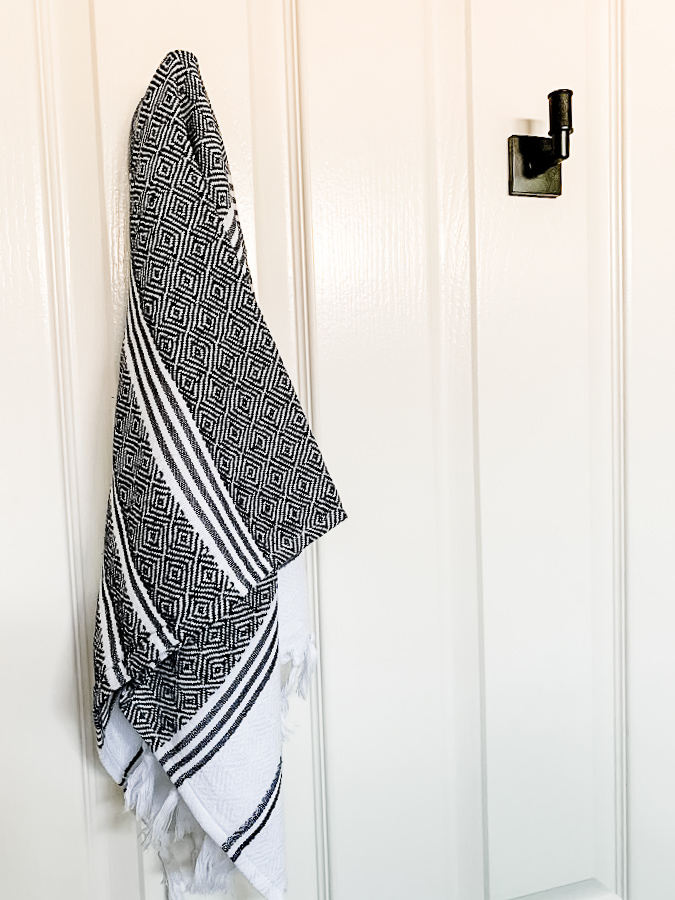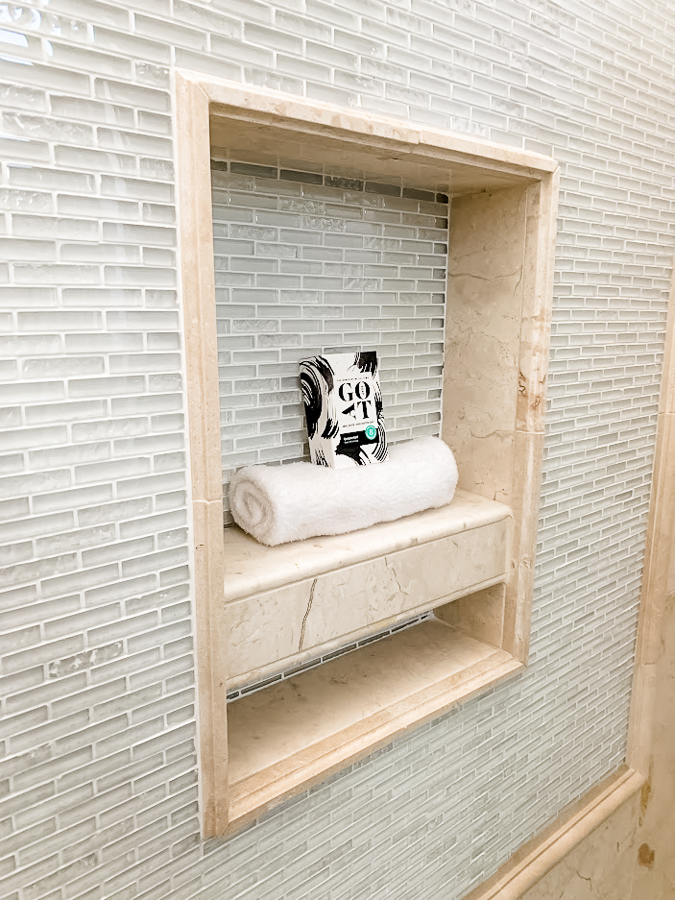 This bathroom may be small, but it's the main bathroom for guests and it also gets daily family use.  I'm so happy to have this little project done!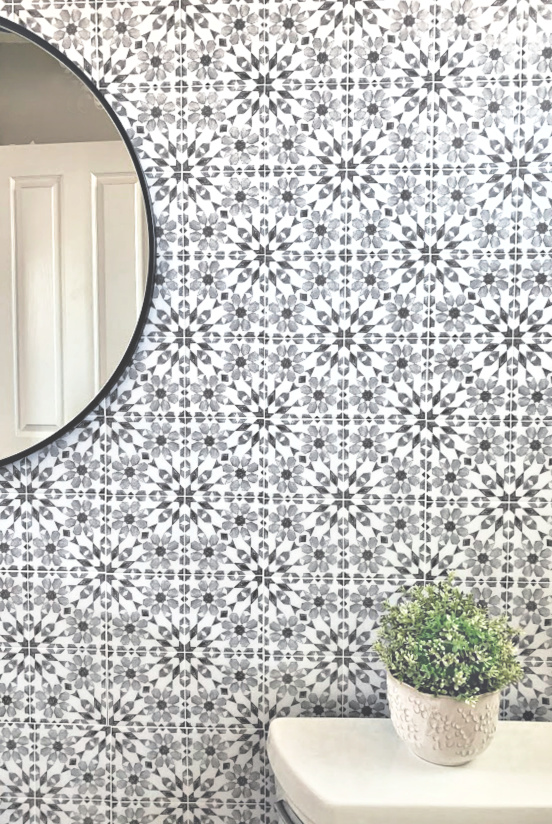 You can see what the bathroom looked like here just a few months ago: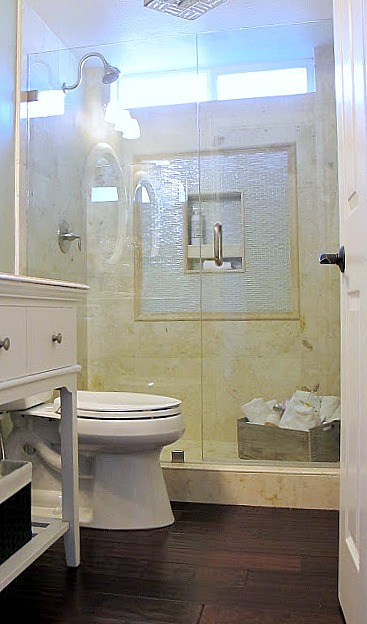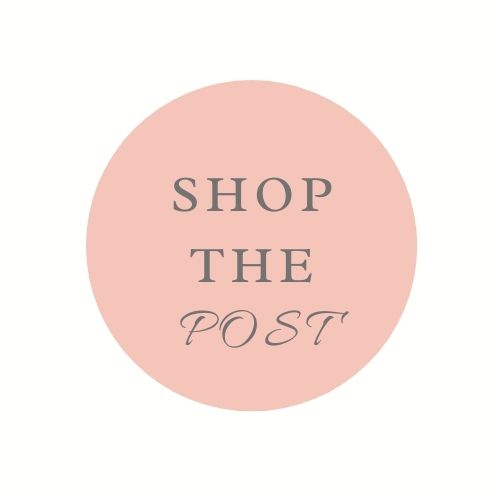 Black Bathroom Faucet with Single Handle
Towel Hook
Towel Bar
Vanity
Mirror
Peel And Stick Wallpaper
Light Fixture
Plastic Amber Bottle
Turkish Cotton Hand Towels
Shower:
CREMA Marfil Classic Polished Marble Tile, Liner molding, and Pencil Liner Moulding
Floors: 
5-inch x 1/2-inch wide planks
A HUGE THANK YOU TO MY HUBBY for all of his hard work!!!
Next project, paint the downstairs great room and kitchen! It sure doesn't sound fun especially since I don't really enjoy painting walls but it's definitely needed.
Thanks so much for stopping in today, wishing you all a great weekend ahead!