How To Make A DIY Spoon Ring
These DIY Spoon Rings are pretty simple to make and we made these without any special jewelry tools. Spoon rings have been popular for many years, and they are a great way to turn old cutlery or family heirlooms into beautiful rings.
Spoon rings are widely considered to have originated in 17th century England when people began to make rings from the flatware. The legend goes, they would steal pieces of silverware from their master's home, and shape it into a ring to give their loved ones because they couldn't afford a true wedding band.
I have to credit my son, Nate,  for this post, he is exceptionally talented when it comes to arts, someday I'll have to share his drawings, ceramics, paper mache and so much more. He started making these spoon rings for his friends, did I mention he has the biggest heart ever as well. I was so impressed, I asked him to show me how, it was super fun watching him work his magic!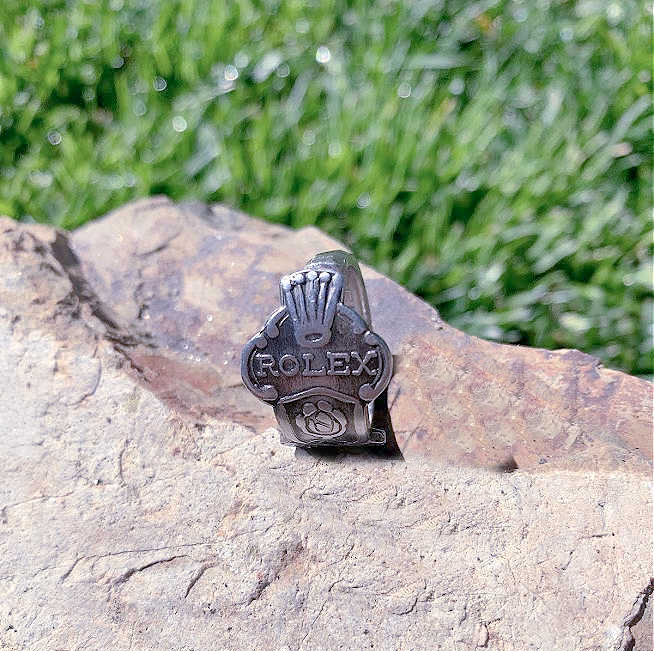 As we were making the rings I realized I still have my baby spoon that my mom kept for me. I'm so tempted to turn it into a ring but at the same time, I kind of want to just keep it as it is. I'm thinking this could become an emotional DIY projects for some if your working with parents or grandparents flatware.
I still have all of my mom's jewelry that still needs to be split amongst my siblings. Every single piece I remember her wearing and remember a story behind the piece. As a little girl, I was always in awe of her wedding ring, so many beautiful memories.
Here is a before of 2 of the spoons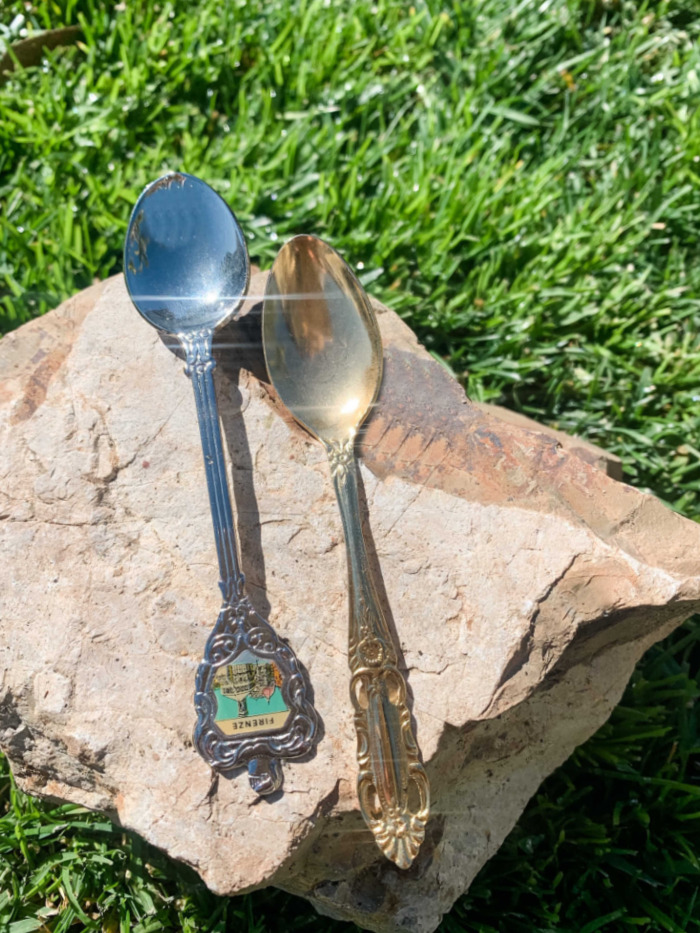 Materials Needed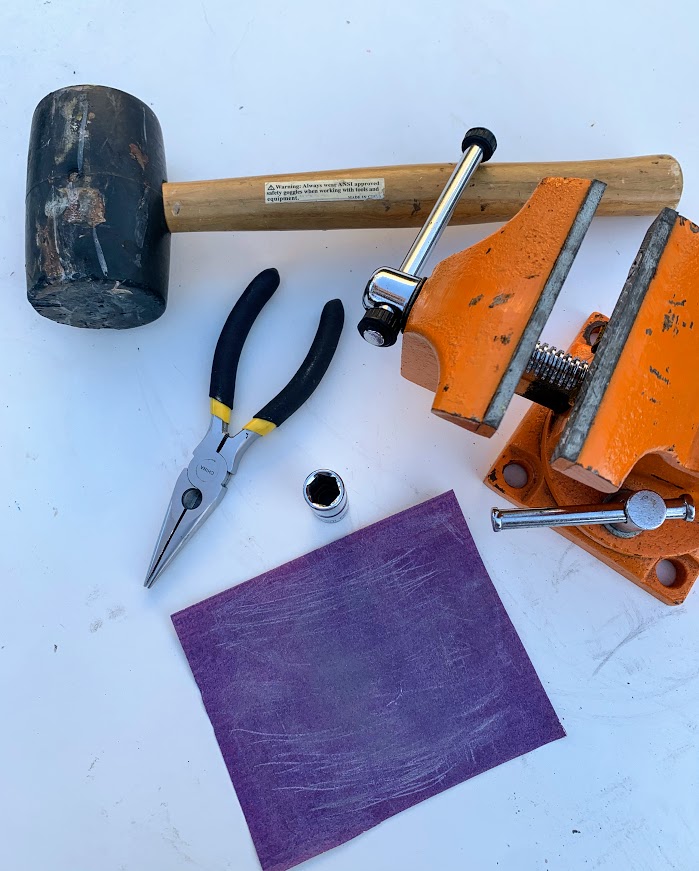 Affiliate links listed below
Sterling Silver Spoon
Ring Mandrel (We used a drill bit, you could also use a Socket wrench )
Hack Saw  (We used the Vise Tooll)
File or Sand Paper
Rubber Mallet (do not use a regular hammer)
Ribbon or strip of paper
Pliers
Directions:
Select Your Spoon
First thing, you want to make sure you are using the right kind of silver spoons. These particular spoons were found at our local thrift stores and the swap meet in downtown San Diego for $1 apiece. We usually go to the swap meet once every other month as a family and make a day of it with shopping and lunch. It's so fun to find treasures. You could also find old spoons at garage sales, flea markets or Etsy shops. When you do go searching for your spoon, make sure it's sterling silver by checking the stamping on the back. It should either say .925 or sterling. Stainless steel is considerably harder than sterling silver and would be difficult to work with. You also want to look for a spoon that is on the thinner side, the thicker it is, the harder it is to bend.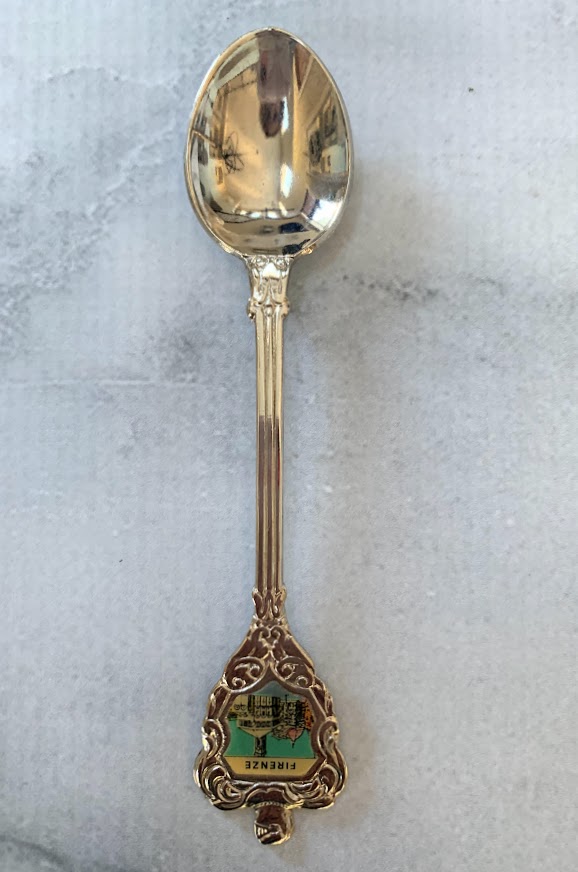 Measure Your Finger
Using a piece of paper or ribbon, wrap it around your finger, and mark where it overlaps.
Mark that length on your utensil.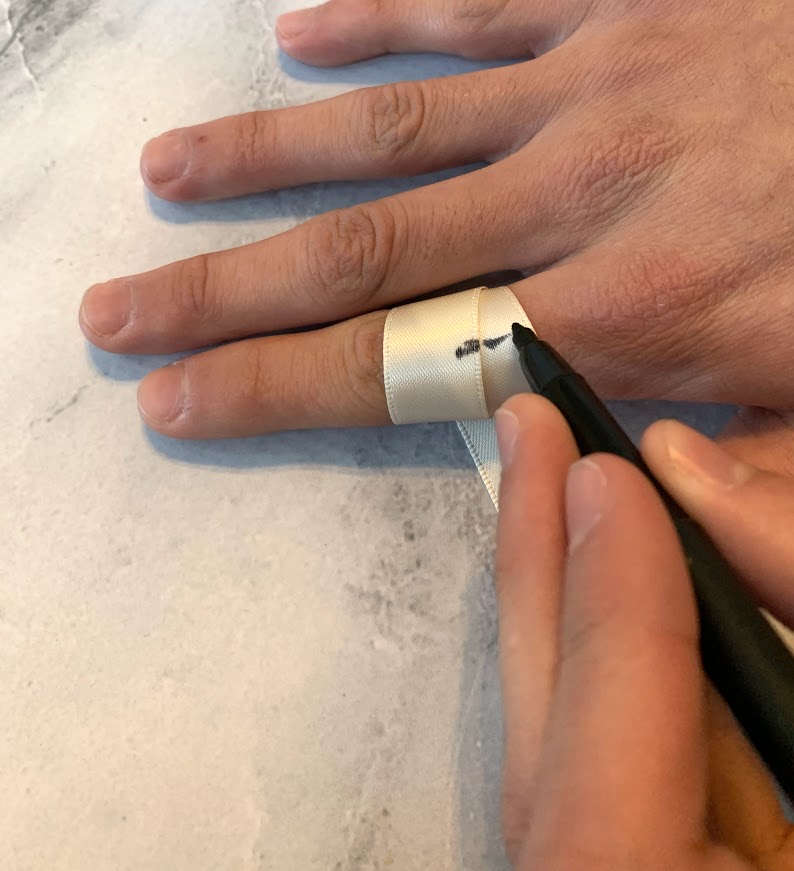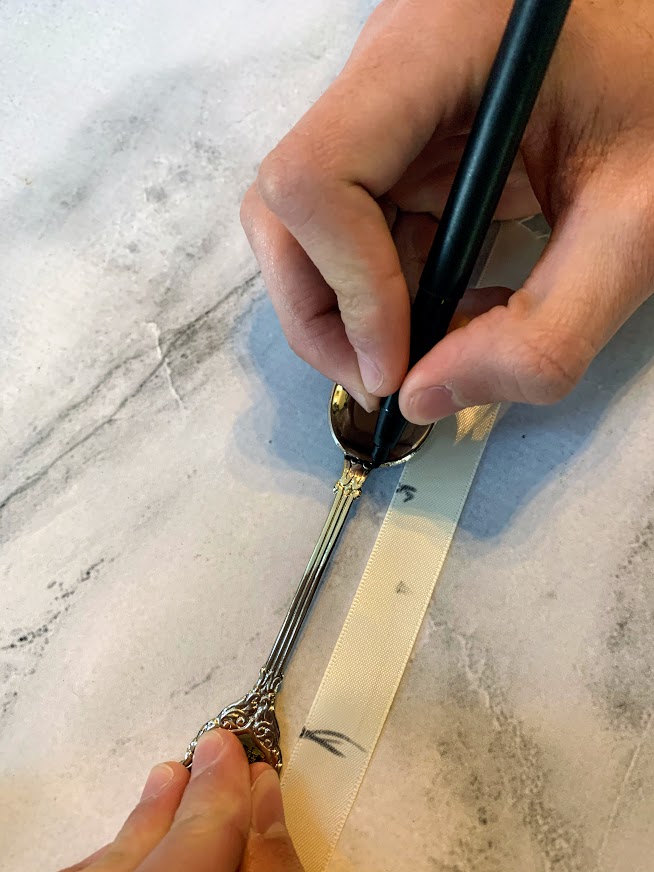 Making the Cuts 
Cut the bowl and cut off the spoon handle based on the measurements on your ribbon/paper. You can make the cuts with a hack saw or put the spoon in the vice and hammer it with your rubber mallet until it is completely bent, snip with your pliers. 
Note: If you want to keep the end of the spoon (the handle) as part of your ring, you would only be making one cut that fits your measurements.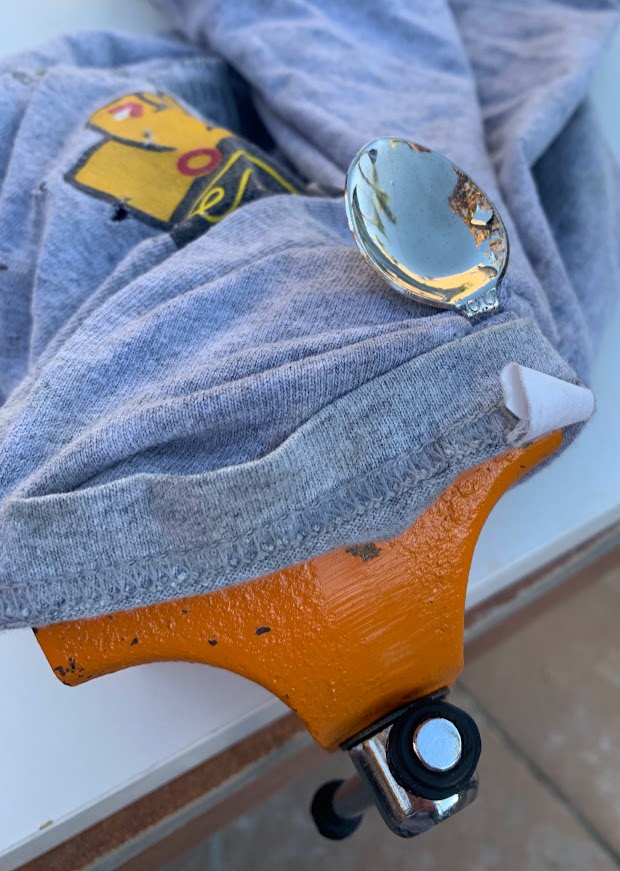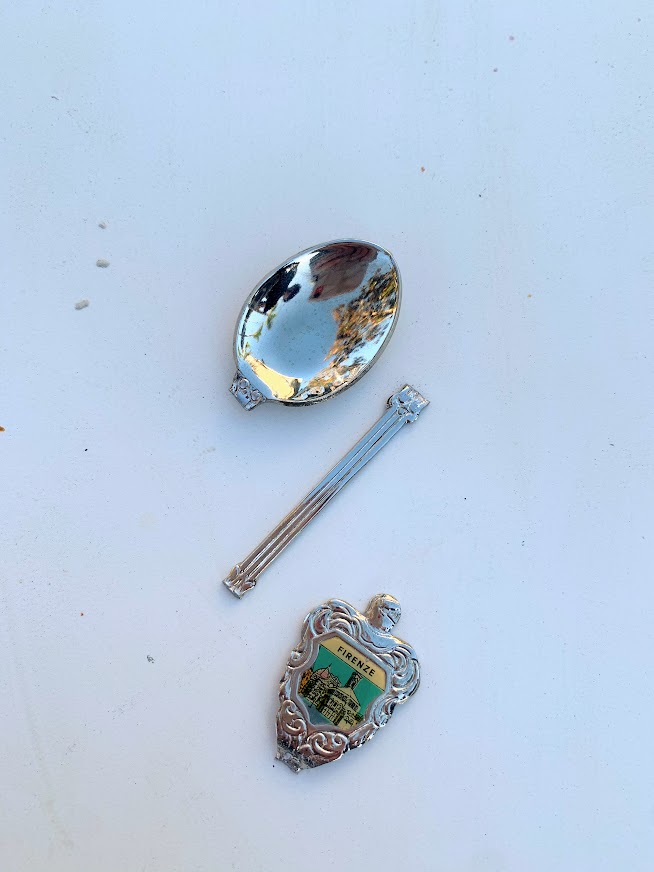 File the ends
File any sharp edge and the cut ends with either a metal file or coarse grit sandpaper. You want to get a super-smooth finish.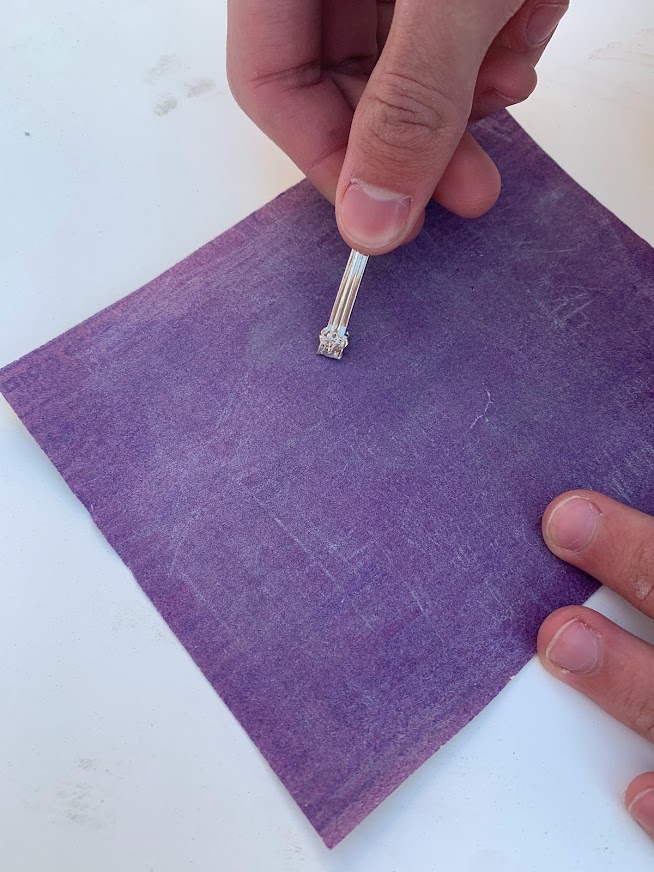 Bend & Size
I recommend wrapping some sort of cloth around the bit and the mallet to protect the metal from scratches. (I took the cloth off the bit for photo purposes)
Put the spoon and the drill bit into the vice. Using the rubber mallet slowly bend it around the bit. Keep repeating this process of pounding and shaping the spoon around the bit.
Almost There!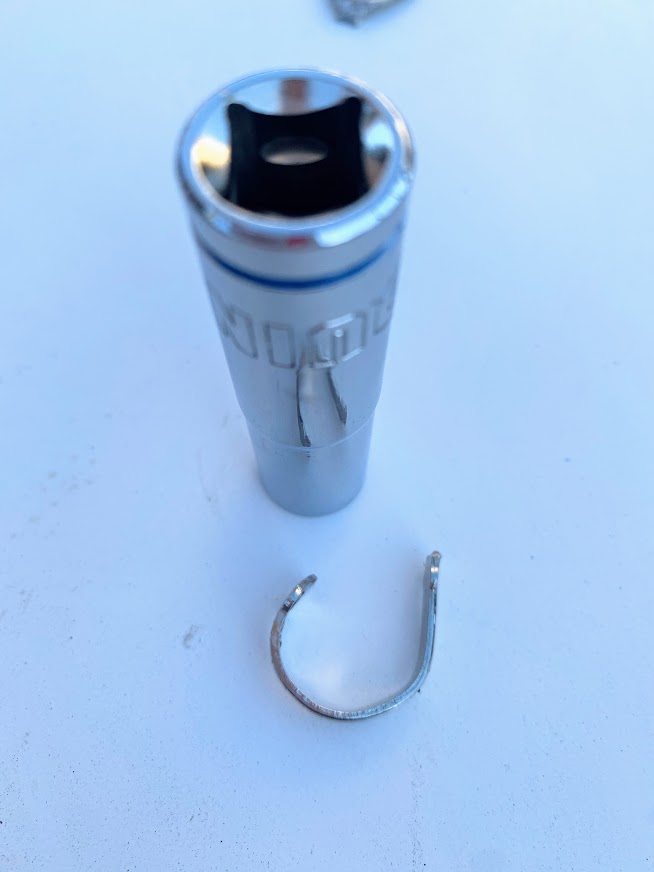 Use pliers to help you close the gap.
Polish (optional)
If your spoon is old and dull you might want to polish it. 
I want to say this whole process took us about 1 hour, if we had all the right tools we might have shaved about 15 minutes off, but really what we used worked just fine.
Now stand back and admire your beautiful creation, feel free to get creative here and make this your own style. These would make the perfect gift for mother's day!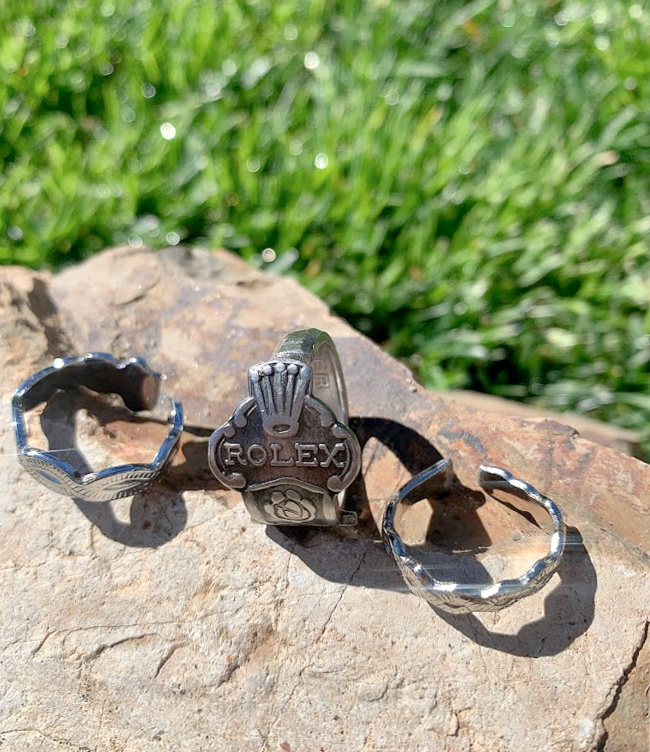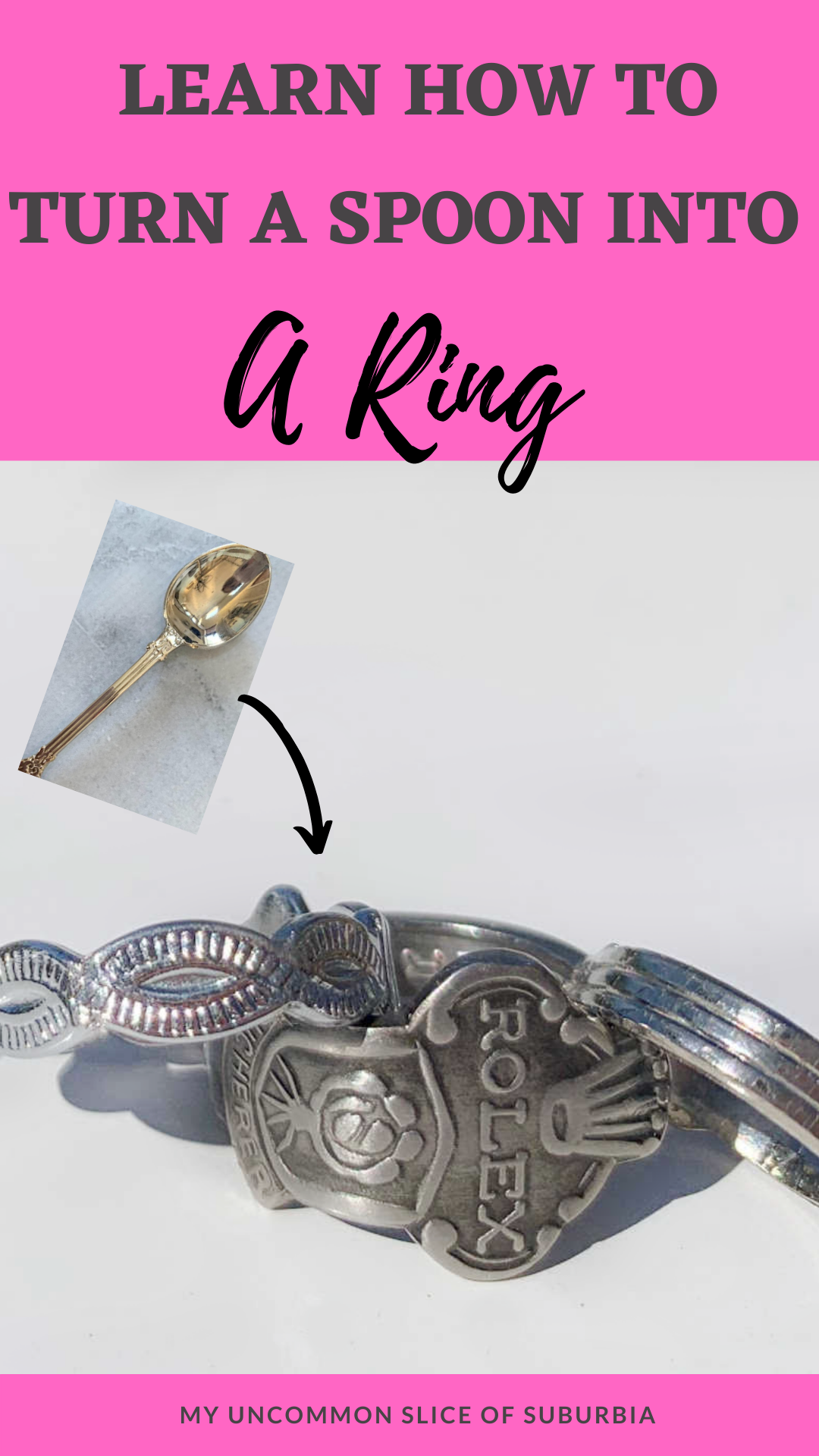 please share if you decide to make a DIY silver spoon ring, I would love to see your pictures, I can't wait to make our net batch of rings!
Time to see what all of my thrift store friends made with their treasures this month!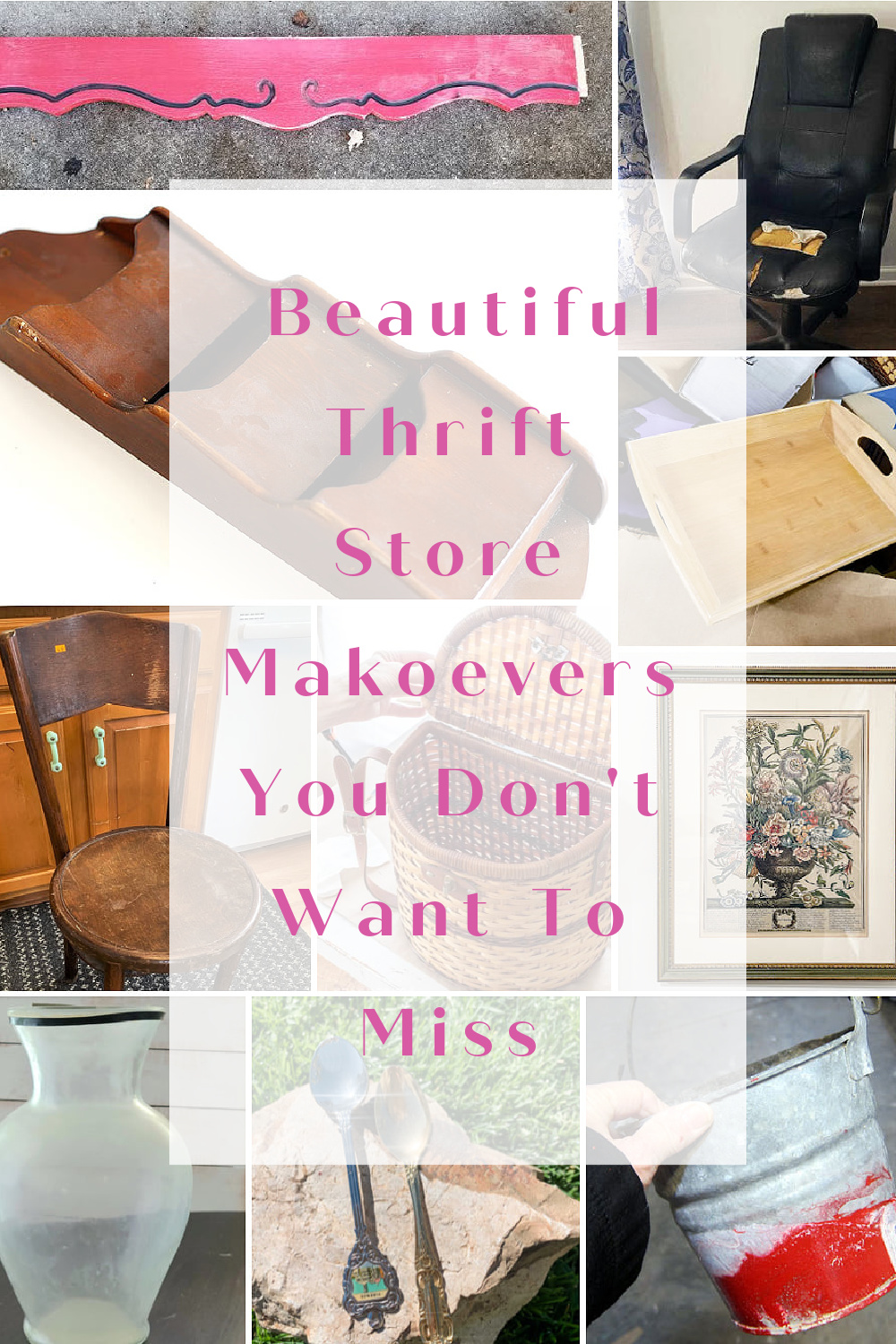 DIY Artisan Vase from Domestically Speaking
Reclaimed Wood Valance Shelf Redo from My Repurposed Life
Flower Pot With Metallic Copper Spray Paint from Petticoat Junktion
DIY European Art with Thrift Store Frame from Our Southern Home
How To Make A DIY Spoon Ring from My Uncommon Slice of Suburbia
Upcycling a Bamboo Tray with Blueprint Paper from Sadie Seasongoods
Upcycled Mail Organizer from House Of Hawthornes
Vintage Bentwood Chair Makeover from Organized Clutter
Trash to Treasure Picnic Basket from Reinvented Delaware
Office Chair Update from Shop At Blu