I ran across this picture on pinterest and my mind won't stop spinning.
The bathroom was photographed by Emily Gilbert Photography.
I look at this and think, this is achievable, or am I just crazy nuts?  Our bathroom is 11 years old and the only thing touched has been the cabinets which I gel stained.
OK, warning…this is real life, boob lights and all.  I didn't clean or move the mess to take a picture, this is what life is like with 3 kids a husband and two dogs that ALL shower and get ready in this space. Well, I guess the dogs don't really get ready here. .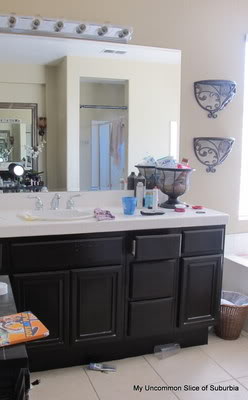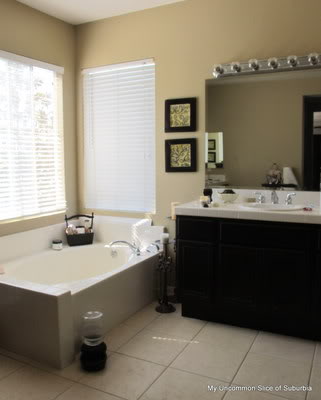 I don't know about you but I see potential and I'm not talking about spending much money.  Paint, wood, fabric and a lot more paint.
Oh I can't wait!
Have a fabulous weekend and Happy birthday to my sweet Grayson, you have been a true blessing in our lives, I love you!