Christmas Home Tour Part 2
I am so thankful to Home Decorator's Collection for sponsoring this house tour. As always, all opinions are 100% my own.
I am so excited to bring you part 2 of our Christmas home tour!  I've teamed up with some of my favorite blogging buddies along with Home Decorators Collection to share lots of fun holiday home tours.  At the end of the post, 2 lucky readers will get the chance to win a $250 Home Decorators Collection gift card, so make sure you enter.  A HUGE thanks to Erin from DIY on the Cheap for putting this incredible tour together and having me join in on the fun!
For part 2 of the tour the kids and I decorated the upstairs.  If you missed part 1 of the tour you can find it right here.  You see how I worked that out, no way could I ever decorate the whole house at one time that would mean the whole house would have to be clean, not happening.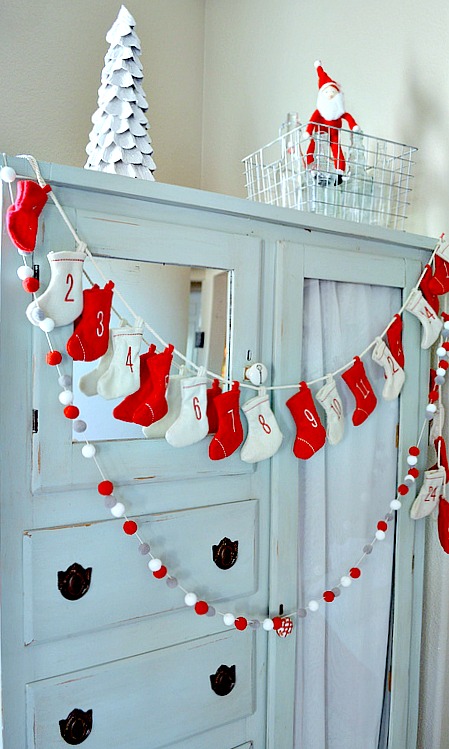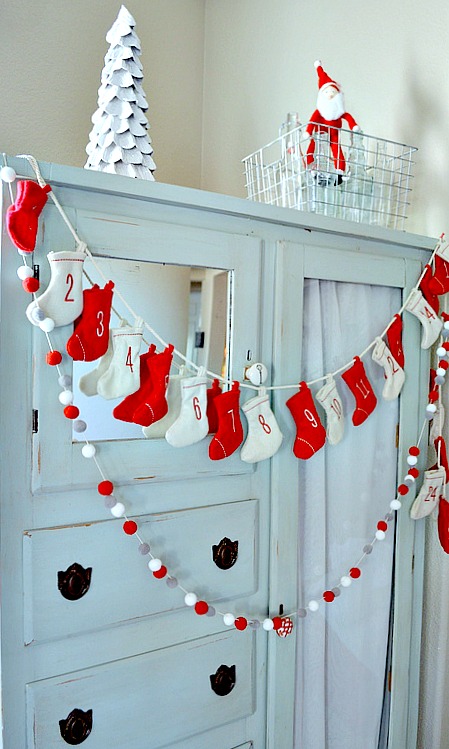 We used lots of fun pops of red decked throughout to bring a little cheer! Against the painted armoire I added the felted stocking advent calendar and felted ball garland.   Since taking the pictures I've added little treasures inside the stockings and special things to do with the family.  The boys look forward waking up to it every morning!
The loft is my workspace, the kids workspace and kid hangout, it's definitely a busy little space that get's lots of use.   I started off by placing  this beautiful glittery bristle pine garland on top of the bookshelves. I love the flocking mixed in with the pinecones, it is even more pretty all lit up at night!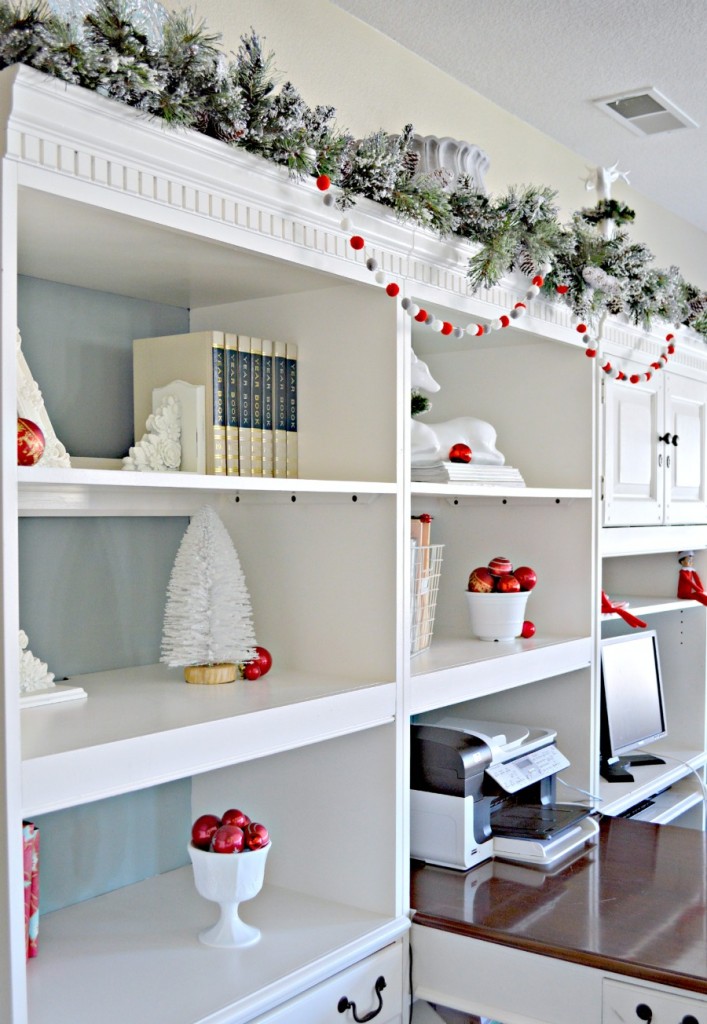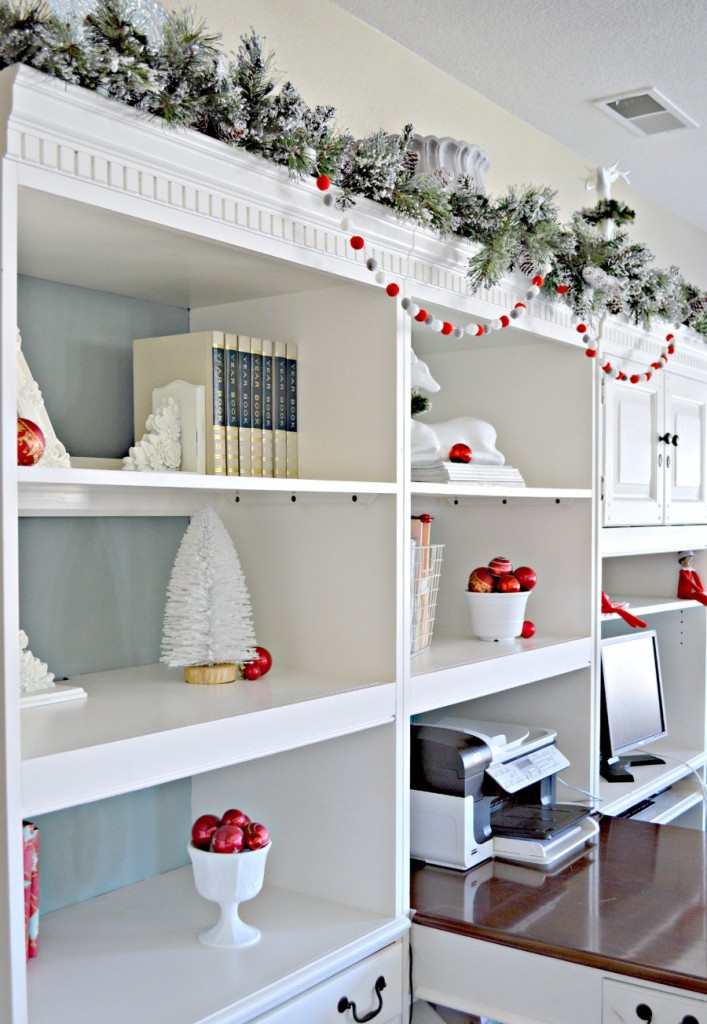 Notice TWO elf on the shelves in the corner?  A yew years back I forgot where I hid our elf for the following year so I had to go out and buy another one.  Of course the old elf was found, hence 2 elfs…. which equals double the trouble.
I added lots of pops of red, adding dollar store ornaments inside bowls makes for an inexpensive display. The felt ball garland ties everything together perfectly!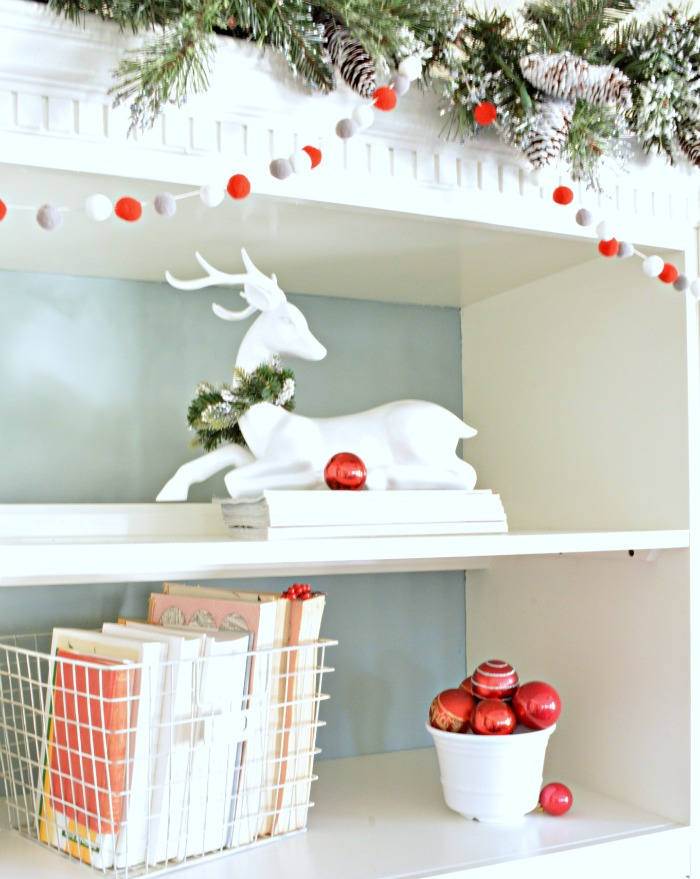 The other side of the loft is where the kids hang out, watch TV, play games, wrestle, make tents, have fun sleepovers and get super destructive.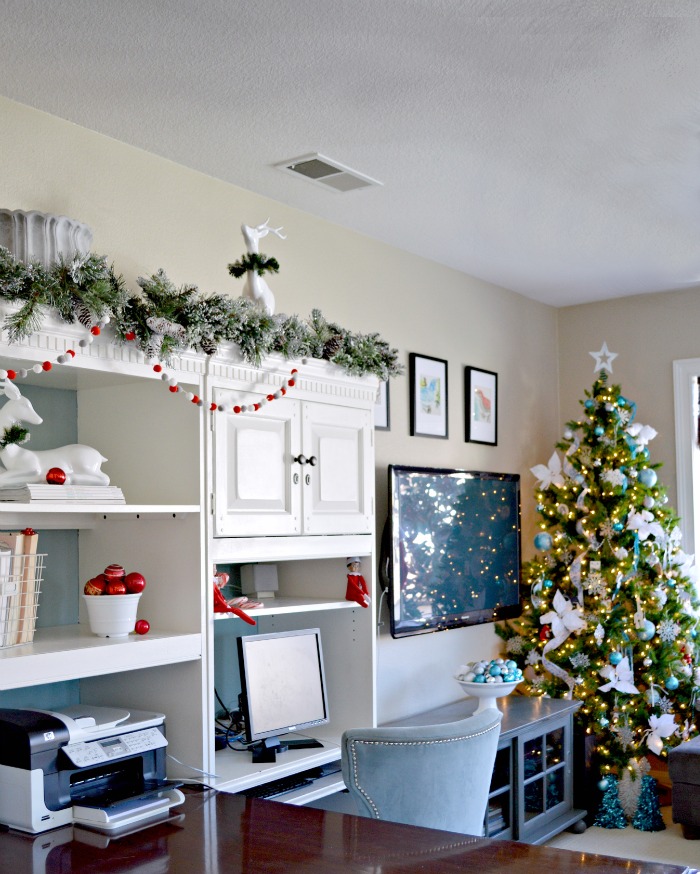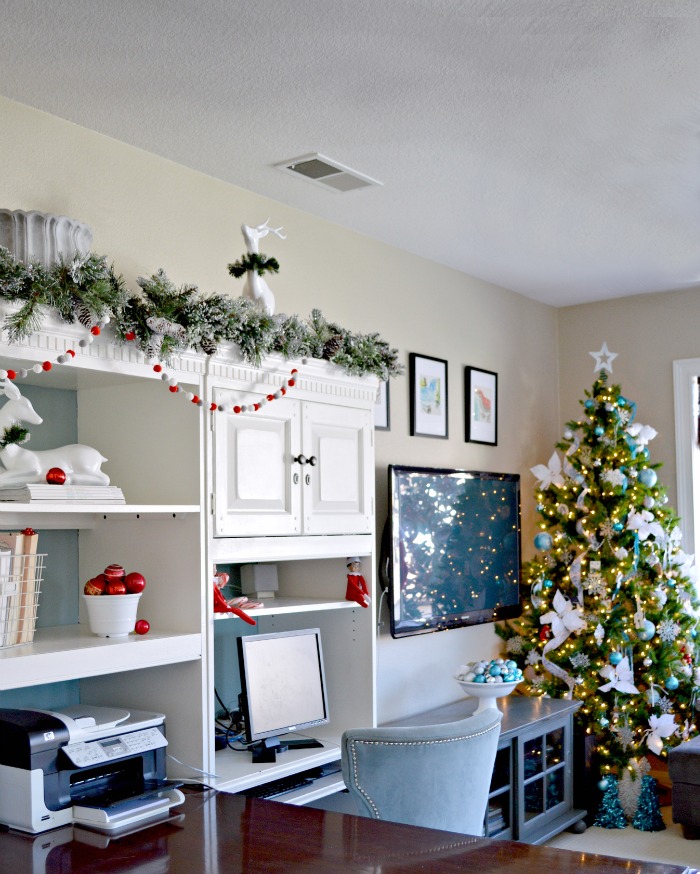 Growing up my dad had to have a say in everything when we would decorate the tree, to be honest it kind of took the fun out of everything.  I remember when I moved out of the house and had my own apartment, I was so excited to buy a tree and decorate it all by myself!  I remember lots of pink and white ornaments!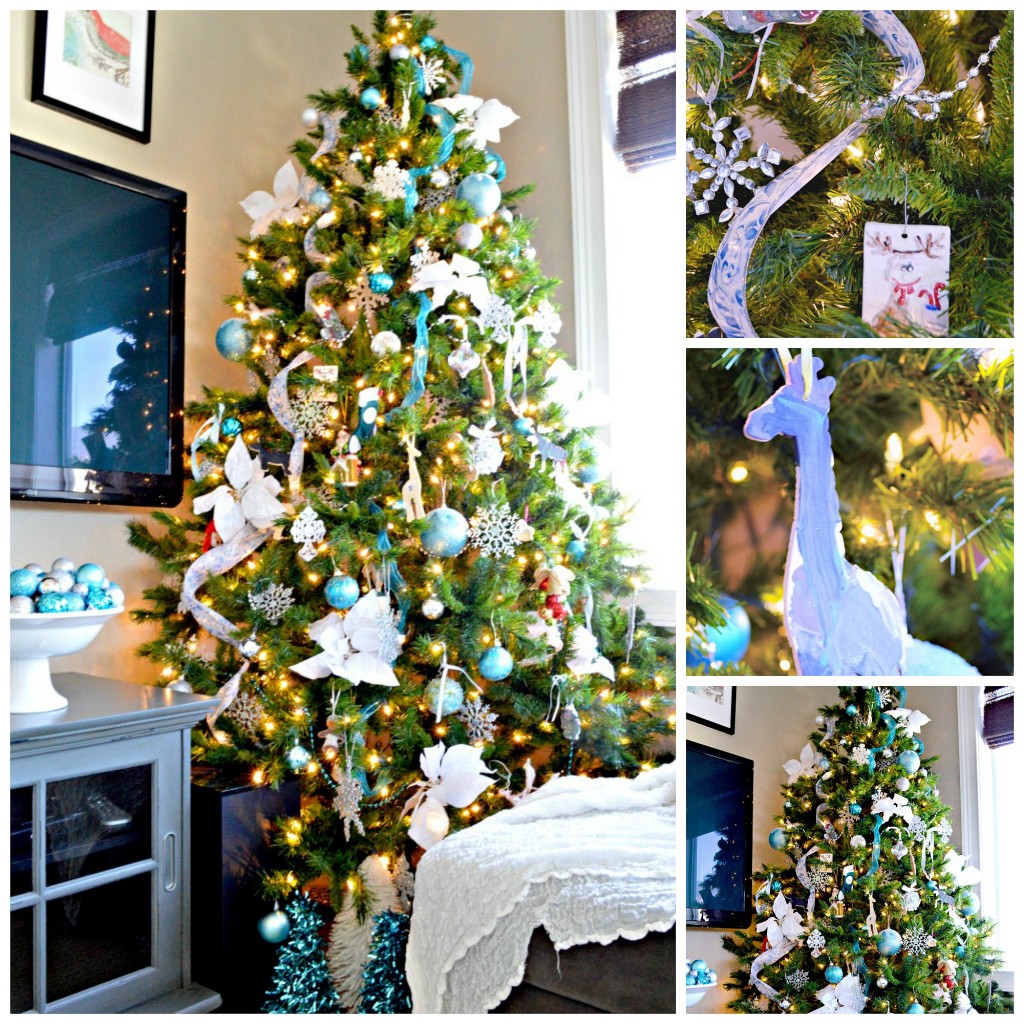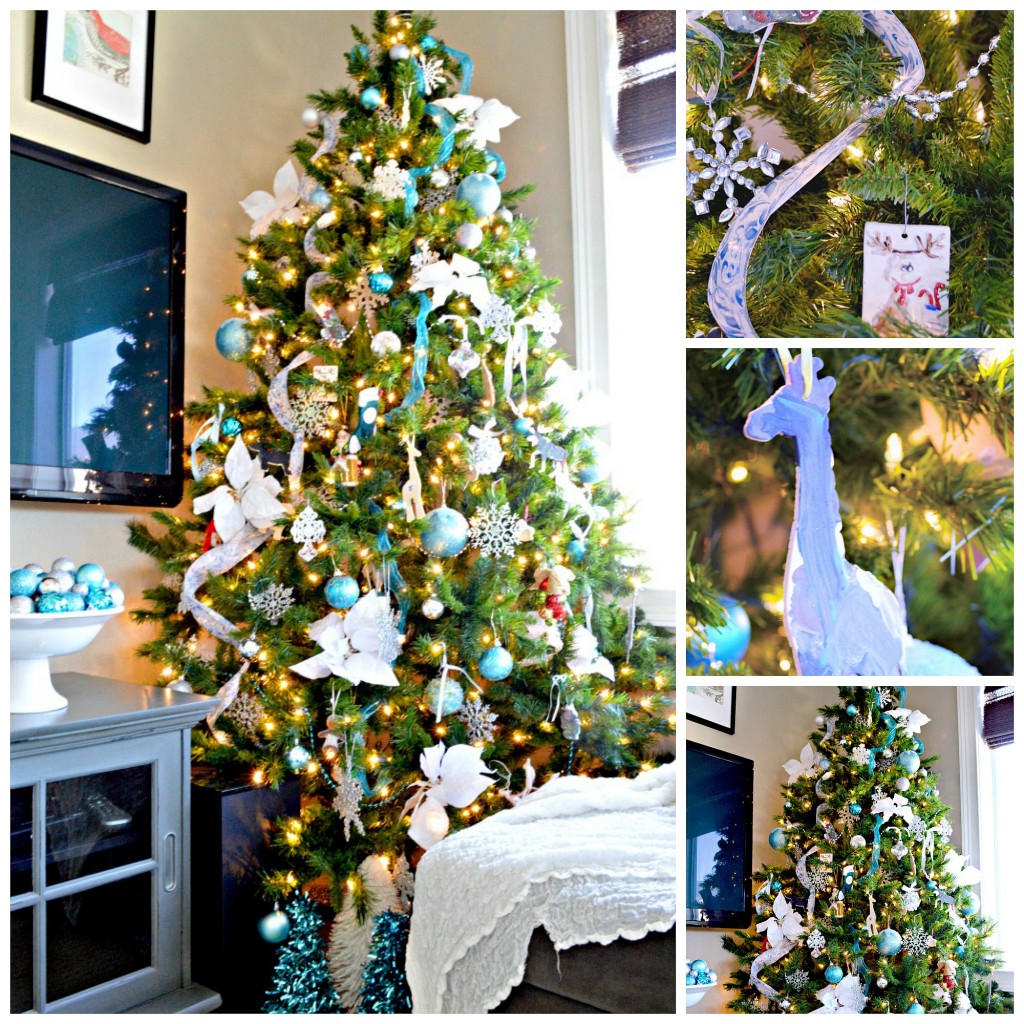 Not wanting our boys to feel the same as I did as a little girl, we have our grown up tree and a kid tree.  They can decorate it however they want.  What I love most about this tree is the ornaments are handmade, don't match, many are clustered on a single branch, there are gaping bare spots  and it is perfect!  After they were all done they asked if I would finish it off so I added ribbon and blue dollar store ornaments from a few years back.  Oh and guess what, this is a half tree, crazy I know.  My sister in law let us borrow it and it is perfect for the tiny little corner!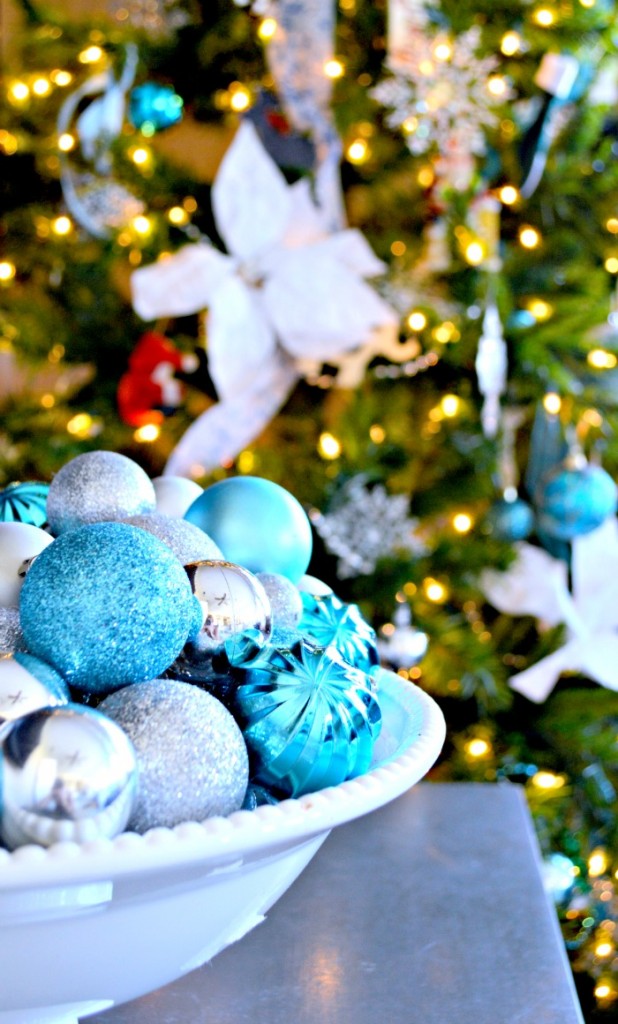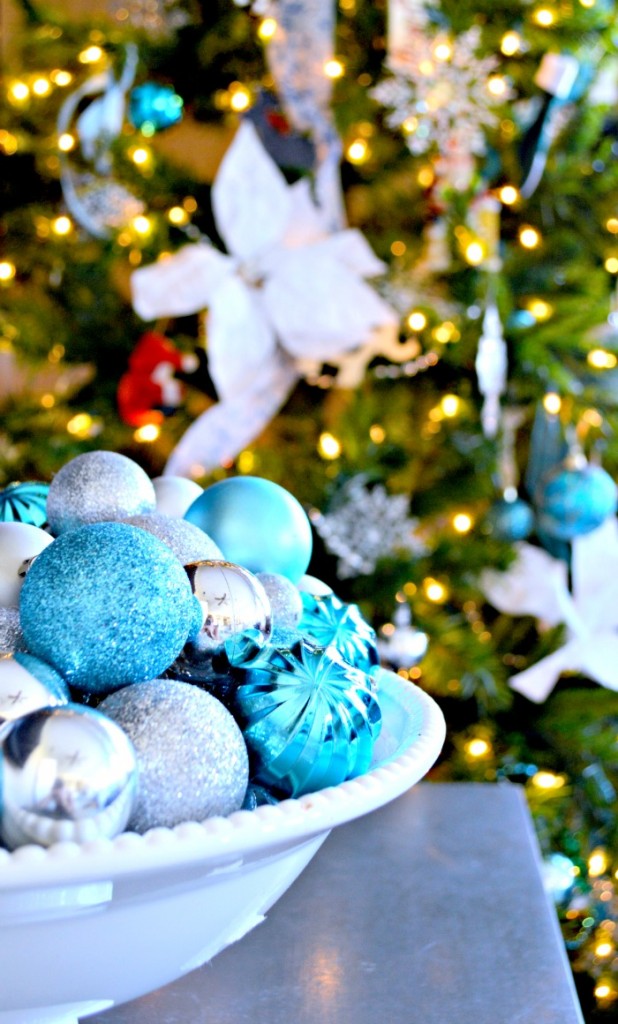 I stuck with more neutral colors in our master bedroom and decorated very sparingly.  I added fresh greens, which lasted about a week, and a few ornaments on the night stands.    When the first pine needle landed on my face I knew I better find a new spot for it before the hubby comes home from travel! The garland ended up on our mantel downstairs which is perfect because I can spritz it with water everyday.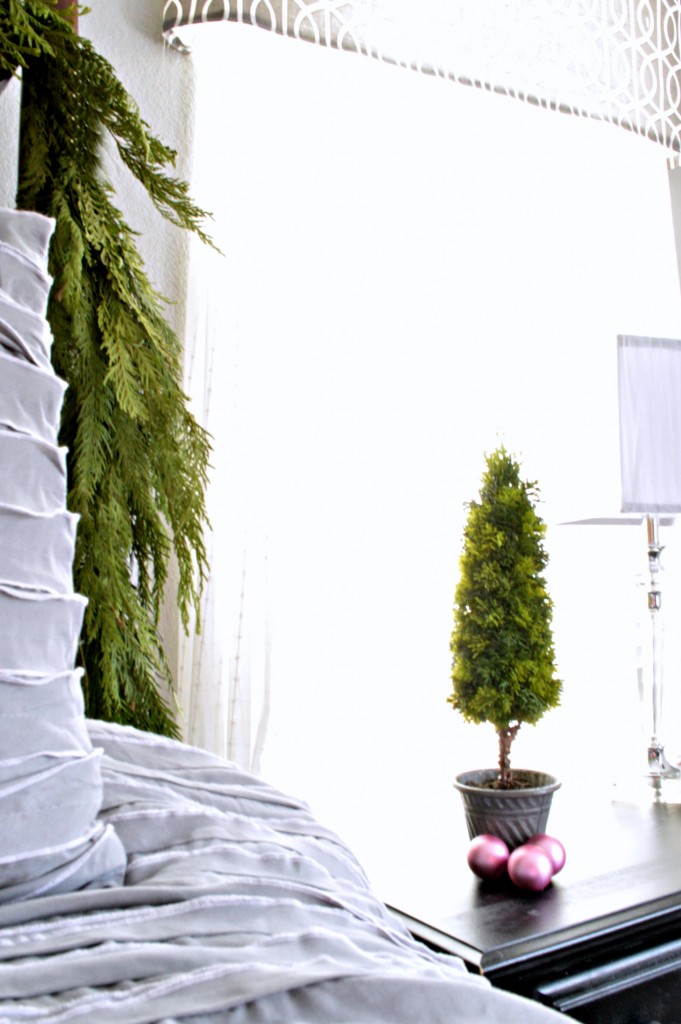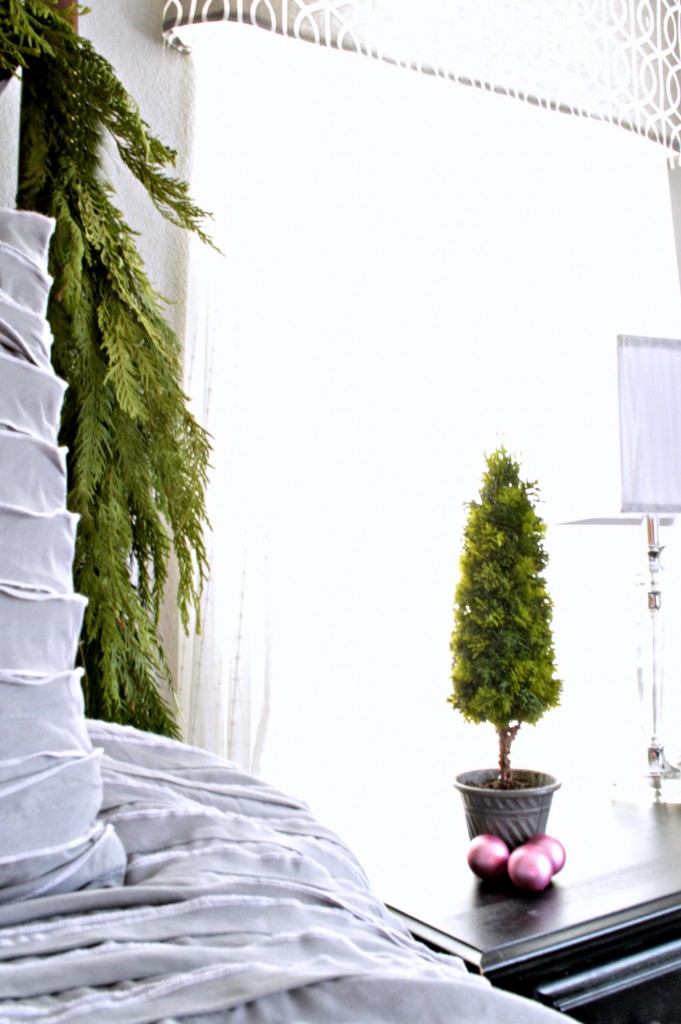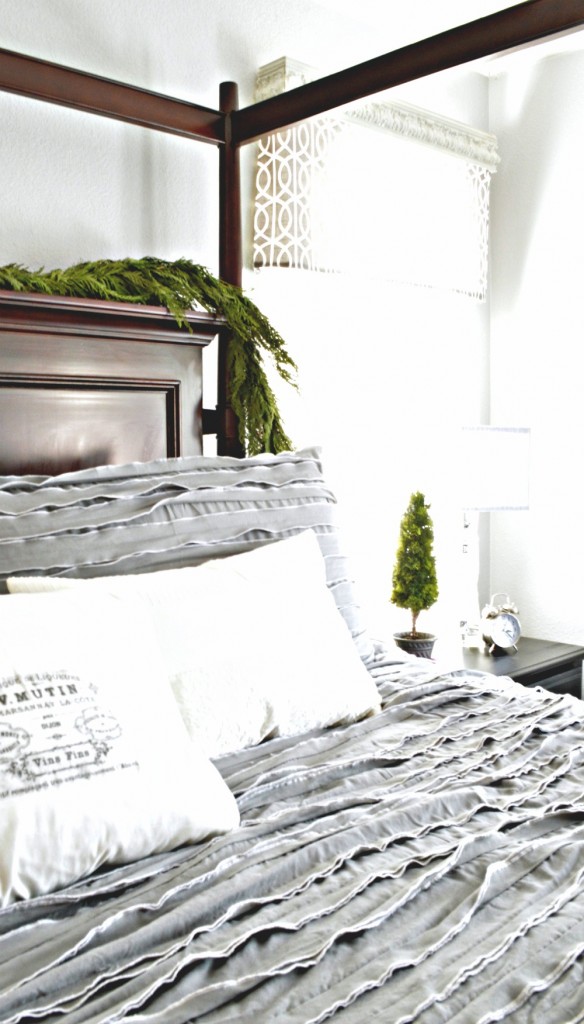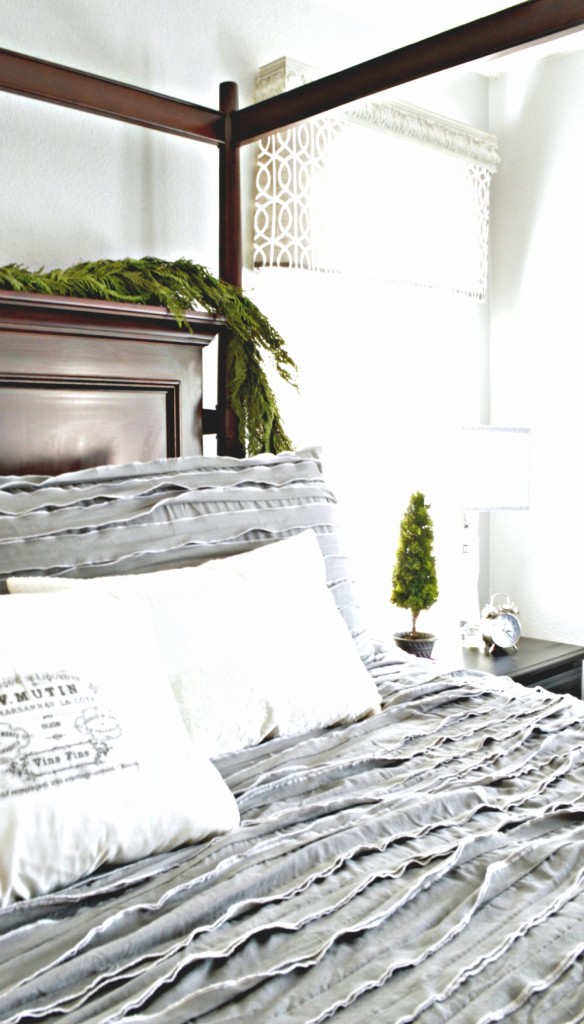 I love receiving cards every year from family and friends, such a great way to catch up with those that you don't see as often.  This Christmas tree card holder is perfect for displaying them!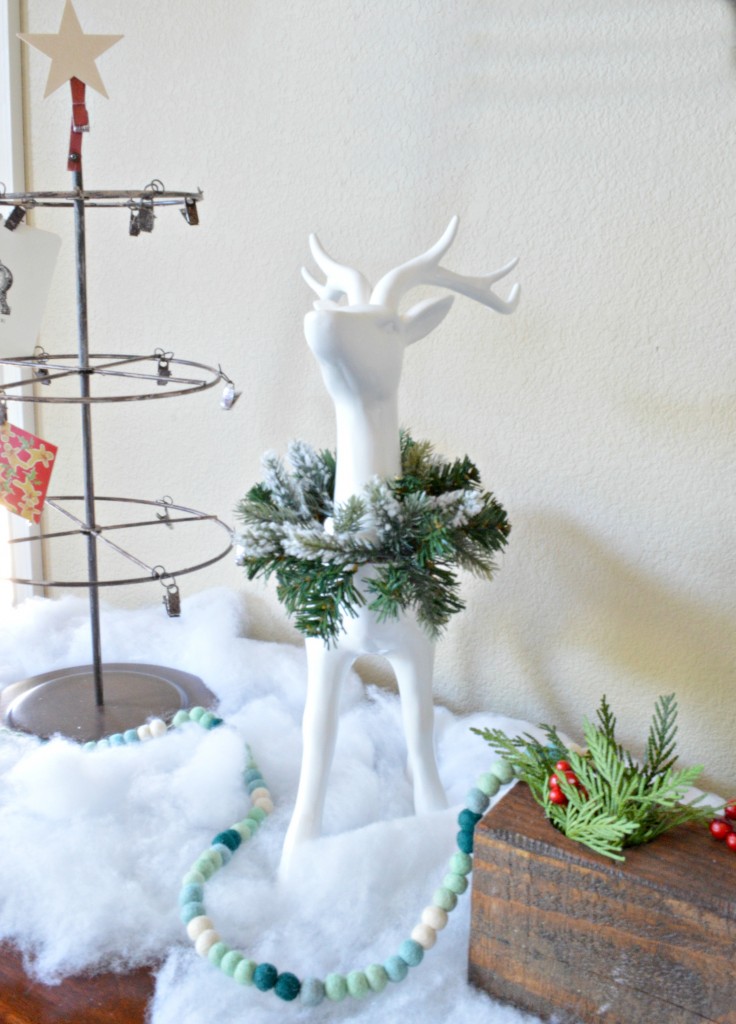 I'll spare you the dirty details of the boys room, how about just a pretty red stocking on the outside of the door, just trust me on this one.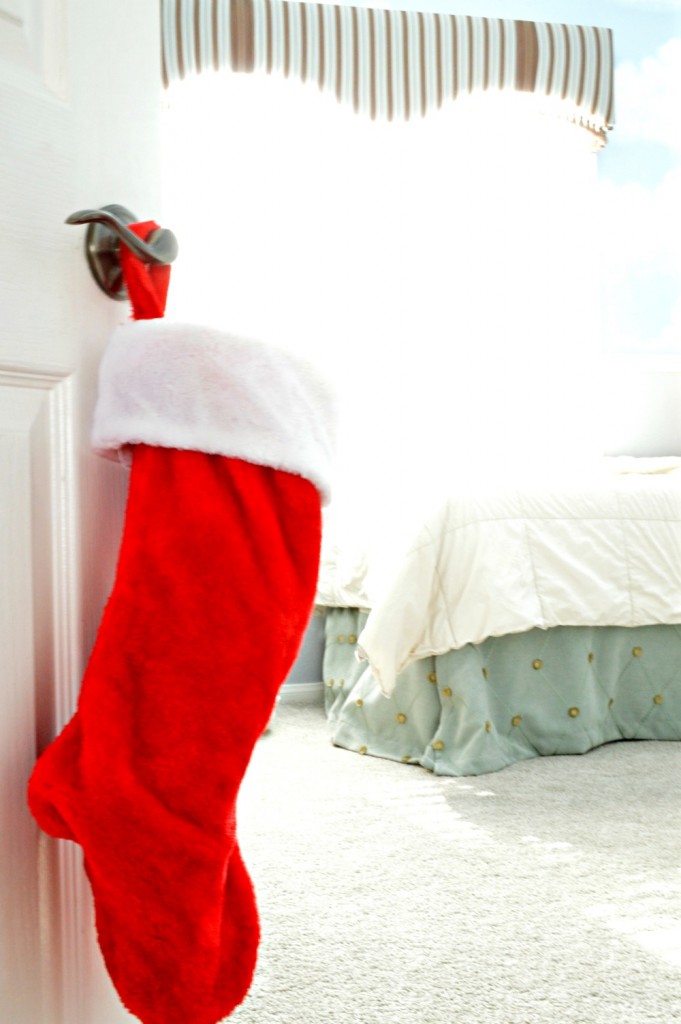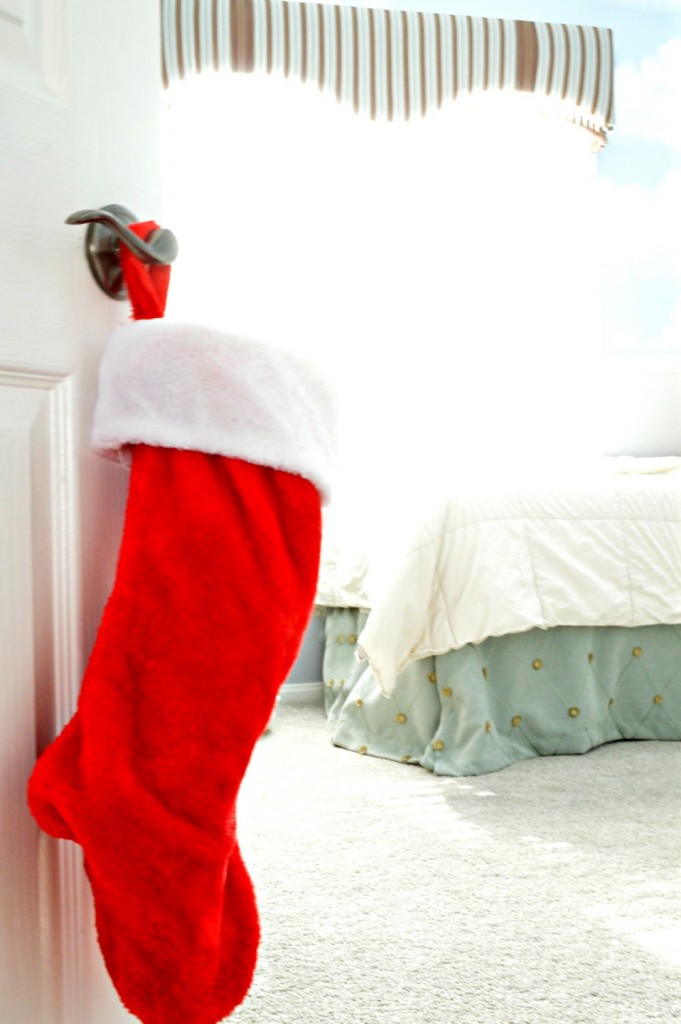 Before I end the tour, I'll bring you outside to our fireplace.  This was our Summer project and we found all of our materials off craigslist.  The kids love making smores here, I  love having a glass of wine by the fire.  Just last week we had some crazy warm weather and we were enjoying it in the first week of December.
Thank you so much for stopping by today, make sure to enter the giveaway below, I would love for one of my readers to win!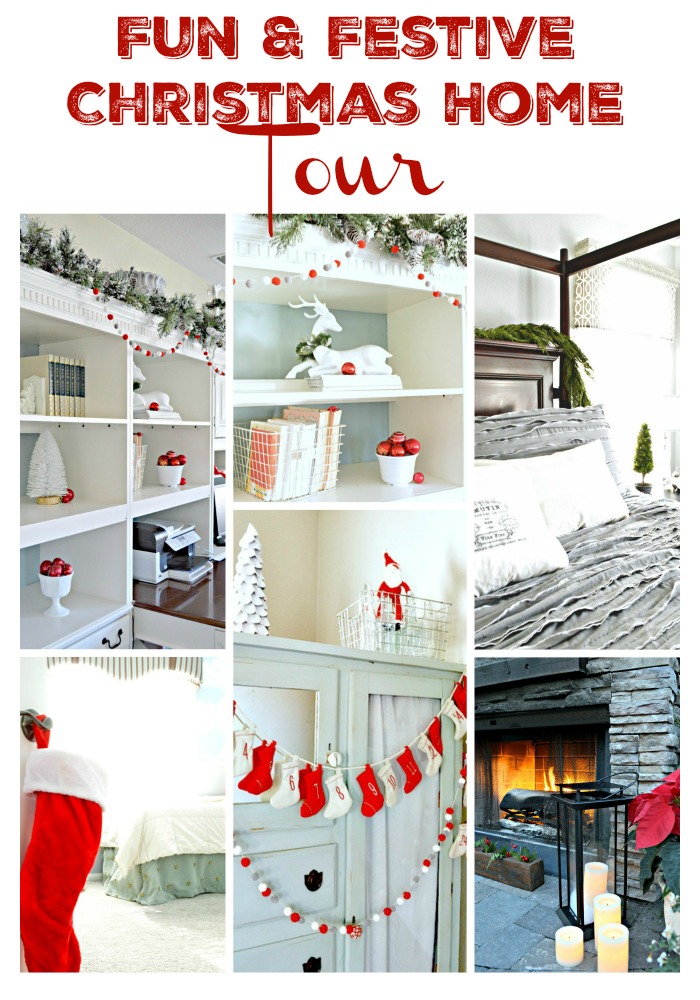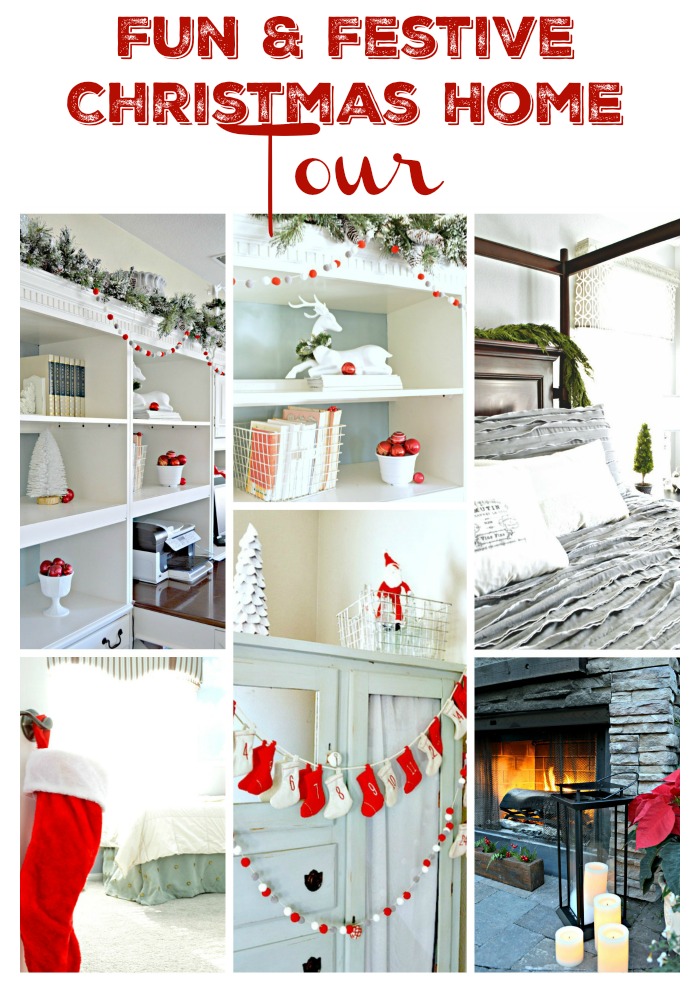 Feel free to check out part 1 of our Christmas home tour hear.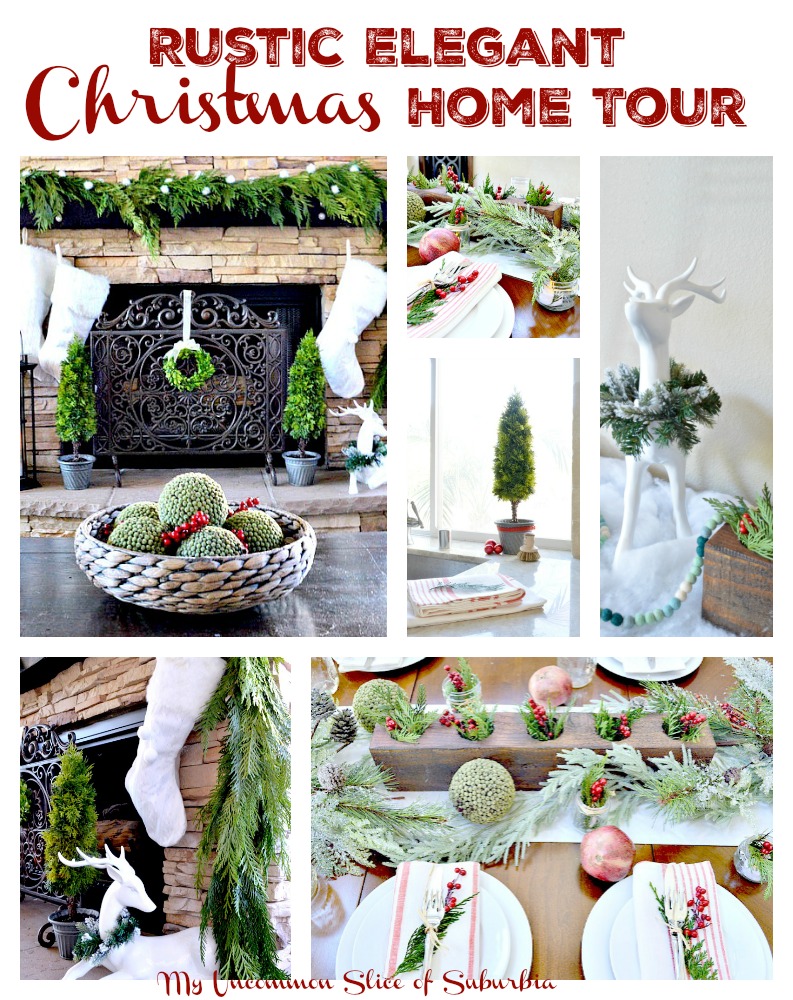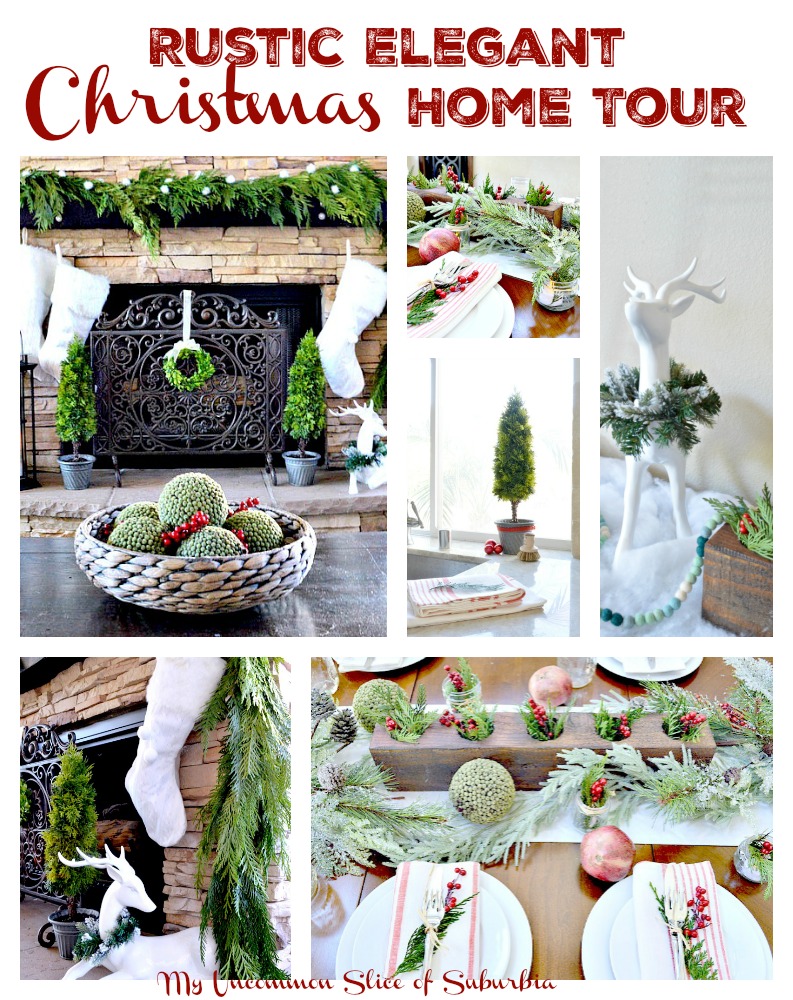 Please take a moment to look through the other amazing Holiday Home tours  listed below! You can also follow along on social media with hashtag #HDCholidayhomes. Again, thank you so much for coming to visit our Christmas home tour!
Monday
DIY on the Cheap | Christina's Adventures | Just a Girl and Her Blog | Iron & Twine
Tuesday
Southern State of Mind | Migonis Home |Ciburbanity
Wednesday
Heathered Nest | House by Hoff | Life on Virginia Street
Thursday
Designer Trapped in a Lawyer's Body | Chaotically Creative | Rain on a Tin Roof
Friday
My Uncommon Slice of Suburbia | Redhead Can Decorate | The Frugal Homemaker
HOME DECORATORS COLLECTION GIFT CARD GIVEAWAY!
TWO of our lucky readers will have the opportunity to win one of two $250 Home Decorators Collection gift cards! To enter, simply follow the instructions in the Rafflecopter widget below. The giveaway ends next Friday, December 18, at Midnight EST. Please see terms and conditions here.