These Peppermint Oreo Truffles are the perfect holiday treat! With the combination of Oreos, and cream cheese then covered in delicious white chocolate and topped with crushed candy canes they are always a huge crowd-pleaser!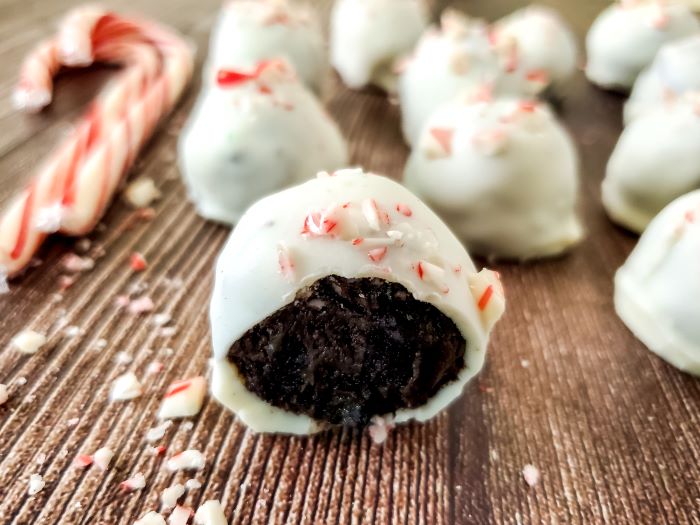 With the hustle and bustle of the holidays, I love that these can be made a day or two in advance. These are super fun, easy, and festive for the holiday season!
Affiliate links are listed below
Tips For Making the Perfect

Oreo

Peppermint Truffles

Do NOT remove the filling from the Oreos

A  cookie scoop would come in handy when making the oreo cookie balls


Since you will be crushing candy canes and Oreos for this recipe (separately). The easiest way would be in the food processor until finely ground. However, if you don't have a food processor you could put them in a ziploc bag and pound or roll them with a heavy rolling pin, you will just have bigger pieces of oreo but it will taste just as good. Another option is using a blender, blending a few Oreos at a time.

I highly recommend using the paramount crystals, they will thin out the chocolate so that it goes farther, with no clumping.

Make sure the balls are chilled well before dipping them in the melted chocolate so they will hold their shape and the oreo mixture doesn't mix with the white chocolate covering.

Make sure to keep them refrigerated until you are ready to serve them.  You can leave them out for about an hour.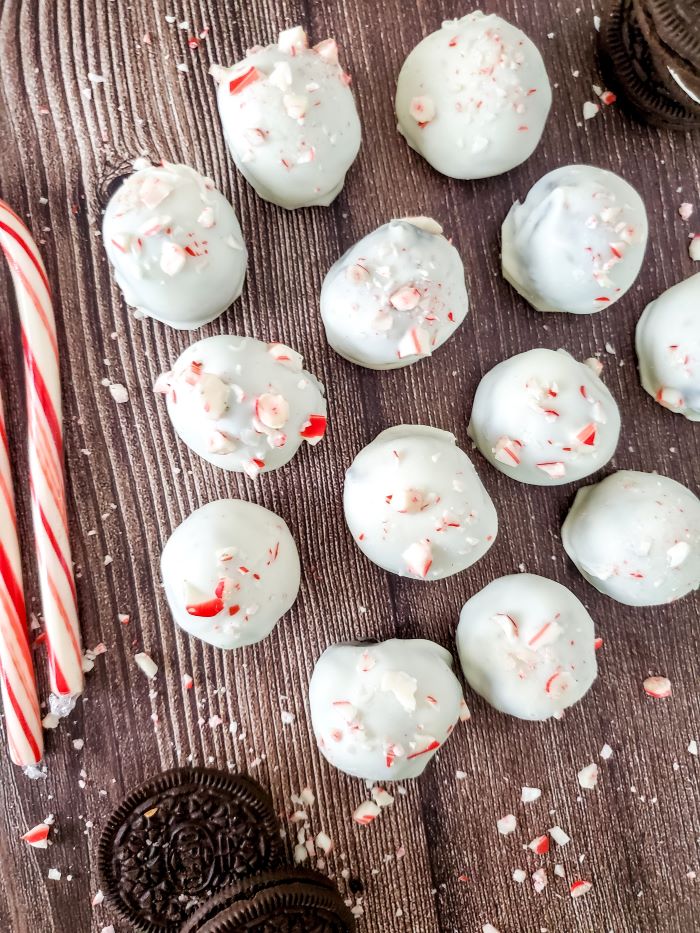 Storage
Because the oreo mixture includes cream cheese, these truffles do need to be kept refrigerated.
The best part, they Can be frozen for 2 to 3 months. Make sure they are separated by wax paper and in a sealed container. Let them defrost in the refrigerator or at room temperature before serving.
If kept in an airtight container, they can last around 2-3 weeks in the refrigerator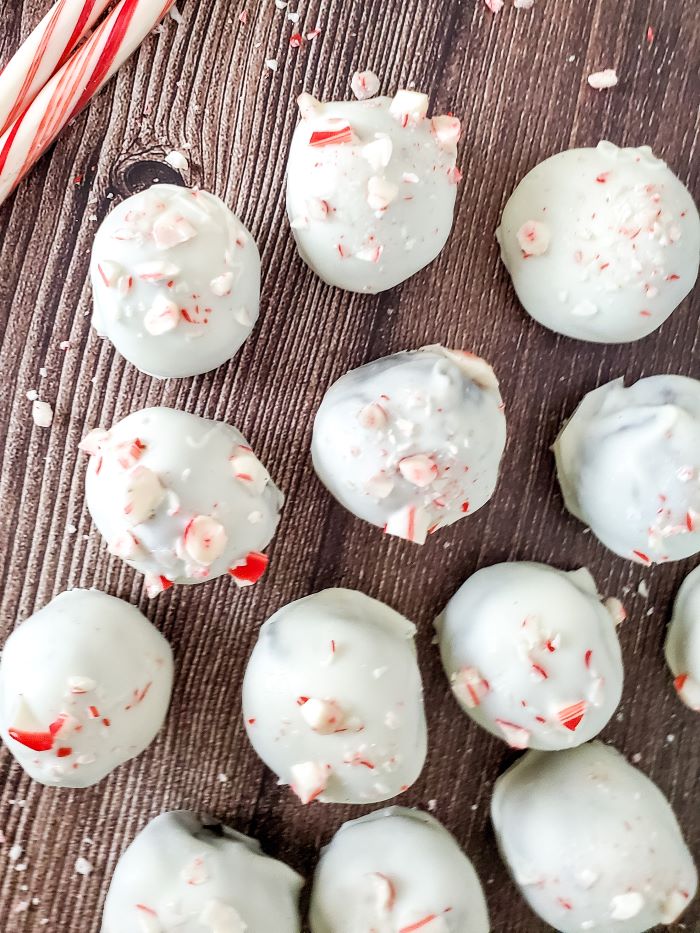 Customizable
You don't have to use peppermint flavor if you don't want, trust me, they are still just as good. You could also substitute Mint extract which is a combination of spearmint and peppermint.
 Did you know they sell Peppermint Oreos and Mint Oreos! both of these oreo cookies would add extra minty flavors!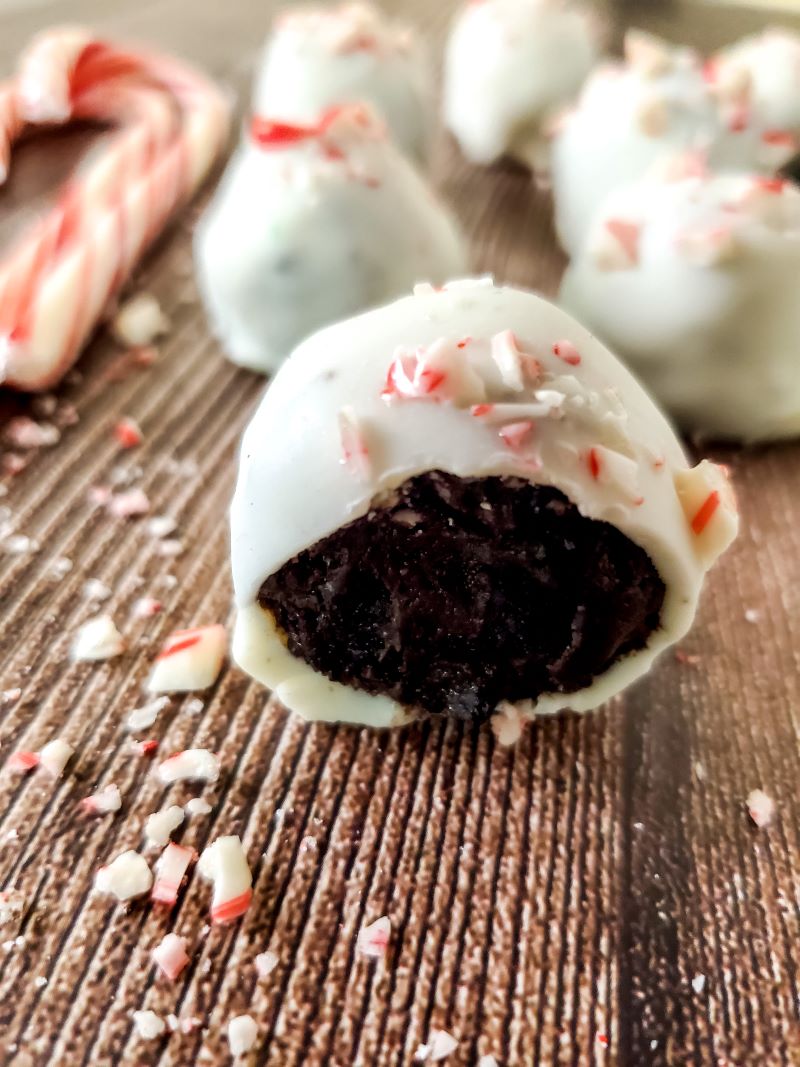 The best part for me is that they are so quick and easy to pull together. Give these simple Peppermint Oreo Truffles a try this year and included them in your holiday baking, they will be one of the first desserts to go at the holiday dessert table! They also make the perfect treat to hand out to friends and neighbors, put them in a cute gift box with a ribbon, and spread some holiday cheer!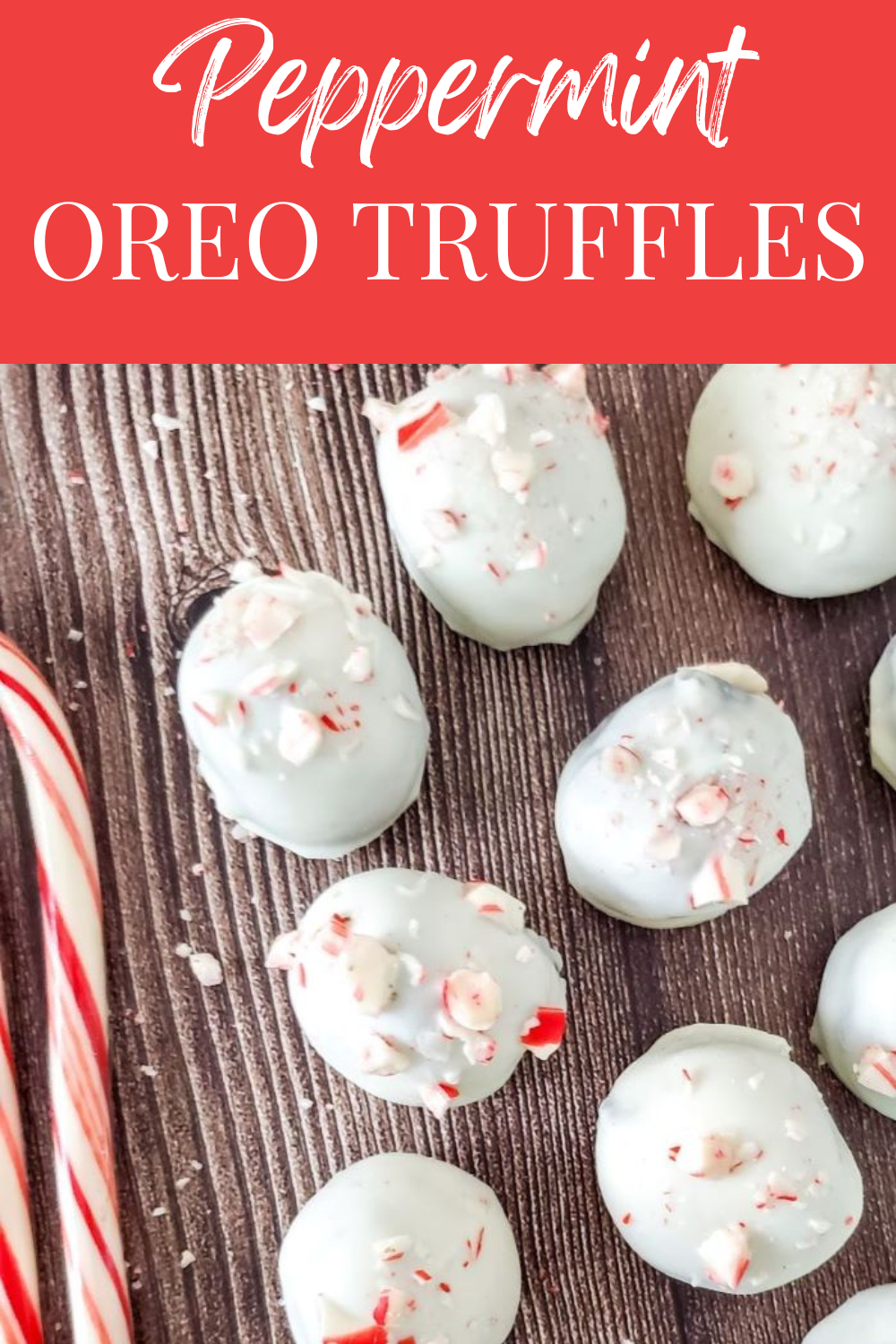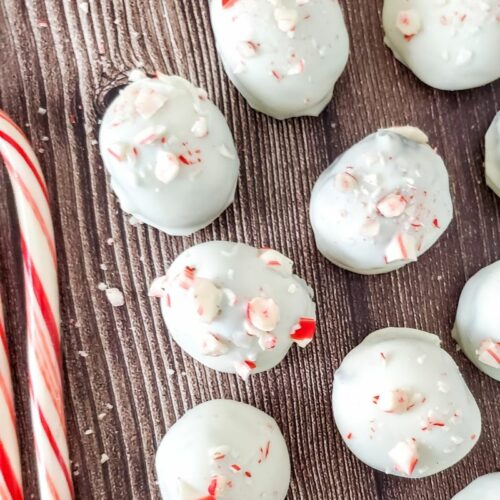 Peppermint Oreo Truffles
Equipment
1 microwave-safe bowl

Parchment paper

Spoon

Spatula

Cookie sheet
Ingredients
36

Regular oreos

8

Ounces

Softened cream cheese

1

Tsp

Vanilla extract

1/4

Tsp

Peppermint extract (optional)

2

Regular Size Candy cane crushed

8

Ounces

White candy melts

1/2

Tsp

Paramount Crystals (aprox)
Instructions
Crush the Oreos into a fine crumb.

Combine crushed Oreos with cream cheese, vanilla extract, and peppermint extract (optional) in a large bowl.

Scoop mixture and make into round balls Place onto a lined baking sheet. The wax paper will help the truffles from sticking.

Place in the freezer for about 30 minutes to an hour.

Melt the chocolate in the microwave by microwaving in 30 second increments, stirring in between each session.

Remove bowl from microwave just before fully melted. Stir until smooth.

Add paramount crystals and stir until dissolved. This will thin out the chocolate so that it goes farther. (This step is optional)

Drop each oreo ball (your truffle mixture) into melted chocolate, coating evenly. Use a spoon to move the ball around. Remove with the spoon, gently tapping off excess chocolate. Place them back onto the cookie sheet and immediately sprinkle with the crushed peppermint on the tops of the truffles. Repeat with the remaining cookie balls.

Reheat the chocolate as needed so it remains pourable.

Refrigerate until set before serving.
Hope you enjoy this recipe, let me know if you give it a try, happy holidays! 
If you like peppermint, give this Peppermint hot cocoa a try!