Recycling Christmas Decorations
Hello to My Uncommon Slice of Suburbia Readers, I'm here to show you how easy it is to recycle Christmas decorations!
Kristin is so kind to let me share my post with you on her site. I really enjoy Kristin's blog and am thrilled to share my blog post with you folks! My name is Susan Moncrieff and I blog over at Momcrieff. Lots of easy and fun stuff in mainly recipe, gardening and DIY categories.
I love the creativity I see when people are creative and use recycling & repurposing to create Christmas Decorations! I guess I'm just getting tired of storing all the Christmas stuff. We were having cocktails at my friend's house and I wandered to look at her Christmas decorations. I was really impressed when I noticed that much of it was repurposed! Thanks Lori for letting me share some of what you created.
This is my favorite repurposed item. I really liked this topiary. Simple. Elegant. Christmas.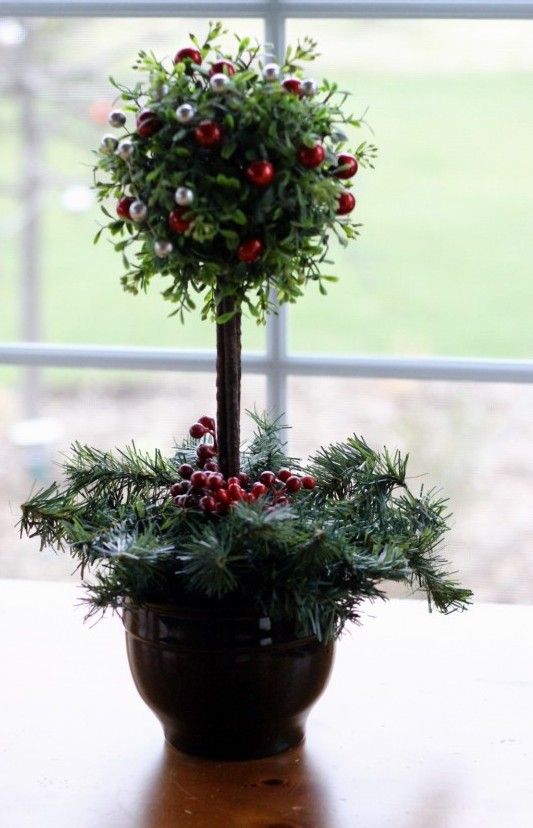 It was a plain topiary the day before. Lori just stuck in some Christmas beads in the top part.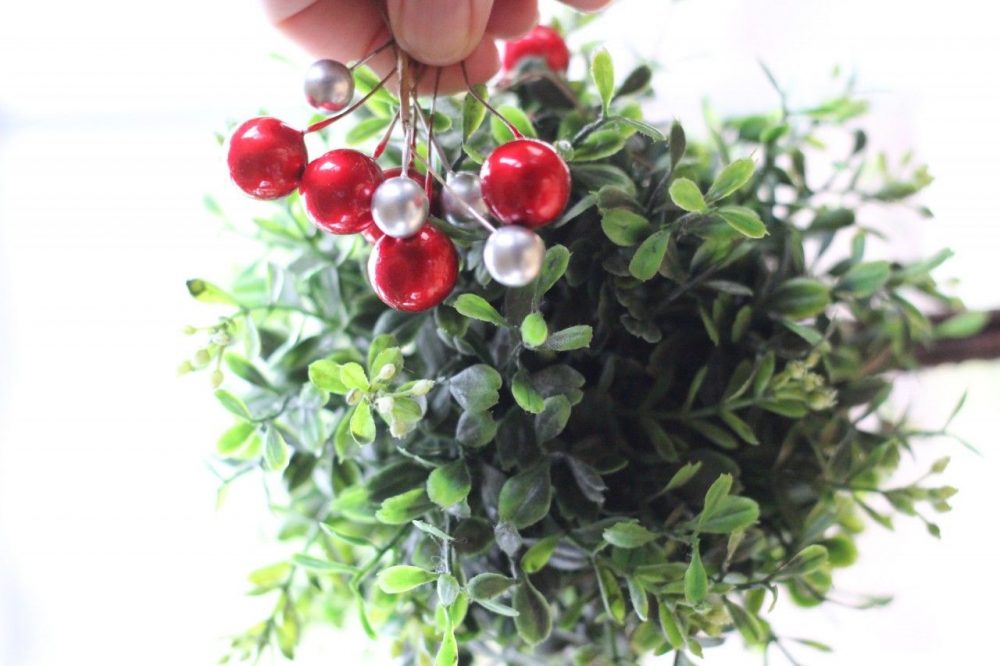 And, just wrapped a little piece of some old garland and some more red beads around the top of the pot.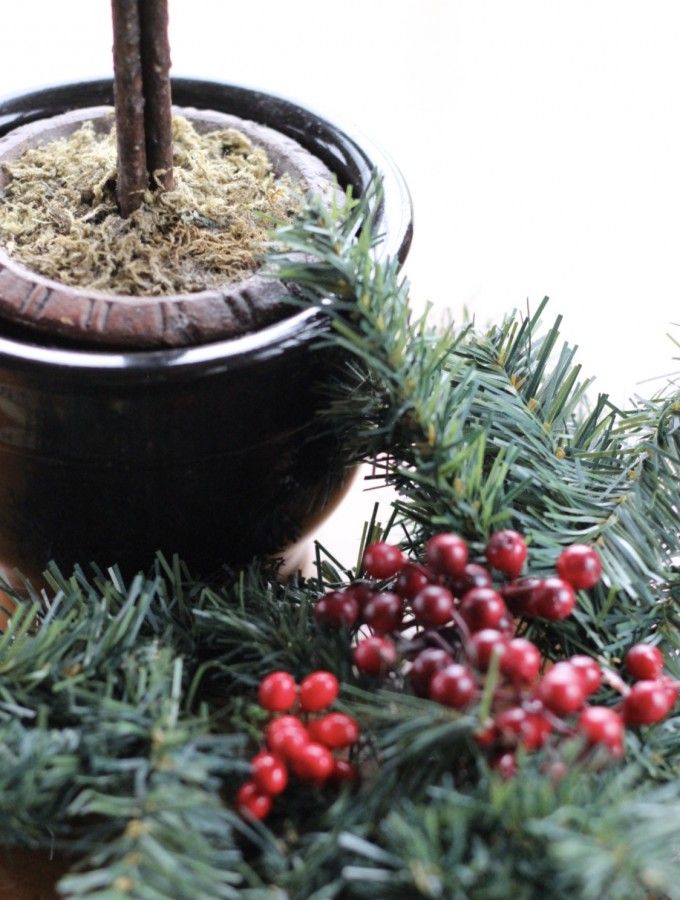 A simple, easy repurpose. Love it! Here it is again (just so you don't have to work hard and scroll up).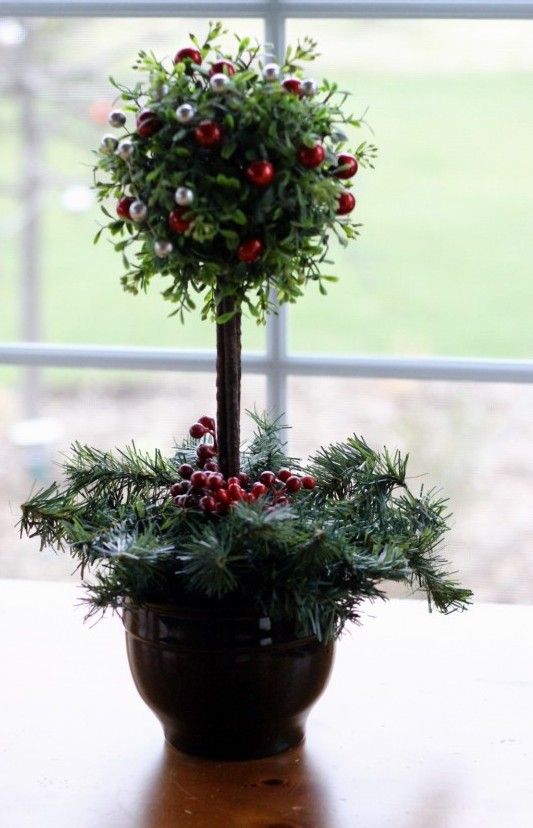 This lighted Christmas ball was what I noticed outside. At first I thought it was the chicken wire one that is all the rage on Pinterest.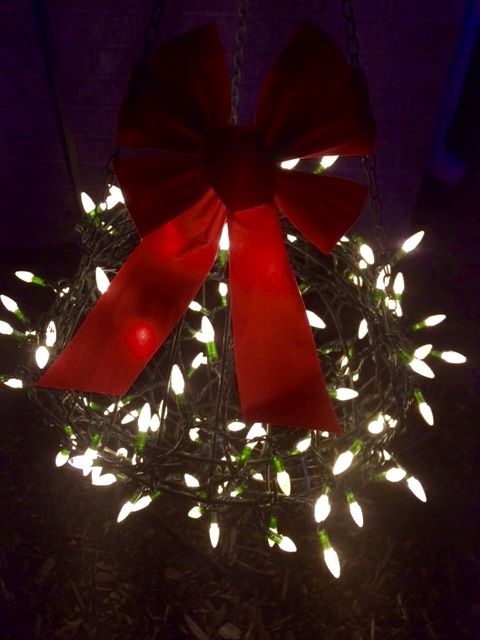 I saw it during the day and it's just two of the wire frames from hanging planters joined together!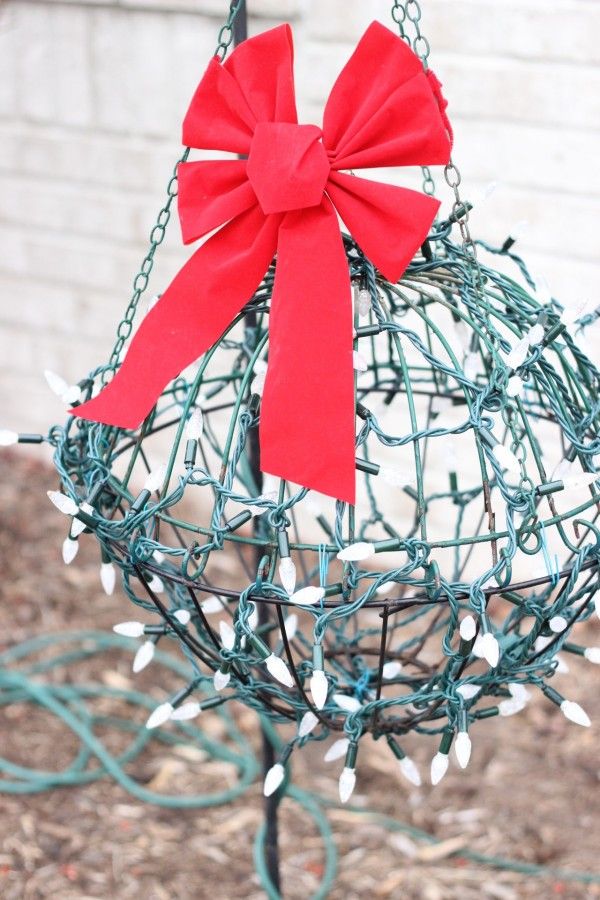 Of course I had to snoop and see how Lori joined the two planters. Good thing Lori knows me and doesn't mind me being nosy. What a high tech way of joining them. Do you see the blue paperclip?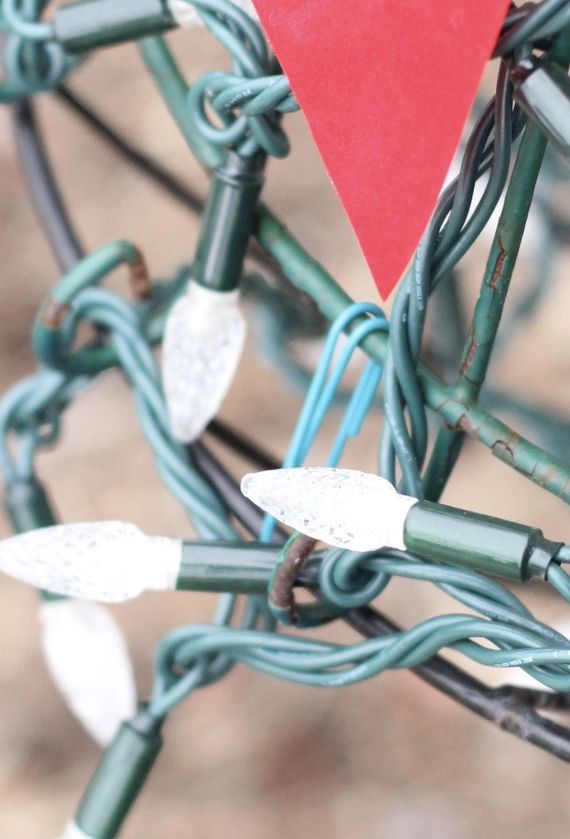 Talk about repurposing!
I have to share the mantle. Annie is the baby of the family! She's an English Bulldog. They stuck a little Santa hat on her and there she is, all festive and Christmas like!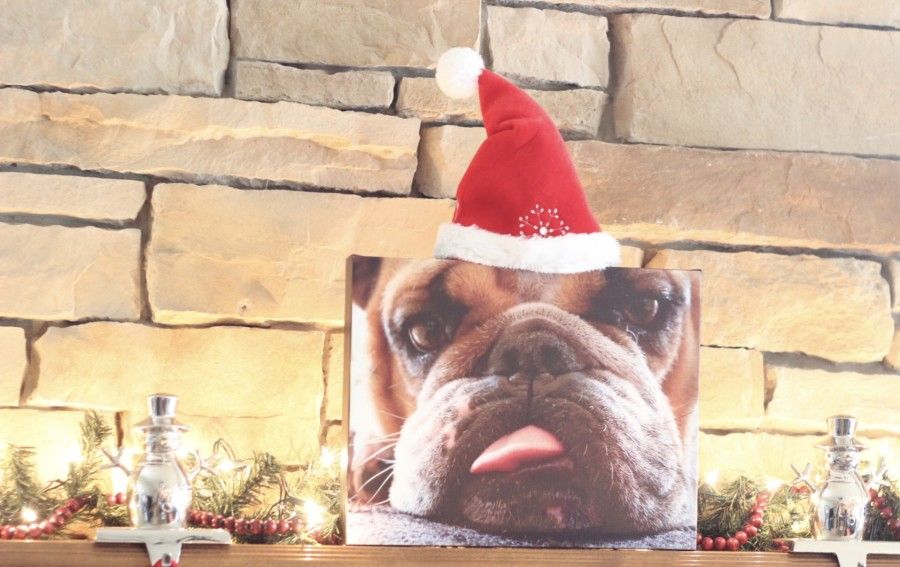 OK, is that tongue sticking out distracting you as much as it is me??.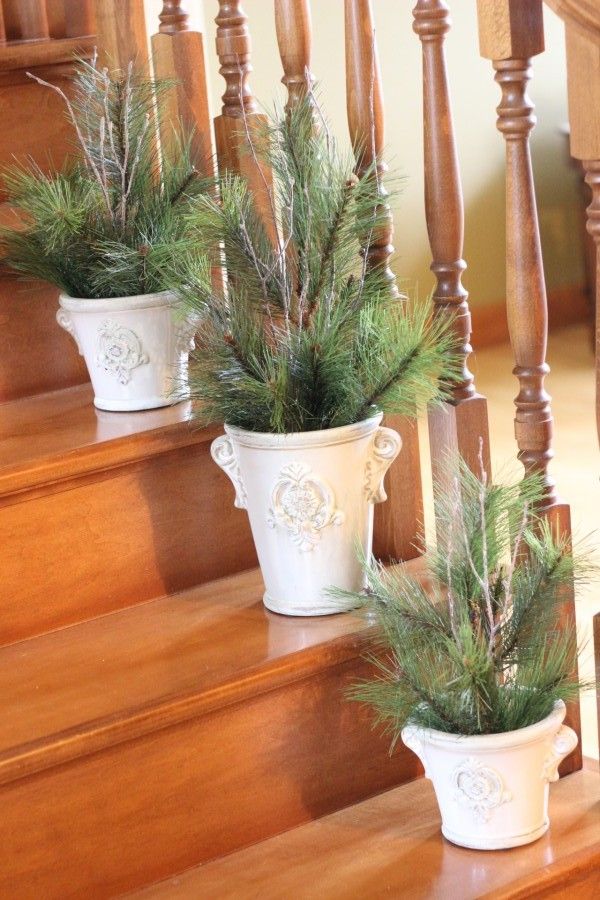 Lori used her planters from her patio and just cut a few branches from trees in her yard. Cost $0. But, a nice, elegant look. Why didn't I think to do that??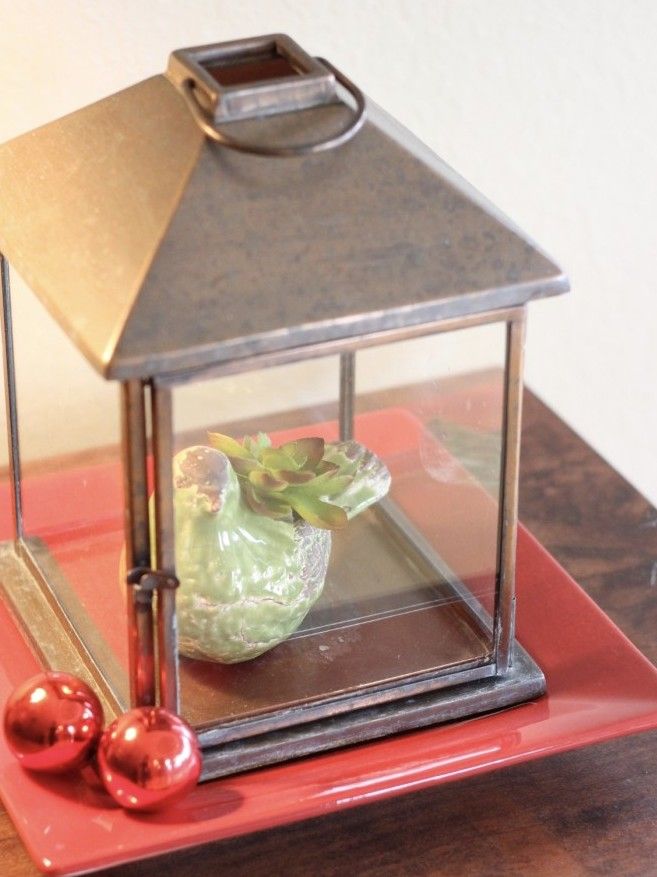 How about this. Just a red plate under the lantern with a couple of Christmas ornaments. I love succulents and like that she kept the original succulent in there. Thanks again Lori for sharing your repurposing talents!
Let's move to my home. I think I was tired of my decorations last year so I aggressively threw out some of my outdoor decor. Including the little lighted tree I normally put in my planter.
I saw how much a new little tree cost, and knew in a few weeks it would be really marked down. Yes, I can be cheap sometimes! It was time for me to do a little Recycling & Repurposing to create Christmas decorations.
I put my topiary into my planter, wrapped lights around it, and stuffed branches in it.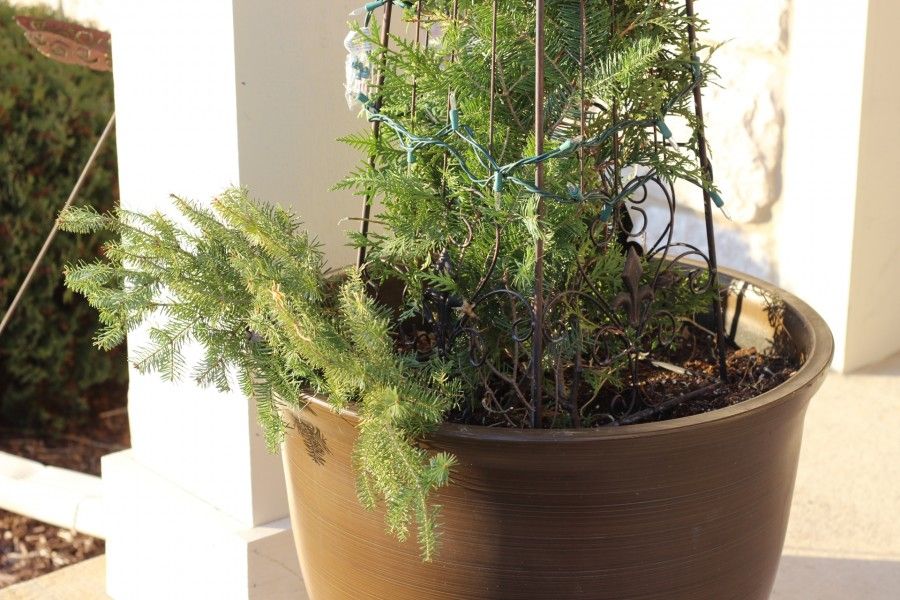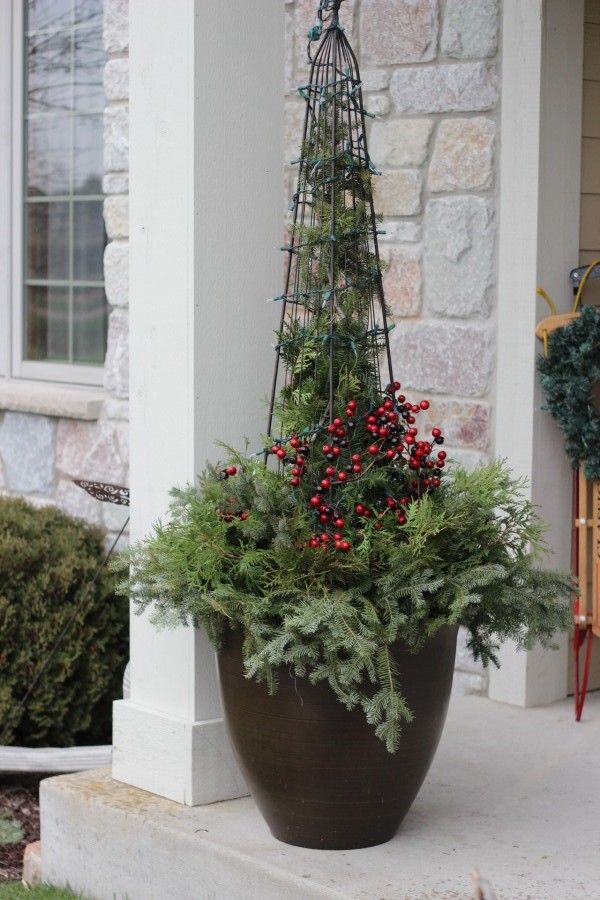 If you would like a detailed tutorial, it's right here. However, the main tip is just stick in lots of branches until it's really full looking. It was easy to make and the only thing I bought were the red berries.
I have a dark corner right where you come in through the garage. I wanted a little bit of light and didn't want to buy anything. I happened to notice my little seed starting greenhouse, and my painted Christmas houses in my basement. I have a detailed tutorial of how I painted my houses here. Of course, I put them together!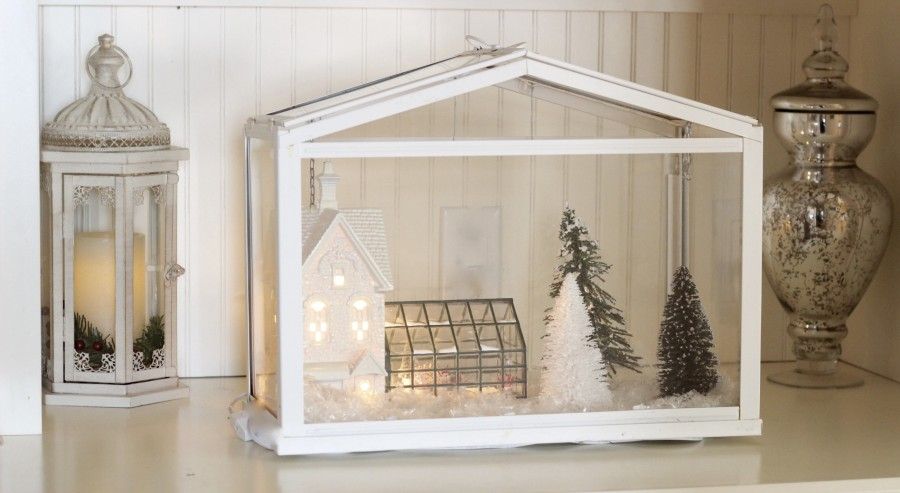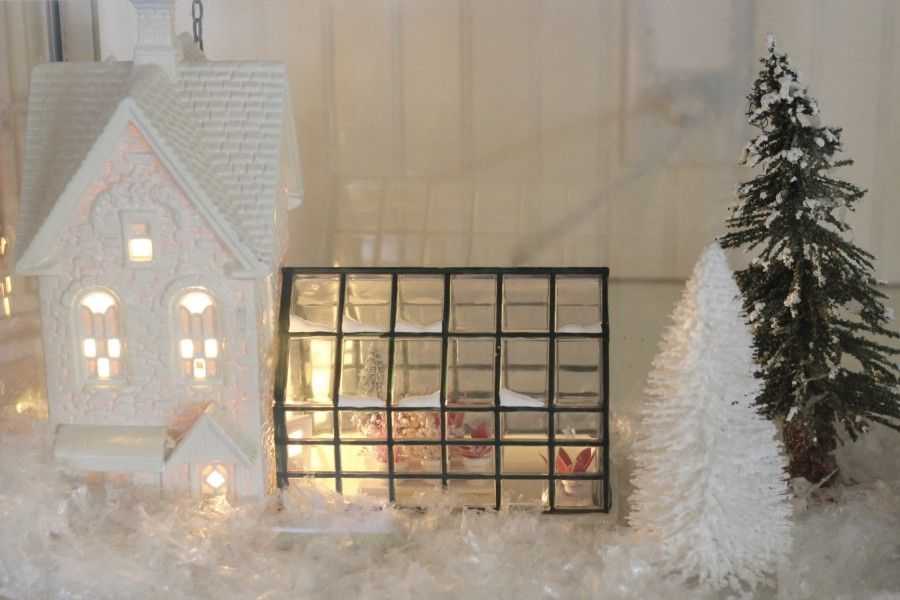 It is so pretty in the evening! Just the perfect glow of light and it looks festive!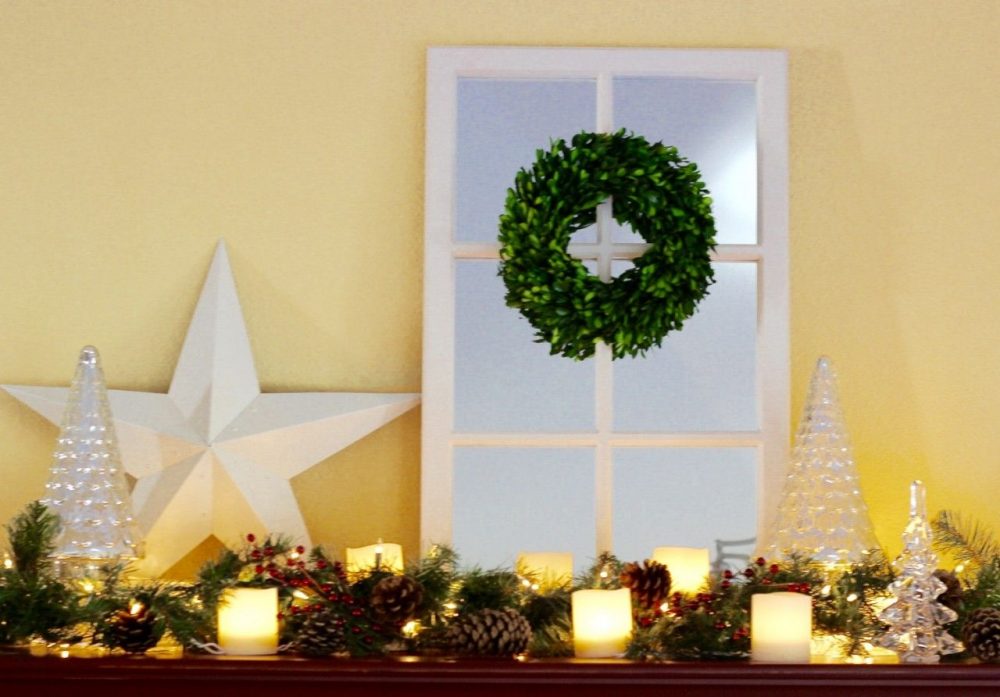 See that pretty mirror that is the center of this display? This is what it originally looked like a few weeks ago.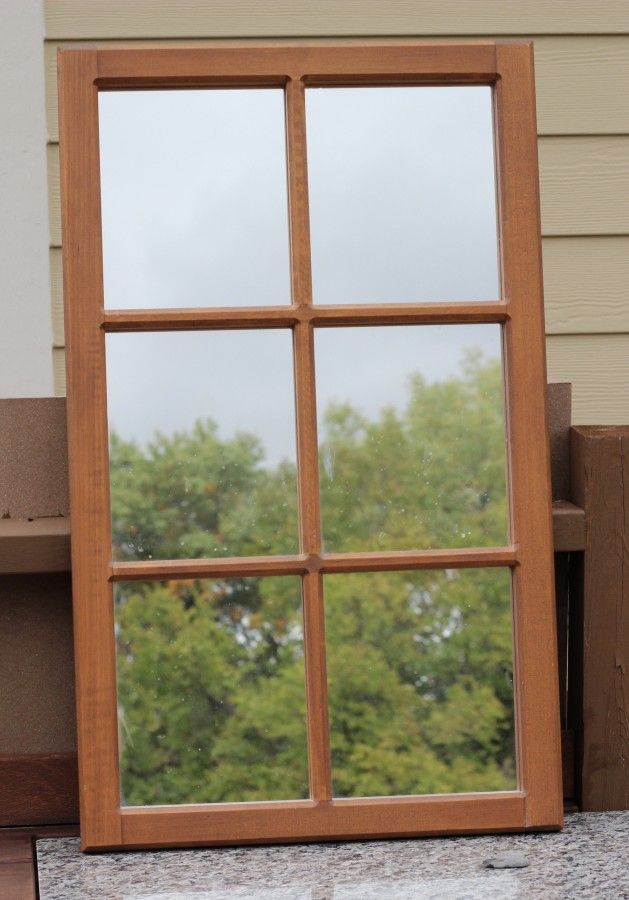 Honest, it only took two hours to give the frame a light sand, put three light coats of spray paint and then clean the mirror and put it back together. Much of that time was dry time. If you need more details, here is my white mirror tutorial.
I hope I have given you some ideas on how to recycle things you have and how to repurpose others. You don't always need to buy Christmas decorations. Sometimes, the prettiest ones are just repurposed with a few festive touches. Plus, the biggest bonus, you don't need to store them until next Christmas!
Thanks again to Kristin for letting me share some of these ideas with you. I would like to invite My Uncommon Life of Suburbia readers to visit my blog. My name is Susan Moncrieff and my blog is called Momcrieff. I blog about easy recipes, gardening and simple DIY's. Please drop by, I'm sure you'll see things that interest you!
I hope your Christmas preparations are well underway and I know it's early, but, Merry Christmas!
Susan.
Thank you so much Susan for taking over for the day! Make sure to stop by and say hi, she has some amazing recipe's I know you will want to try, like this french onion soup!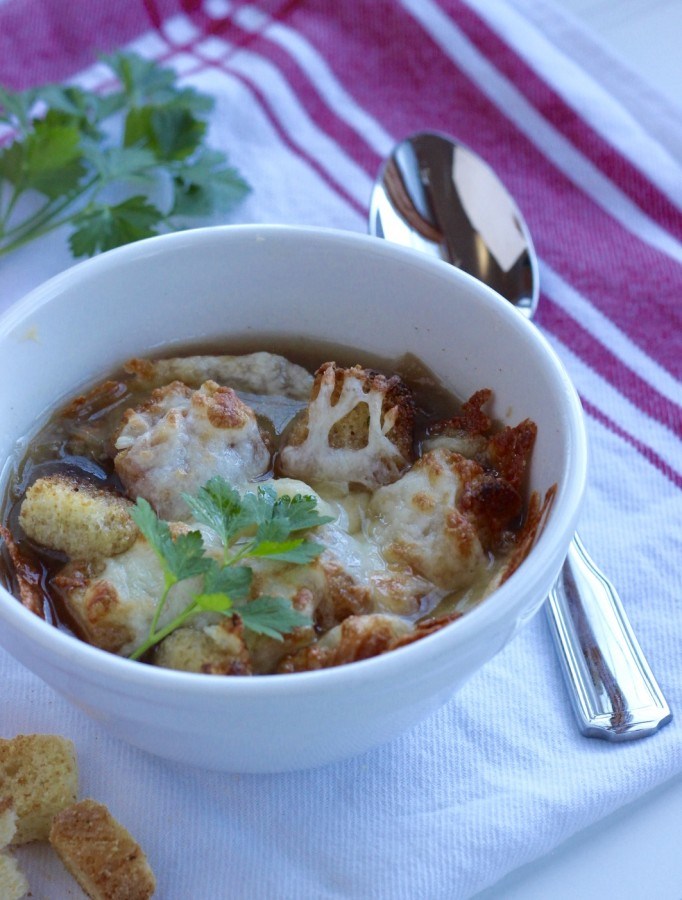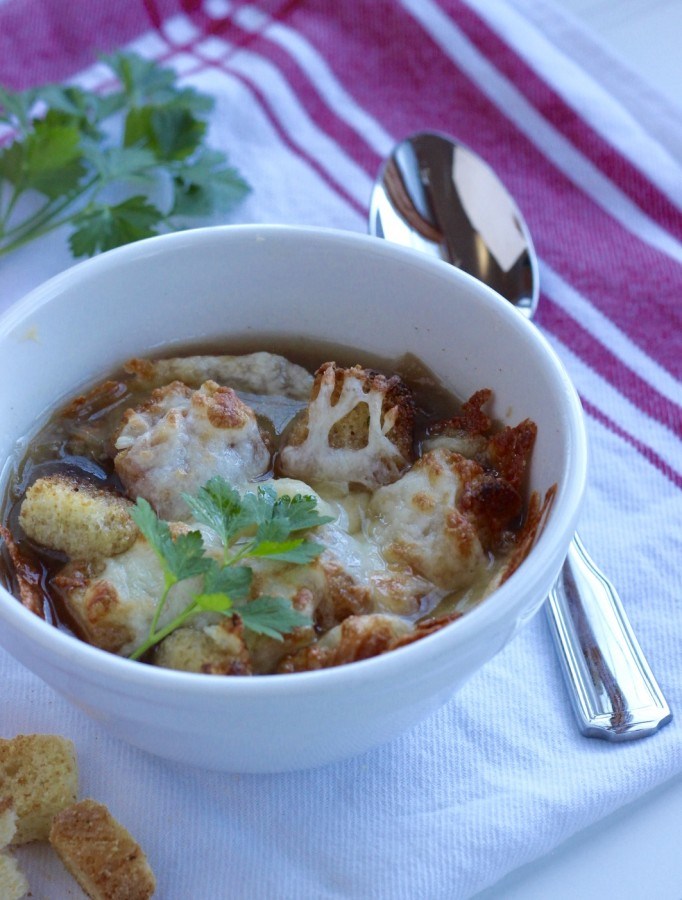 [wysija_form id="1″]