Hello friends, welcome to our 2015 Christmas home tour! If you are here from Ella Claire's, welcome. Her home, no matter the time of year is always absolutely beautiful and full of inspiration!   The past several years I have been honored to be invited to participate in Jennifer Rizzo's Holiday HouseWalk, so thank you Jen for including me, you are such a talented and beautiful friend.  (yes, we have met in person). I am also super excited because this year we're teaming up with Joss and Main and Good Housekeeping to bring you some truly inspiring Christmas ideas for your home.  To start the tour from the beginning click HERE.  Each magical home is beautiful and unique in its own way, I promise you won't be disappointed.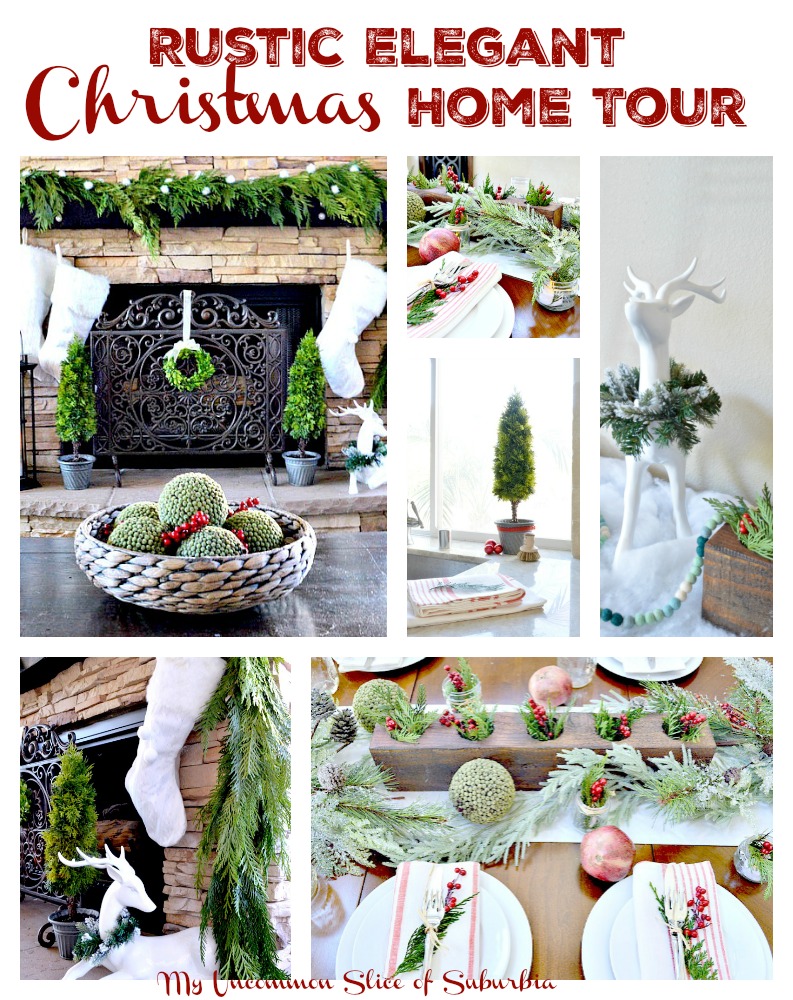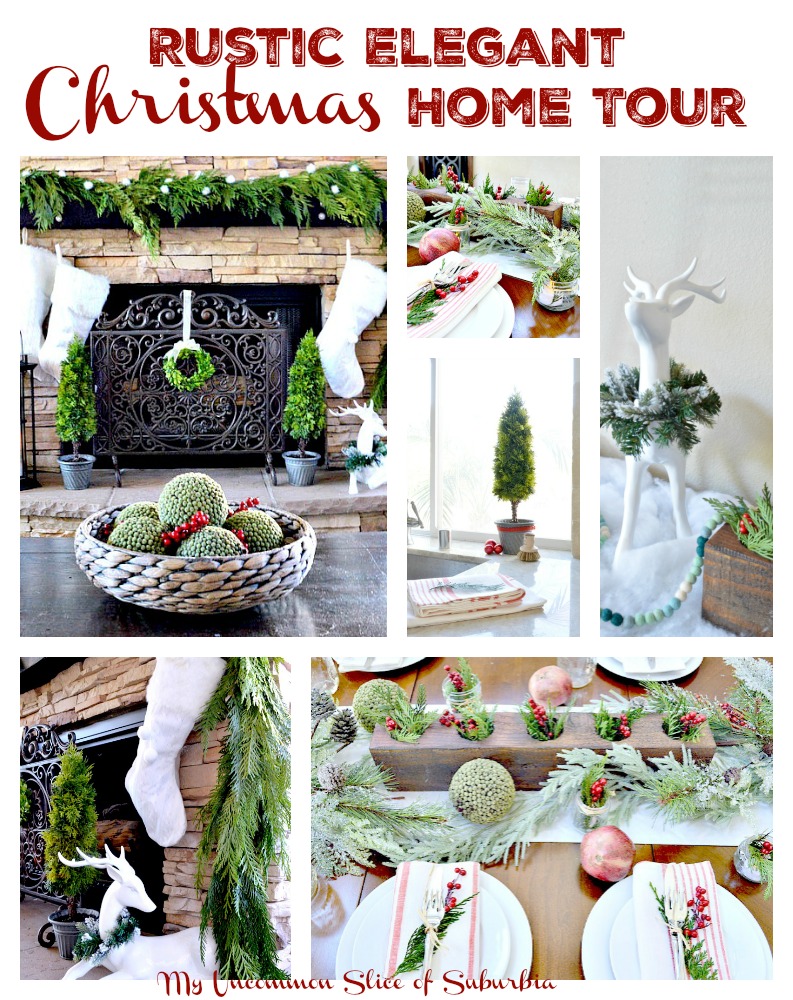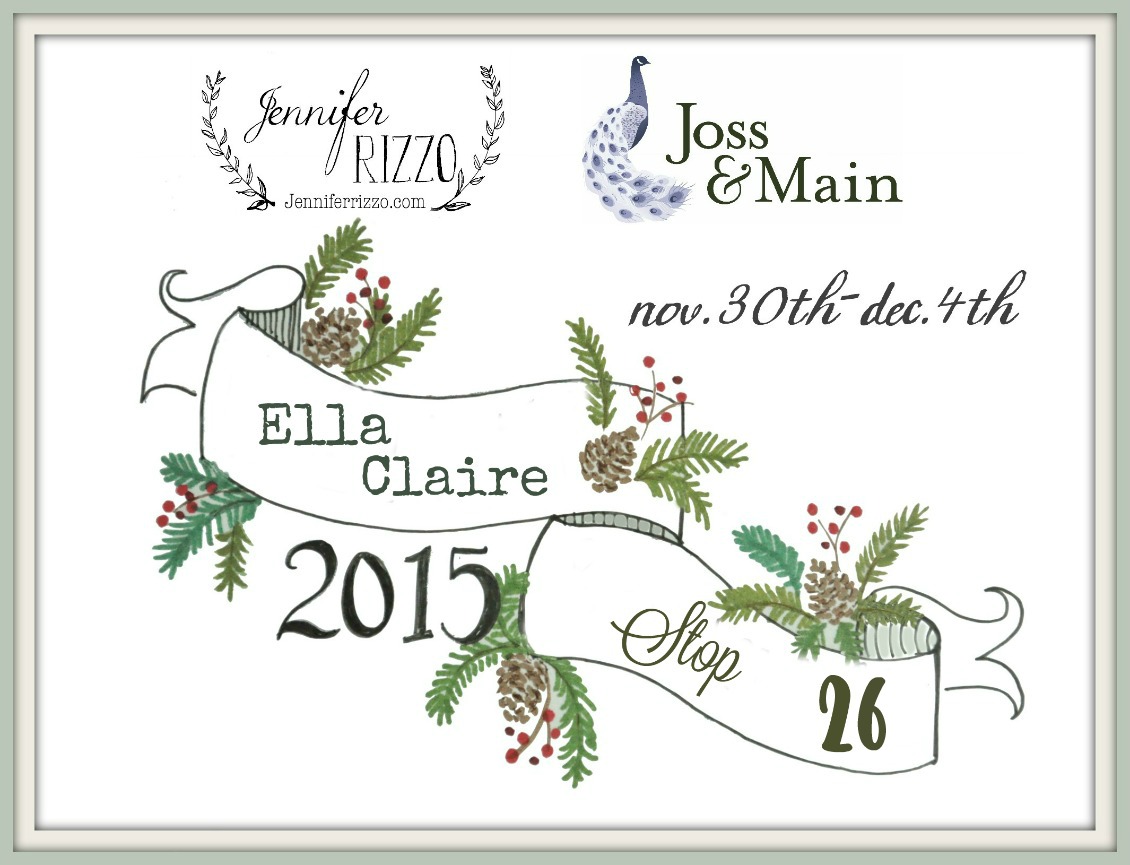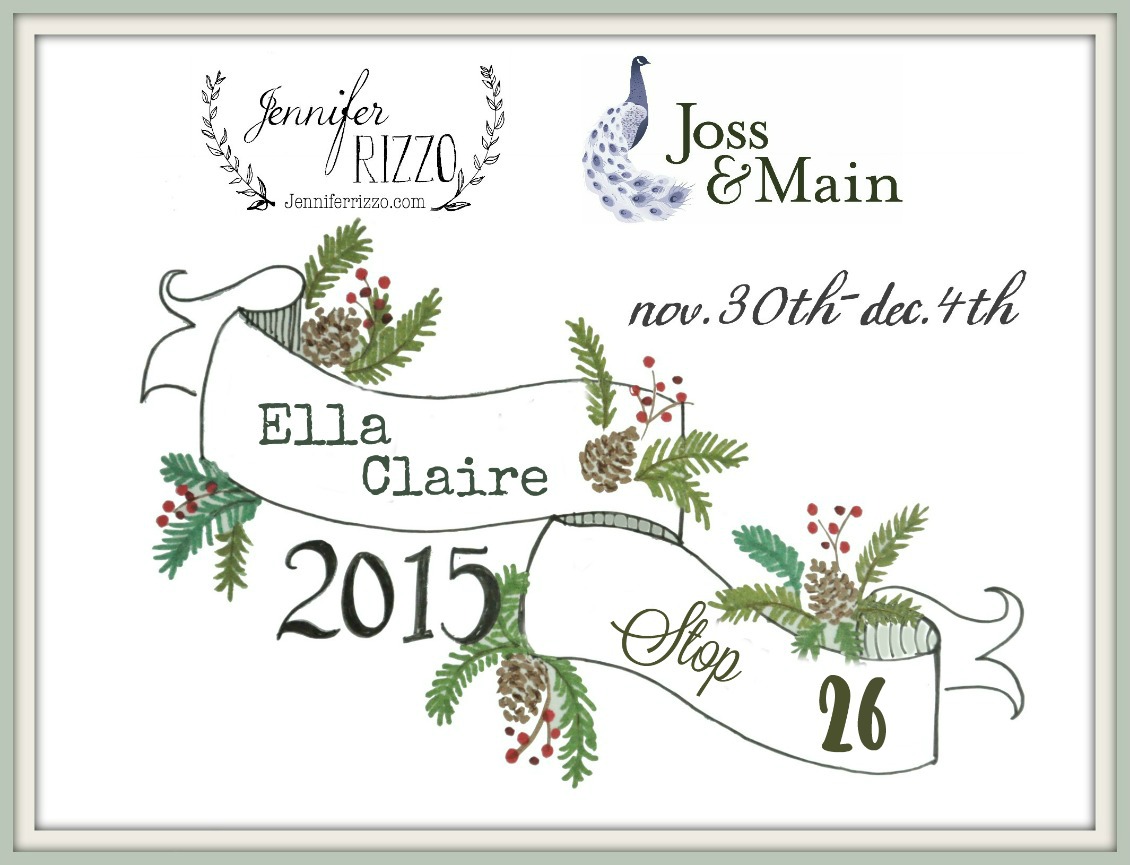 This year I kept it pretty simple throughout the house and used lots of fresh greenery.  Our home is open and when I say open I mean open.  The only rooms that closed are those with a door which are the bedrooms, so I have to keep it pretty cohesive on the first floor.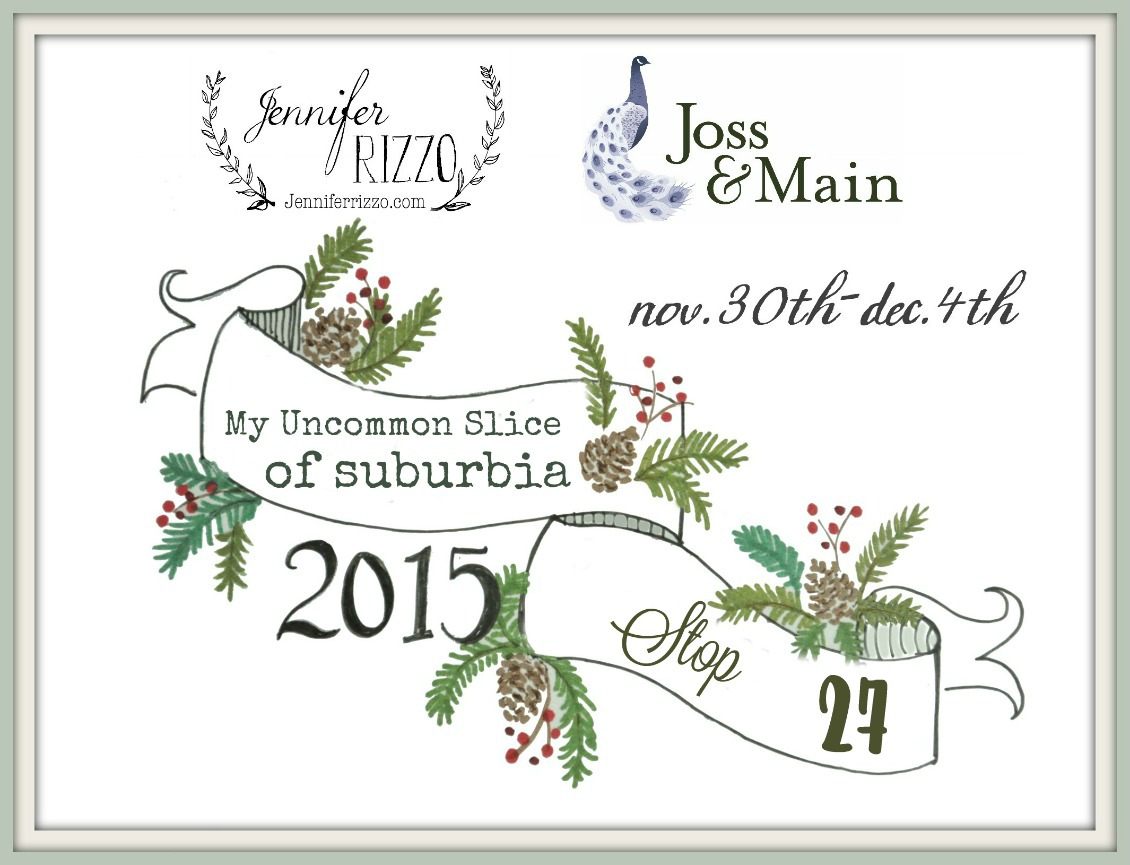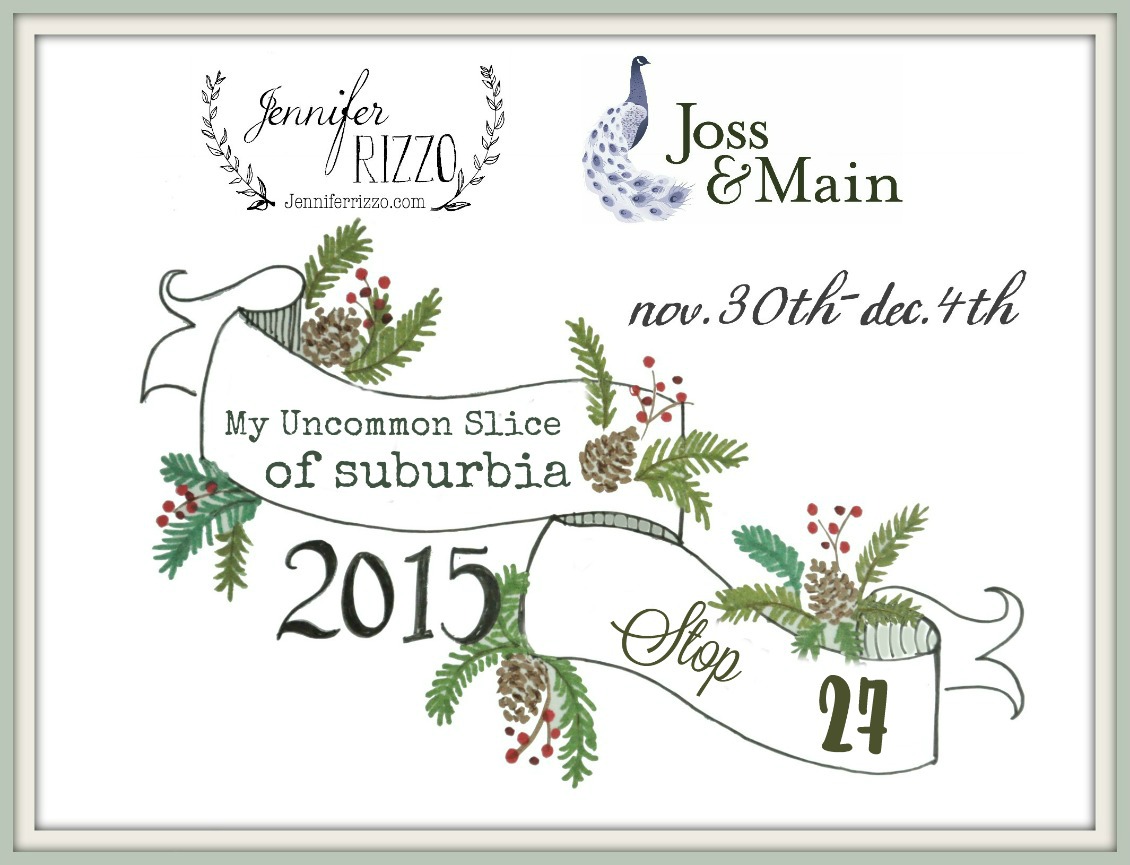 So get comfy, grab a glass of tea or wine and come on in!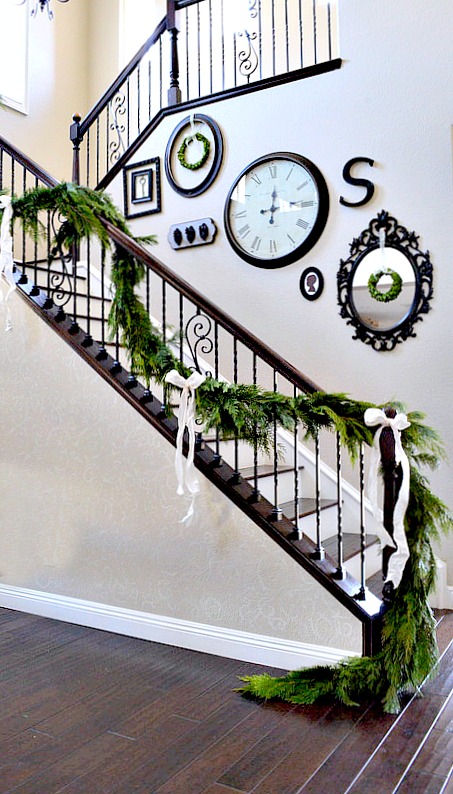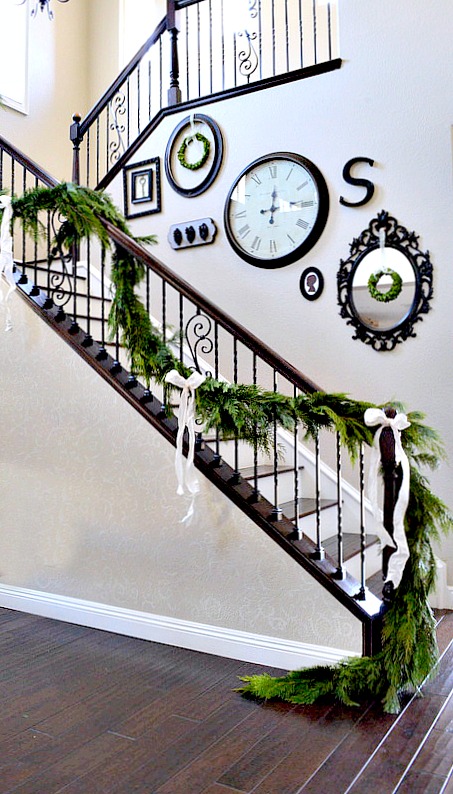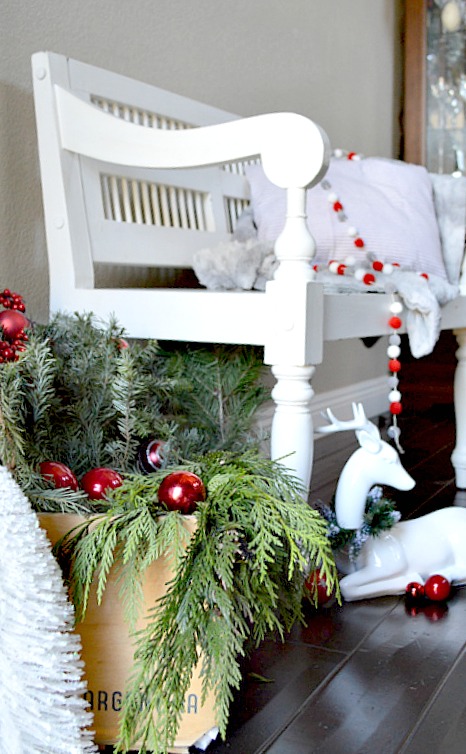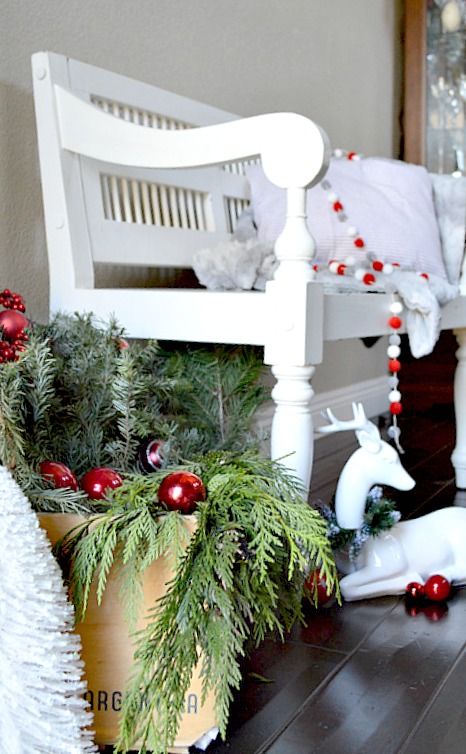 There are a lot of things I think about when decorating, but most importantly I focus first on what is important, FAMILY!   A welcoming cozy home where family and friends are comfortable, where we can share stories, laugh and play games.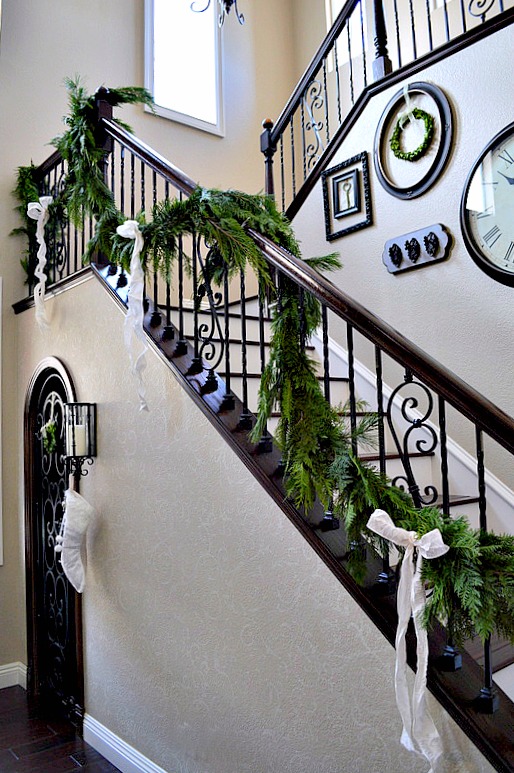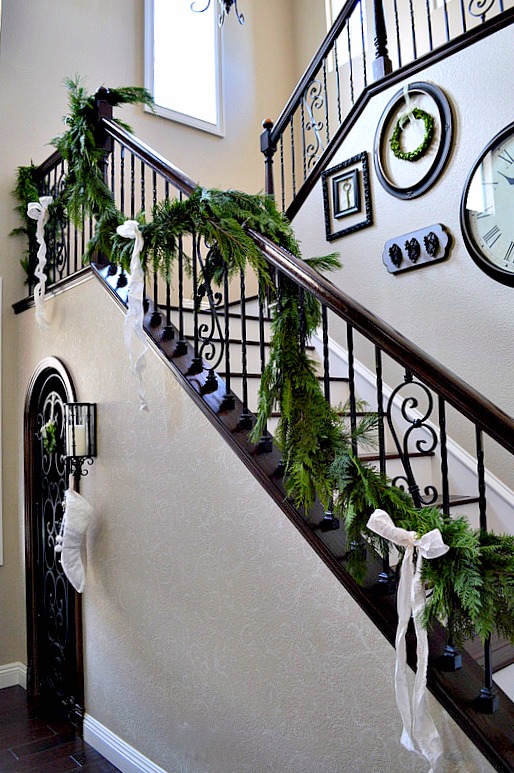 For the stairs this year I used lots of fresh garland which make the house smell amazing, I simply added long white ribbons and preserved boxwood wreaths .
on the wall to make for a welcoming entrance.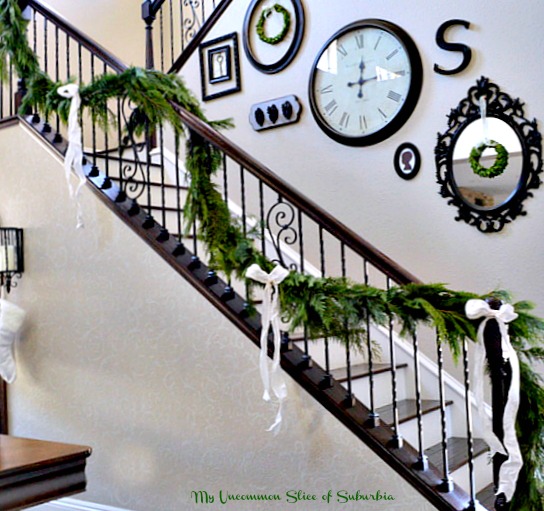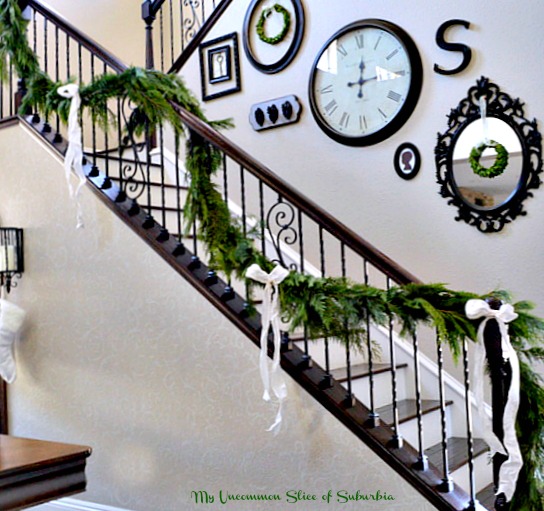 As you walk past the stairs you flow right into the dining room where I decided to add a bit of nature to the Christmas table.  I found these beautiful rustic candle holders online for $10 so I bought 2 and filled them with fresh greens and bit's of cranberry for some pops of red.  I scattered mason jars of varying heights filled with LED tea lights, twine and foliage for a rustic look.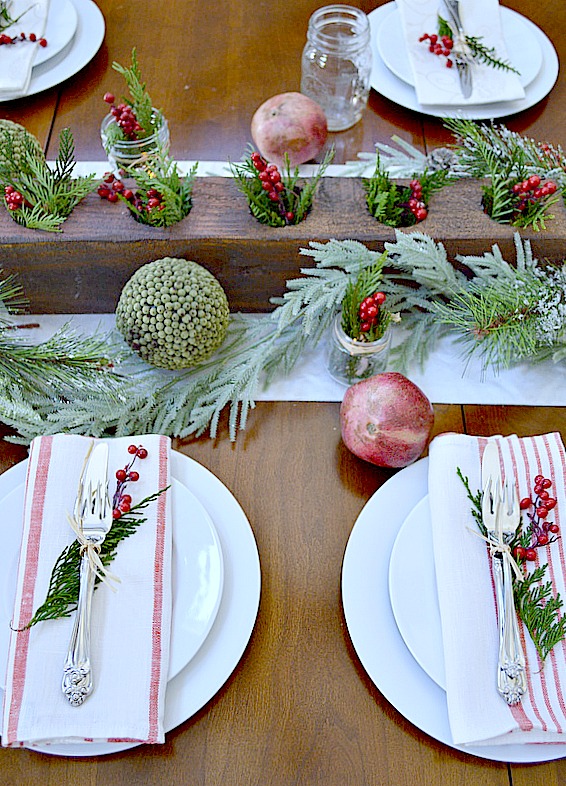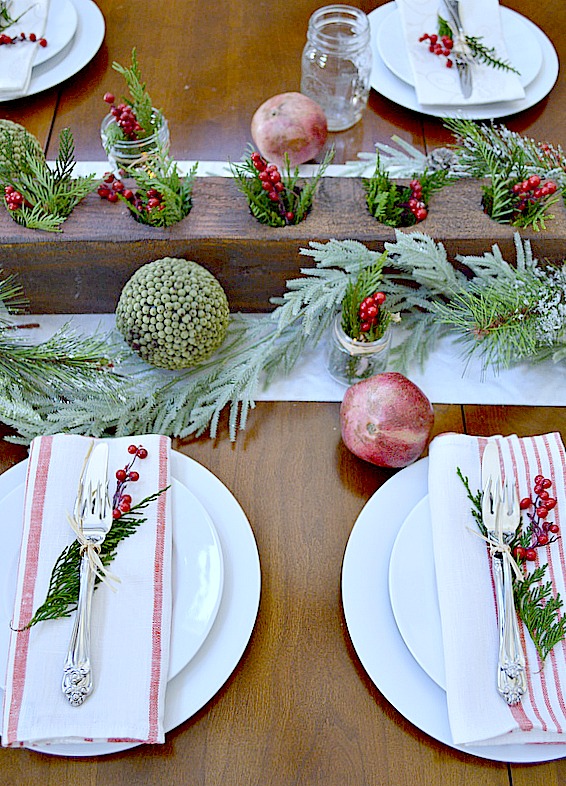 I scattered pomegranates to bring more nature in and added these beautiful linen napkins on top of the plates.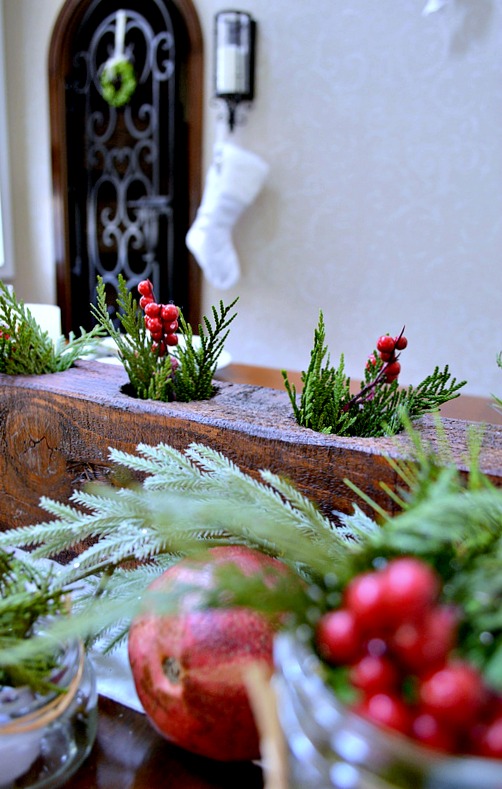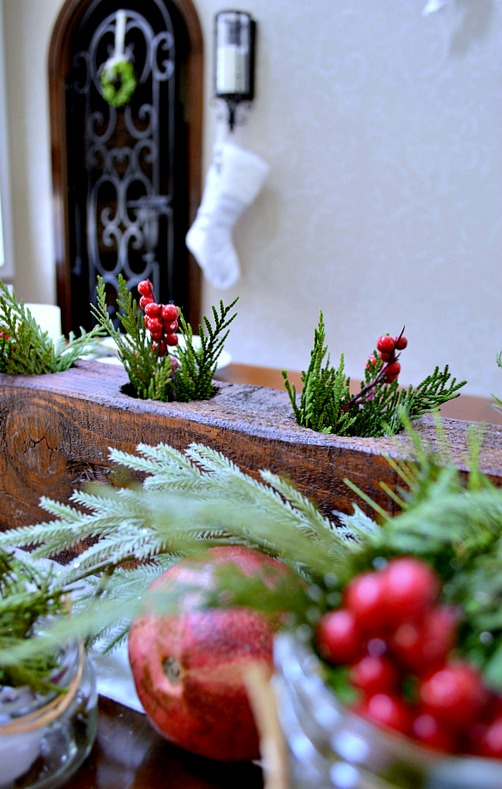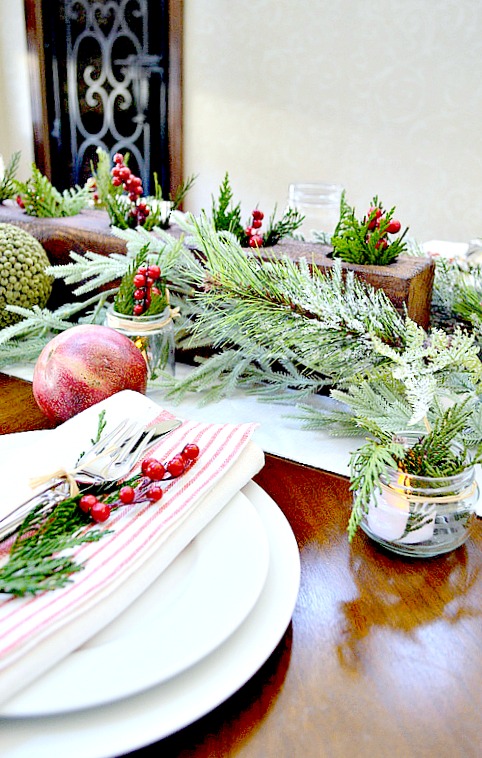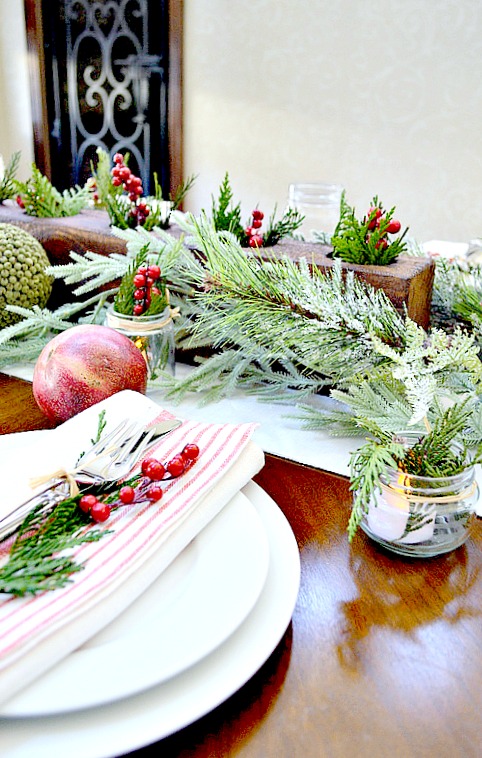 From the dinning room we walk right into the great room where the majority of family time is spent. We try and make our home so that all guest feel welcome, put their feet up and make themselves cozy.  Creating family memories is what this room is all about.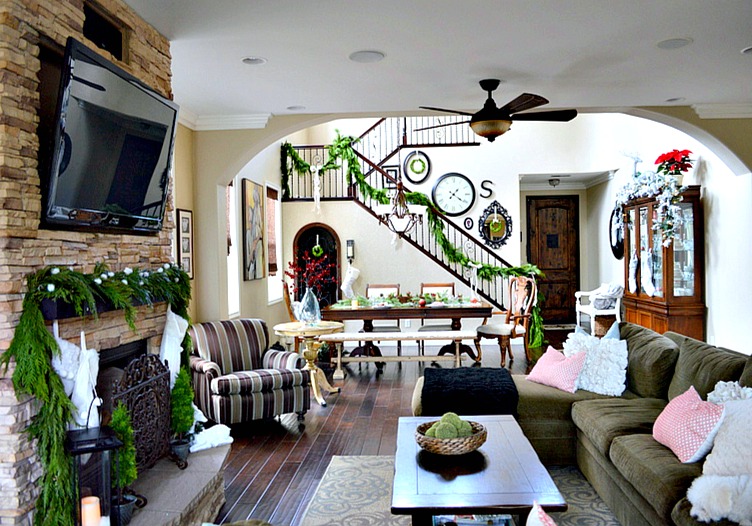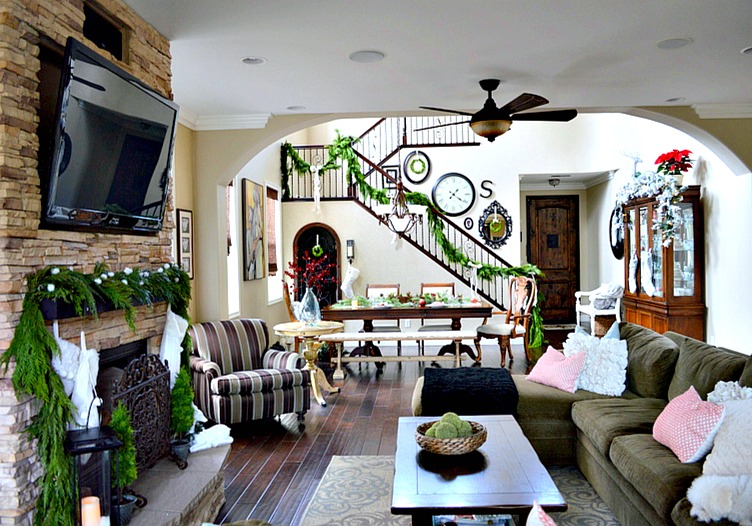 Pre-Lit Snow Garland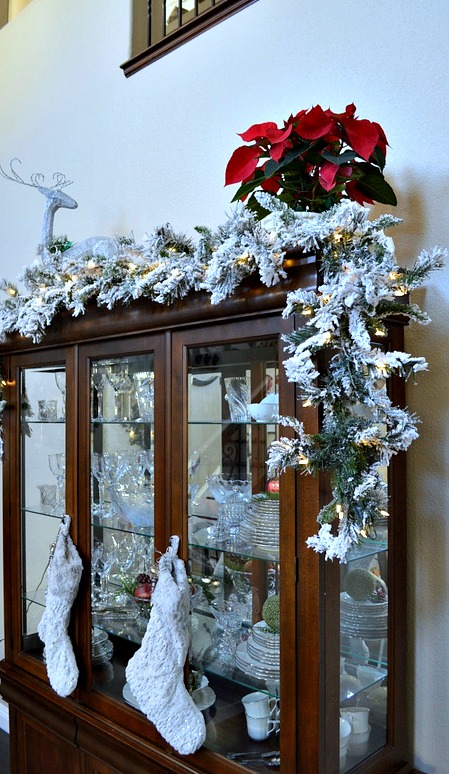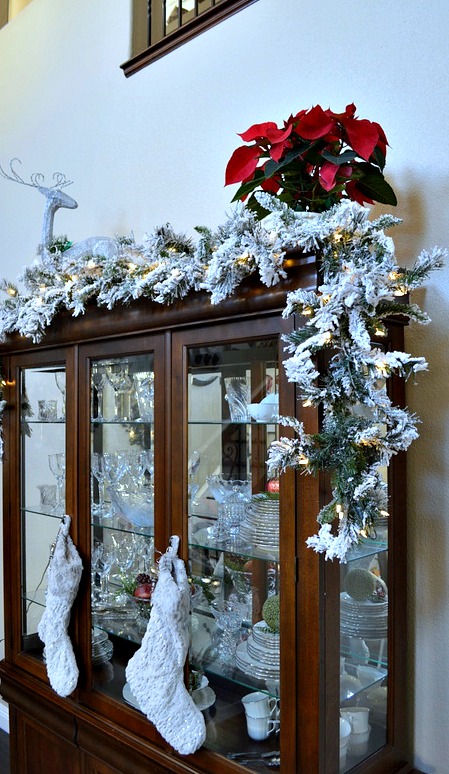 I wrapped the fireplace with more fresh garland, beautiful knitted stockings, a reindeer, lantern and cedar topiaries.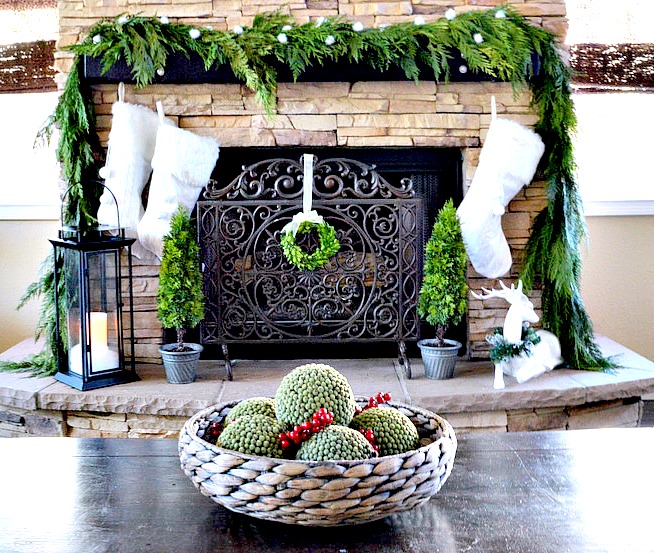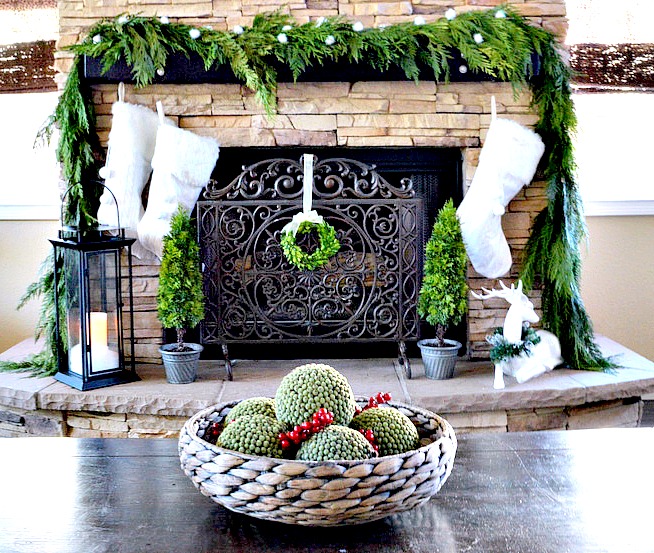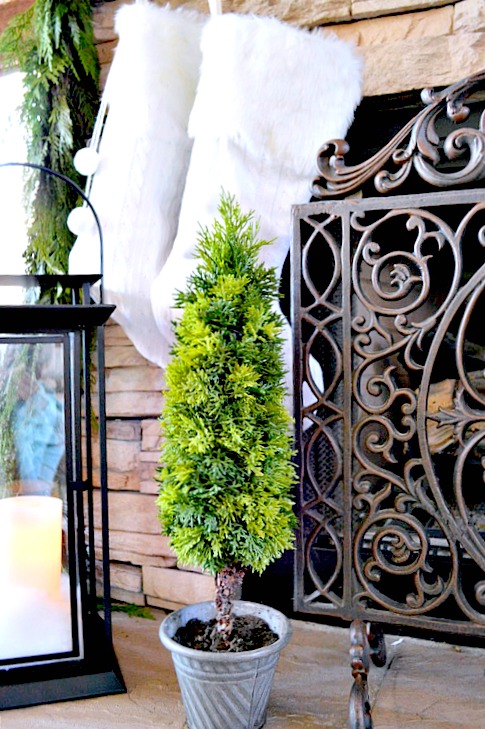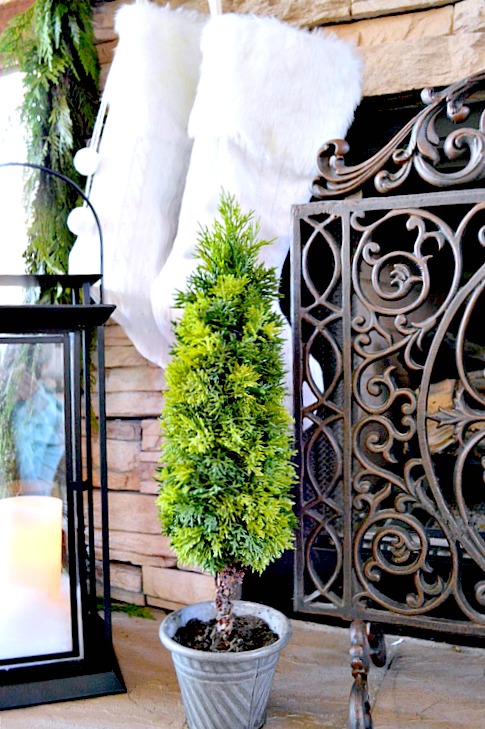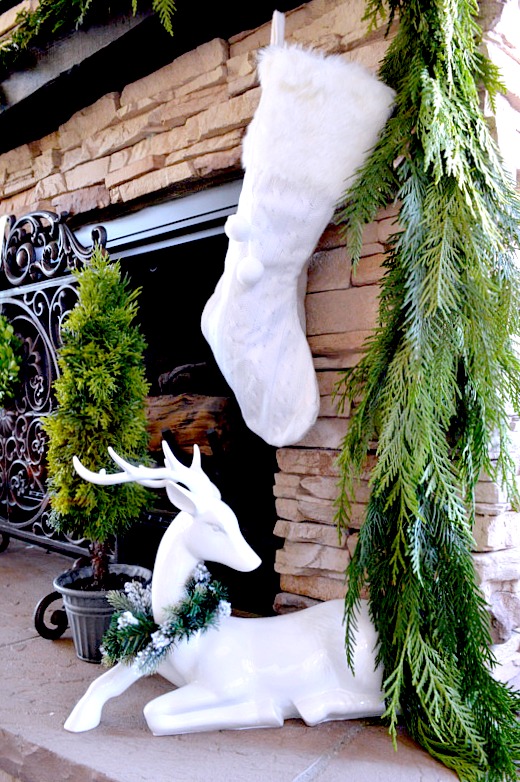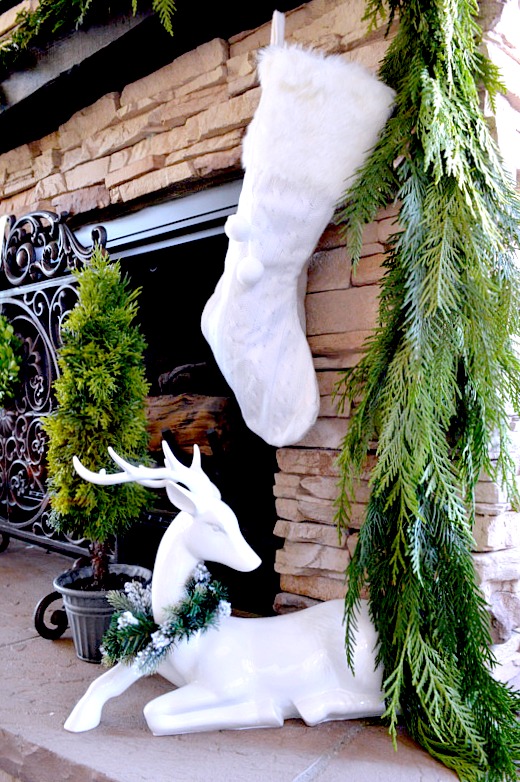 I placed a woven basket with berry ornaments on top of the coffee table.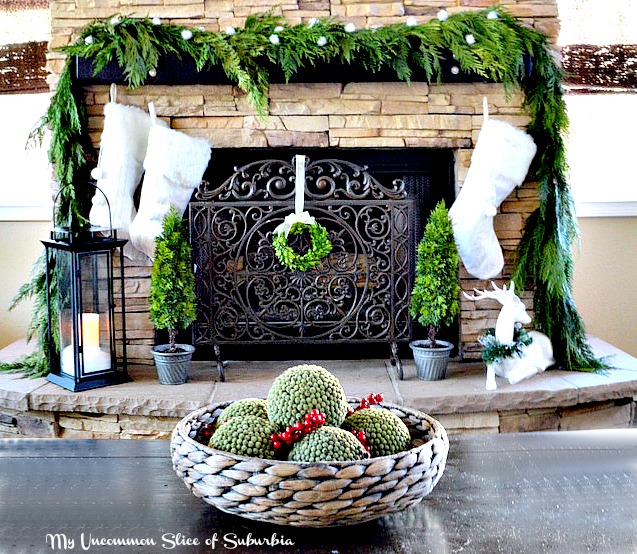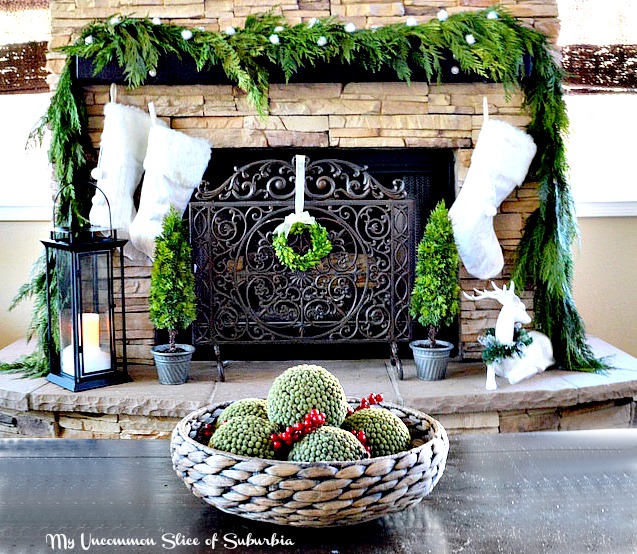 Towards the back of the house, you will find a small sitting area and the kitchen off to the left.  This is where we place the tree and a few fun vignettes.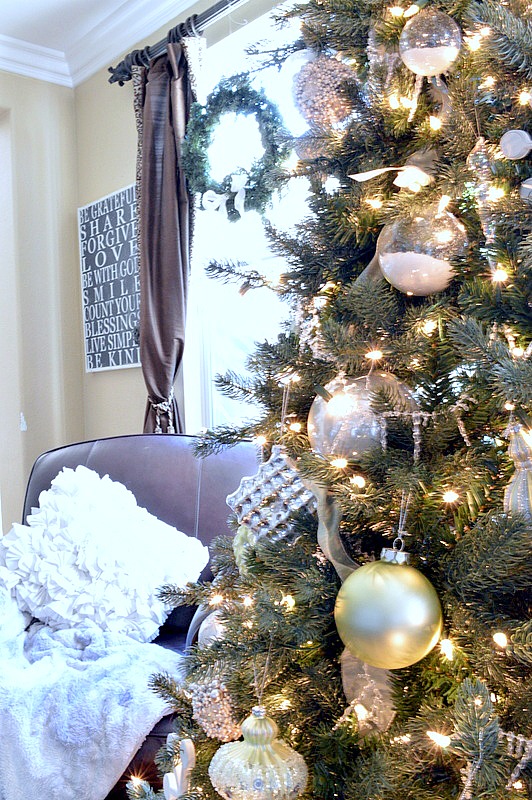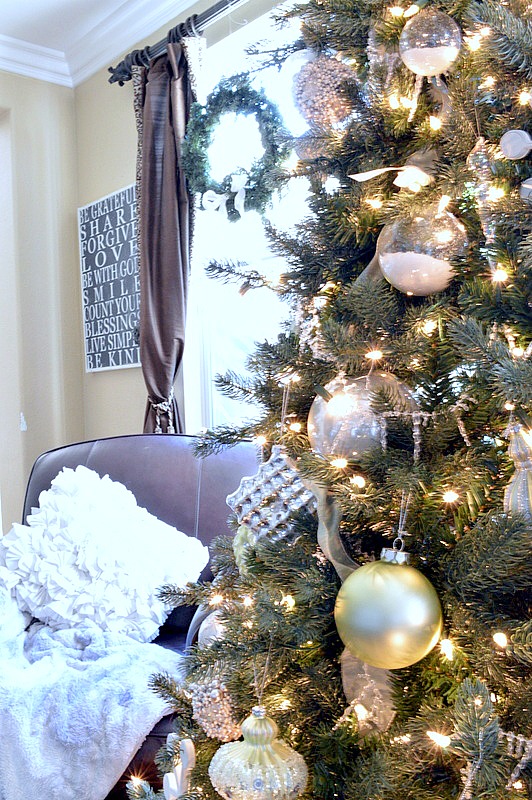 I kept it pretty simple in the kitchen this year using square planters with more fresh greens and pops of red.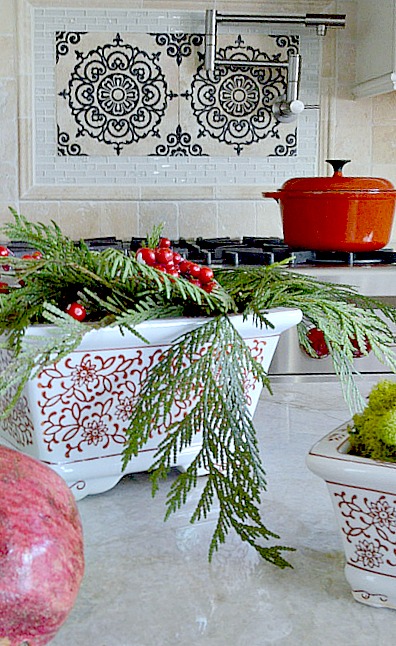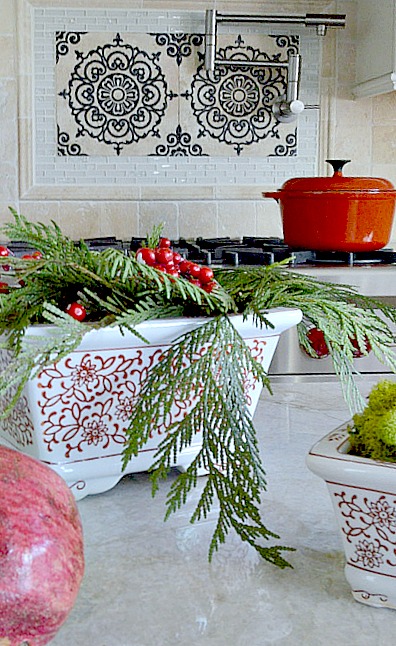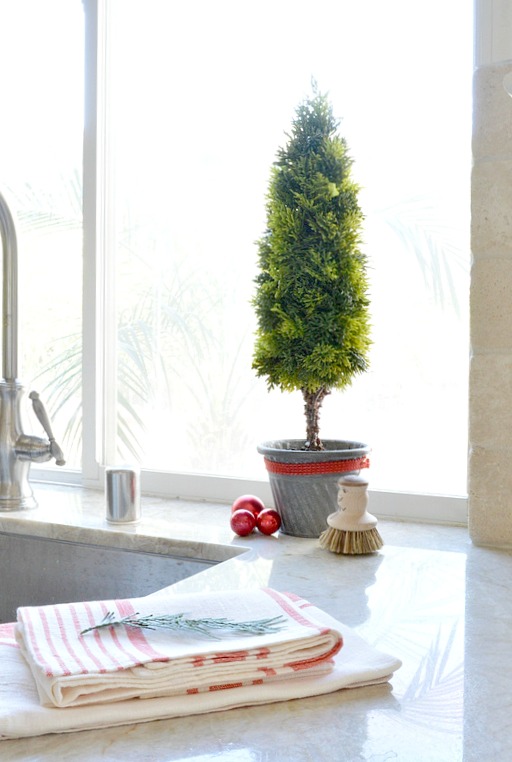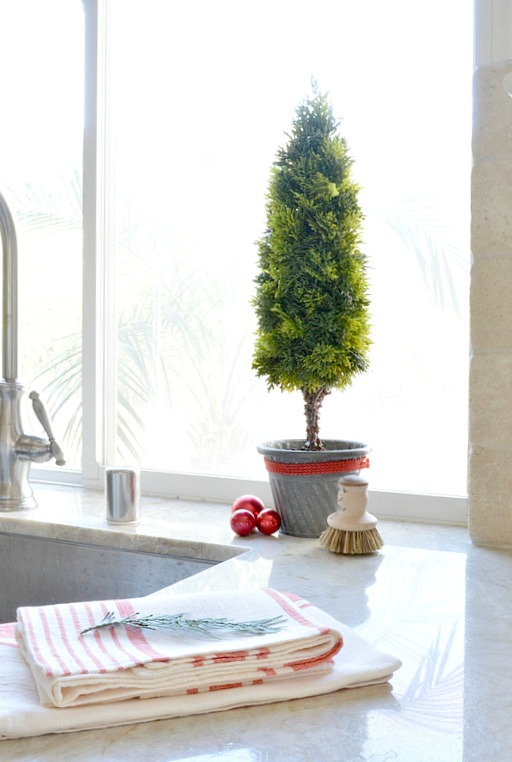 I  think that just about sums it up for the downstairs.  I'll be sharing the upstairs next week all decked out in fun pops of vibrant colors for the kids, I can't wait!
Next stop on the home tour is My Sweet Savannah, you are going to love her beautiful and cozy home!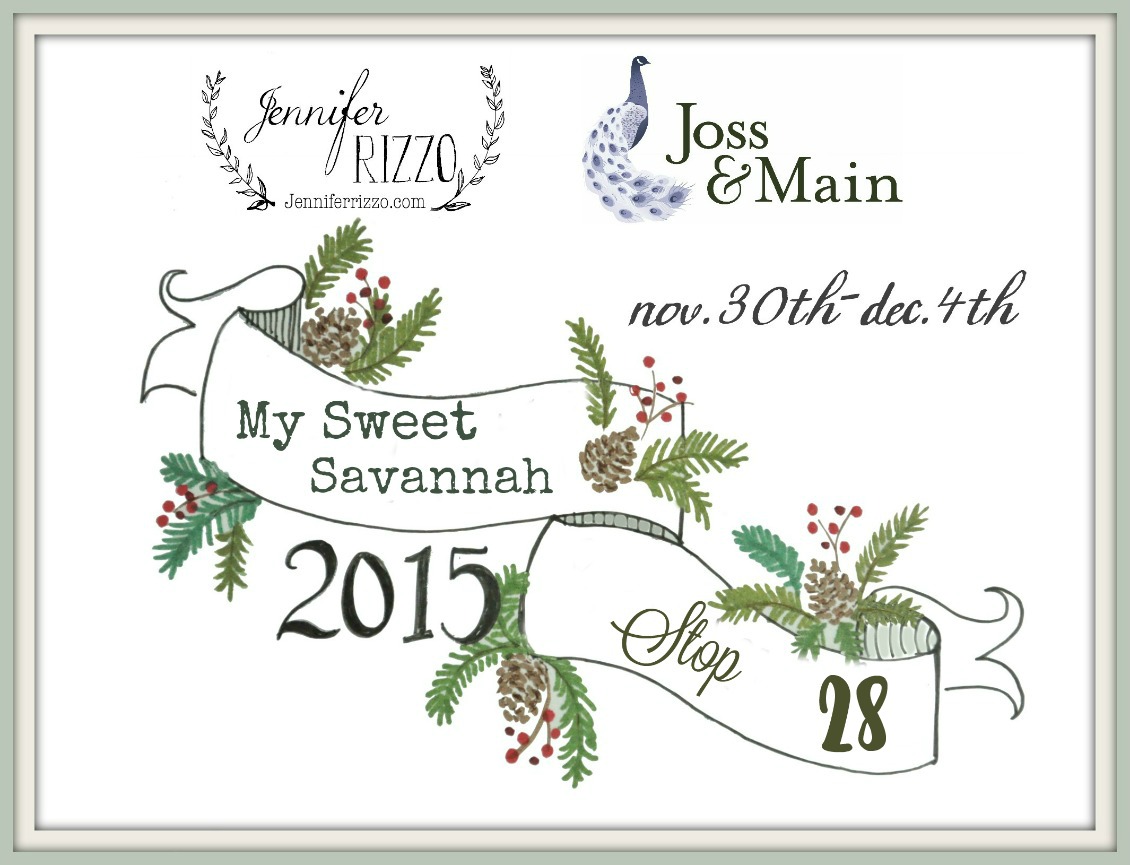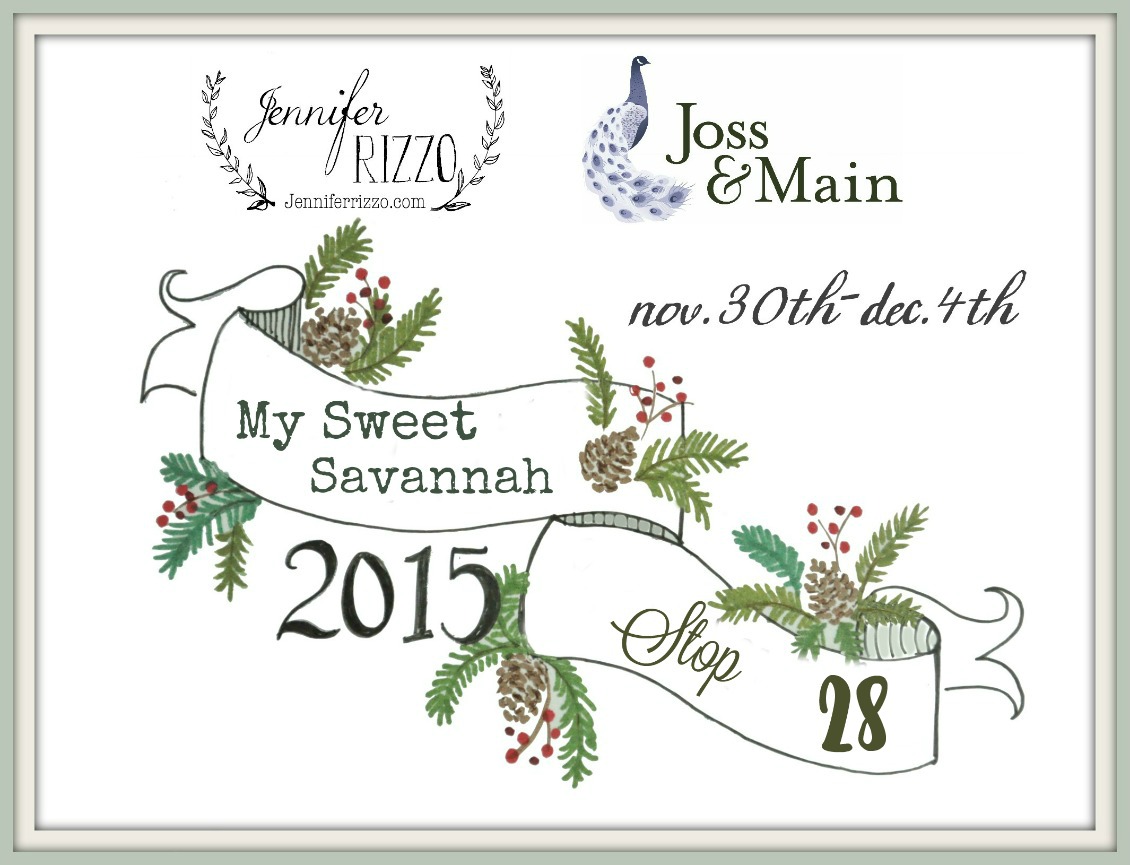 For more holiday inspiration, you can follow our Pinterest board with Good Housekeeping here.
If you would like to see our past home tours I have them listed below.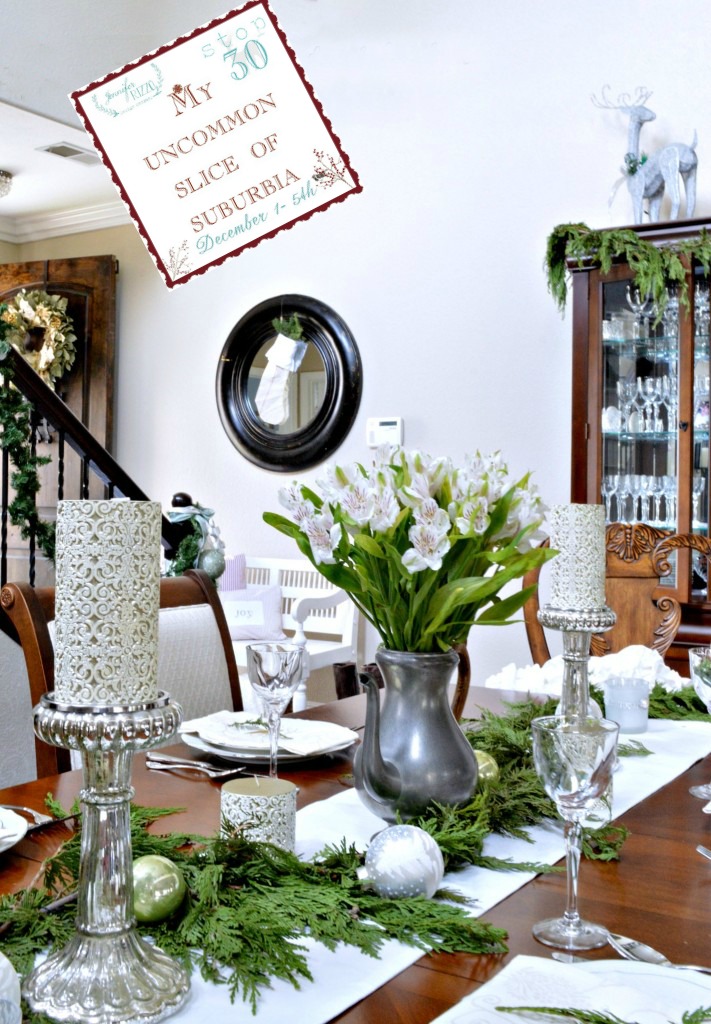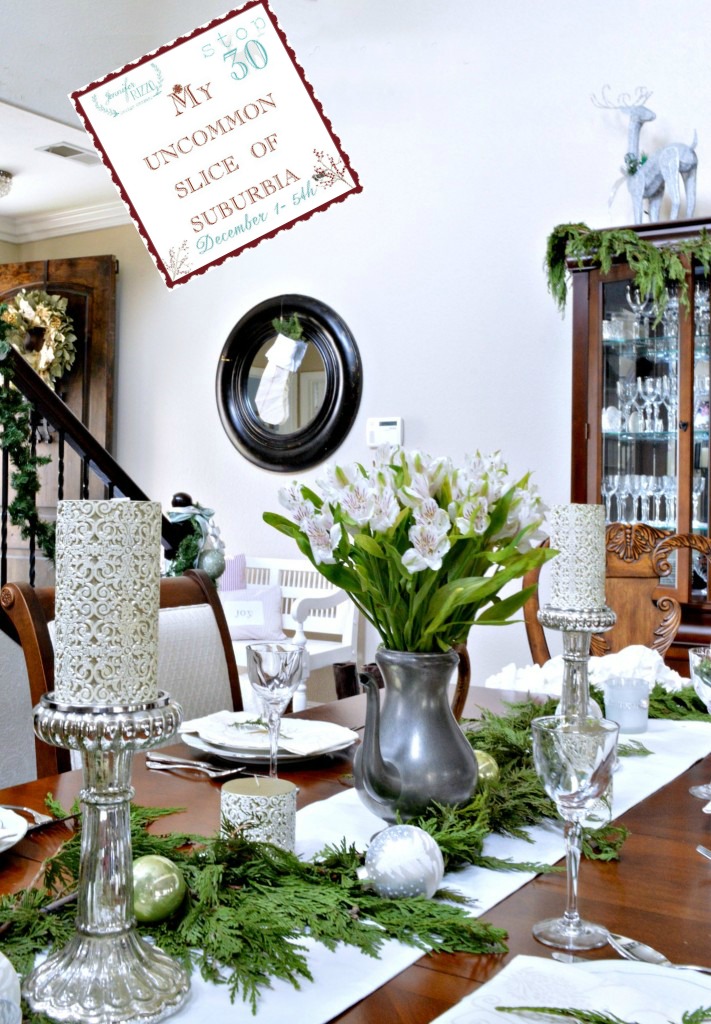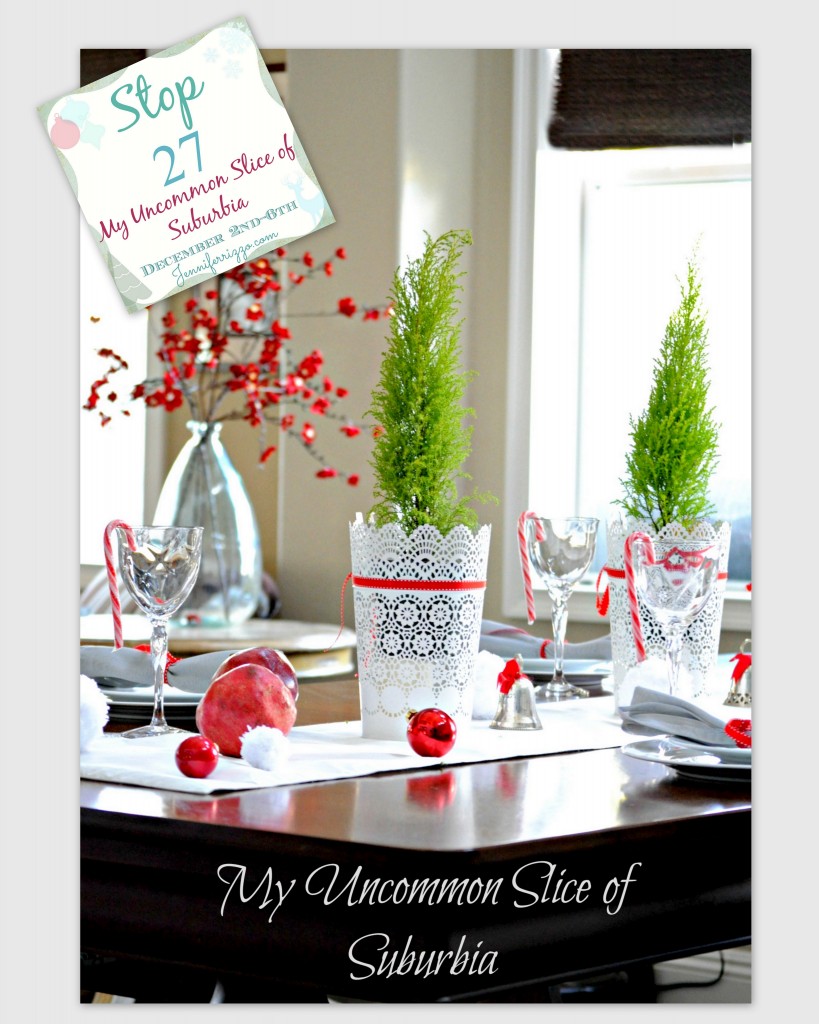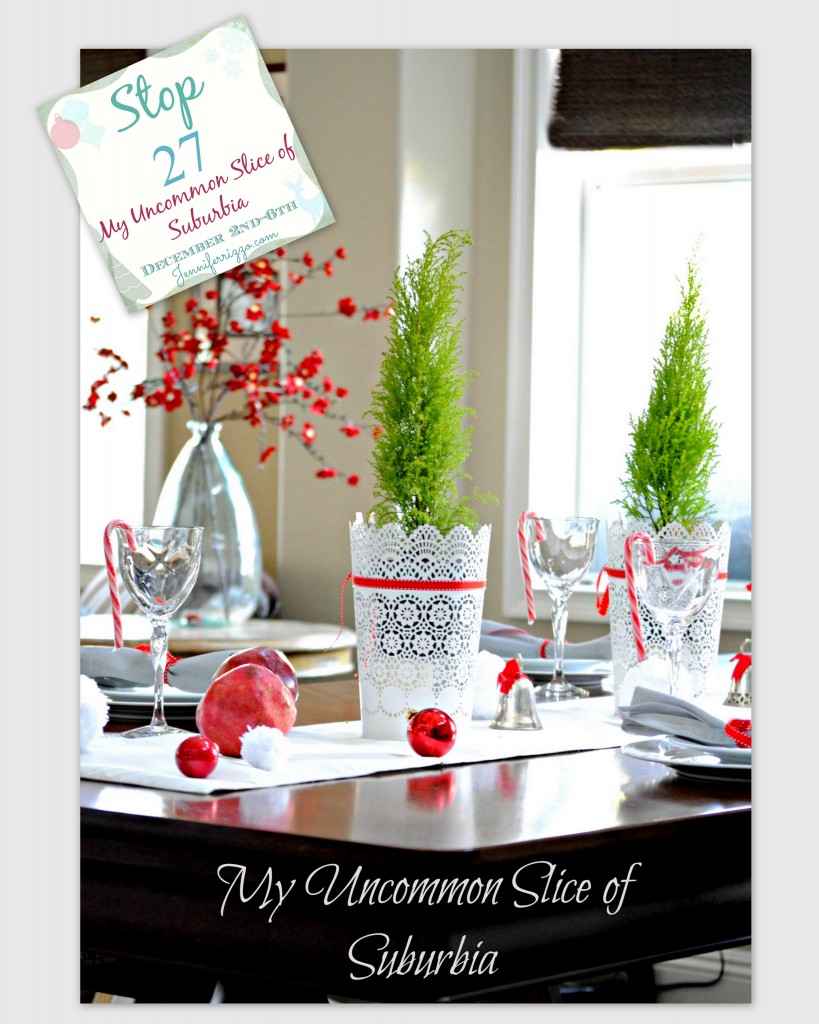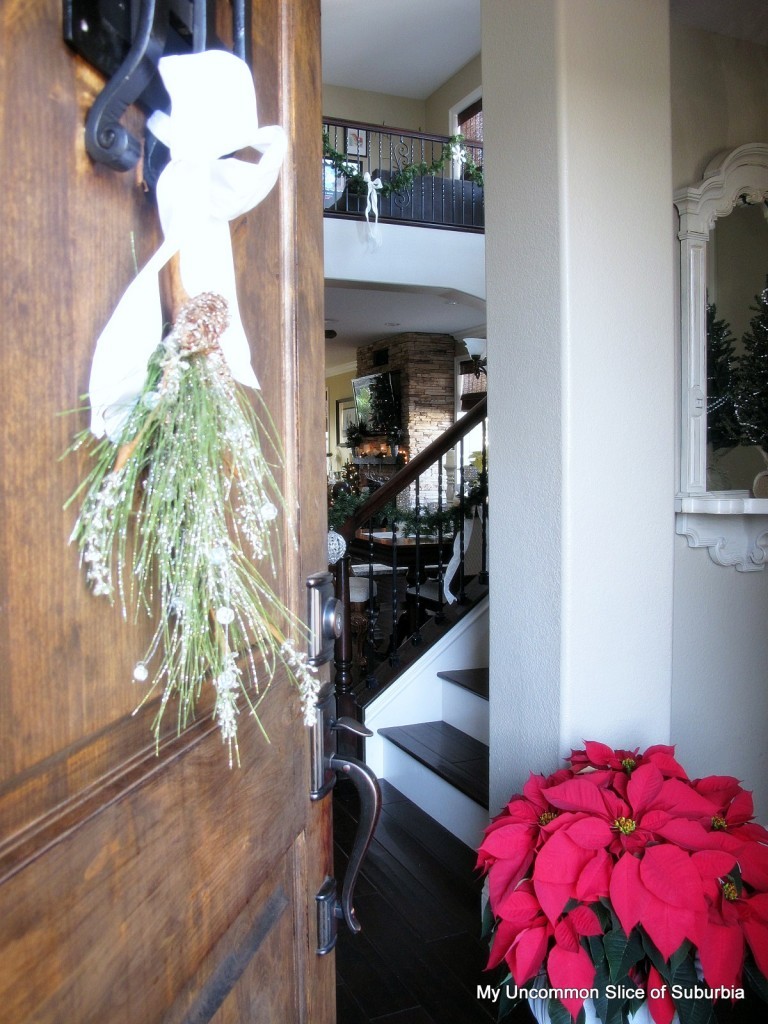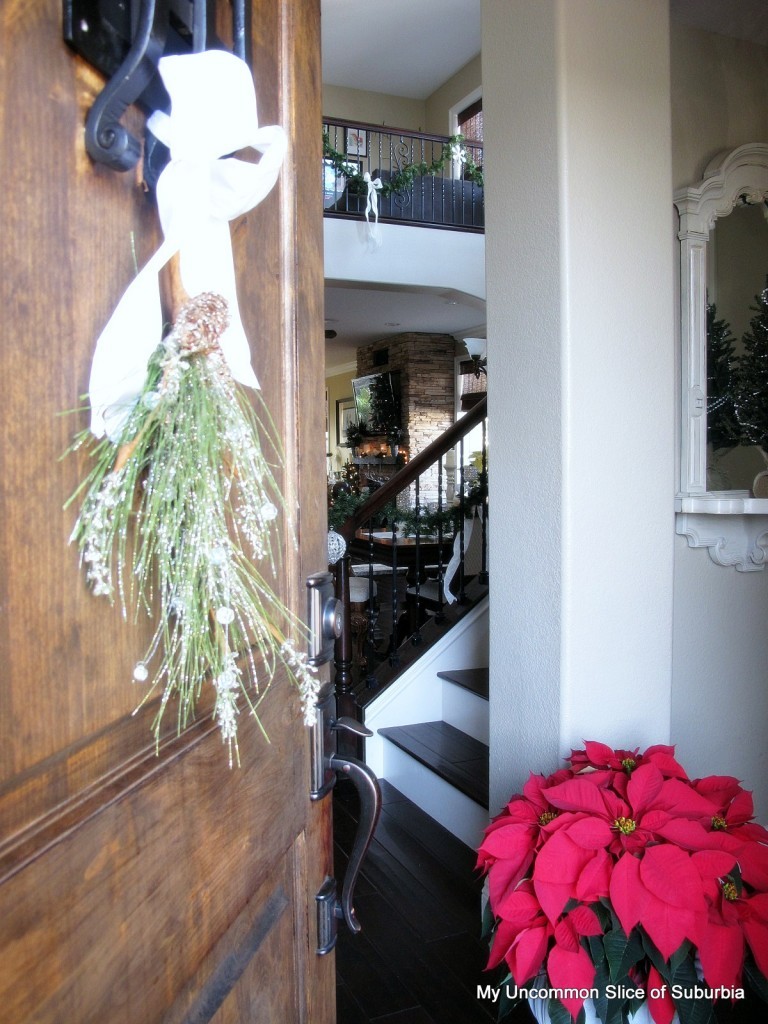 Thank you so much for stopping in today, wishing you a wonderful holiday season!