This shop has been compensated by Collective Bias, Inc. and its advertiser. All opinions are mine alone. #YesYouCan #CollectiveBias
Weeknights are busy at our house with all the after school activities which doesn't leave much time for cooking. I love the crockpot during the week and save the more lavish meals for the weekend. This creamy chicken chili is so delicious and perfect for a cold winter nights and cooks effortlessly! The best part, if you double or triple the recipe you can make many more amazing dishes from it or freeze it for another time, I'm all about saving time!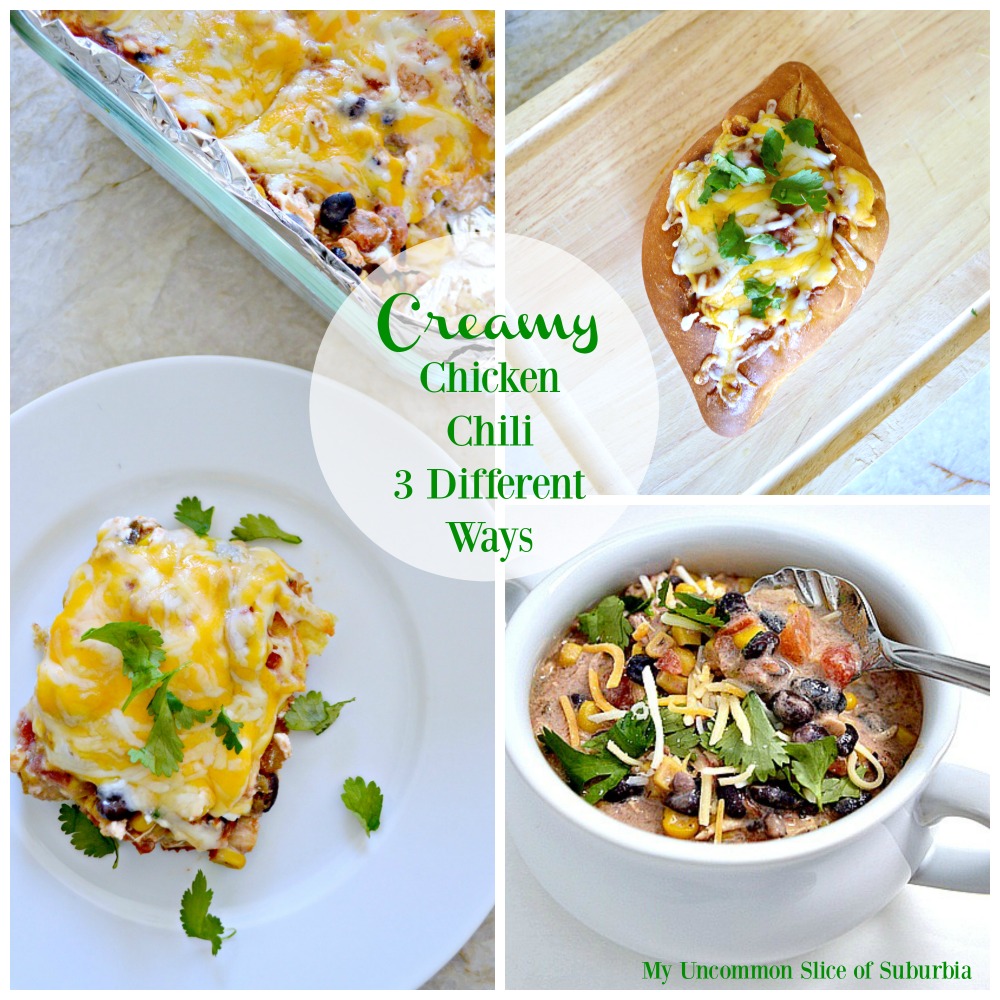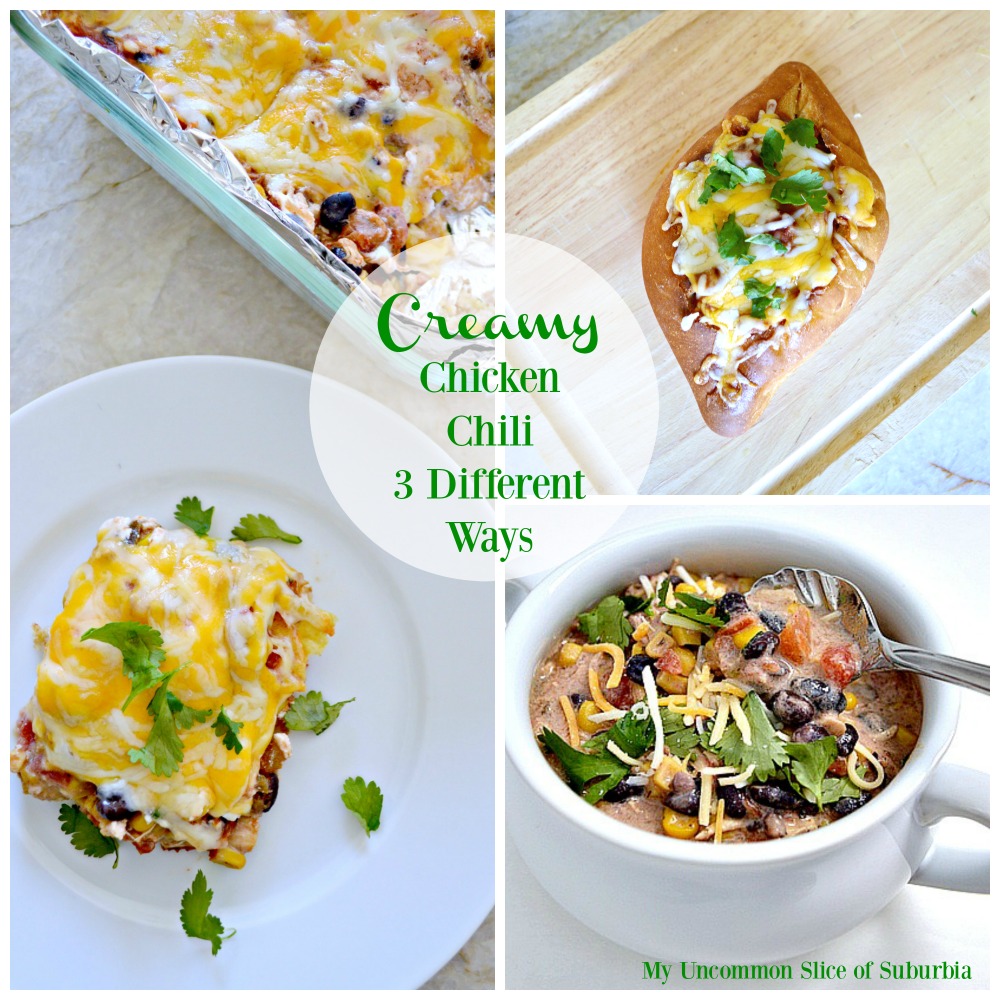 Slow Cooker Creamy Chicken Chili
An easy creamy chicken chili with a zesty kick from Ro*Tel
Hands On: 10 minutes
Total: 6 hours 10 minutes
Makes: 8 servings (about 1 cup each)
Ingredients
PAM® Original No-Stick Cooking Spray
2 cans (10 oz each) Ro*Tel® Original Diced Tomatoes & Green Chilies
1 can (15 oz each) Rosarita® Premium Whole Black Beans, drained, rinsed
1 can (15.25 oz each) whole kernel corn
1 pkg (1.0 oz each) Ranch dip mix
1 tablespoon chili powder
1 teaspoon ground cumin
1 pkg (30 oz each) boneless skinless chicken breasts
1 pkg (8 oz each) cream cheese
Fresh cilantro, optional
Fresh avocado, optional
Directions
Spray inside of 4-quart slow cooker with cooking spray. Place beans, corn, tomatoes, ranch, chili powder and cumin in slow cooker; stir to combine. Add chicken and cover with tomato mixture. Cover and cook on HIGH 4 hours or LOW 6 hours, until chicken shreds easily with a fork.
Pull chicken into shreds with 2 forks. Stir cream cheese into soup until melted and combined. Sprinkle each serving with chopped cilantro and avocado, if desired.
(Note, this recipe is pretty thick so if you like a thinner chili you can add vegetable or chicken stock)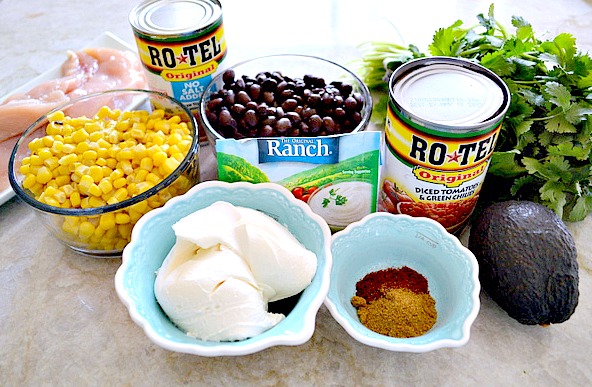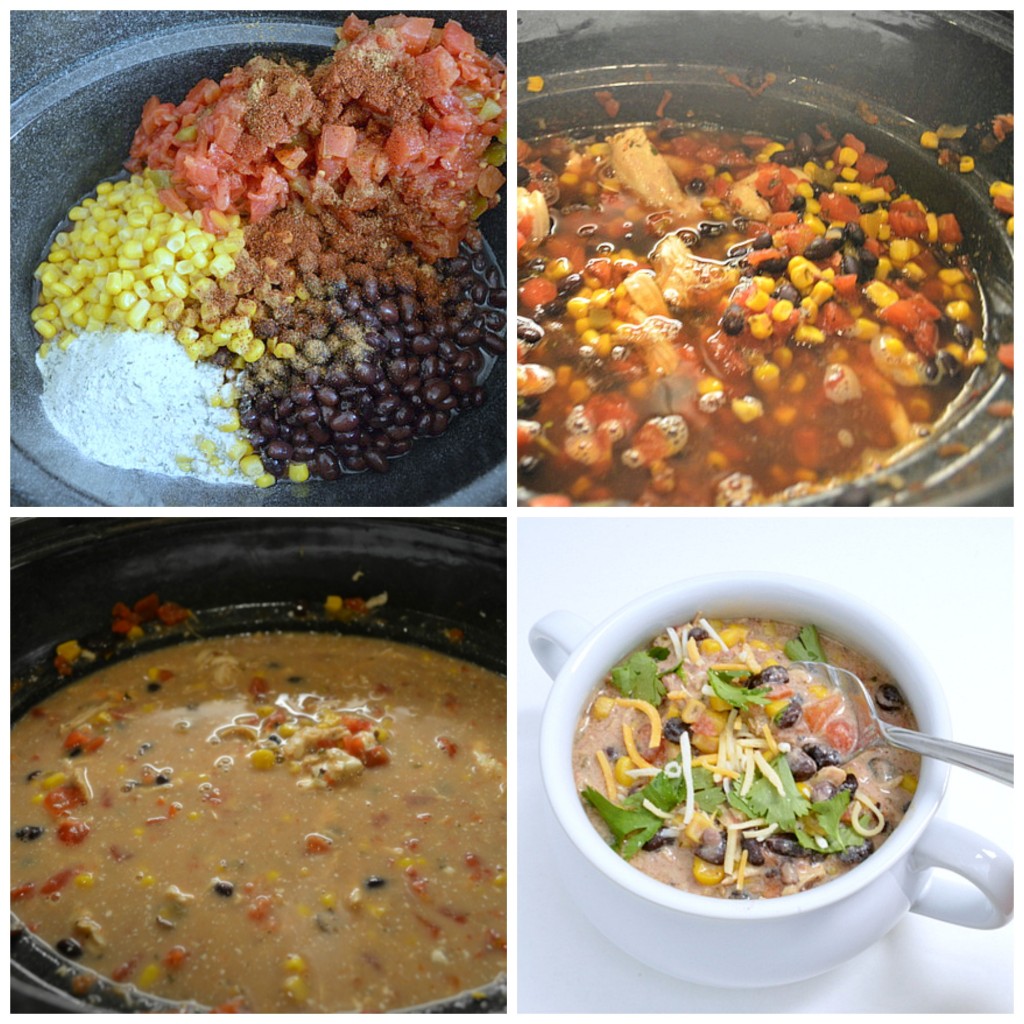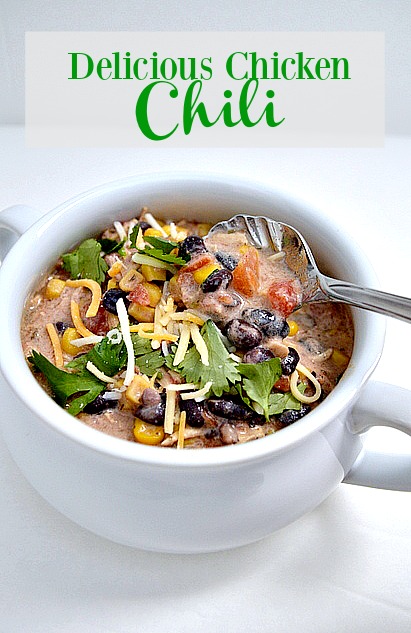 The whole family loved this chili even my most pickiest of eaters! Since that was such a hit I decided to make a casserole with the leftover chili the following day.
One of the best ways to ensure that messy food will come out of a pan, is to line a baking pan with aluminum foil. This KITCHEN HACK will save you time in the end when it comes time to cleaning!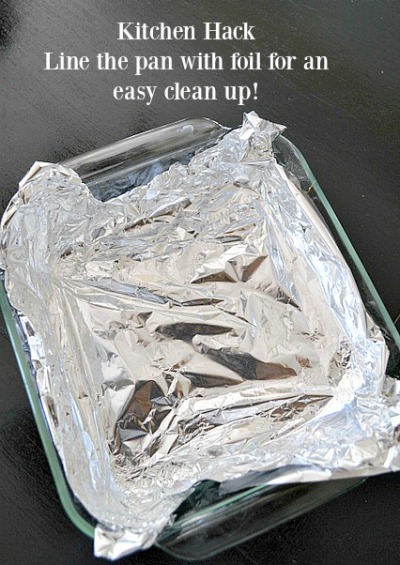 CHIPS AND CHEESE CHILI CASSEROLE
INGREDIENTS:
6 cups whole corn chips, crushed
Leftover Chili from recipe above
1 10-ounce jar salsa
1 8-ounce package shredded cheese
1 1/4 cups sour cream
DIRECTIONS:
Preheat oven to 375F. Line a 9-by-9-inch baking pan with aluminum foil, spray with PAM® Original No-Stick Cooking Spray, and set aside. Crush approximately 5 cups of chips and layer the bottom of the pan with them. Add the chili on top of the chips followed by a layer of salsa . Bake for 20 minutes.
After 20 minutes, remove pan from oven and spread sour cream in an even layer over the casserole. Sprinkle with cheese over the top of the sour cream. Sprinkle with more crushed chips and bake for 9 to 12 minutes, or until top is browned.
Garnish with fresh cilantro if so desired. This is one recipe you can get creative with, think of adding corn, more beans, peppers anything your heart desires! This is also really good as a dip with chips, perfect for a family gathering!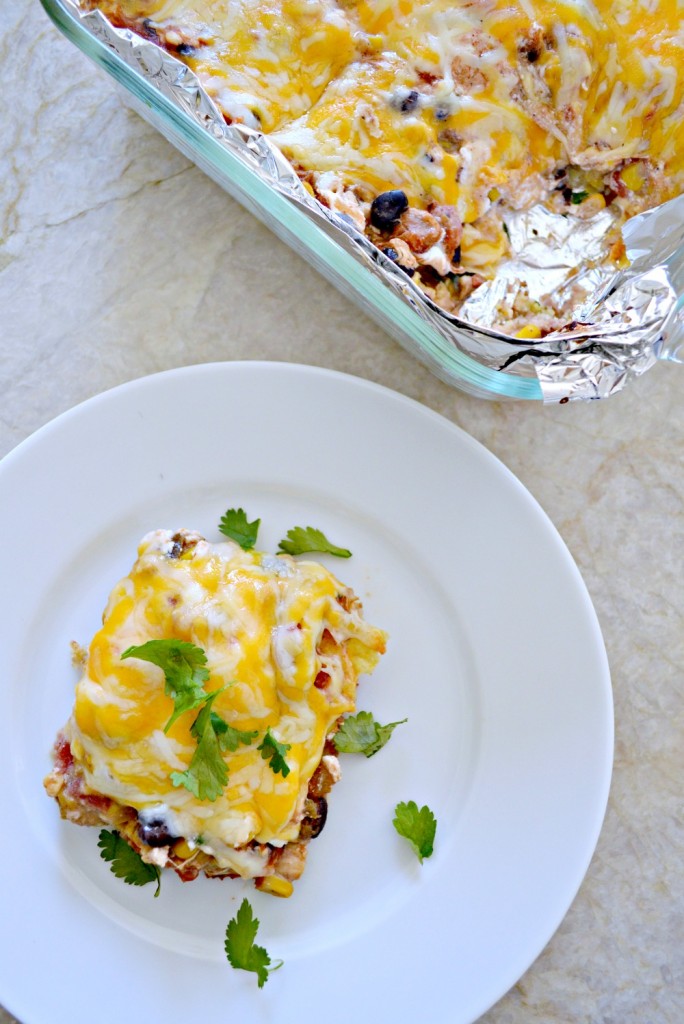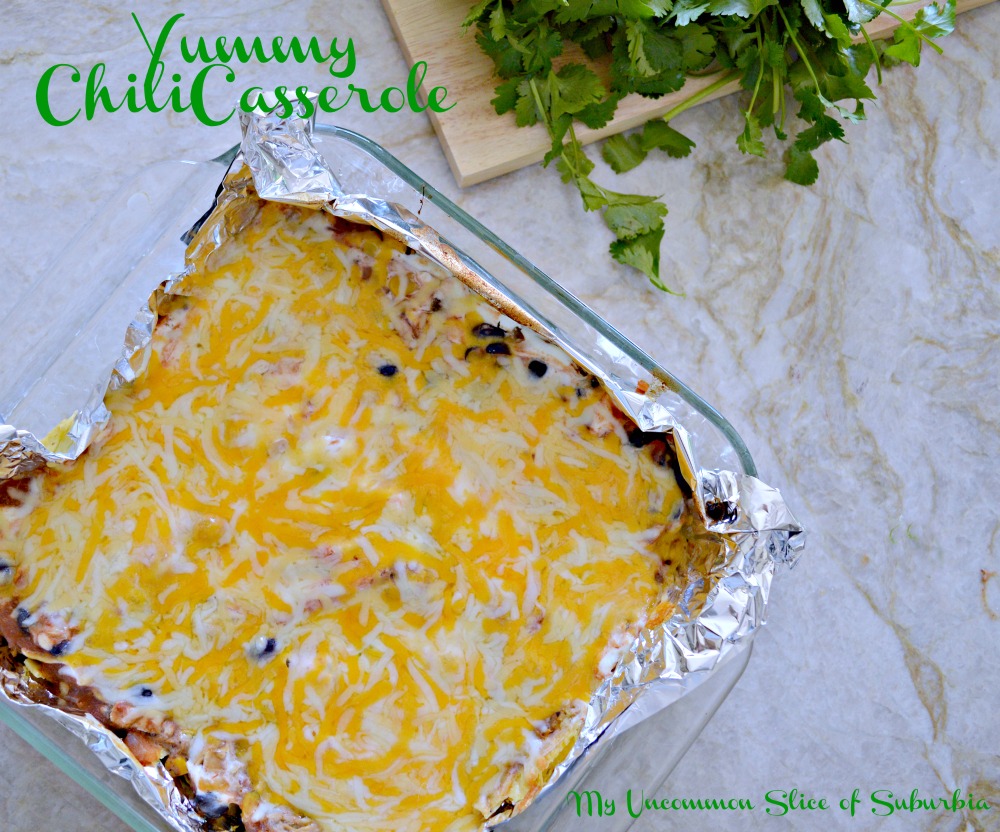 Next up, using the same creamy chicken chili, I made chili cheese sandwiches, so simple and easy!
Chili Cheese Sandwiches
1 package fresh Rolls from Walmart's Bakery
Shredded cheese of your choice
Leftover chili
Cilantro (optional)
Preheat your oven to 350 degrees. Using a serrated knife, remove the middle of the roll and bake for about 5 minutes until roll is nice and warm and slightly crispy. Pour some warm chili inside the roll, top with shredded cheese and pop it into the oven for about 5 more minutes or until cheese is melted slightly. Garnish with cilantro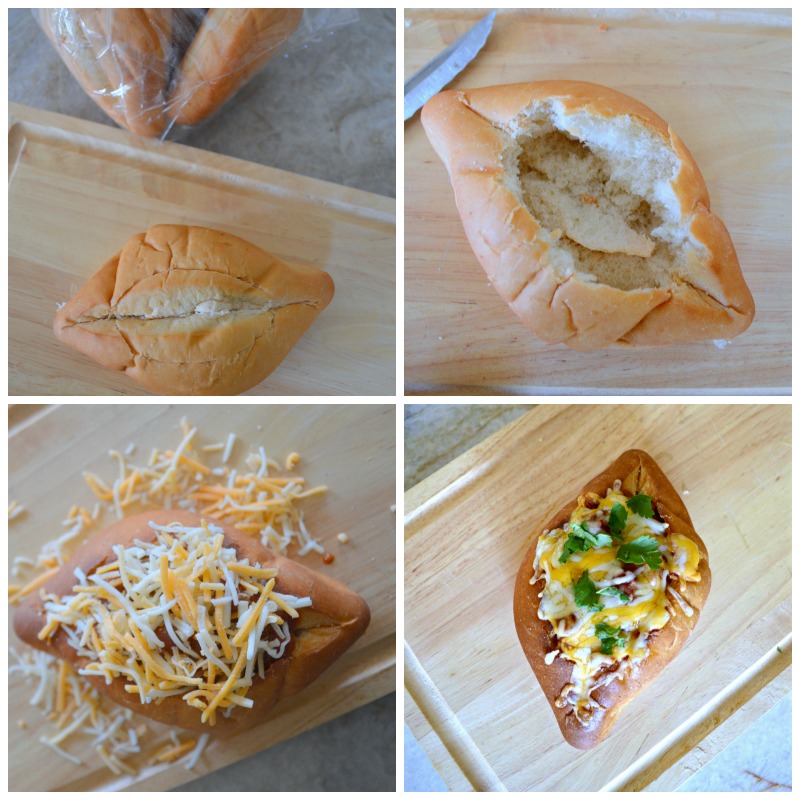 So easy and quick!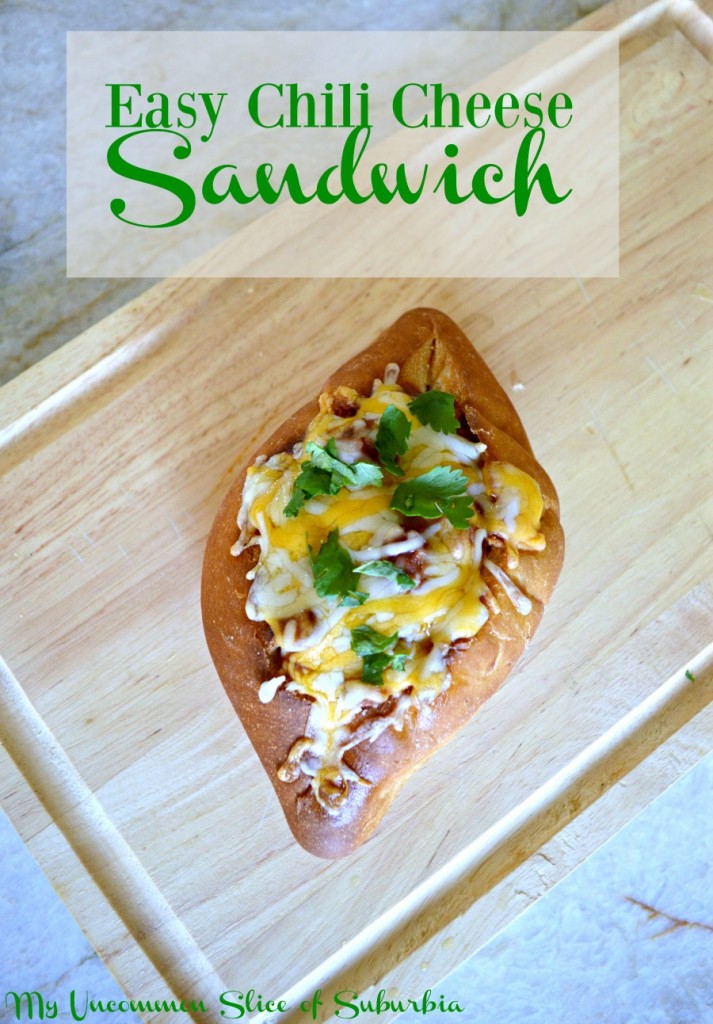 I picked up all of the ingredients on my most recent trip to Walmart. I love being able to make one stop and find everything I need.
Hopefully I have given you a few ideas to make those crazy weeknight dinners run a little smoother, thanks so much for stopping in today! Check out Yes You CAN Recipes for more delicious winter meals that are super easy!