When I was a little girl, I loved when my mom made eggplant parmesan, she was an incredible cook! To this day I love to make all of her staple recipe's, I just change them around a little bit to make things more to our families liking. This eggplant has all the delicious flavors of a traditional eggplant parmesan but it's BAKED which means it's much more healthy for you!

Ingredients
1 Large eggplant
2 eggs, beaten
4 cups panko bread crumbs
6 cups spaghetti sauce, divided (you can make your own or use sauce in a jar)
1 (16 ounce) package mozzarella cheese, shredded and divided
1/2 cup grated Parmesan cheese, divided
2 teaspoons fresh basil (dried will work fine as well)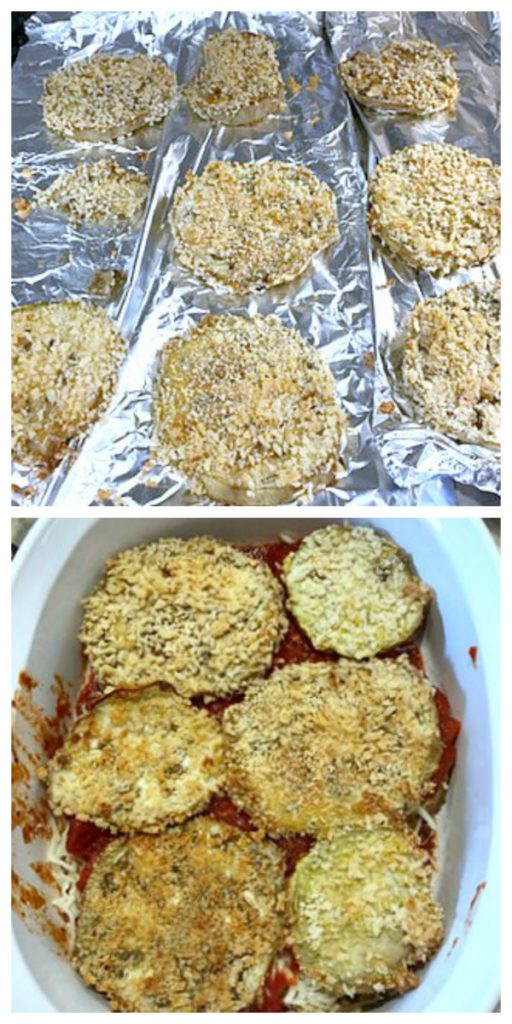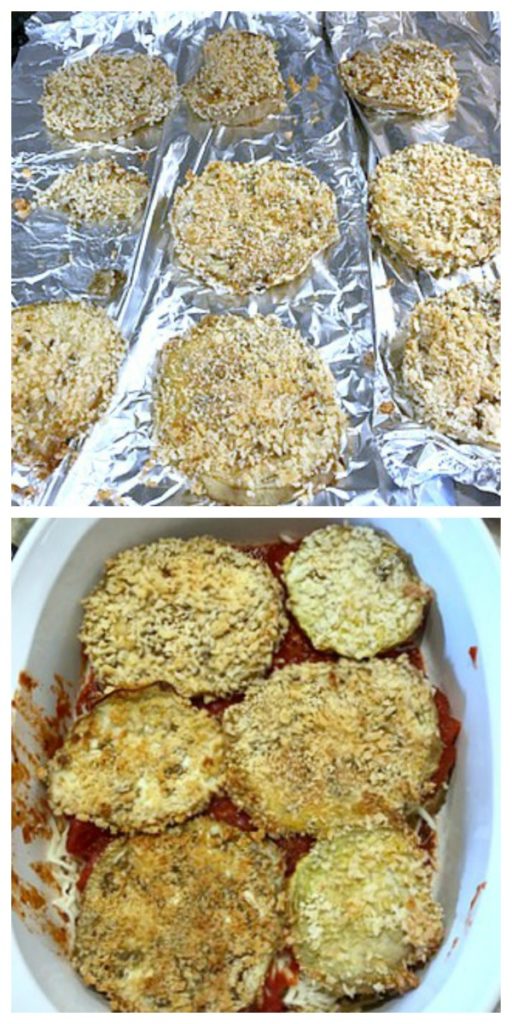 Directions
Preheat the oven to 350 degrees
Peel and slice the eggplant, sprinkle with sea salt and place the eggplant in a colander for about 30 minutes. This will pull out any bitterness and give it a sweeter taste. After 30 minutes, rinse the eggplant well with water and pat dry with paper towels before breading.

Dip eggplant slices in egg, then in panko crumbs. Place the eggplant in a single layer on a baking sheet. Bake in preheated oven for 15 minutes on each side. (total of about 30 minutes, just until browned)

In a 9×13 inch baking dish spread spaghetti sauce to cover the bottom. Place a layer of eggplant slices on top of the sauce. Sprinkle with mozzarella and Parmesan cheeses. Repeat with remaining ingredients, ending with the cheeses. Sprinkle basil on top. The ingredients above will give you about two layers, you can of course adjust to your liking.
I hope you love this as much as my family does, it makes for a pretty simple weeknight meal. If at anytime I have extra ingredients, I make a small extra casserole and freeze it. I wanted to share with you one of my favorite marinara sauces that I use for all of our pasta and lasagna dishes. You could also add any type of meat if you are making a non vegetarian pasta sauce.
Best Marinara Sauce
1/2 cup minced onion
1 teaspoon olive oil
3 cloves garlic, crushed
1 (28 ounce) can crushed tomatoes
2 (6 ounce) cans tomato paste
2 (6.5 ounce) cans canned tomato sauce
1/2 cup water
2 tablespoons white sugar
1/2 cup fresh basil leaves (if you don't have fresh use 2 teaspoons dried basil leaves)
1/2 teaspoon fennel seeds
1 teaspoon Italian seasoning
1 teaspoon salt
1/4 teaspoon ground black pepper
4 tablespoons chopped fresh parsley

*If you like a kick add cayenne pepper to your liking
In a Dutch oven, saute onion, and garlic over medium with a teaspoon of olive oil until well browned. Stir in crushed tomatoes, tomato paste, tomato sauce, and water. Season with sugar, basil, fennel seeds, Italian seasoning, 1 tablespoon salt, pepper, and 2 tablespoons parsley. Simmer, covered, for about 1 1/2 hours, stirring occasionally. Super delicious!
Thanks so much for stopping in today, have a great weekend!