Homemade Chick-fil-A Nuggets
Made with chicken breasts, spices, powdered sugar, and yes, the secret ingredient, pickle juice, your whole family will love these chick-fil-A's chicken nuggets at home!
Who doesn't love Chick-fil-A nuggets, my youngest could eat them every single day if I allowed it.  That's why I decided to do a little digging and try to make my own and the boys gave it 2 thumbs up.  I guess an empty plate was a pretty good sign that they approved.
Why Should I Use Peanut Oil?
Did you know Chick-fil-A fries their nuggets in peanut oil, so if you're after that true taste use Peanut Oil. If there are allergies, yes use canola oil but it will change the flavor.
What Dip Should I Serve With The Bites?
Serve with ranch, honey mustard, BBQ Sauce, chick filet sauce or just plain, they are that good!
Do I Really Need To Use Powdered Sugar?
Yes, it gives it just the perfect amount of sweetness.
Why Marinate In Milk?
Soaking the chicken in milk tenderizes the chicken meat, which will result in succulent, tender chicken.  My mom used to always do this with her chicken when making fried chicken and it was so good!
Must I use Pickle Juice?
Pickle juice helps keep the chicken moist and gives it an amazing taste.  However, if the thought of pickle juice scares you, you can marinate the chicken in just the milk, however, I highly recommend the pickle juice.
Can I Freeze the Nuggets?
Once your chicken nuggets are cooled to room temperature, place them in a freezer-safe bag and place in the freezer.  They will last for up to 3 months.
How Do I reheat The Frozen Nuggets?
Bake them in the oven, in a single layer at 375 degrees for about 15 minutes.
If you have an air fryer, toss them in the air fryer at 375 degrees for about 10 minutes, shaking halfway through.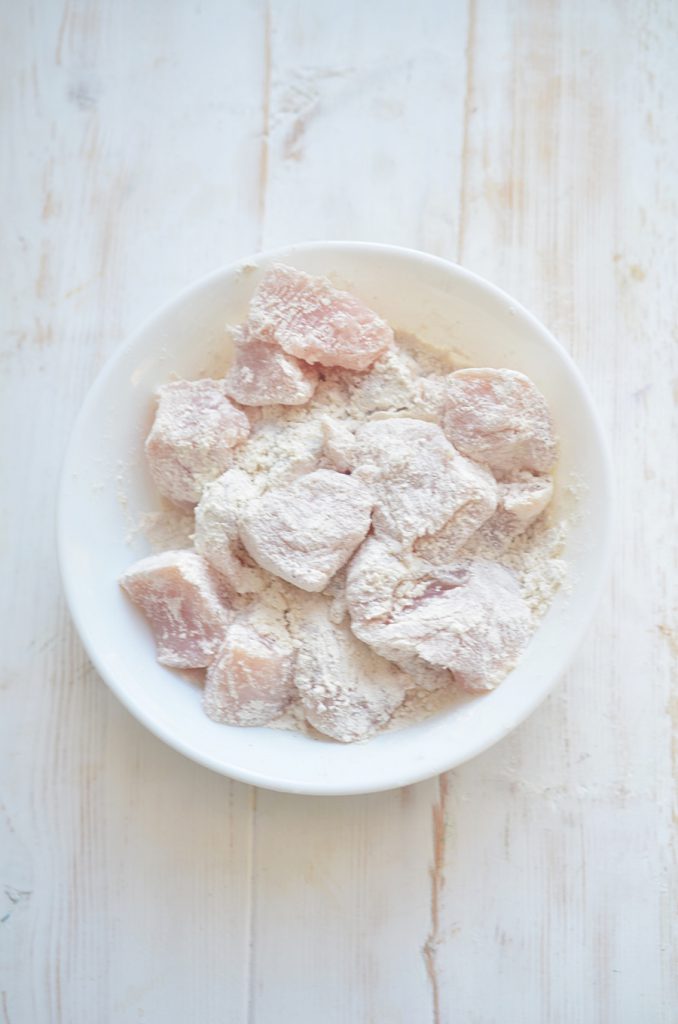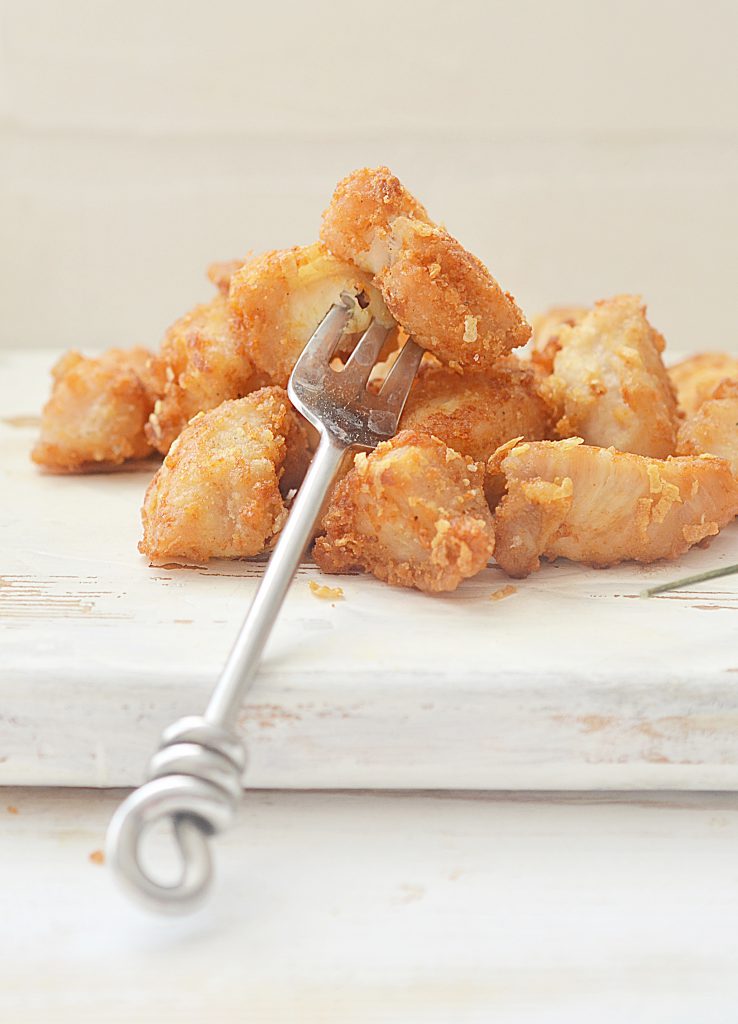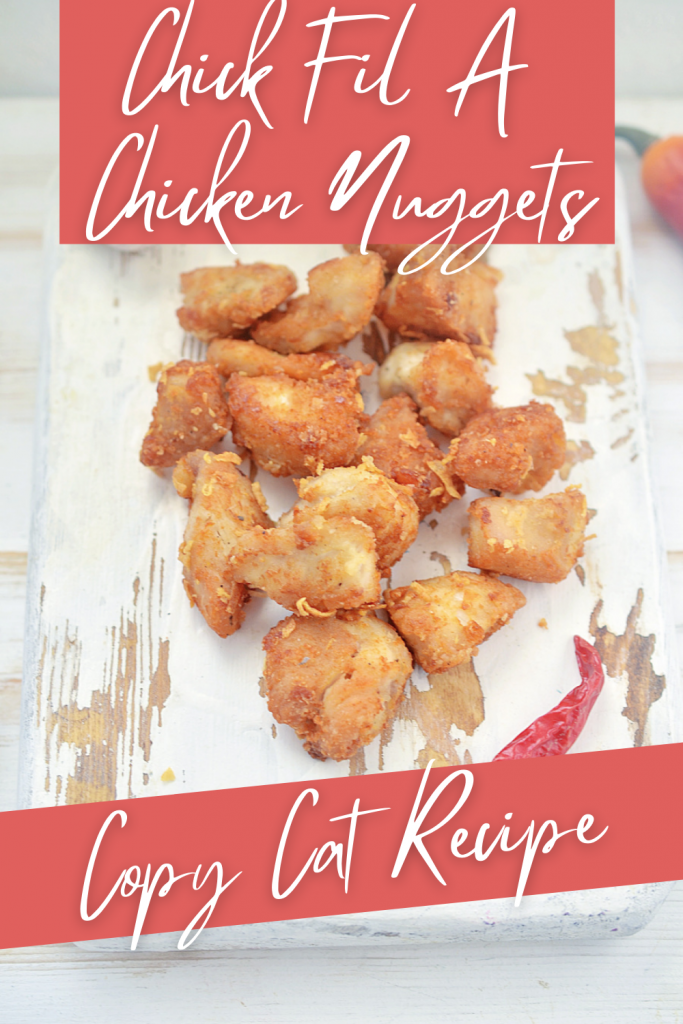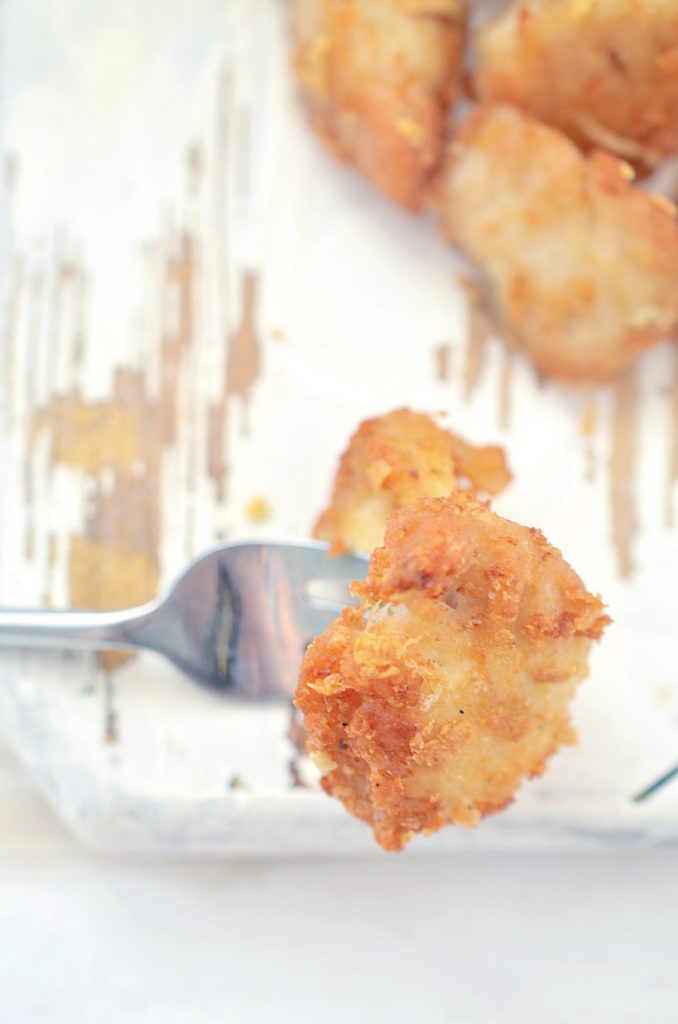 Homemade Chick-fil-A Nuggets
Ingredients
1

Large

Egg

2

Pounds

Chicken Breast

1 1/2

Cups

Milk

1/2

Cup

Dill Pickle Juice

1 1/4

Cup

All Purpose Flour

1

Tbs

Confectioners Sugar

1

Tsp

Pepper

1

Tsp

Salt

1 1/2

Cup

Canola or Peanut Oil

Depends on the size of pan

1/2

Tsp

Paprika
Instructions
Cut chicken breasts into 1-inch cubes

In a large bowl, combine chicken cubes Pickle juice and milk. Cover and place in the refrigerator for at least 60 minutes or overnight, the longer the better.

Remove from fridge and mix in 1 egg.

Mix the flour, powdered sugar, salt, pepper and paprika until well combined, I use a large zip lock bag.

Remove chicken from the milk/egg mixture and add the chicken pieces into the ziplock bag and shake well until fully coated.

Heat oil in a large skillet over medium-high heat. 

Working in batches, add chicken to the skillet and cook until evenly golden and crispy, about 3-5 minutes. 

Transfer to a cooling rack

Serve with ranch, honey mustard, chick Fil A sauce or just plain, they are that good!
I'm also going to share a little secret with you, these chicken nuggets from just Bare taste just like chick fillet, I found them in the freezer section at Costco.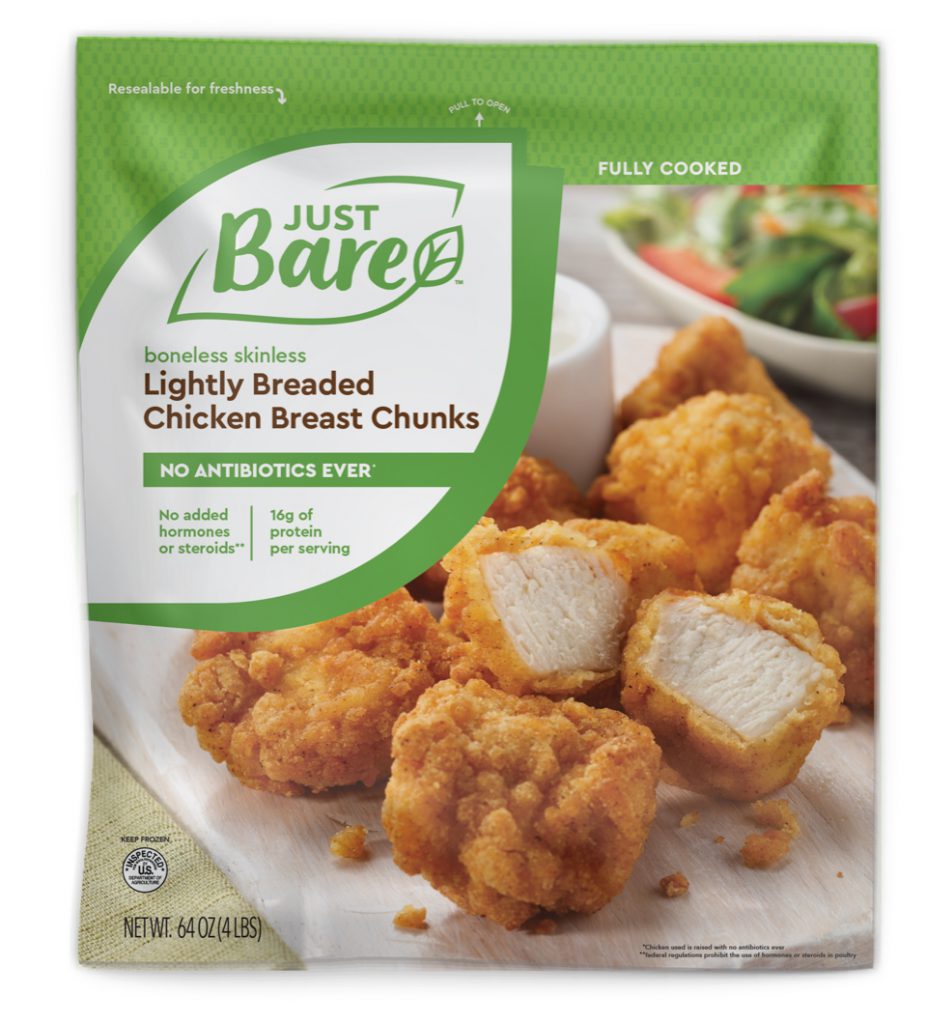 Thank you so much for stopping in today!  You can find more of my recipes here.