An Italian Feast on Christmas Eve
 I'm more of a traditionalist when it comes to the Thanksgiving meal but for Christmas, I like to mix it up a bit.
This year, I thought it would be fun to plan an Italian-style Christmas Eve.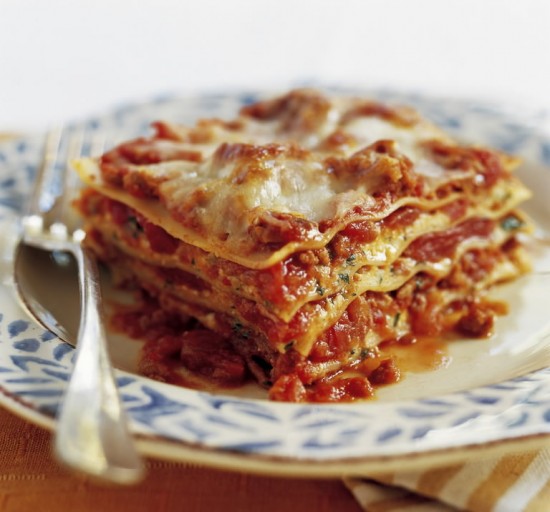 To start we will have hot appetizers with 

Bruschetta

followed by some delicious lobster bisque.
For the main course I'll be serving 

Lasagna

with sides of garlic bread, anti-pasta, Cesar salad, grilled vegetables and build your own pizzas for the kids. 
To end our Italian feast, it's all about cannoli and tiramisu!  I'm getting hungry just thinking about it!
Oh…and of course lots of wine and cider for the kids!
I Found the lasagna recipe at All Recipes a few years back and have been hooked ever since.
Close to 200,000 people have saved this recipe and It has almost 5000 reviews. 
I also use this recipe just for the sauce when serving spaghetti, it's that good.
So if your looking for a crowd pleaser and something you can make a day ahead, this won't disappoint!
Here are just a few of my changes to suit our family a little better
Dash of nutmeg, fresh basil instead of dry, double all the spices except for the salt and add a little cayenne for some heat.
Because I'm not a red meat eater I use ground turkey instead of beef.  This year I'll be making a vegetarian one and a meat one  (I have lots of vege's in my family)

1 pound sweet Italian sausage
3/4 pound lean ground turkey
1 (28 ounce) can crushed tomatoes
2 (6 ounce) cans tomato paste
2 (6.5 ounce) cans canned tomato sauce
2 tablespoons white sugar
1 1/2 teaspoons dried basil leaves
1/2 teaspoon fennel seeds
1 teaspoon Italian seasoning
1/4 teaspoon ground black pepper
4 tablespoons chopped fresh parsley
3/4 pound mozzarella cheese, sliced
3/4 cup grated Parmesan cheese
*Note  If you are looking for a fabulous sauce recipe combine all the ingredients above that are in bold.
1.In a Dutch oven, cook sausage, ground beef, onion, and garlic over medium heat until well browned. Stir in crushed tomatoes, tomato paste, tomato sauce, and water. Season with sugar, basil, fennel seeds, Italian seasoning, 1 tablespoon salt, pepper, and 2 tablespoons parsley. Simmer, covered, for about 1 1/2 hours, stirring occasionally.
2.Bring a large pot of lightly salted water to a boil. Cook lasagna noodles in boiling water for 8 to 10 minutes. Drain noodles, and rinse with cold water. In a mixing bowl, combine ricotta cheese with egg, remaining parsley, and 1/2 teaspoon salt.
3.Preheat oven to 375 degrees F (190 degrees C).
4. To assemble, spread 1 1/2 cups of meat sauce in the bottom of a 9×13 inch baking dish. Arrange 6 noodles lengthwise over meat sauce. Spread with one-half of the ricotta cheese mixture. Top with a third of mozzarella cheese slices. Spoon 1 1/2 cups meat sauce over mozzarella, and sprinkle with 1/4 cup Parmesan cheese. Repeat layers, and top with remaining mozzarella and Parmesan cheese. Cover with foil: to prevent sticking, either spray foil with cooking spray or make sure the foil does not touch the cheese.
5.Bake in preheated oven for 25 minutes. Remove foil, and bake an additional 25 minutes. Cool for 15 minutes before serving.