Oatmeal Carmelita cookies
I've been making these Oatmeal Carmelita cookies since I was a little girl, it's one of my favorites. They are super easy to make and are always a hit when we make our Christmas cookies.  This year I won the award for the yummiest cookie at
my girlfriends cookie exchange party over the weekend .  I know you will love it too!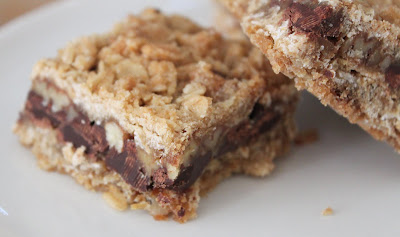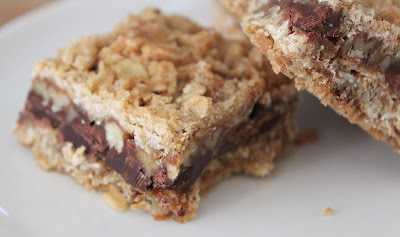 (One of my batches this year I left out the nuts and added some butterscotch chips, oh my!!!)
3/4 cup packed brown sugar
6 ounces semisweet chocolate chips
3/4 cup caramel ice cream topping
3 tablespoons all-purpose flour
1.Preheat oven to 350 degrees F (175 degrees C). Grease one 9×9 inch square pan.
2.Combine the 1 cup flour, baking soda, oats, brown sugar, salt and melted butter. Mix to combine, mixture will be very crumbly. Press half of the mixture into the bottom of the prepared pan.
3.Bake at 350 degrees F (175 degrees C) for 10 minutes.
4.Let cool slightly then sprinkle over the crust the chocolate chips and chopped nuts. Mix the caramel ice cream topping with the 3 tablespoons of flour and drizzle over the chocolate chips. Top with the remaining oatmeal mixture. You will need to break it into small pieces to cover.
5.Bake at 350 degrees F (175 degrees C) for 15 minutes. Let bars cool before cutting.