Years ago I was sitting in Miguel's mexican restaurant in Coronado eating this cheesy concoction like nothing I had ever had.  I was determined to make it at home and bought the cookbook, these were the days before the internet.  I have made this Jalapeño cream sauce a number of times, you can serve it as a dip or use it as a sauce and no, there is nothing healthy about it but yes, it is that good!
Ingredients
2 C. whipping cream
1 C. sour cream
1 tsp. chicken base
1 Tbsp. jalapeno juice (from bottled jalapenos)
2 Tbsp. clarified butter
1 Tbsp. flour
1 Tbsp. bottled jalapenos, minced
1 oz. shredded Monterrey jack cheese
1 oz. shredded cheddar cheese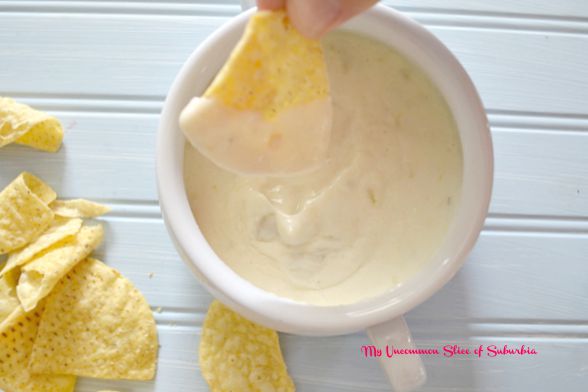 Directions
1. Heat whipping cream in a heavy saucepan over high heat. When the cream is ready to boil, stir in sour cream. After sour cream dissolves, reduce heat to medium.
2. Stir in chicken base and jalapeño juice and simmer.
3. While cream is heating: Make a roux by warming butter in a saucepan over medium heat, adding flour, and mixing with a wire whisk until mixture is smooth and pale gold.
4. Just before cream mixture is ready to boil again, add roux, whisking briskly and constantly until roux is incorporated. Remove from heat.
5. Stir in minced jalapeño and the cheeses.
Dig in and enjoy, just don't blame me for any extra pounds gained.
*Recipe from Miguel's cookbook