Healthy Egg White Muffin Cups
Start your day right with these Healthy Egg White Muffin Cups, an easy breakfast recipe you can make in advance! It is loaded with vegetables, low calorie, low in fat, bursting with flavor, and can be made in advance!  The perfect way to start off your day on those busy mornings or an easy afternoon guilt-free snack, they're like mini individual frittatas.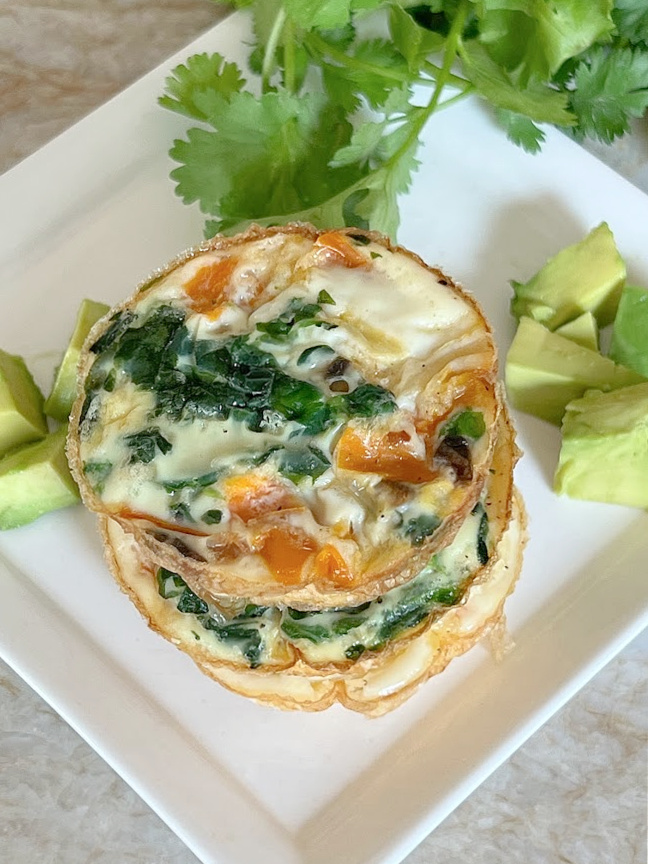 Affiliate links are listed below.
You can absolutely use the egg yolks as well. (High cholesterol and diabetes run on my father's side, he died at a young age as did my grandfather so I am very very careful) Using just the egg whites can give them a spongy texture but I promise they are still just as delicious without the carbs!  If you don't want to use all egg whites I recommend,7 whole eggs plus 5 egg whites for a high protein low carb version, I've perfected this equation on my kids and they give me the thumbs up. 
Preparation
This really is so simple and takes no more than 15 minutes to prep. Simply chop your vegetables, cook them in a pan for just a few minutes, add the egg, and cook in the oven!  So easy! 
I love these silicone muffin cups and these Non-Stick Muffin Tins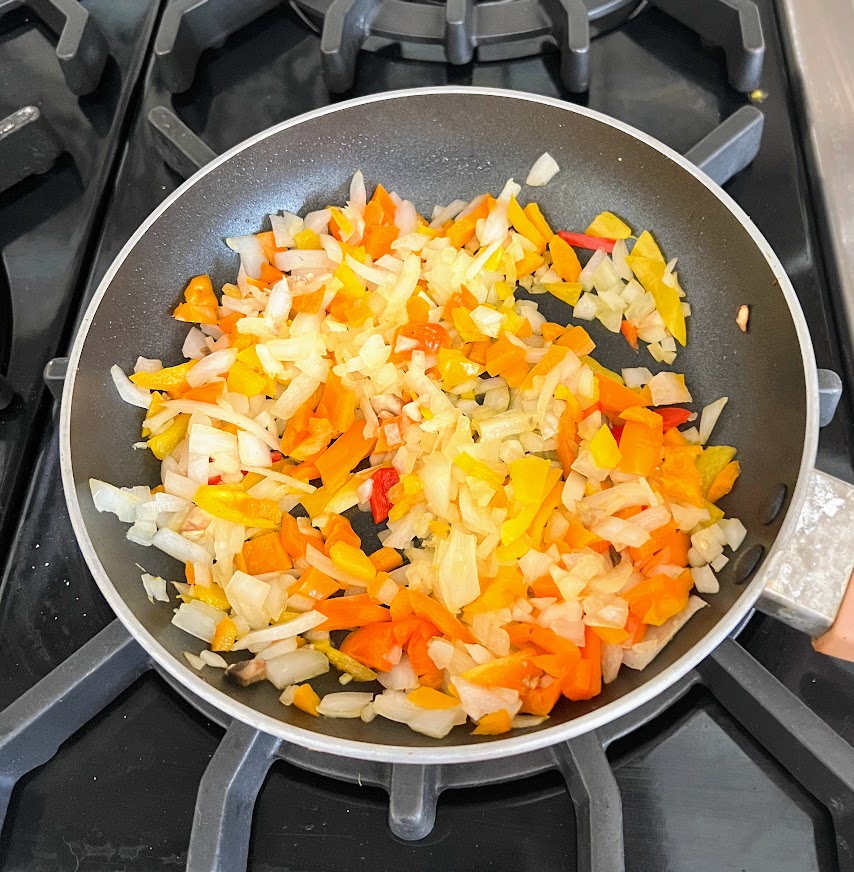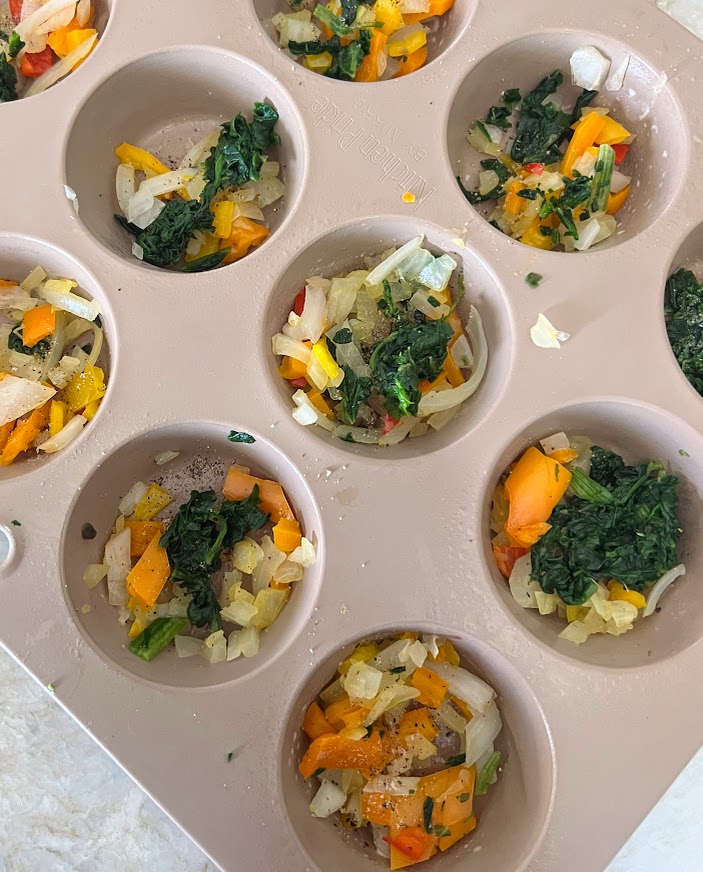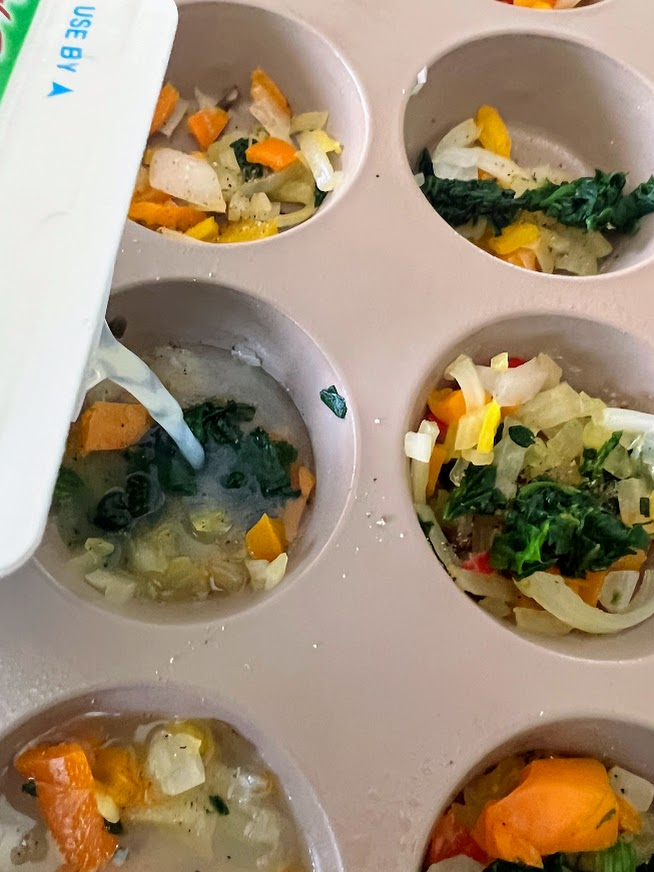 Reheating
Reheated in the toaster oven would be the best option for just a few minutes. You can microwave them, however, I would recommend wrapping each egg cup in a paper towel to soak up excess liquid before placing it in the microwave. This should prevent the muffins from getting soggy.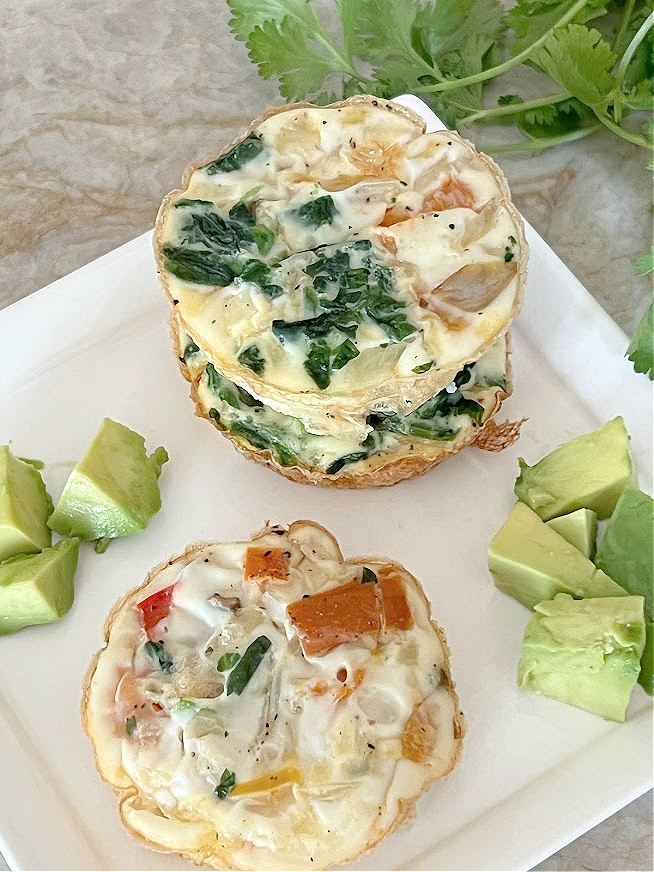 Storing
 These egg muffin cups can stay in the refrigerator for up to 4-5 days if stored in an airtight container.
Freezing
 Allow the eggs to cool completely, and place them in an air-tight container or freezer bag.  If they are going to be placed on top of each other,  wrap the eggs in freezer paper, and store them flat. Egg muffin cups can be frozen for up to 3 months.
Variations
Add protein. Stir in your favorite cooked protein such as turkey bacon, or cooked chicken breast
Add Toppings: Avocado, salsa, hot sauce, and freshly chopped parsley or basil are always a great choice.
Add cheese. Shredded pepper jack for a little kick, cheddar cheese or jack, or crumbled feta you could even try cottage cheese, feta cheese or goat cheese.
Add herbs and seasonings. I love mixing in fresh basil and love a little bit of kick with the addition of red pepper flakes, onion powder, or garlic powder.
Use different vegetables. Many times I'll use up leftover veggies, all of these have blended together nicely. Broccoli, cauliflower, asparagus, zucchini, red onions, green onions, sun-dried tomatoes
Add toppings. Serve warm egg muffins with hot sauce, greek yogurt, diced tomato, avocado, chives, salsa, etc.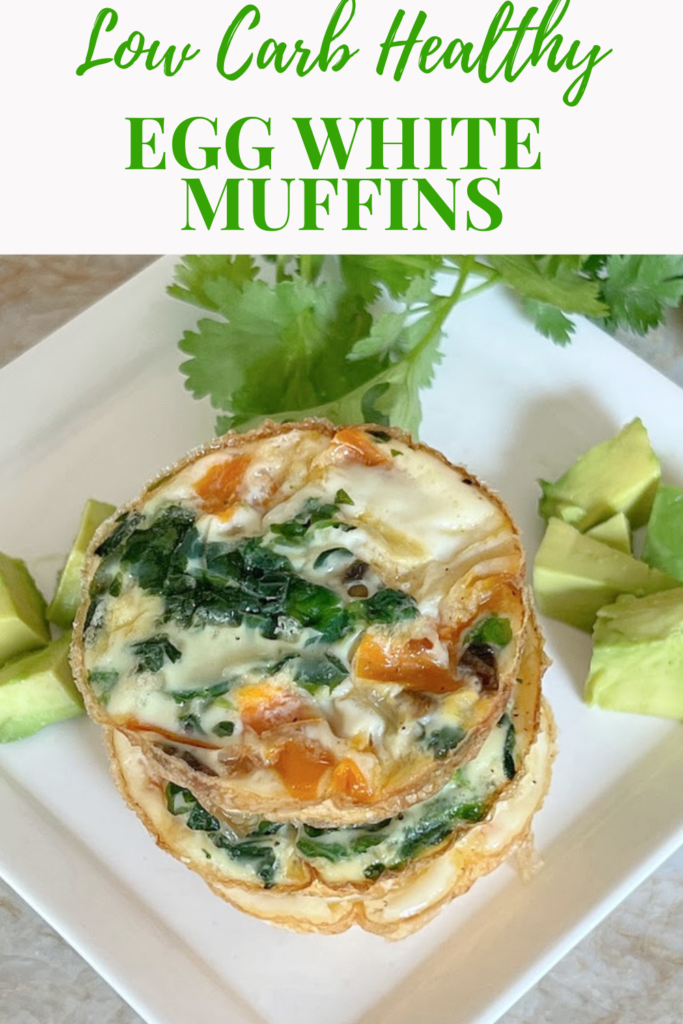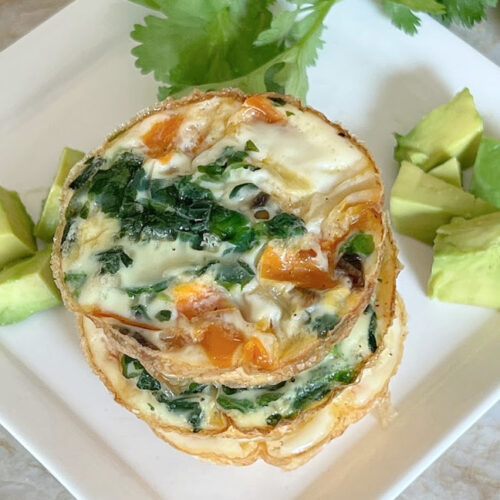 Healthy Egg White Muffin Cups
Ingredients
1/2

Tbsp

Extra virgin olive oil or avocado oil

16

Ounce

Carton of egg whites or approx 14 large egg whites which should yield about 2 cups.

1

Cup

Red bell peppers

1/2

Cup

Diced green peppers

1

Cup

1 cup diced yellow onion chopped

1

Cup

Fresh spinach roughly chopped

1

Cup

Mushrooms diced

Salt and pepper to taste

Cooking Spray
Instructions
Preheat oven to 350°F. Generously spray a non-stick or silicone muffin pan with nonstick cooking spray.

Heat olive oil into a non-stick frying pan over medium heat. Add the bell peppers and onion and saute for 2 to 3 minutes. Stir in spinach and mushrooms and cook an additional 2 minutes.  Set aside.

Whisk the egg whites into a medium-sized bowl. Season with salt and pepper. You can then add the vegetable mixture with the egg whites, then pour the egg mixture into the muffin cups, leaving 1/4″ from the top.  Alternatively, you could place a heaping teaspoon of the vegetables into each cup, followed by the egg whites.

Place the muffin tin in the preheated oven and bake for 20-25 minutes or until the egg whites are set and lightly golden on top.

Once done, remove the muffin tin from the oven and let the muffin cups cool for a few minutes.

Carefully remove the muffin cups from the tin using a butter knife or small spatula.

Serve the egg white muffin cups warm or at room temperature. They can be stored in an airtight container in the refrigerator for up to 4-5 days.
If you like to meal prep, these healthy egg muffin cups will keep you going all day long and are the perfect protein-packed breakfast for on the go. 
See below for more healthy delicious breakfast recipes. Thank you so much for stopping in today!