How To Paint A Front Door Black
Black paint is one of the easiest ways to upgrade the look of plain white doors! Today I'm sharing a step-by-step tutorial on how to paint the interior of your front door black. It's one of the easiest ways to upgrade your front door giving it a fresh new look!
There was nothing wrong with this door but once I had painted the french doors, the stair railings, and made over the fireplace, the white door stood out like a sore thumb, it was calling for a fresh coat of black paint.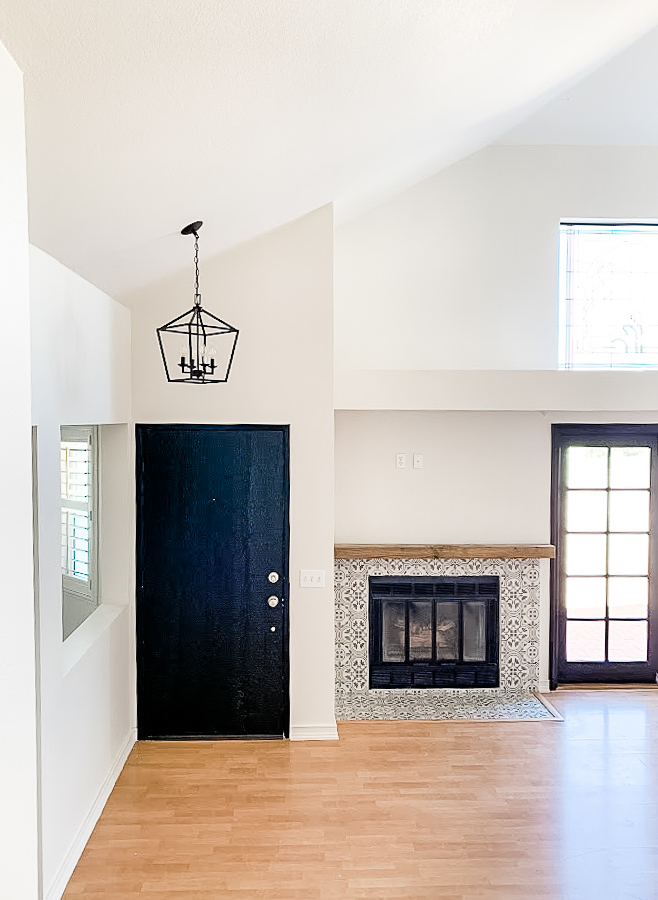 If you are new here, this was my parent's house who both passed away. You can find all of the details in this post
Before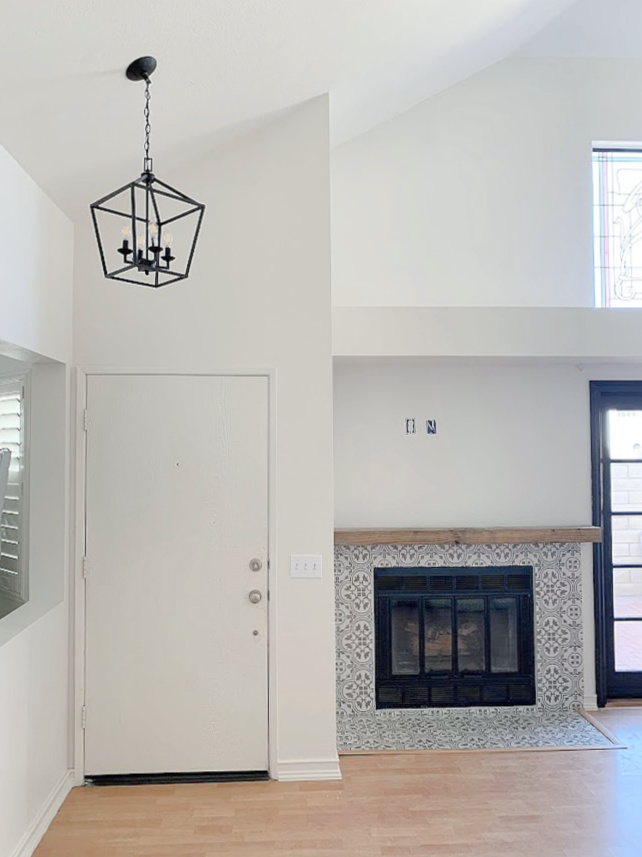 Affiliate links listed below.
SUPPLIES
All-Purpose Heavy Duty Cleaner TSP
Denatured Alcohol (Optional)
Painters tape
Drop Cloth
Clean, dry lint-free rags or tack cloth
Angle paint brush
1 quart Behr ultra scuff defense paint and primer interior semi-gloss enamel Tricorn Black (This is a beautiful black paint color that you can find at Home Depot)
What Type Of Paint Should You Use?
Lucky for me, my parents still had cans of old paint in the garage so I knew the paint was latex but if you are not sure, you will need to test to see if the paint is latex or oil-based. You can not paint latex over oil, you can however paint oil-based over latex, but I would still recommend sanding first. If you are unsure you can purchase a can of Denatured Alchohol and apply a tiny bit on the door with a rag, and if the paint comes off, it's latex. If it doesn't, it's oil-based paint. And if you prefer a different brand like Sherwin Williams or Benjamin Moore, you could always have them color match the paint.
Clean
The first thing you want to do is clean the doors really well with TSP using a clean lint-free rag.
Prep and Tape
For your next step, you can either remove the door or use painter's tape to tape off the hardware and around the edges of the door frames. Either will work, but if you do tape, you'll eventually have to open the doors to paint the inner edges. Tape off as much of the door surrounds as you need to. I also decided to paint the trim around the door so I applied tape on the wall.
For the hardware and door handle, you have a few options. You can tape around it, remove the hardware completely, or freehand and cut in. I would recommend taking your knobs off. However, even though this door was in good condition, it is old and I was afraid of any problems I might run into, and to be honest, I was just plain tired so the best way for me was to cut in.  I simply used a small artist brush and had baby wipes nearby for any mistakes.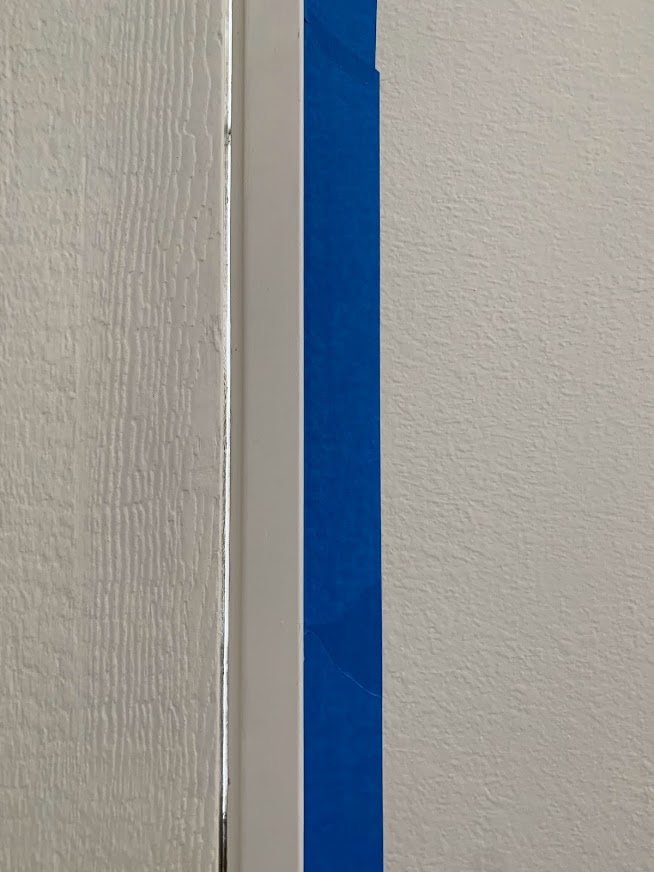 Prime
Because I went with the paint and primer in one, I did not have to add a coat of primer. However, if you don't have a paint and primer, you will need to prime first. I recommend that you prime with a shellac-based primer before painting with latex paint.
Paint
These doors did not have any recessed areas of any kind it was just flat which made it super simple. If you do have recessed areas paint those first with a small angled paintbrush.
For the flat surfaces, I used a small foam roller to apply my first coat of paint. I love foam rollers because you don't see any brush strokes.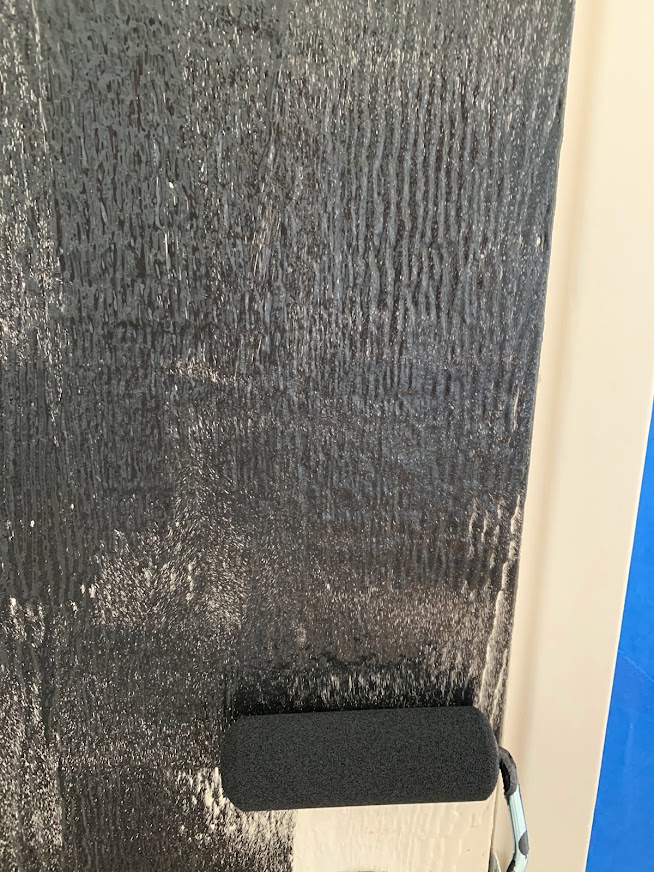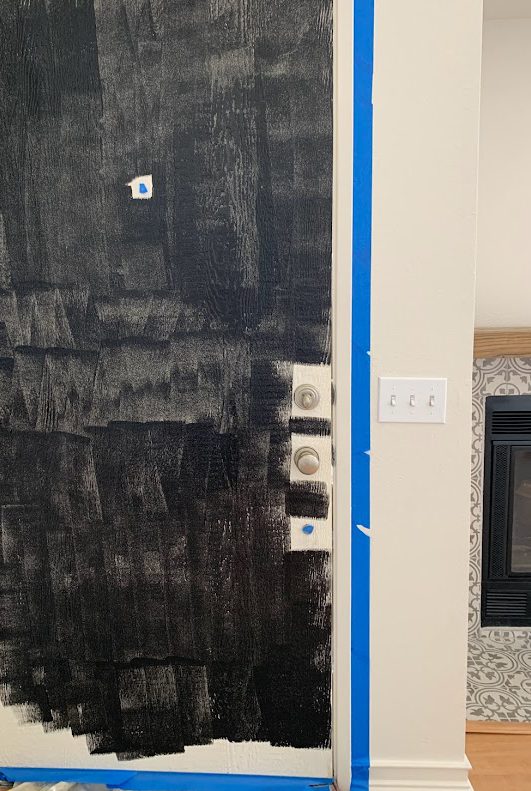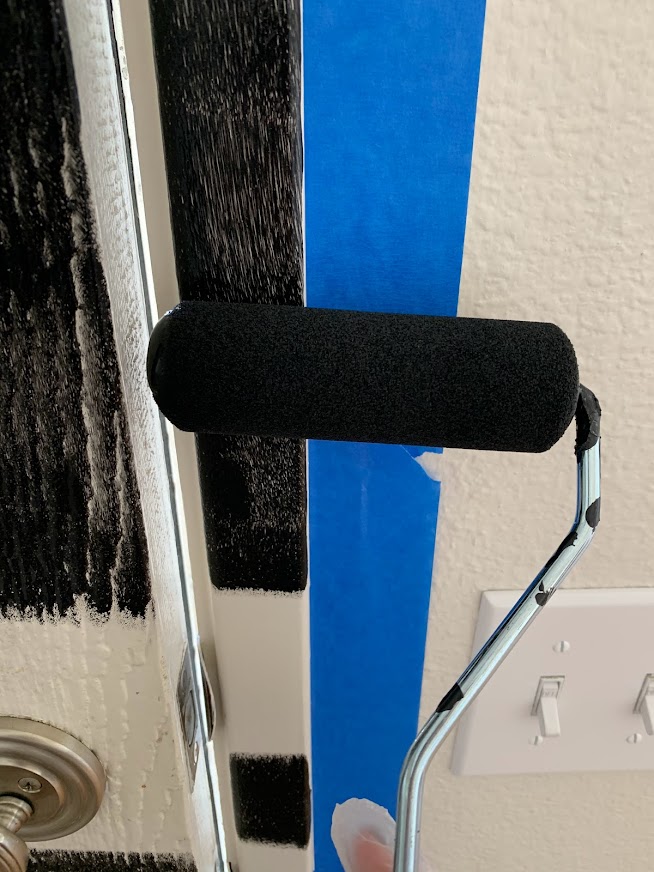 I worked from the top to the bottom, painting with the grain of the door.
Keep a damp cloth or baby wipe handy for drips or in case you paint any areas you shouldn't.
Repeat this process twice and apply a second coat of paint, allowing it to dry in-between the coats of paint. In some areas, I had to go over the wood door with another coat of paint for the third time to get a full coverage look.
Once everything is dry (24 hours) remove the tape
You can see the white on the side of the door, I later went back and painted it black.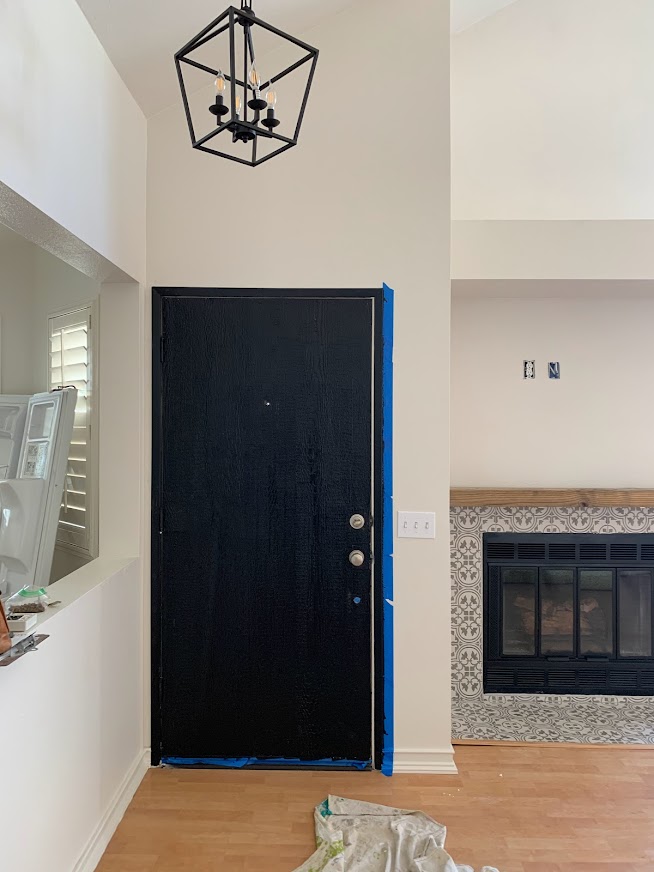 I love how it tied everything together and I love how it pops against the white walls. It went from dingy and dull-looking to a professional-looking finish.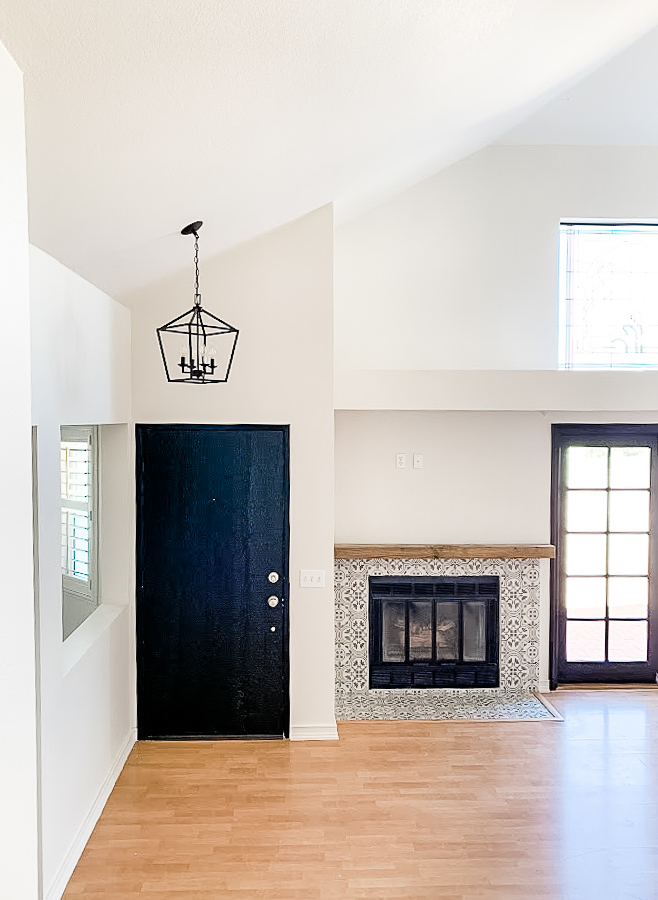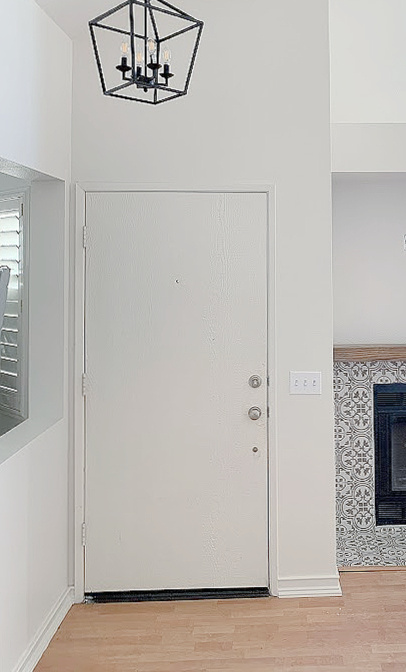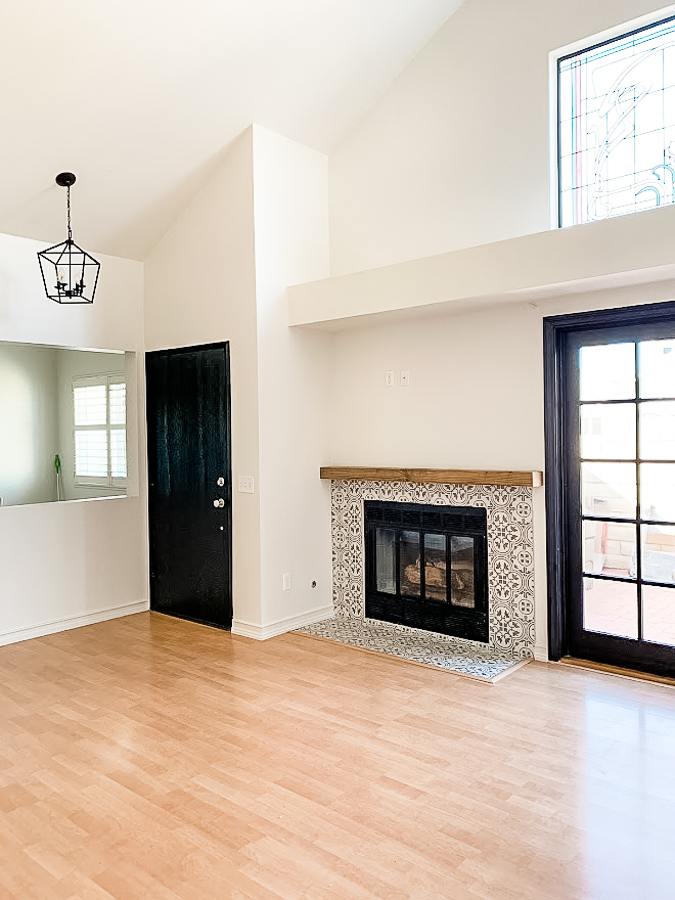 Don't be afraid to paint those interior doors, A fresh coat of paint will have a powerful impact, giving it a fresh look and will make it look like you got a new door. If you are afraid that a black door will make your small spaces look closed in, don't worry, it did the exact opposite.
If black scares you, go with a more neutral color (Think blues and greens) and replace your door hardware for a beautiful update. This took me maybe a total of 90 minutes, not including dry time and very little effort.
Painting your front door is one of the easiest and quickest DIY projects that also makes a huge impact on your curb appeal.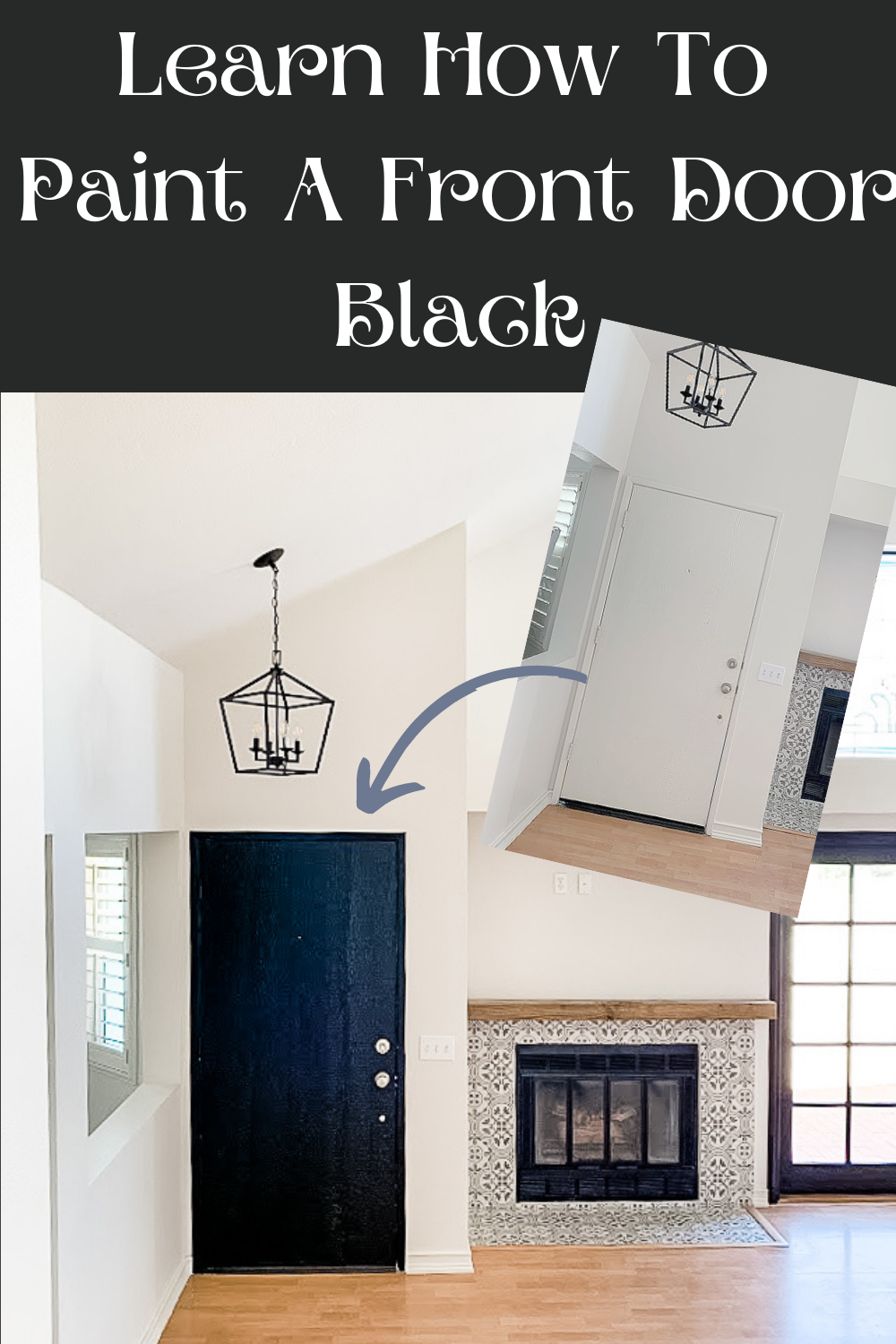 If you would like to see how we made over the fireplace you can click right here.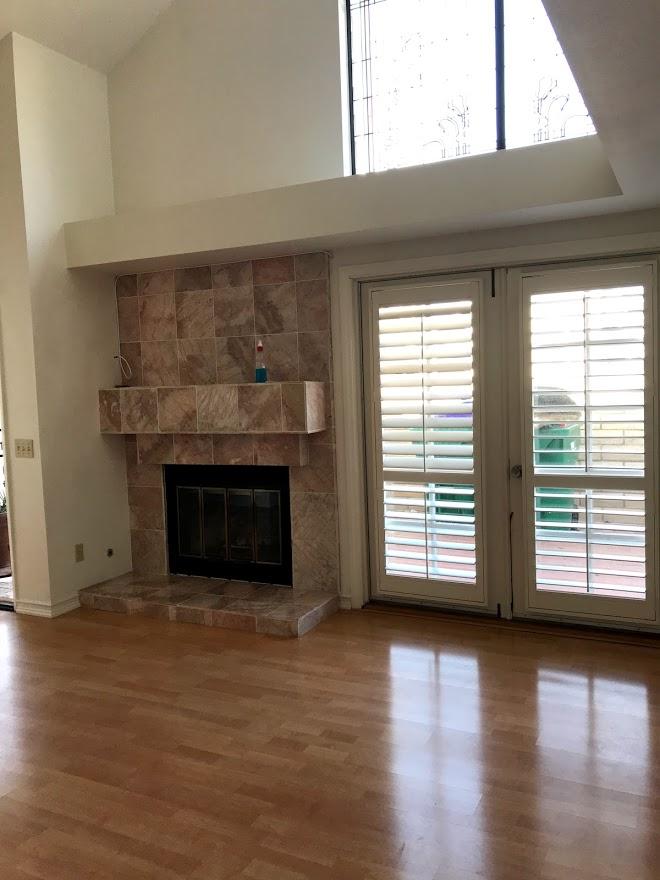 And how we painted the french doors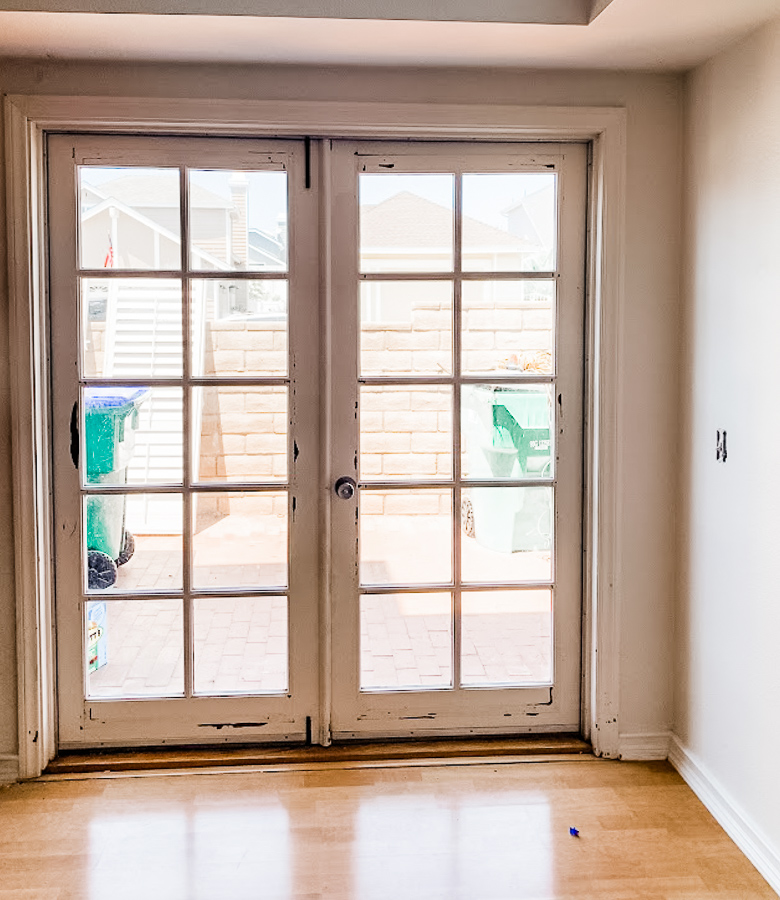 Thank you for stopping by today, wishing everyone a beautiful weekend!