How to Make Dried Orange Garland
Dried orange slice garland is a simple and beautiful way to decorate for the Holiday season, plus it's homemade and who doesn't love anything homemade! This project is as easy as it gets! Slicing, Drying, and stringing them onto twine, really the only thing you need is a little bit of time.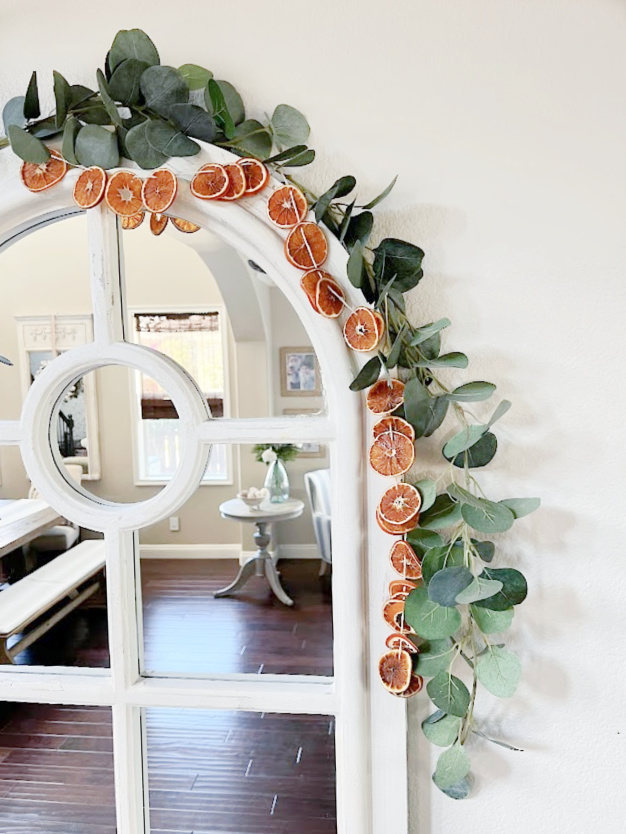 I made some of these last year but never got around to getting a tutorial up so I made another batch this year so I could share all of the details! I also have a whole post dedicated to drying oranges in the oven but I'll go through most of the basics in this post as well.
Affiliate links are listed below
Supplies:
Oranges
Paper towels
Parchment paper or oven rack
Cookie Sheet
Sharp knife I love my Cutco knives
Bakers Twine or Regular Twine
Toothpick or BBQ Skewer
Yarn Needle or large needle (optional)
Scissors
Directions:
You will need a sharp knife, trust me on this. You'll want the slices to have roughly the same thickness so they will dry evenly. My slices were approx 1/4-inch thick.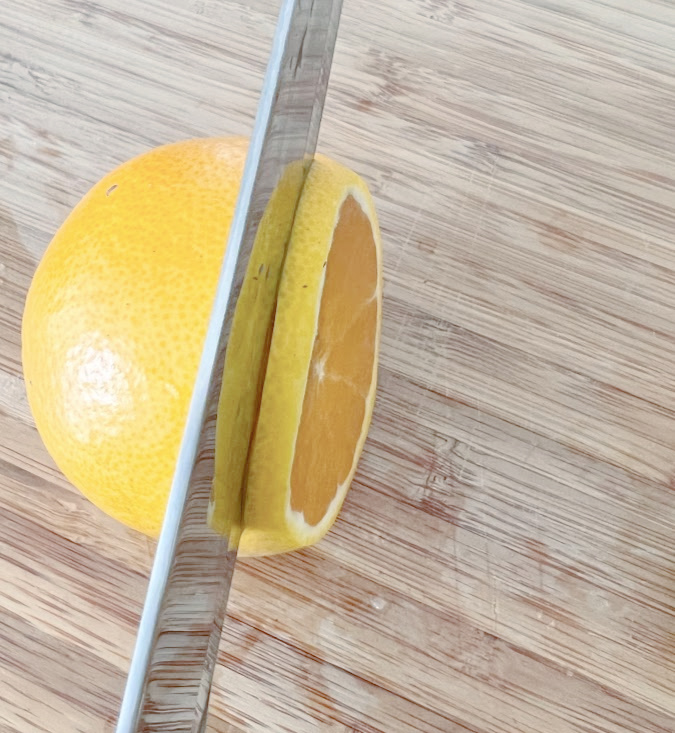 Dab each side of the citrus slices with a paper towel before placing them in the oven, this will remove any excess moisture.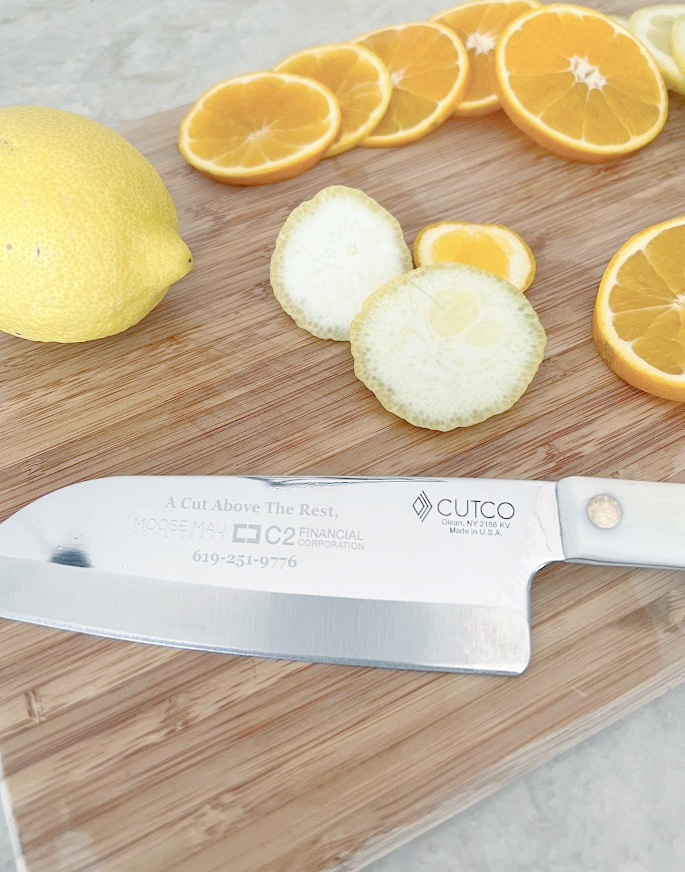 If you don't have a wire rack, no worries, line cookie sheets with parchment paper and place the thick slices in a single layer on top of some parchment paper. Without the paper, the oranges will stick and fall apart. If you use a rack place that rack on a cooking sheet for the air to flow.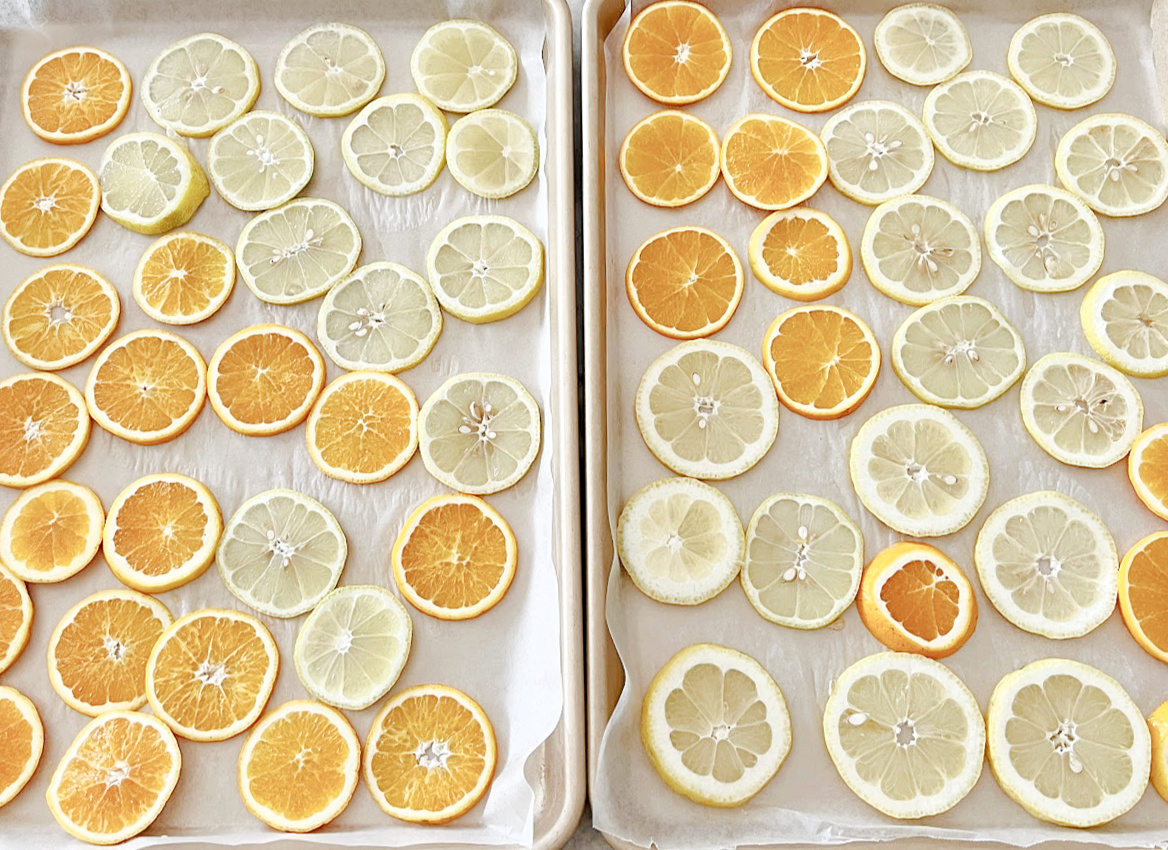 Set your oven to 175°F to 200°F,(the lowest setting is best) you do not want the slices to burn. They have the tendency to turn brown or burn more easily if your oven is set too high, the lower the temperature the better.
Carefully flip the slices about every hour so they dry evenly.
It will take anywhere from 3 to 6 hours, depending on the size of the orange slices. My oranges were a little on the smaller size so this took about 4 hours.
The slices are done when they are dry to the touch and the thickest parts of the fruit are no longer soft.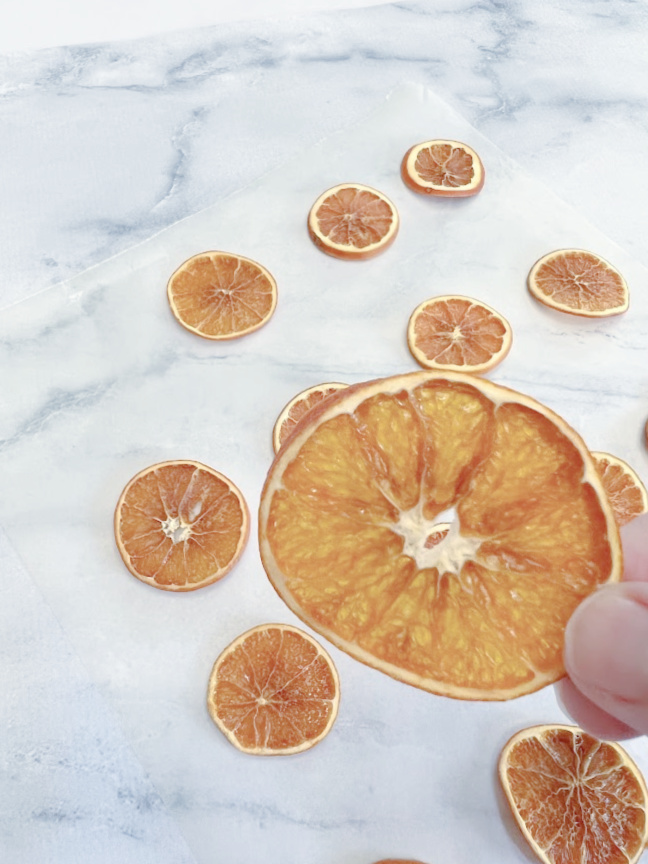 Some slices may dry more quickly, remove them as needed.
Lay the slices on a cooling rack.
Once slices have reached room temperature, poke a small hole in the upper part of the orange slices using a toothpick or BBQ Skewer. You can poke 1 or 2 holes, 2 holes will keep them from sliding around on the twine.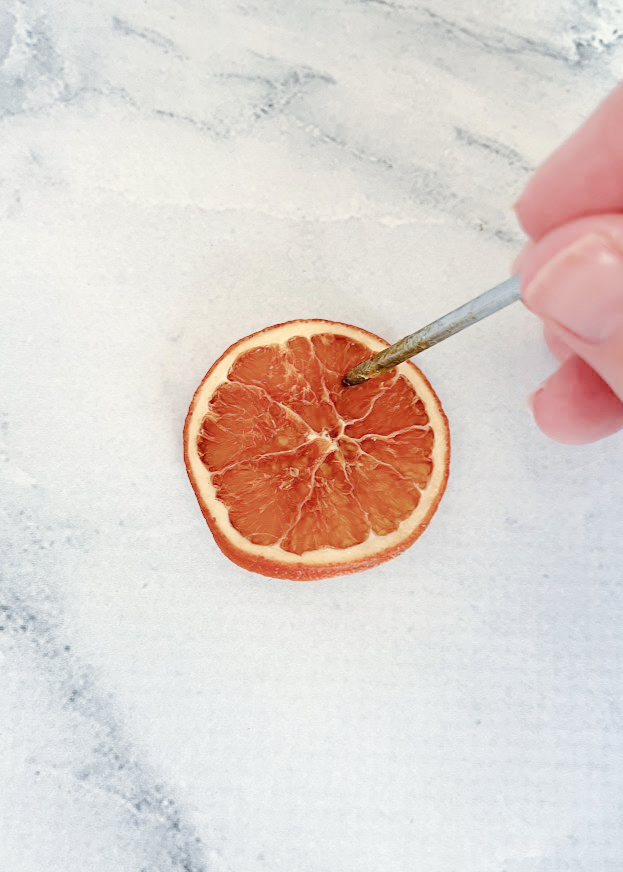 Excuse my ugly nails lol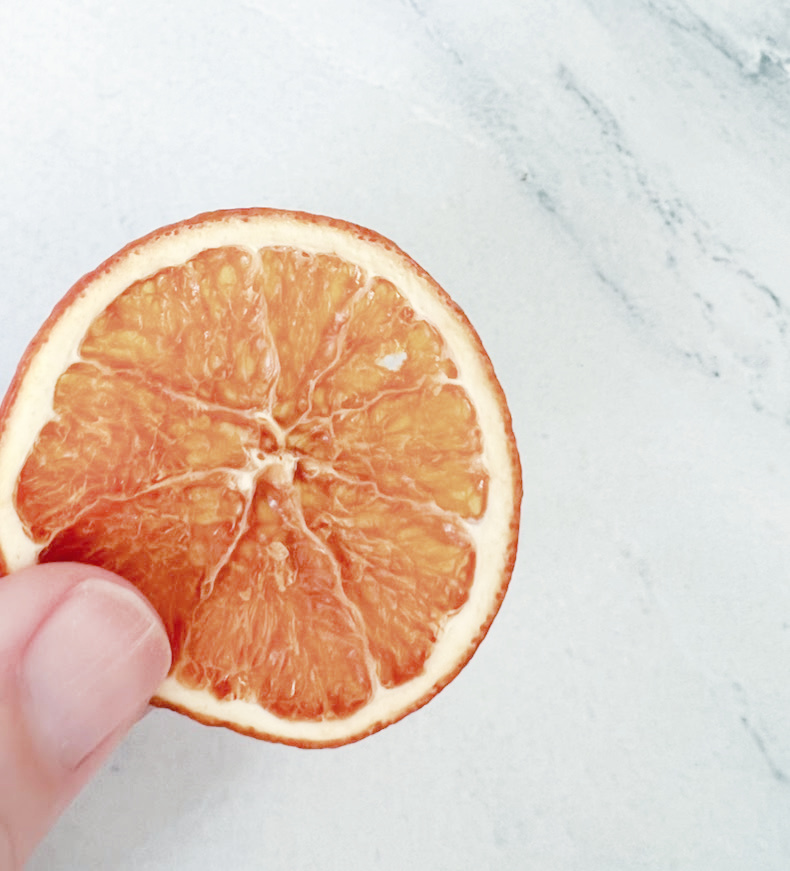 Thread the needle with twine and make a stitch through each slice. I did not have a large enough needle so I just threaded them by hand and it worked perfectly. You could wrap the twine end with a piece of tape to prevent raveling or just cut off the end whenever it starts to ravel.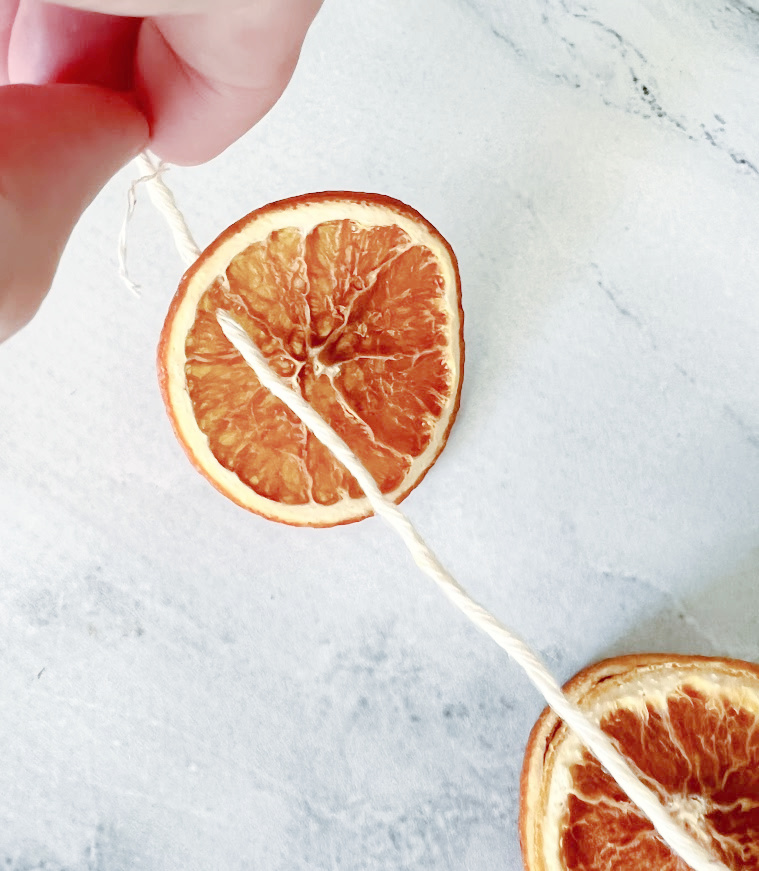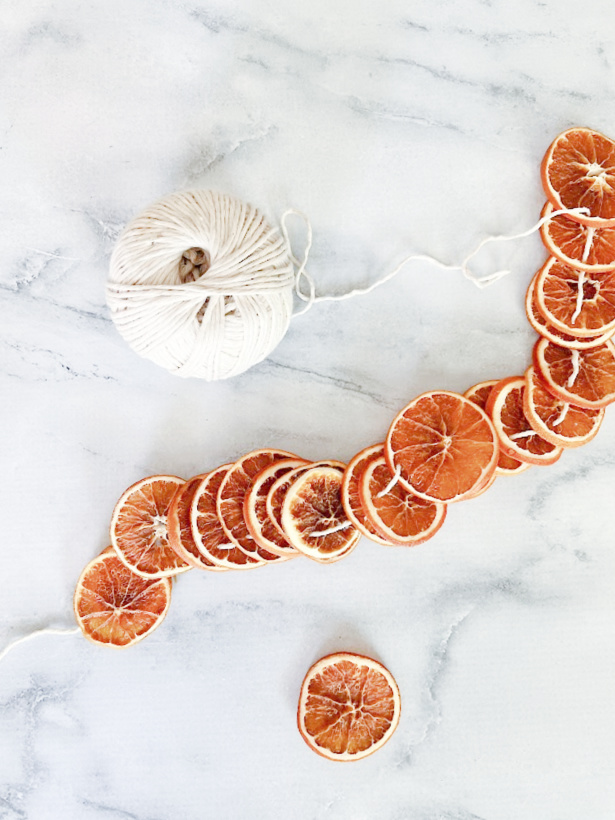 Ways to Decorate with dried orange garland
This garland is perfect for decorating your home for the holidays and I just love the natural elements! Some of my favorite ways to use it is hanging it on a chalkboard or mirror with a little eucalyptus for Fall. Incorporate it into your tablescape in your dining room for an old world look. During the winter months, hang it on the mantle mixed with some noble fur and golden bells. They make adorable toppers on Christmas gifts with a little greenery and make beautiful orange slice ornaments. You could drape it on a kitchen cabinet, or wrap it around the Christmas tree, you could even make an orange wreath.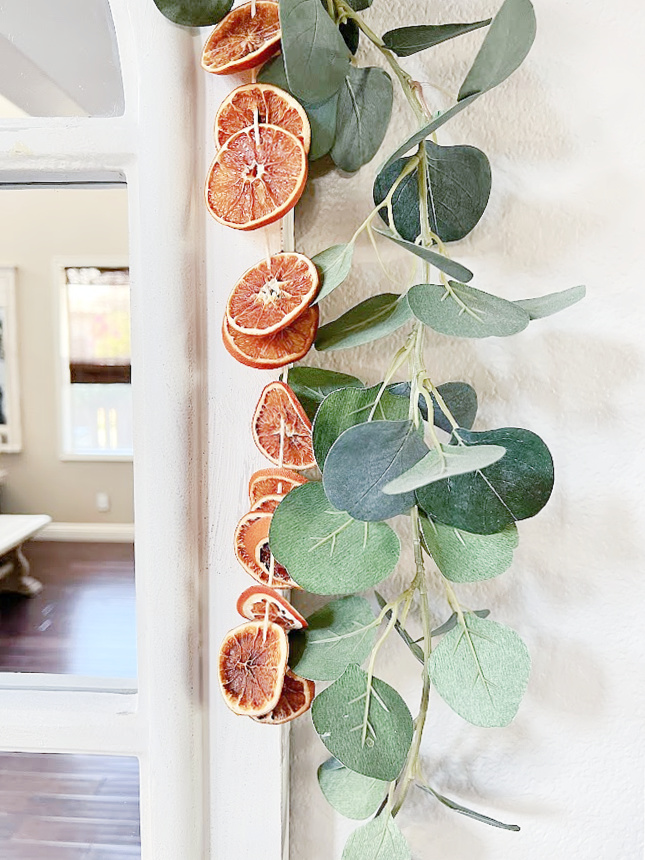 Ways to Customize this Garland!
There are tons of ways to customize this DIY dried orange garland. You could string in cinnamon sticks, wooden beads, ribbon, snow garland, and sprigs of rosemary. It would also be a beautiful addition to cranberry garland or pine garland, really anything goes!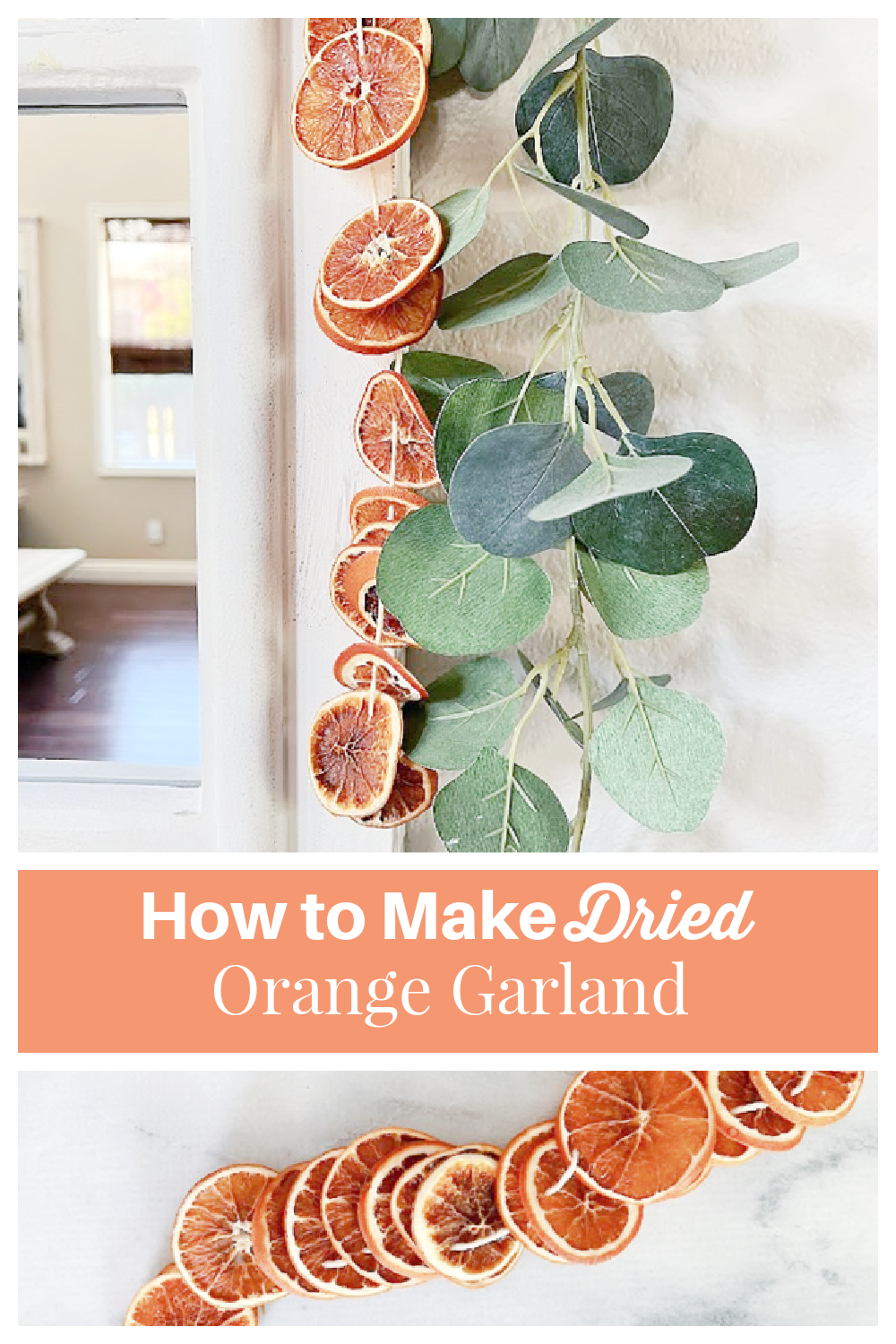 How long do dried orange slices last?
If the oranges have been properly dehydrated, they will last up to 2 years!! However, if any moisture is left in the oranges, they will eventually mold.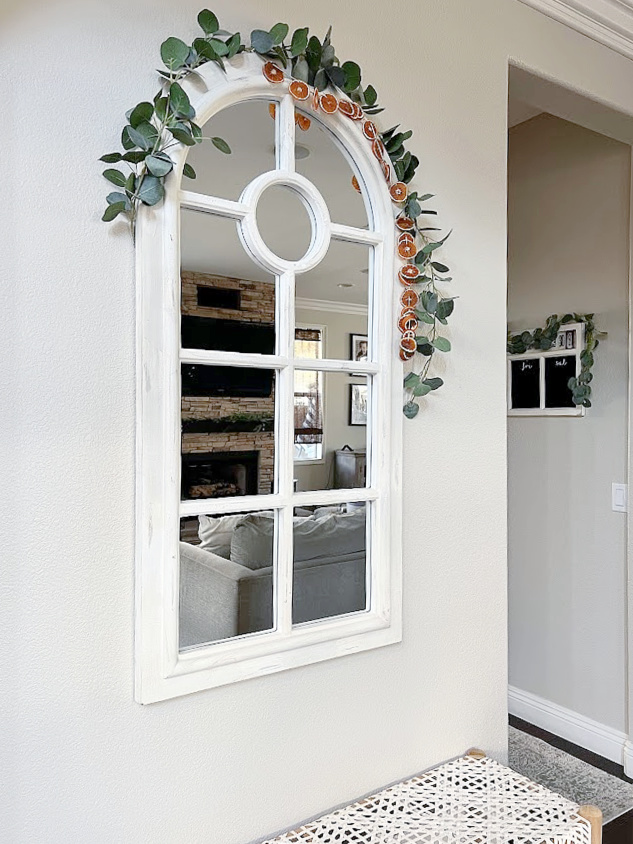 How to store dried oranges?
Store in an airtight container in a dark, cool place.
And I'll leave you with Winston today, always by my side always in the pictures, lucky the other 2 were sleeping.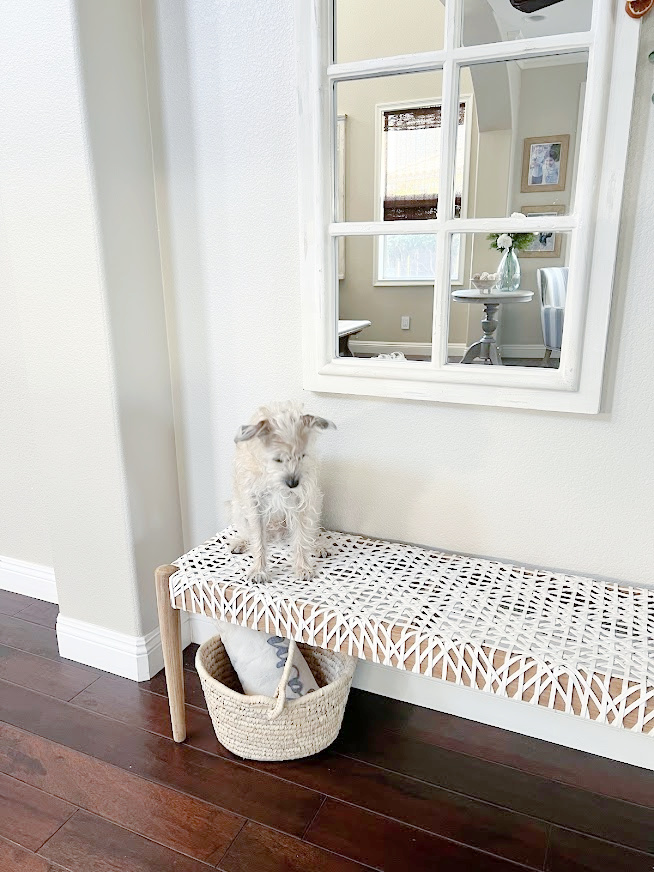 I hope you will try making this dried orange garland, it's such a fun DIY holiday decoration, with endless possibilities, and so easy to make! A great activity for the whole family