Bathroom Redo Style and Design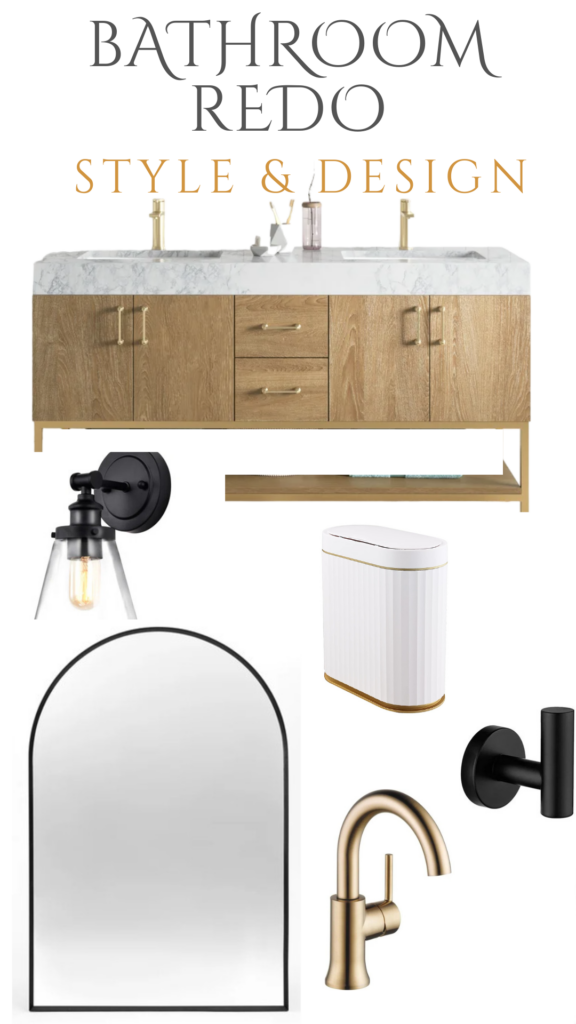 Affiliate links are listed below


They aren't a fan of the gold but in all honesty, the 2 that use this bathroom will most likely be gone in 1 year, so mom gets her way. The gold will really only be on the vanity, the rest of the bathroom will have black accents. This was in the plans for the future but when I ran across this vanity on FB Marketplace for 75% off what they were asking for it was brand new, I made my hubby get in the car with me to go pick it up. It's been sitting in the garage for the past 4 months but we are ready to start the process of making over this bathroom.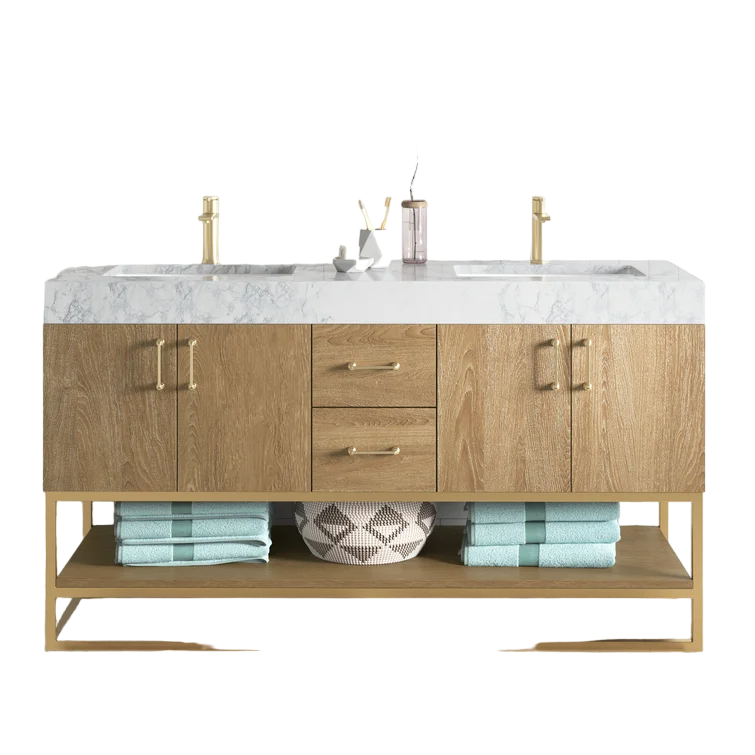 Should we take a look down memory lane, the pictures are pretty funny, dark, and fuzzy.  Here is the first mini makeover when we put up board and batten and painted on ducks, yes I was into the whole yellow-blue phase when we had our first 21 years ago. 
As I write this post, our 21-year-old and hubby are off to see a Journey cover band at the Belly Up, and my heart can't take it!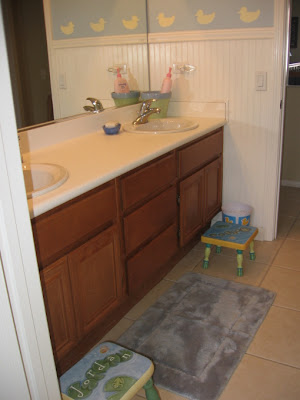 Then distressing/ antiquing became popular so I painted the cabinets.
That got old, pretty fast and I painted them again, so much better!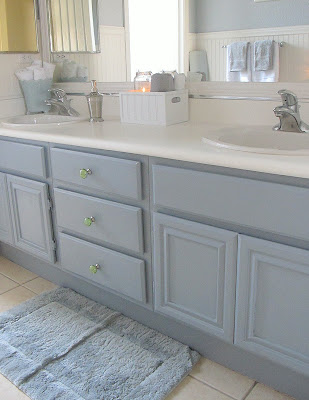 I went with a beachy theme and I actually still like it but It has shown it's age,  its time! The cabinets have taken a huge beating with 3 boys!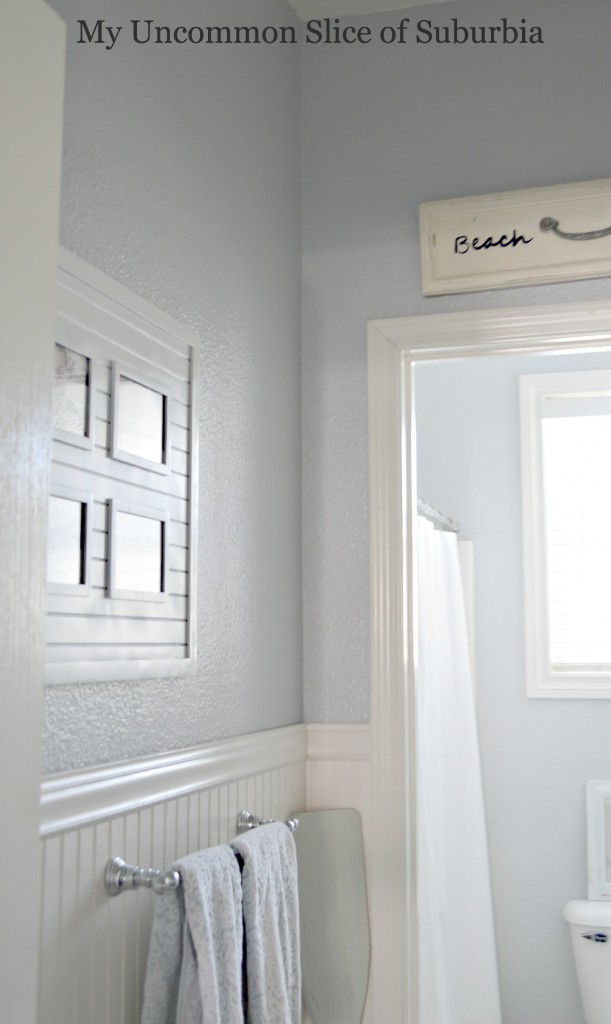 The shower will stay but we will put in glass doors and a new shower head.
The flooring will stay as well, so we need to get creative. The flooring was installed around the vanity so when we pull that out it will just be cement. We need to find something that matches the old tile unless anyone has another solution. 
We already took out all of the board and batten and will be adding something as we did in the loft with panels and molding.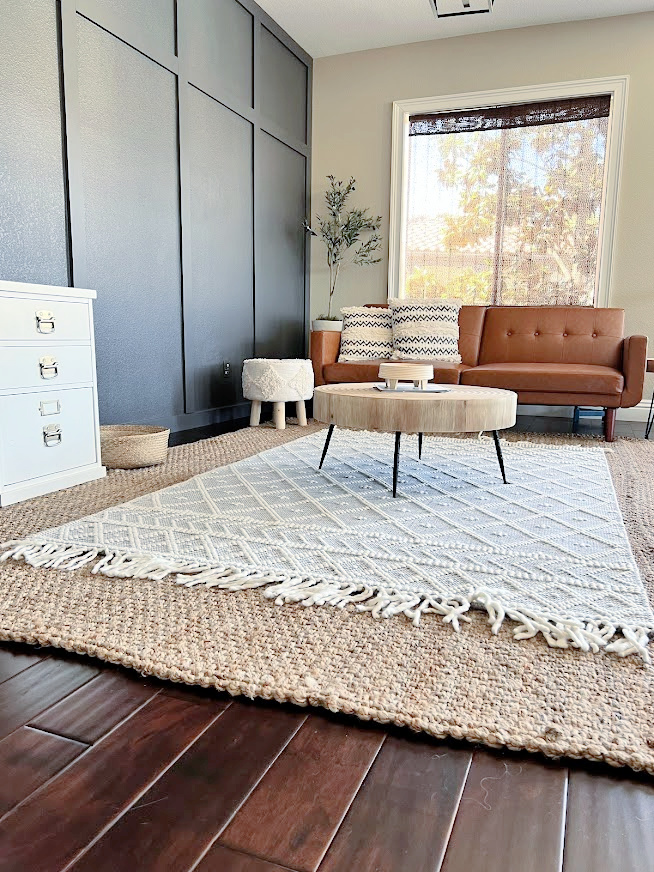 The huge mirror will come down and I'll repurpose it in our gym, hoping it stays in one piece. I have ordered 2 mirrors, 24x 36 that should arrive this weekend. These are the ones I went with and will let you know the quality for the price.  I'm still deciding on the light fixtures, either way, it will require some electrical work.  I'm so excited to get this finished, I'll keep you posted on the progress.  
I'm thinking of painting the bathroom white, any thoughts?  The funny thing is when we moved in the house was all white and we painted every single wall beige, then grey and now white it back in.  
Meanwhile, I finally started using the LTK app,(I previously just used it for the blog) If you're on there you can find me here!
You can also find my Amazon Storefront here for all my latest finds!
Wishing you a beautiful weekend ahead!