After going through the process of re-doing our guest bathroom, I was left with so many inspirational images of beautiful

bathrooms

.

So, of course, I just had to share them with you!
Nothing says "relax" like a giant claw foot bathtub. Just the idea of taking a nice long soak with a glass of champagne and my favorite bath salts is enough to send me to the moon! I just love the bright and airy feel of this bathroom with the sparkle of the chandelier dangling over the gorgeous tub!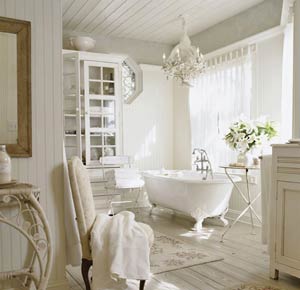 Storage can sometimes be such a challenge in the bathroom. Finding an organized yet pretty way to store all of the towels, soaps, products and everyday necessities of life really helps to keep your bathroom looking and feeling serene. Having the light reflecting and space enhancing element of glass doors behind which to display fluffy towels and pretty bath products is so appealing. The clean look of the boxed storage is an ideal solution for hiding all of the not-so-pretty things that help to make us feel beautiful!
In this day and age, I really feel it is important to "reduce, re-use and recycle." That being said, I think that using vintage accessories in the bathroom alongside more modern fixtures creates a perfect balance of then and now. The contrast between the shabby chic medicine cabinet door and the more modern sink area makes this bathroom elegant and charming.
When talking about complementing natural materials, nothing beats the breathtaking combination of dark hardwoods and cool creamy marble accents. Throw in some gorgeous patterned wallpaper and lots of crisp, white trim and voila…Paradise in the bathroom!
I love this cozy little tufted chair that is just right for primping! The location of the vanity by the window makes for great use of all of the natural light that floods this bathroom. I can't imagine ever wanting to get out of the deep, elegant soaking tub and the muted floral patterned wallpaper is so soothing and relaxing. Pour me a glass of chardonnay and I am home!
 Someday, hopefully sooner than later, my dreams of transforming the master bathroom will become a reality and I can sneak off to my own personal oasis.
Until then, I remain inspired!
~See you for Tuesday's Treasures~