Shrimp Tacos With Crunchy Slaw And Delicious Chipotle Sauce
Taco's are served in our house at least once a week, they are super easy to make, perfect for celebrating Taco Tuesday (or Wednesday or Thursday) and can be pretty healthy with the right ingredients!  I'm sharing my shrimp taco recipe, complete with shrimp taco slaw and delicious chipotle sauce, YUMMY!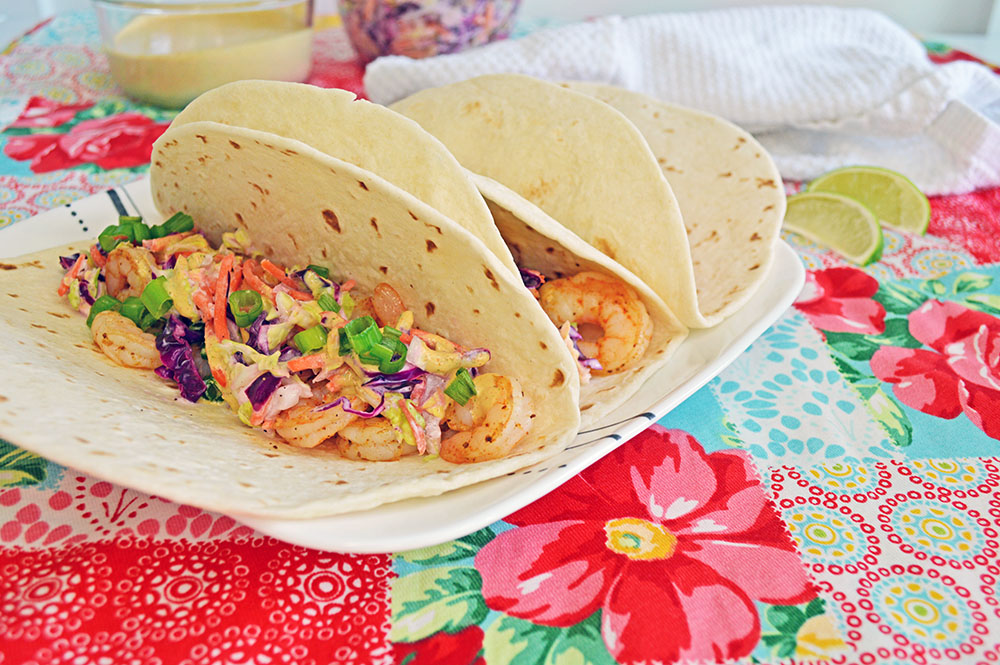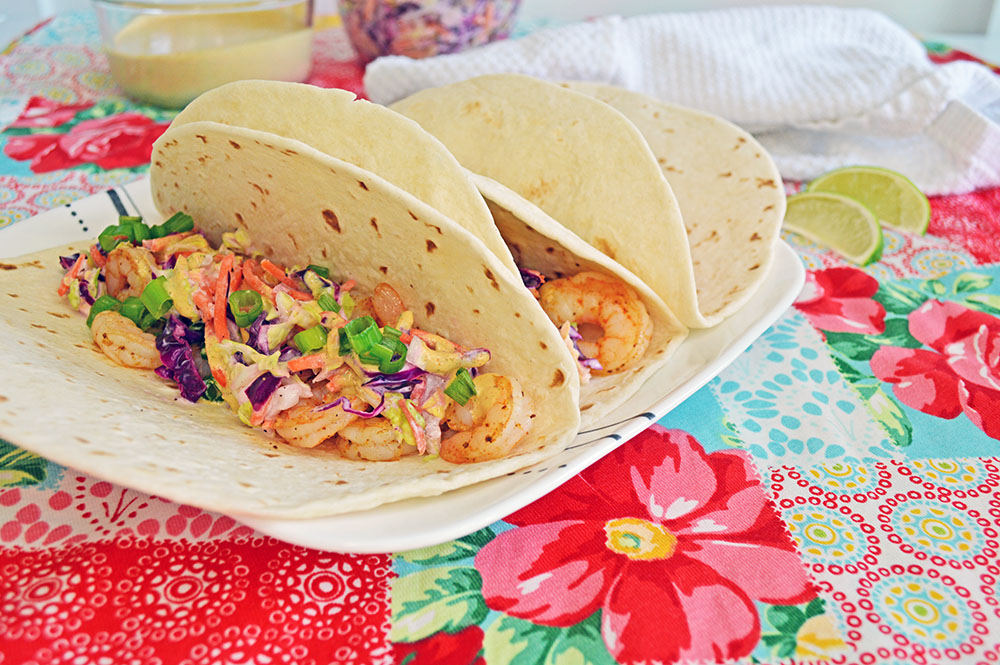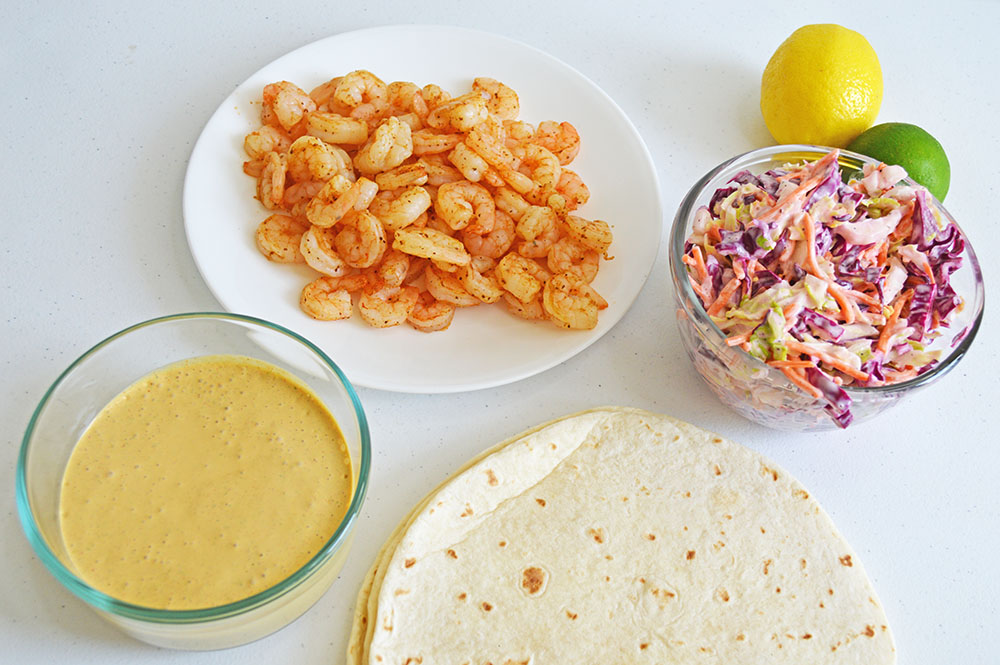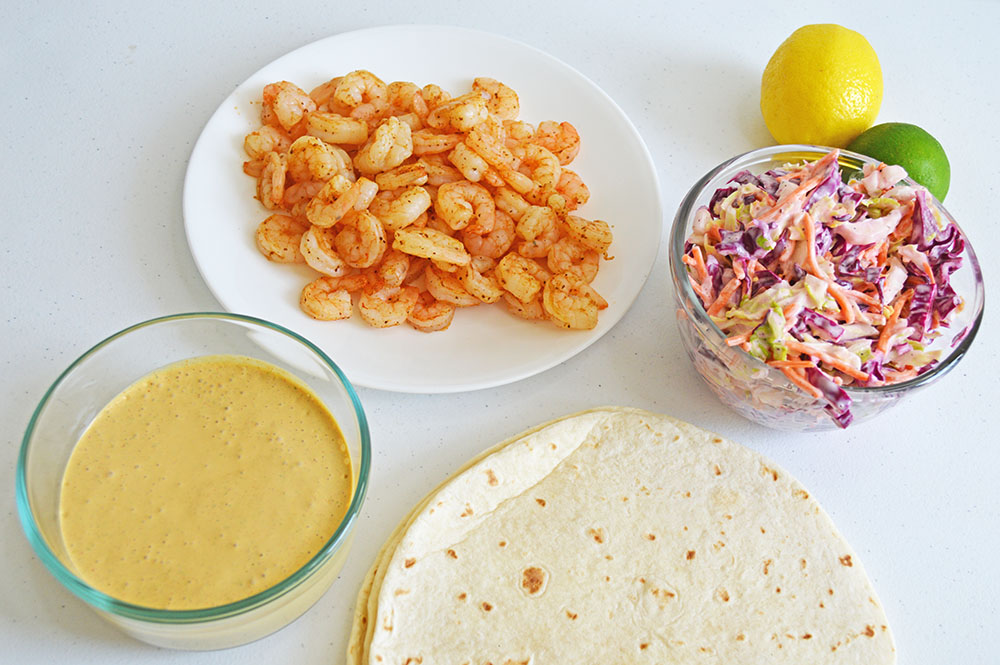 Ingredients
1 ½ lbs medium shrimp, peeled, deveined, tail off
6 tortillas, taco sized
Slaw-
½ lb red cabbage, shredded
1 lb white cabbage, shredded
1 cup shredded carrots
Zest and juice of 1 lemon
¾ cup buttermilk
¼ cup mayonnaise
1 tbsp dijon mustard
2 tsp apple cider vinegar
2 tsp sugar
Chipotle Ranch Sauce-
¼ cup buttermilk
½ cup sour cream
⅓ cup mayonnaise
⅓ cup cilantro, lightly packed
1 chipotle chili in adobo sauce
1 tsp garlic powder
1 tsp onion powder
1 tsp paprika
Salt and pepper, to taste
4 green onions, chopped
Old bay seasoning
Directions:
In a large bowl, toss shrimp in old bay seasoning until well coated. Preheat your grill to 350-450 degrees, and cook the shrimp over medium-direct heat for 5-7 minutes. You can marinate the shrimp for just a few minutes or for up to 24 hours, but obviously the longer you marinate the shrimp, the more flavorful it will be.
For the slaw, in a small bowl, mix together buttermilk, mayonnaise, dijon mustard, apple cider vinegar, sugar, and lemon zest and juice. Add your cabbage and carrots to a large bowl. Pour mixture over the cabbage and carrots, then toss to mix all of the ingredients together well. Put slaw into the refrigerator to chill.
Next, make your Chipotle Ranch Sauce. Add all of the ingredients to your blender, and blend well. To assemble your tacos, start by adding a tbsp of the chipotle ranch sauce to the middle of your tortilla. Add ⅙ of the cooked shrimp. Top with slaw- as much as desired, then top with a drizzle of chipotle ranch sauce. Finish by sprinkling a few green onions on top. Serve immediately.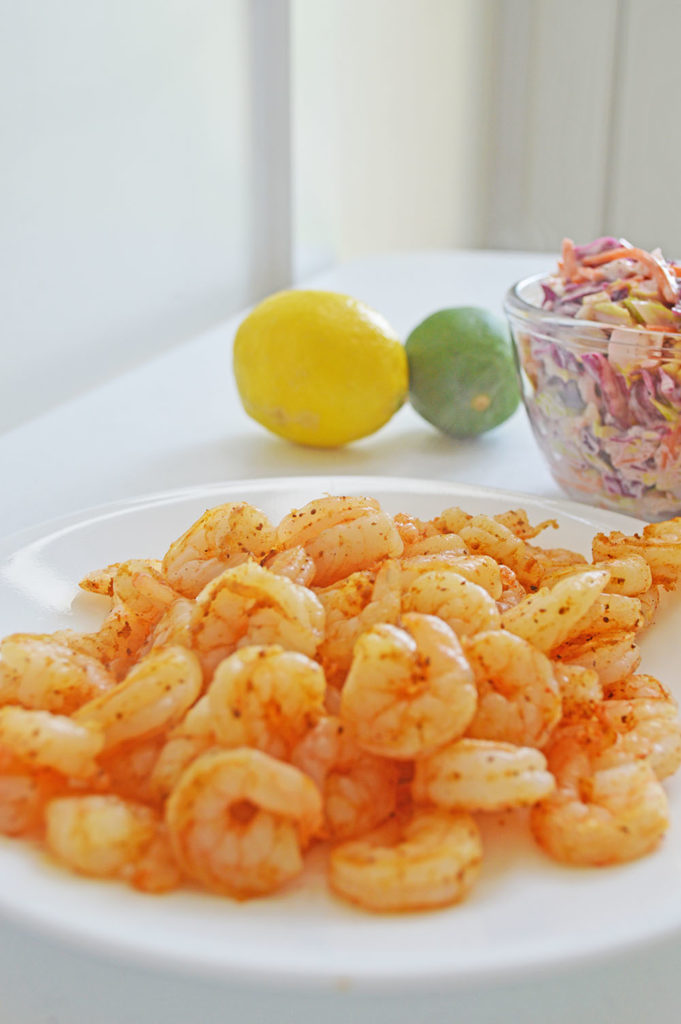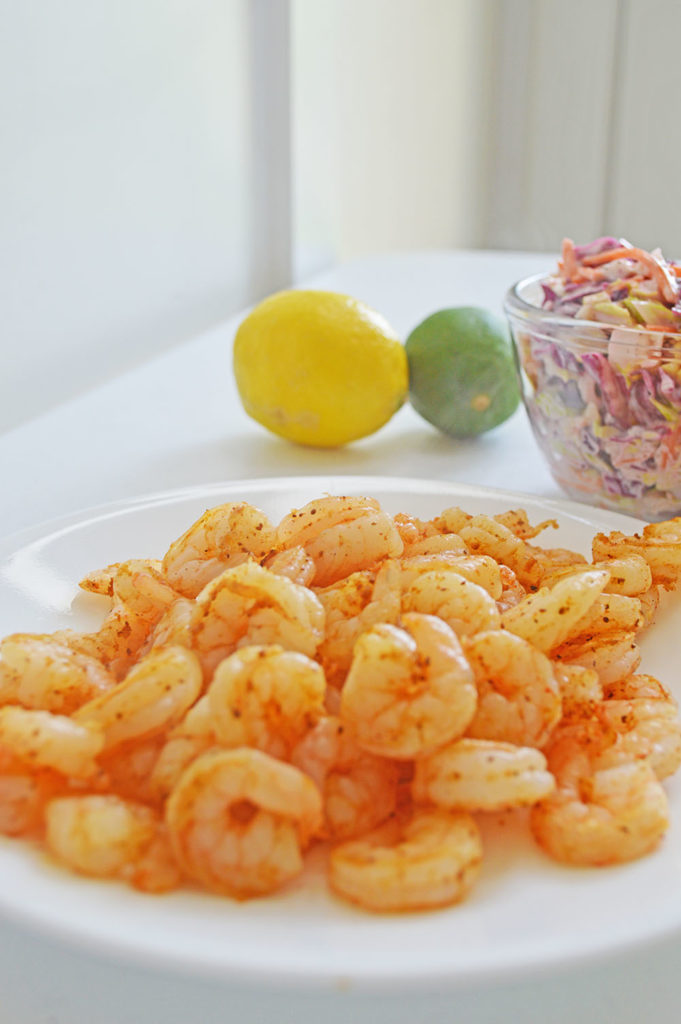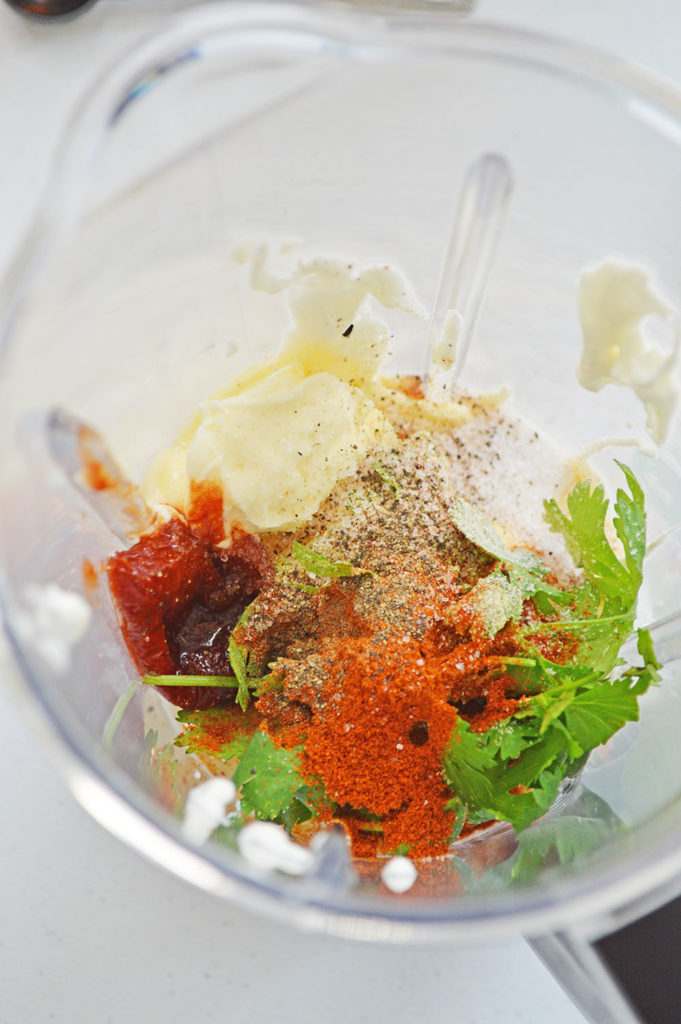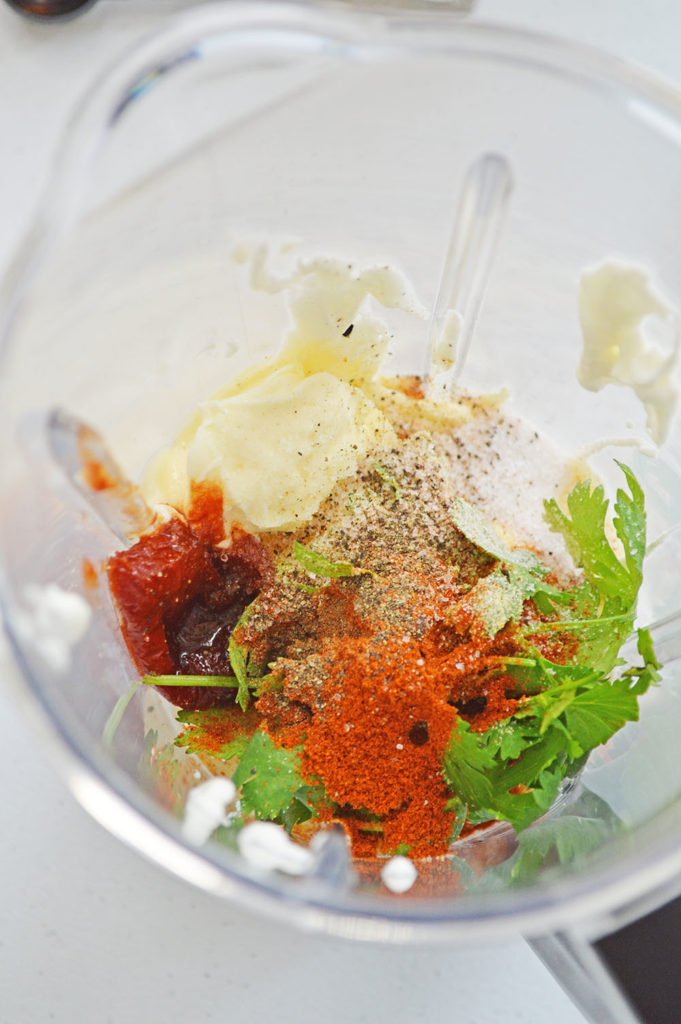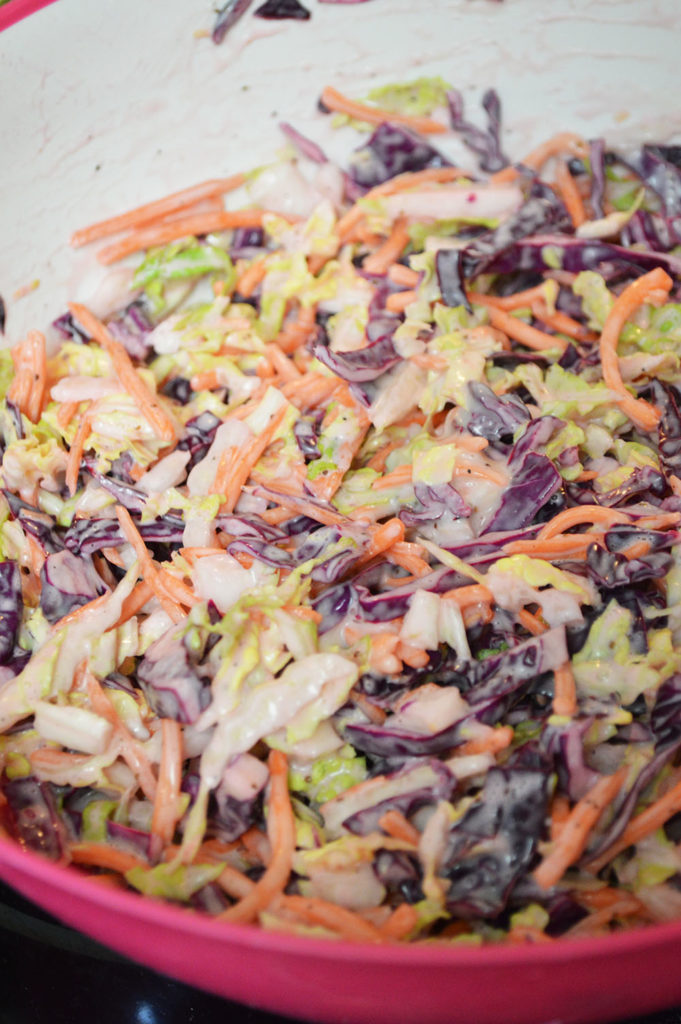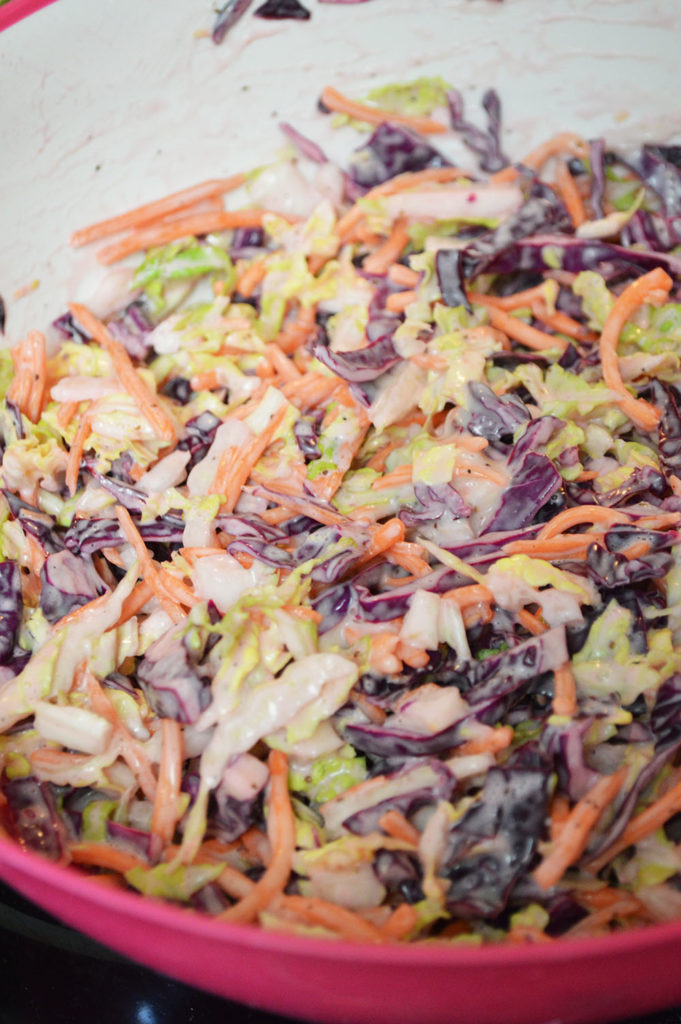 These Easy Tacos with cabbage slaw are fast, easy and so delicious!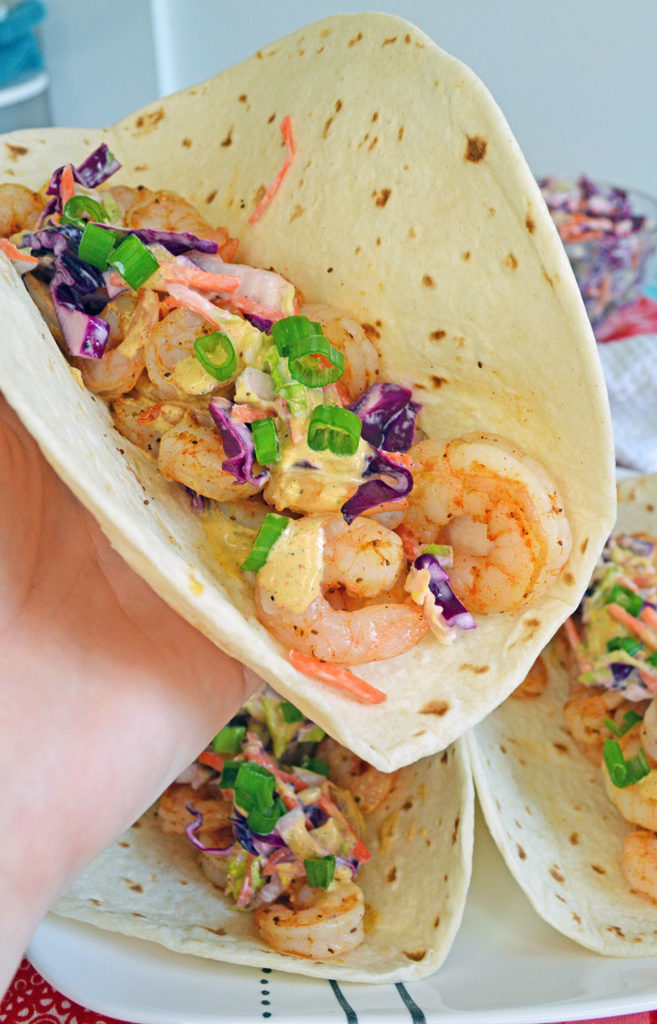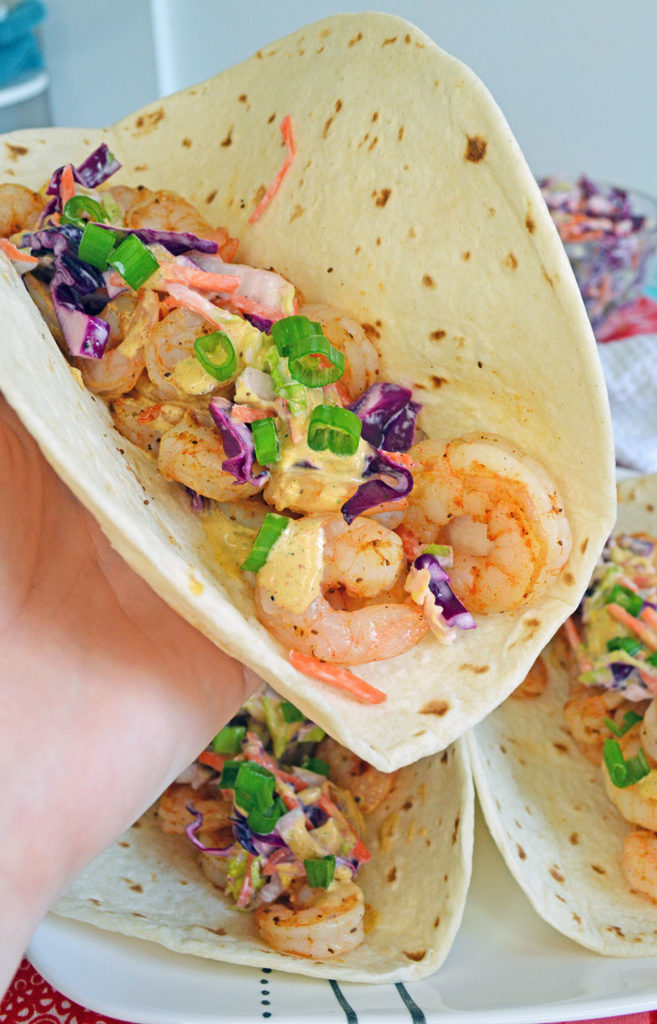 The cabbage slaw adds a nice cool crunch which balances out the chipotle sauce, perfect on a warm Summer night!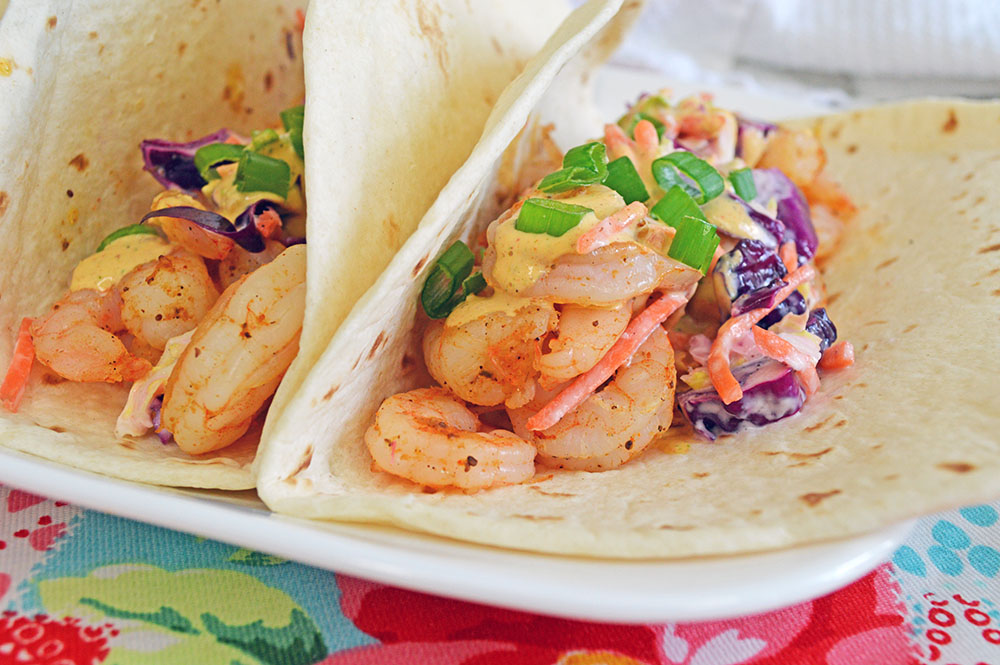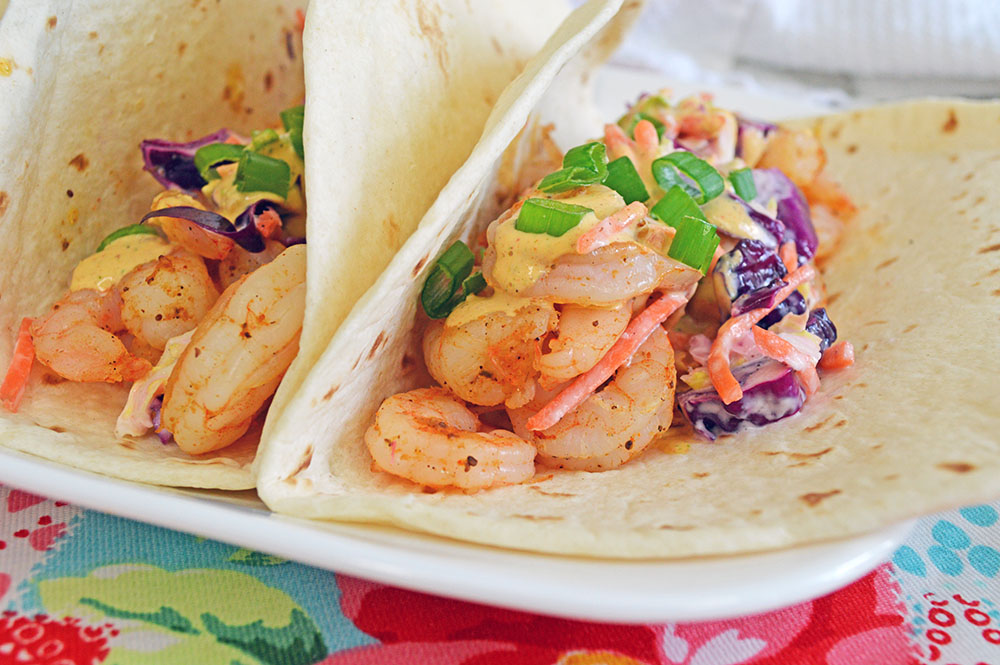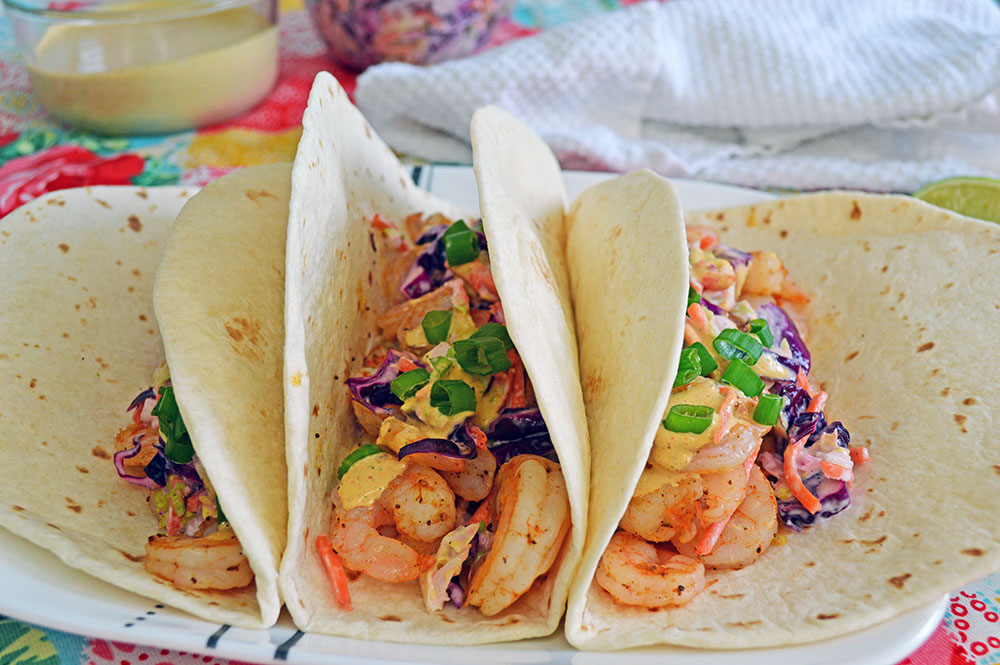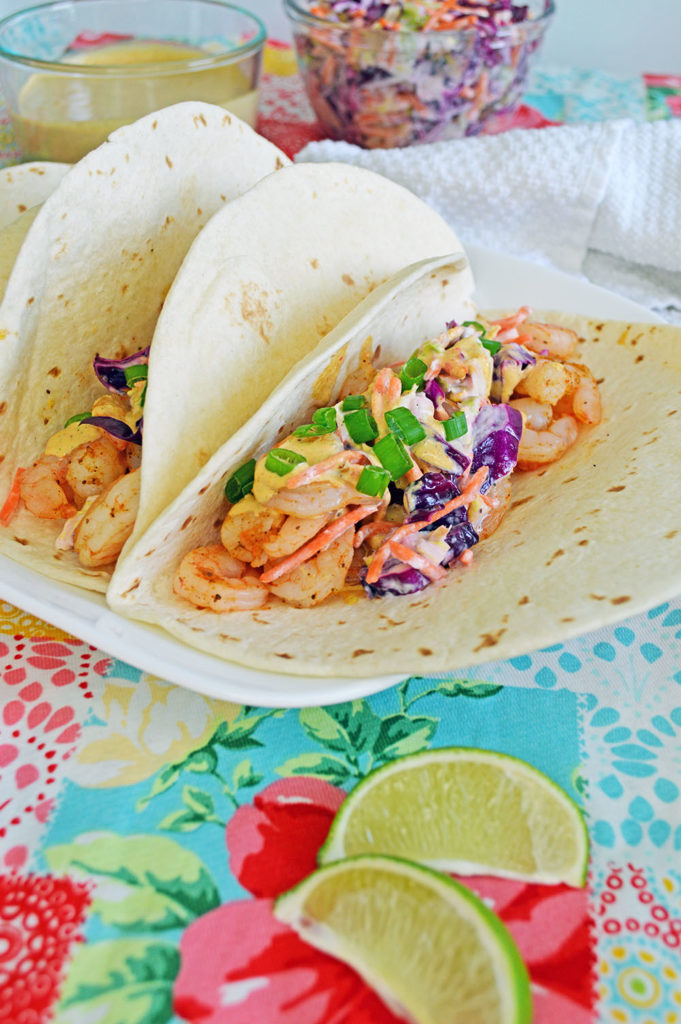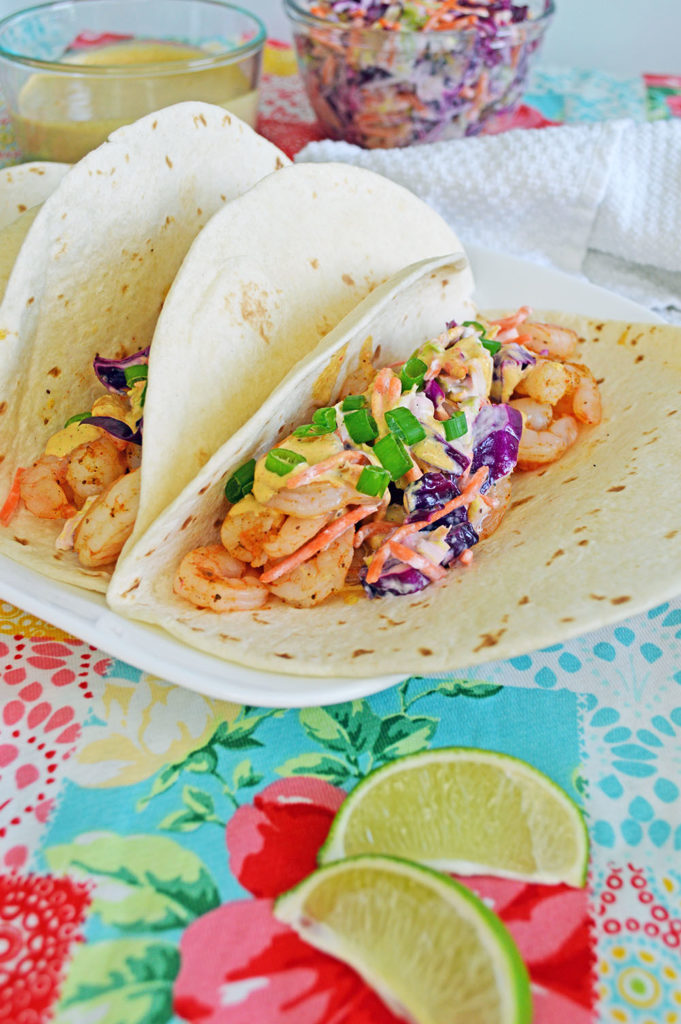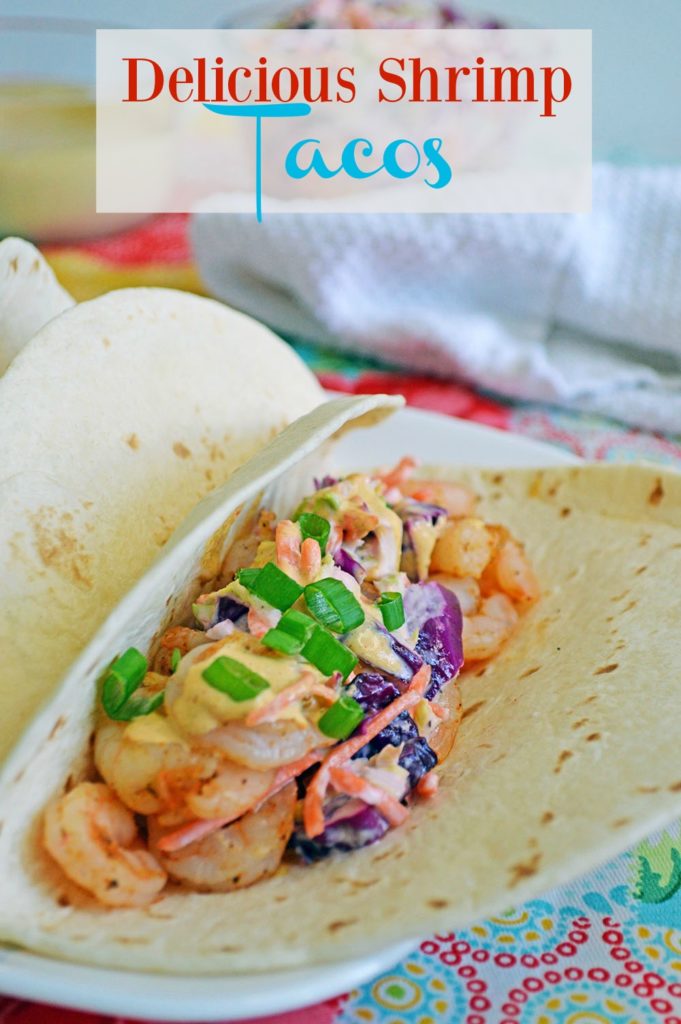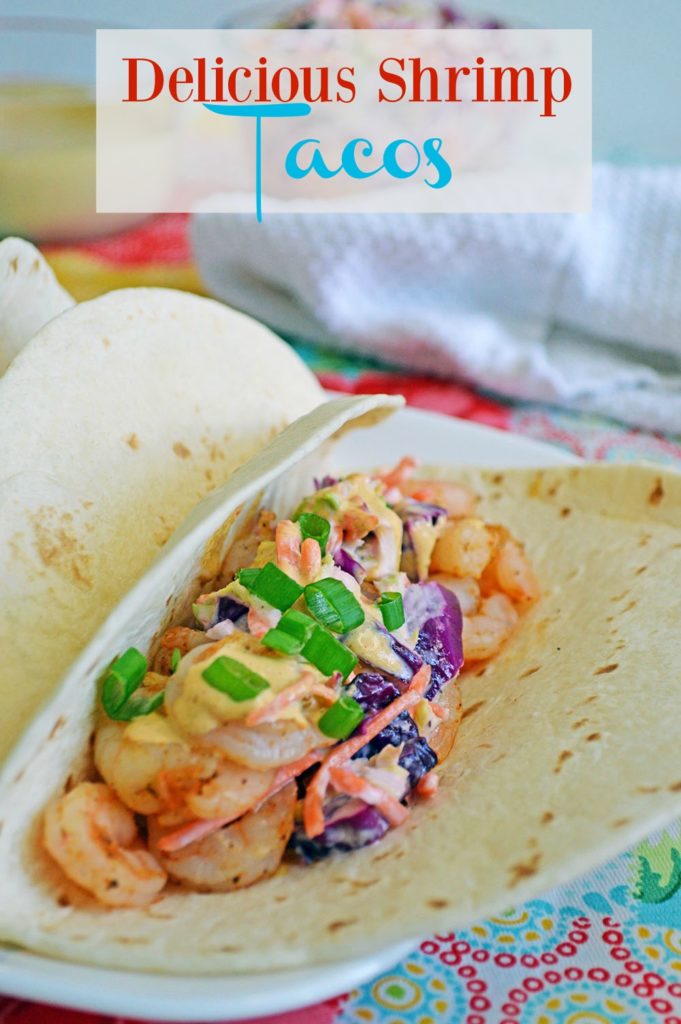 Thanks so much for stopping in today, hope you are having a wonderful weekend and staying cool!