How to Make a Dough Bowl Candle
I'm so excited to share how to make this Dough Bowl Candle infused with pumpkin spice essential oils!  This is a beautiful craft that is perfect for fall! 
One of the best handmade gifts you can make is a candle. Candles can be infused with any scent you desire, and when made in a dough bowl they make the perfect home décor for fall!   If you have been a long-time reader of mine you know fall is my absolute favorite season. Falling leaves, crisp air, cozy blankets, pumpkins, cider,  and new beginnings.  This year has been tough, one of the toughest in my life. I am ready for that calm that crawls through the air with the upcoming season.
A huge thank you to Kristi from French Creek Farmhouse for inviting me to be a part of this Fall tour, I feel so blessed to be included in this talented group of bloggers! Make sure to head over and see all of the  Beautiful Ideas listed at the bottom of this post.  From outdoor living to tablescapes and recipes, there is something for everyone!
If you click any of these Amazon links or outside links and make a purchase, I earn a small commission,  no additional cost to you.

CANDLE MAKING SUPPLIES:
Cotton Candle Wick 6″
Natural Soy Wax candle melts
Glue Dots Double-Sided
Scissors
Double Boiler or Pouring Pot
Pumpkin Patch Premium Grade Essential Oil
 Wooden Dough Bowl I found mine on Etsy they sell many beautiful wooden bowls with gorgeous knot holes
Candle Wick Holder
Directions:
Step 1:  Apply the glue dots to the bottom of the dough bowl and stick the metal bases of the wicks to the glue dot.  You could also use a heat gun and hot glue instead of glue dots.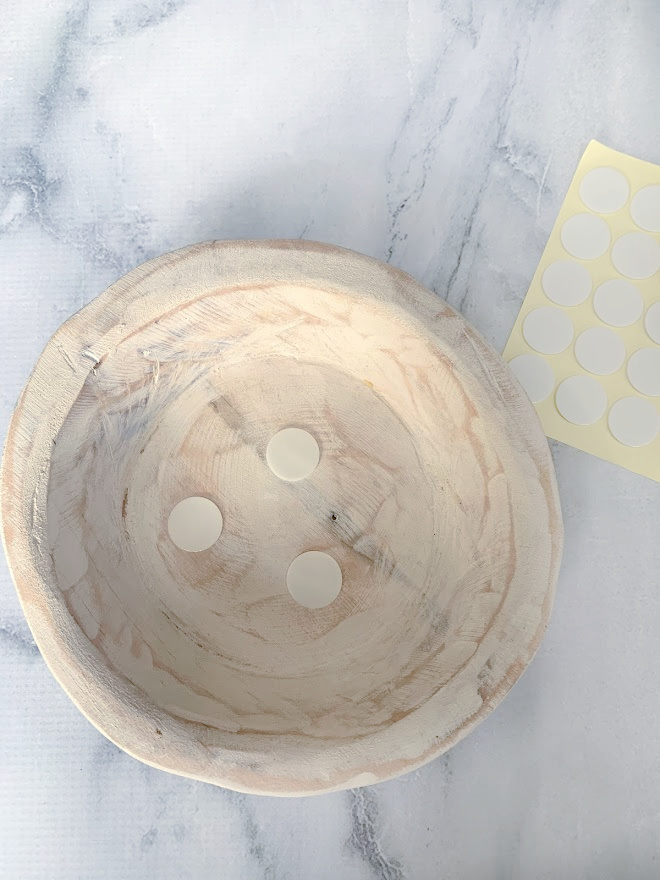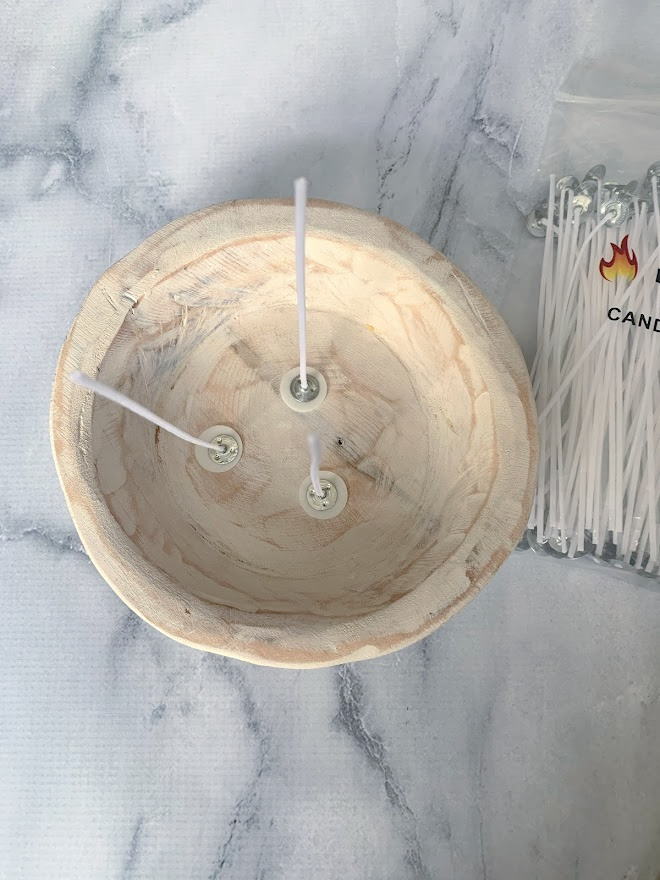 Measuring Tip:
I measured how much water fits into my dough bowl and melted the wax-based on that.  The dough bowl holds 2 cups of water which equals 16 oz.  I measured out 2 cups of wax and added an extra half cup just in case.  It was almost a perfect match, with just a little extra wax leftover. If you decide to measure this way, make sure you do this the day before so your bowl is dry.  You can also find many measuring tools on the web as well.
Step 2
Place the desired amount of soy wax flakes into a heat-resistant container. (I used a new empty  paint container from home depot, much cheaper than a pouring pot) Using the double boiler method (hot water in the pot), melt the wax stirring very gently until the wax is completely dissolved into a liquid.  Your pour temp should be between 165 and 185 degrees F .  You can check the temperature using a candy thermometer.
This is my setup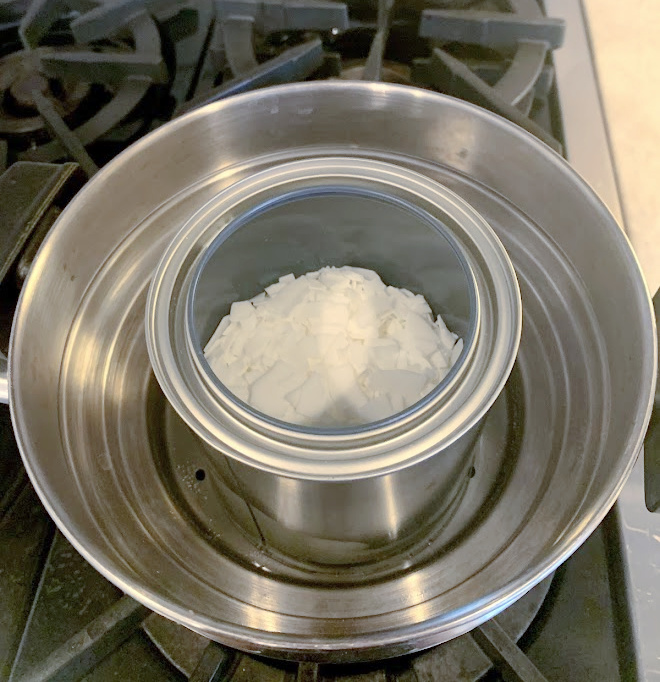 Step 3: Add fragrance oil into the melted wax when you reach a temperature between 165 and 185 and stir gently.  I Added 2 fl. ounces of essential oil and it was perfect, not overpowering.
Step 4: Pour the melted wax into the dough bowl. To keep the wicks in place I found an easy way of using chopsticks and clothespins. This worked perfectly but if you were going to fill the bowl to the very top, the clothespins would get in the way and leave an indentation in your wax, so be careful with your levels.  They also have a tool for this I listed it in the materials.
Step 5
Allow to harden for at least  24 and then trim the wicks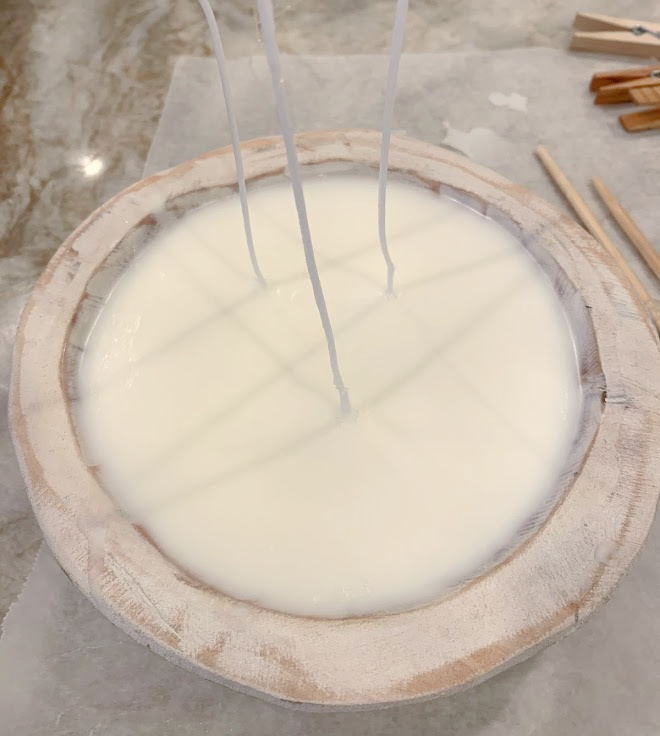 Wrap it in a bow and they make the most beautiful gifts.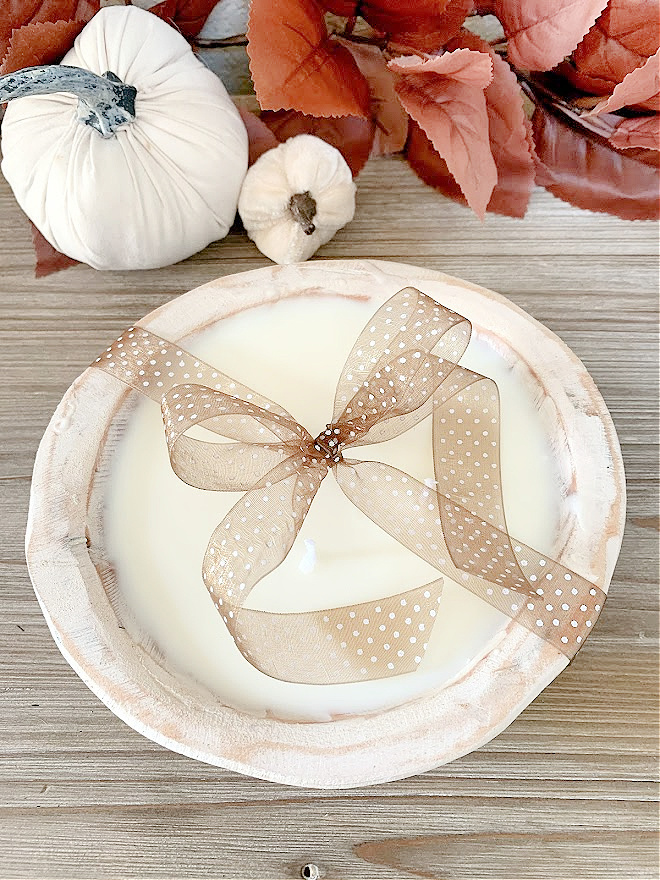 These wonderfully scented dough bowl candles will make your home feel so cozy especially on a crisp autumn night.  The scent of the pumpkin essential oil is divine! For each season you can change out the essential oil with other popular scents.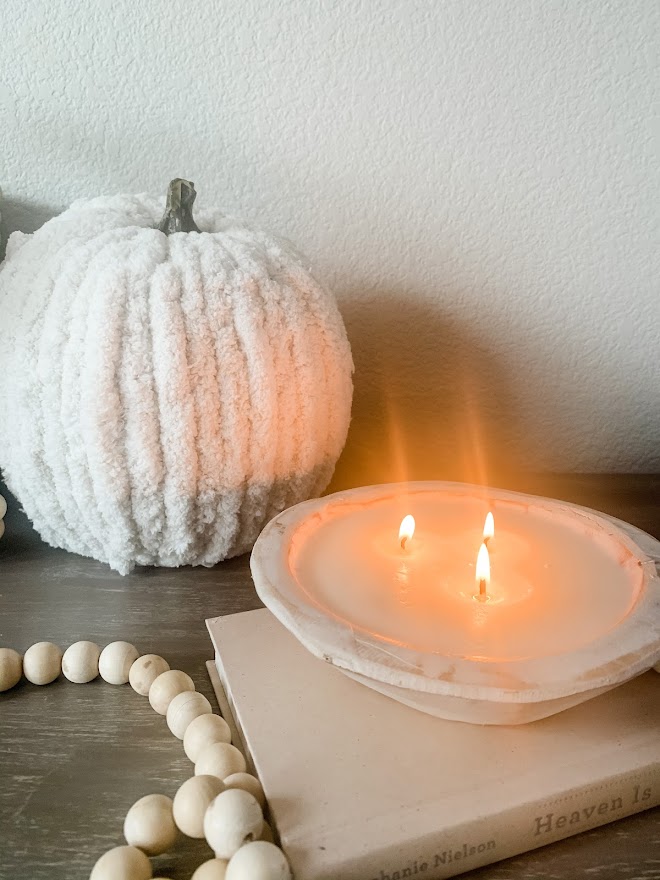 You can find the tutorial on the chunky knit pumpkin right here.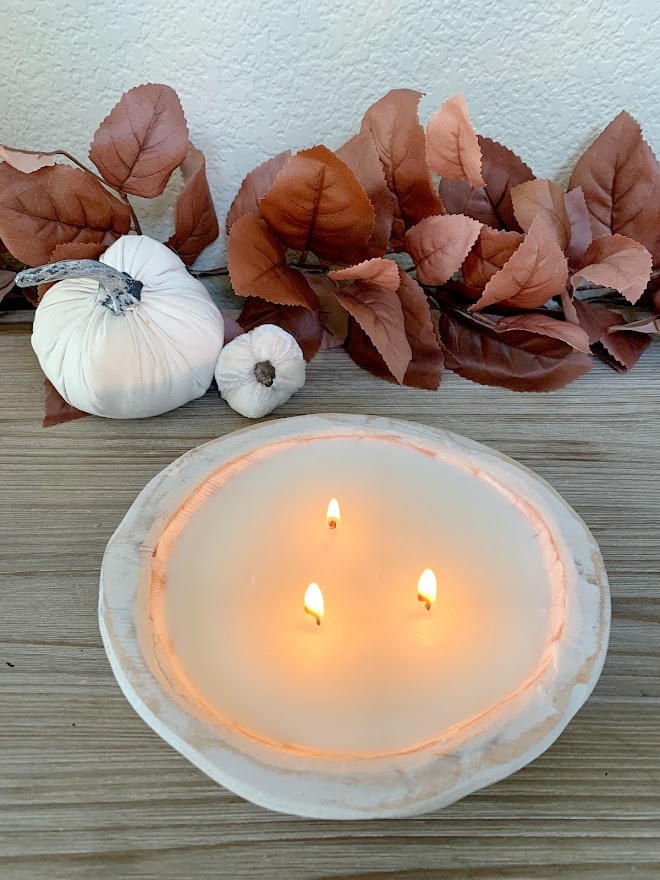 When you have finished burning your candle the mini dough bowls make the most beautiful home decor. Think beautiful vessels and decorative dishes for the perfect seasonal touches They would also be the perfect size for a fantastic holder of keys,  jewelry and so much more.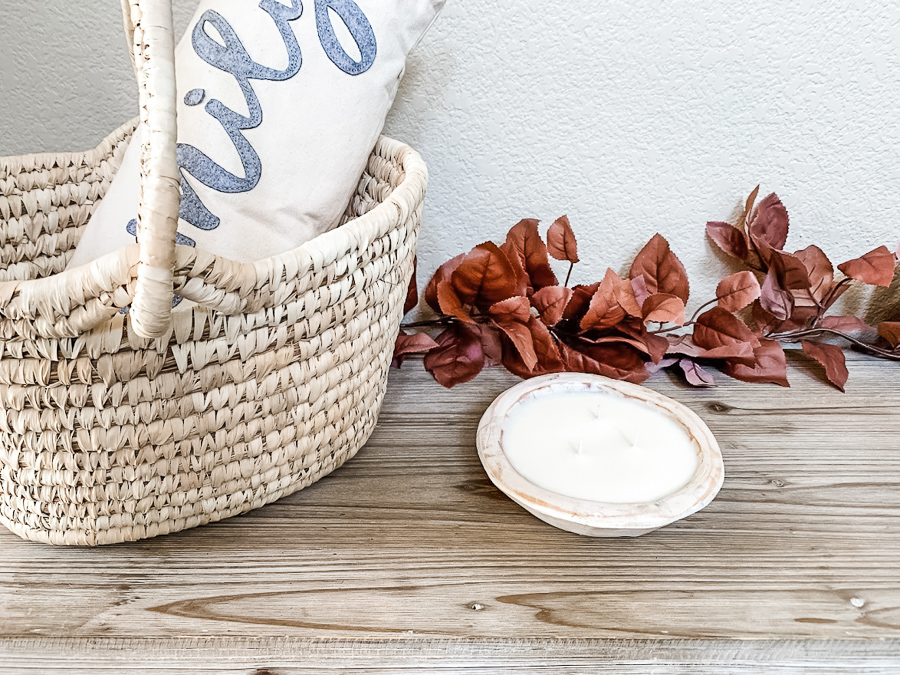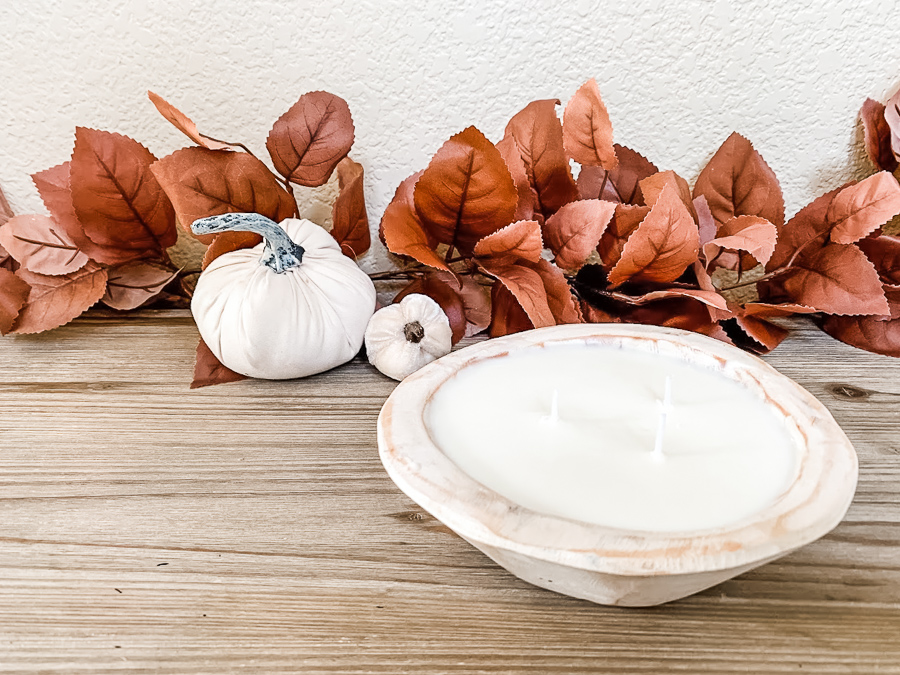 You should get about 16 hours of burn time.
*Candles should never be left unattended or burned near flammable objects. Candles should always be kept on a level, fire-resistant surface.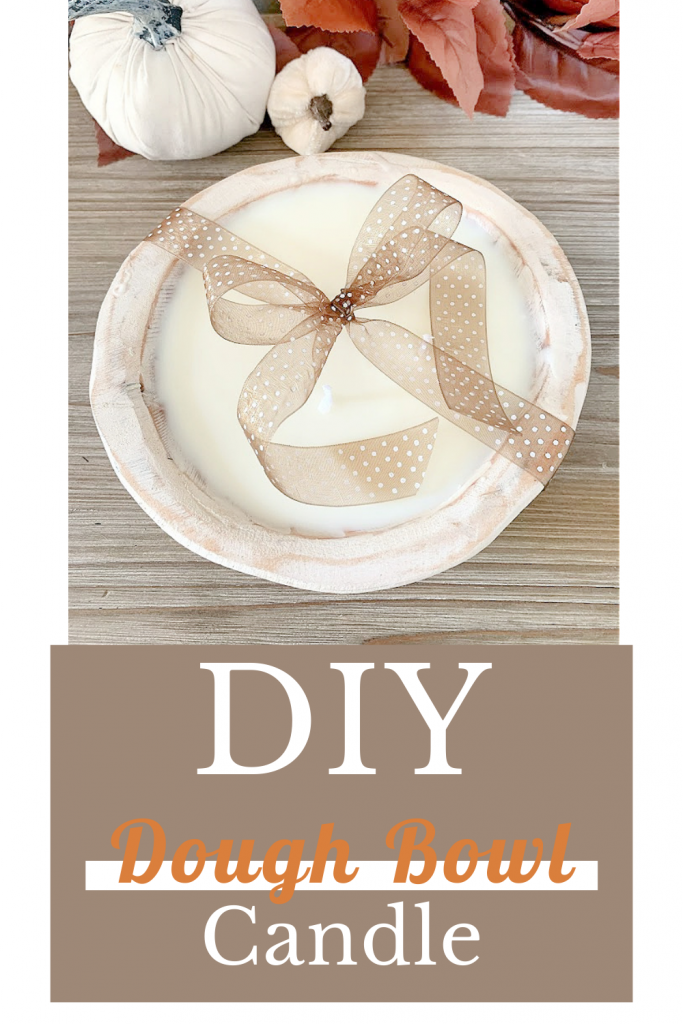 I'm thrilled to be joining in today as 30 talented bloggers bring you the best of all things home! Please continue along this inspiring Harvest Home tour, and visit the other participants in each of the following categories.
Thank you so much for taking the time to stop in today, it really does mean the world to me!
Side Note: Years ago we had a fire in our bathroom caused by an unattended candle. It took me years to start using candles again and when I do, I don't leave them unattended, not even for a second.  If you are nervous about candles there are retardant chemicals that seal the dough bowl to reduce the risk of fire, you can find the product HERE. If you decide to spray the bowl, spray only the exterior of the bowl so the soy wax has a clean burn.