Easter Bunny Mason Jar (easy craft ideas for gifts)
These adorable Easter Bunny Mason Jars are a quick and easy Easter craft that's sure to bring a smile to your face! 
Are you looking for some last-minute fun easter crafts? These cute easter bunny mason jars make great easter gifts, fill them with jelly beans, robin eggs, colored easter eggs, chocolate carrots, or a chocolate bunny, the kids are going to love them! The best part, you can find almost everything in your craft closet or take a quick simple trip to the dollar store for all of your supplies.
A little secret: I honestly had no idea Easter was next weekend, I thought it was the end of the month, oops.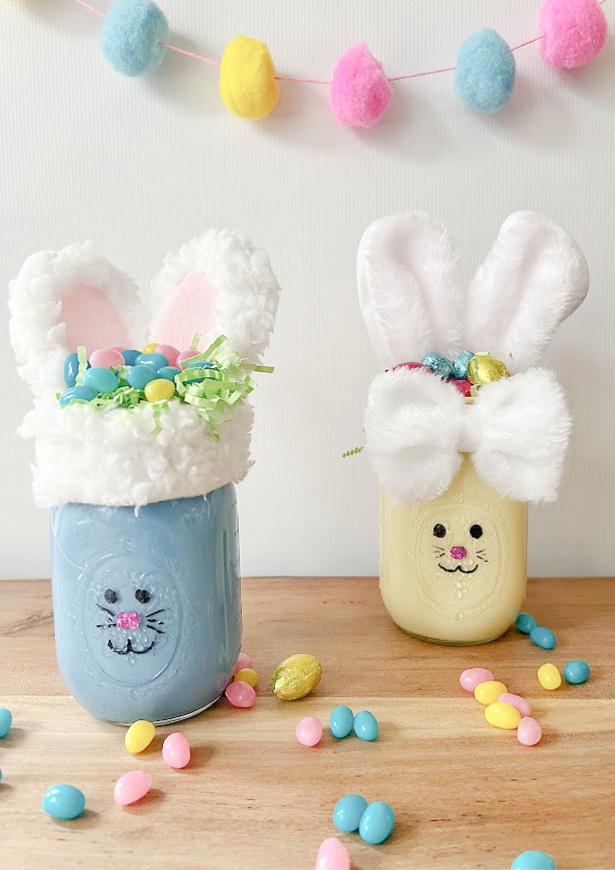 SUPPLIES
These supplies are just recommendations, everything is so interchangeable, and no special equipment is needed.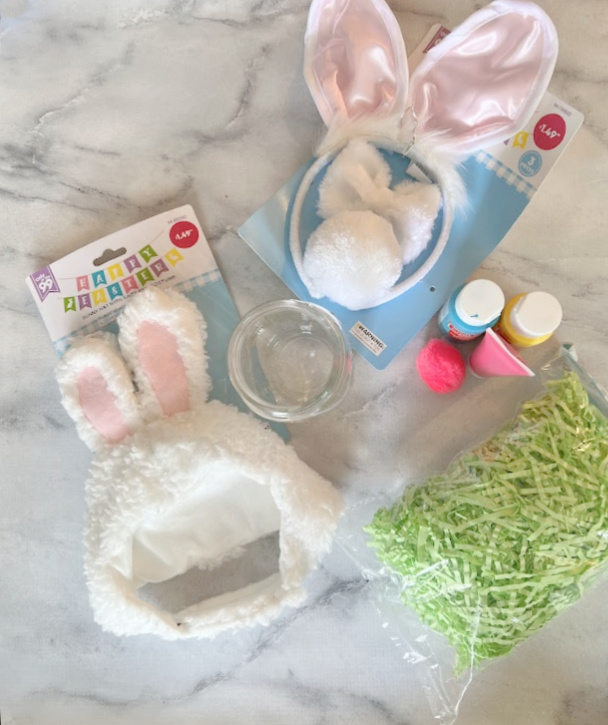 Affiliate links are listed below I am an amazon associate and could make a small commission at no charge to you.
Pint-Sized Mason Jars You could also use baby food jars or recycled spaghetti sauce jars
Acrylic paint colors of your choice
Scissors
Hot glue and glue gun
Assorted Ribbon, yarn, or anything fun for the trim
Bunny ear headband I found mine from the dollar store
Easter Grass or tissue paper
Sharpie
Cotton Ball
Directions:
Step 1: Paint Your Mason Jar
There are literally a ton of different ways to paint glass. I'm going to be honest, I would use spray paint or chalk paint on the outside but not acrylic, as it shows all of the paint lines. This is why I paint the inside when using acrylic paint, not the outside of the jar. It's a great way to get flawless results.
Optional: I mixed equal parts of white with your color choice to lighten it up for Spring.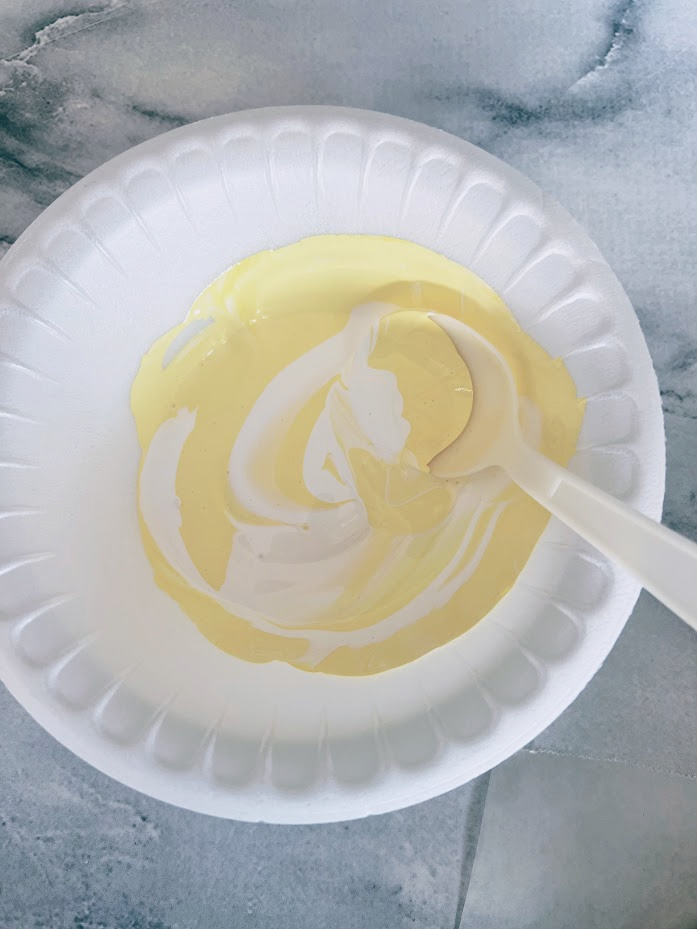 Clean the jars well with hot soapy water, let dry.
Pour the paint mixture into the mason jar and swirl it around to coat the inside of the glass. It is helpful to hold the vase up to a light to see where light is shining through which means it needs more paint. If so, you can add more paint or get a paintbrush to reach any parts that don't have coverage.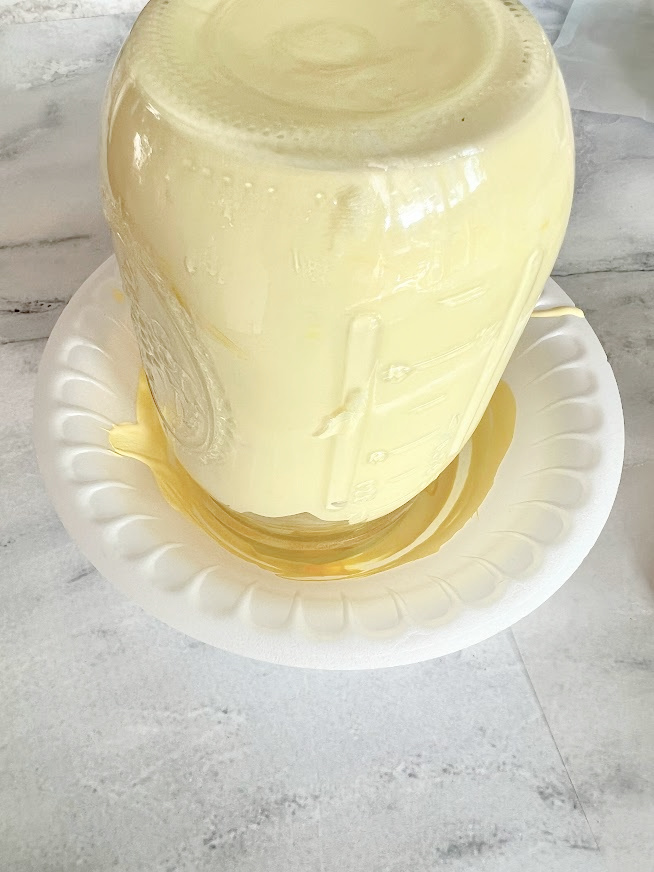 Let your mason jar dry upside down on a flat surface, (I like using a trader joes brown bag or wax paper) This will allow the excess paint to drain out. I leave the jar like this for 24 hours to be sure the paint has completely dried.  You shouldn't need a second coat but if so just repeat the process.
I would say to be safe, let your jar dry for a few days before you put anything inside. If you're putting food inside, you could line it with a cupcake liner.
Step 2: Draw your Bunny face
Paint the bunny face on the outside of each jar using a sharpie, doesn't get much easier than that. You could use a pink sharpie for the nose or cut out fabric or circles of cardstock, really anything pink, and hot glue it to the jar.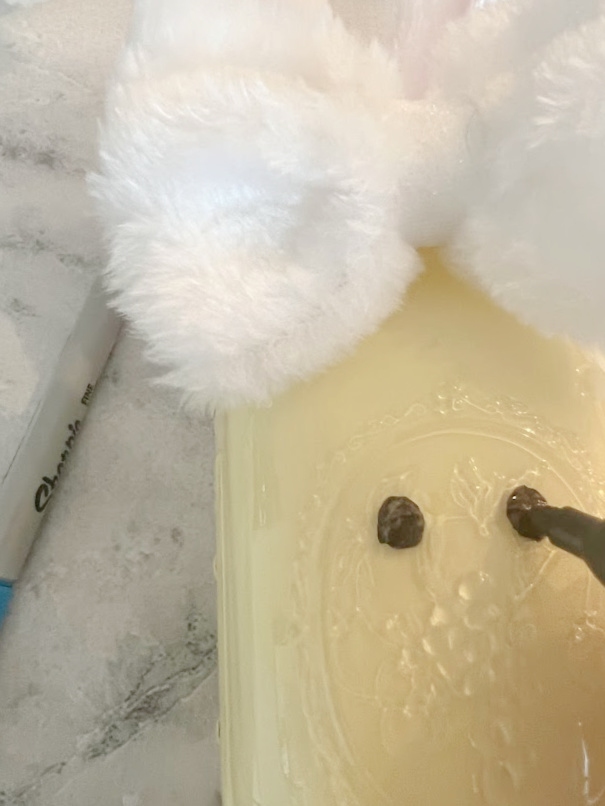 Step 3: Disassemble the headband
I disassembled the bunny headband and used a dab of hot glue to adhere the ears to the back of the mason jar, along the top edge. I glued the cute bow tie to the front and the bunny tail to the back of the jar. (you could also use a cotton ball or pom poms for the tail) I have a pom pom tutorial here.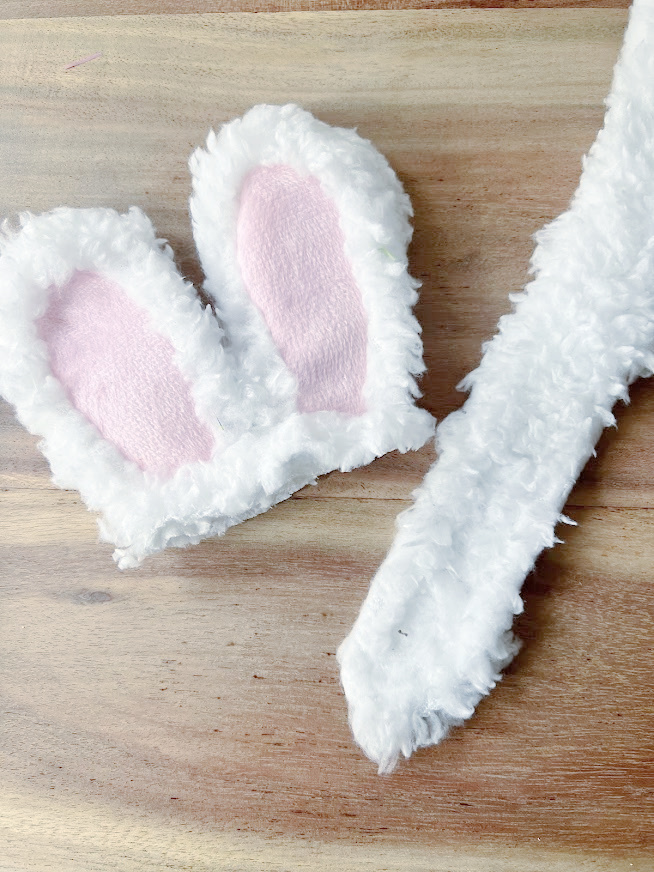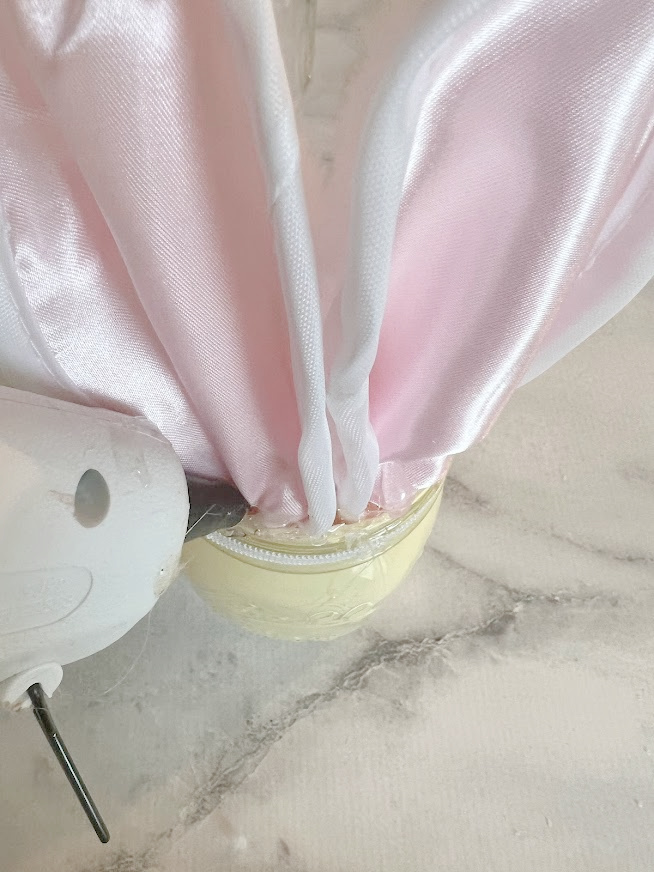 Hot glue a cotton ball to the back of the jar.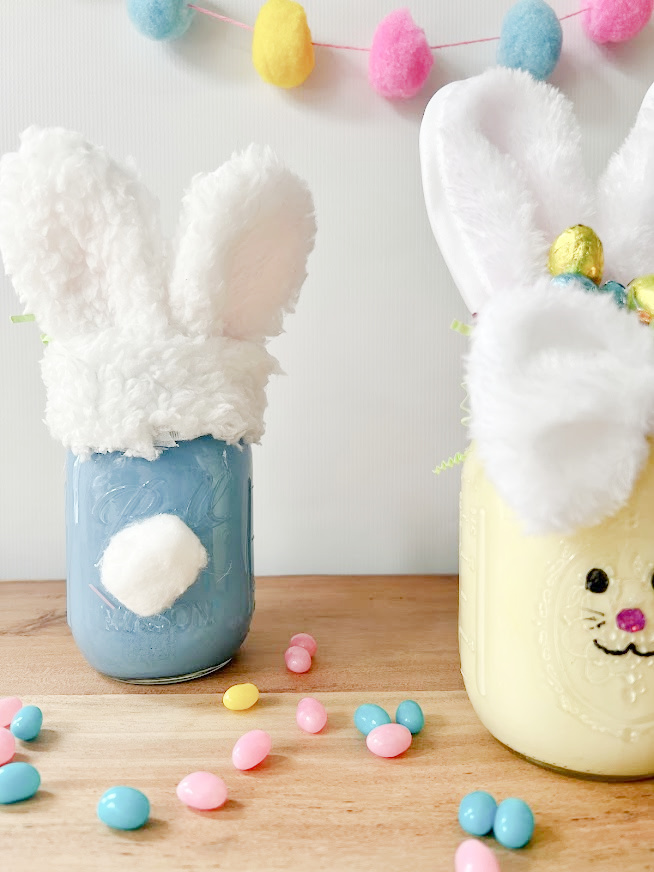 Add your grass or tissue paper and treats on top!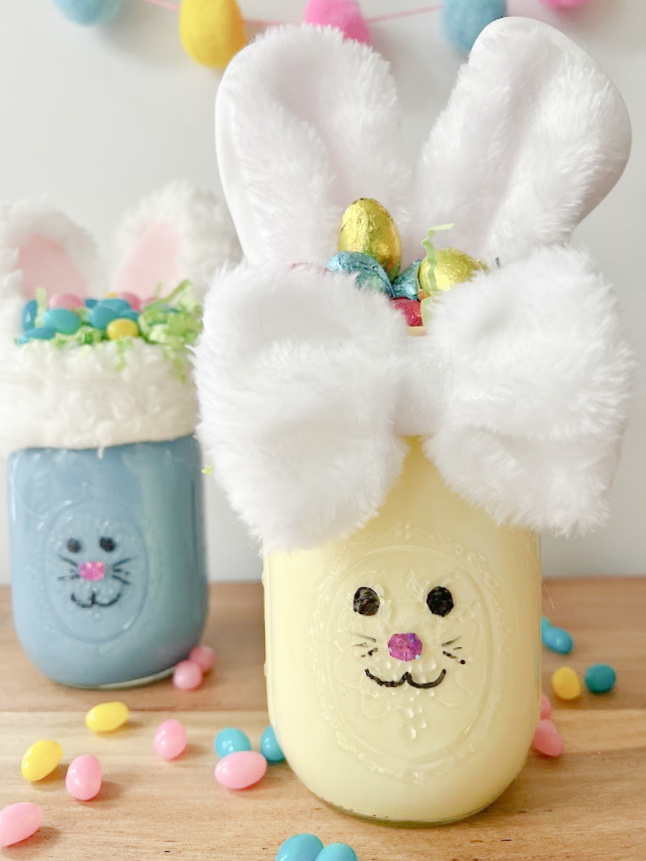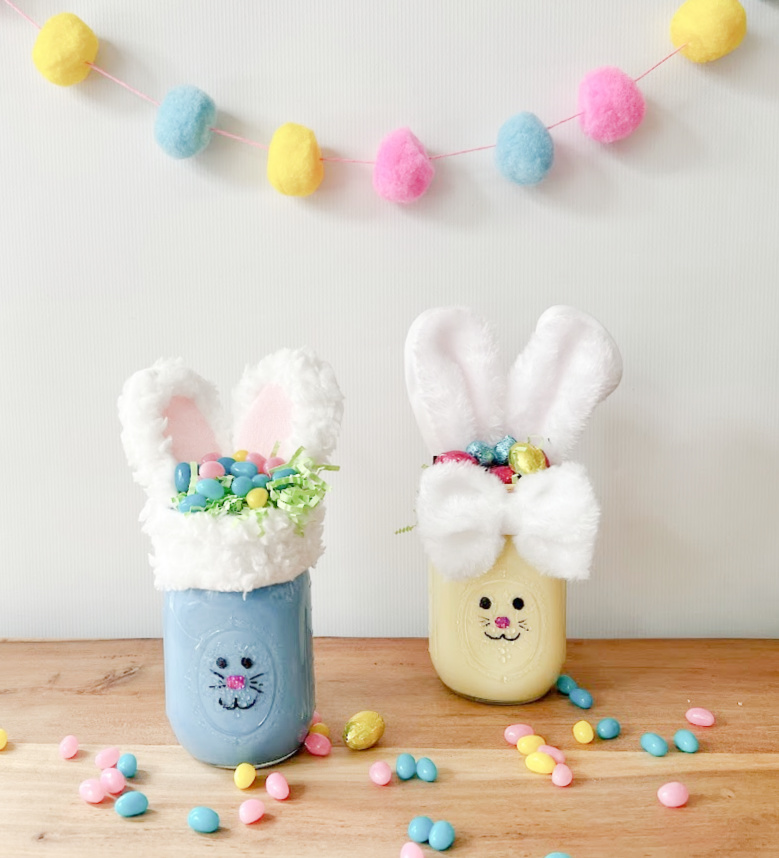 I'm also giving you a little sneak peek at the table I refinished, isn't it pretty?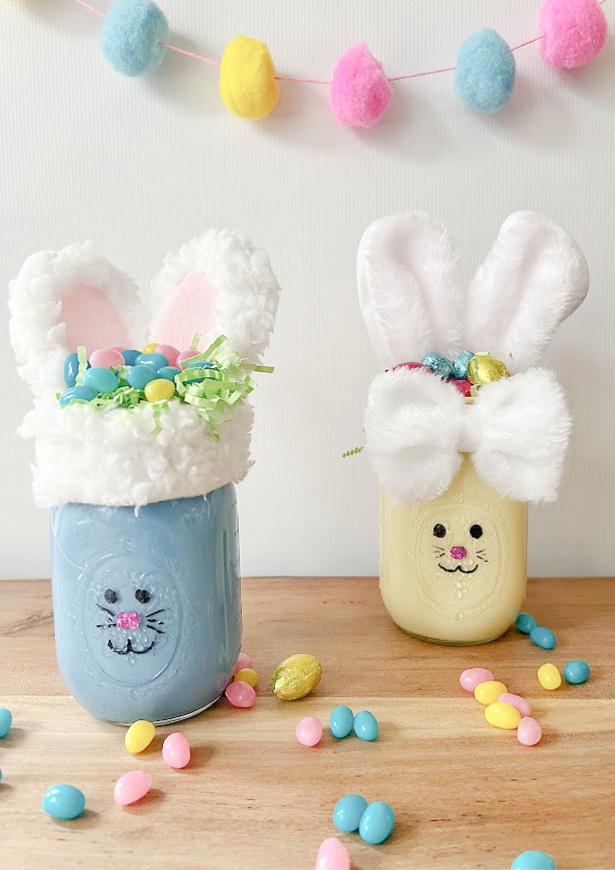 Not up for painting the jar, no problem, just add the ears, cotton ball, and trim, look how cute it still is!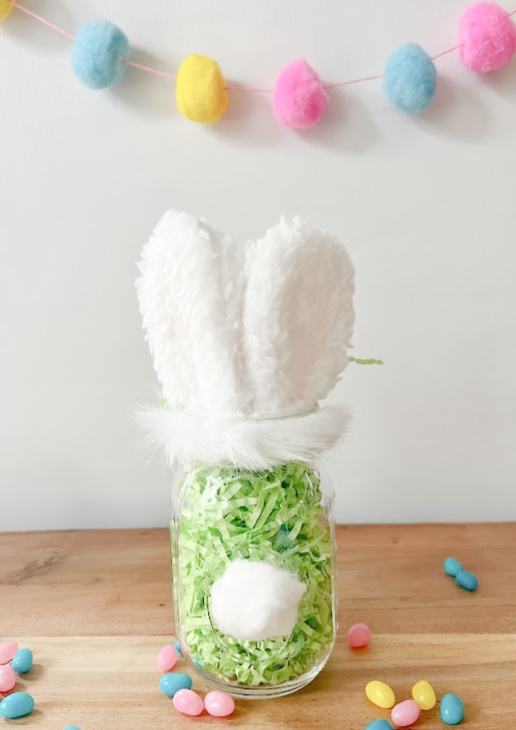 Even easier, just wrap the jar in the bunny headband!
Get creative, there are so many other fun ideas
Create Easter decor filled with flowers for your Easter table
Add a bunny silhouette sticker to the outside of the jar. There are lots of tutorials out there on creating your own silhouette bunny stickers using a piece of blue painter's tape.
Have fun mixing up different paint colors.
Make your own bunny ears with fabric. Your options are so versatile.
I hope you love this simple idea perfect for the easter season, send me a picture or tag me on Instagram or Facebook with your own easter mason jars!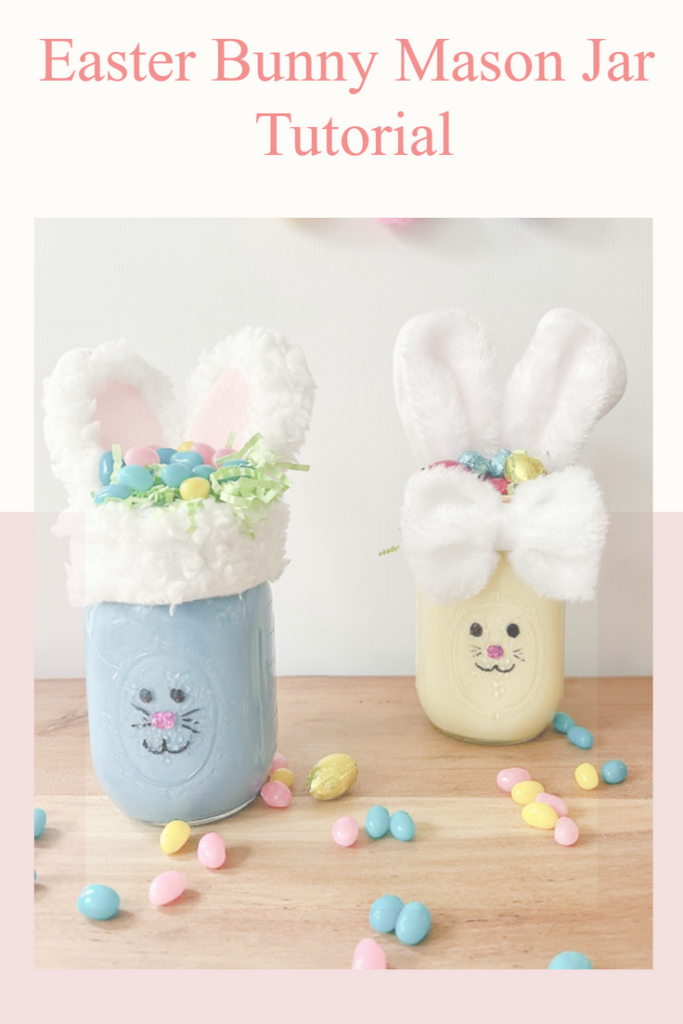 Looking for more mason jar ideas? Click here!