October is here which means lots of yummy and delicious comfort food, this Alfredo pasta bake is one of my favorites! In San Diego we don't get much of a seasonal change, however I still crave old favorites like baked pasta's, chili, apple crisps, hot cider and so much more! Lucky for you, I have 11 fabulous friends sharing their favorite comfort food and trust me, you don't want to miss a single one!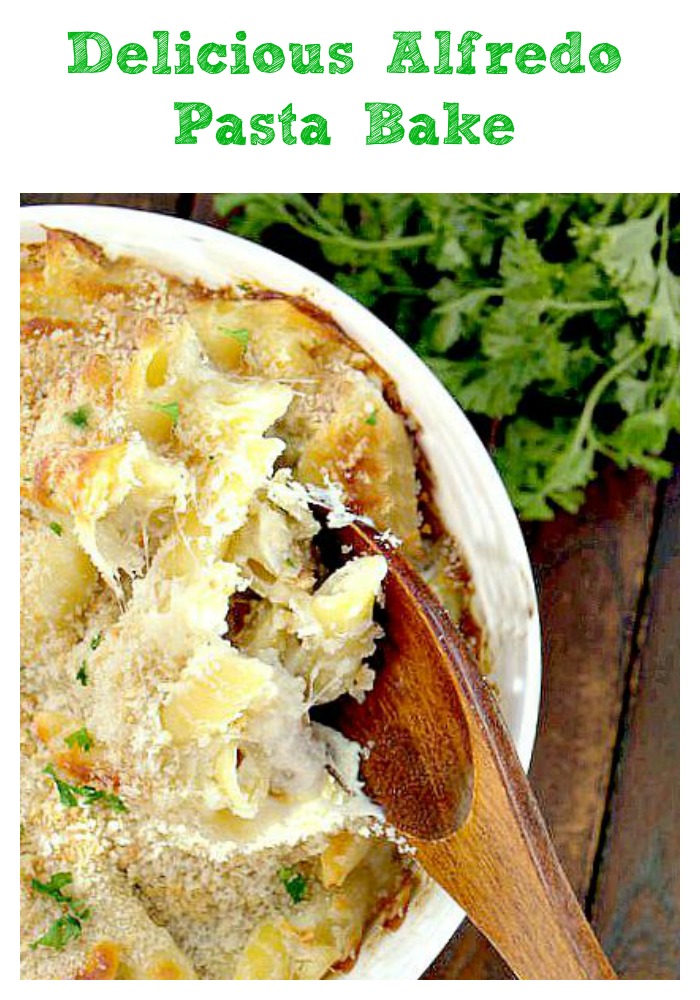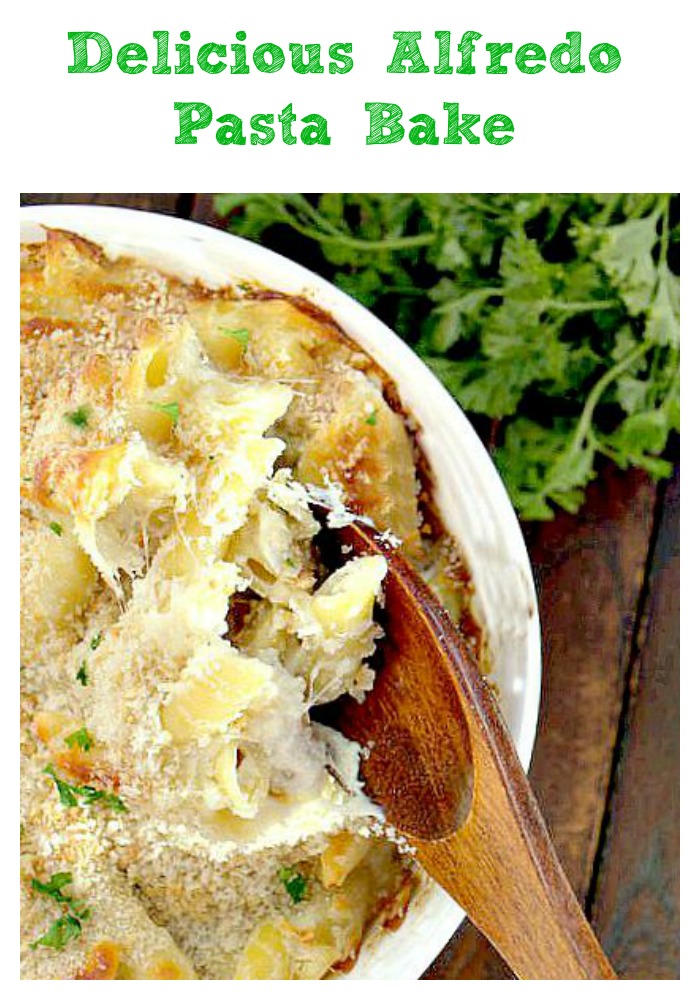 INGREDIENTS
25 oz. penne or ziti (a box to a box in a half, just depends how creamy you like it)
2 cups Alfredo sauce (store bought or make your own)
8 oz. sour cream
15 oz. ricotta cheese
1 teaspoon garlic, minced
2 eggs, beaten
¼ cup shredded Parmesan cheese
1 tablespoon parsley, chopped
Salt and pepper to taste
1 tsp garlic salt
2 cups mozzarella cheese, shredded
1/2 cup panko bread crumbs
INSTRUCTIONS
Cook the pasta till just before al dente, do not overcook, no one like mushy pasta.
Drain and rinse pasta under cold water to stop the cooking process.
Mix pasta with the Alfredo sauce, sour cream, salt, pepper and garlic salt. (At this point I like to test the pasta for seasoning. Sometimes it may just need an extra dash of salt or garlic)
Combine ricotta, garlic, eggs, parmesan and parsley and mix throughly.
Add the ricotta mixture to the pasta and stir to combine.
Top with a layer of mozzarella cheese.
Bake in a 9×13 casserole dish at 350 degrees for 30 minutes or until bubbly.
Add a thin layer of bread crumbs on top and pop bake in the oven.
Broil at 450 degrees F for 2-3 minutes or until the cheese and bread crumbs start to brown
I always make an extra and put it in the freezer (without the cheese and bread crumbs on top) makes for an easy meal on a busy night!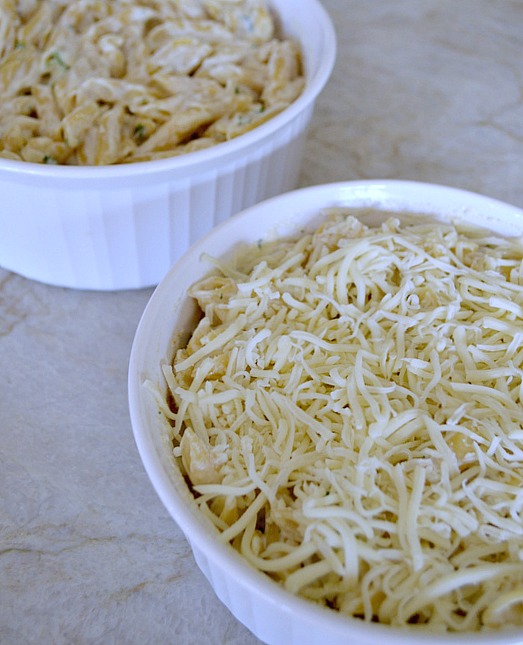 It's the perfect combination of cheesy and saucy, the best part, the kids LOVE IT!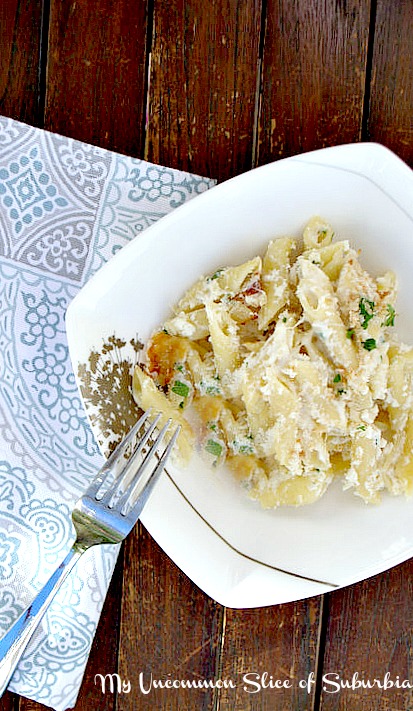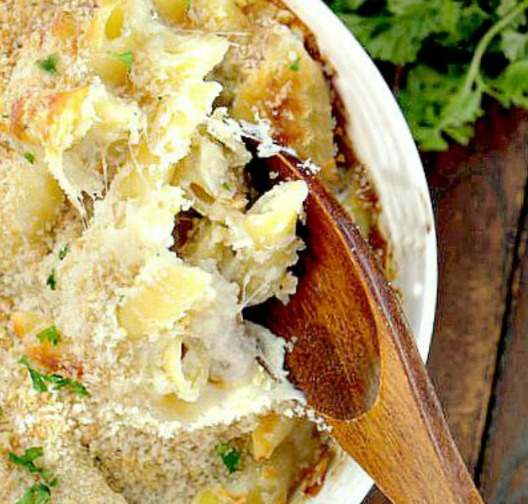 A great thing about this is you can customize it, add chicken or vegetables, whatever your family loves!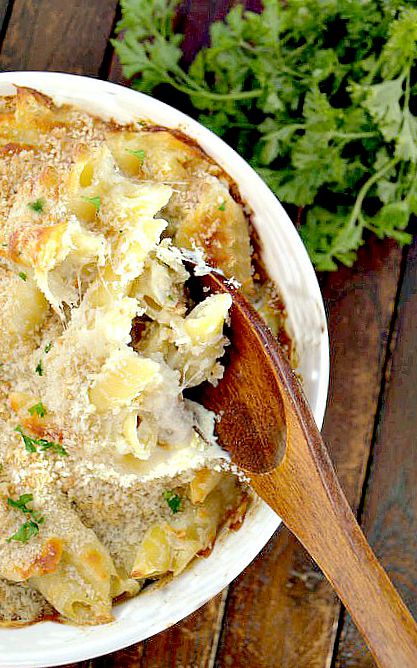 Be sure to visit the rest of my friends, I know you are going to gather LOTS of new recipes, just don't blame me for any extra LB's you might put on.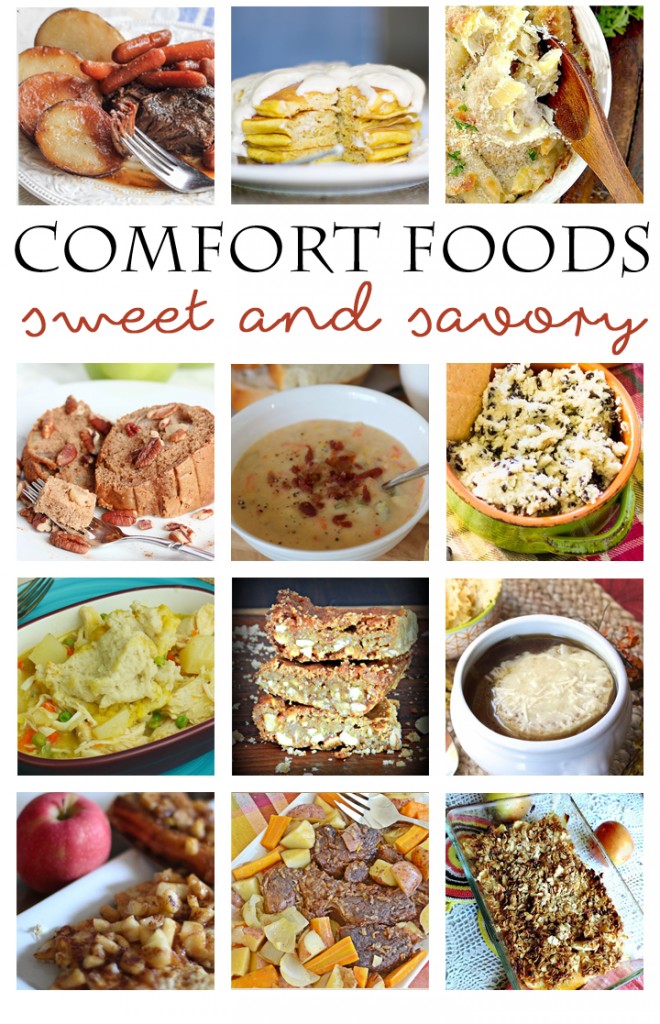 Domestically Speaking pumpkin spice pancakes
My Uncommon Slice of Suburbia alfredo pasta bake
Cupcakes and Crinoline crockpot chicken and dumplings
Clean and Scentsible cheesy vegetable chowder
Setting for Four easy apple cake
Yesterday on Tuesday french onion soup
Redhead Can Decorate butterscotch brownies
Unskinny Boppy Alabama pot roast
Nibbles By Nic apple pie french toast
Restoration Redoux chocolate chip cheesecake dip
Cottage at the Crossroads mom's pot roast
What Meegan Makes apple crisp
~Thanks so much for stopping by today~