Painted Santa Clay Pot Craft
Elevate your holiday decor with this adorable Painted Santa Clay Pot Craft! Transform ordinary clay pots into festive, jolly Santas with a splash of creativity and a burst of color. This easy DIY project is perfect for adding a whimsical touch to your Christmas festivities. Gather your paints, brushes, and a few simple supplies to bring these cheerful Santa pots to life. Add Some Christmas cookies for the perfect holiday gift!
This adorable painted Santa clay pot craft is such a fun holiday craft and makes such a great Christmas gift, they are the perfect containers to hold small gifts.  Simply purchase a terracotta pot from your local garden center or dollar store, grab some paint and you are ready to go.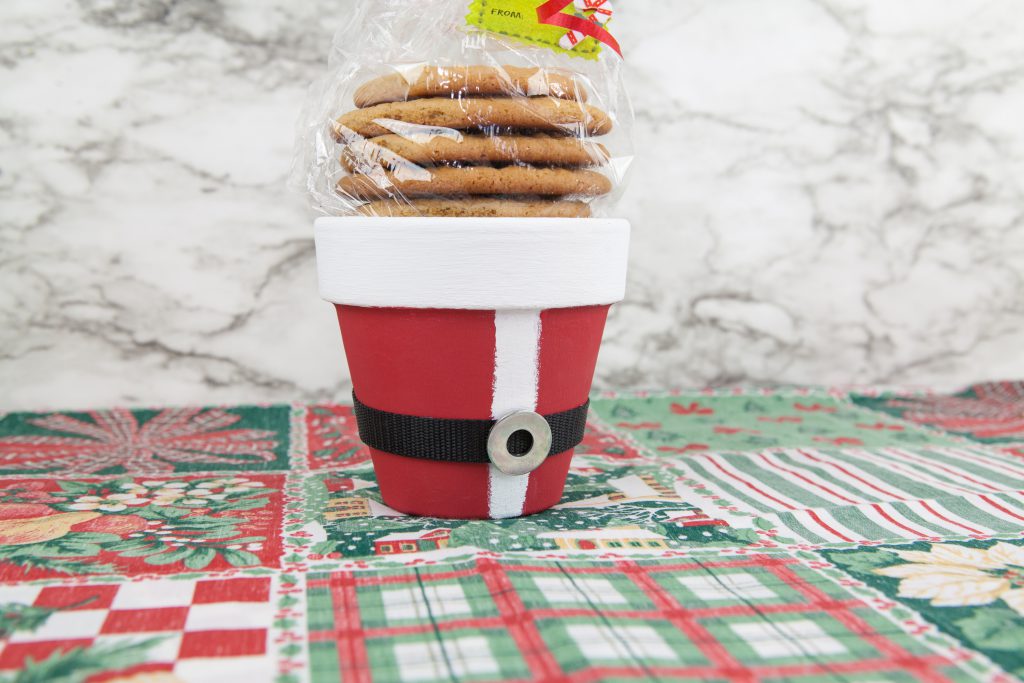 Amazon Affiliate links listed below
Supplies 
4" Tall Terracotta Clay Pot
Chalky Finish Paint: White
Crimson Chalk Paint
1/2" Wide Black Nylon (or a Black Ribbon)
3/4" Metal Washer
Tools:
Paint Brush
Hot Glue Gun and Glue Sticks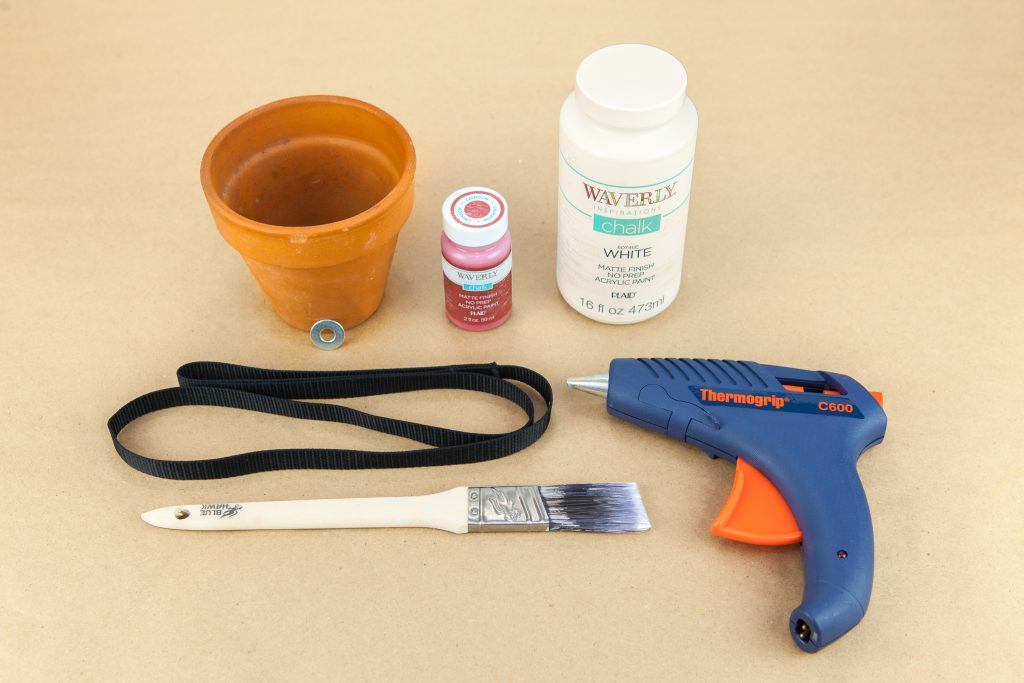 Instructions:
Prep: If you are upcycling a clay pot, make sure to clean it well and let dry completely before painting.
Step 1:
Paint the entire pot below the lip with two coats of Crimson Chalk Paint. Make sure to let the paint dry between each coat. Chalk Paint drys quickly, it should take approximately 4-5 minutes for the first coat to dry.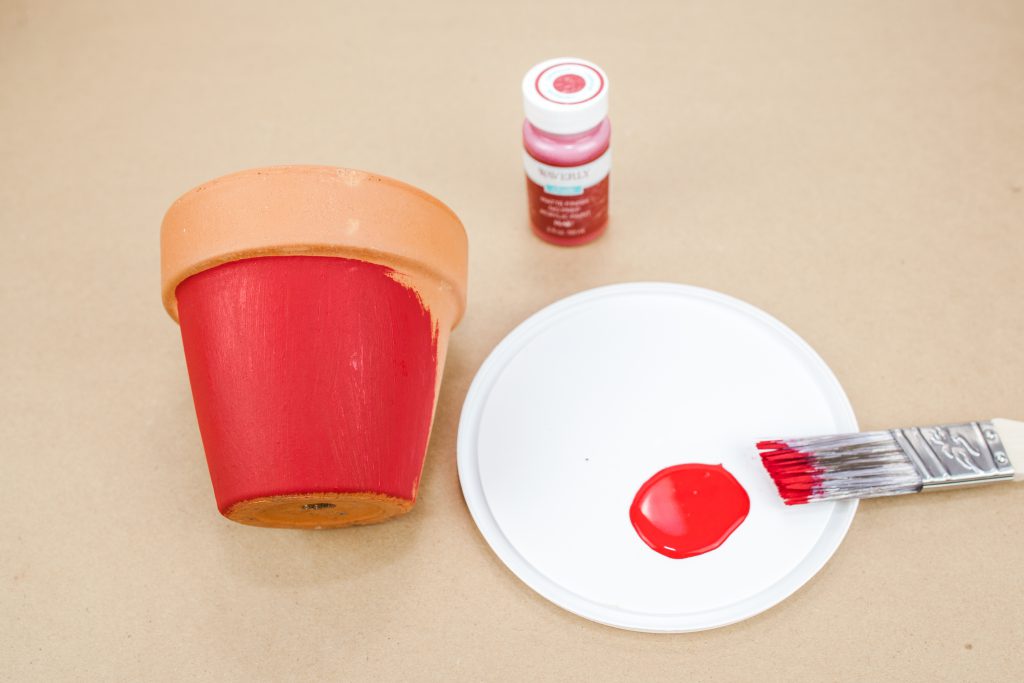 Step 2:
Paint the lip of the pot with two coats of White Chalk Paint, again, let the first coat dry before painting the second coat. For a cleaner look, paint the inside of the pot lip white.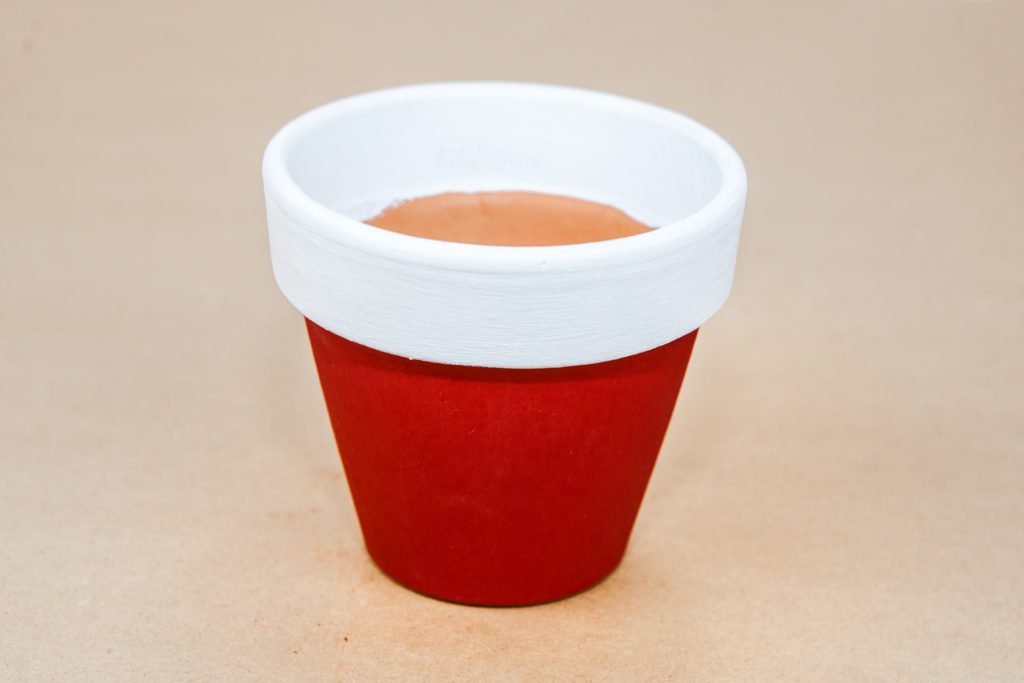 Step 3:
Paint a white stripe down the length of the pot to represent the fur of Santa's Coat. Use the end of your paintbrush to dab the outer edges of the white stripe to make it appear fuzzy.
Step 4:
Use hot-glue to adhere the Black Nylon around the pot, about 3/4 of the way down. Because the pot tapers, use the glue only on the top portion of the nylon (or ribbon), leaving the bottom portion free of to hang. This makes it easier to keep the nylon straight around the pot.
Step 5:
Hot glue the metal washer on top of the black nylon, centered with the white stripe to represent the buckle on Santa's belt.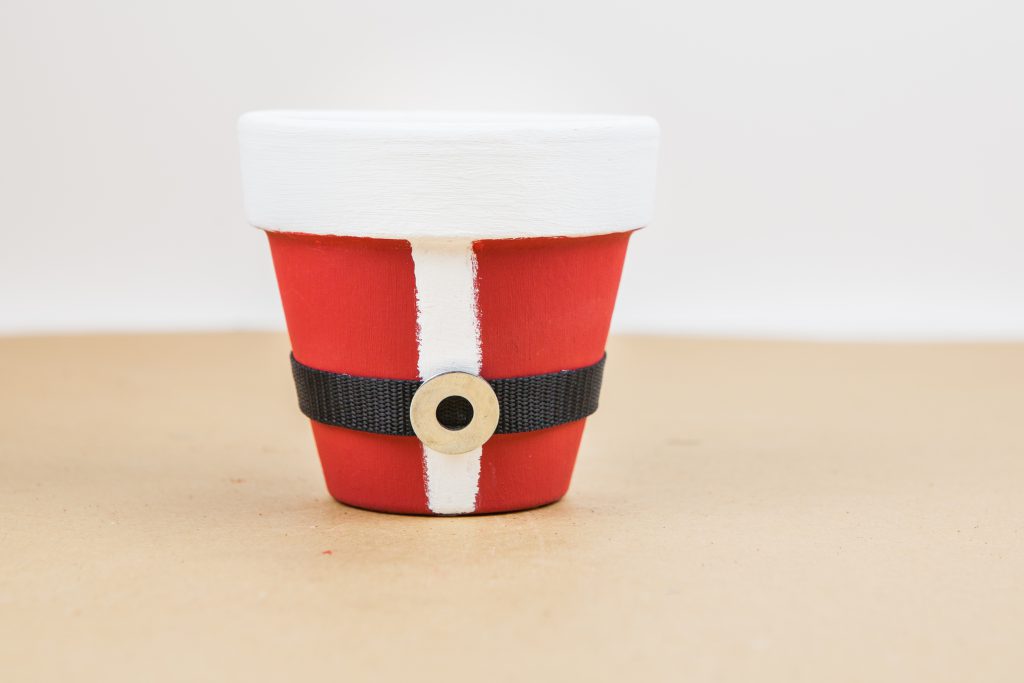 You can get super creative with different designs, think buffalo check, snowmen, gingerbread houses, you could even plant a poinsettia and turn it into a planter, the possibilities are endless.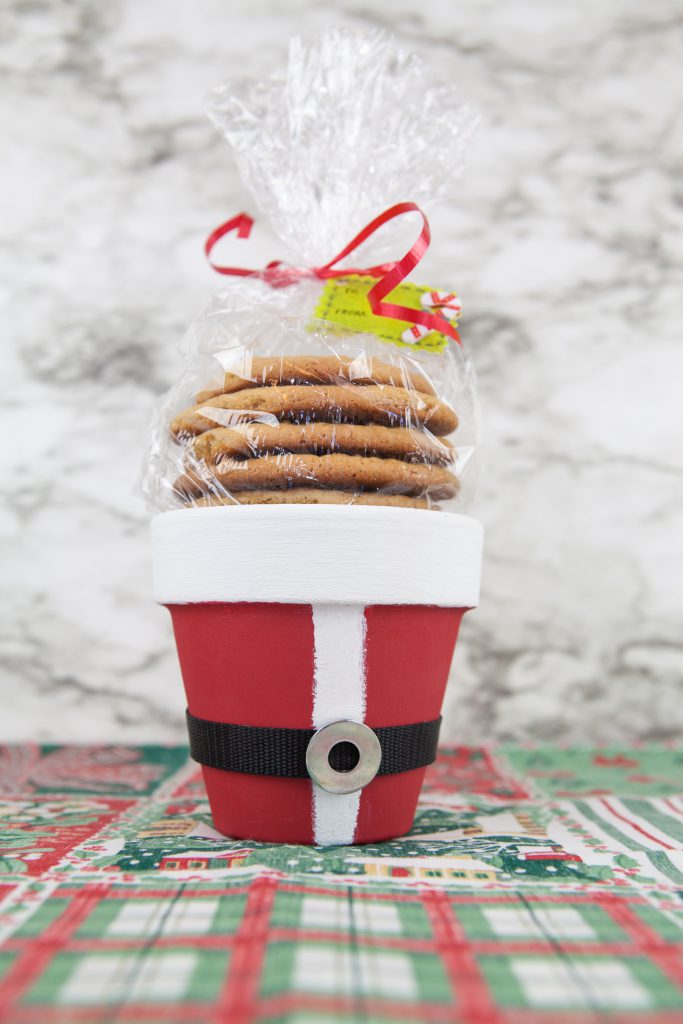 This pot is perfect for holding all sorts of little gifts!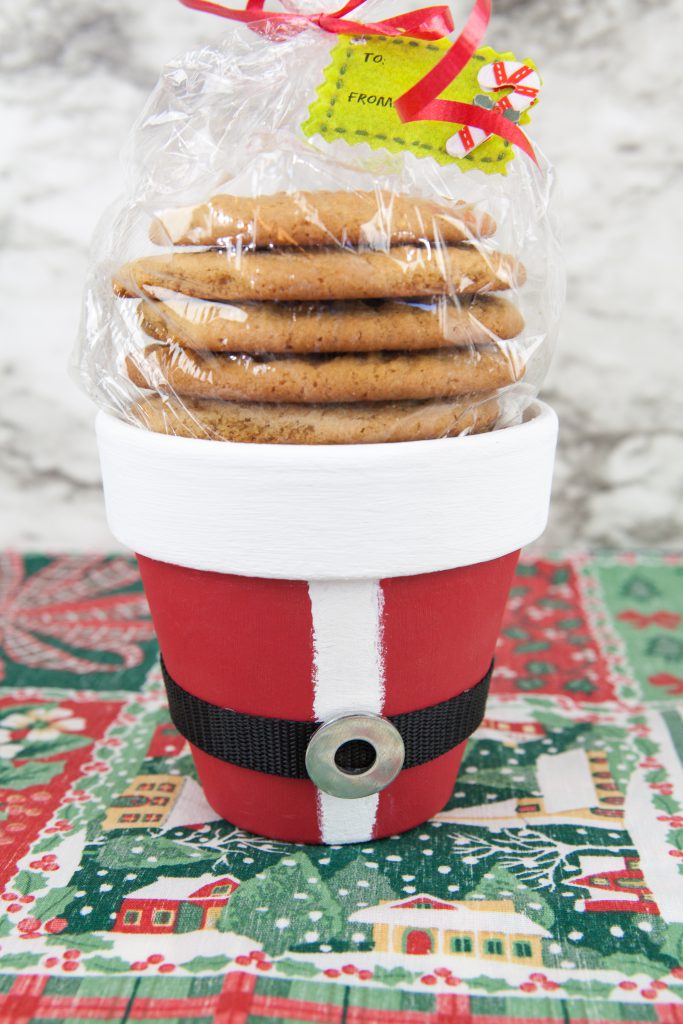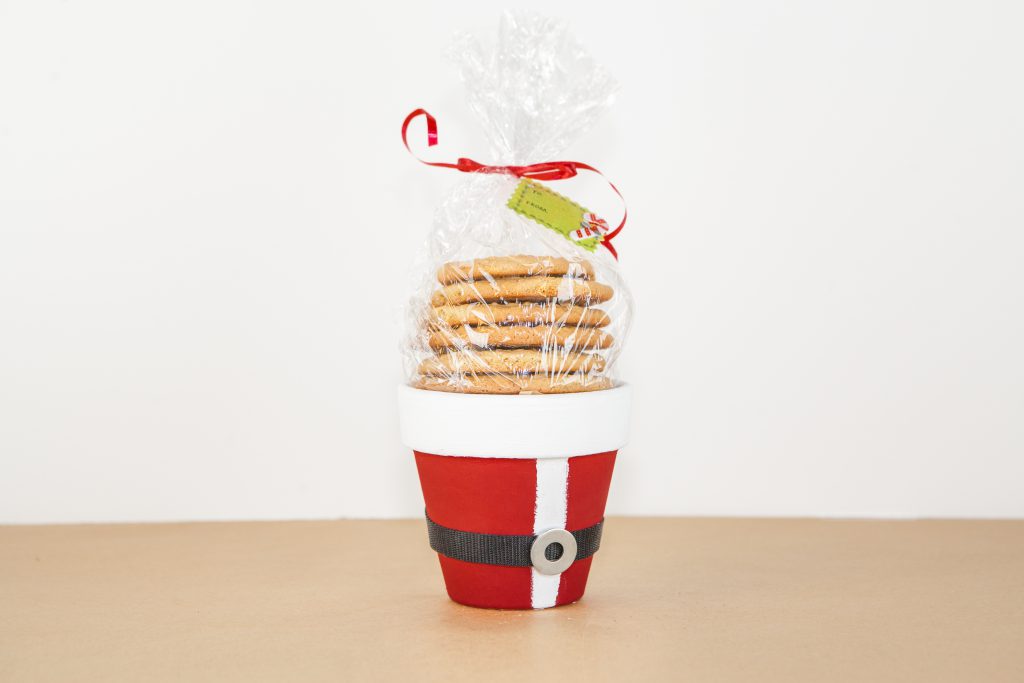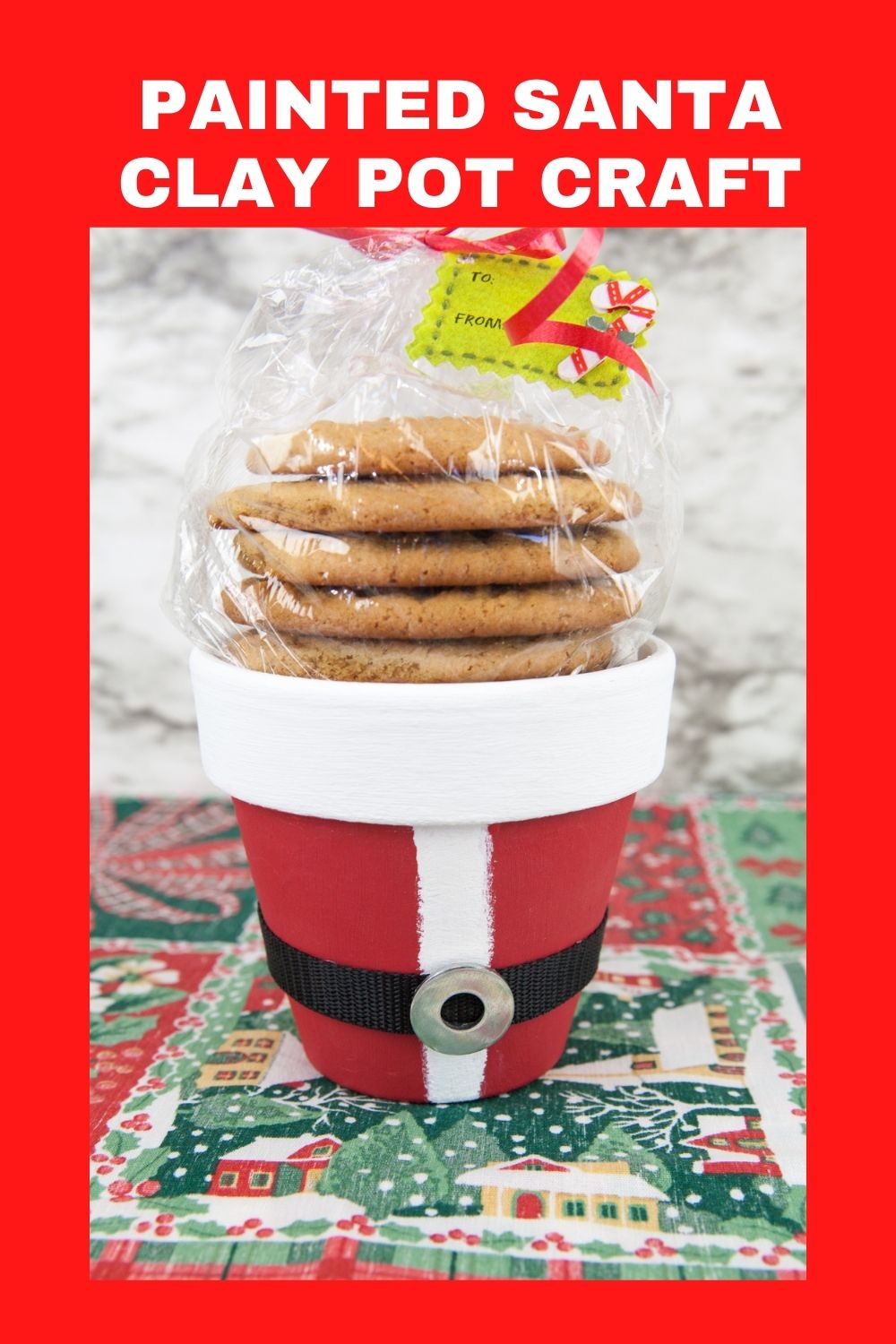 I hope everyone you gift these to loves them just as much as you loved making them!  I'm busy decorating the house this week for the Holiday House Walk on Thursday!