Halloween Jello Syringes-Swamp Sludge
Impress all the guests at your next Halloween party and serve up these Swamp Sludge Jello Shots in Syringes! With only three ingredients: water, gelatin, and food coloring, these take up very little time and are a super fun jello recipe that will ensure everyone has a great time!
It is that time of year where everything becomes creepy and crawly and a little ghostly. If you are planning on hosting a Halloween party this year, it would not be complete without these Syringe Jello Shots. To make these, you'll use the same process you would with almost any jello shot recipe. The only difference is you are putting them in syringes, easy peasy!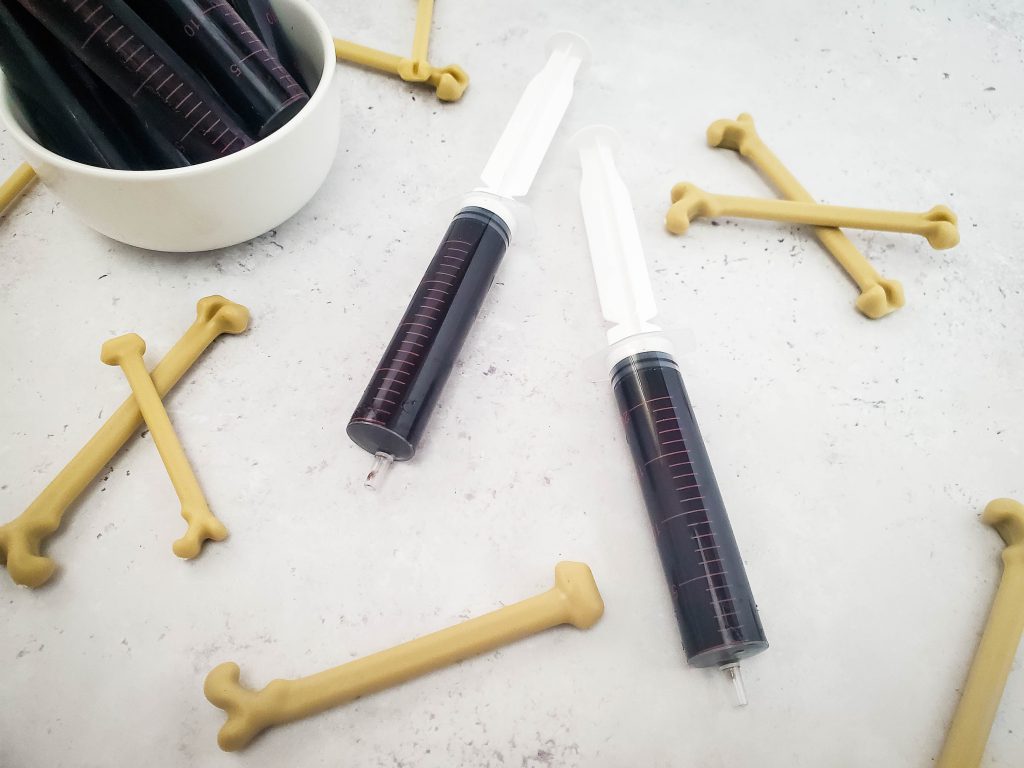 What is a Holloween syringe shot you might ask? They are a popular alternative to serving your basic jello shot that you would normally put into mini plastic cups but in a syringe. It's the perfect way to create a spooky treat for Halloween.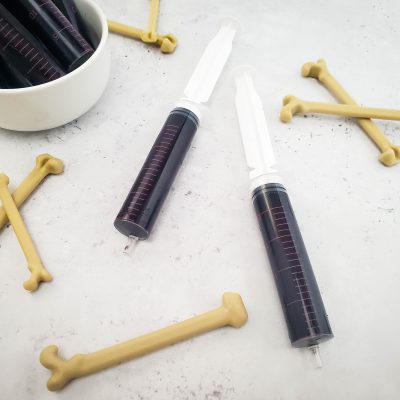 Swamp Sludge Jello Syringe
Ingredients
1

3.9 oz

Package Welch's grape gelatin 

3

Cups

Water

3

Drops

Black food coloring
Instructions
In a medium pot, boil 1.5 cups of water over medium heat.

Remove from heat, add gelatin or jello mixture and stir for 3 minutes.

Add 1.5 cups of cold water and stir.

Add food coloring and stir.

Fill the syringes by placing the tip of the syringe in the mixture and pulling up a syringe.

Refridgerate for 2-3 hours.
You could also make different variations of this recipe.
Ready to turn these into adults alcoholic drinks?
Simply substitute the 1.5 cup of water (cold) for your favorite liquor; malibu rum, tequila, or vodka
Change up your flavor of jello for different looking syringe shots
Red jello for bloody syringes
Green jello for toxic waste
Lime flavored Gelatin for green zombie blood
Apple Juice mixed with unflavored gelatin for a poison apple shot
Lime Gelatin Mix mixed with Lemon-Lime Soda will give you a different color swamp sludge shot.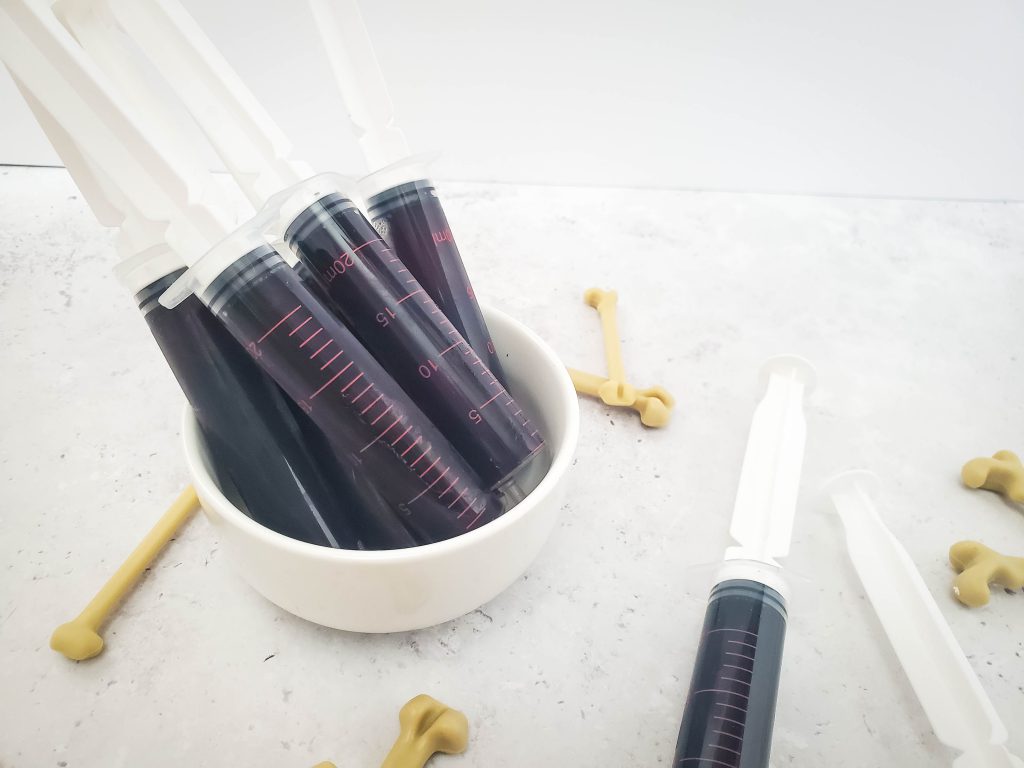 Storage
Store in an air-tight container in the refrigerator.
They will store for up to 3-5 days in the fridge but will taste the best within the first 2 days, just like any jello recipe.
Syringes
Party City carries the syringes as do some grocery stores. I went the easy route and purchased them through Amazon, They carry all sorts of sizes, I went with the 1.5 ounce
Plastic Syringe 1 ounce 30 pack
I can't wait to bring these swamp sludge jello shot syringes to our friend's Halloween party served in a punch bowl surrounded by gummy eyeballs and gummy worms.
What are your favorite recipes for Halloween?