No Bake Reese's Peanut Butter Pie
If you are a fan of peanut butter cups you are going to love this recipe! This No Bake Reese's Peanut Butter Pie is filled with peanut butter and cream cheese, encased in an oreo pie crust and topped with Reese's peanut butter chips and chocolate topping! YUMMY!
When I was a kid, my mom didn't allow us to have much candy but when she did allow us, I always went for the Reese's Peanut Butter Cups!
Ingredients
1 Oreo pie crust

1-3/4 cups Powdered Sugar

1 tsp. Vanilla

8oz Whipped Topping

8 oz. Cream Cheese

1-¾ cups Peanut Butter

miniature Reese's

Reese's Shell Chocolate Topping

Reese's Peanut Butter Chips
Directions:
Add cream cheese to a large bowl or mixer bowl.

Add the peanut butter.

Gradually add your powdered sugar as you mix.

Fold in the whipped topping & mix well.

Pour into the pie crust.

Top with the Reese's Shell Chocolate.

Add whole Reese's Cups & half Reese's all over the top of your pie.

Sprinkle Reese's Peanut Butter chips onto your pie.

Chill in the refrigerator until firm.

Serve & enjoy!!!
*Since this needs a few hours to chill, it's the perfect dessert to make a day ahead.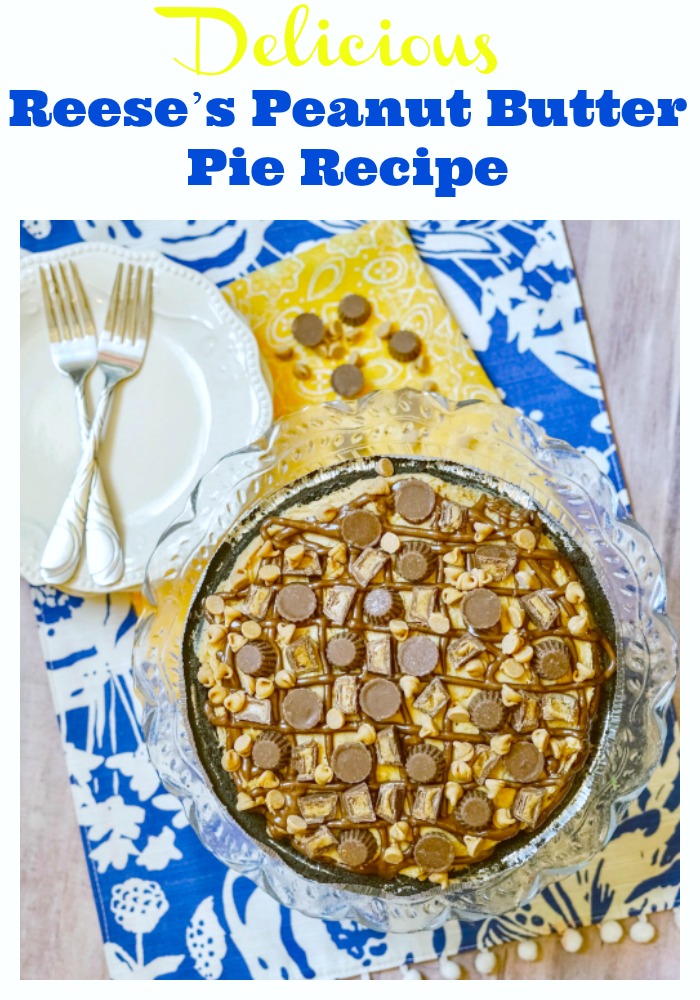 You can't go wrong with this easy Reese's Peanut Butter Pie, everybody is going to love it!
Wishing you all a wonderful weekend!