Kitchen items for your bathroom
As I try to add a little glam to our bathroom on basically a zero budget I decided to start shopping the house. I quickly realized our kitchen has so many fabulous accessories that could easily be used in the bathroom, best of all it is free!
~Lets take a look~
I have a few of these glass containers I use on our dinning room table, hello soaps and salts!
Pottery Barn
I don't have a wine rack but I sure have a plate rack that would work.
 How pretty would a three tiered basket used for fruit to display all your wash clothes, shampoo's and conditioners.
How about taking some of your serving bowls and adding your cotton balls and q-tips
Imagine all of your perfumes displayed on your grandmother's silver platter.
I have a few really beautiful plates that could easily store my jewelry and misc items.
Sounds strange but a compost pot could hide all of your unmentionables.
Take your kitchen woven baskets and display all of your towels or magazines.
I have a few urns not being used right now, they could hold our brushes.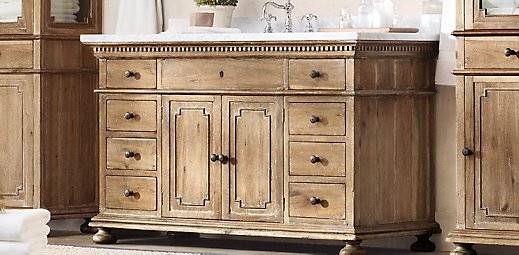 Restoration hardware
Did I miss anything? Off to raid my kitchen cabinets, see you soon!